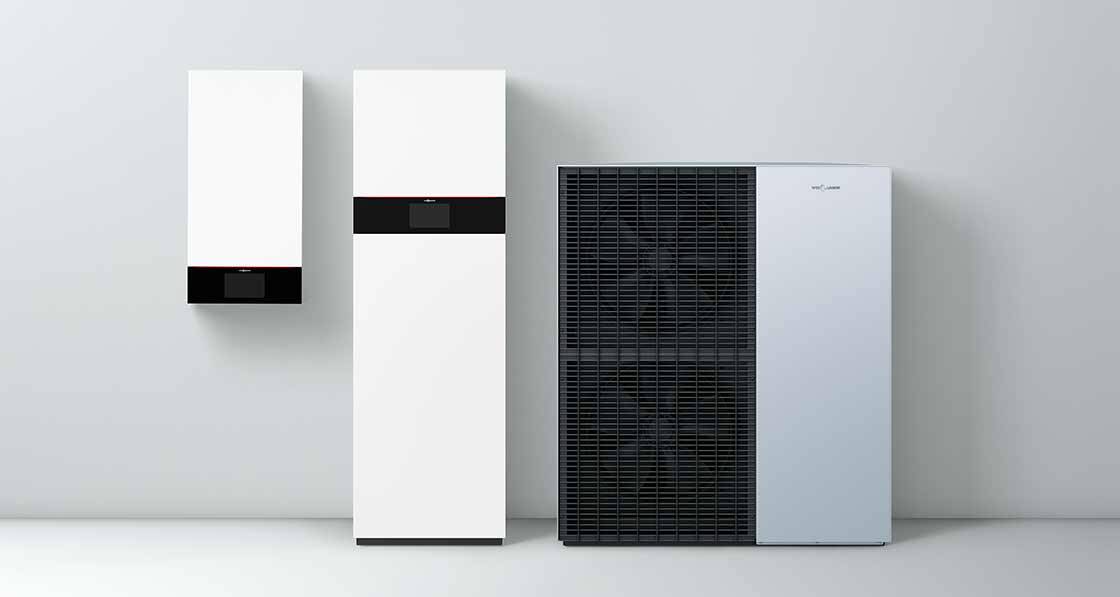 News Desk
Viessmann launch two new compact heat pumps
Viessmann has launched two new monobloc air source heat pumps, the Vitocal 150-A and Vitocal 151-A, which the company said are ideal for replacing boilers in the UK's existing housing stock.
This article was originally published in issue 42 of Passive House Plus magazine. Want immediate access to all back issues and exclusive extra content? Click here to subscribe for as little as €15, or click here to receive the next issue free of charge
Each is available with outputs of 10, 13 and 16 kW.
Both the wall-mounted Vitocal 150-A and the floor-standing Vitocal 151-A have a high maximum flow temperature of 70C (at an outside temperature down to -10C), meaning that in most cases they can use existing radiators and do not require underfloor heating, Viessmann said. Both use the same control platform as Viessmann's boilers, so that they are compatible with the rest of the company's product range. And both integrate previously separate system elements in the indoor unit (IDU), reducing installation time by a full two hours, according to the company.
The Vitocal 151-A has an integral, 190- litre hot water cylinder, yet is highly compact. Both models are also designed to be extremely quiet in operation. Viessmann said that the Vitocal 150-A and 151-A take up 60 per cent less space in the home compared to conventional heat pumps.
The buffer tank, expansion vessel, and overflow valve – components which usually have to be installed and connected separately – are now integrated in the IDU. To ensure a very low global warming potential (GWP), the system uses R290 (propane) refrigerant, with a GWP of less than one. With a COP (coefficient of performance) of 4.9-5.0 (according to EN 14511 for A7/ W35 and depending on the model), the new heat pumps generate up to five times the usable heat for heating and hot water from one kilowatt hour of electricity and heat from outside air.
Viessmann's marketing director, Darren McMahon, said: "When the time comes for homeowners to replace their boilers, more are now looking for renewable alternatives. The Vitocal 150-A and 151-A air source heat pumps help answer this growing need. The end-user gets an efficient, environmentally- friendly solution that delivers heat like a boiler; the engineer gets a unit that's much easier and faster to install. Having fewer pieces of equipment has cut the time needed for installation by 90 minutes." Installation training courses for these new products are available now through the Viessmann Academy.