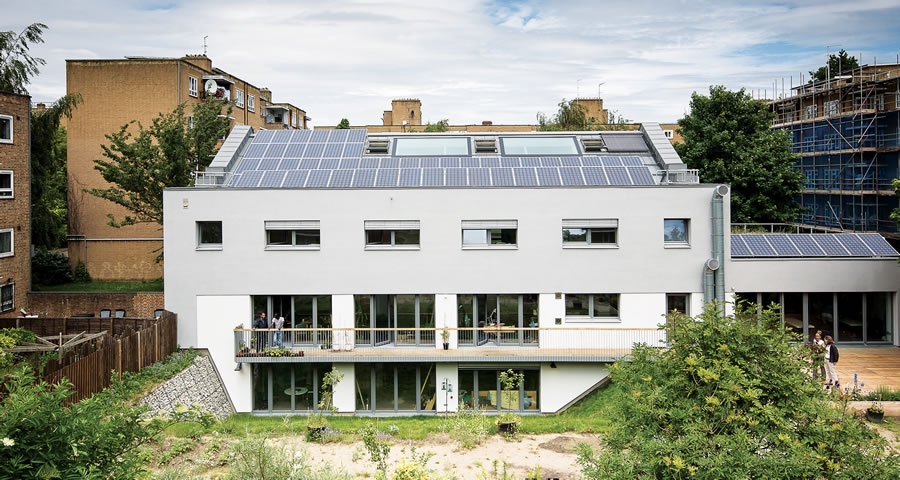 Photos: Tim Crocker Photography / Bere Architects
Islington centre gets award-winning passive upgrade
A community centre in a deprived area of north London has become one of the few buildings in the UK & Ireland to get passive house certification with a renovation.
Most architects tasked with turning a run-down, 19th century building into a modern community centre would do the obvious thing: knock it and rebuild. A different fate was chosen for Mayville Community Centre.1
This concrete-framed, brick-clad building in Islington was originally a generating station for London's tram network. The Mildmay Community Partnership saved it from dereliction in 1973 — demolishing their home was not an option.
"There are quite a few longstanding members who absolutely adore that building," says centre manager Teena Phillips. The centre does most of the things you'd expect from a community centre: runs classes, helps local traders, connects kids with older citizens, and provides a space for community groups, from an over 50s social club to childcare and singing groups. Mildmay is one of the most deprived areas in London.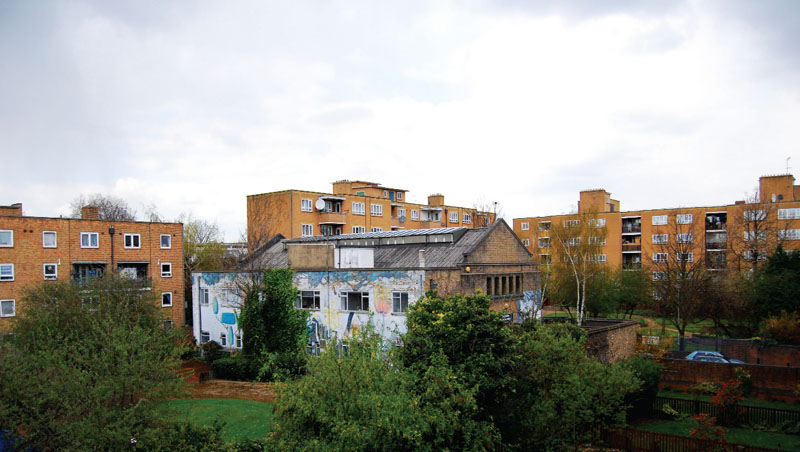 The building was "old, dingy, dark, cold" before, Teena says. Energy bills were sky high, there was no insulation, and much of the building was unusable.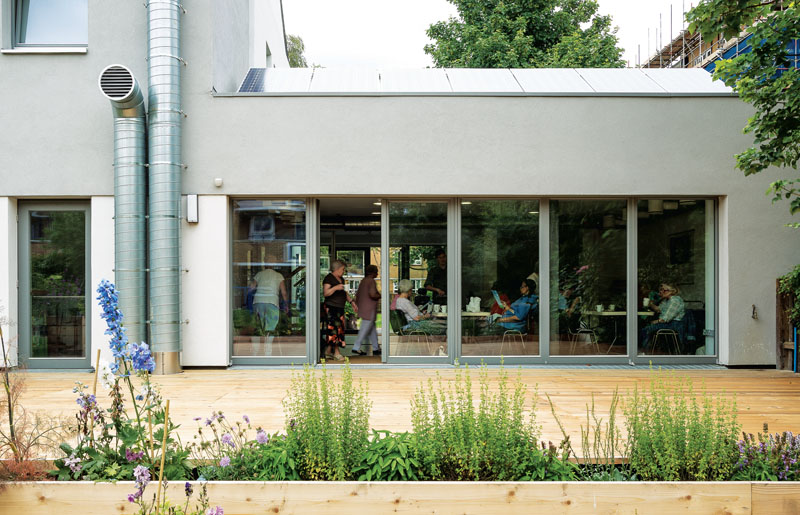 All viable space for solar PV is exploited, including the roof of the single storey extension
So passive house experts Bere Architects set out to do what many others have failed to achieve: full Passive House Institute certification with a retrofit.
Enerphit certification — the Passive House Institute's less onerous standard for retrofit projects — didn't exist when the renovation was first mooted, so it was either full certification or nothing.
Architect Justin Bere says he proposed going for passive as "the most reliable means to make the building warm and comfortable with minimal energy bills".
Hitting passive house targets for airtightness and thermal bridging can be particularly difficult with an old building.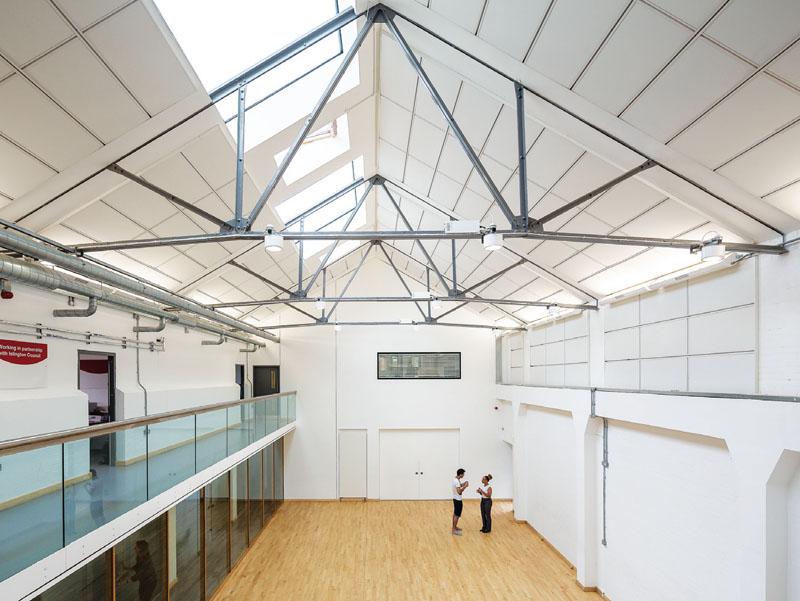 The new zinc pitched roof, filled with 400mm of insulation
"Enerphit hadn't been devised as a concept at the time and we didn't feel particularly challenged. We had confidence that with knowledge, diligence and collaboration we would succeed," he says.
Bere Architects decided to wrap the walls in Permarock EPS external insulation, which envelopes the building and cuts out thermal bridges — gaps in the insulation where heat can escape, such as where internal floors meet the external wall. Because the building is free standing, it was possible to dig down and insulate around the basement too. New balconies and steelwork on the south facade were also thermally isolated from the building.
The team wrapped the roof in a DuPont Tyvek membrane for airtightness and vapour control. For the walls, the parge coat used to glue and mechanically fix the external insulation to the external walls also acts as the airtight layer.
The trickiest airtightness detail was over the old roof trusses, but Justin Bere says it was easily dealt with by planning ahead.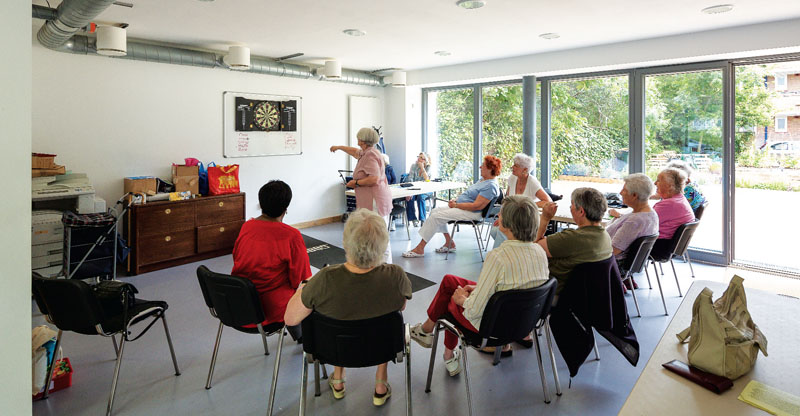 The renovated centre allows members of the community to meet and socialise in a comfortable environment
"Preparation in design and construction is all that's needed," he says, "care rather than any particularly unusual level of cleverness."
Bere Architects designed a new zinc pitched roof which was filled with 400mm of Rockwool insulation, while the two flat roofs were insulated with 300mm of Foamglas, a type of cellular glass insulation. Each was also topped with soil and planted with native wildflowers to boost biodiversity and reduce rainwater runoff.
Insulating under the ground floor wasn't possible, so the team did the next best thing — externally insulated the walls right down to the foundations to cut out thermal bridging, and installed 75mm of Kingspan Insulation UK phenolic insulation on the basement's concrete raft.
They ripped out the building's draughty old single-glazing and installed new triple-glazed, thermally broken Passive House Institute certified Bayer windows and doors, bracketed onto the face of the external walls to keep level with the external insulation and taped for airtightness. Triple-glazed roof lights were put in too — again with well-worked details for airtightness and cold bridging.
The building was also kitted out with renewables —a new Viessmann ground source heat pump replaced the old gas boiler.
When heating is needed, it's delivered by regular old radiators. These were deliberately oversized, which means they can deliver enough heat while running at a lower-than-normal temperature of about 45C. This makes them more compatible with a heat pump, which are more efficient when delivering heat at lower temperatures. Three square metres of solar thermal panels on the roof also help generate hot water for the building.


Thermal imaging reveals a marked difference between the upgraded centre and the surrounding buildings
The centre also has a huge array of electricity- generating Sharp solar photovoltaic (PV) panels on the roof— 77 panels over an area of 127 square metres.
"At the time it was one of the biggest ones we'd done," says Ollie Davenport of PV supplier The Energy Warehouse. "It seems to be working well, it's producing what it should be producing."
Lighting is a mix of low-energy CFLs and conventional fluorescent tubes. Though anyone can turn the lights on with a switch, they dim automatically when there's enough sunlight getting in, and shut off if a room is empty.
Rainwater harvesting systems collect rain that falls on the roofs, filter it and deliver it to toilets and for the garden and food growing.
Swift, sparrow, wren and bat boxes have also been installed within the external insulation.
As with all certified passive buildings, heat recovery ventilation extracts stale air and uses it to pre-heat incoming fresh air. Anecdotally, it seems to be making a big difference inside.
Centre manager Teena says the building has a "light, airier feeling to it" now. Since the renovation, she says there's no longer a 3pm rush for coffee. She doesn't pick up as many colds before either, she says, or feel as tired.
"Working in that building [before] was cold, damp and dingy," she says. "The office environment does play a big part in illnesses and that I think."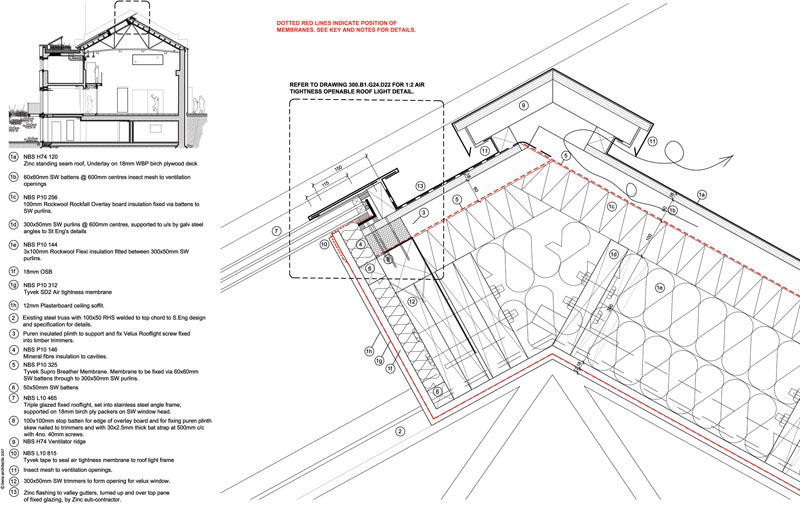 Meticulous cold bridging detailing around the south-facing roof lights
To create more space, Bere designed a new entrance block and dining area. The team excavated around the basement and created a south-facing light-well here that delivers sunlight and ventilation, turning it into a functioning workspace.
Teena says before the building was always too hot or too cold, but now she's never even aware of the temperature — it's just comfortable.
"This is really our first year getting used to the building and everything," she says.
Teena wants to use the building as a tool to educate the local community about buildings, energy and the environment, and the centre has teamed up with University College London on a project that aims to do just that.
Before the renovation the building was consuming 581 kWh/m2/yr — the renovation is estimated to have cut this to just 120 kWh/m2/yr, and less just 10% of that is for space heating. The building's net CO2 emissions are now almost five times less than they were before the renovation. And the running cost data looks very promising too.
The ground source heat pump is the only specific heating source in the building. For the 12 months from January to December 2012 the total spent on electricity to run the heat pump was £328.20 – and even that is a worst case scenario figure, based on calculations using the higher day time rate of electricity. This total expenditure has been worked out on actual metred usage from the heat pump and doesn't take into account electricity from the solar PV array. As the PVs provide approximately 36% of the total building's energy consumption, it's estimated that the actual cost to heat the 665 sq m centre in 2012 was nearer £210.
Bere Architects even moved their own offices into the building, which has won a plethora of awards2. "I'm constantly amazed at how warm and comfortable the building is in winter, and how cool and comfortable in summer with little or no effort by the users, and with tiny amounts of energy input," Justin Bere says. "Passive house works better than I dared hope."
Selected project details
Clients: Mildmay Community Partnership
Passive house consultant: Bere Architects
Passive house certification: BRE
Structural engineers: Conisbee
M&E engineers: Alan Clarke
Quantity surveyor: e-Griffin Consulting Ltd
Post occupancy evaluation partner: BSRIA
Airtightness tester: Gaia Aldas
Sbem calculations: XCO2 Energy
Lighting design: GIA Equations
Green roof designer: Dusty Gedge
Main contractor: Buxton Building Contractors Ltd
External insulation system: PermaRock Products
Insulated foundation system: Kingspan Insulation
Mineral wool insulation: Rockwool
Rigid board insulation: Foamglas
Windows: Bayer Windows, supplied by Doublegood Windows
Openable roof windows: Velux
Fixed roof windows: Isaacs Glass Co. Ltd
Airtightness tapes: Tremco Illbruck, supplied by Bayer
Breather membrane: DuPont Tyvek
Thermal breaks: Schöck
Rainwater harvesting: Aquality Trading & Consulting
Solar PV: The Energy Warehouse
Heat pump & Solar thermal: Viessmann Ltd
Heat recovery ventilation: The Green Building Store
1The building was recently renamed Mildmay Community Centre in recognition of the centre's growing significance in providing community services for the whole of the Islington Mildmay ward
2 In 2012 the Centre won the retrofit award at the UK Passivhaus Awards, the building performance award at the Constructing Excellence in London and the South East Awards and the leisure award at the Greenbuild Awards. It had won the best public building award at the 3R Awards in 2011.


Building type: 665 sq m Victorian solid masonry building, originally housing electricity generators supplying the London tram network. Now a community centre.
Additional info
Location: Islington, north London
Project budget: £1.6m
Passive house certification: full certification achieved
Space heating demand:
Before: 581kWh/m2/yr if 21oC maintained in winter, but in reality that was not affordable, so 272 kWh/m2/yr with low internal temperatures in winter
After (PHPP): 12 kWh/m2/yr
Primary energy demand (PHPP):
Before: not calculated
After: 120kWh/m2/yr. Of this only 12kWh/m2/yr) will be used for space heating, with an approximate annual cost of £600
Energy performance certificate (EPC): not calculated
Heating bills:
Before: Gas bills of £5900 per annum
After: £328 (Jan-Dec 2012) calculated based on meter readings from heat pump - or an estimated £210 taking into account solar PV contribution
Airtightness (at 50 Pascals): 0.43 ACH
Existing building walls:
Before: 450mm uninsulated brickwork
After: (above ground) 290mm Permarock EPS external insulation, 10mm render finish, U-value 0.116 W/m2K. (below ground) 200mm external XPS insulation to existing brick walls. U-value: 0.154W/m2K
New extension walls: single-storey blockwork wall construction, 15mm internal plaster, 215mm blockwork, 290mm EPS insulation, 10mm render, U-value: 0.119 W/m2K
Pitched zinc roof: 15mm plasterboard, 18mm OSB, 300mm Rockwool Flexi fitted between the structural timbers, 100mm Rockwool Rockfall overlay board with breather membrane, Tyvek Supro installed on top, 50mm timber battens, 20mm standing seam zinc roof finish on 20mm timber substrate. U-value: 0.109 W/m2K
Green roof: high level flat roof: 300mm Foamglas insulation on existing concrete roof slab with asphalt covering and 100mm soil and meadow planting. U-value: 0.130 W/m2K
Low level flat roof: 300mm Foamglas insulation on new timber roof structure with 20mm asphalt layer and 100mm soil and meadow planting. U-value: 0.131W/m2K
Floor: New entrance floor slab 300mm Foamglas insulation and concrete slab. U-value: 0.129 W/m2K Existing basement floor slab 300mm existing slab with 80mm Kingspan insulation and floating floor. U-value: 0.256 W/m2K
Windows & doors:
Before: single-glazed, draughty windows and doors.
New windows: Triple-glazed Bayer Passive House windows with thermally broken timber frames. Uvalue: 0.6 W/m2K
New openable rooflights: Velux, electronic, timber framed, triple-glazed passive house units.
New fixed rooflights: Isaacs Glass Co, triple-glazed glass units. U-value: 0.9 W/m2K Entrance door triple glazed Bayer Passivhaus automatically opening glass with thermally broken timber frames U-value 0.85 W/m2K
Airtightness: Airtightness sealing tapes between window frames and internal airtightness layer /vapour control membrane, and window frames and first floor external breather membrane. Airtightness and vapour control layer to provide continuous envelope around building envelope in plan and section. Airtight layer for walls is parge coat used to fix insulation to external walls. Airtight layer for roof is Tyvek membrane.
Heating system:
Before: industrial gas boiler
After: 8.4kW Viessmann Vitocal 300-G ground source heat pump with 140m double pipe trench
Ventilation:
Before: no ventilation system, reliant on infiltration and opening of draughty windows for air changes.
After: Paul Maxi 2000
Green materials: (to all internal surfaces) untreated softwood used throughout, birch plywood, natural linoleum floor finishes.
Microgeneration: 126m2 of photovoltaic panels 77 no.NU235E1 Sharp Panels 235W = 18kWp
Solar thermal: 3m2 Viessmann UK Vitosol 200 solar array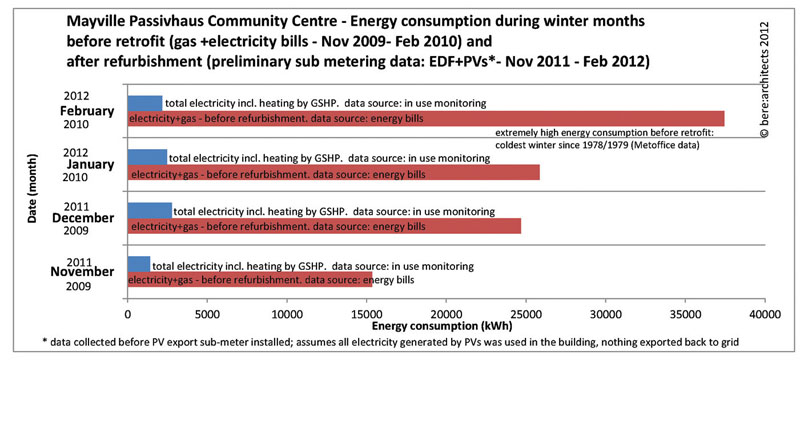 Related items