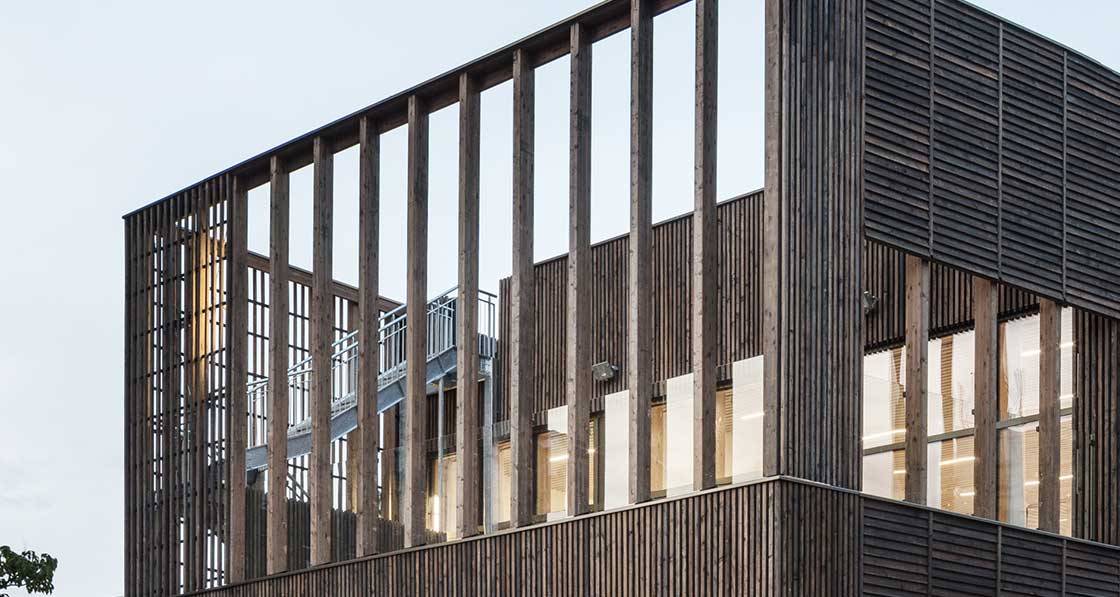 International - Issue 38
This issue features a new nursery school in Paris, built to the Passive House Institute's low energy building standard.
Building: 1,500 m2 nursery school
Location: 13th arrondissement, Paris
Building method: Timber frame with straw insulation
Standard: PHI Low Energy Building Standard
Left Bank Nursery School, Paris
The challenge for the designers of this new nursery school, set within Paris's Left Bank, was to create a space that would be warm, light-filled and conducive to learning — but in a dense city centre environment that is overlooked by tall, monolithic apartment blocks of the 13th arrondissement.
The building's designers, LA Architectures, achieved their goal beautifully by breaking down the building into multiple volumes. While not ideal for meeting the passive house standard — it means a larger surface area from which heat can escape, and more junctions that need to be sealed for airtightness — it does help to create a more human-centred building in the middle of an otherwise imposing streetscape.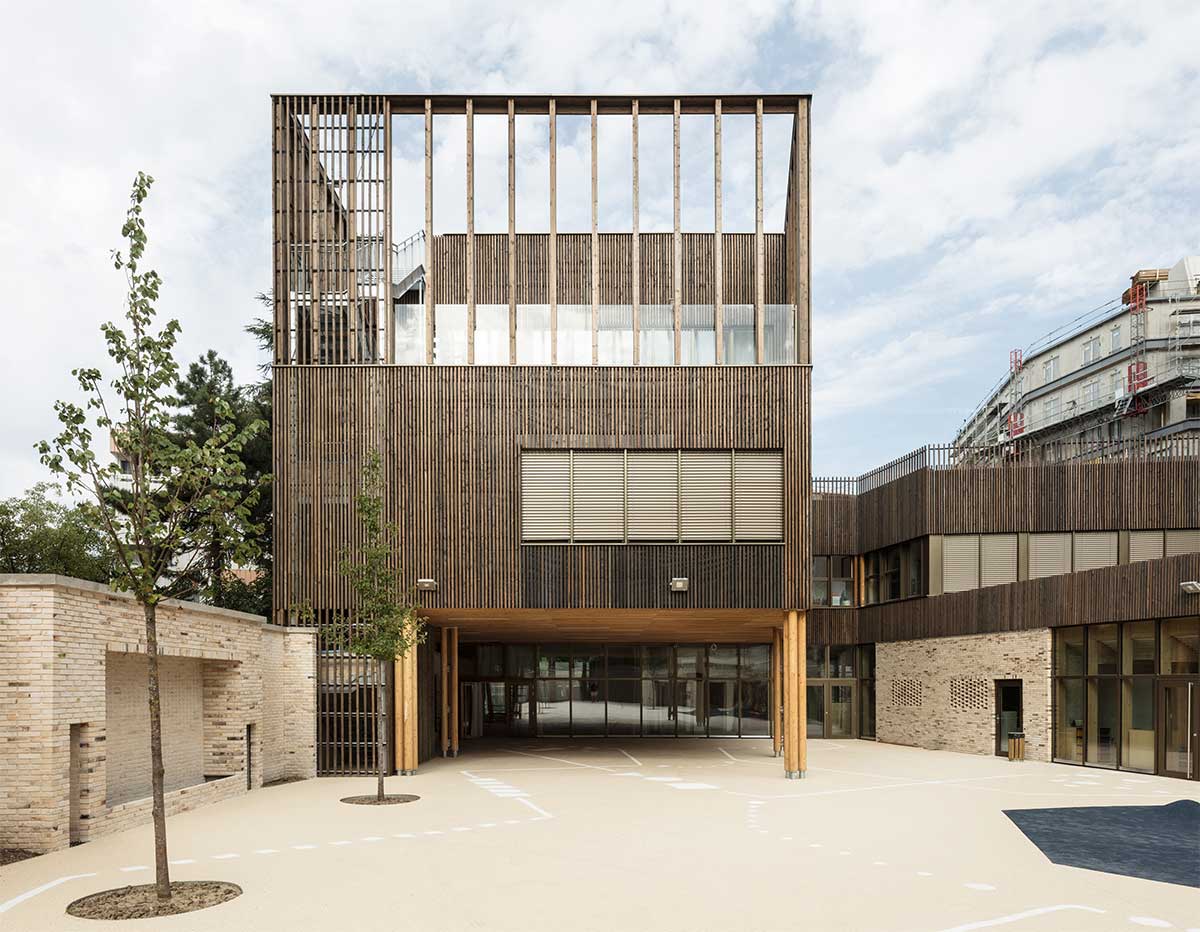 This article was originally published in issue 38 of Passive House Plus magazine. Want immediate access to all back issues and exclusive extra content? Click here to subscribe for as little as €10, or click here to receive the next issue free of charge
Another technique employed by the architects to bring light into the school was Le Corbusier's beloved "architectural promenades". These inner streets meander through the building, and with their glazed walls, open up the space and allow occupants to look out through the classrooms to the courtyard beyond. Indeed, the school has been designed so that there is a view to the outside at almost every point.
LA Architectures also placed a strong emphasis on natural materials here: the walls are of timber frame construction and insulated with straw, with floors and interior walls of cross-laminated timber. There is also a green roof, timber cladding, and a brickwork that was made in one of Paris's last traditional old kilns.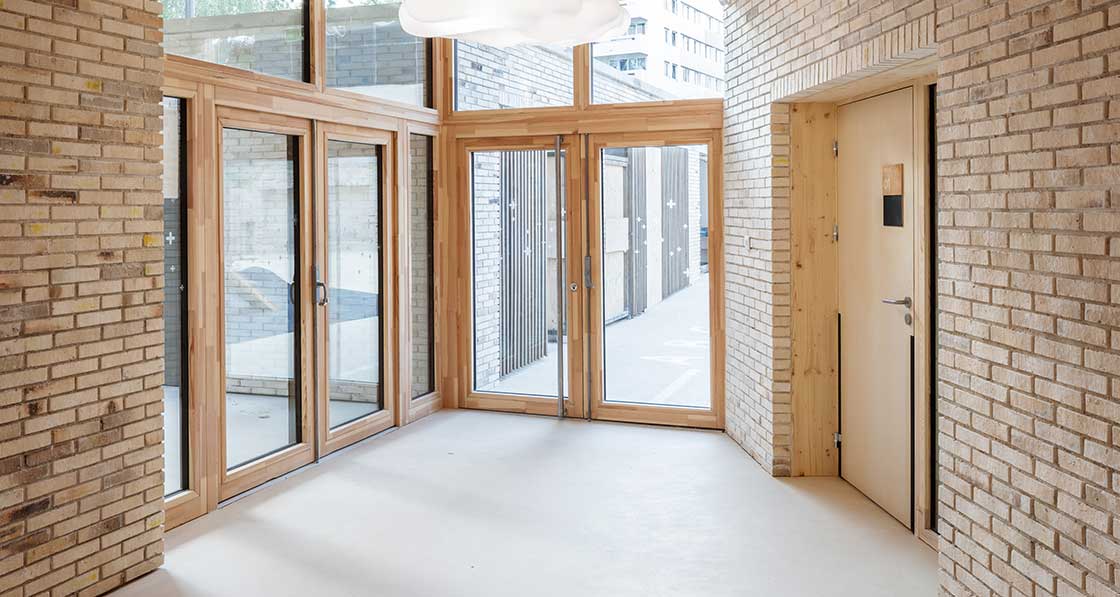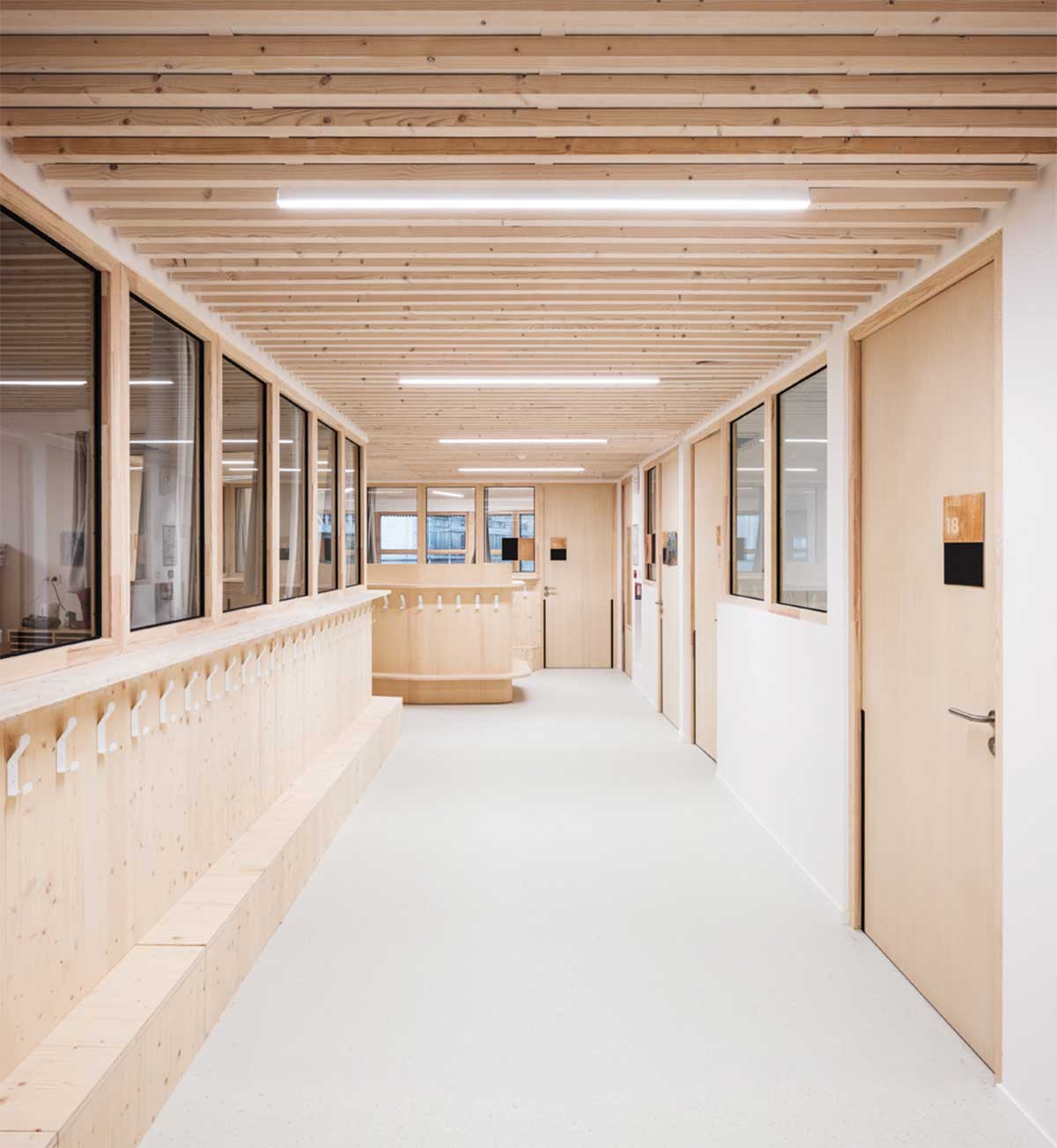 The building did not quite meet the passive house standard — at 28 kWh/m2/yr, its demand for space heating is outside the passive benchmark of 15 kWh/m2/yr — so instead it was certified to its less onerous cousin, the Passive House Institute's low energy building standard (which only requires 30 kWh/m2/yr).
But all in all, the thoughtful approach to materials, natural light and occupant comfort here must make this one of the most joyful places for children to learn in Paris's busy urban centre.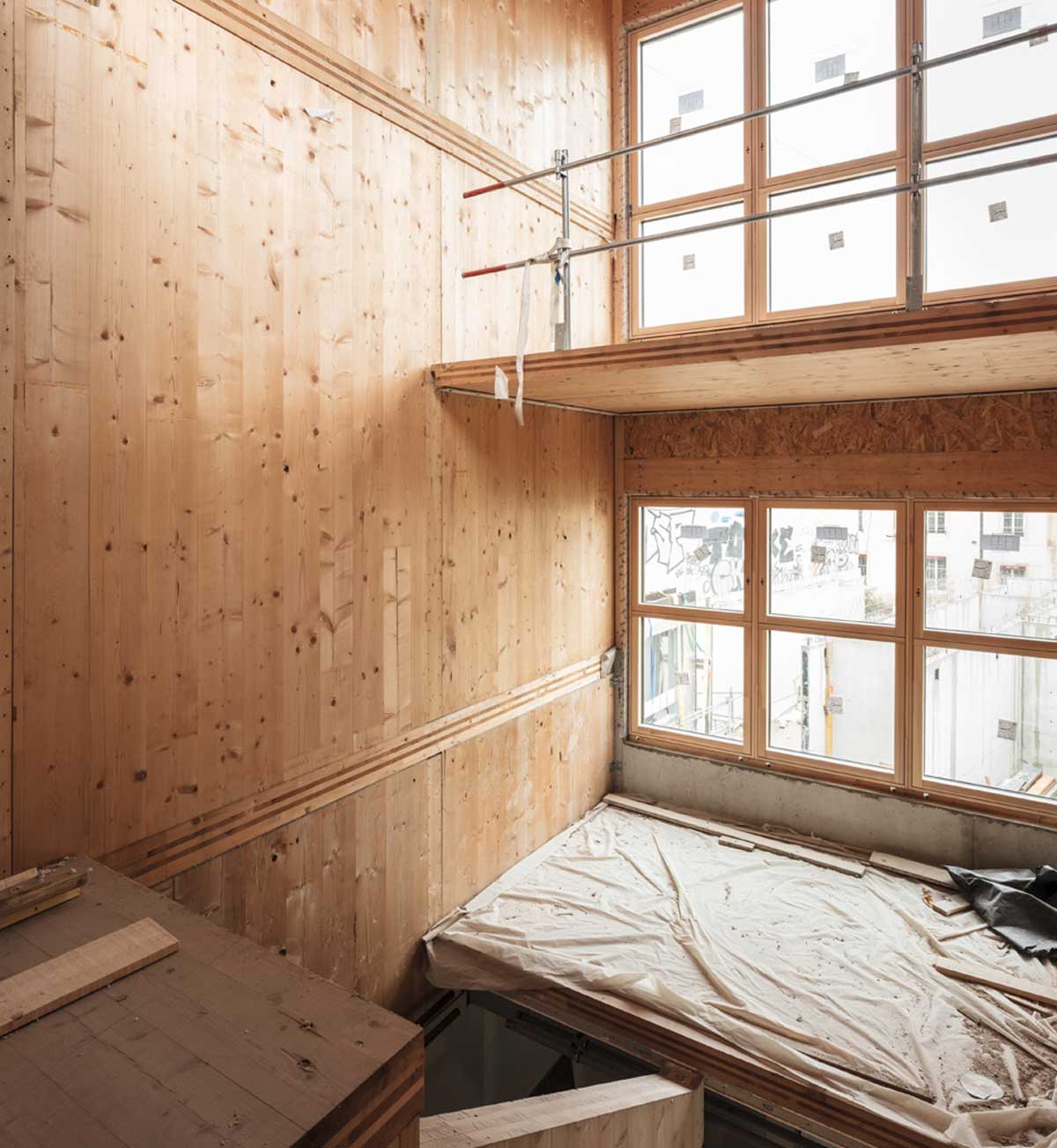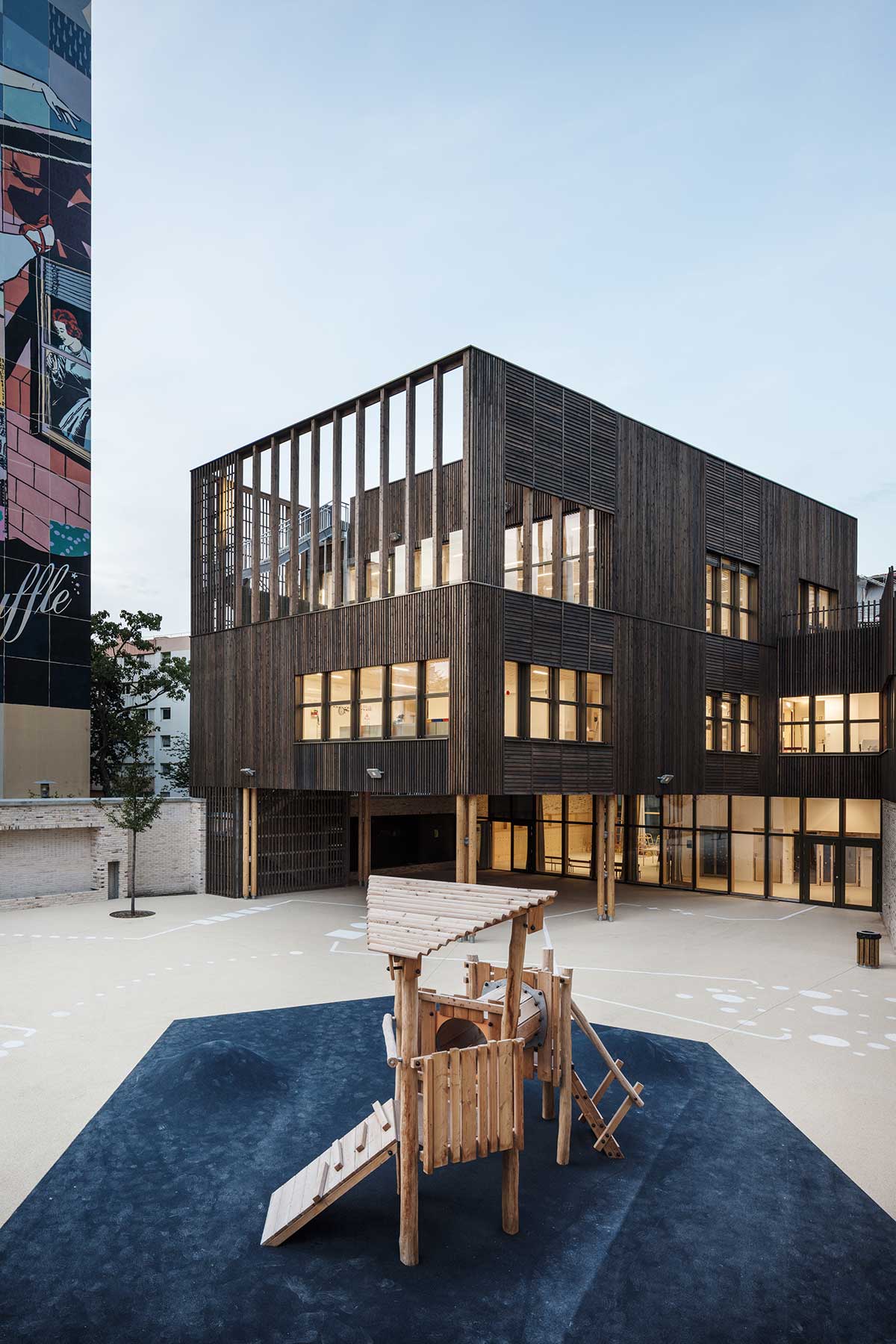 Image gallery
Related items