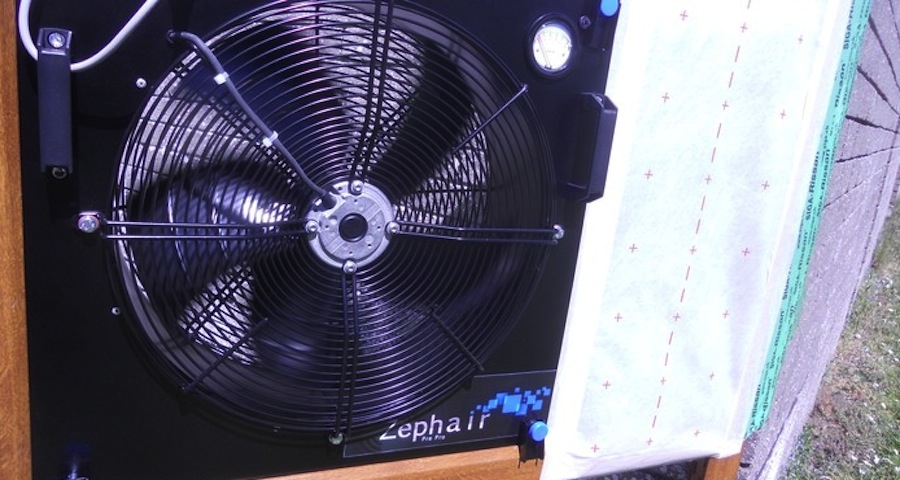 Zephair launches DIY unit for finding air leaks
Zephair have announced the launched of the Zephair Pre-Pro, an "easy to use and reliable way to perform quality control of your air tight layer by under pressurising a building".
This DIY system is designed to allow users to find air leaks in the building envelope before an airtightness tester comes on site.
"As the building is being under pressurised you can walk the building and find the cracks & gaps in the continuous air tight layer," said Zephair's Mark Shirley.
"Once you have achieved 50 Pa pressure and you can no longer find any leaks in the envelope then your building, or part of the building, is ready for testing."

The Pre Pro is designed to fit into either an inward or opening window or door.
"The Pre Pro is easy to set up and operate and you can start looking for leaks within 10 minutes of starting to build the device into a window or door," Shirley said.

The Pre Pro has a dial that shows the pressure difference between the outside and inside of the building. "If you can achieve a 50Pa pressure difference with the Pre Pro you can be confident that when the professional tester turns up they too will be able to achieve the pressure threshold required to test to the relevant standards," he added.
The Zephair Pre Pro is designed and manufactured in Ireland. More information is available here.
Last modified on Wednesday, 08 August 2018 11:19