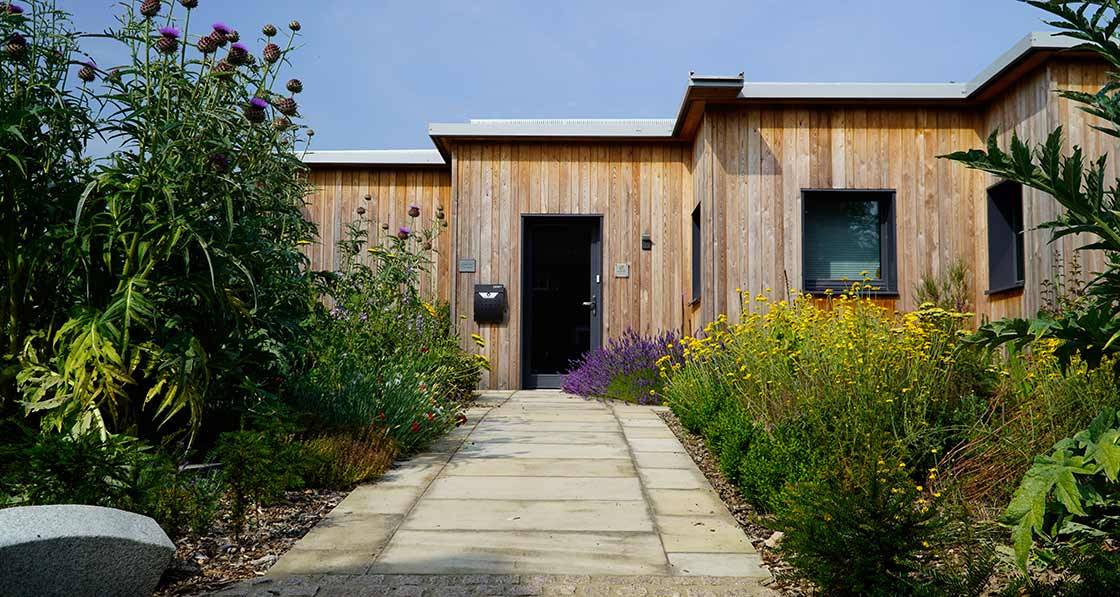 Photos: Mark Siddall and Regen Media
Mass timber masterwork
This home on the edge of the Cotswolds, built with cross-laminated timber, now holds the distinction of being the UK's most airtight home, with the client even doing a significant chunk of the airtightness taping himself. What's more, it demonstrates how passive homes that generate their own renewable power may escape the worst of the energy price crisis.
Click here for project specs and suppliers
Building: 162 m2 detached house
Method: Cross-laminated timber
Location: Upper Quinton, Warwickshire
Standard: Passive House Classic
Energy bills: £240 profit/year on energy bills prior to recent price spikes. Predicted net cost of £230/year post price spikes.
This modest, single-storey three-bed home in the northernmost tip of the Cotswolds has been singled out for the kind of praise and awards that will warm the hearts of both passive house advocates and fans of precision-built timber — not least because its builders have 'accidentally' created the UK's most airtight house.
Larch Corner's record-breaking airtightness result of 0.048 air changes per hour (at 50 Pascals pressure) is some 12 times higher than that required by the passive house standard, and 244 times more than that required by UK building regulations.
The project also represented an early attempt to calculate the embodied carbon of a building in the UK, before standard tools for doing so were widely available.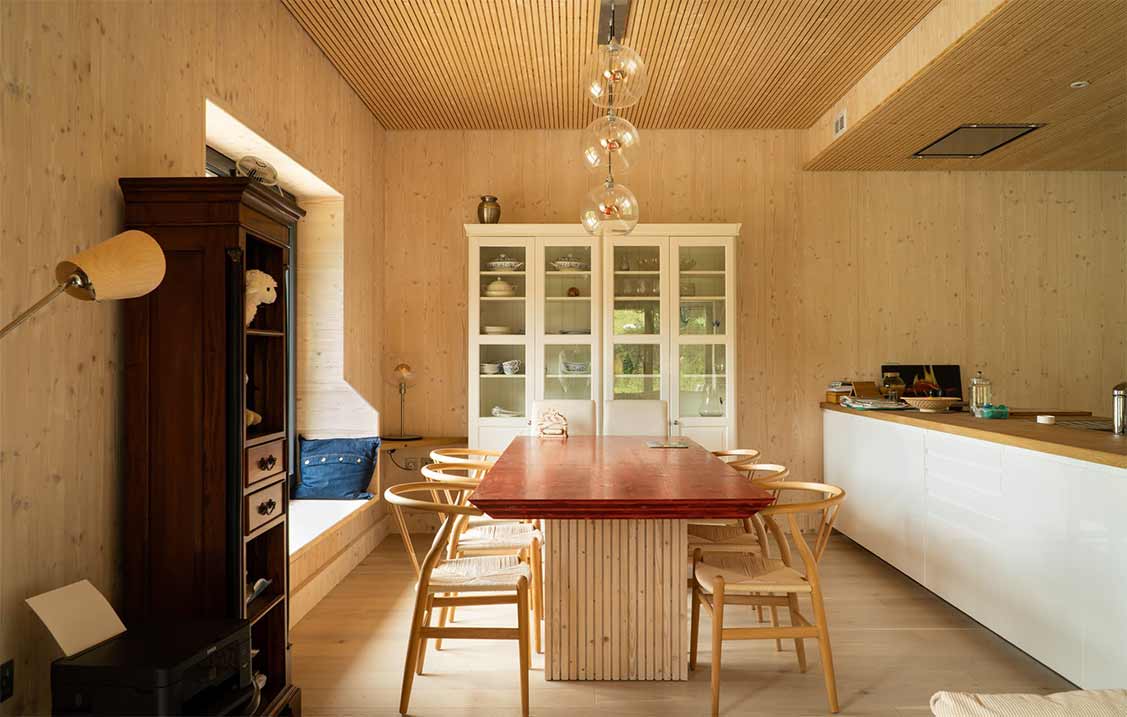 The builders have 'accidentally' created the UK's most airtight house.
The site in Warwickshire had planning permission for a passive house before its owner, Mick Woolley, bought it at an auction in 2018. Woolley, a software engineer, was attracted to the scientific approach of the passive house standard. But even to his untrained eye, the original design needed work, so he commissioned architect Mark Siddall, one of the UK's leading authorities on passive house design, to come on board.
Siddall identified a number of issues straight away. "The design was based on socalled passive house principles, but it was heavily flawed," he says. "There was way too much glazing, too much shading in other locations, and the form factor was worse than it is now."
Planning permission limited the height of the house to one storey, but the form factor [the ratio of the surface area of the building to the floor area] was measured at over 3.9 and was unnecessarily complex. "There were lots of jagged edges and things that together just would've really undermined the ambition, and would've led to additional costs."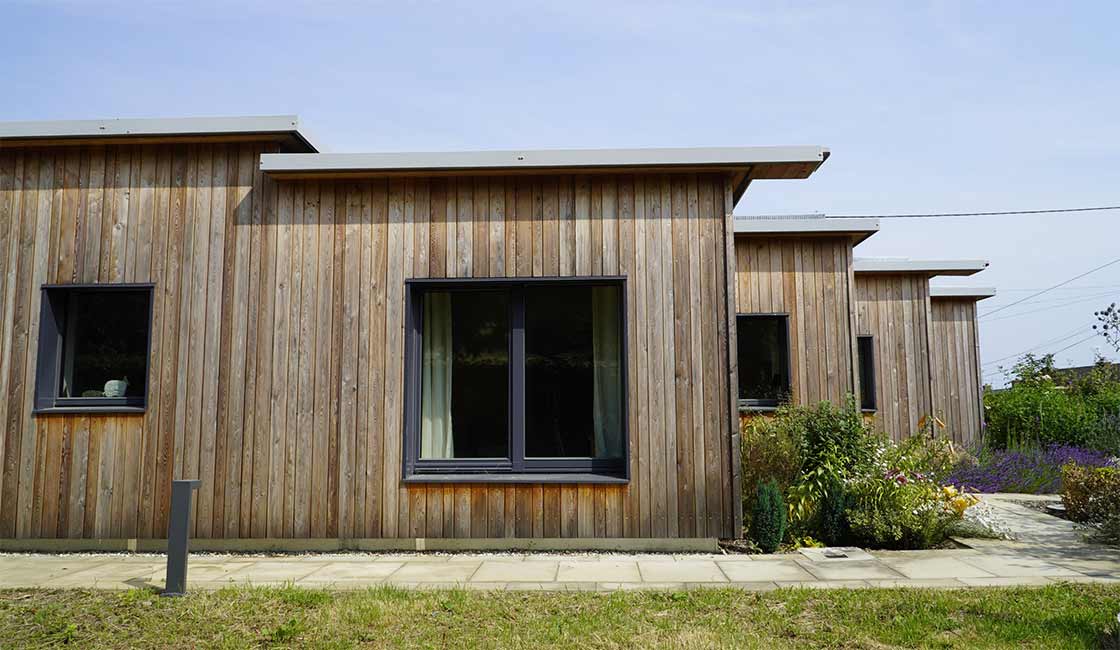 Siddall wasn't a big fan of the floor plan either, particularly in terms of the relationship between public and private areas. Part of Woolley's brief was also for a space that was fully accessible for his sister-in-law's wheelchair, for when she comes to visit.
However, Siddall was happy to work within the limits of the existing permission rather than go back to the drawing board. "I don't get wrapped up in being creative for the sake of it," he said.
"It's a case of understanding the constraints and working within them. We didn't want to put in a new planning application. We had to work with the one that was granted already, so we could tidy it up, but not in ways that were going to be a concern from the planning perspective."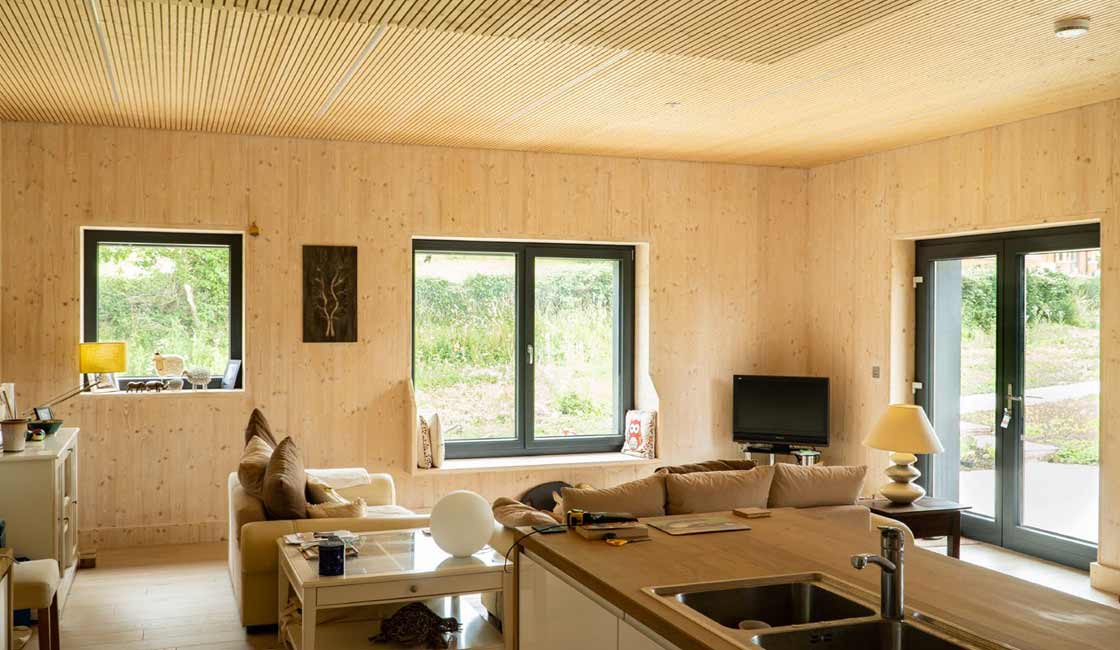 The air leakage fits on a one penny coin.
The excessive glazing of the original design added to the costs because, after all, windows cost more than walls, but also because it created overheating risks that the design tried to compensate for with shading. Furthermore, it also created a bit of a goldfish bowl effect because of the corner site's exposure to a moderately busy road and footpath.
Using the AECB's daylighting tool, Siddall was able to cut down on the glazing to still provide good levels of daylight but without the need for shading devices. The front façade was retained because it worked well in articulating the sweeping corner plot, but the northern and western façades were manipulated a little and refined.
"Reappraising glazing areas, removing eight corners and reducing the form factor were all part of a value engineering strategy which avoided complexity, improved buildability and reduced costs, without compromising the home that Mick wanted," Siddall says. "It's the strive for optimal value, achieving more with less, that underpins every project I work on."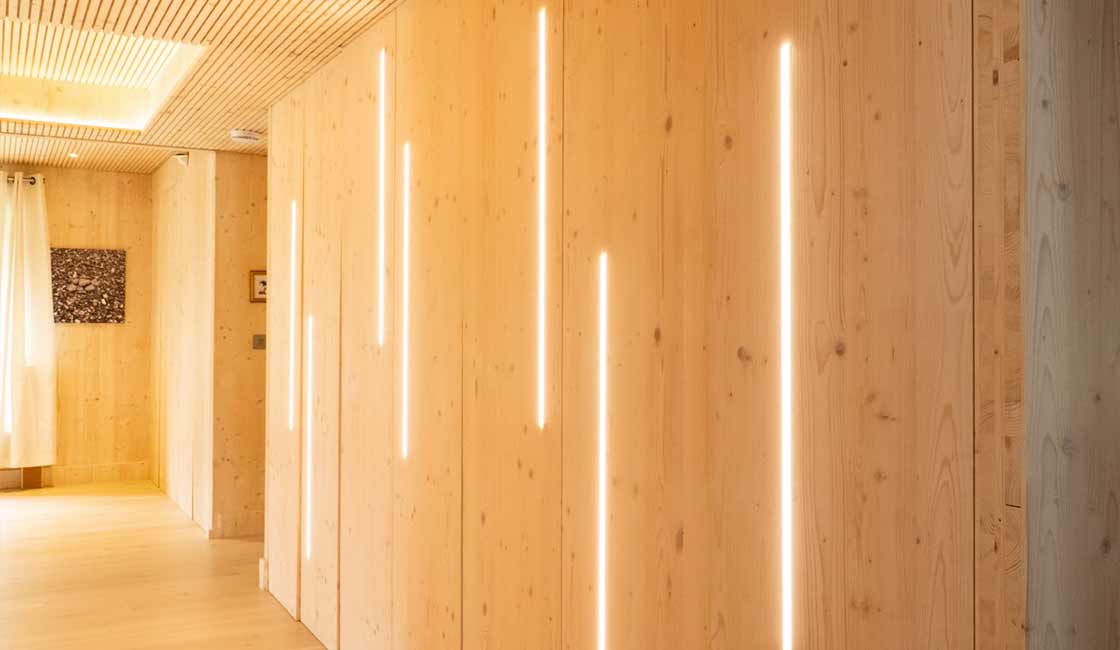 This article was originally published in issue 41 of Passive House Plus magazine. Want immediate access to all back issues and exclusive extra content? Click here to subscribe for as little as €15, or click here to receive the next issue free of charge
Further evidence that whoever created the original blueprint didn't fully understand passive house design was the lack of provision in the space for an MVHR [mechanical ventilation with heat recovery] system, which Siddall also addressed with his revised plan.
While Siddall and Woolley struck up a good working relationship, one aspect they differed on was the exact type of timber construction to be specified. Woolley was keen to use cross-laminated timber (CLT), a mass timber method more commonly used for multi-storey buildings, mainly because he really liked the range of options from CLT manufacturer Novatop that provide a good quality timber finish on the inside, including the roof. "I ended up deciding that the ceiling should be timber as well," he says.
Siddall felt that using engineered timber I-beams would have been more cost-effective and would have reduced the overall carbon footprint of the project (CLT is a wood panel product which is made by gluing together layers of solid-sawn lumber. As such it is heavier, more resource hungry and more carbon intensive when compared to a structure built using engineered timber I-beams).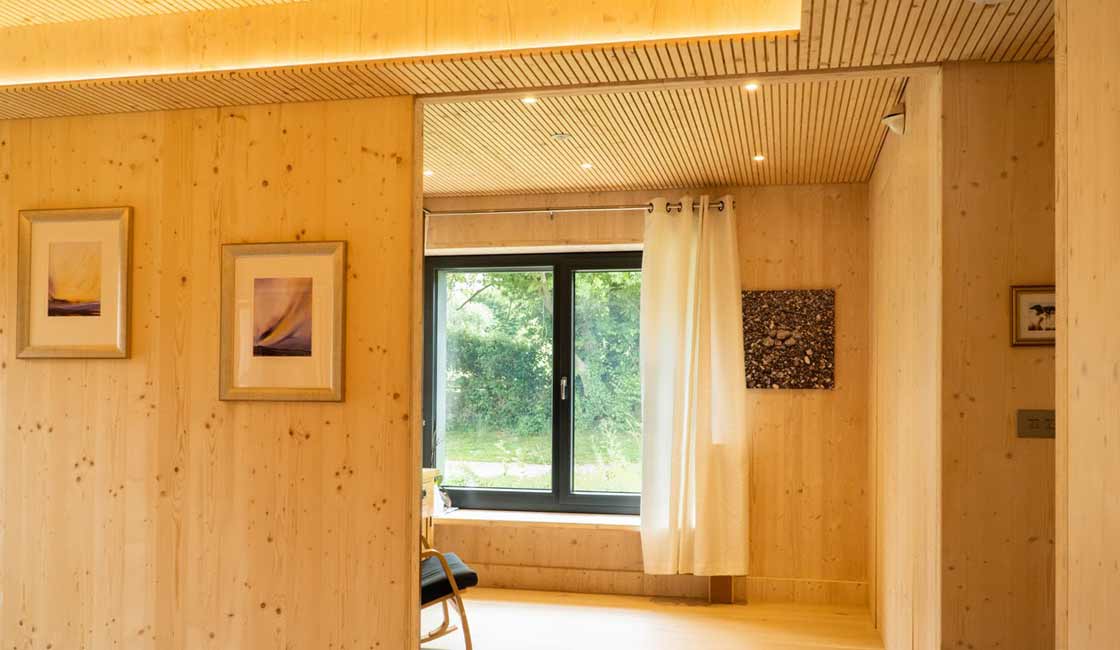 Woolley insisted on CLT, but admitted that Siddall's focus on resource efficiency and embodied carbon has finally rubbed off him.
"I'll have to hold me hand up now and say, having built it, if I did it again… that you could build a stud version of the house and still finish it internally with timber," he says. "At the time it wasn't something that occurred to me, particularly. I was thinking, well, I like this. But I must admit I'm probably more thoughtful now about what the embodied carbon might be of various products, which has made me think a lot about possible other options if I did something like this again."
It was at this point that Swiss-trained carpenter Andy Mackay of Mac Eye Projects got involved because of his experience building with CLT. He installed the superstructure and later became the main contractor, and by all accounts was instrumental in delivering the project's high-quality finishing and superb airtightness result.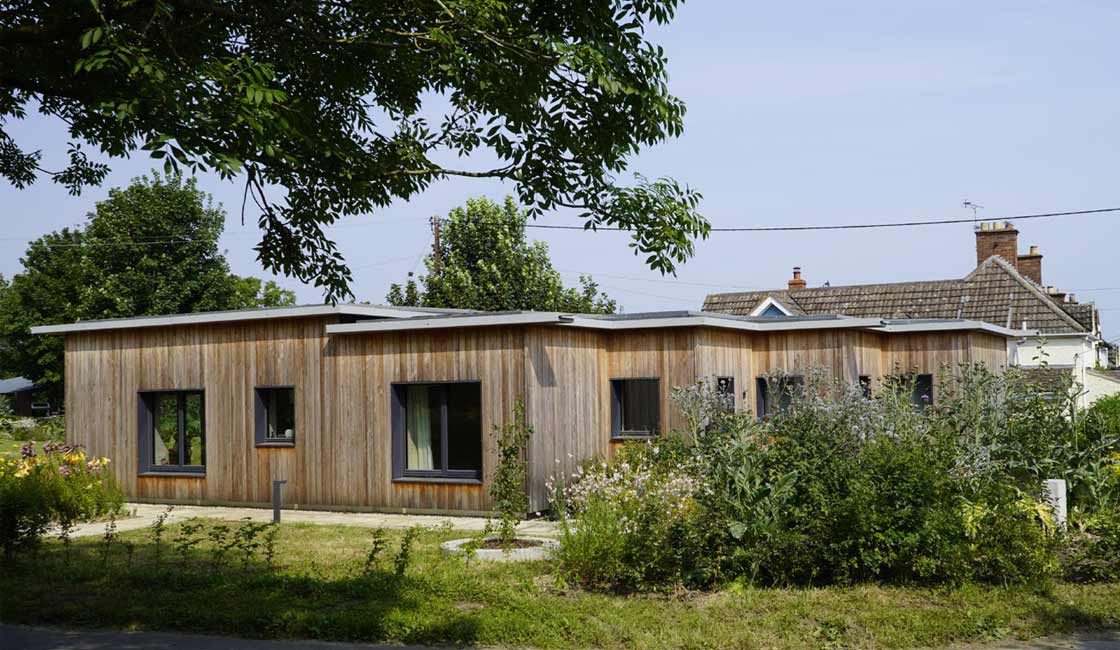 The finished building is held together by 21,000 screws.
Mackay had recently qualified as a certified passive house tradesperson and brought a lot of enthusiasm to the project, says Siddall. "The detail that he goes to, the accuracy, the precision, the quality of workmanship is just really, really up there," he said. "For instance, where we've got electrical cables routed into the CLT, he's cut into the CLT, he's then matched a piece of wood over the top in such a way that the grain matches in with other bits of the CLT around it. So, you don't even know it's there. Just excellent."
The finished building fabric is comprised of 35 CLT panels held together by 21,000 screws, which means it can be more easily disassembled and reused at the end of its life. Mackay also added his own small contribution to reducing the embodied carbon of the project by making bespoke furniture from CLT off-cuts, including the dining room table, integrated window seats, an oversized sliding door, and hidden guest bed. He also built the single interconnected engineered oak floor throughout the entire house, and describes working on the project as "one of the highlights of my career thus far".
The build itself progressed very smoothly with few issues, and Woolley and Mackay ended up becoming a bit of a tag team, with Woolley on site pretty much full-time, rolling up his sleeves and getting stuck in.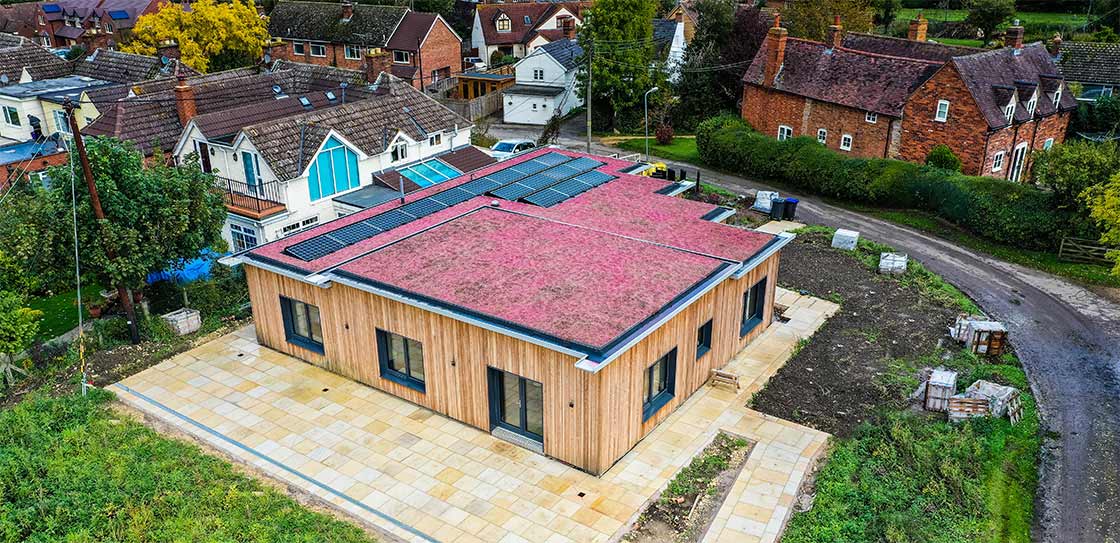 Design it properly, make sure it's buildable.
One of the big jobs he contributed to was the airtightness taping. "He showed me what to do, and then I just got on with it," Woolley says. In fact, the two worked together so well that later on Mackay got him involved in a couple of other local builds as an assistant.
"I did some of the airtightness taping on that one and it got 0.1, so again, I just don't think it's hard to do if you just do it properly," said Woolley.
Getting involved also allowed him to appreciate how building a passive house is all about the attention to detail. "With the right amount of insulation, the right design, and then the execution to build, it's just all about care. It's not about doing anything completely bizarre and impossibly difficult. It's just about taking care of things."
Siddall says the amazing result of the airtightness test, conducted by Paul Jennings, was a "nice surprise" and something the team could be really proud of — but it also confirmed that if you "design it properly, make sure it's buildable, you can get a crazy result without trying — just by accident".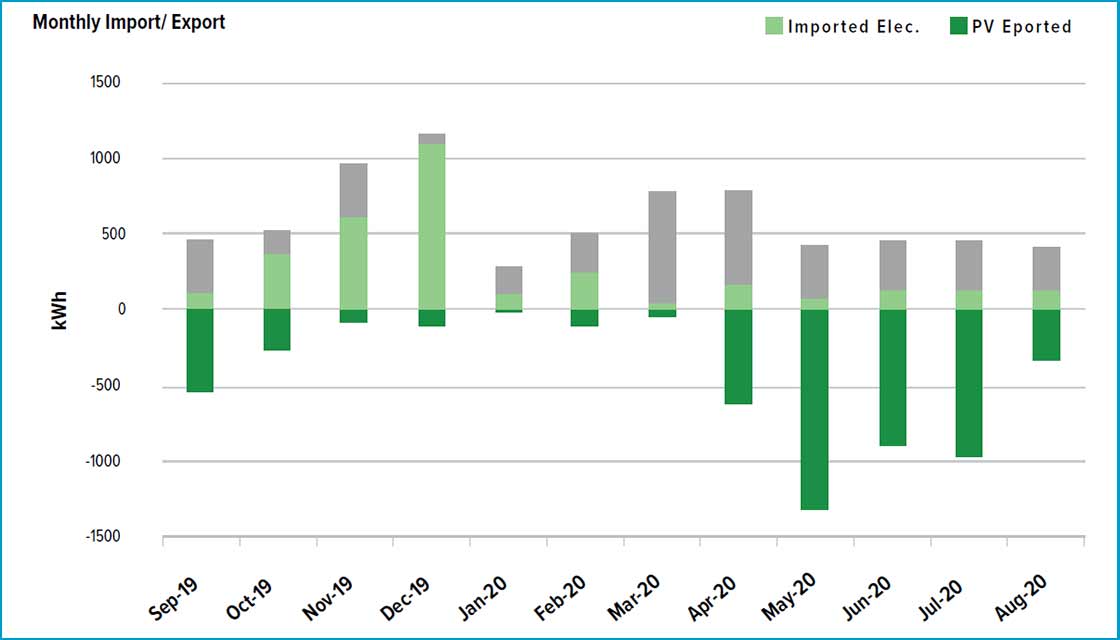 (above) Electricity imported and exported at Larch Corner over a 12 month period
He continues: "When we had the initial blower door test we were at 0.09, so we knew were in a good position. It was a case of, 'well, we don't need to get better than that — if we can maintain it, that would be amazing'. We were never pursuing something so ridiculous that the leakage fits on a one penny coin.
"I think that different things might have helped to support or improve the performance, such as the consistency in the workmanship. Then when we added on blown [wood fibre] insulation and the wind barrier on the outside. It seems all that just helped ratchet it down a little bit further."
Larch Corner is also notable for Siddall's efforts at calculating its embodied carbon, at a time when there were no standardised tools available for doing so (see 'Embodied carbon'). This was one facet of the project that helped it to win the small projects category at the 2021 UK Passivhaus Awards, not to mention commendations and shortlistings for several other awards.
Woolley was initially hoping to achieve passive house plus certification but because of the poor ratio between the (already large) PV array and the large projected building footprint, it did not satisfy the criteria of the 'plus' standard. But he's happy that the team achieved the best possible result within the constraints they had to work with, and qualified for passive house 'classic' certification.
In terms of its visual and visceral impact, Larch Corner is certainly a "timber triumph", to borrow the Passivhaus Trust's description of it. Clad in Siberian larch cladding and insulated with wood fibre, it all works really well in articulating the sweeping corner site. It's also no surprise to learn that, after three years of living here, Woolley is delighted with it. "I love the fact that it's very, very relaxing to be in," he said. "And I think it's partly because of the MVHR and the fact that it gives you this really comfortable even temperature.
But I also think that the timber is a factor. I've certainly had people come over to the house and say to me, after a few hours, you know, 'this is so relaxing'. They quite often say they can smell the timber, which I'm surprised about after three years."
One of the more interesting visual details is the roof's rainwater drainage, which is notable for not featuring any kind of conventional gutters or downpipes. "It was about trying to do something interesting with the rainwater," says Siddall. "There's a sedum roof, which will attenuate a lot of the water coming off the roof, and during heavy rain we didn't have the same rainwater cascade that you might get in a lot of instances. Obviously rainwater does come off the roof, so it was then a case of do we put little down pipes on there or do we want to kind of try and keep the facade a bit cleaner. So, we thought these kind of gargoyles, as I think of them, we'd just give them a go."
As projects go, there's much to talk about with Larch Corner, whether it's the record airtightness, the superb timber construction and detailing inside, the unusual form factor (for a passive house) or the embodied carbon calculation. The house also demonstrates how passive dwellings that generate renewable power and heat on site may be better insulated from the worst of the current energy price crisis. Mick currently makes almost £200 per year profit on his energy bills when you factor in his solar export and renewable heat incentive payments. And while the price he pays for electricity, and his standing charge, were set to double at the time of writing, even this should only bring his annual bill to about £230.
For his part, Woolley gets plenty of comments from passers-by, and regularly takes the opportunity to educate them. "I'll be out there trying to do a bit of gardening and quite regularly people stop and have a chat, because one of the footpaths paths goes sort of along the lane here, past the house. And so, you get a lot of walkers for instance, coming past and they tend to stop and ask you questions about the house. So, I sort of immediately launch into why everyone needs to have a passive house."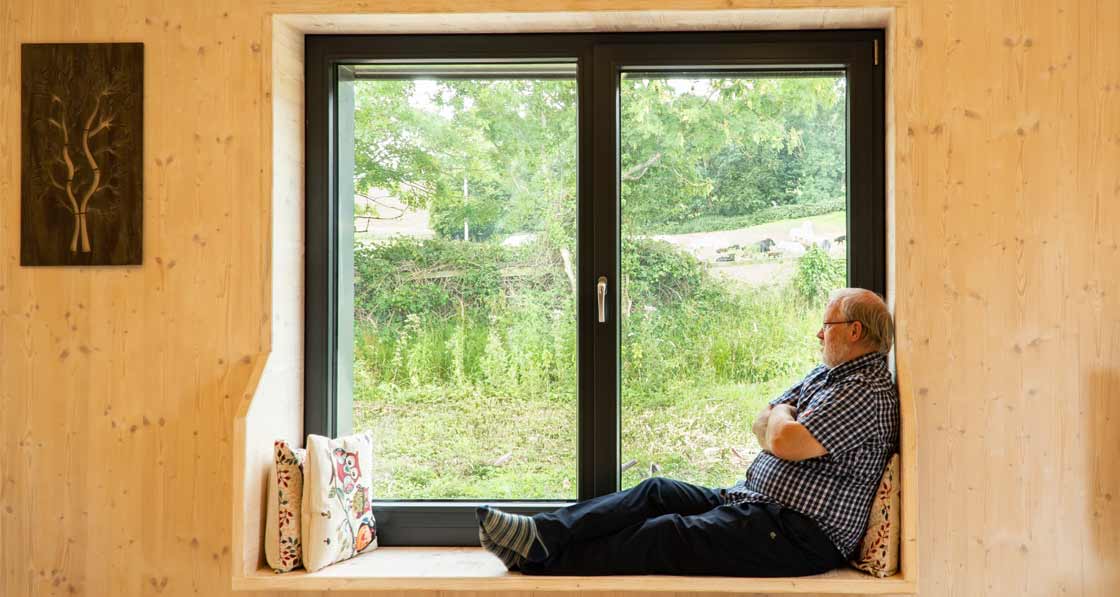 Embodied carbon
Life cycle assessment (LCA) calculations by Tim Martel using PHribbon showed a cradle-to-grave embodied carbon figure of 473.2 kg CO2e/m2, comfortably beating the RIBA 2030 Climate Challenge target for dwellings of 625 kg CO2e/m2.
The analysis includes full build ups for the external and internal walls, roof and foundations, along with windows, doors, roof lights, heating system, ventilation system and large PV array. In this case timber flooring, kitchen units, electric wiring, and bathroom fit-out were omitted. Wherever possible, emissions data was derived from valid Environmental Product Declarations (EPDs) for products used on the build, or from generic industry association EPDs or Product Environmental Passports (PEPs) applicable to the products in question. Where this was not possible, values from EPDs or PEPs for comparable products were used, or from default data such as the Inventory of Carbon and Energy (ICE).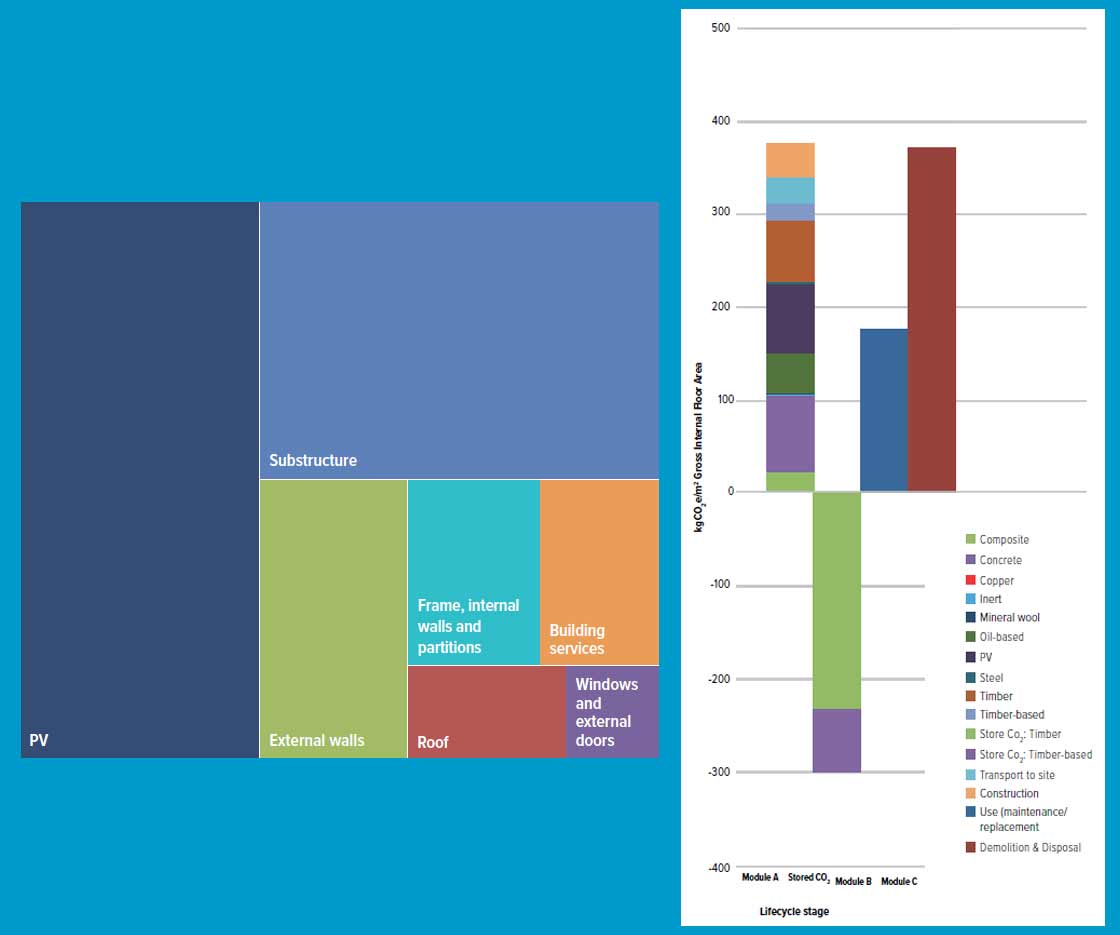 Given the substantial use of timber at Larch Corner, the total amount of 300 kg CO2e/m2 stored CO2e is almost equivalent to the 323 kg CO2e/m2 of upfront emissions – though Siddall is careful to warn against "magical thinking" that the decision to opt for mass timber and timber- based insulants led to a net reduction in carbon being released into the atmosphere.
These stored emissions are regarded as being released back into the atmosphere in the end-of-life phase of the LCA, and applying this assumption to the sheer amount of timber and timber-based materials in the building is the main reason why the module C total is so large. If the building lasts longer – and data on UK housing stock replacement rates indicates a 200- year lifespan could be expected, then these emissions would be significantly delayed – although a longer lifespan would mean more replacement and repair emissions during the building's use phase, module B.
PV AND HEAT PUMP IMPROVEMENTS
The specified Mitsubishi Ecodan QUHZ air-to-water heat pump uses CO2 as a refrigerant. Up until this point, PHribbon calculations in Passive House Plus have tended to rely on an industry association Product Environmental Passport for an air-to-water heat pump, based on averaged emissions of two conventional refrigerants, R410A and R407C, which respectively have a global warming potential (GWP) of 2,088 and 1,774.
Each kilogram of these refrigerants is equivalent to 2,088 and 1,774 kg of CO2e, respectively. CO2 by comparison, has a GWP of 1. In one fell swoop, this specification has effectively solved the refrigerant leakage issue. Refrigerant leakage from the heat pump (and assumed replacements over the 60-year design life specified for LCAs in the UK) add up to a rounding error: just 0.4 kg of CO2e.
Meanwhile, some recent EPDs on solar PV arrays are showing dramatic reductions in embodied carbon, likely due to a combination of lighter materials, lower emissions manufacturing processes, and dramatic improvement in the efficiency of PV arrays over the last decade or so – an important consideration as EPDs for PV arrays are expressed in CO2 emissions per kilowatt peak.
One interesting footnote is that Mark Siddall built his own embodied carbon calculator for Larch Corner in 2018, with Siddall spending a significant amount of time hunting down EPDs for products not included in the ICE (Inventory of Carbon & Energy) database. Siddall's calculations were tested against a beta version of PHribbon.
"It was a painful but valuable learning experience, but now that the PHribbon plugin for PHPP exists for calculating the embodied carbon of passive house buildings, I can firmly say that I will always use it in preference to any other tool," says Siddall. "This is because it saves so much time and because it integrates so smoothly into the normal workflow."
Selected project details
Client: Mick Woolley
Architect: LEAP (Mark Siddall)
M&E engineer: Alan Clarke
Main contractor: Mac Eye Projects
Blower door test: Paul Jennings
Cross-laminated timber: Novatop System
Timber engineered I-beams: Steico
Wall insulation: Pavatex, via Soprema
Additional wall insulation: Steico
Roof insulation: Steico
Additional roof insulation: Pavatex, via Soprema
Airtightness products: pro clima, via Green Building Store & Pavatex
Roof lights: Passivhaus Store
Entrance doors: Green Building Store
Heat pump: Mitsubishi
MVHR: Green Building Store
In detail
Building type: 162 m2 detached cross-laminated timber dwelling.
Site & location: Upper Quinton, Warwickshire
Completion date: April 2019
Budget: £448,000 (excluding cost of plot) / £2,685 per m2
Passive house certification: Passive House Classic certified
Space heating demand (PHPP): 14 kWh/m2/yr
Heat load (PHPP): 8 W/m²
Primary energy demand non-renewable (PHPP): 66 kWh/m2/yr
Primary energy demand renewable (PHPP): 26 kWh/m2/yr
Renewable energy generation: 38 kWh/m2/yr
Heat loss form factor (PHPP): 3.9
Overheating (PHPP): 5 per cent assuming night vent at 0.1 ACH. Measured: 5.5 per cent.
Number of occupants (PHPP): 3.0 for passive house assessment (actually one).
Airtightness (at 50 Pascals): 0.041 m3/hr/m2 at 50 Pa / n50 of 0.048.
Measured energy consumption: 4,723 kWh (avg. over 3 years).
Thermal bridging: Default building regulations assumptions (Y-value 0.15 W/m2K) would mean 60 per cent of all heat loss goes through thermal bridges. Vigilant design and attention to building physics reduced this by 90 per cent (Y-value 0.015 W/m2K). Insulated raft foundation. Reducing the timber fraction by using engineered I-beams.
Energy bills: Mick's average annual all-electric energy bill has averaged approximately £450 per year, at a rate of 14p per kWh, including VAT but not standing charges. During 2021, his heat pump consumed 1,133 kWh/yr for space heating, which would have cost £159 at this rate, or approximately £13 per month. Mick receives a solar export payment of about £320 per year, and a renewable heat incentive payment of approx £470 per year. His annual standing charge has averaged about £100 per year at 28p per day. Taking all of these figures into account makes for a net profit on annual energy bills of about £240. However, at the time of writing, Mick's standing charge and unit fee for electricity were both set to increase to 48p per day and 27p per kWh respectively, which would bring his annual bill to approximately £230 per year, all things considered.
Ground floor: 22 mm timber floorboards, followed underneath by 213 mm reinforced concrete, 260 mm Jackon Jacodur Plus XPS insulation, sand blinding. U-value: 0.07 W/m2K
Walls: 22 mm larch cladding, followed inside by ventilated cavity, Pavatex ADB wind barrier, 80 mm Pavatherm Combi wood fibre insulation, 360 mm JJI-Joist with Steico Zell wood fibre insulation, 84 mm Novotop CLT (taped and sealed for airtightness). U-value: 0.09 W/m2K
Roof: Green roof, followed underneath by ventilated air gap, Pavatex ADP underlay, Pavatherm wood fibre insulation, Pavatex DSB2 air barrier, Novatop hollow CLT panel filled with Steico Flex wood fibre insulation between the ribs, 70 mm service void/air gap, 14 mm Novatop acoustic panel. U-value: 0.12 W/m2K
Windows & external doors: Green Building Store Ultra timber triple glazed windows. Passive House Institute certified. Overall U-value of 0.74 W/m2K
Roof window: Lightway Crystal 300 HP Blue Performance. Overall U-value: 0.6 W/m2K Heating system: Mitsubishi QUHZ air source heat pump, heat distributed via oversized radiators at low flow temperature.
Ventilation: Paul Novus 300 mechanical ventilation with heat recovery (MVHR) system. Passive House Institute certified heat recovery efficiency of 93 per cent.
Wellness: BS 8206-2 was used to assess daylight provision and avoid oversizing windows. This means rooms are well lit, minimise the use of artificial lighting, reduce overheating risks and minimise Seasonal Affective Disorder (SAD). Noise from MVHR is unregulated. To avoid sleep disturbance and preserve IAQ, habitable rooms are designed to achieve <25 dB(A).
Water: AECB Water Efficiency standard adopted. This has been achieved through the use of low flow fittings, a compact services plan, microbore plumbing (which minimises the volume of dead legs to < 1.0 litre) and a super-insulated storage cylinder.
Electricity: 9.3 kWp photovoltaic array. Excess energy is used for electric car charging or grid export. The EPC states household emissions are -2.2 tCO+e/yr. The site used 39 per cent of the electrical energy generated by the photovoltaic array and exported the remaining 61 per cent.
Energy breakdown for a typical year:
PV generated: 8,530 kWh/yr
PV used: 1,600 kWh/yr
PV exported: 7,200 kWh/yr
Electricity imported: 3,123 kWh/yr
Total household elec: 4,723 kWh/yr
Electricity use of heat pump: 1,343 kWh/yr
Space heating: 1,133 kWh/yr
Hot water: 210 kWh/yr
Other (Household elec.): 3,380 kWh/yr
Note: 'Other' includes the charging of an electric car which is estimated to use about 1,600 kWh per year.
Image gallery
Related items
Latest from John Cradden