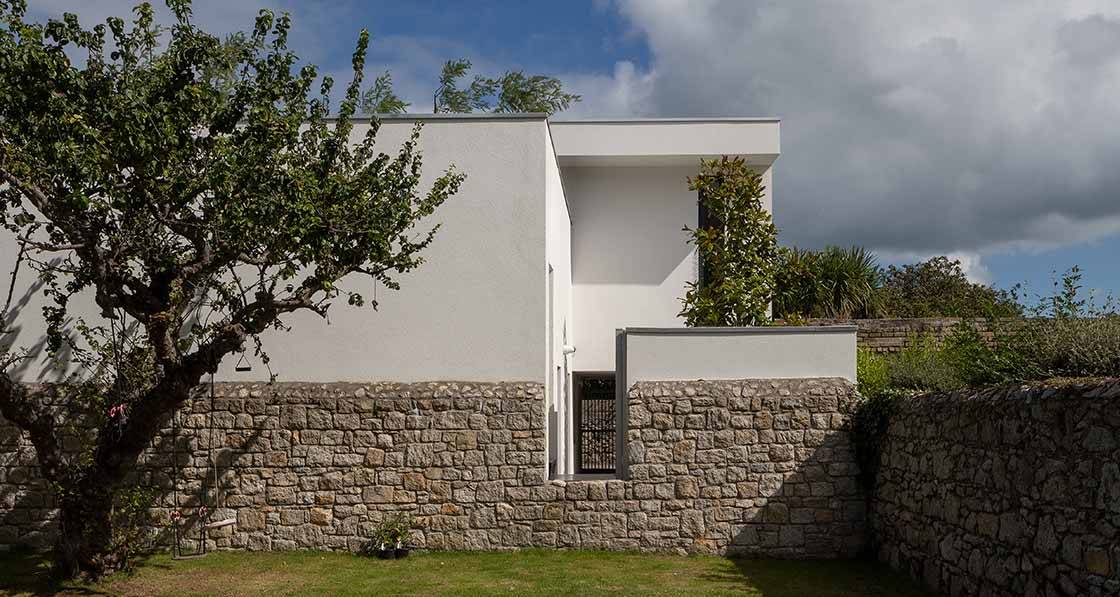 Photography: Paul Tierney / Abdone.com

John Hearne
Zero in - Inspired design offers route to net zero energy living
It sounds like an impossibility: a high density, architectural, zero energy home on the tightest of back garden sites, adaptable to the needs of everyone from empty nesters to a family of six without opening a toolbox. But sometimes a project comes along that redefines what is possible.
Click here for project specs and suppliers
Energy bills €393 per year for all energy use plus electric vehicle
Building: 120 m2 detached passive mews house
Build method: Single leaf aerated blockwork w/ external insulation
Site & location: Suburban garden, Sandycove, Dublin
Standard: Passive house 'plus' certification pending

It's hard to know where to start with Mel Reynolds' new house in Dún Laoghaire. The first passive house 'plus' build in the country, it was financed with a crowd-sourced funding model. Its reconfigurable ground floor layout anticipates a range of human needs, and yet it still manages to achieve a far more efficient use of space than your traditional semi-d.
And because it delivers so much in a tight footprint, it offers developers a scalable model of highly efficient land use at no additional cost.
Perhaps the most striking thing however is the symbiosis Reynolds discovered between his take on the passive house plus standard and the operation of an electric vehicle. The savings – in both cash and CO2 – are jaw-dropping. More about that later.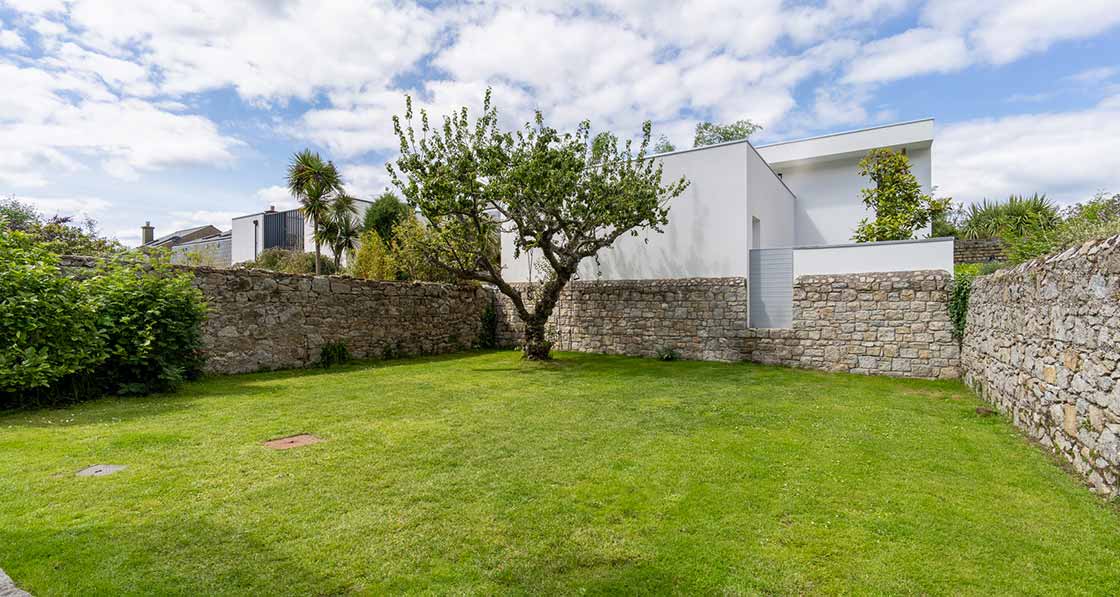 Let's start with some detail. This is a 120 m2 four-bed passive mews house built in the garden of Reynolds' existing Sandycove home, which is itself a protected structure located in an architectural conservation area. The new mews house is of single leaf masonry construction with external wall insulation. It comfortably meets the passive standard, and with the addition of a sizeable PV solar array, is set to be certified as passive house 'plus'. This recently-introduced version of the standard requires a minimum of 60 kWh/m2/yr of renewable energy generation on site.
Finance for the build was raised through Property Bridges, an Irish organisation set up in the aftermath of the 2008 crash to step into the space the banks had largely vacated. It provides peer-to-peer loan finance for construction projects. Individuals can invest relatively small sums which are then repackaged into loan finance for specific projects. Reynolds's house was the very first to be funded by the platform.
This is a mews house, and mews houses, as Reynolds points out, are typically quite austere and self-contained because they don't tend to have a much of a streetscape to engage with. You're also talking about a very compact infill site, overlooking not alone the existing family home but also adjoining houses in quite a densely populated suburb. This led to what he describes as an 'introverted' design, with no overlooking windows. "I was looking not alone from our point of view, but from the point of view of surrounding neighbours."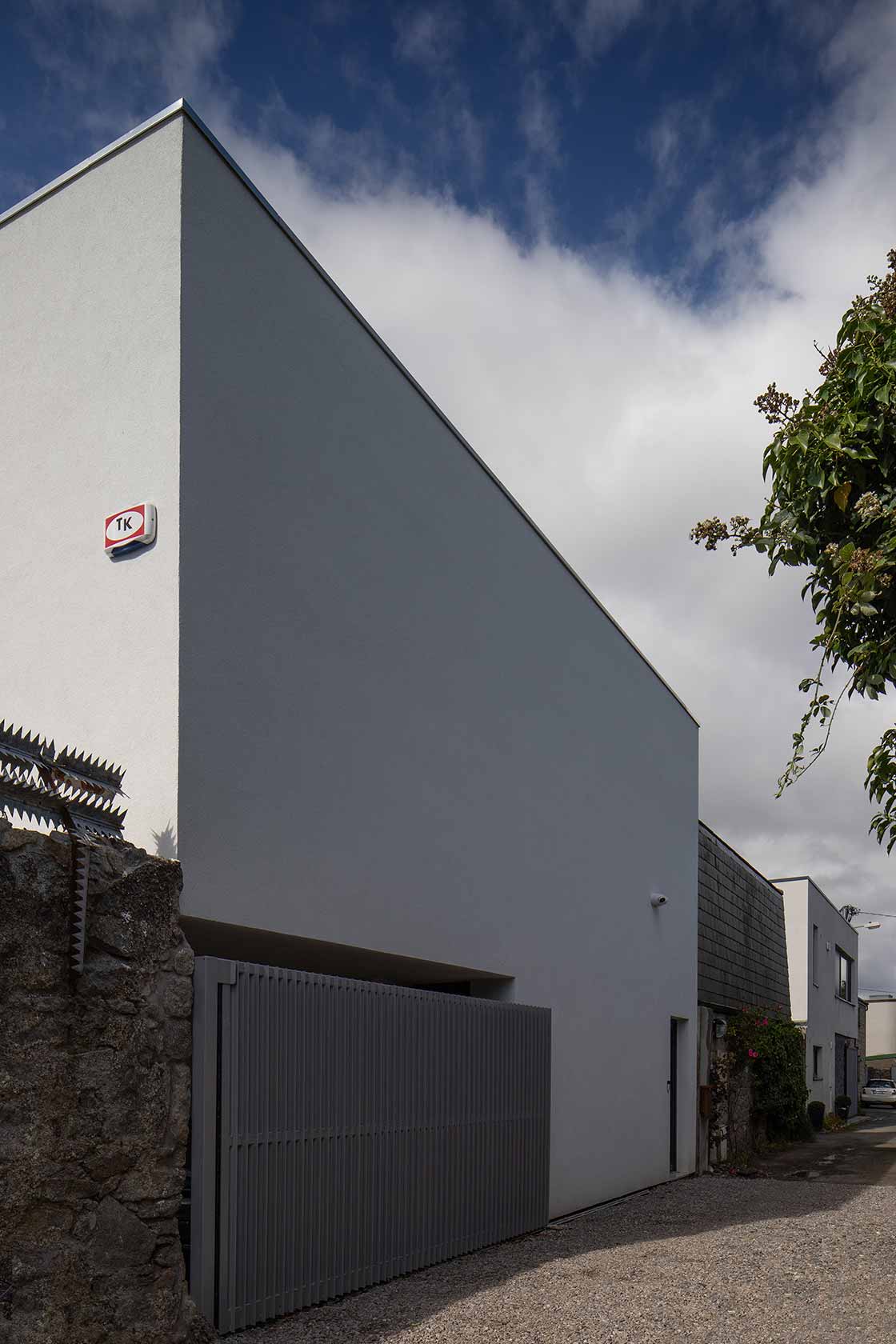 This article was originally published in issue 35 of Passive House Plus magazine. Want immediate access to all back issues and exclusive extra content? Click here to subscribe for as little as €10, or click here to receive the next issue free of charge
Smart use of space
It's also an 'upside down' house. Bedrooms on the ground floor, kitchen and living area on the first floor.
"People assume that this is an aesthetic decision," says Reynolds, "and it is, it's an interesting way to live, but it actually is far more efficient internally in terms of your net usable space."
He points out that the statistic that we all zero in on – floor area – can be misleading. Net usable space, on the other hand, removes hallways, bathrooms, ensuites and undercrofts, giving you a more meaningful metric. The regulations insist on a bathroom on the same floor as the main entrance. Since this is now downstairs with the bedrooms, the main bathroom fulfils this role and there's no need for any WC upstairs. The only circulation space, therefore, is the stairs ascending to the first floor.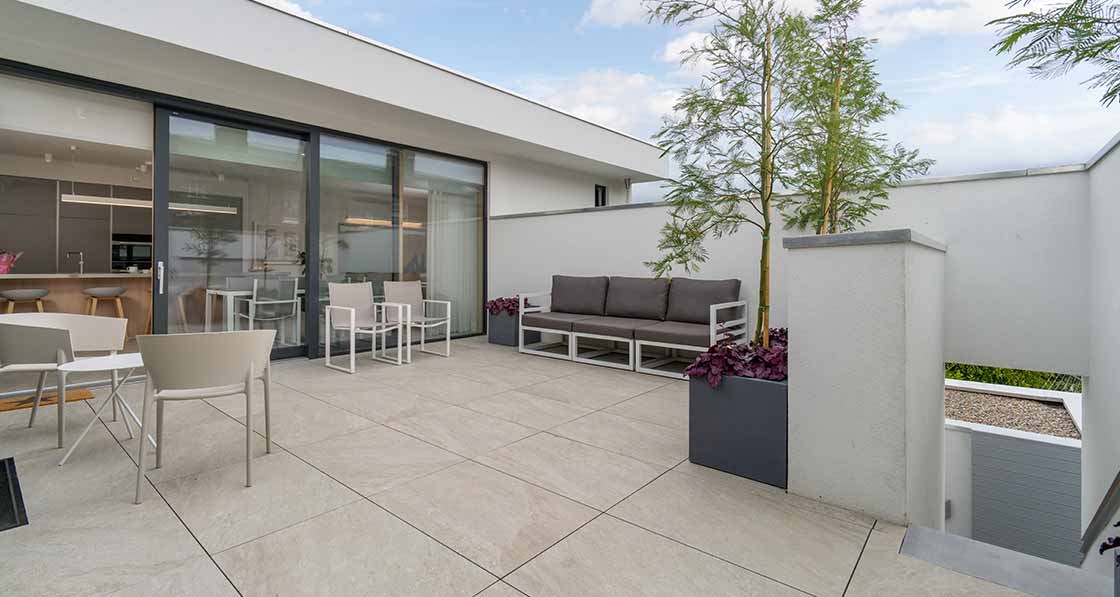 "The net to gross ratio of circulation and service spaces to usable spaces in a typical four-bed semi-d or five-bed three-storey is between 30% and 33%. In this arrangement, it's 20%. So you effectively get an extra bedroom by just inverting the layout... So even though this house has 120 m2 square metres gross space, internally, it's the equivalent of about 135 m2."
Throughout the build, Reynolds also looked at the project with a developer's eye; in terms of materials, in terms of design, in terms of logistics. The 'introverted' design and the highly efficient use of space make the proposition much more attractive to a developer willing to use a different cookie cutter. Reynolds estimates that you can get 30% greater density with this design, and it's hard to see what you'd be giving up for that.
He originally conceived the project as a sort of trade down home for an older couple, but as he began to work through the design, he realized that the possibilities were much wider. "I tried to imagine a client in order not to get bogged down with what I wanted. But there was always that tension between would it be for a couple or for a family?" Rather than resolve that tension, he decided instead to try to "future proof for different occupancies". Was there a way to configure the house so that it could meet the needs of a family or couple or... whatever? The answer was yes.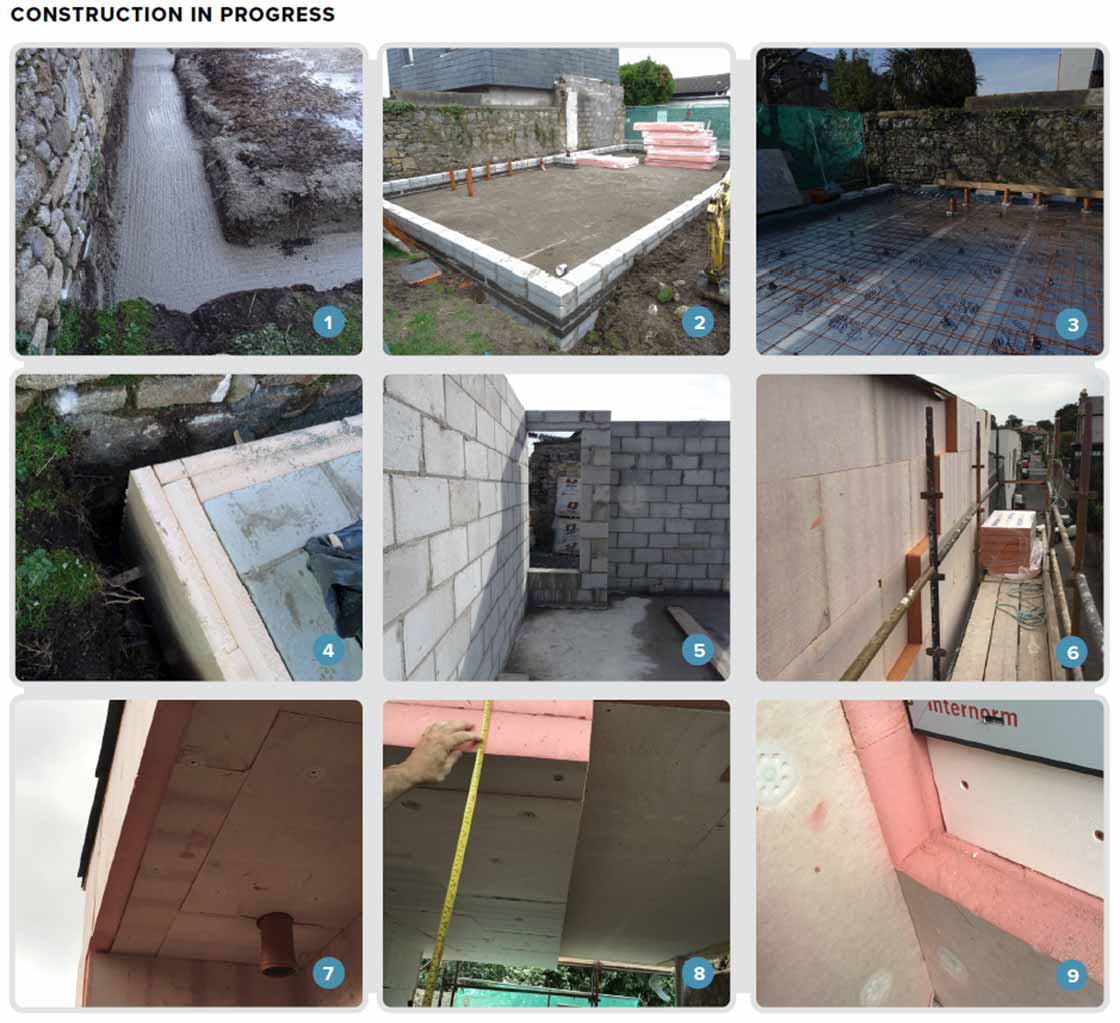 The foundations spec includes 1 a concrete trench; 2 perimeter of Quinn Lite and Foamglas blockwork; 3 270 mm Kingspan K3 insulation followed by reinforced concrete slab mesh; 4 corner detail showing XPS insulation enclosing the first layer of Quinn Lite block. 5 Singleleaf Quinn Lite blocks form the whole walls, significantly reducing thermal bridging throughout the building. 6 Kingspan phenolic external insulation helps to deliver passive house U-values; 7 & 8 200 mm Kingspan external wall board insulation is fitted to the soffit at the overhang and undercroft; 9 Compacfoam supports to window reveals minimise thermal bridging.
Downstairs, the rooms can be reconfigured into no fewer than 16 different layouts, from five bedrooms to a single master suite. This is done using a combination of folding partitions and 'soft spots', built-in openings in walls which can be disassembled and reassembled very easily.
"One of the issues with residential schemes is that they're very rigid," says Reynolds. "If it's a one-bed apartment, it's always going to be a one-bed apartment. The same if it's a co-living unit, a hotel room or a bedsit. None of these spaces can become anything else without significant modifications. I was interested in this idea of resilience in the built environment. I wanted it to be a comfortable house for either a couple, a small family or a large family... So the design challenge was how do you fit a four-bed semi-d on a 135 m2 site with two car parking spaces, 60 m2 of garden space and a flexible interior?"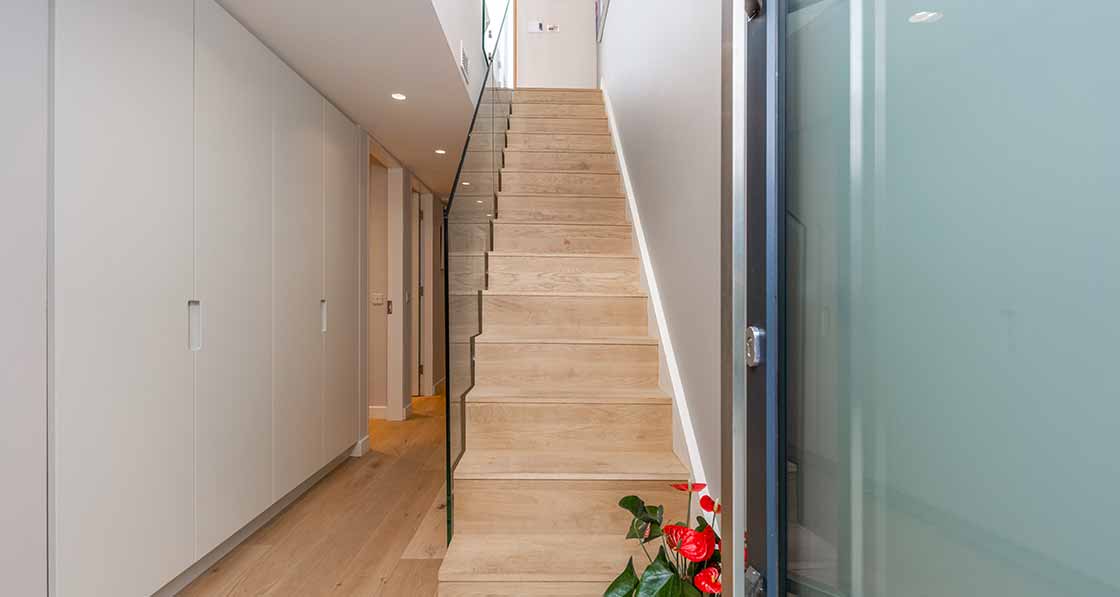 All of this is great in theory of course, but could a large family live comfortably in this space? Is it simply too small to work? It was to answer this question that Reynolds and his family of six (partner plus four children) decided to move in. He sold the idea to the kids by offering them their own rooms – something they didn't have in their existing house, despite the fact that it's got twice the floor area. Similarly, despite the compactness of the design, there is more storage space in the mews house than in the old house.
All of the design work evolved under the constraint of a passive standard thermal envelope. As far as the build went, Reynolds brought to bear all of the work he had been doing in the previous two decades, refining details and arriving at a fabric spec that would achieve the necessary targets as simply as possible.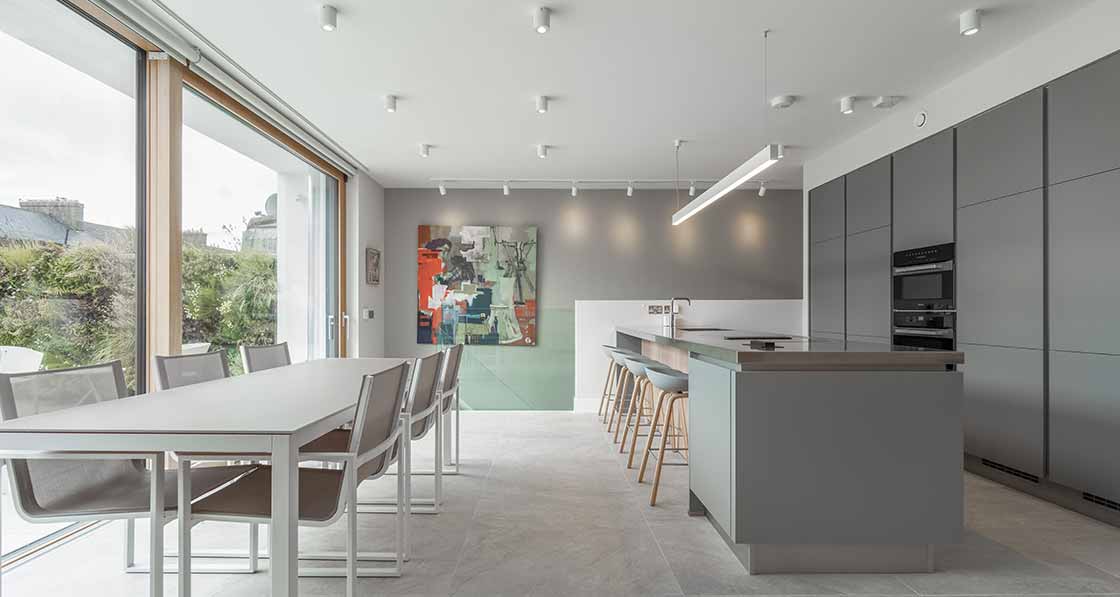 Super insulated masonry
Getting the right builder was critical to achieving the required airtightness.
He opted for single leaf masonry with external insulation, a specification he has been using since 2008, combining Quinn Lite thermal blocks with Kingspan phenolic external insulation and acrylic render to deliver passive house U-values.
Quinn's low thermal conductivity aerated concrete blocks have been used for years as the first course on many masonry builds as a mean of eliminating thermal bridging between the walls and the floor slab. But since 2018 the company has been promoting the use of Quinn Lite blocks with external insulation for single-leaf, whole-wall construction, dubbing it their "super insulated masonry solution", or SIMS.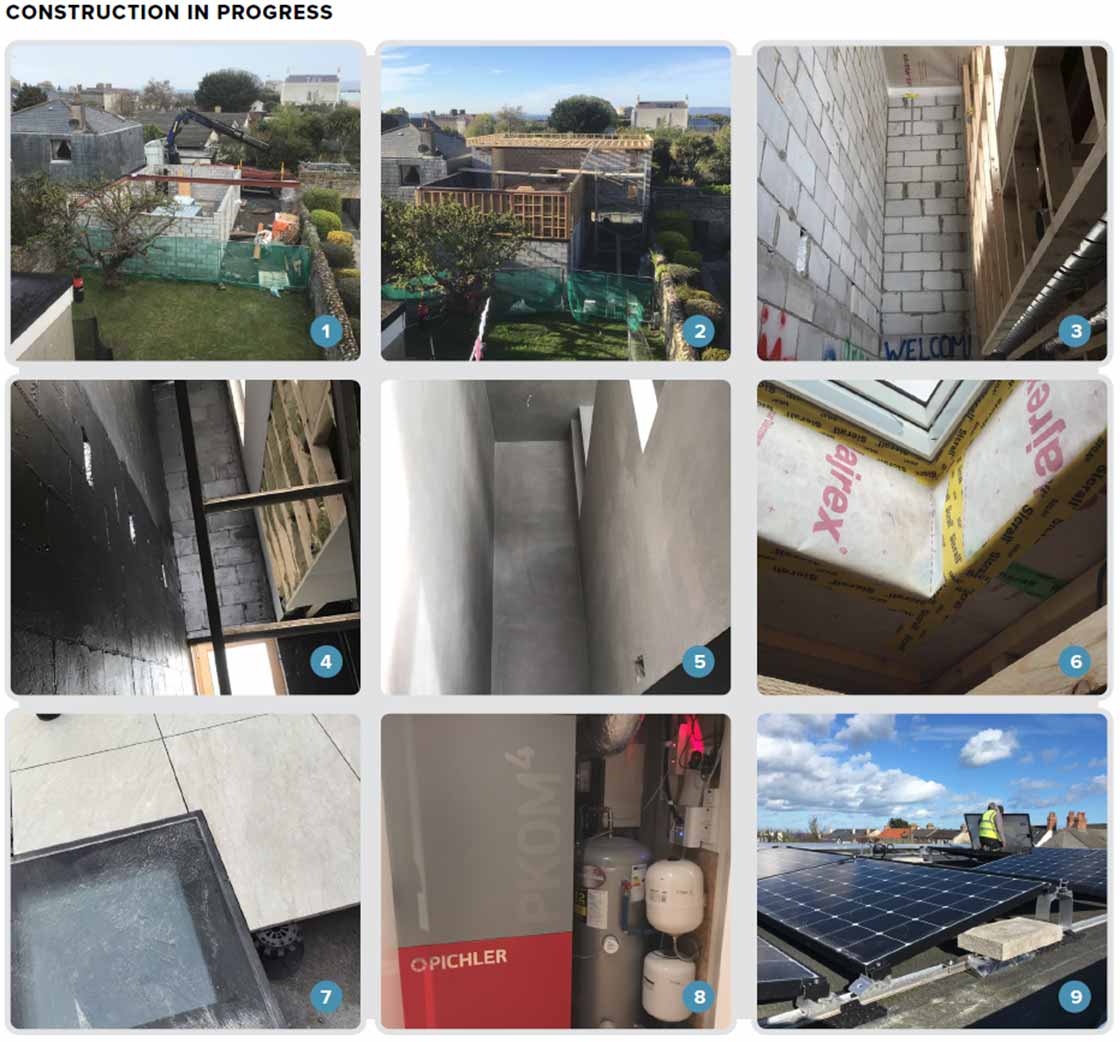 1 & 2 With the ground floor structure complete, work begins on the upper floor of the house which includes an outdoor terrace. 3, 4 & 5 the front door and hall, showing Blowerproof liquid airtight membrane being applied directly to the Quinn Lite blocks, and plasterboard fitted directly to the Blowerproof-painted walls. 6 Siga Majrex airtightness membrane and tapes around roof windows; 7 the Fakro walk-on roof windows are situated flush with the tiles of the first-floor terrace. 8 A Pichler combi heat pump system supplies all space heating, hot water and ventilation duties; 9 the large 24 panel solar PV array not only generates plenty of power to use around the home, it can also produce enough energy to run an electric vehicle for 10,000 km per year.
"By using Quinn Lite as the masonry substrate, you're automatically improving the thermal performance or U-value of the walls, while at the same time significantly reducing thermal bridging throughout the building," says Jason Martin of Quinn Building Products.
Single-leaf blockwork also helps to speed up the build, with the lightness of aerated blocks making things easier again. "In relation to the speed of build, if you compare it to typical cavity wall construction, you're using half the number of blocks. For a square metre of wall, you only need ten blocks, so first off, it's much, much quicker than building a traditional cavity wall," says Jason Martin.
Reynolds also says that aerated blocks contribute to faster drying time, and even though they cost more per block, the need for less blocks and less labour makes it cost neutral overall. As is frequently the case, airtightness was a challenge, and was met in this case with a Blowerproof liquid airtight membrane, which Reynolds discovered in the pages of Passive House Plus. This is a BBA certified product with Class C fire rating and is well established in Europe.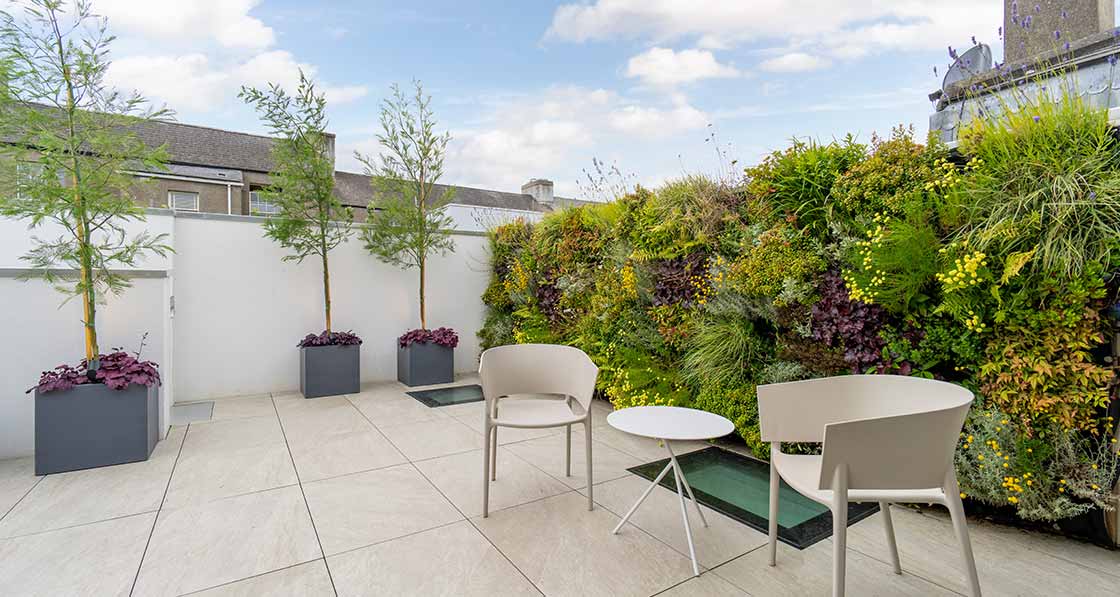 While the normal fire compartmentation requirement with a build-up like this would be to batten out the walls internally and then mechanically fix plasterboard to the battens, Reynolds established that it was acceptable in this case to use dabs of adhesive to glue the plasterboard directly to the Blowerproof-painted walls, because Quinn Lite has a four-hour fire rating on its own. This helped save valuable floor space as well as speed up the build.
He admits that getting airtightness down below the magic 0.6 ACH at 50 Pa can be time consuming and tricky, but that it's uniquely worthwhile.
He says getting the right builder was critical to achieving the required airtightness.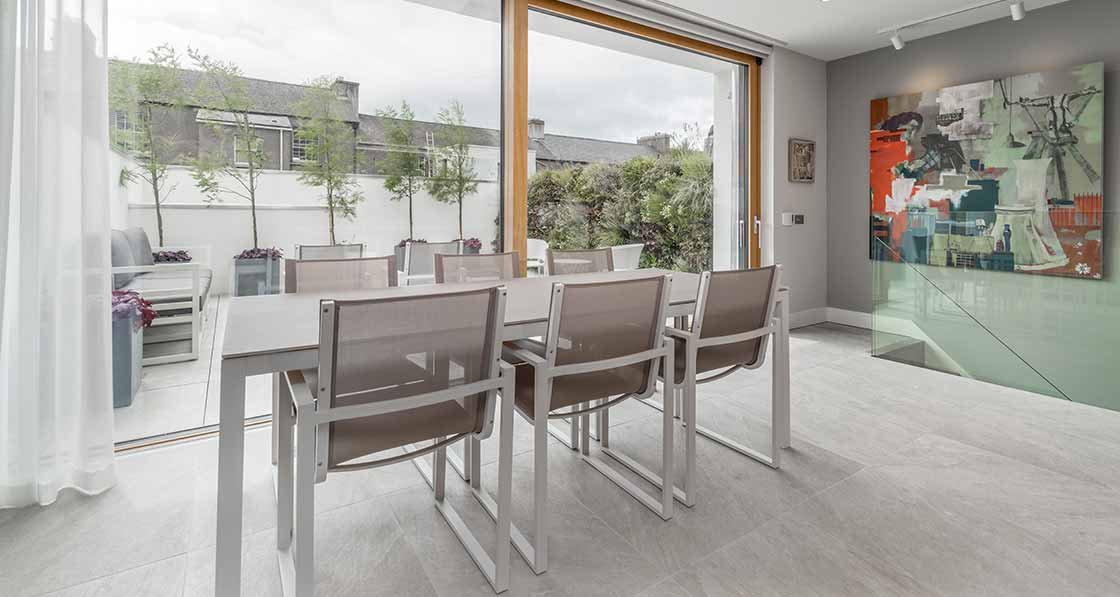 "The builder Sean Regan had completed the Passive House Academy's tradesperson course and had two skilled foreman, John Gorry and Sean Whelan, who both had training in airtightness. Without this essential upskilling on the contractor's side it would have been very difficult to get to this level of quality, particularly the airtightness."
Ultimately the team's prior experience paid off. "The airtightness was the most challenging aspect," says contractor Sean Regan. "It was just about being meticulous and checking and rechecking. It was our first time using Blowerproof, but it was very convenient around window openings and tricky corners." The same team — Reynolds and contractor Sean Regan — is now working on a passive retrofit project in Rathgar, again using Blowerproof for airtightness.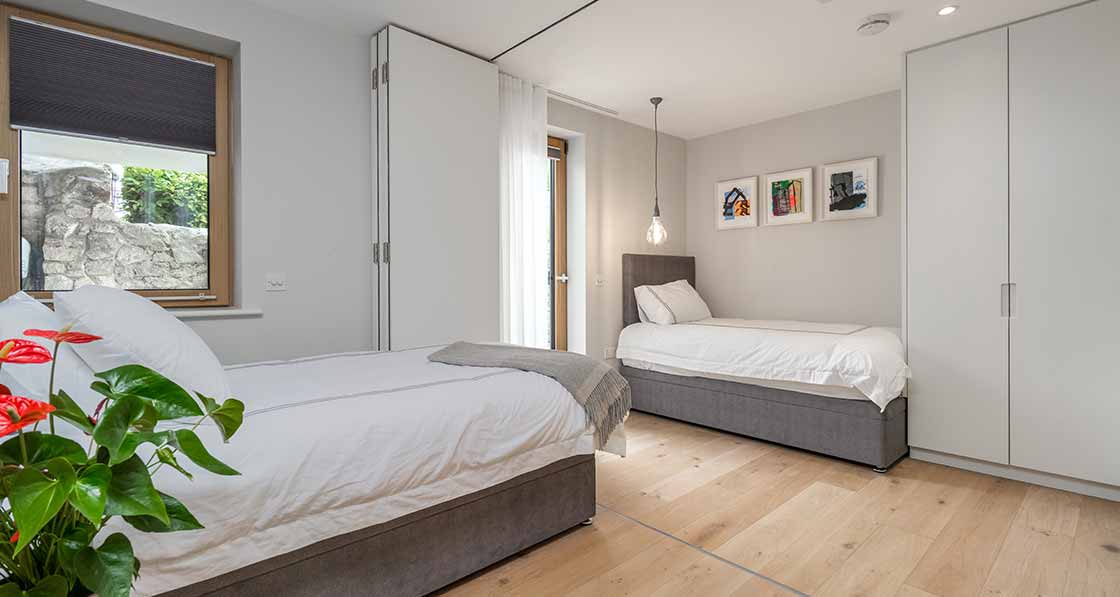 Passive House 'Plus'
Downstairs, the rooms can be reconfigured into no fewer than 16 different layouts.
Reynolds refers to both Madeira Oaks, a 2016 passive development in Enniscorthy by Michael Bennett, and Silken Park, a Durkan Residential passive house development in City West, as inspirations behind this project.
"These showed us that if you can hit passive levels of fabric performance, you don't need a primary heating system, you can do it using an airborne system. So straight away, if you can spend a little bit more on your walls, particularly on glazing, and make it airtight, you can eliminate your boiler and save about fifteen thousand euros."
Reynolds's next question was what to do with the savings. One possibility? Put it on the roof. He specified a very large solar PV array of 24 panels covering an area of 41 m2, with a power rating of 6.8 kW. Chatting to a neighbour about his plans, she mentioned that her dad worked with PV. This dad turned out to be Tim Cooper – one of the foremost experts in the country. Cooper agreed to come and look at Reynolds' plans. This was his first question: 'What are you going to do with the power? If your house is efficient, you'll be exporting most of it.'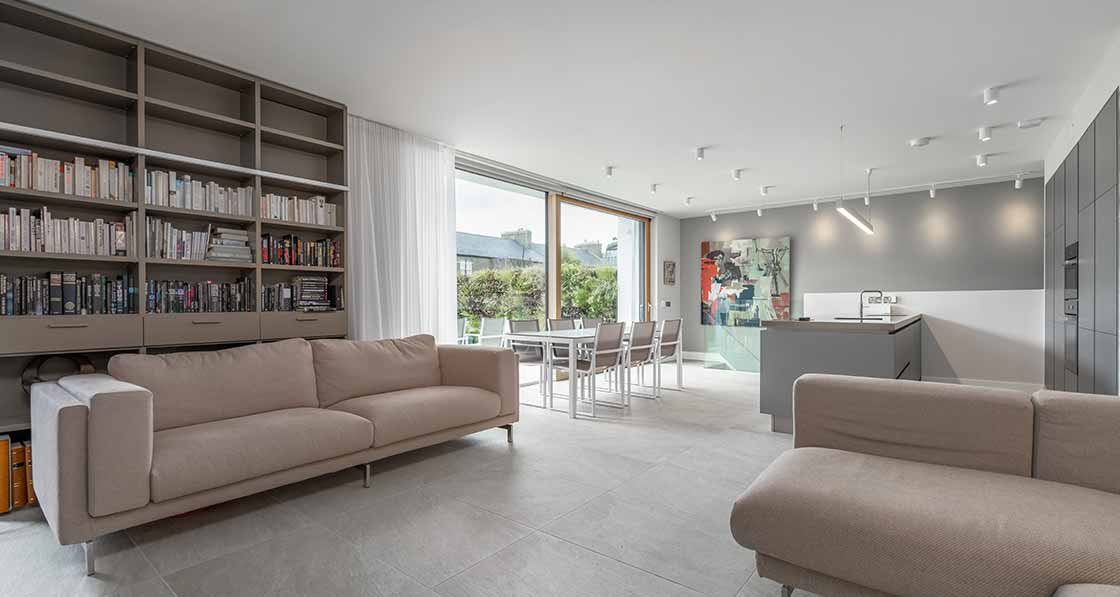 By Cooper's calculations, between 60% and 70% of the power would be going back to the grid. Moreover, the way electricity demands varied from morning to evening, there would be days when Reynolds would both import and export power – and there remains no feed-in tariff in Ireland for microgenerators.
Rather than scrap his plans, Reynolds asked Cooper if he would create a demand control model which would determine the most efficient way to use the power he intended to generate. Straight away, Cooper spotted a couple of easy wins.
"Mel intended to use cold-fill washing machines," he says, "which would be heating up the water with electricity, and in an uncontrolled way. We decided to get hot-fill washing machines [which use hot water already generated in the home] so you could heat the water in an efficient way. That was step one."
Next, they made sure that all the electrical appliances had AAA energy ratings to cut instantaneous power use, thereby reducing potential demand on the grid. That done, they looked at the storage options, specifically batteries and thermal storage.
"We did a lot of arithmetic," says Cooper, "and concluded that the most efficient way to do it in all respects was to put in an increased thermal hot water storage system and design it in such a way that it was fully optimised."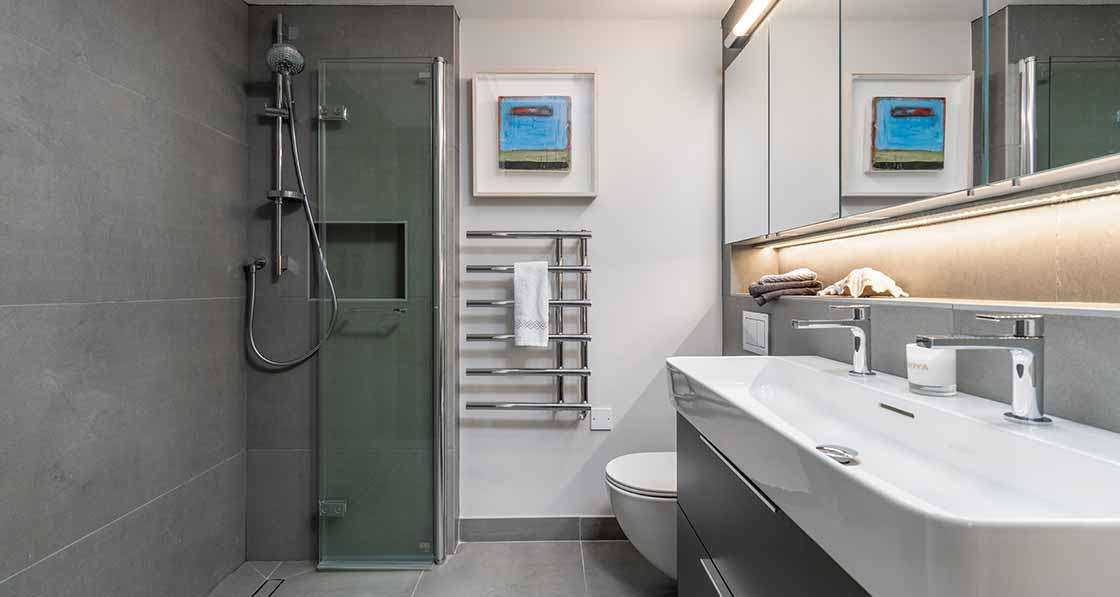 The house has a Pichler PKOM4 combi heat pump system supplying all space heating, hot water and ventilation duties. The Pichler unit has an integrated 212 litre hot water tank, but Reynolds and Cooper decided to install another 120 litre tank to increase the storage capacity for hot water generated by the solar PV array. The heat pump was also configured so that it always heats water in the coolest tank first, to maximise efficiency.
There is also a seven litre Quooker boiling water tank and associated tap, again powered by the PV. In addition, Reynolds installed a 4.8 kW solar battery pack. According to Tim Cooper's model, total energy costs would come to €1,017 per year with six occupants if there was no solar PV. That's 6,908 kWh of energy and 2,010 kg of CO2 for all space heating, hot water and plug loads. But when you bring in the combination of PV, thermal storage and battery pack, consumption of grid electricity drops by 70% to just €300 per year (2,244 kWh), with a surplus of 976 kWh being exported.
It was at this point that Reynolds began looking at the possibility of diverting that excess into an electric vehicle (EV). The figures which fell out of the model were fascinating. The house's PV array could power the car for two-thirds of his annual mileage of 15,000 km, with one-third (5,000 km) coming from the grid at a cost of just €93. And this left the house exporting just 613 kWh of leftover solar energy back to the grid.
"In effect," says Reynolds, "at passive house mews a typical EV will have annual fuel bills of €93 for 15,000 km average annual driving, as opposed to an efficient diesel which costs €926 per year to run, and generates 1,871 kg of CO2 for the equivalent mileage. Moreover, the passive house plus mews, plus EV actually emit three tonnes less CO2 than the average NZEB A3 home plus a diesel car."
The provisional BER assessment for the house also, remarkably, turned up 'minus' numbers for three of its key metrics — the primary energy demand, energy performance co-efficient (EPC) and carbon performance co-efficient (CPC). For example, while an EPC of less than 0.3 is needed for the house to comply with the nearly zero energy building standard in Ireland's building regulations, assessor Jonathan O'Toole of OTE Solutions calculated a figure of - 0.334, indicative of the house's superb thermal efficiency and self-sufficiency with on-site solar energy.

But forget all that for a minute. What is it like to live in? Reynolds says that the house has been a big hit with the kids. Throughout the lockdown, they tended to gravitate towards the first-floor terrace, which you access through the kitchen and which operates as a kind of additional living room. "The one thing that gets me is the air quality. It's like when you're in Dublin and you go down the country. You get that lovely fresh air that knocks you out and after a week, you get used to it." "It's brilliant. It's been a really positive, really interesting experience. I'd be very keen to do another one, I'd love to see if I can do something else with the next one."
You can view a technically detailed virtual tour of the property below - including detailed descriptions and construction photos of the build
Image gallery
Related items
Latest from John Hearne