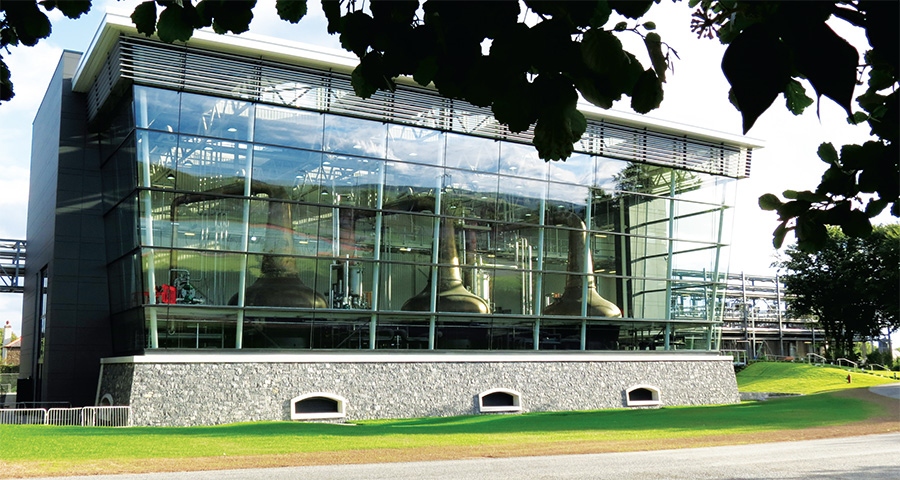 Irish whiskey distillery puts fabric first
Passive house is all about using tiny amounts of energy to deliver maximum comfort for those living and working in buildings that meet the standard. So why did Wain Morehead Architects turn to their passive house knowhow when designing a whiskey distillery that won't have any occupants?
At its heart, the passive house concept is about comfort. Sure it's about saving energy and cutting CO2 emissions, but you'll find a committed few achieving those goals by turning the heat off and sticking on a heavy jumper. The difference with passive house is that it achieves these goals while providing a warm, healthy indoor environment.
So what's the point of using passive house principles when designing a building that won't have any occupants?
The new Irish Distillers Garden Still House building at the company's Midleton distillery never aimed to reach what some consider an onerous low energy standard. But its designers Wain Morehead Architects found that applying 'fabric first' passive house principles served the unique demands of distillery design. Irish Distillers — a subsidiary of French multinational Pernod Ricard — produces Jameson, Paddy, Powers and other Irish whiskeys.
"We were able to use all the tools and techniques we used from doing passive house buildings and apply it to this building," says architect John Morehead.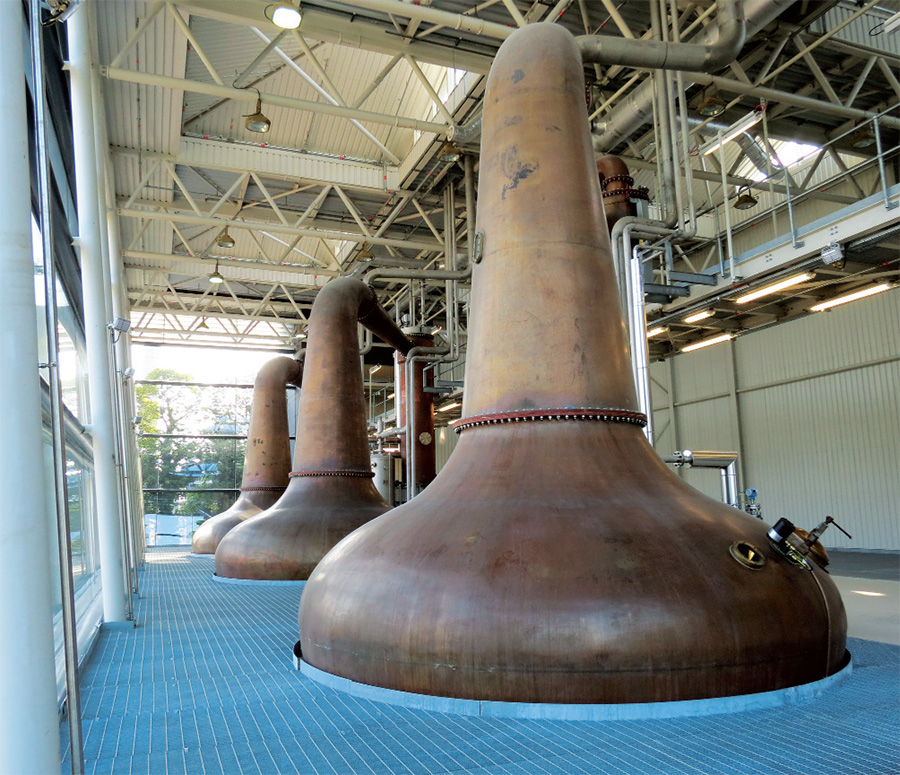 First, airtightness means the facility can contain any alcohol fumes and expel them through a designed ventilation system and diffuse them — rather than have them exit at random through gaps in the building envelope. This is important for protecting the building structure, as alcohol vapours encourage the growth of certain moulds and can pose a major fire risk.
Distillation operates in high temperatures and still buildings can become very humid at times, so preventing condensation — either on the internal surfaces or interstitially — was also key. Eliminating cold spots through good insulation, airtightness and a design free of thermal bridging helped achieve this.
"If you didn't have good levels of insulation and vapour control you could end up with condensation in the envelope," John says. "We didn't want to be constructing a building that was going to fail in 40 years — that would have been a huge reason for getting those levels for insulation. We also wished to maintain adequate temperatures during shutdown to reduce process and sprinkler pipework insulation requirements."
The metal-stud opaque walls are insulated to a U-value of 0.16 with Rockwool Flexi. They're clad externally with Tegral Natura Pro rain screen on a breather membrane and Durapanel weather layer, and internally taped and sealed with Tegral Hydropanel.
The roof is insulated to a U-value of 0.15 with 140mm of Kingspan Thermaroof PIR insulation and 60mm Rockwool in the troughs, and also includes a Soprema vapour control layer. The ground floor slab is insulated with 150mm of Kingspan Styrozone XPS insulation.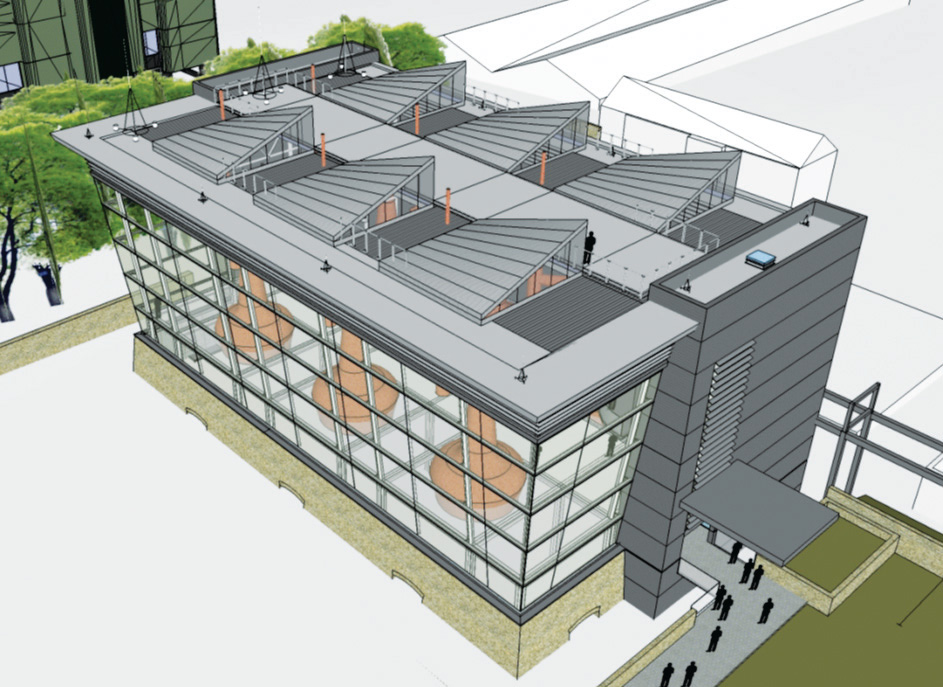 An early 3D image of the building
The airtightness target on the project was one air changes per hour, though no blower door test was done.
"There's no reason why we shouldn't have well exceeded it, because the construction is actually quite simple with not too many connections," John says.
Besides protecting the structure, there's another reason the design team wanted to prevent condensation — to protect the building's good looks. The glazed facade that shows off the huge pot stills forms an architectural centrepiece at the distillery, and would be fairly ineffective if it fogged up.
Counter-intuitively for passive house designers, this glazed wall faces north. Distillation produces such big internal heat gains that orientating the building south to capture solar energy wasn't necessary and the radiant asymmetry created by the cold surface could incite air movement.
Designed by Billings Design Associates and supplied by Alucraft , the double-glazed curtain wall has a U-value of 1.6Wm2K. One of the huge glazed sections in the gables can be opened to facilitate plant access.
The transparency and clarity of the glazing was key. This facade includes frameless vertical joints, glass-to-glass corners and uses a white glass that's low in iron.
The double-glazed roof lights are removable too — the pot stills were actually lowered through them during construction.
The south-facade features a Tegral SolarWall air heating system. This consists of a dark sheet of perforated, heat-absorbing sheet metal. As air passes through the perforations it is warmed up by the wall. Once warm air reaches the cavity behind, it rises to the top of the building. If heating is ever needed — such as for frost protection when the facility is shut down over Christmas — this warm air can be distributed using electric fans. If it isn't needed it's simply vented out of the building. The SolarWall system can produce 75,000kWh of heat annually, while the thermal mass of the 800 square metres of exposed concrete inside helps to regulate internal temperatures.
Perhaps the crowning achievement of the building is that its huge ventilation demand is met passively. By ensuring the temperature inside is always kept at least 5C higher than outside, a passive stack is created: warm air rises up through vents in the roof, creating a chimney effect that pulls fresh outdoor air through vents in the floor. According to John Morehead, the ability to maintain a 5C temperature difference ensures the system will manage to exchange 5.61 cubic metres of air every second.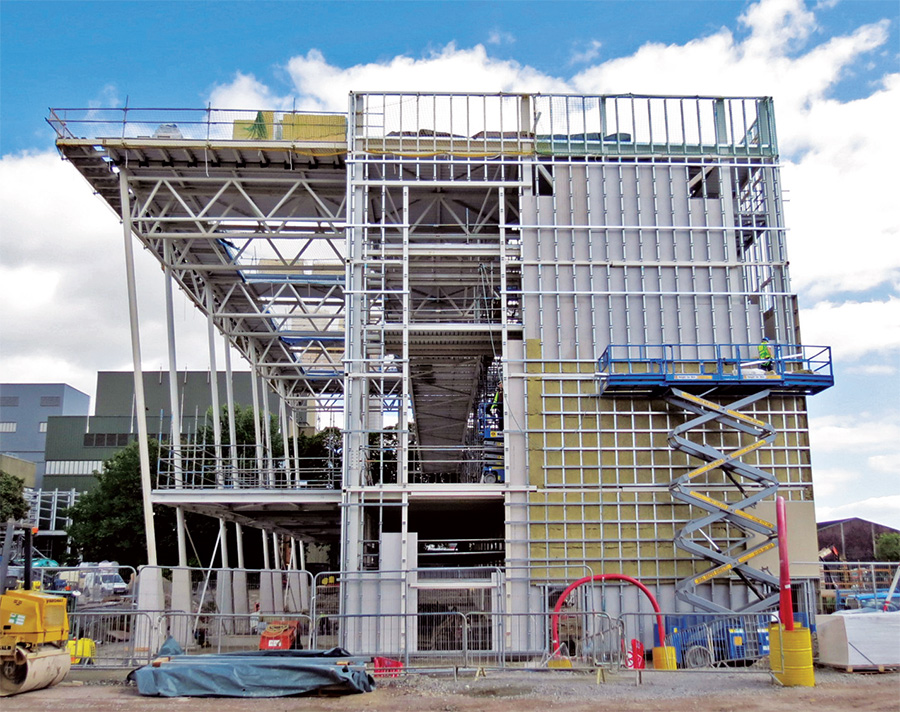 Rockwool insulation being applied to the walls
For building services engineer Mark Ryan of the PM Group (who were also contractors on the project), the very fact that the design team considered natural ventilation makes this project unique. "Most industrial plants I'm involved in wouldn't even ask the question, they'd just put the fan in," he says.
The project is partly inspired by old distilleries that pioneered the use of passive stack ventilation. Mark says the most common problem with passive stack is that it can work too well, creating huge draughts. Here, closing some of the dampers in winter — when the temperature difference between inside and outside is greatest and the stack effect strongest — will help control this.
"If you have poor building envelope performance it will impact on the stack effect significantly," John Morehead adds.
Besides the building itself, Irish Distillers has drastically improved the efficiency of its own distillation with the latest technologies.
Its updated distillation process is able to extract 99% pure alcohol from raw material as opposed to 92% before. Maize cooking is also much more efficient now, and the new pot stills recycle heat over and over to maximise efficiency. In fact, the operational energy requirement at the facility is 1.5kwH per litre of alcohol, compared to from 2.56 previously.
"Sustainability was a pre-requisite from the outset, from the design stage. Every element of design was examined from a sustainability perspective," says Tommy Keane, head of distilling operations at Irish Distillers. Because new equipment is expected to last 30 years, Keane said it was imperative to install the latest, most energy efficient plant.
"I had looked at some passive buildings, and I know that John [Morehead] is pretty passionate about it. We had a few chats just to air a few ideas, and eventually we sort of ran with it," Tommy says.
"We've effectively reduced the energy consumption by about 50% compared to the original plant."
This doesn't just apply to the new building though — the company has installed the most modern equipment throughout the distillery.
Besides the impressive energy achievements, Irish Distillers now has a striking contemporary structure to show off modern distillation and sit alongside the 18th century buildings on site.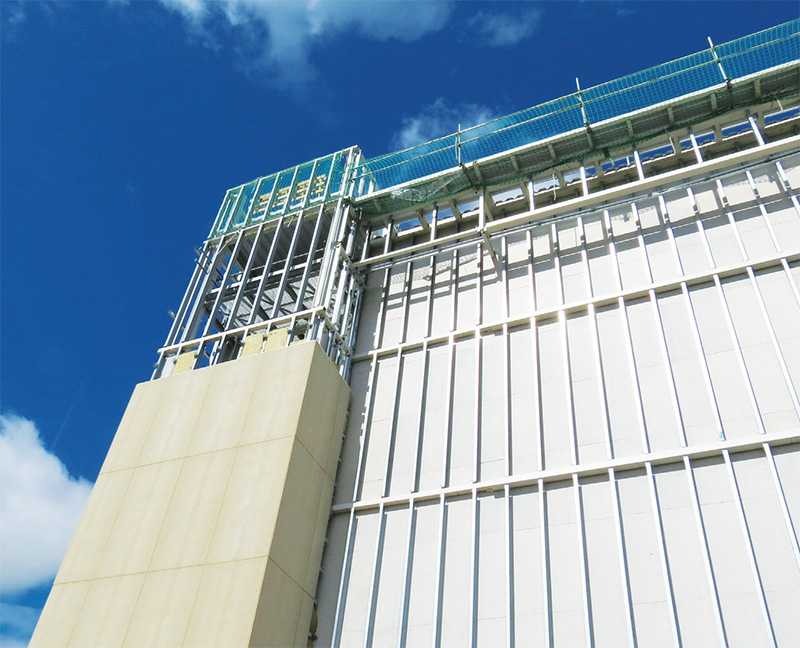 Within 11 months of work starting on site, the first alcohol had been produced. Three pot stills are now in operation at the building, and three more are currently being manufactured to sit alongside them.
"We wanted a signature building to show off what are effectively the largest pot stills operating in the world," Tommy says.
Architect's statement — John Morehead, Wain Morehead Architects
The Garden Stillhouse building is located within the Midleton distillery complex. It is an Atex rated building and is within a Seveso site. The restrictions on the use of components and materials is therefore heavily monitored to onerous health and safety standards. As alcohol fumes are heavier than air, their effective displacement had to be addressed at an early design stage.
FM Global, the insurers, had an active role in authorising the use of approved construction methods at the early design stage and issuing project specific guidelines and performance targets. Time was of the essence as this building played a key role in the major expansion and energy reduction programme embarked upon at the home of Jameson.
Apart from having process requirements the new still house has to be a signature building and to compliment the 18th century buildings already found in the distillery grounds. The stills are the focal point of the process form and had to be clearly visible from outside. The north facing, raked glass wall is constructed so as to minimise reflection and increase visibility of the stills within. The cool surface of the glass causes rapid cooling and inversion of the warmed air as it comes in contact. The U-value of this low iron white glass double-glazed system curtain wall system is 1.6.
The built result is considered to be somewhere between a process building and a cathedral.
The building footprint is 960 sq m. The lower ground floor houses a significant amount of plant which is hardly evident when viewed externally. The upper floor of the building houses the large copper pot stills, based on a pattern for the original Jameson stills which incidentally, are the largest stills in Europe.
This 10m high hall has a central concrete walkway with the stills located either side in a ventilated floor zone. The grated flooring allows fresh air from the lower ground floor to circulate through the building and vent through slots in the apex of the skylights over. The skylights themselves are 7.6m x 7.6m in area and removable to facilitate replacement or renewal of the individual pot stills. The form of the roof-lights also provides a significant amount of solar gain to maintain temperatures during the shutdown period.
The stack effect moves 20,200m3/h of air without any additional mechanical support. The building is designed with future expansion in mind: there is a provision for three more stills which will increase capacity from 33 million litres of pure alcohol per year in 2011 to 64 million litres following the works. Internal linings were kept flush to reduce dust accumulation and aid effective flow.
The building envelope is designed to a very high level of thermal performance with U-values of 0.16 for the walls and 0.15 for the roof areas. The omission of thermal bridges and condensation risk was carried out using Therm and Psi-Therm tools. Resilience and longevity were of paramount importance as maintenance scheduling is predetermined. The selection of external rain-screen materials and cladding systems reflected their aesthetic and resilience in a distillery environment.
The addition of Solarwall cladding system to the south of the building, provided additional capacity of 76,700 kWh/yr of preheated air. This wall has minor perforations which allow sunlight to warm the airspace behind the panel. This warm air is collected in a plenum and is then ducted into the building to assist in the heating of the space during times of building shutdown. The thermal mass of the lower floor area is significant with 800m3 of concrete within the thermal envelope as a heat sink, again for shutdown. Having this latent heat available permits the installation of non-insulated sprinkler systems, reducing costs and aiding leak detection and maintenance.
Selected project details
Client: Irish Distillers / Pernod Richard
Architect: Wain Morehead Architects
Contractor & project management: PM Group
Civil, structural, mechanical engineering:PM Group
Planning consultant: McCutcheon Mulcahy
Facade specialist: Billings Design Associates
Fire consultant: Cantwell, Keogh & Associates
Landscape consultant: Forestbird Design
Ground works: PJ Hegarty
Envelope contractor: Alucraft
Structural steel: Cronin Buckley
Roofing contractor: MultiRoofing Systems
Glazing consultants: Nazeing Glassworks
Sprinkler system: Writech
Solar wall & cladding: Tegral
Solar wall design: CA Group
Basalt wall ties: Longs
Aluminium louvres & brise soleil: QEF Ltd
Aluminium doors: AMS
Roof membrane: Soprema Ireland
Insulation: Kingspan/Rockwool
Thermal breaks: Contech Accessories
Additional info
Building type: steel-frame distillery production building. 960 sq m footprint, 21.5m high (to apex of roof-lights). The main access from the garden is via a bridge to an intermediate level. Access is restricted due to the nature of the process. The retention of existing hedgerows and features has retained the garden setting for this unique building.

Location: Midleton, Co Cork

Completion date: first base spirit produced in march 2013, practical completion achieved in August 2013

Cost: €3.6m (€3,750 per square metre)

Passive house certification: not sought

Airtightness: A full air leakage test has not been carried out but the building was designed to achieve 1 ACH. The nature of the process and concerns regarding alcohol vapours and their volatile nature was complimentary to ensuring that the overall envelope retained airtight and vapour control throughout.

BER: Not required

Thermal bridging: In order to limit thermal bridging a number of methods were adopted.

1. The wall construction generally is a 'built up wall system which is fitted with an external boarding material – (Duripanel) fitted to 95mm crossrails packed with Rockwool batts. Cross rails are fitted to 175mm vertical rails packed with Rockwool batts. Internally a boarding material – (Hydropanel) is fitted to the vertical rails – joints are filled and sealed to be airtight. This boarding acts as the vapour control and airtight layer. The boarding is faced internally with a self-finished lightweight trapezoidal liner sheet. Externally there are a number of differing finishes.

2. There is an overhang roof element which is insulated to top, leading edge and underside. The structural elements to the primary steel are isolated from the interior environment by Schöck Isokorb units.

3. Cavity based masonry construction to the lower ground plinth makes use of high performance 'basalt' wall ties to limit thermal bridging.

4. Underside of slabs insulated and the face of foundations are insulated to the underside of the built up wall construction to maintain a complete thermal envelope.

Ground floor: Resin flooring, on 300mm concrete slab (power float finish), on DPM, on 150mm Kingspan Styrozone N300R. U-value: 0.15 W/m2K

Walls: The wall systems are of built up metal stud/counter stud fully insulated systems with cementituous boards of differing vapour permeability and densities to suit their location. They are generally lined with an internal profiled metal liner. An external rainscreen of fibre cement boards or profiled metal sheeting completed the construction.

Rain-screen walls: 8mm Tegral Natura Pro rainscreen cladding (N251 Anthracite) on 40mm Tegral vertical rails, on Tyvek UV façade breather membrane, on 12mm Tegral Duripanel, on 90mm + 145mm sheeting rails full filled with Rockwool Flexi insulation, on12mm Tegral Hydropanel taped & sealed to form vapour check, on 33mm Tegral C33 liner sheets. U-value: 0.16

Roof: mechanically fixed Flagon SR membrane, on 140mm Kingspan Thermaroof TR26, on 1mm Sorprema vapour control Layer, on Rockwool (trapezoidal infill pieces to troughs – nominal 60mm), on profiled metal deck – (Tegral Building Products) – thickness 1.0mm (profile 50mm deep), metal liner sheet (1mm) to perimeter. U-value: 0.15.

Glazing: double-glazed low-iron white glass curtain wall system. U-value: 1.6

Heating system: There is no traditional heating system provided in this facility. The building houses presently 3 of the 6 copper pot stills. These large stills, radiate significant heat during the process which is removed using the stack effect cooling.

Ventilation: passive stack ventilation system.