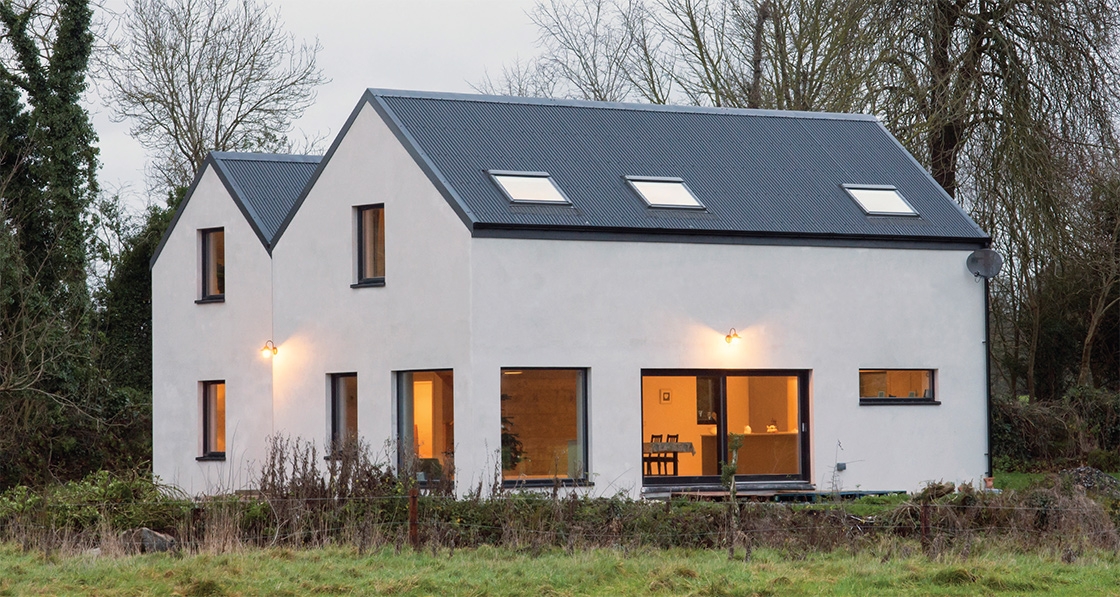 Photos: Imageworks Photography
Farmhouse-inspired home goes passive on a shoestring
This remarkably low cost build in rural Co Meath adds to the evidence that it's possible to meet the passive house standard on a tight budget – with a number of additional green technologies thrown in for good measure
Click here for project specs and suppliers
This article was originally published in issue 14 of Passive House Plus magazine. Want immediate access to all back issues and exclusive extra content? Click here to subscribe for as little as €10, or click here to receive the next issue free of charge
This rural house near Navan, Co Meath meets the passive house standard while embracing an old Irish design vernacular, making it an elegant low-energy addition to its rural setting. The house is the brainchild of its owner, Michael Mills, who runs Cladit Design, which provides rain screen cladding and roofing services throughout the UK and Ireland. Being in the industry, he was naturally eager to dig his teeth into the project.
Michael and his wife Anna were gifted a site by Michael's parents, a fairly long and narrow sliver of land outside Navan. Michael says: "During the design, which I started seven times to get it to feel right, my research led me to many different avenues. One of these I stumbled on was the passive house standard," he says. "As soon as I started reading into it I was hooked and subsequently sold the idea to my other half."
Intriguingly, one of the couple's guiding principles during the design was to make the house smaller. He continues: "One of the current symptoms I see a lot is in our parents' generation and probably true the world over is that of a large family home being lived in one or two rooms, due to the costliness to heat and maintain the whole property," he says.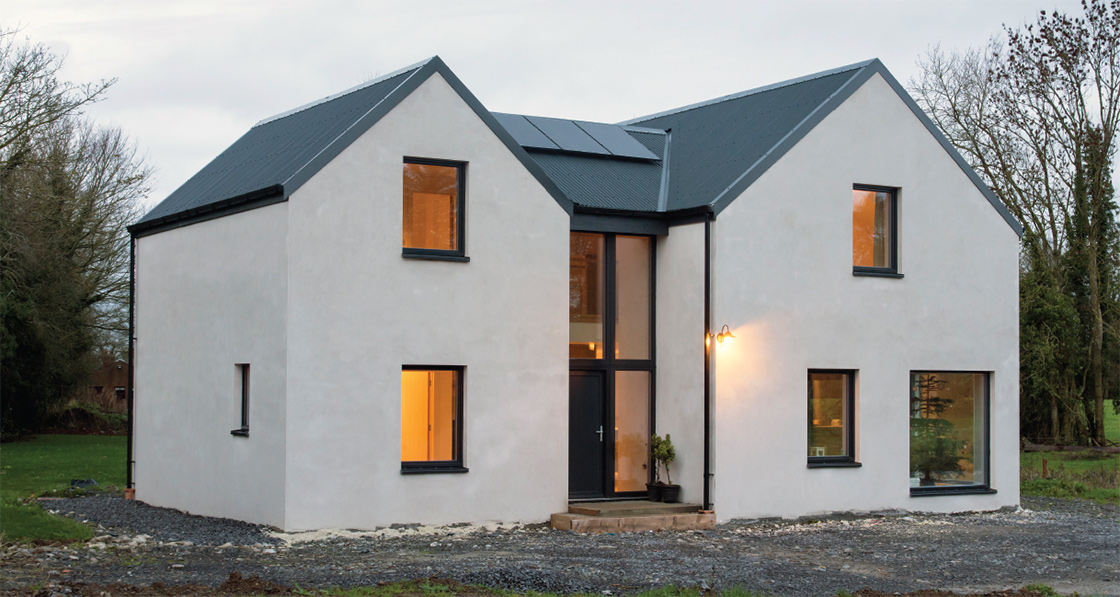 "We knew the reality that within 15 years our child would no longer be living with us. This tied in well with reducing the overall size. A mantra we followed was that every square metre has to be paid for, decorated, then heated. Our redesigns soon had us really questioning our needs for space."
At 186 square metres the house may not be tiny, but it certainly shuns the Celtic Tiger McMansion trend that proliferated during the building boom, and that is still often the norm for one-off rural houses. Its simple, elegant design is also a pleasant antidote to both ghastly pre-boom bungalows and some of the crasser designs that have sprung up around the country in recent years.
"The traditional Irish farm building held an interesting style in its height proportions, a very basic structure, usually two-tiered for livestock beneath with storage above," he says. "We tied two of these forms together to form two 'blocks' which were interlinked."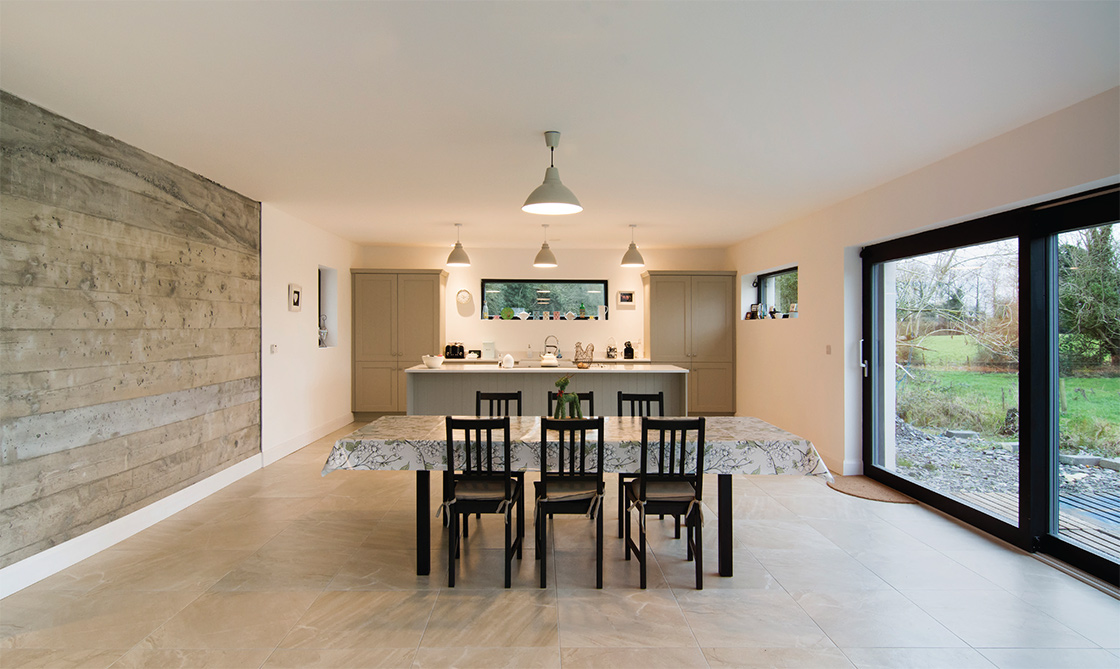 Meanwhile the construction itself emphasises traditional methods and materials, with a strip foundation and ultra-wide cavity wall construction that's insulated with polystyrene bead, with low thermal conductivity Quinn Lite blocks at the wall-floor junction. "Being close to the trade I knew I could easily achieve what was required by working with trades who personally knew me. Our tight budget meant I also had to make the design relatively easy to build," says Mills. "Less complicated meant less headaches…I also wanted to prove this newfangled standard can be achieved with normal materials and utilising normal trades."
He admits that taking on the task of designing and building his own passive house from scratch was daunting. "At the very start of the project in design stage the whole PHPP seemed really overwhelming and confusing, trying to tie in all the systems seemed a daunting task," he says. So he brought in passive house consultant Archie O'Donnell to guide him through the process.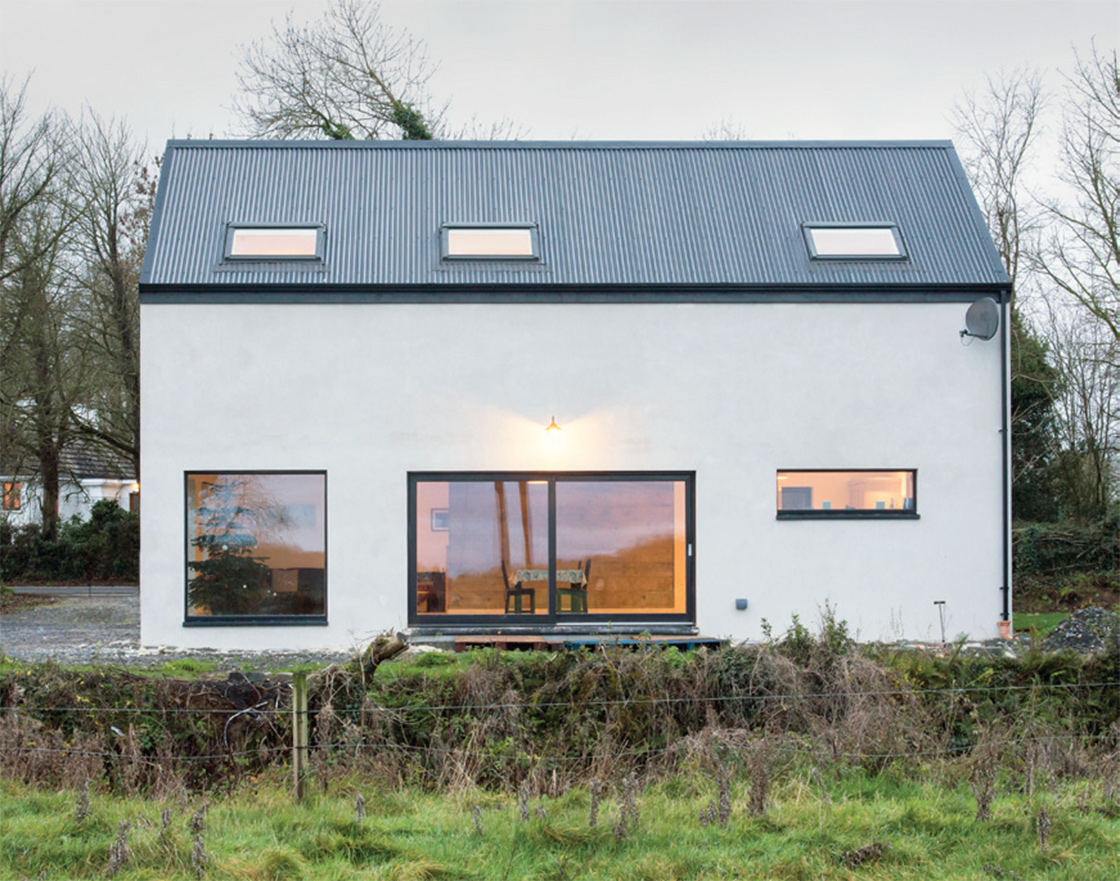 O'Donnell says: "The goal was that he should be able to engineer a passive building for the same budget as conventional. It was a very interesting approach and it went through a lot of iterations. He was very driven to learn about different strategies or approaches."
According to O'Donnell, this hands-on approach is something of a trend. "We've noticed this with a lot of people doing passive. They want to learn the process themselves and then deliver it themselves."
Naturally enough, airtightness was one of the biggest challenges. "I also strived hard to maintain the airtight line right from the start — one of the areas we fell down on, and only came to light under the air test, was the joist hangars," says Mills.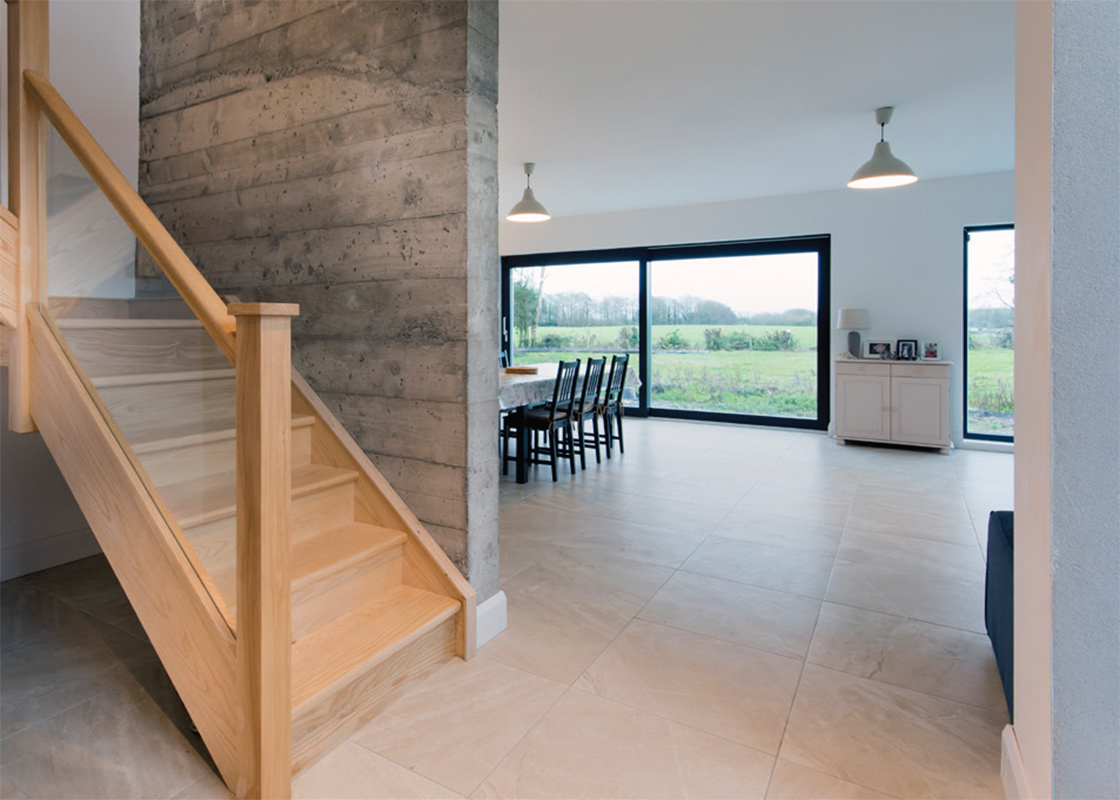 He explains: "In hindsight we would have plastered a sand and cement screed on the block before any hangers were built in. Having to go back and tape these up was quite stressful, but if that was it then I class it as a success!
Besides the wide cavity walls, the thermal envelope is finished with a corrugated anthracite roof (much cheaper than slates) that's insulated with Xtratherm, a strip foundation under the ground floor — again insulated with Xtratherm — and triple-glazed windows.
The main source of heat is a Glen Dimplex air source heat pump, delivering to underfloor heating on the ground floor and two towel rads upstairs. There's also a Glen Dimplex heat recovery ventilation system, all of which was supplied and installed by Midland Renewables, and a 7.5 sqm solar photovoltaic array.
The final build costs came in around €800 per square metre — exceptionally good value for any new build, let alone a passive house, especially considering the addition of both thermal and electrical renewable energy technologies and a rainwater harvesting system. How did Mills manage to keep the budget in such tight check? "Lots of pre design before planning and everything [being] detailed prior to digging foundations really helped with costs I think," he says. "Being able to accurately quantify materials plus being able to get sub-contractors to accurately price was a great help. The day we dug foundations I had 45 detailed drawings available on site. Having a basic idea of material costs also helped during design.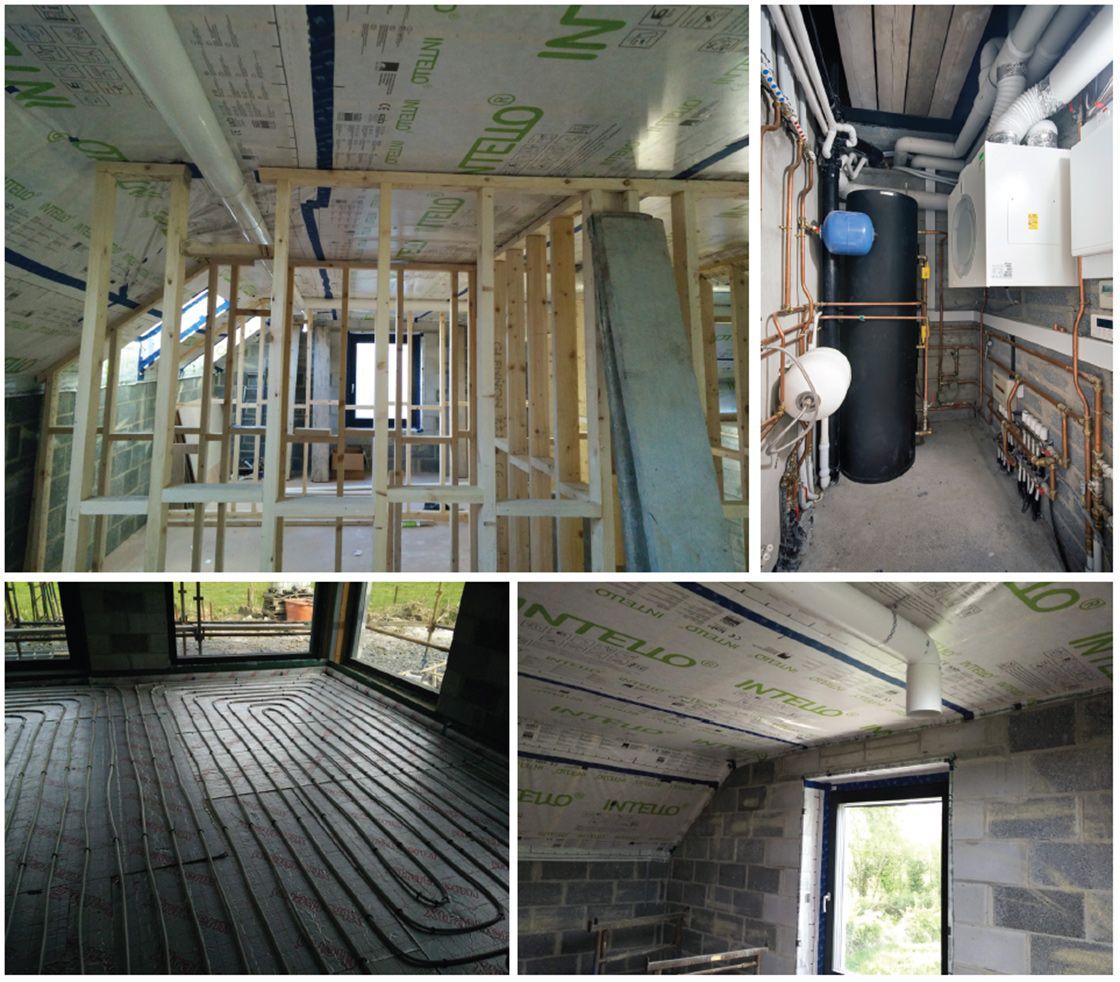 (clockwise from top left) pro clima Intello membranes – installed before stud walls were built for continuity – provide airtightness and vapour control on the inside of the roof; fresh air is delivered by a Glen Dimplex MVHR system, seen here on the right, alongside a 250 litre tank that stores heat from the Glen Dimplex air source heat pump; Quinn Lite blocks installed around windows to reduce thermal bridging
"Being in the trade and qualified I suppose took a lot of costs for us out of the equation, such as design, project management and general dogsbody," he adds.
Mills moved into the house in August 2015, so was only just experiencing his first winter when interviewed by Passive House Plus. "The house reacts so well to any little heat input I am not wary of any future bills. One of the other insights is how well the house works when it is occupied," he says. "Cooking, the dishwasher, the condenser dryer all add very noticeable heat."
"At the initial design stage when selling the passive standard ideal to my wife I made a promise that she would never feel cold again at home. To date she still comments on it and still can't quite believe how well it works." The house is currently awaiting passive house certification.
Selected project details
Client: Michael & Anna Mills
Design: Cladit Design
Civil & structural engineers: JOR Engineers
Passive house consultant: Archie O'Donnell
Main contractor: Michael Mills
Wall insulation: Warmfill
Roof & floor insulation: Xtratherm
Airtightness products: Ecological Building Systems
Windows & doors: True Windows
Roof windows: Keylite
Rainwater harvesting: CMD Environmental
Mechanical contractor: Midland Renewables
Airtightness tester & consultant: SC Airtightness & Ventilation
Rendering and plastering: Sean Doherty
Floor screed: Sean Boyle
Roof sheets: Pearse Roofing & Cladding
Additional info
Building type: Detached, storey-and-a- half wide cavity wall house, 186 square metres

Location: Ardbraccan, Navan, Co Meath

Completion date: August 2015

Budget: €150k (not counting €8k council fees)

Passive house certification: Mid certification process

Space heating demand (PHPP): 15kWh/m2/yr

Heat load (PHPP): 10 W/m2

Primary energy demand (PHPP): 119 kWh/m2/yr

Airtightness: 0.6 ACH

BER: A2 37.14 kWh/m2/yr (CO2 Emissions Indicator 8.18)

Energy performance coefficient (EPC): EPC= 0.249

Carbon performance coefficient (CPC): CPC = 0.259

Thermal bridging: Quinn Lite B3 thermal blocks to slab edge, wide cavity with SS wall ties. Bespoke reveal/opening thermal bridge detail. Bespoke steel corner to corner windows, Xtratherm warm roof build up. Pre design for entire building and its components to work within the airtight/warm line

. Ground floor: Wide strip foundation, 100mm concrete, 200mm Xtratherm XT/UF Quinn Lite double block course to perimeter. 88mm traditional screed. U-value: 0.09W/m2K

Walls: 22mm external render in two coat build up, on 100mm standard block, on 250mm cavity fully filled with Warmfill Super Silver bead, stainless steel wall ties at four per square metre, 100mm standard block, internal plaster and skim. U-value: 0.12 W/m2K

Roof: BF PVC 0.7mm Anthracite corrugated roof on 75x100mm for cold roof portion into a warm roof, pitched roof, breathable membrane, warm with Xtratherm between and over rafters at 400mm c/c. airtight membrane, 150mm service cavity (Warm) U-value: 0.16 W/m2K

Windows: Triple-glazed argon filled low-E aluclad windows and doors an overall U-value of 0.80 W/m2K

Heating system: Glen Dimplex LA6mi air source heat pump with SPF of 386%, underfloor heating ground floor only, two towel rads upstairs. 250 litre tank, 4 PV panels

Ventilation: Glen Dimplex ZL300VF MVHR system Passive House Institute certified to have heat recovery rate of 75% / EN certified efficiency of 86%

Electricity: 7.54m2 solar photovoltaic array with average annual output of 2.37kW

Green materials: All building materials locally sourced within a 20 mile radius bar window units and mechanicals. Local contractors used.
Image gallery
Save
Related items