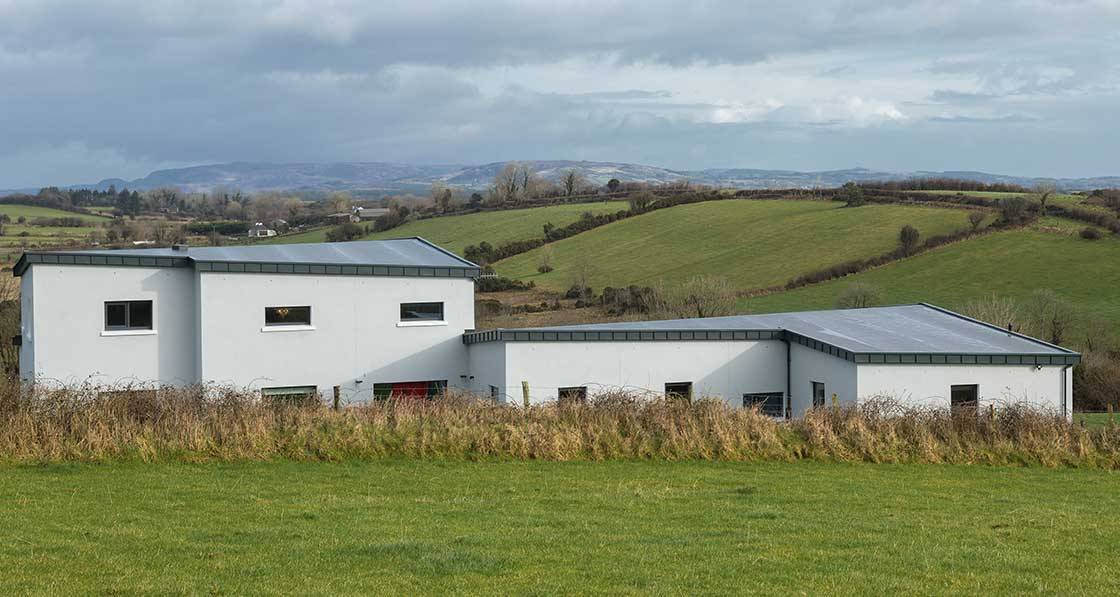 Photography: Kelvin Gillmor
Double standards - Mayo home takes passive approach to NZEB
Sited on the side of a hill in the west of Ireland, a new home that meets the NZEB and passive house standards boasts a locally-made and super-insulated timber-frame, and is designed to fold cleverly into the rural landscape.
Click here for project specs and suppliers
Building: 276 m2 detached timber frame house
Location: Castlebar, Co Mayo
Standard: Uncertified passive house / NZEB
BER: A2
ENERGY BILL €100 PER MONTH for all energy during winter
As design briefs go, it can sometimes be a bit of a jump in the dark: how do you build a contemporary house on a prominent hill in an Irish rural location that blends seamlessly enough into the landscape?
This distinctive but visually sensitive detached passive house is located in an area where the local council encourages "high-quality, contemporary-style house design", but its owners and architect had to change the location and replace the original design with a completely new one to get planning permission.
But in doing so the owners also took the opportunity to switch from a block-built construction to a prefabricated timber frame, and while this required further revisions and calculations, the final result is arguably a better performing and greener home.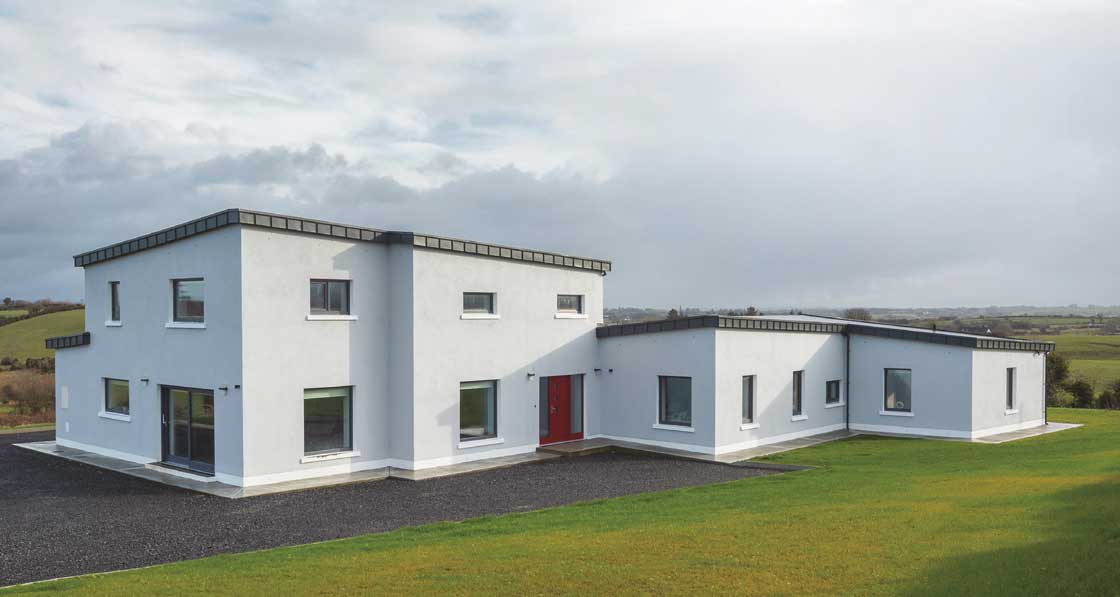 This article was originally published in issue 33 of Passive House Plus magazine. Want immediate access to all back issues and exclusive extra content? Click here to subscribe for as little as €10, or click here to receive the next issue free of charge
Michelle Duffy and Dave Monaghan approached architect Mark Stephens back in 2015 looking for a design for a new home on a large, family-owned site near Castlebar, Co Mayo. Stephens came up with a compact, single-form, two-storey elongated design that was located fairly high up on what was an exposed and elevated site. The couple were keen on having an upside-down layout, with living spaces on the top floor, to take advantage of the views.
But as far as the council planners were concerned, this wasn't going to work as one of their design guidelines is that you can't have houses on the very tops of hills. "It's rare the planners would kick up such a fuss, but their site is really elevated," says Stephens.
So they moved the house down to a lower position and in doing so changed the design to an offset, stepped-out layout that, among other things, would maximise solar gain as well as break down the mass of the dwelling into smaller forms, including the creation of a separate, single-storey bedroom zone independent to a two-storey living area.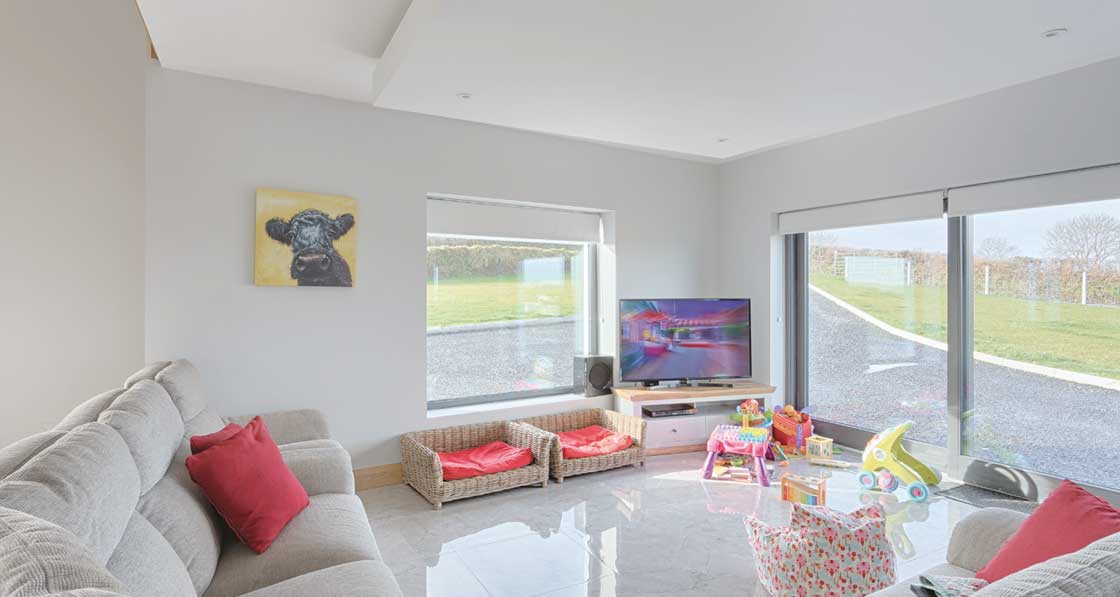 The couple also adopted the council's recommendation for a "low pitched copper or zinc roof with extended eaves, combined with natural materials and glass to create a low impact design".
The very low-angled, diagonally pitched roof, designed in a sculpted, origami folding style, works brilliantly against the sharp angles of the rest of the house, while managing to be visually subtle and low-impact.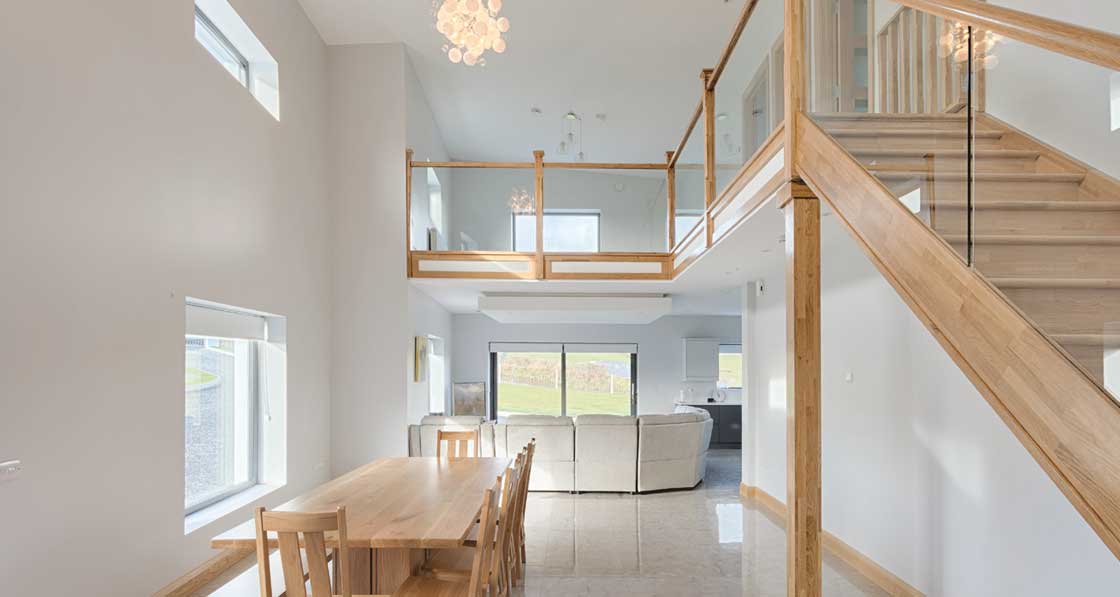 I think the level of commitment from the builders is visible.
"Traditionally, you'd have a traditional gable and a normal pitched roof, but to keep it low and flat, the pitch is actually on the diagonal. So, you're diagonalizing the pitch and it's more of a sculpted design," Stephens says.
Duffy and Monaghan also considered a grass roof to help the house blend into the hillside, but it was cost-prohibitive, so they opted for a metal-effect membrane in the end. "It ties in with a number of local agricultural roofs nearby," says Duffy.
The couple also wanted to build to passive house standard for a variety of reasons, including environmental, long-term running costs and a family connection to the sustainable energy industry (Monaghan's father owns a geothermal heat pump business).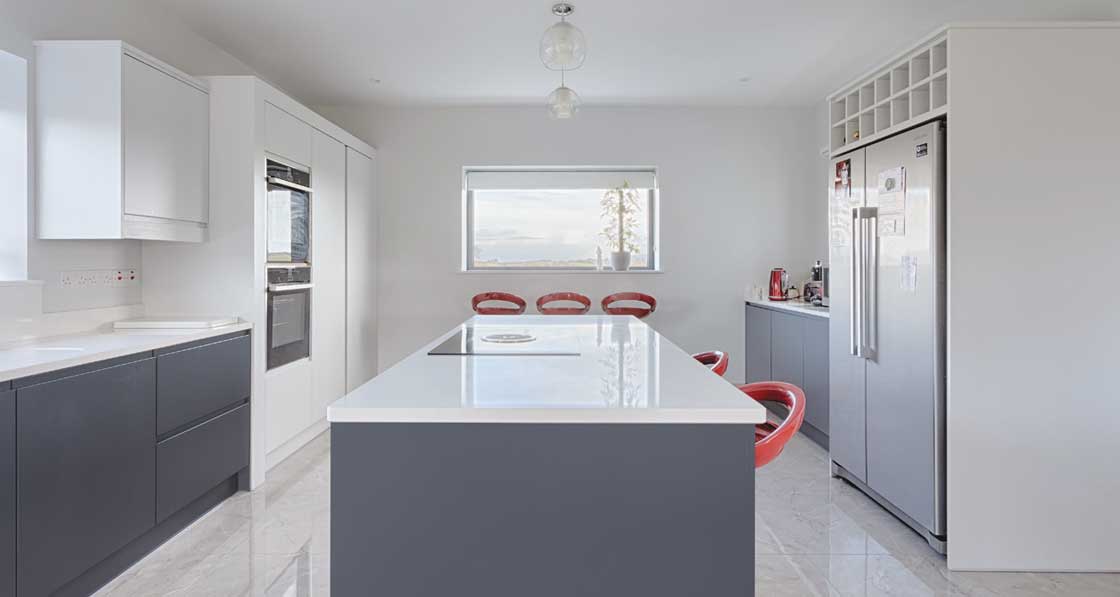 But while this was diligently adhered to throughout the process from design to completion through modelling in PHPP, the passive house design software, they chose not to go the certification route for reasons of cost, as well as the imminent arrival of a new baby.
The switch from the initial block-build structure to a timber frame was driven by discovery that for the new and more complex design, a masonry build would work out more expensive.
"The timber frame came about due to the design. The masonry build was working out more expensive, as those we approached felt the design was complex," says Duffy.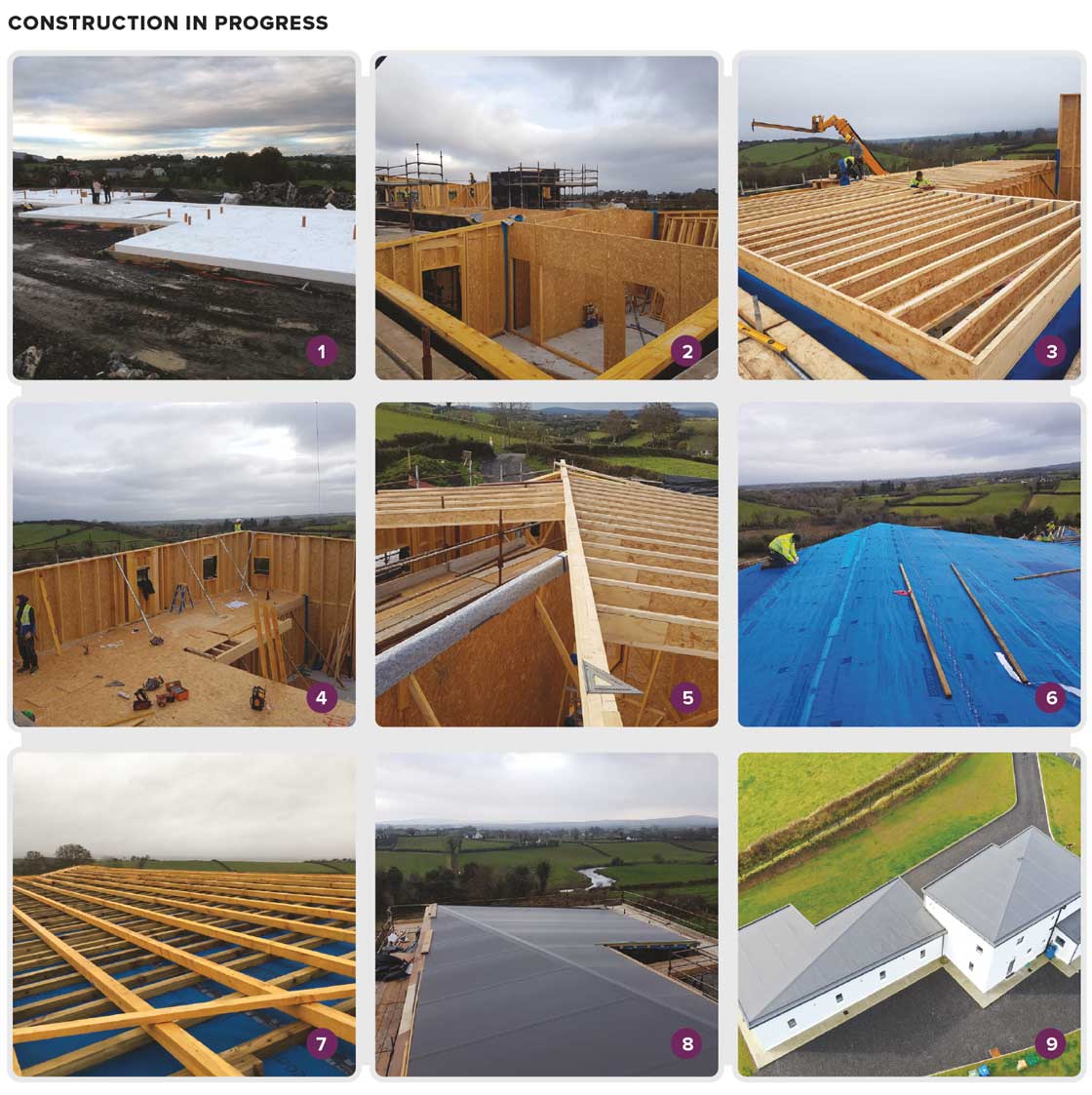 The construction of the house in sequence including; 1 insulated raft foundation with 200 mm EPS insulation; 2 the first storey of the timber frame system; 3 erection of I-beams for the intermediate floor; 4 the second storey walls, which would later be filled with cellulose insulation; 5 timber structure of the sculpted, origami-inspired roof; 6 pro clima Solitex Plus breather membrane being installed on the roof; 7 battening over the membrane to form a ventilated cavity; 8 installation of the Alkor PVC roof; 9 drone shot of the the finished roof.
"We were really impressed by Long Life Structures (LLS) when we met them, and it grew from there. We are not in the construction industry ourselves and we both worked full-time so wanted an uncomplicated build method. LLS ticked all the right boxes and were not fazed by the design."
Architect Mark Stephens says that part of the attraction of Long Life Structures was their package, which included a lot of the heavy lifting, the skilled trades and co-ordination onsite.
"From a construction point of view the timber frame was a lot easier to build once everything was calculated. The only blockwork that was required was the external leaf and if we had to build two leafs there would have been a tricky proposition to build; especially the sloping wall plates and with each rafter being specifically, individually cut."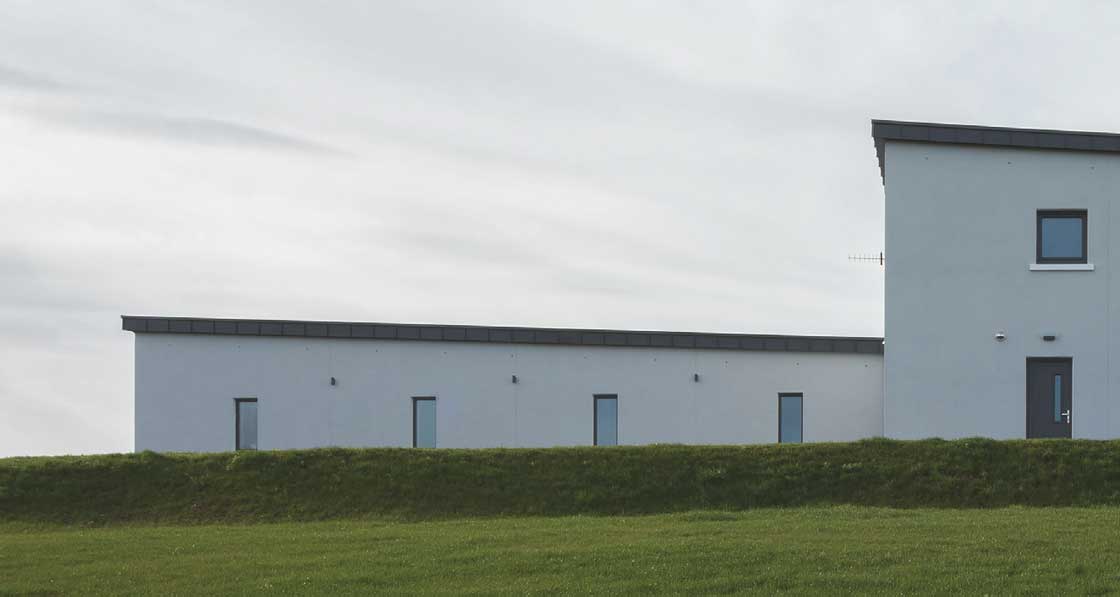 But above all, it made sense for a more energy efficient house, Stephens says. "The timber frame makes a big difference in performance… It was a lot easier to ensure airtightness early whereas the house is practically finished by the time you are able to test airtightness on a cavity wall-built house."
Galway-based Long Life Structures specialises in prefabricated high quality factory built systems. They use natural materials (cellulose and sheep wool insulations were used here) and sources its timber mostly from northern Europe, Austria and Russia. According to founder Emmet Nee, all of the 60-odd projects it has been involved with to date in Ireland have been below 0.6 air changes per hour on their airtightness tests (this house scored 0.43).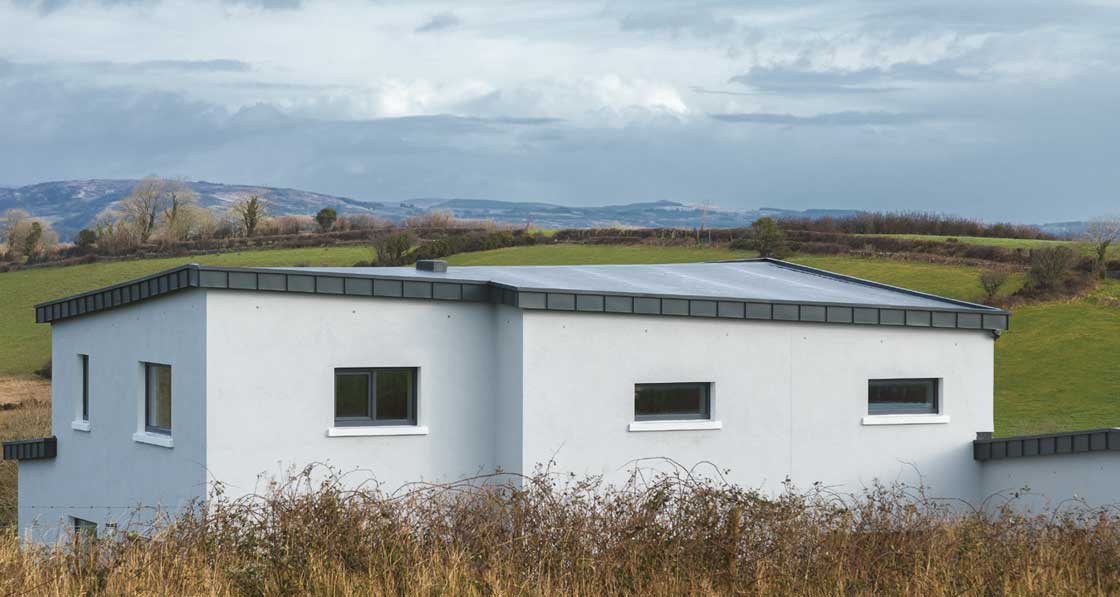 It is always a comfortable and consistent ambient temperature.
Almost all would also meet the passive house standard, he says, except in cases where steel is used and the client has chosen not to use specialist thermal break products at an additional cost to eliminate thermal bridging through the steel.
Timber frame is certainly gaining a stronger foothold against other construction methods thanks to skills and labour shortages. "I think with the building regulations, timber frame ticks an awful lot of boxes for BCAR [the Building Control Amendment Regulations in Ireland, which require an assigned certifier on construction projects] and all sorts of paperwork and everything, especially for architects and engineers," Nee says.
Following a minor hiatus between final planning permission and building the foundations, construction finally got underway in late 2018 and was completed in May 2019. "I think the level of commitment from the builders is visible; it looks like a well-constructed house," Mark Stephens says.
The finished and fairly large dwelling (276 m2) is heated by an EcoForest geothermal heat pump, and also features two Vent-Axia mechanical ventilation with heat recovery (MVHR) units.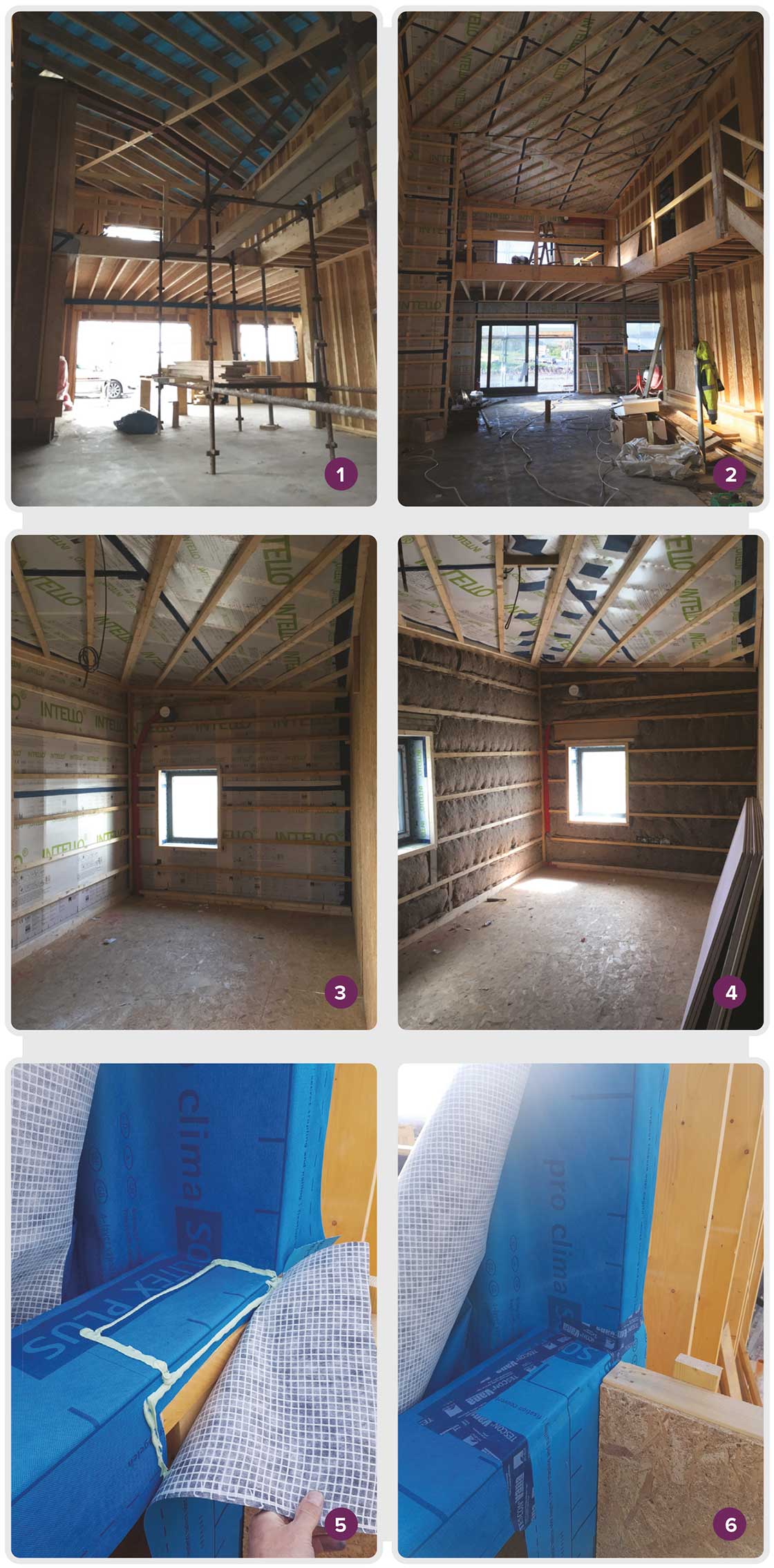 1 - 4 Sequence showing the build-up of the timber frame structure internally, with an Intello vapour control membrane and a service cavity insulated with Thermafleece sheep wool insulation; 5 & 6 airtightness sealing with pro clima Solitex Plus with continuous membrane running behind internal walls to minimise leakage.
The house also qualifies as a nearly zero energy building (NZEB) by virtue of the fact that its energy performance co-efficient (EPC) and carbon-performance co-efficient (EPC) beat the newly required standards of 0.3 and 0.35 under Irish building regulations respectively.
Duffy and Monaghan moved in towards the end of Sept 2019. "Our immediate impression was the sense of spaciousness from the open plan living area in comparison to our previous rented accommodation," says Duffy.
"It took a while to get used to not having an open fire or stove as it's nearly an Irish tradition to have one, but having lived here for a couple of months now we realise that it is absolutely not necessary to have one at all based on the overall spec of the house."
Their electricity bills are averaging €200 per two-month billing period based on three bills to date over the autumn/winter period "which we were very pleased about".
What do they like the most about it?
"The framed views are top of our list. Also, the fact that it is always a comfortable and consistent ambient temperature, no draughts or cold spots."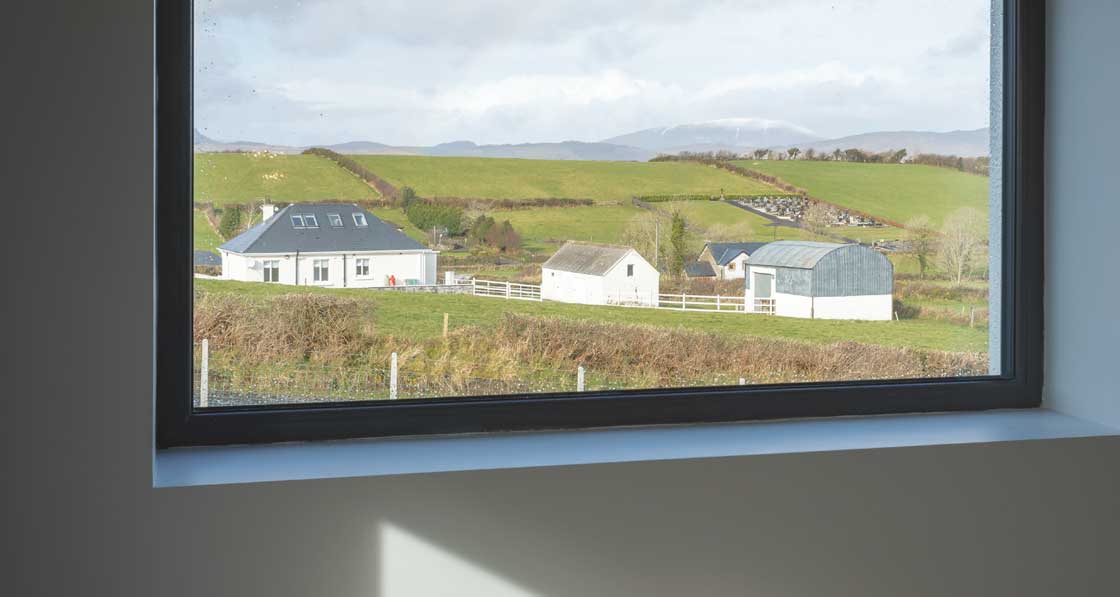 Selected project details
Clients: Michelle Duffy & David Monaghan
Architect & passive house consultancy: Mark Stephens Architect
Structural engineer: Tanner Structural Designs
BER / DEAP: MCM Energy Consultants
Timber frame: Long Life Structures
Electrical contractor: Keith Devaney Electrical Contractors
Airtightness tester: Hession Energy
Cellulose insulation: Clioma House
Sheep wool insulation: Thermafleece
Airtightness products: Ecological Building Systems
Windows & doors: Munster Joinery
Ground works: Brian Callaghan Plant
Hire & Ground Works Roof finish: GG Roofing
Geothermal heat pump: DM Heat Pump Services
MVHR: Vent-Axia
In detail
Building type: Detached 276 m2 timber frame house
Location: Castlebar, Co. Mayo
Completion date: October 2019
Budget: Undisclosed
Passive house certification: Not certified
Space heating demand (PHPP): 15 kWh/m2/yr
Heat load (PHPP): 9W/m2
Primary energy demand (PHPP): 39 kWh/m2/yr
Heat loss form factor (PHPP): 3.586
Overheating (PHPP): 0% of year above 25C
Number of occupants: 3
Energy performance coefficient (EPC): 0.287 (NZEB compliant <0.3)
Carbon performance coefficient (CPC): 0.268 (NZEB compliant <0.35)
BER: A2 (47.94 kWh/m2/yr)
Airtightness (at 50 Pascals): 0.43 ACH or 0.489 m3/m2/hr
Thermal bridging: DEAP calculations used timber frame ACDs for thermal bridging factor with specific thermal bridges also calculated. Thermal bridges also accounted for in PHPP. Y-value (based on ACDs and numerical simulations): 0.08 W/mK
Energy bills (measured or estimated): Averaging €100 per month to date for electricity (which includes space heating & hot water) during autumn/winter of 2019/20.
Ground floor: Insulated raft foundation with 200 mm EPS insulation. U-value: 0.100 W/m2K
Walls: Factory-built timber frame with 100 mm rendered concrete blockwork externally, followed inside by pro clima Fronta WA membrane, 50 mm unventilated cavity, 9 mm plywood sheathing, 220 mm cellulose-filled timber stud, Intello airtightness membrane, 50 mm service cavity insulated with sheep wool insulation, and 15 mm Gyproc Soundbloc/Fireline/Moisture Resistance. U-value: 0.164 W/m2K (accounts for studs & battens)
Roof: Alkor fully bonded PVC with seams, with Novaplex coated steel soffi t and fascia, followed beneath by 18 mm plywood sheathing, 38 mm ventilated cavity, pro clima Solitex Plus membrane, 300 mm timber I-joists fully filled with cellulose insulation, Intello airtightness membrane, 50 mm uninsulated service cavity, 15 mm Gyproc Soundbloc/Fireline/Moisture Resistance. U-value: 0.136 W/m2K
Windows: Munster Joinery triple glazed uPVC windows, with argon fi lling and an overall U-value of 0.7 W/m2K
Heating system: EcoForest ecoGEO 3-12 kW HTR-EH geothermal ground source heat pump with COP of 4.6, supplying underfl oor heating and 300 litre hot water cylinder plus 300 litre buffer tank.
Ventilation: Two Vent-Axia Lo-Carbon Sentinel Kinetic FH (K+1 & K+4) heat recovery ventilation systems, SAP Q rated, SEC Class: A+, thermal efficiency: K+1=90%, K+4=87%. Use of non-passive house certified units accounted for in PHPP.
Green materials: Wood for timber frame is FSC and PEFC certified, sourced from environmentally responsible forests; cellulose insulation; sheeps wool insulation.
Image gallery
Related items
Latest from John Cradden