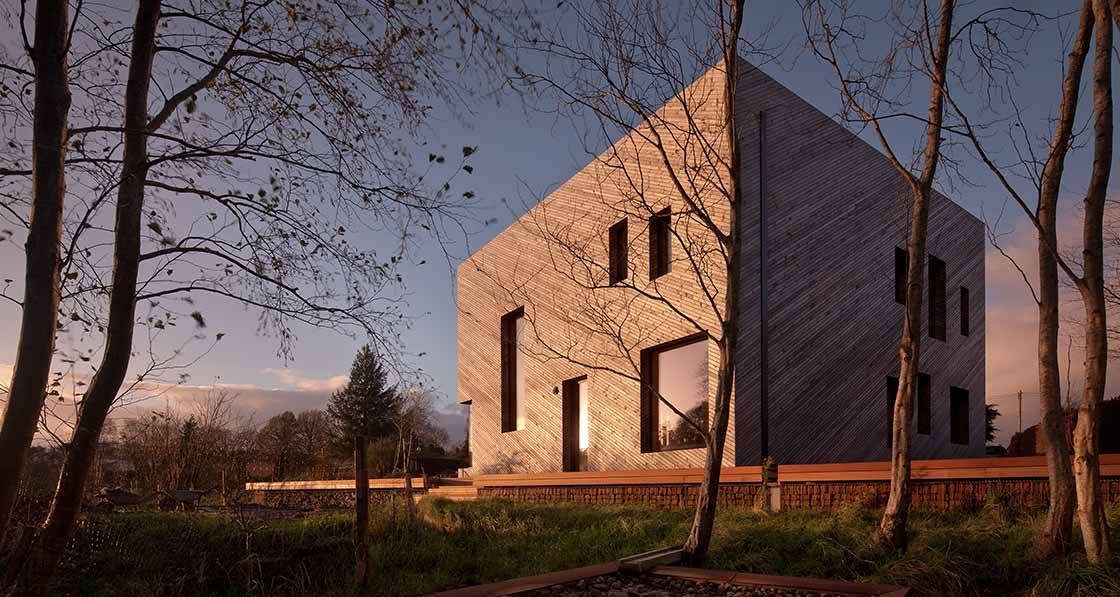 Boxing clever
This all-wood passive-certified home in the village of Kippen was built directly by its architect owners, who not only achieved the passive house standard but did so with an ecological approach that sought to use building materials ultra-efficiently and make it easy to deconstruct and recycle the building at the end of its life.
Click here for project specs and suppliers
Building: 170 m2 detached home and office
Build method: Stick-built timber frame
Site & location: Village site, Kippen, Scotland
Standard: Passive house classic certified
Budget: £250,000 (build costs)
ENERGY BILLS £20 PER MONTH FOR SPACE HEATING ONLY, EXCLUSIVE OF CHARGES
The term 'self-build' can be a little vague these days — even meaningless — when you can class as a self-builder anyone who plays some sort of significant role in the construction of their new build home.
As a self-builder you might have a lot to do with the day-to-day aspects of the project either by getting stuck in or project-managing the work yourself, but you can also have very little to do with it by farming out all the work to the professionals.
Mhairi Grant and Martin McCrae certainly rolled up their sleeves when it came to building Ostro, a hugely striking two-storey, detached timber framed and clad passive house located near Stirling, Scotland. In fact, the sheer amount of work that they did themselves makes this a self-build in the truest sense of the word.
This includes building the timber frame (stick-built, no kit or panel system), installing all of the ground floor and wall insulation, applying all the airtightness products, doing all the plumbing and general joinery, laying the floors, fitting all the plasterboard and other internal linings, the kitchen and bathroom fittings and tilings, and all the decorating.
They also did the external drainage for the ground floor slab, the external timber cladding, all the external landscaping and the sedum roof covering.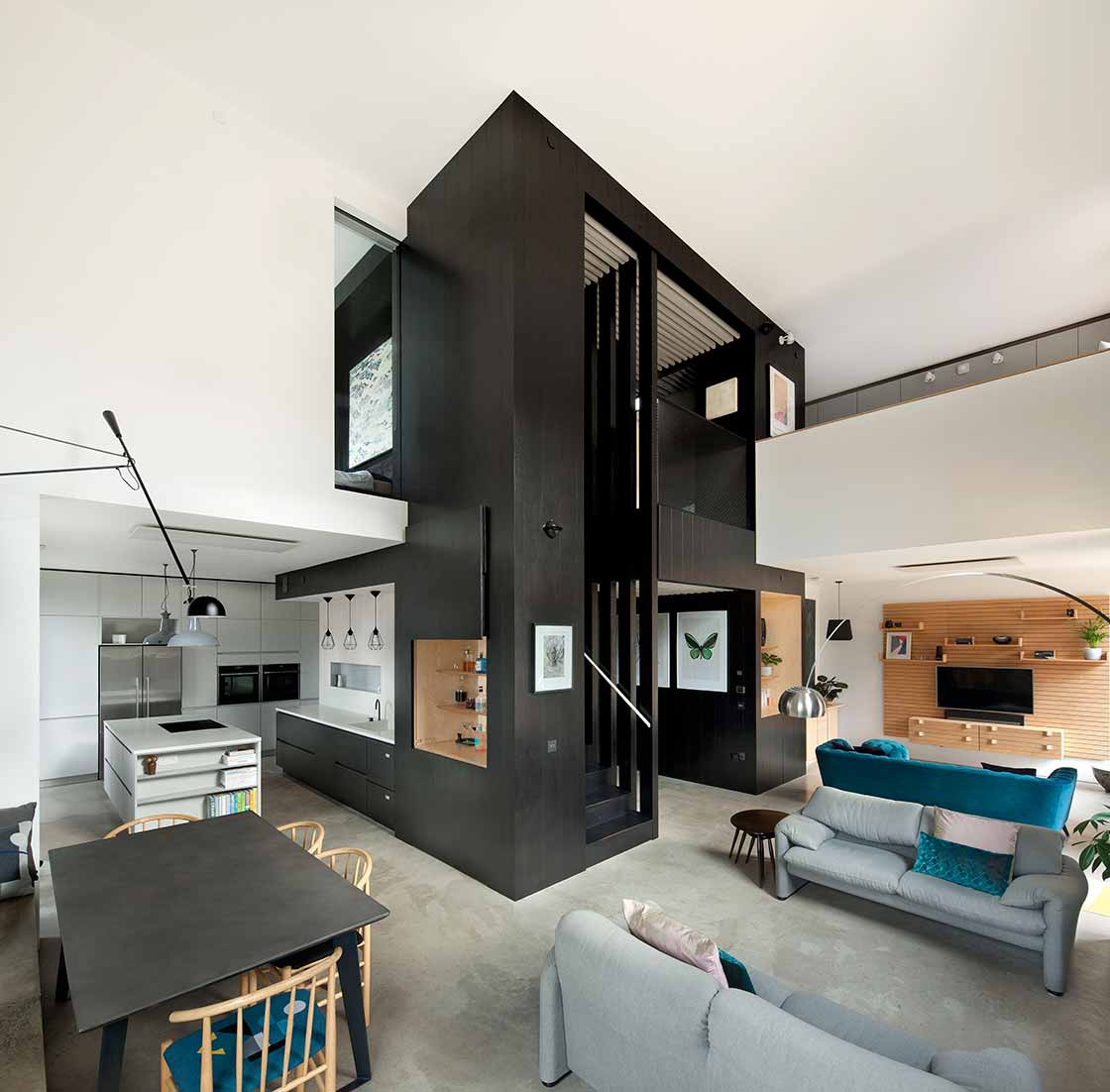 This article was originally published in issue 37 of Passive House Plus magazine. Want immediate access to all back issues and exclusive extra content? Click here to subscribe for as little as €10, or click here to receive the next issue free of charge
So what did they not do? They didn't do the site excavation and preparation, the pouring of the slab, the fitting of the windows, the roof insulation and waterproofing, the wall-plastering, the specialist interior carpentry, the electrical work and the installation of the solar PV and solar thermal systems.
The result of their highly resourceful endeavours – all on a budget of £250,000 – is a very distinctive, box-shaped certified passive house with lots of hallmarks of Scandinavian architecture in its use of natural timber cladding, unfussy details and a clear, simple shape.
It's no surprise to learn that the couple run an architectural and design company – Paper Igloo – that now specialises in sustainable and passive house projects, and designed Ostro between themselves. But the fact that it took some six years from start to finish doesn't diminish the scale of their self-building triumph, particularly when you learn what their primary motivation was.
"It was due to a combination of three things," says Mhairi. "We wanted, and needed, to keep the costs down as we wanted to be mortgage free. Like most people who are either self-employed or have a small one or two-person company, our monthly income is variable, which makes large fixed costs such as a mortgage very difficult and stressful to manage.
"Secondly, we enjoy the hands-on aspect of building as a contrast to our daily design work, which involves time spent mostly on a computer. And finally we also wanted to learn more about the passive house aspects of house building that would let us be more informed when designing them for other people in the future."
Before moving to the semi-rural conservation village of Kippen, near Stirling, the couple lived in a nice old tenement flat in Glasgow that they had renovated themselves but in which they struggled to get the room temperature above 14C in winter. They were considering renovating another flat when Mhairi attended a half-day course in passive design, "which I thought was incredible – I couldn't understand why all new buildings weren't built to this standard". She then qualified as a passive house designer.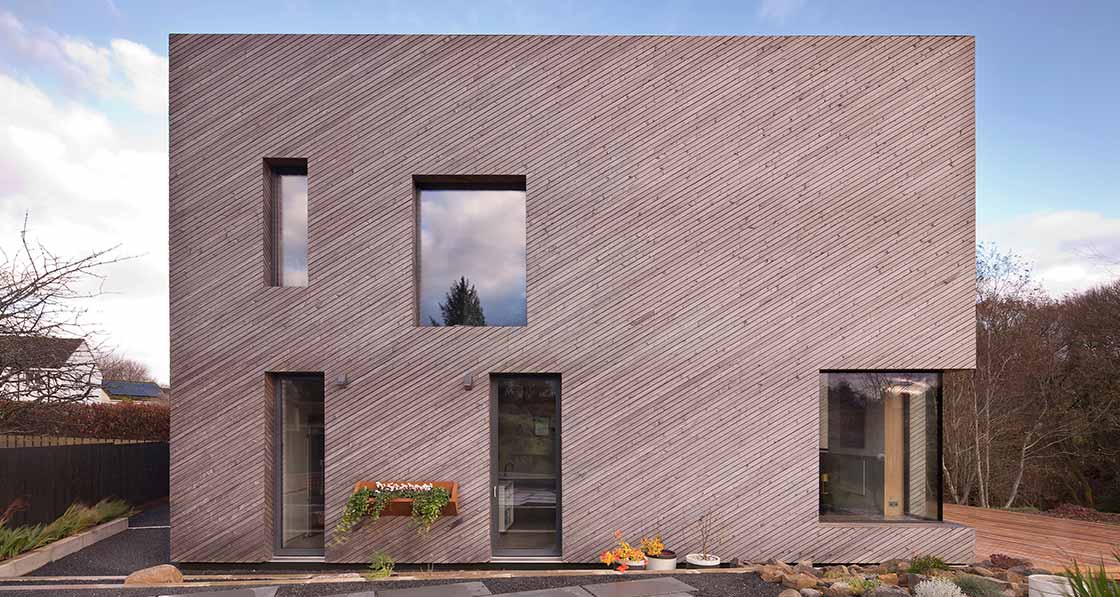 They searched for a suitable plot for a few years before finding one in Kippen and broke ground in 2014 — though not before talking to loads of people and driving all the way down to Totnes in Devon to stay in Adam Dadeby's passive house B&B to experience the reality of heat recovery ventilation.
"So we stayed overnight, I remember the first thing we did when we went into the room, we were trying to find the valve to put our hands up to it, to see if there's a draft and to listen to it and that kind of thing," recalls Mhairi. So as well as talking to other architects, "you want to know that the physical reality of it is going to live up to the science, and that it's actually going to be as comfortable".
At the start of the project, it helped that the couple had a bit more free time on their hands, and they did the most work in the first two years. This included Martin taking 12 weeks off at one stage to build the timber frame with two joiners. They estimate that this alone saved them tens of thousands on the build, but another factor in that decision was that they couldn't find carpenters at the time who would do an I-Joist wall or twin frame to enable thermal breaks, never mind factory-built timber panels.
Martin did the timber frame, while Mhairi did the plumbing and tiling.
"Six years ago there was hardly anyone," says Martin. "We couldn't find anyone to be able to build a passive house frame, whereas now we've worked with Eden Insulation and other companies quite a lot and they'll do something for you. So what we built in that time, they will build you on site in four days."
The couple were able to cover-off a number of jobs individually. For instance, Martin did the aforementioned timber frame, while Mhairi did all the plumbing and tiling, but they worked together on jobs for the most part.
"When it came to things like plasterboard and insulation fixing, and so on, we just did that together because a lot of jobs require two people for manoeuvring materials, all that kind of thing," Martin says.
After the first couple of years, the couple spent another four long summers on the distinctive timber cladding. "That was really what we did for four years, which seems incredible when you look back now," recalls Mhairi. "But it didn't really occur to me until our neighbour said last year after we had finished, 'You'll be so looking forward to summer this year because you won't have to clad anything. And I thought, 'Oh yeah, it'll be really nice'."
Martin admits that, aside from them being busier at work by that stage, one of the reasons the cladding took four long years was the decision to mount it diagonally, which is much trickier than placing it horizontally or vertically. The cladding is mounted on vertical battens but "when you get to a small triangle at the corner of the wall, there's nothing to support it. So I had to prefabricate triangles with stainless steel straps screwed on and then offer it up as a unit. It was a tiny little thing, but time consuming."

1 Self-builders Martin and Mhairi, together with their friend, architect Eamon McGarrigle (centre), installing the Isoquick EPS insulated formwork system; 2 the 300 mm reinforced concrete slab was power floated to form floor finish throughout ground floor; 3 erection underway of the stick-built timber frame walls; 4, 5 & 6 the walls were built with a doublestud timber frame, with wood fibre insulation to both studs, and a further 60 mm in between the studs to form a thermal break.
He did ask a builder to quote to finish the job at one stage, but the builder wouldn't do it. Part of the problem with living in central Scotland compared to somewhere like London, he says, is that finding a contractor interested in executing finer detail work is far harder.
The couple had sold their Glasgow flat much quicker than they anticipated and rented various flats in Kippen for a couple of years before moving into a caravan next to the site for nine months as the build progressed.
During one miserable winter spent in the caravan (which had to double as their office) they discovered that not only was their mattress going mouldy, but they received a £2,000 top-up electricity bill for the four-bar electric heater that was running almost permanently. So they decided to move into their unfinished but weather-proofed, warm and dry building next door in 2016 and essentially camp in it.
They plaster-boarded one room and not long after got the kitchen fitted.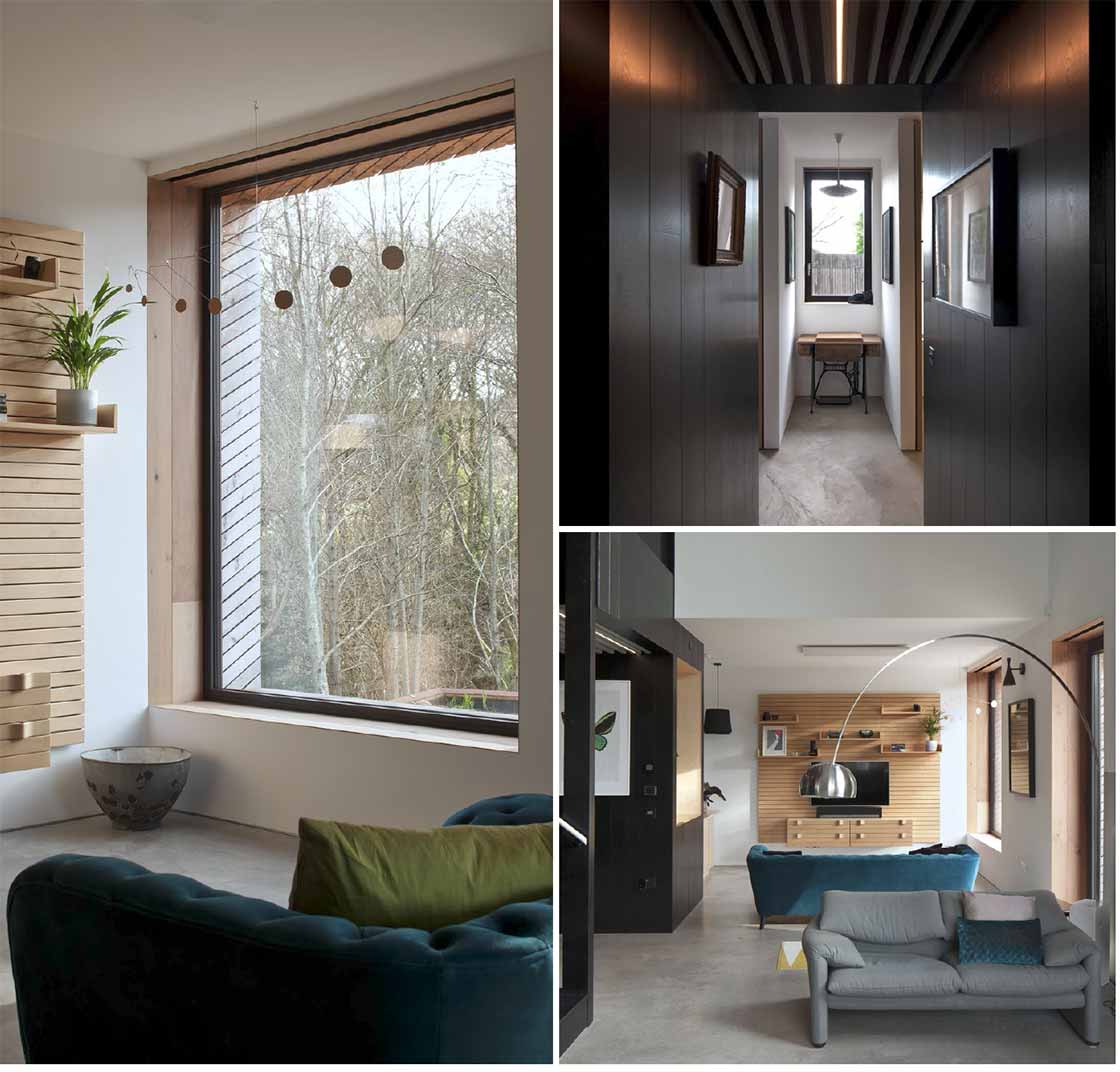 One useful reference for the couple was the book Details for Passive Houses published by IBO, the Austrian Institute for Healthy and Ecological Building. Although most of the tips were more relevant to masonry construction with external insulation, "it did open my eyes to perimeter insulation and how you might achieve continuity at certain junctions," says Mhairi.
They must also have been taking careful notes regarding airtightness given the impressive score the house achieved of 0.19 air changes per hour. This did prove among the biggest challenges of the build, however, particularly the job of incorporating the membrane during the timber frame construction.
"We were really pleased… that was quite a nice moment," says Mhairi.
Mhairi praises Niall Crossan and his team at Ecological Building Systems for the tips and advice that they received while doing one of the company's workshops in Athboy, Co Meath.
"They're so interested in promoting better buildings and better construction, and so we found them really helpful for things like that."
The couple were keen from the beginning to use as many natural materials as possible, starting with the PEFC/FSC-sourced, untreated timber frame and cladding but also wood-fibre insulation which, Mhairi notes, "is much more pleasant to work with than phenolic insulation or mineral wool and creates, in conjunction with the other wall products, a vapour open construction."
The flat roof has a sedum covering for biodiversity and water- saving. Mhairi and Martin also salvaged materials from other sites for landscaping, and kept a tight control on construction waste, so much so that no skips were required during the build.

1 Wood fibre insulation to the inner studs; 2 pro clima Intello Plus vapour control membrane to ceiling; 3 Spano Durelis Vapourblock airtight vapour control board to walls; 4 airtightness taping around wire penetrations; 5 continuous external wrap of 100 mm thick wood fibre insulation boards; 6 airtightness detailing around windows.
With the projected energy use of their home based on PHPP (Passive House Planning Package) calculations, the couple felt confident enough that the heating demand could be met by something really simple and modest.
So instead of a heat pump, they opted for infra-red heating panels (all individually thermostatically controlled) with a back-up post heater in the ventilation supply ducts, while most hot water is provided by good old-fashioned evacuated tube panels.
"It still amazes us how much solar input we get from the evacuated tube panels, says Mhairi. "They are quite aggressive, even in the shoulder seasons. We are often surprised how much dedicated solar thermal seems to be overlooked in Scotland as a viable renewable technology, with many people preferring to use PV [for electricity]. For a house such as ours with only a small PV array, no heat pump and no battery, solar thermal still makes a lot of sense for hot water demand."
As well as monitoring electricity consumption, which has been in line with their projections, they have also installed temperature and humidity sensors in various places to validate what they are feeling in their bones as they occupy the space.
"We have found that the temperature, as you might expect, is extremely stable – hovering around the 20 C mark internally. We have had some days down to about -4.4 C externally recently. What has surprised us is that we thought there would be more variation and stratification at the top of the double height, however this is also quite stable within a range of a couple of degrees."
Indeed, Mhairi comically notes that when they lived in their old flat, she found herself wearing bed socks most nights, and extra jumpers for "when the boiler goes off at 10 o'clock at night". And that now they often have to physically open the door to figure out how cold it is outside, and whether they need hats and gloves.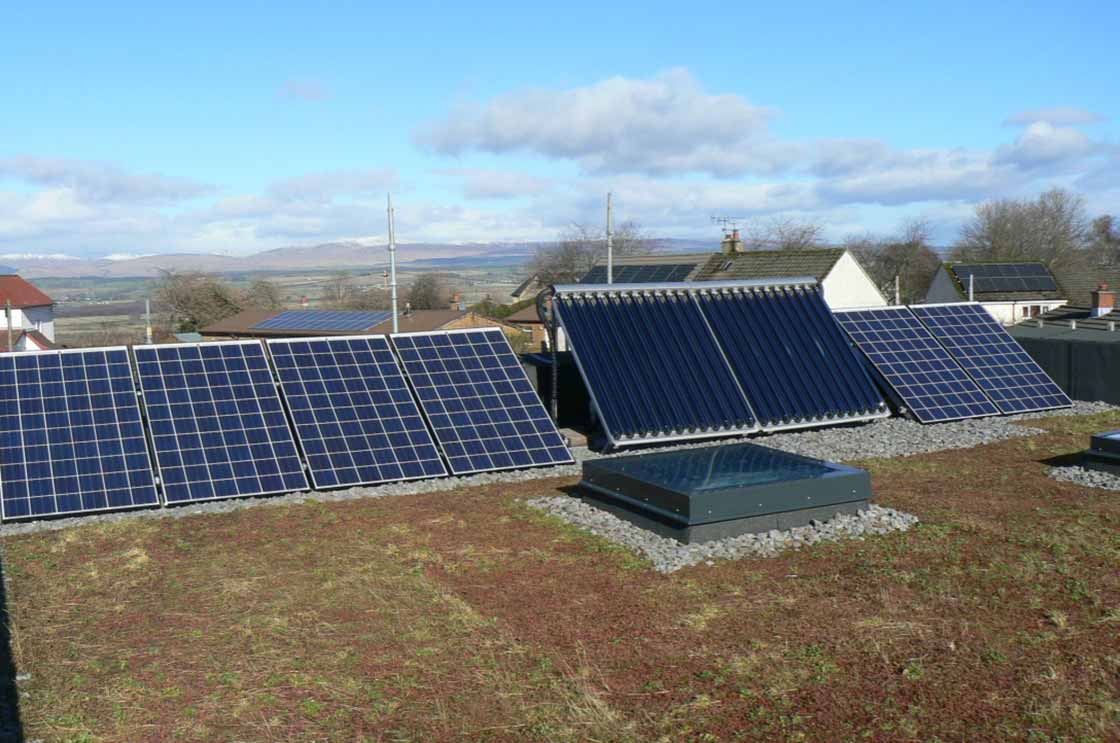 The couple have no regrets about all the specification decisions they made over the course of the six-year build. But Martin admits that one thing they might change if they had the chance to turn back time is to go for a mono- pitched roof so that they could mount more PV panels and qualify as a passive house 'plus' and therefore charge, for practically nothing, the electric car they are planning to buy.
While they weren't able to find contractors willing to do things like the cladding or any other complicated or detailed work, they did manage to find a cabinet maker who made their beautiful staircase and a rather neat drinks cabinet with a very slick opening mechanism.
"That was quite a nice little moment in the project where, for what felt like the first time ever in our lives, we actually commissioned someone to do this," says Mhairi. "It was so interesting to be the client and very pleasurable after spending about five years slogging it out."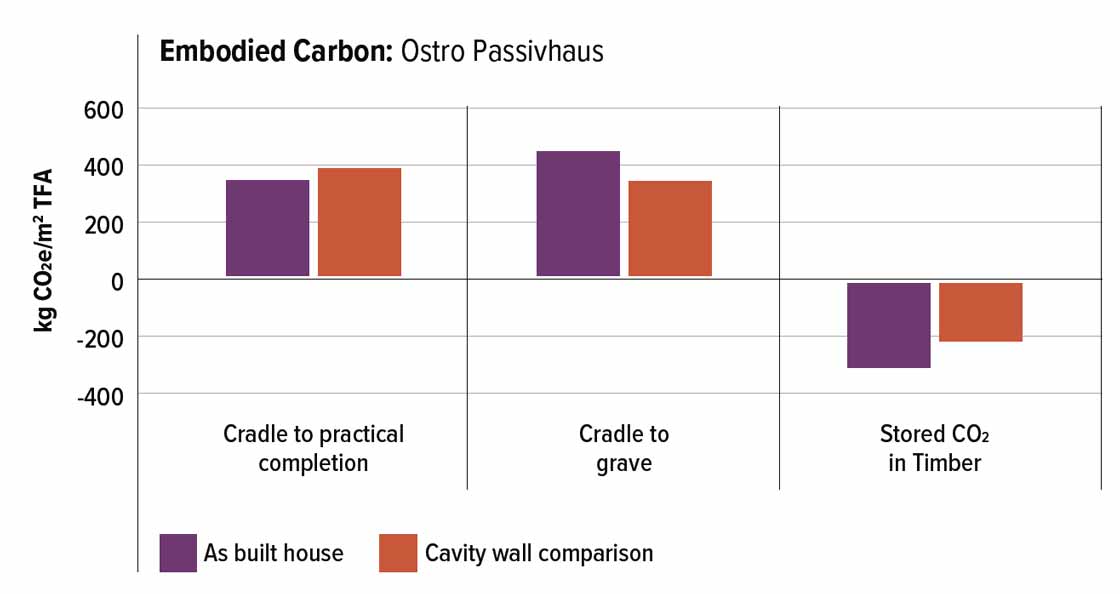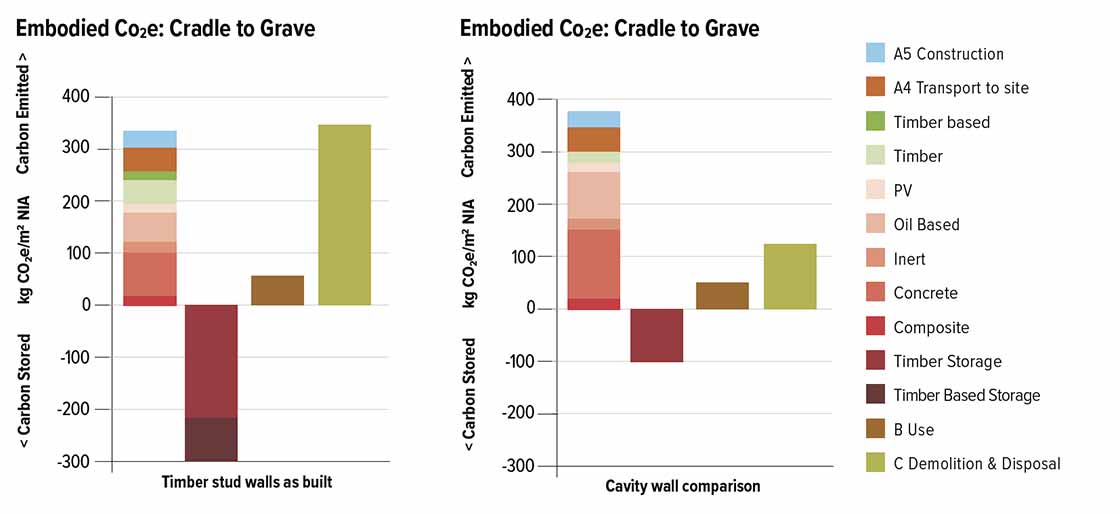 Image gallery
Related items
Latest from John Cradden