Cambridge choses passive house comfort for Kings' College students
Most people think of cold, cramped and poor-quality buildings when they think of student accommodation, but two new passive house residences at King's College, Cambridge are rewriting the rulebook, with their focus on occupant comfort, architectural quality, and an enlightened, long-term view of construction costs.
Click here for project specs and suppliers
ENERGY BILLS £364 PER MONTH – OR £6 PER STUDENT FOR SPACE HEATING
(Estimated, see 'In detail' for more)
Building: Two graduate student accommodation buildings (1,091 & 435 m2), for 59 occupants
Build method: Cross-laminated timber
Location: Cambridge, England
Standard: Passive house certification pending
Completed at the end of 2019, Cranmer Road provides much-needed accommodation for the graduate students of King's College at the University of Cambridge.
The accommodation is located in West Cambridge, a ten-minute walk from campus, and includes two separate buildings: the three-storey Villa building, with 19 bedrooms, and the two-storey Stephen Taylor building with 40 bedrooms.
This all-electric, passive house project was designed by Allies and Morrison Architects, with Max Fordham engineers providing passive house consultancy, as well as mechanical and electrical system design.
The project was born out of a need for more student accommodation in Cambridge, says Shane Alexander, project manager and clerk of works at King's College. "Prior to that, a lot of our graduates had to seek private accommodation within Cambridge," he says.
The passive house design ties in with the university's aspirations to build sustainable housing for students and staff. "We've always wanted to get to the point where we would lower our carbon footprint and really focus on sustainability. Cranmer was really the first of many [projects] to head down that road," Alexander says.
The buildings, which were fully funded by a donor, sit west of the River Cam, at the heart of the West Cambridge conservation area, with its large houses and colleges, generous gardens and sports grounds. The architectural legacy of the area includes characteristic red-bricked villas designed in the late nineteenth and early twentieth centuries as part of the Arts & Crafts design movement.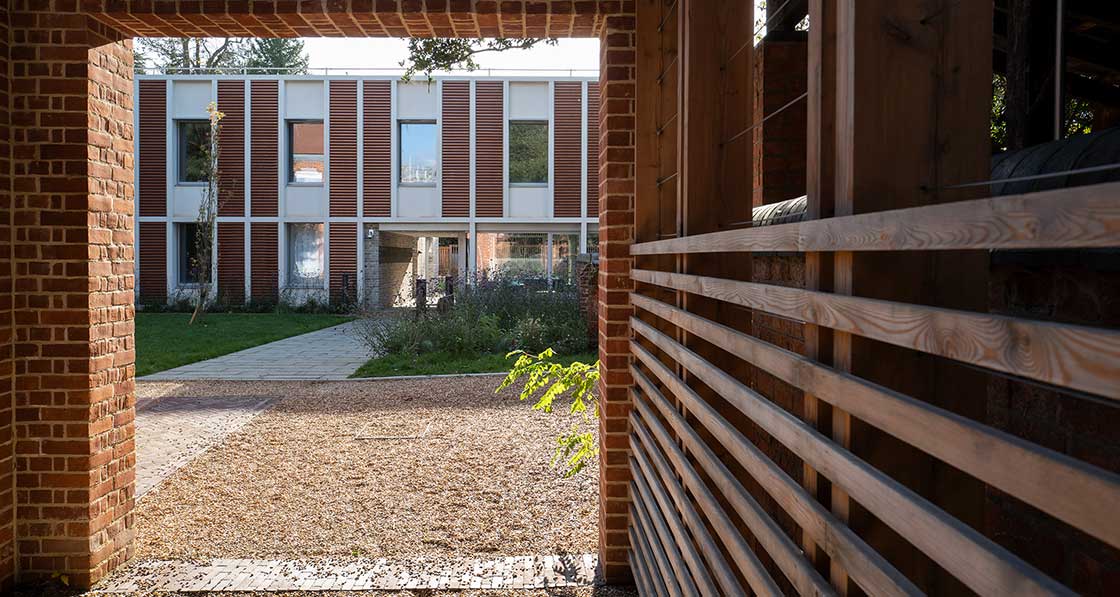 The students liked the air quality, the design, the communal spaces, and the amount of daylight.
"It was a real uphill struggle to get planning permission to develop the site," recalls project architect Matthew Traub. "It was only through a really careful consideration of the architectural heritage of West Cambridge that we developed proposals that were permissible by the local planning authority."
He says the design team perceived West Cambridge as having a dual character, with Arts & Crafts villas sitting alongside mid-20th century modernist university buildings. It is precisely this dual architectural language that inspired and guided the design of Cranmer Road.
The Villa building, with its red brick facade, was designed as a contemporary response to the Arts & Crafts villas of the area, capable of sitting comfortably and "filling a gap in the frontage along Cranmer Road, where you have a consistent rhythm of Arts & Crafts villas," says Traub. The Stephen Taylor building, with its exposed precast concrete structure and louvres of glazed terracotta baguettes, responds to the more contemporary language of the university and college facilities, while subtly referencing the tones and textures of the Arts & Crafts buildings.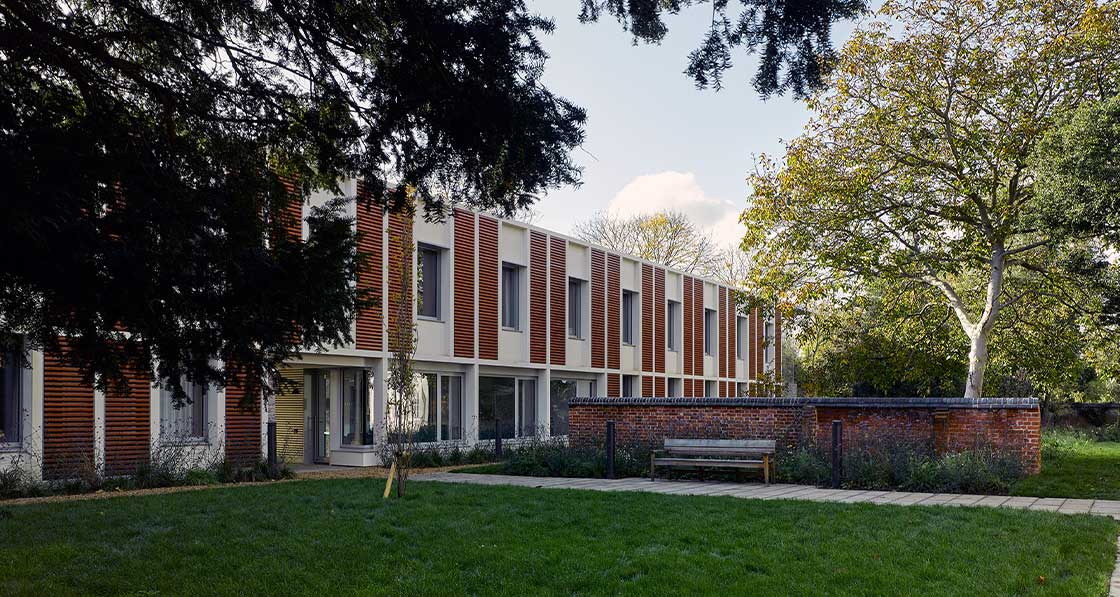 This article was originally published in issue 38 of Passive House Plus magazine. Want immediate access to all back issues and exclusive extra content? Click here to subscribe for as little as €10, or click here to receive the next issue free of charge
King's College specified a 100-year design life for the buildings, says Traub, and, while passive house was not a requirement from the start, it soon became "a really interesting opportunity," he says. "The fact that it's a comfort- driven metric was really important for the college," he adds, as were the benefits in terms of energy use and sustainability.
A lifetime cost assessment prepared by Faithful and Gould consultants highlighted a 2.3 per cent saving over 60 years across maintenance costs, operational costs, and cost of renewals with passive house, as opposed to no savings with a low energy approach or merely a regulations compliant approach.
"When you combine that with the benefits in terms of the comfort of the space and consider a 100-year timescale, that was a really compelling case for the college to stomach the additional uplift in terms of capital costs for the long-term value of a passive house building," Traub says.
Indeed, there was an additional up-front cost to incur in building to the passive house standard, notes Alexander, for which there won't be a return for about 35 years. However, "35 years in the lifespan of the college is nothing really," he says. He estimates this cost uplift to be about £1.5m, or 10 per cent of the total project cost, and says this includes the cost of extra insulation, more thermally efficient windows and doors, PHPP modelling, and airtightness sealing.
Cranmer Road's interiors are bright, airy and spacious, with large common rooms and dual aspect kitchens. Four of the bedrooms are accessible to wheelchair users, an element the College was keen to provide. Other notable features include a wastewater heat recovery system in the shower drains, and openable window panels hidden behind terracotta baguettes in the Stephen Taylor building. Shutters can be added to the precast concrete structure along the south-facing corridor of the Stephen Taylor building to adapt to warmer conditions in the future. The structure and services of the building were also designed to be able to take an additional floor in the future.
This was the first passive house project to occupy Gwilym Still, chartered engineer and passive house designer at Max Fordham building services engineers. "We had a practice-level interest in passive house, and I'd been interested in it for a while because it was one of the ways in which people talked about delivering really low-energy buildings," he says.
King's College specified a 100-year design life for the buildings.
CLT with five plywood layers was the preferred structural solution and main air tightness line for both buildings at Cranmer Road. Airtightness was one of the main challenges, recalls Still, as it is evaluated through a single test which you either pass or fail, and which "tends to get everybody a bit scared."
Working with the design team and contractors, Still and his colleagues looked at different airtightness strategies, including using plaster, an external membrane, or the CLT itself for airtightness.
"We settled on either the CLT or the membrane because we wanted to have something that we could test fairly early on in construction, and went for the CLT itself because it seemed like a more robust choice." Structural engineers Smith and Wallwork, who have extensive experience with CLT, also played a big part in designing the airtightness strategy.
"The sequencing was set out so that we could get the primary structure and the windows in early on [...], when the whole airtight envelope was still accessible, [in order to ensure] tests could be done and any issues could be fixed early," Still says. CLT joints were taped with tapes from Pro Clima, and the damp proof membrane in the ground was lapped onto the base of the CLT.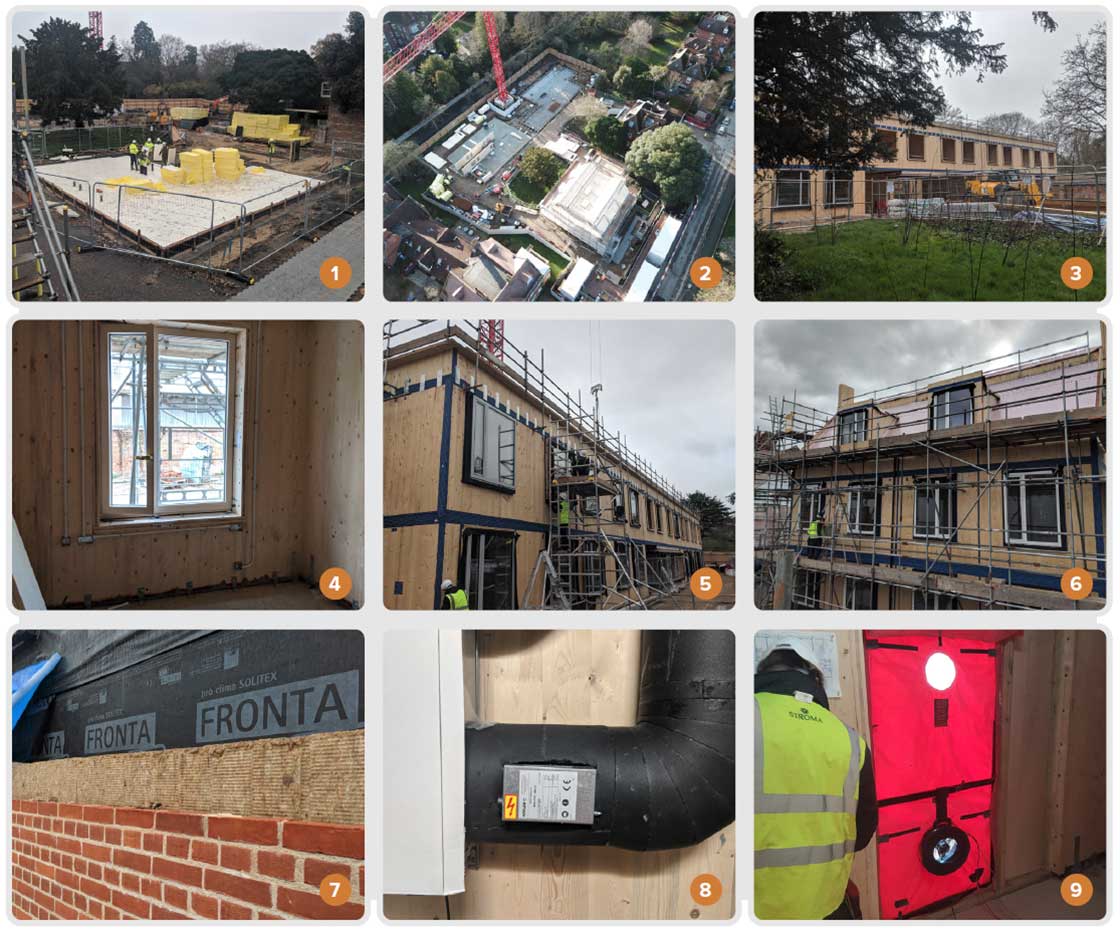 1 The ground floor features an unbroken raft of 200 mm Cellecta Hexatherm Xfloor 500 insulation; 2 aerial view of the site, with concrete slab in place and work commencing on the CLT structure; 3 & 4 construction of the CLT frame underway; 5 CLT joints taped with pro clima tapes, and installation of the Internorm triple glazed timber-aluminium windows; 6 installation of the BauderTEC KSD vapour control layer to roof featuring CLT dormers; 7 wall build up featuring brick externally, followed behind by drained cavity, Knauf Earthwool rainscreen slab, and pro clima Solitex breather membrane; 8 ventilation in the Stephen Taylor building is provided by Airflow Developments MVHR systems, supplemented here by an electrical heating coil to boost temperatures when necessary; 9 a blower door test under way; the buildings scored 0.16 and 0.19 air changes per hour.
The team opted for an all-electric heating system because decarbonisation of the national grid is likely to take place over the lifetime of the buildings, says Still, rendering electricity a lower carbon fuel source than gas. Simplicity was also key guiding principle in the project.
"We were generally trying to keep the systems as simple as possible," says Still. "Having electric panel radiators is a really simple and fairly cost-effective way of delivering low-carbon heat into the buildings," he explains. Heating storage was kept to a minimum and the water heaters are all very close to the outlets, with pipework between the water heaters and the showers kept as small and short as possible."
Too much pipework for hot water can create a risk of overheating in a passive building, especially when you factor in future climate change. This was one of the reasons why a point of use system for hot water — where water is heated close to where it is used - was chosen.
Still combined meter reading data and software modelling to study energy consumption and heating in the buildings. Metering data shows that domestic hot water consumption is the highest energy draw within the building.
Both buildings use mechanical ventilation with heat recovery, and post-occupancy feedback on summer comfort has generally been positive. Since completion, the buildings have been through two winters.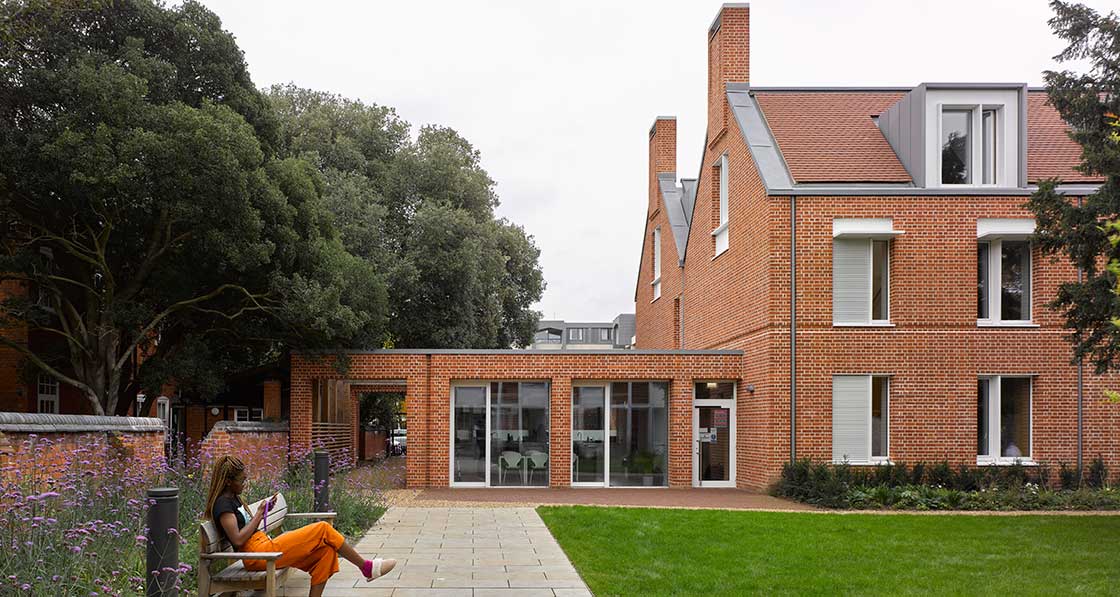 The Passive House Planning Package (PHPP) models assured the team that buildings would perform well in cold weather. Measured heat load, the amount of heat energy a building needs to maintain 20 C on the coldest day of winter, was 8 W/m², lower than the passive house target of 10 W/m². According to Still, heat load is a particularly good indicator of the thermal performance of the building envelope, because it is less influenced by changes in the thermostat setpoint than the other key metric of thermal performance, space heating demand.
"We also have longitudinal data showing that, once the buildings were occupied, some of the heating demand was higher than expected," says Still. Specifically, the PHPP software indicated that space heating demand, the amount of active heating input required to heat a building over a year, was higher than the threshold of 15 kWh/m²/yr for one of the buildings: 13.1 kWh/m²/yr for the Villa building and 17 kWh/m²/yr for the Stephen Taylor building.
This is possibly because the PHPP models are based on the whole building being at 20 C,"and we know that the students have overridden the thermostats to make their spaces warmer," says Still. If you turn the heating up by about two degrees, the annual heating energy consumption goes up by about a third, so "it's fairly sensitive to that change", he says.
Post occupancy evaluation was conducted with all students who have lived in the buildings.
"Generally, feedback was very positive," says Still. The students liked the air quality, the design, the communal spaces, and the amount of daylight. Points raised by the students included that they wanted more control over the heating, feedback that is now being fed into a subsequent project for King's College, and that the lights inside the bathrooms turned off after about 20 minutes, which was too short a period. This has now been adjusted.
The students were involved right from the project's outset. "We do that with all our projects," says Alexander. For instance, as a result of consultation with the graduate community, the bedrooms in the Villa Building are not ensuite. "[For the students,] it was quite important to have a range of price points for accommodation.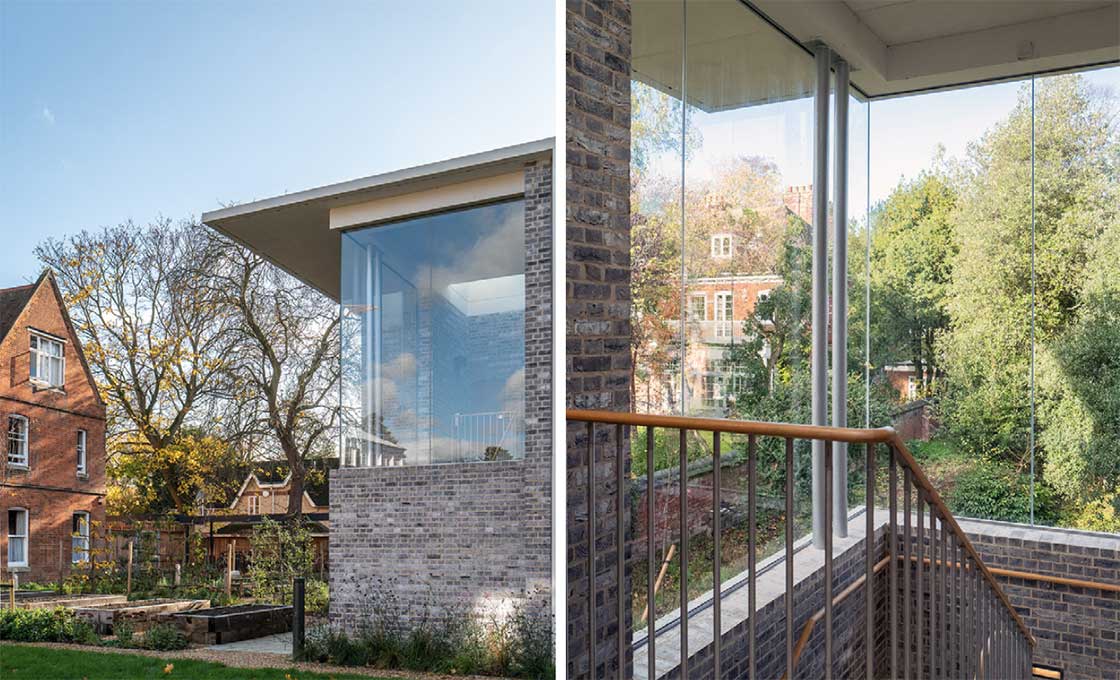 Some people want cheaper rent and are quite happy to share a bathroom," explains Traub. Students also asked for a choice of carpet or hardwood floors being offered: "not everyone wanted carpets because some people suffer from allergies," explains Alexander.
The result of all these design and consultation efforts is a space where college life can blossom. "King's wanted to create a unified space for graduates to come together, learn together and feel like they play a part in the life of King's College," says Traub. Enjoyment of the outdoor spaces is a key part of college life, so a lot of thought went into the green spaces around the buildings, he explains. The gardens include pleached trees and allotment planting spaces for students, and the shared garden is split into a formal lawn and a meadow that accommodates more biodiversity. There is also a woodland with retained tree cover and a swale on the grounds.
Cranmer Road went on to win the 2021 Cambridge Design and Construction Award for best new building over £2 million, as well as the sustainability and engineering prize at the same event. "The college is really pleased with it," says Alexander, "to the extent that as soon as we started Cranmer Road we were already working on another [student accommodation] project, Croft Gardens, which will also be fully passive house certified."
"The students who moved into Cranmer absolutely loved the buildings," he says, noting that "different groups of students have lived there now, and there's never been a negative word said about the accommodation."
"We've learned a lot through the scheme," says Still, "from airtightness, to structure design, ventilation, detailing, and proper insulation of the ventilation ductwork – we're already applying our learnings in current projects." "Quite different from the student accommodation I remember living in!"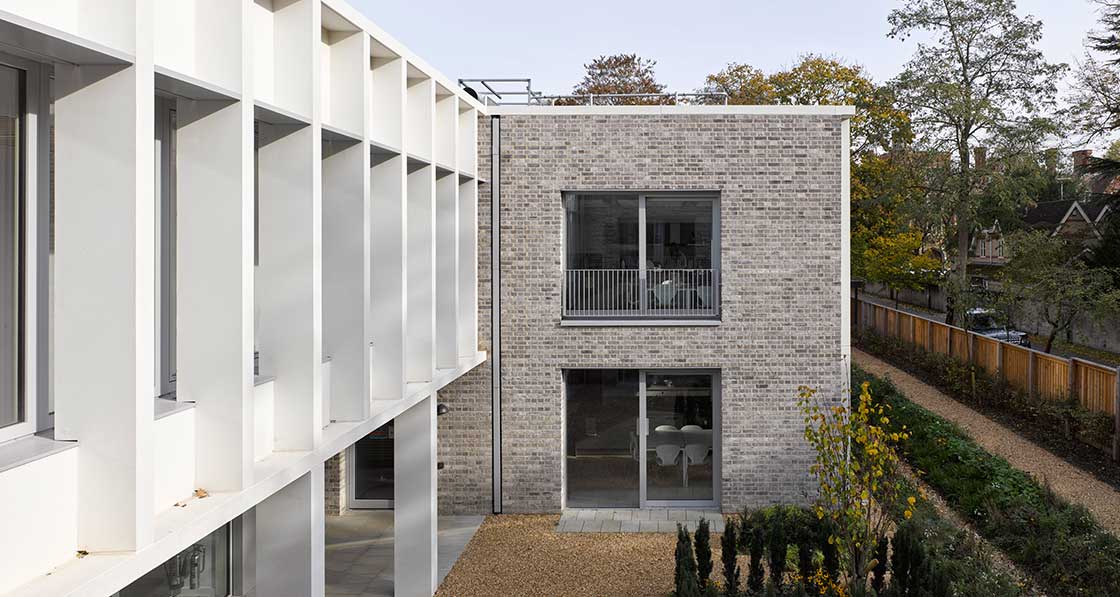 Selected project details
Client: King's College, Cambridge
Architect: Allies and Morrison
Main contractor: RG Carter
M&E engineering: Max Fordham, Ingleton Wood
Passive house consultant: Max Fordham
Structural engineering: Smith & Wallwork
Project management: Faithful & Gould
Quantity surveyors: Faithful & Gould
Landscape architects: LDA Design
Planning consultants: Turley
Mechanical contractor: Munro
Airtightness products: Ecological Building Systems
CLT structure: KLH
Primary wall insulation: Knauf
Thermal wall ties: Ancon Teplo-L-ties, via Leviat
Floor insulation: Cellecta
Windows & doors: Internorm
MVHR: Airflow & Zehnder
Wastewater heat recovery: Recoup
Electric underfloor heating: Raychem
Electric radiators: Adax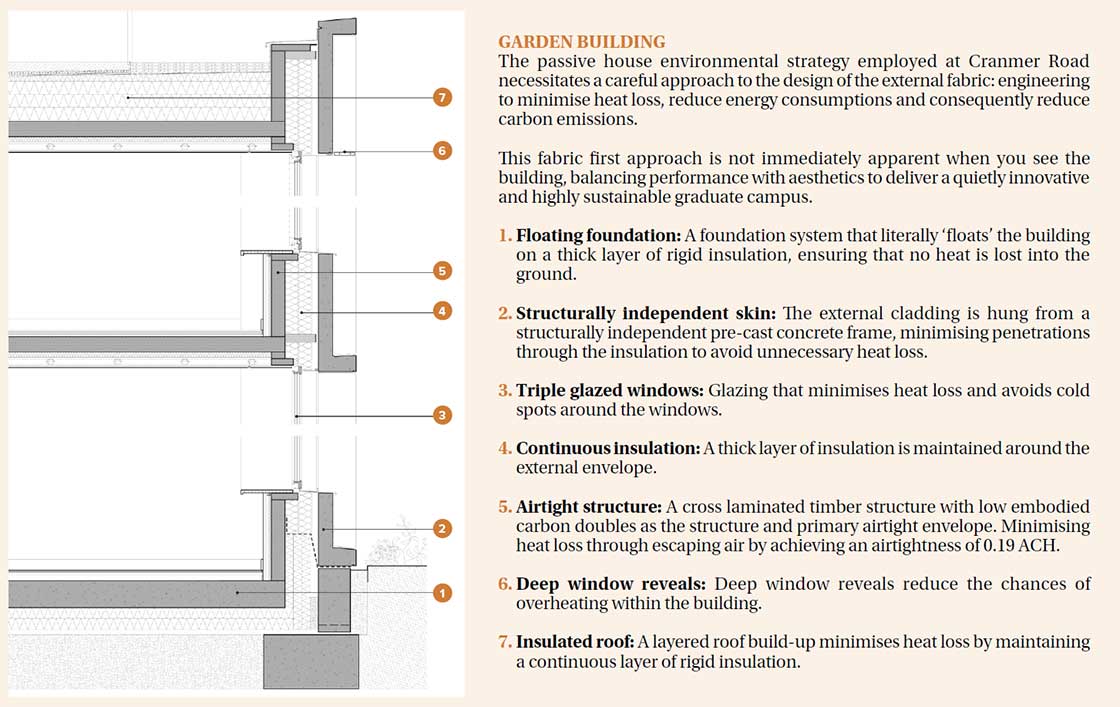 In detail
Building type: Two graduate student accommodation buildings built with cross-laminated timber. Villa Building: 435 m² (treated floor area). Stephen Taylor Building: 1,091 m².
Location: Cranmer Road, Cambridge, CB3 9BL
Completion date: December 2019
Project cost: £14,694,0000
Passive house certification: Pending
Space heating demand (PHPP): Villa Building 13.1 kWh/m²/yr, Stephen Taylor Building 17.0 kWh/m²/yr
Heat load (PHPP): Villa Building 8.2 W/m², Stephen Taylor Building 8.8 W/m²
Primary energy renewable (PHPP): Villa Building 80.8 kWh/m²/yr, Stephen Taylor Building 75 kWh/m²/yr
Primary energy non-renewable (PHPP): Villa Building 188 kWh/m²/yr, Stephen Taylor Building 171 kWh/m²/yr (figures are high because the building is all electric).
Heat loss form factor (PHPP): Villa 2.4, Stephen Taylor 2.4
Overheating (PHPP): 0 per cent of year above 25C
Number of occupants: Villa Building: 19, Stephen Taylor Building: 40
Airtightness (at 50 Pascals): Villa Building 0.16 ACH, Stephen Taylor Building 0.19 ACH
Measured energy consumption: All electricity boards are metred in high resolution. Understanding exactly how much energy is used within the buildings has been complicated by a global pandemic. Figures are based on monitoring from January to April 2020. Monthly energy use for each of domestic hot water, kitchens, lighting, plant, small power, and miscellaneous items was consistent during this period, so these figures were extrapolated over a whole year. Initial monitoring showed a delivered energy use intensity (EUI) of 51 kWh/m²/yr across both buildings. This was reviewed later in the year, after client feedback that some of the occupants had overridden the temperature control on the radiators. The total EUI had risen to 71 kWh/m²/yr, which included metred space heating usage. The assessment included the superstructure, substructure, external and internal walls, glazing, staircases, and finishes to walls, ceilings and floors, but does not include mechanical and electrical equipment.
Energy bills (measured or estimated): Electricity bills, covering all energy use, averaged £2,202 per month for the two buildings combined over the first five months of 2021, though the Covid pandemic may have affected occupancy patterns. This includes all standing charges but not VAT. Projection of space heating costs using PHPP figures estimates that the average monthly cost for space heating only will be £85 for the Villa Building and £279 for the Stephen Taylor Building, exclusive of both standing charges and VAT.
Thermal bridging: CLT was used as primary structure, with a raft foundation for both buildings. Rawlplug fixings to hold insulation against CLT. Low-conductivity brick ties were used (Ancon Teplo L-Ties).
Overall thermal bridging figures are: Stephen Taylor Building: 1.6 kWh/m²/yr. Calculated from PHPP at 0.0080 W/m²K (m² of total thermal envelope) Villa building: 3.7 kWh/m²/yr. Calculated from PHPP at 0.019 W/m²K (m² of total thermal envelope).
Embodied carbon: An analysis was carried out of the embodied carbon of the buildings by Allies and Morrison using an in-house tool the firm developed. It only included life cycles stages A1 to A3 (raw material supply to manufacturing), so did not include the construction process itself, transport to site, or the use phase or end of life.
It produced the following results: Gross embodied carbon values: Villa building: 390.5 KgCO2eq/m², Stephen Taylor building: 392.5 KgCO2eq/m². Gross embodied carbon values incorporating carbon sequestration of the CLT: Villa Building (A1-A3): 110 KgCO2eq/m², Stephen Taylor building (A1-A3): 134.1 KgCO2eq/m². The analysis includes superstructure, substructure, external walls, glazing, internal walls, floor, ceiling and roof finishes. It does not include mechanical, electrical and plumbing services.
Ground floor (both buildings): Concrete slab on an unbroken raft of 200 mm Cellecta Hexatherm Xfloor 500 (2 x 100 mm layers of insulation, shiplap joints, joints staggered). 900 mm strip foundation at the perimeter. U-value 0.167 W/m²K
Walls (typical)
Villa Building: Brick externally, with a 75 mm drained cavity, 225 mm Knauf Earthwool rainscreen slab, pro clima Solitex breather membrane, CLT structure (120 mm), timber stud 40 mm deep with 25 mm Rockwool to inner face, 15 mm unventilated air gap, 30 mm plasterboard internally. U-value: 0.115 W/m²K Stephen Taylor Building: Precast concrete and brick externally with a 60 mm drained cavity, 240 mm Knauf Earthwool rainscreen slab, pro clima breather membrane, CLT structure (120 mm), timber stud 40 mm deep with 25 mm Rockwool to inner face, 15 mm unventilated air gap, 30 mm plasterboard internally. U-value: 0.115 W/m²K
Roofs (typical)
Villa Building: Clay tiles on battens & counter-battens generally, on pro clima breather membrane, on 160 mm Kingspan Kooltherm PIR insulation, on vapour control layer, on 100 mm CLT structure, on 50 mm mineral wool, on 50 mm unventilated timber studs, on 25 mm plasterboard internally. U-value: 0.11 W/m²K
Stephen Taylor Building: Brown roof generally followed underneath by 130 mm EPS insulation, 200 mm PIR insulation (Innobond), vapour control layer, 100 mm CLT structure, 50 mm mineral wool, 70 mm unventilated air gap (timber & aluminium studs), 25 mm plasterboard. U-value: 0.06 W/m²K
Windows & external doors: Generally, Internorm HF310 triple glazed timber-aluminium windows throughout both buildings. Internorm AT200 aluminium entrance doors & Internorm HS330 Internorm HS330 triple glazed timber-alu life-and-slide doors.
Roof windows: Gorter glazed roof hatches to Villa building with HR+++ triple glazing. Gorter RHTEP insulated roof hatches to Stephen Taylor building.
Heating system: Generally, Adax Neo Stylish electric panel radiators through both buildings, plus electric towel rails to bathrooms. Electric underfloor heating to the common room in the Stephen Taylor building. Electric panel radiators in each bedroom have in-built controls, including thermostat, timeclock, and open window detection functionality. Electric towel rails in ensuites have push-button which lets the heater run for a limited time period. Electric underfloor heating in Stephen Taylor building is controlled by local thermostat.
Ventilation
Villa building: 2 x Zehnder ComfoAir Q600 units, Passive House Institute certified efficiency 87 per cent. Stephen Taylor building: 10 x Airflow DV Entro 400 units, Passive House Institute certified efficiency 88 per cent. 3 x Zehnder ComfoAir Q600 units, certified efficiency 87 per cent.
Water: Low flow sanitaryware – 6 l/min showers. Wastewater heat recovery from Recoup.
Image gallery
Related items
Latest from Anthea Lacchia