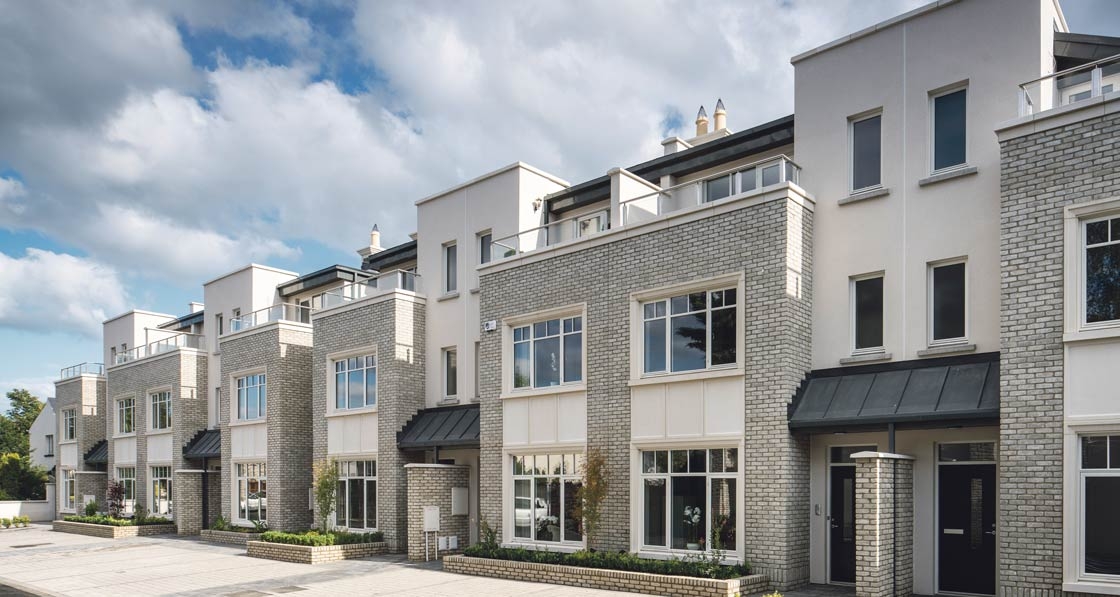 John Hearne
A2 rated Rathgar scheme goes high end but low energy
Click here for project specs and suppliers
This article was originally published in issue 19 of Passive House Plus magazine. Want immediate access to all back issues and exclusive extra content? Click here to subscribe for as little as €10, or click here to receive the next issue free of charge
A new residential development in Rathgar, Dublin 6 goes above and beyond the building regulations to deliver a high performance building envelope with a ventilation strategy to match. Garville Drive is testament to a belief that building to minimum standards isn't a viable strategy for any developer with long-term ambitions.
The company behind these eight mews style houses, each of which carries an A2 BER, is Montane Developments, led by Vinny Carty.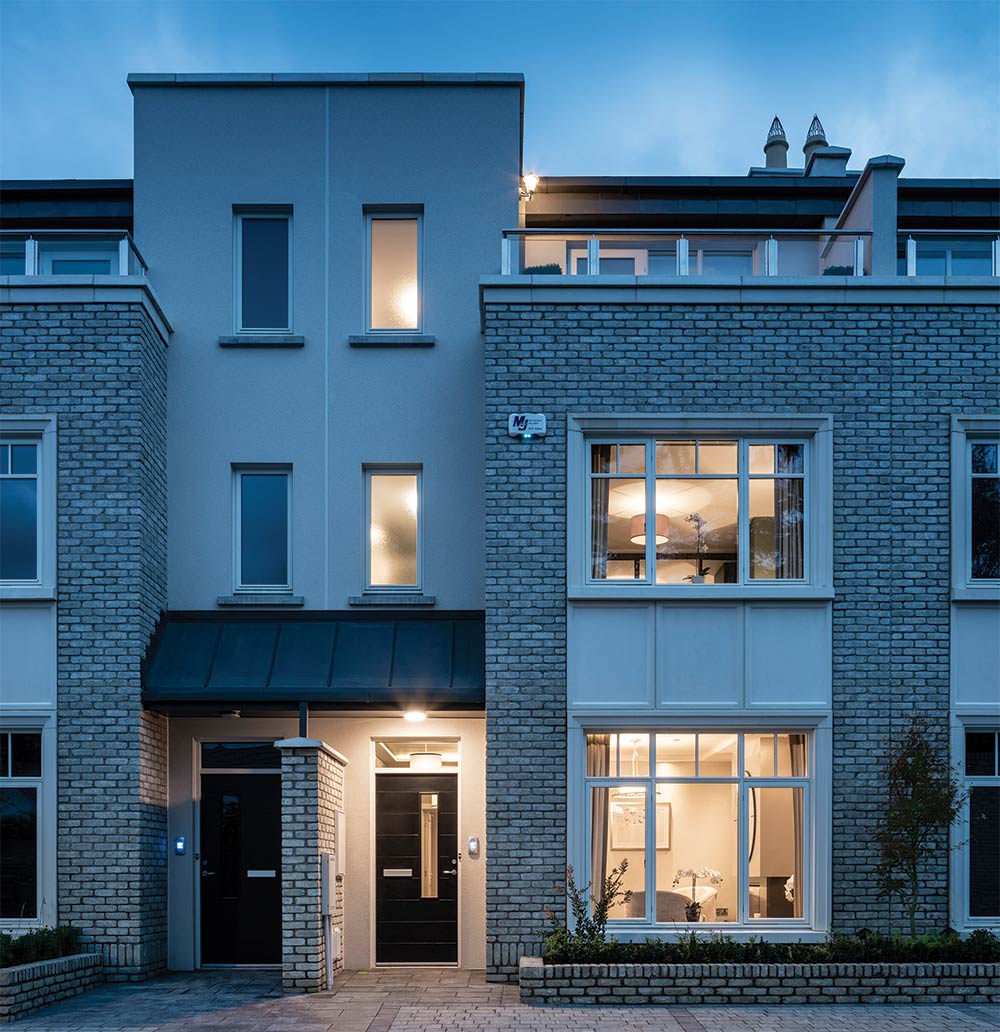 "No one's building B2 or B1 rated houses any more, but it doesn't take a huge amount of additional resources to get an A3 rated house," says Carty. "You build according to the new building regs and you'll get it. Here we've managed to go a step forward and get an A2. At the end of the day, that will save the customer a lot of money over the lifespan of the house."
These customers will however need a lot of cash to get the keys in the first place. The houses – each with a floor area 218 m2 – are laid out over four storeys, including a basement. Prices start at €1.075 million. Carty explains that the decision to go for a higher spec was informed in part by the fact that the development is right at the top end of the market, where it's possible to command a premium for an improved thermal performance and higher comfort. That's not the whole story however. There are also reputational issues at stake here.
"We've always built quality homes," says Carty. "Quality is always key to selling product and to attaining the best market price." That process, he explains, requires an engagement with new technologies, new ways of doing things and better building methods.
In 2015, Montane completed Chelmsford Manor in Celbridge, Co. Kildare. This is a large residential development with a mix of house types, each of which carries an A3 rating. That dedication to quality saw incremental improvements in every house completed.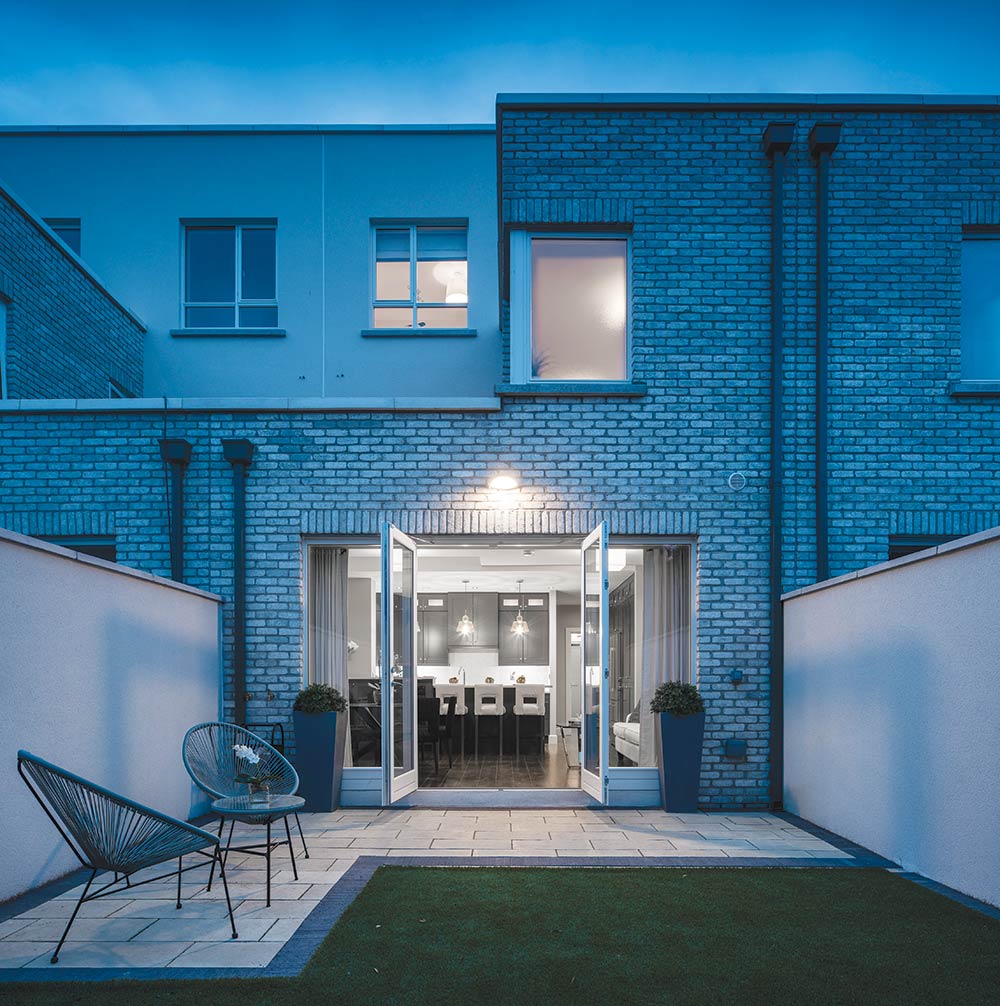 "As we moved through the site, we were improving a little bit all the time. Now, we're very conscious of what to check, making sure everything is perfect."
Eoin McGann of 2eva.ie was energy consultant on the build. His initial brief, he explains, was to ensure the house was compliant with Part L of the regulations, then to establish a provisional BER, and from there, to specify the changes that would have to be made to bring the houses above the A2 threshold. As Vinny Carty already asserted, these were not excessive; floor insulation had to be beefed up and an additional solar panel was specified. In addition, airtightness had to be improved.
That, says McGann, was the central challenge on the build. "My biggest fear throughout was the right level of airtightness on what was a complex design – three storeys, plus a basement, plus a flat roof."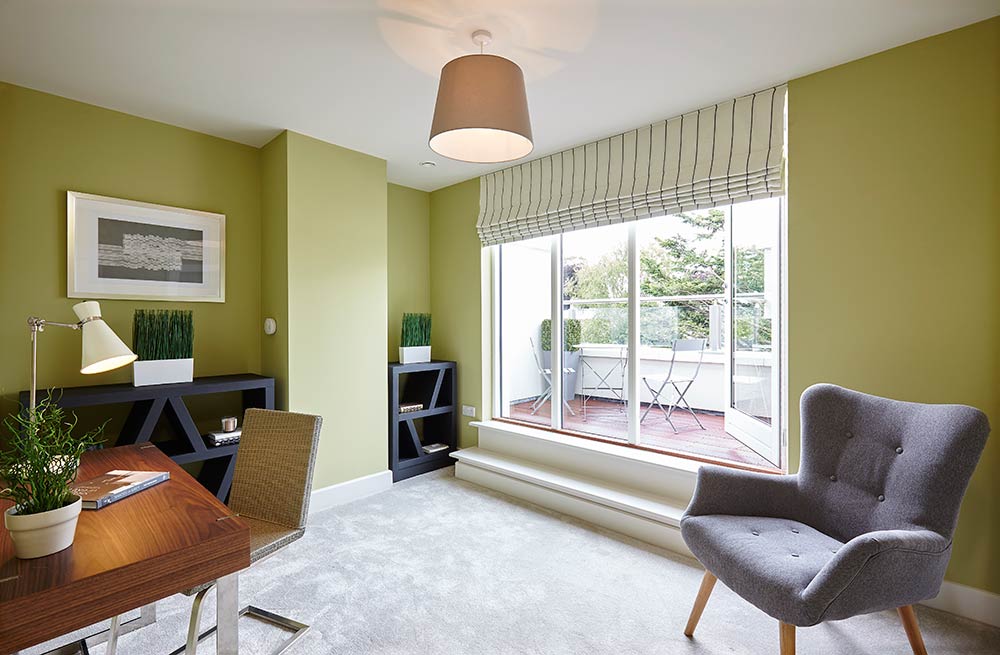 "It's the number of junctions." he goes on. "You have flat roof sections and a basement, you have a lot of floor cassettes that you need to incorporate into your airtightness design...This required planning. It wasn't something that could have been done as an afterthought."
Vinny Carty agrees. He explains that the build team deployed a range of techniques to bolster the airtightness performance of the building before the installation of the airtightness layer itself. For example: What Carty describes as "an ample gauge" of mortar was used to embed the precast slabs at basement level, to ensure a better seal.
"We use Mitek [Posi-Joist] metal web joists," says Carty, "because they allow services to pass through them very efficiently, but before we install them, we plaster behind all joist hangers before they're fitted, to make the blockwork airtight."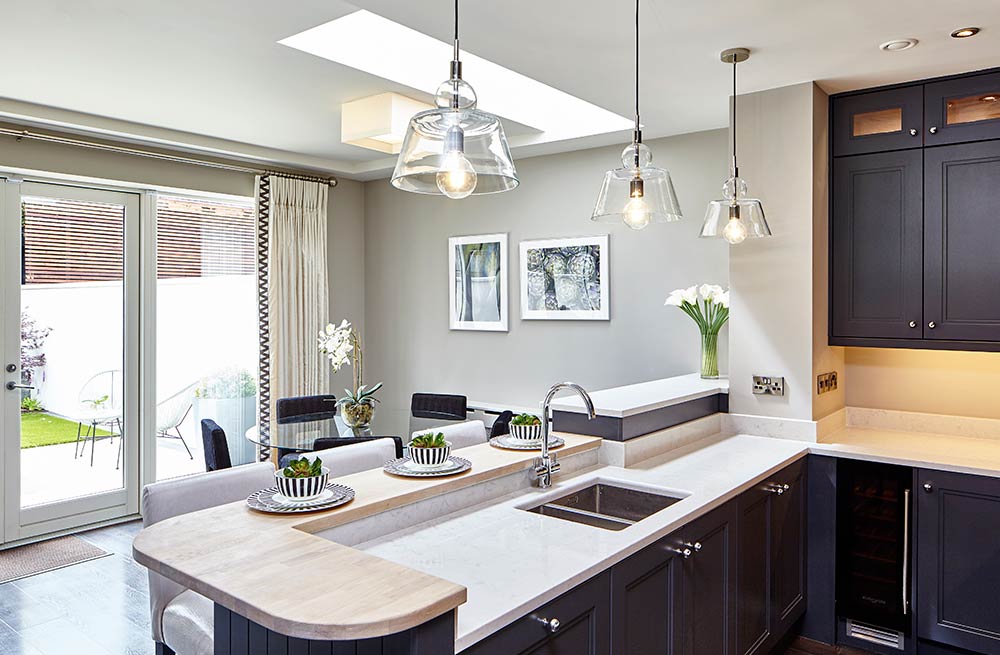 The build team also used a Gyproc product called Airtite Quiet on the outer leaf. As the name suggests, it delivers an element of both airtightness and sound proofing. In combination with the sand and cement render on the inner leaf, plus the suite of airtightness membranes and tapes, these products and techniques delivered an airtightness result of 1.88 ACH @ +/-50Pa or 2.15 m3/ m2/hr – lauded by Mark Shirley of 2eva.ie as an "excellent result in light of the four-storey buildings" and the attendant complexity.
One of the big contradictions inherent in Irish building practice is that despite ever higher levels of airtightness, we're not matching that with appropriate ventilation standards. If a builder achieves an airtightness level of 5 cubic metres of air leakage per hour, or better, and chooses so called 'natural' ventilation, he must increase the equivalent area of background ventilation by 40%. Background ventilation simply means holes in the wall or trickle vents in windows.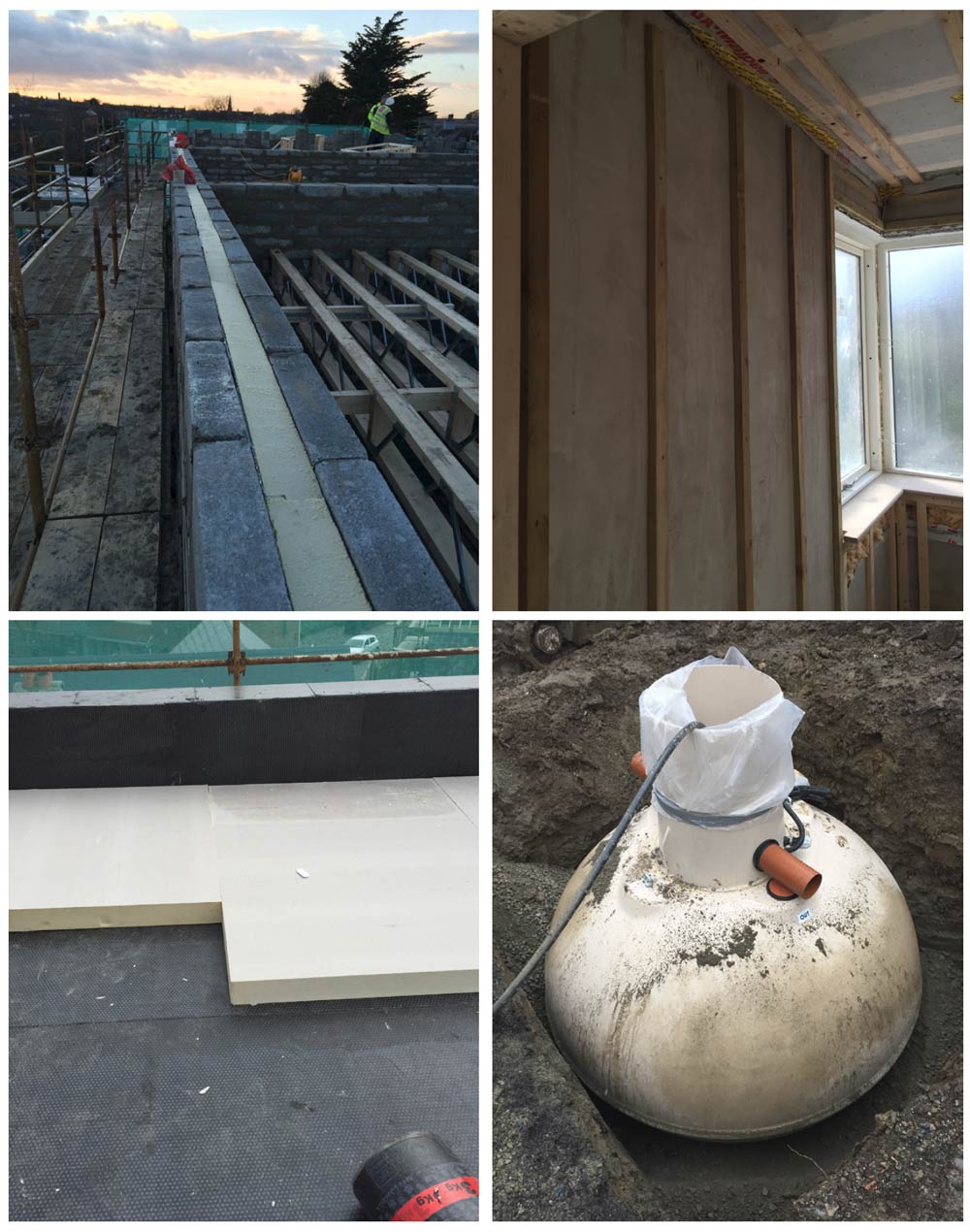 (above, clockwise from top left) the walls of the eight units at Garville Drive were constructed from traditional concrete-block cavity-walls, with 100mm of Xtratherm full-fill Cavitytherm board between the inner and outer leafs; Gyproc Airtite Quiet plaster behind 25mm battens for the internal service cavity prior to installation of plasterboard, with airtightness detailing of key junctions using Siga tapes also visible; 150mm Paratherm PIR insulation on the flat roof, part of a Moy extensive green roof system; a Kingspan Environmental rainwater harvesting system feeds garden garden taps at the development.
The problem of course is that while this may or may not deliver fresh air, the thermal envelope is now seriously compromised. (Passive House Institute founder Prof Wolfgang Feist's assertion that airtightness and mechanical ventilation are as much to protect the structure from interstitial condensation as to save energy is illustrative.) The alternative is a designed ventilation system, such as mechanical ventilation with heat recovery (MVHR).
Despite the fact that Carty did not have to install MVHR in either his Celbridge or his Rathgar developments, he opted to do so in both – Sentinel Kinetic Plus systems, installed and commissioned by Alternative Energy Ireland.
"There's no law to say we should put them in," says Carty, "but if a customer comes to me and says why did you make the house airtight, and then put holes in the wall? How do I answer that? I can't answer that. I can't give him a straight answer."
He points out that in any house, regardless of its level of airtightness, you have to get an adequate supply of fresh air in, and you have to extract the stale, contaminated, moisture-laden air.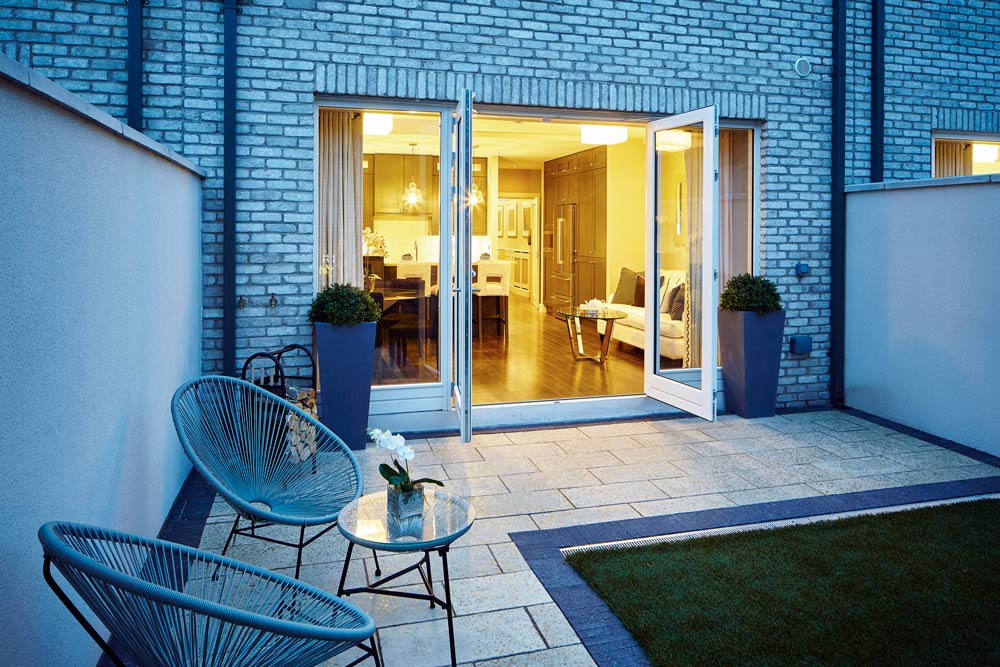 "We all know the effects of condensation. It attacks the fabric of the building and it means you have to decorate more often, you have to replace your furniture more often, you have to replace your curtains...All these things are as a result of moisture in the house not being properly channelled."
Carty describes himself as a doubting Thomas. One of the first things he was told about MVHR was that it cost no more than €50 a year to run, something he didn't believe until he measured the energy consumption of the system in the first house in which he installed it.
"It worked out exactly as the manufacturer said. It used less than €50 a year in electricity, but it's what it saves on the other side that's even more important. As they're exhausting the stale, moist air, they're recovering the heat from it to temper the incoming cool fresh air, so if it costs €50 a year to run, it probably saves €600 or €700 a year in energy that would otherwise go out of the building. That's where the real gain is, plus the fact that it protects the building fabric."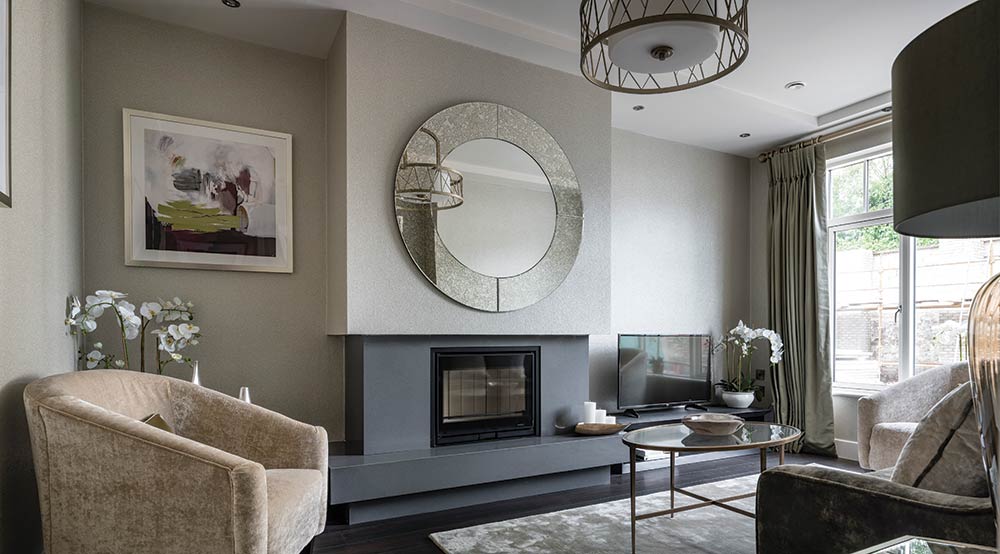 Carty was so impressed with the first systems he installed in Celbridge, he actually retrofitted MVHR into his own bungalow – a house built 27 years ago without any airtightness measures.
"The difference is incredible. I don't have condensation any more in shower rooms or bedrooms. I'm absolutely delighted I put it in."
Condensation is one risk to manage, but in a development like Garville Drive with basements, water ingress is another that requires particular care. A Delta tanking system was installed – including a fully sealed membrane in the basement slab and external walls up to the basement ceiling, which is above the water table. John Curley of plastering contractor Ardlea Construction describes the Delta system as "the Rolls Royce System. If the water does get in, it takes care of it. It comes with a drainage channel internally, so that if the water comes back into it it goes into a sump pump. While every measure has been taken to prevent water getting in, in the event that it ever does, the pump is there to take care of it."
Heated by a combination of high efficiency gas boilers and room-sealed wood burning stoves, the Garville Drive houses also feature solar thermal panels. These are mounted on frames on the flat roofs of the houses. There are also extensive green roof systems – offering a mix of benefits including boosting biodiversity, reducing the risk of the urban heat island effect causing an overheating risk, and assisting with stormwater attenuation, and each house is fitted with rainwater harvesters, significantly reducing any exposure to water charges.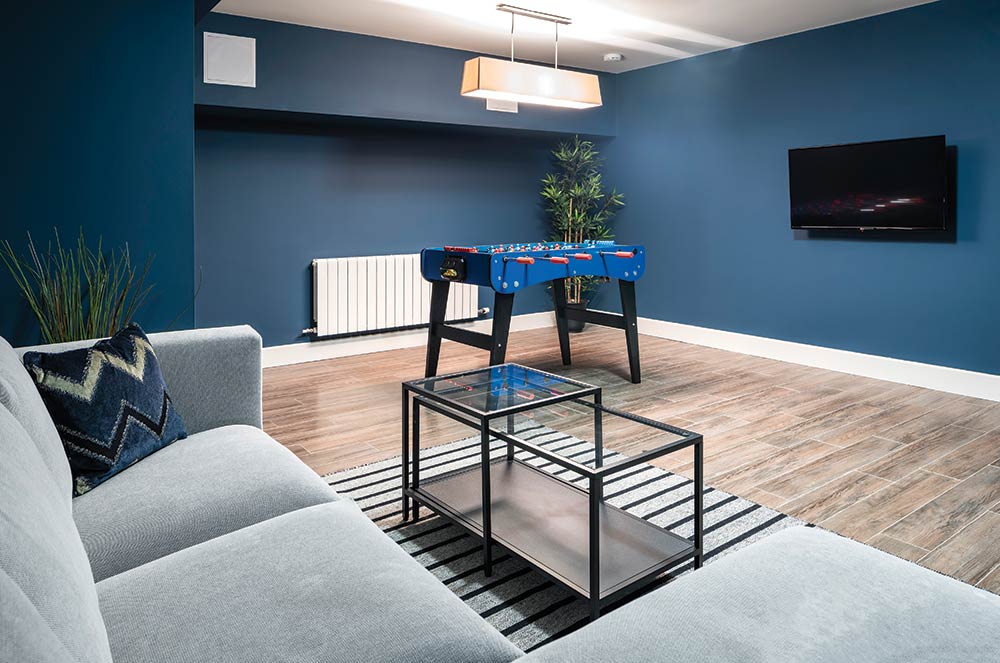 Carty remains in contact with residents in Chelmsford Manor in Celbridge. "I get very good feedback from everyone that has bought off us, and that's the proof of the pudding," he says.
Selected project details
Client/main contractor: Montane Developments
Architect: Duignan Dooley
Energy consultants/airtightness testers: 2eva.ie
Kavanagh Burke: Structural engineers
Carpentry & internal/external plastering contractor: Ardlea Construction
Plumbing & heating contractor: Andy Geoghegan Heating and Plumbing
Cavity insulation: Xtratherm
Airtight plaster: Gyproc
Airtight tapes/membranes: Siga
Insulation and airtight membrane contractor: Usher Insulations
Mineral wool insulation: Isover Ireland / Rockwool
XPS insulation: Kingspan
Tanking & water management system: Delta via SIG Ireland
Roof systems: Moy Materials
MVHR system: Lindab
Ventilation contractor: Alternative Energy Ireland
Metal web joists: Armstrong Timber Engineering
Windows: Carlson
Roof lights: Williaam Cox
Condensing boilers: Vokera
Solar thermal system: Joule
Rainwater harvesting: Kingspan Environmental
Bricks: Kingscourt Country Manor Bricks
Stove: Wanders, via Lamartine
Additional info
Building type: Eight conventional block/ brick constructed, three-storey over basement townhouses, 186 sqm (excluding the circa 32 sqm basements).
Location: Garville Drive, Garville Avenue, Rathgar, Dublin 6
Completion date: December, 2016
Budget: €5.5M
Energy performance coefficient (EPC): 0.345
Carbon performance coefficient (CPC): 0.316
BER: A2 (46.92 kWh/m²/yr)
Airtightness: NSAI certified result of 1.88 ACH @ +/- 50Pa or 2.15 m³/m²/hr @ 50 pa Thermal bridging: 2011 TGD Part (L) Acceptable Construction Details
Roof: Moy extensive green roof system on Paralon modified bitumen waterproofing finish, consisting of Paralon Unosint Antiradice Anti root capsheet fully torch bonded to Parabase 3kg underlayer, fully bonded to 150mm Paratherm insulation, on Parabase 2kg vapour control layer, fully bonded to primed timber deck laid to 1:60 falls and crossfalls; 254mm Mitek joist system filled with Rockwool/Metac mineral wool insulation; Siga Majpell airtight membrane; 12.5mm Gyproc Fireline board, taped and skimmed. U-value: 0.15
Basement walls: 12.5mm plaster board with skim finish on 90mm Xtratherm XT/ TL insulation, on treated timber battens, on Delta PT drainage membrane, on 300mm in situ poured concrete substrate, with 100mm Kingspan Styrozone down to 1m below ground level.
Basement floor: 75mm screed on polythene sheet separation layer, on 125mm Xtratherm XT/HYF insulation, on Delta MS20 membrane, on 300mm concrete slab, with 150mm Delta corner strip at perimeters and Delta sump pumps.
Ground floor: 225mm concrete slab on 125mm Xtratherm XT-UF insulation on 1200 gauge DPM. 30mm Xtratherm on upstands in perimeter areas. U-value: 0.12 W/m²K
Walls: Consisting of: 12.5mm plasterboard taped & with skimmed paint finish; service void with 25mm battens; 6mm Gyproc Airtite Quiet plaster; 100mm blockwork; 100mm Xtratherm Cavitytherm full fill board; variously with Retro Casa Lena brick and 100mm block on edge with Weber monocouche render. U-values as low as 0.12 W/m²K
Windows: Carlson Scandinavian pine double glazed windows with argon gas filling. Overall U-value: 1.34 W/m²K
Roof lights: Coxdome Glasslite low profile structually glazed rooflight system, with 16mm double-glazed argon-filled units and 6mm toughened solar control glass. U-value: 1.1 W/m²K
Heating system: 300 Vokera Mynute i30 mains gas condensing boiler with full time & temperature zone control with 300 Litre Joule cylinder with standing heat loss of 2.28 kWh/ day. 6.06m² Joule Vissolis solar thermal three panel arrays.
Secondary heat source: 8.4 Kw Wanders Square 68 wood burning (only) stove with external air supply and declared efficiency of 79%. Combined renewable contribution in excess of 10 kW/m²yr with this cost-effective design and set up despite the low energy design and reduced load causing challenges within DEAP. SAP Appendix Q Certified Vent-Axia Sentinel Kinetic Plus B with tested efficiency of no less than 88%.
Water: Kingspan Environmental rainwater harvesting systems feeding a tap in the garden for watering plants and washing cars
Image gallery