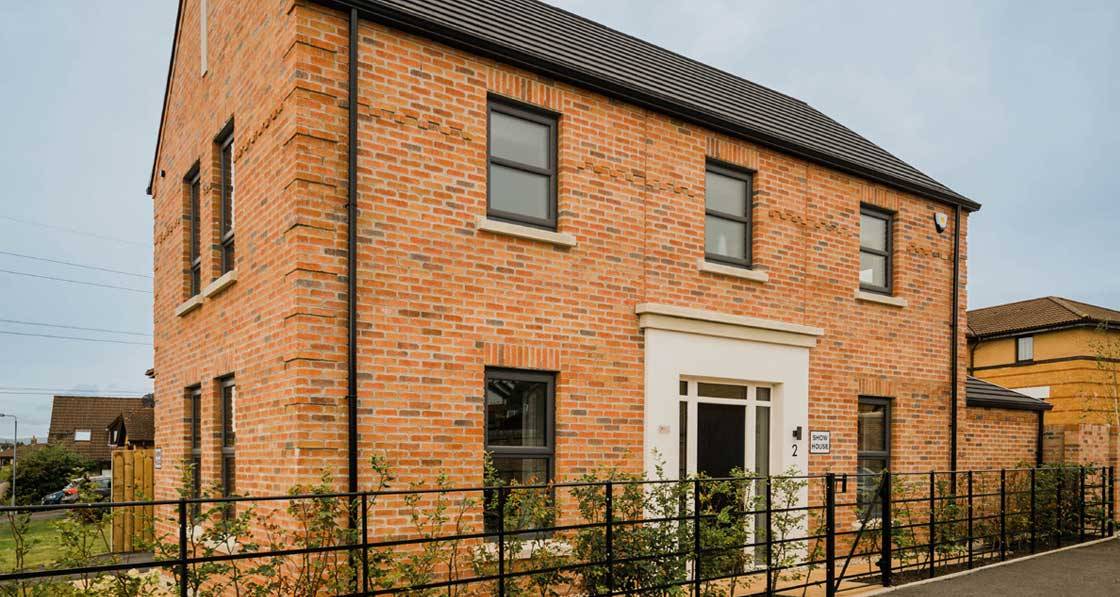 Photos: Joe Laverty Photography
Northern comfort
In trickier housing markets, the instincts of house builders have often tended towards building to the worst legal standards required – or worse. One award-winning new project in Belfast's suburbs is showing that it doesn't have to be this way – and that developers can thrive by pitching homes designed to ensure comfort and low bills at increasingly energy-conscious consumers.
Click here for project specs and suppliers
Development type: 219-unit new build housing scheme
Method: Timber frame with compact heat pumps
Location: Cairnshill, Belfast
Standard: PHI Low Energy Building
Heating cost: £48/month* * Calculated space heating & hot water use for a typical unit, based on Northern Ireland's energy price cap limit of 19 pence per kWh from November 2022 to April 2023, and ignoring contribution of solar PV to reduce grid energy use.
See In detail panel for more information.
Passive house design has a history going back more than 30 years, but in Northern Ireland, very few certified passive houses have popped up in that time. In fact, there are only a few handfuls of such dwellings in the six counties, mainly including one-off developments and an Enerphit.
But that number looks set to rise significantly over the next four to five years thanks to a 219-unit scheme of two, three and four-bedroom homes – a scheme destined to be the United Kingdom and Ireland's largest residential housing development certified by the Passive House Institute.
Built by Fraser Millar, one of Northern Ireland's biggest developers, and located in the Four Winds area of south Belfast, the nineteen units that comprised the first phase of Lancaster Park sold out in one hour earlier this year.
However, senior executive John Carrigan admits that, being built on what is a prime development site on the edge of Belfast city, the firm could have specified bog-standard houses that tick the boxes of UK building control regulations and still would have sold them without too much difficulty.
Nonetheless, to aim for a certified passive house standard is a big leap for a developer like Fraser Millar, particularly with Northern Ireland's combination of comparatively lower house prices and energy-efficiency building standards that – until recently – ranked well below those of Part L in the Republic, and the worst in western Europe.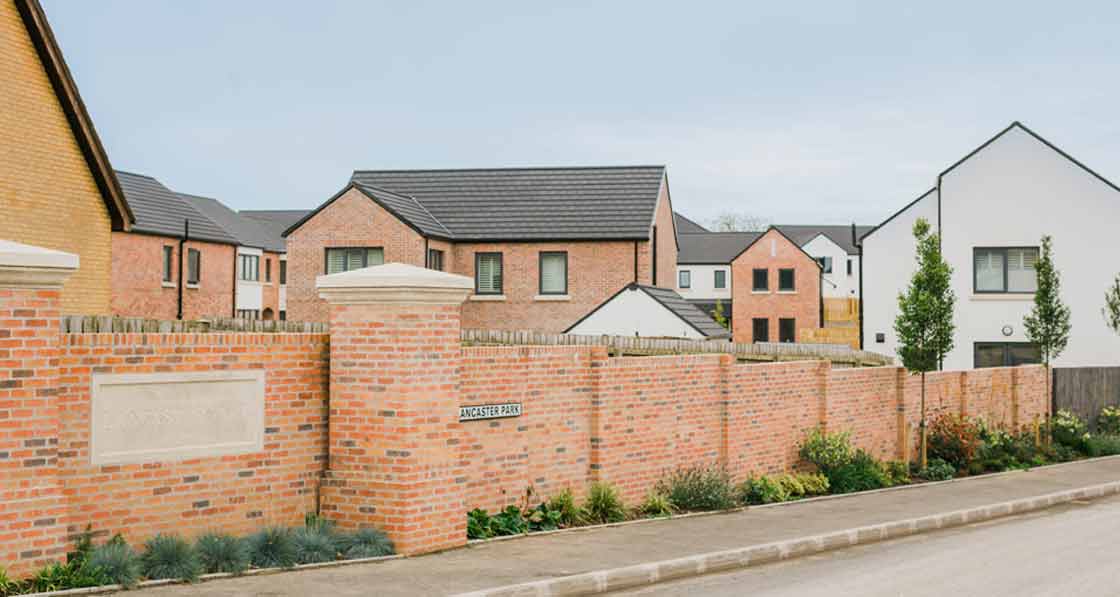 This article was originally published in issue 43 of Passive House Plus magazine. Want immediate access to all back issues and exclusive extra content? Click here to subscribe for as little as €15, or click here to receive the next issue free of charge
That the standard is the institute's less intimidating Low Energy Building standard rather than the full-fat passive house classic does not diminish the achievement in any way, especially given the skills base in passive house construction here needed a massive upgrade before the development could begin at scale. And that achievement is being recognised with the project and developer winning a slew of recent awards including Green Development of the Year at the Property Pal Awards, and Climate Company of the Year at the Belfast Telegraph Property Awards.
Carrigan himself is a relatively recent convert to passive house, having only first learnt about the design principles in 2019, through one of his architects, Iain Stewart.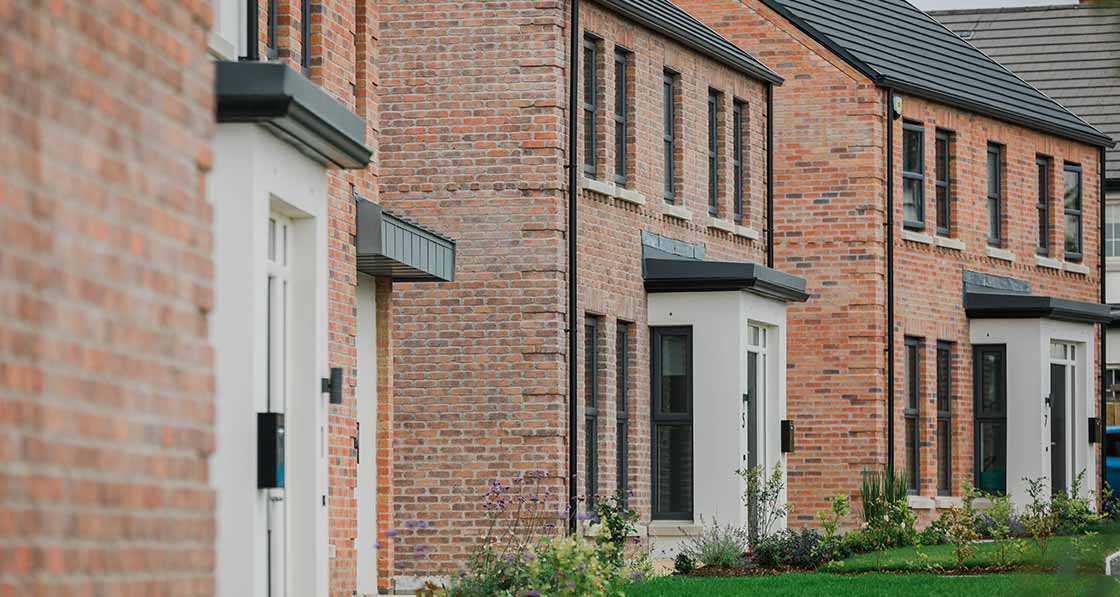 "Fortunately, unbeknownst to me, he was one of the first people in Ireland to have sat a passive house training course. He did it in 2012, but in the eight years intervening, he'd never had an opportunity to apply it. So, he introduced me to the actual term of passive house and off I went, and I started reading and doing the work on it, seeing how would fit and I was impressed with it."
Carrigan felt that it provided the best way to enable homeowners to better control their energy costs, adding that – like all of us – he didn't anticipate just how much it would be the defining issue of 2022. "I always maintain that ordinary working families try to fix as much of their costs as they can, whether that's fixed rate mortgages, lease purchase on cars, childcare, insurances, property taxes, etc.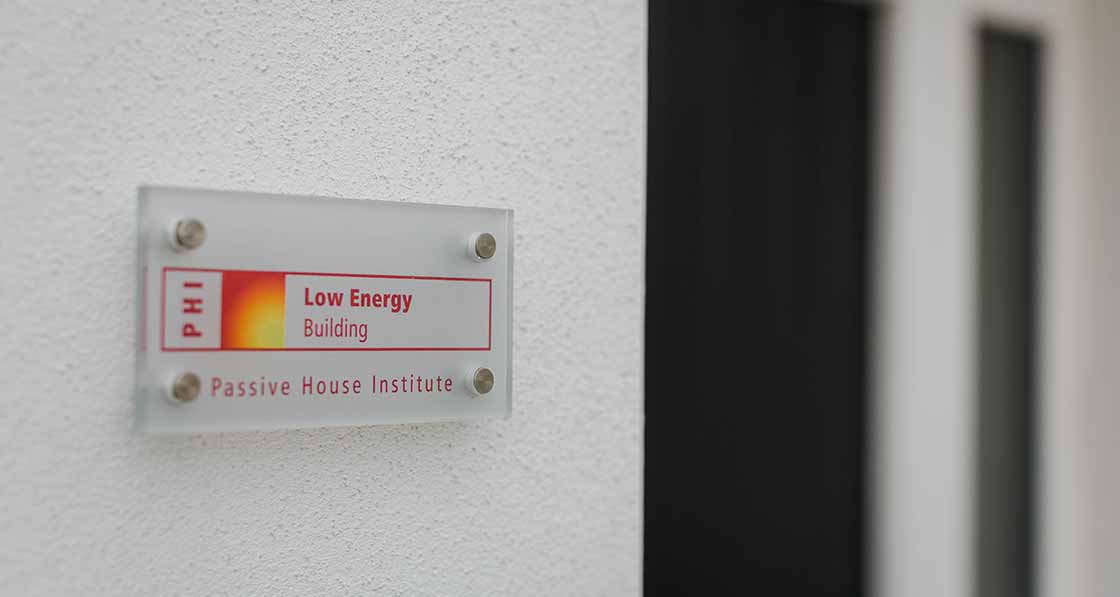 "And the one thing they can't really control, particularly, other than be colder or put another jumper on, is their heating costs. I'm just trying to find a way of making that more manageable."
Planning permission for Lancaster Park was granted back in 2015, and while the dwellings that were approved were not optimised for passive house design, the initial intention was to aim for the passive house classic standard.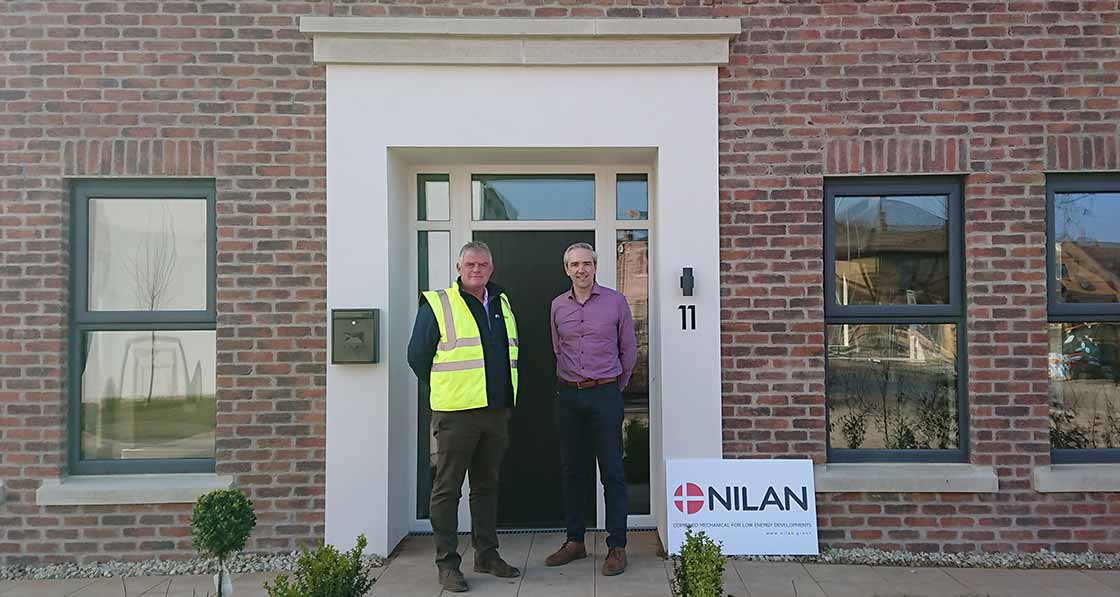 You only have to drive past the site to see the pride that they have in the product and pride in the workplace. The place is impeccable. I've never seen a tidier site
Fraser Millar had managed to put together a team of passive house consultants including Garrett Quinn of Co. Tyrone-based GP Developments for PHPP modelling, Advance M&E in Banbridge for mechanical and electrical engineering, and Tomas O'Leary of MosArt for guidance on certification.
"It was a lot of upfront work in trying to get it [to passive house classic standard], and it became pretty clear early on that we were not going to because of the form factor and because we can't build 219 houses with 15 cul-de-sacs, and all have them facing the sun. Passive house classic was a step too far. We just couldn't possibly attain it.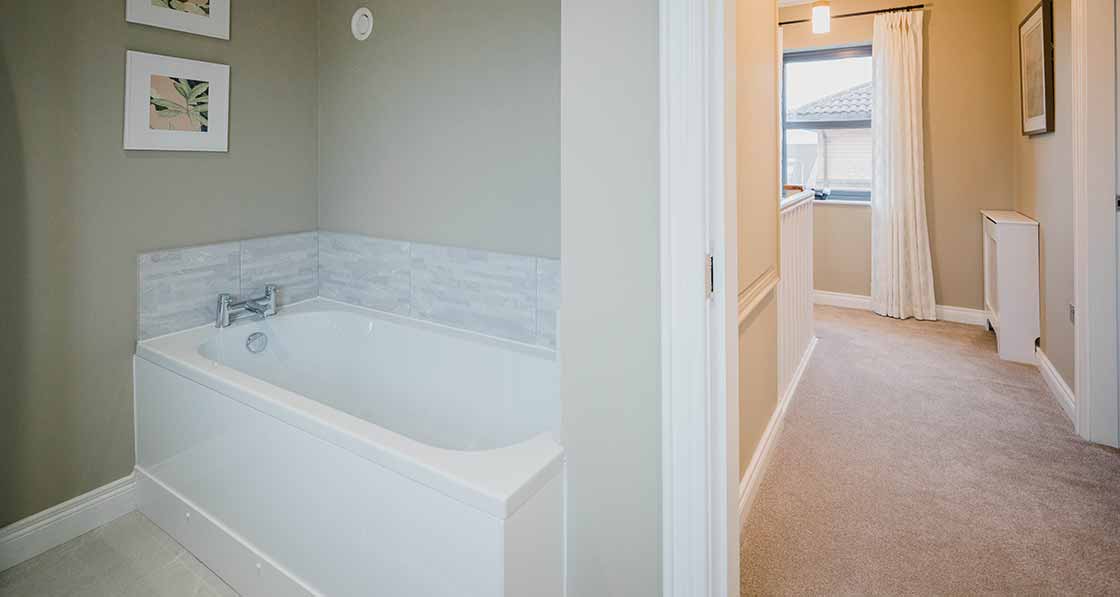 "So, Barry McCarron, chair of the Passive House Association of Ireland, introduced us to the low energy build (LEB) classification certification, so we looked at that and, and said 'right, we can attain that'," says Carrigan.
One example of the difference between LEB and classic is that the bar for airtightness is under 1 air change per hour (ACH), compared with 0.6 for Classic. "Now we're regularly getting under 0.6, so we're meeting even the classic bar for the airtightness. But it's the heating load that causes us a problem because of the form factor and size of these houses."
Passive house designer Garret Quinn, who also supplied the Nilan heating and ventilation units, came on board during the team's struggles to get the pilot house of Lancaster Park to play ball. He confirms that sub-optimal orientation of many of the units was the main stumbling block in the early attempts to hitting the classic standard.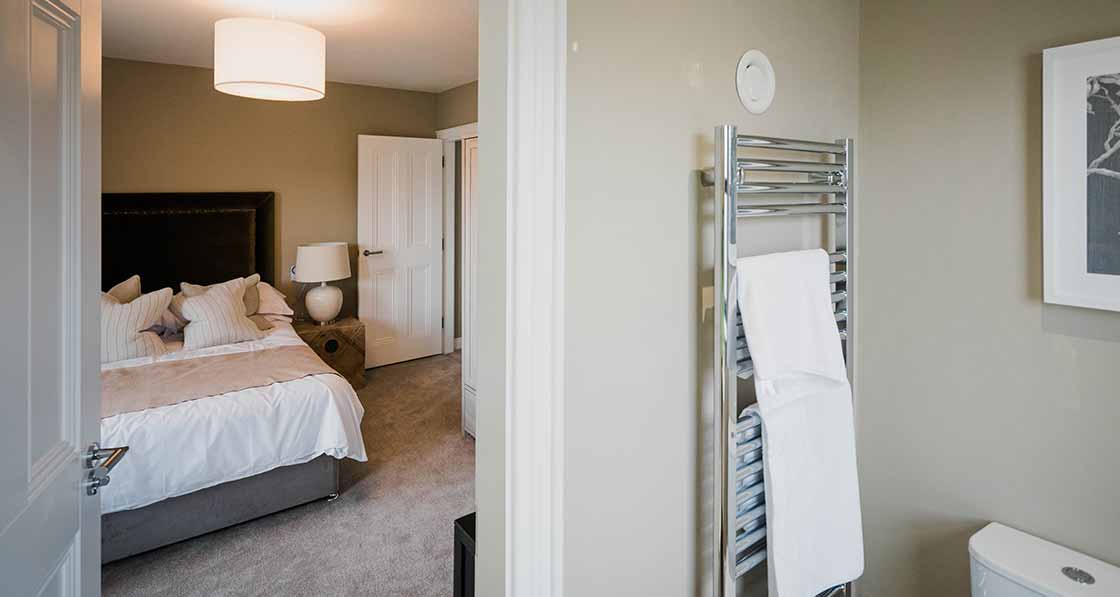 "There would be a lot of north-facing glazing and not a lot on the side, so quite often we'd be looking at the heat load as opposed to the space heating demands in making those buildings work."
But the fact that the units currently being built at Lancaster Park are routinely achieving 0.4-0.5 ACH is a strong testament to the quality in construction terms, says Quinn.
He also agrees that Northern Ireland has had some catching up to do to make passive house a more attainable building standard. "This is what makes the developers so unique. The biggest impediment to passive house was the building regulations here and the U-values, because we had the worst thermal regulations in Europe when John started this project."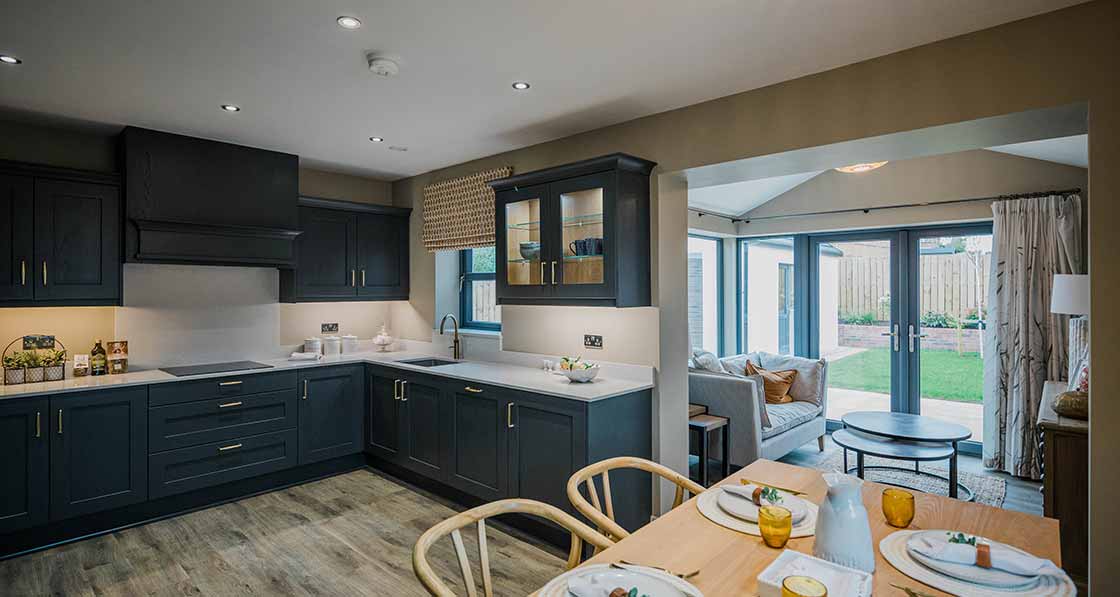 As an example, up until June of this year, it was still acceptable to build a wall with a U-value of 0.3 W/m2k, whereas passive house walls are typically in the region of 0.15 or better. Now the standard is 0.18, which is on a par with the Republic's Part L. "That has taken the impediment away, but it's really important to point out that Fraser Millar did this maybe two years before everyone has."
Furthermore, says Quinn, the upgrading of Northern Ireland's building regulations is going to bring about "a much more open discussion about passive house becoming the mainstream, as the material costs are now comparable with the prevailing Building Regulations, the price difference is only going to be down to the quality of the guys doing the airtightness."
The prices, which start at £300k and rising to £425k, certainly seem on a par with those of non-passive new developments but comparing building costs is genuinely quite difficult at the moment, said Carrigan. "You'd almost need to be running a parallel development built to building control just to be able to make the comparison, because the cost of labour and the cost and supply of materials changes on a weekly basis."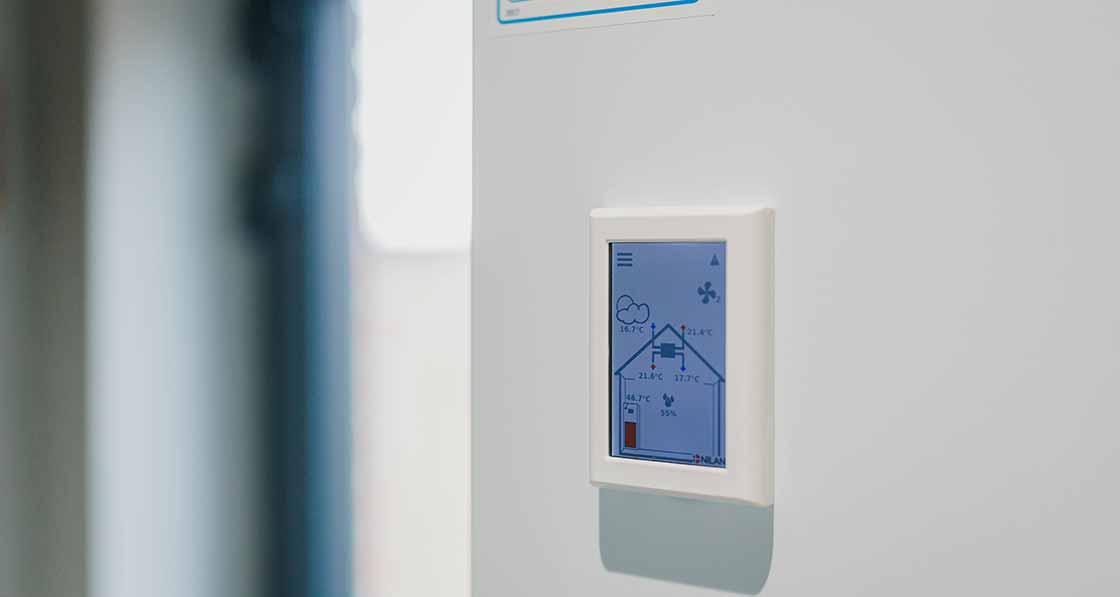 Ordinary families try to fix a much of their costs as they can, but one thing they can't really control, other than be colder or put another jumper on, is heating costs. I'm just trying to make that more manageable.
But he adds that there is undoubtedly a "significantly extra cost to building a passive house at this time in Northern Ireland" for a couple of reasons. One is the extra material costs of things like the insulation, but the other is the lack of builders trained in passive house methods.
Carrigan says the biggest job in this regard was getting the build team to understand that the materials were selected for good reasons and training them to use those materials correctly. "You can have a man who's 20 years in the business and he's absolutely fantastic at what he does, a terrific contractor, and he'll do the very best of duct-taping around the pipe and it'll look beautiful, and it'll be well sealed. And then you have to go on, 'sorry, but it's not the tape we need', and explain to him what airtightness is and why we specified it and that he'll have to take it apart and do it again."
In hindsight, Quinn agrees that giving the builders some training beforehand would have saved lot of head-scratching and several mistakes in the beginning. For example, some who were contracted to erect the timber frame on one house pulled off the airtightness membrane that had been fitted at the factory, mistaking it for protective packaging. "It meant that there were a lot of retrospective fixes for the first half dozen houses, but I was confident that if we kept the course that they would get there."
So, while it might involve a week or two of training for builders new to things like airtightness, said Quinn, the result is the level of pride that the men now take in getting good airtightness.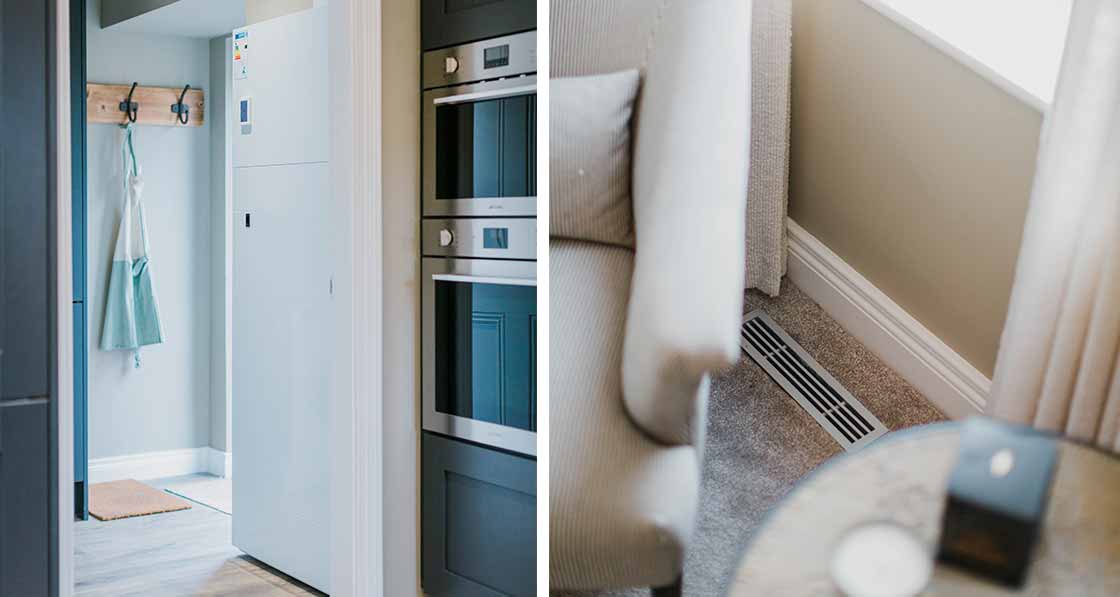 "You only have to look at the photos or drive past Lancaster Park to see not only the pride that they have in the product, but the pride in the workplace. I mean, the place is impeccable. I've never seen a tidier site."
The airtightness results have also been improved by the developer's openness to amending the spec as the project has progressed.
For instance, the first phase began with a 75 mm screed in the ground floor, which was changed to a power-floated concrete floor, which was easier to tape to for delivering airtightness. Buoyed by the build team's ability to consistently achieve the passive house classic airtightness target of 0.6 ACH when only required to meet 1 ACH for the LEB standard, Fraser Millar is considering upping the spec to passive house classic for future phases, and has also started making other tweaks, including integrating solar PV arrays.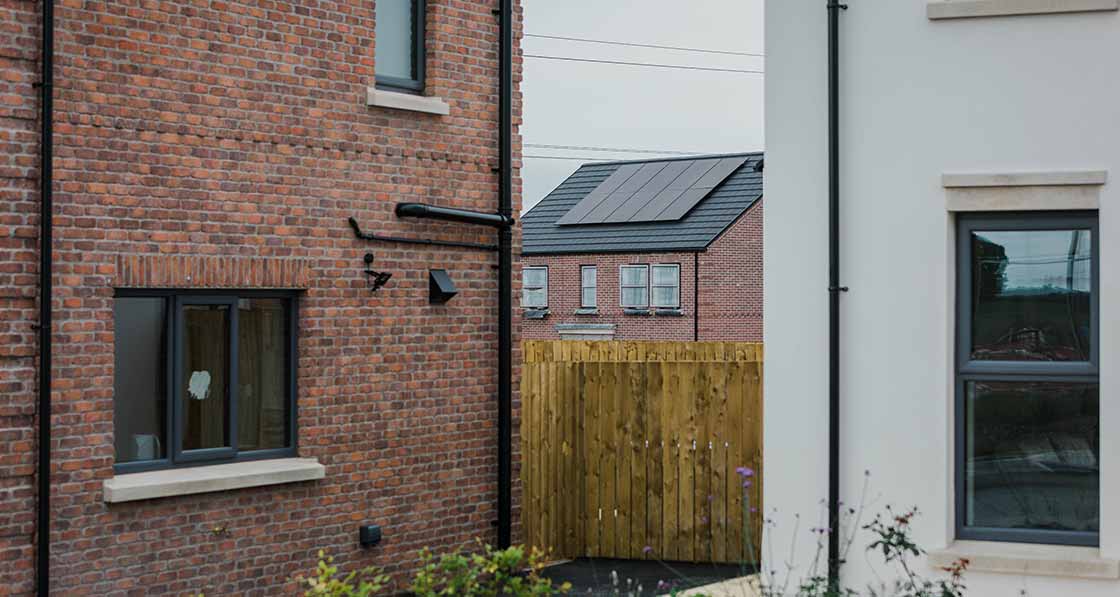 The pitch
With a background in sales and with one of the big four banks, Carrigan was particularly invested in how Lancaster Park would be pitched to would-be buyers. He is on record as saying that the reason passive house design has not yet become mainstream – and not just in Northern Ireland - is because the marketing tends to be top-down.
"After 31 years [of Passive House design and building], top-down does not work," he said. "Marketing to the engineers and the architects to become qualified and then hope they'll go and sell it, clearly has not worked."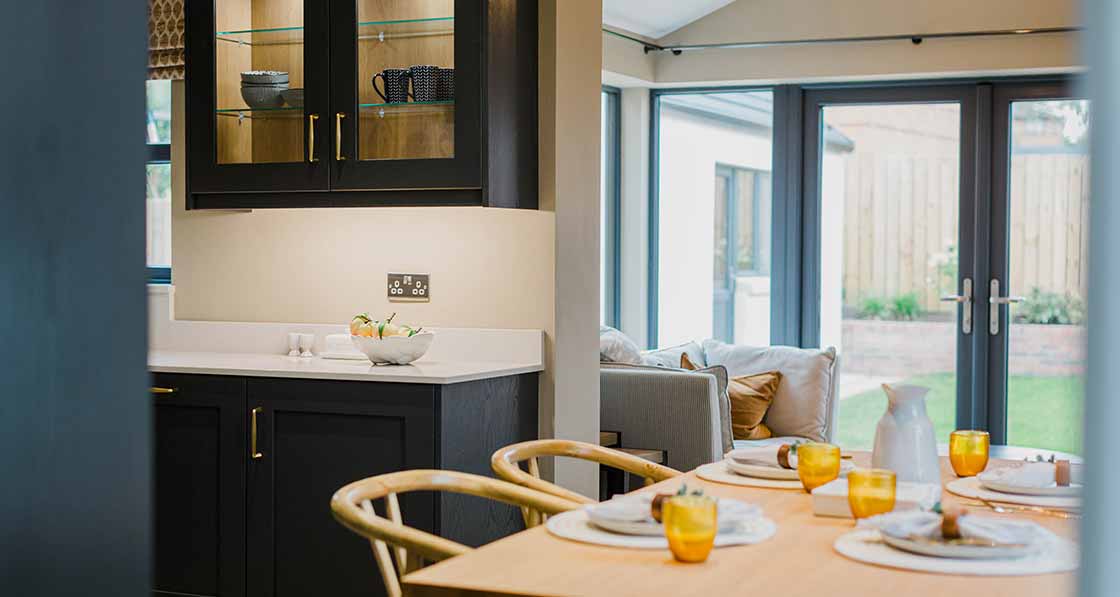 Fraser Millar commissioned a top design company to produce a brochure and signage, but after reviewing a first draft, sent them away to start again with the strict instructions not to use the words 'sustainable', 'green', and 'low energy' – undefined terms that any builder may be tempted to use if they put in a little bit more than what the minimum standards of building control regulations require in Northern Ireland. The strapline they agreed on was "Coming soon. Going Passiv." "The thought process behind it was that, at the price point we were at, we were reasonably confident that a 100 per cent of those people looking at the sign would google the term passive house.
"Our initial sales undoubtedly would've been location-based, but once people had subsequently booked the house... then they started asking questions. They're coming up and talking to us. So, what we try to do is stimulate a learning process of their own… to actually go and research what it is."
Once buyers start educating themselves, Carrigan says that should stimulate the marketing of passive house from the ground up, whereby if enough buyers start asking questions about whether a development is passive or not, then other developers will hopefully get the message.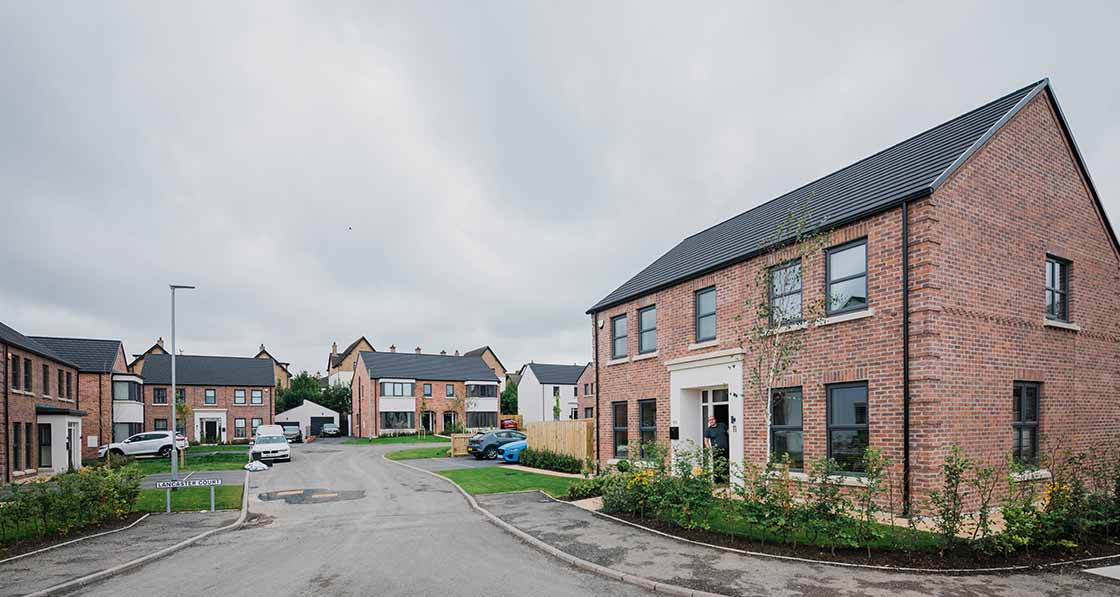 In detail
Development type: 219 timber frame homes built to Passive House Low Energy Building standard.Treated floor areas ranging from 100 to 143 m2. Approximately 30 per cent are semi-detached, 70 per cent detached.
Location: Cairnshill, Belfast, Co Down
Completion date: First handovers, March 2022, with other phases ongoing
Budget: £70 million
Passive house certification: Certified to the Passive House Institute's Low Energy Building standard
Space heating demand (PHPP): All homes currently meet the LEB standard of 30 kWh/ m2/a, and future plans are currently being explored to try to move to Passive House classic. Consistently homes have a space heating demand of 20 to 25 kWh/m2/a
Heat load (PHPP): Circa 15 W/m2 typically
Primary energy demand (PHPP): Typically, circa PE 150 and PER 60 kWh/m2/yr
Overheating (PHPP): All designed, all below the passive house standard of less than 10 per cent of the year above 25 C
Airtightness (at 50 Pascals): 1 ACH required for LEB standard, however recent results are consistently 0.6 and below
Energy performance certificate (EPC): EPC A
Measured energy consumption: N/A
Thermal bridging: All thermal bridges were calculated with MOLD 5.0 by the passive house designers, details repeated throughout project and when construction details were altered, PSIs were modified
Energy bills (measured or estimated): Typical heating and domestic hot water energy demand is estimated at 2,900 kWh of electric per annum using PHPP. Based on Northern Ireland's energy price cap limit of nineteen pence per kWh from November 2022 to April 2023, this would result in a total annual cost for heating and hot water of £577/yr, or £48/month, without considering the contribution of solar PV to reduce grid energy use for space heating and particularly summertime hot water.
Ground floor: 20 mm tiles, power floated concrete floor, 150 mm Mannok PIR, 150 mm concrete slab. U-value: 0.14 W/m2K.
Walls: 12.5 mm plasterboard; 35 mm service void; Proclima airtightness membrane; 184 mm timber stud insulated with Knauf Frametherm 32 mineral wool; 9 mm OSB; 50 mm ventilated cavity; 103 mm brick finish. U-value: 0.15 W/m2K
Roof: Cold roof construction with 400 mm cross-laid fibre glass insulation (thermal conductivity: 0.044 W/Mk) on attic floor, with airtight membrane under 15 mm plasterboard ceiling. U-value: 0.088 W/m2K
Windows & external doors: Munster Joinery Passiv PVC triple glazed windows & doors, passive house certified components. Ug-values: 0.60 W/m2K. Uf-values: 0.73 W/m2K.
Heating system: Nilan Compact P exhaust air heat pump and heat recovery ventilation system with auxiliary electrically operated radiators. Domestic hot water heated by exhaust air heat pump at a COP of approximately 3:1. Active heating also by the same COP. 180L hot water cylinder.
Electricity: 3.6 kW room mounted PV arrays fitted as standard on phase two.
Image gallery
Related items
Latest from John Cradden