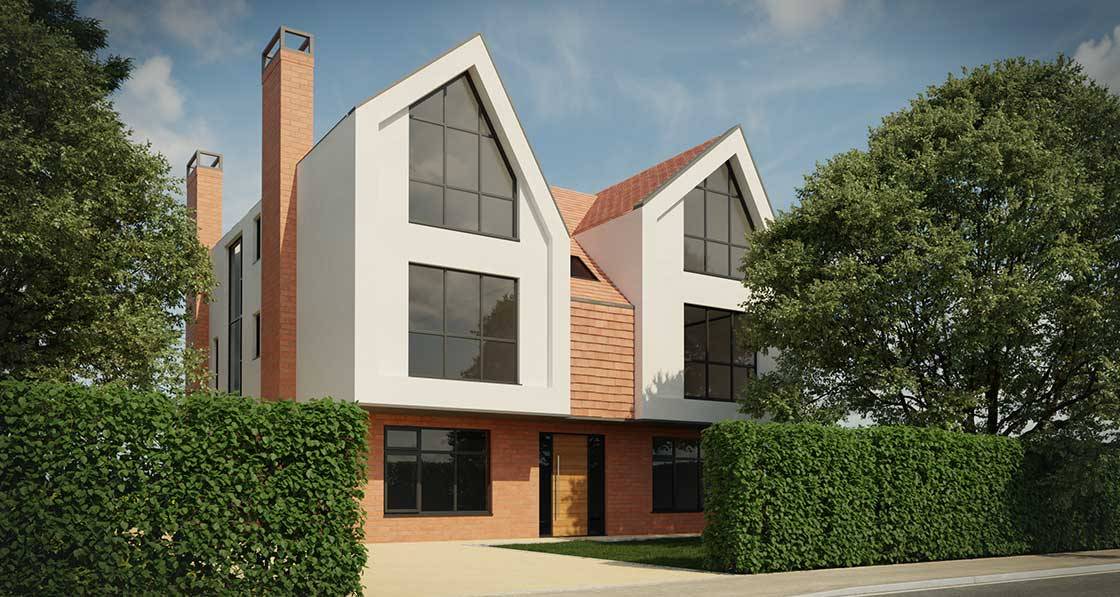 News Desk
Passive Building Structures delivers bespoke Manchester passive house
Leading ICF building envelope specialist Passive Building Structures is currently on site completing a large new passive house in Didsbury, Manchester. The project offers a contemporary take on the surrounding traditional architecture.
This article was originally published in issue 35 of Passive House Plus magazine. Want immediate access to all back issues and exclusive extra content? Click here to subscribe for as little as €10, or click here to receive the next issue free of charge
The building, with a floor area just under 5,000 square feet over three floors, uses the full integrated Passive Building Structures system to meet passive house airtightness, U-values and thermal bridging requirements.
Floors, walls and roof all meet a U-value of 0.11. This includes an insulated raft foundation with two layers of 150 mm EPS, plus ICF walls which feature a 200 mm concrete core sandwiched between an inner layer of 108 mm EPS and an outer layer with 108 mm plus another 102 mm EPS.
"Our rapid roof ultra-panel which consists of 300 mm EPS has also been engineered to eliminate any purlins or collar ties so promotes open plan living," Pearce McKenna of Passive Building Structures told Passive House Plus.
The company also supplied and erected internal load bearing ICF walls, while the house also features precast concrete floors and internal stairs on two floors.
There is also a 1.5 metre cantilever to the front elevation on the first floor, which had to be offset for protection of tree roots on site.
"This cantilever is incorporated into the building envelope and is fully insulated to ensure zero cold bridging," McKenna said. "The cantilever has been designed with reinforced concrete beams integrated into the wall and insulated raft foundation. This has eliminated the need for exposed structural steels." Passive house certified windows and MVHR will soon be installed at the project. McKenna said the principal thing that sets Passive Building Structures apart from other ICF suppliers is that the company delivers a complete thermal building fabric on its projects.
"We have incorporated unique details into our system whereby all our components are interconnected/integral elements. Our system is poured monolithically from floor to floor."
The company has particular experience in delivering bespoke high-end developments, such as architect Donn Ponninghaus's RTE Home of the Year winning passive house in west Cork, which was previously featured in Passive House Plus.
For more information see www.passivebuildingstructures.com.
You can also follow the Didsbury project on the company's Instagram page (@pbs_icf).
Last modified on Monday, 07 December 2020 14:06