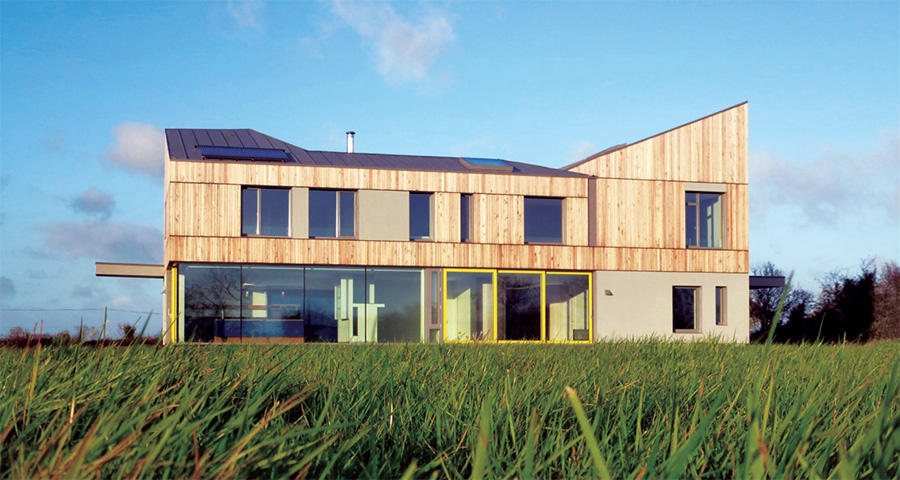 Photos: Donal Murphy Photography/Peter Legge Associates/Archie O'Donnell

John Hearne
Stunning Meath home defies passive house stereotypes
A simple building form, few junctions and minimal surface area are some of the cornerstones of passive house design — but as this spectacular certified passive house in Co Meath proves, rules are made to be broken.
This article was originally published in issue 7 of Passive House Plus magazine. Want immediate access to all back issues and exclusive extra content? Click here to subscribe for as little as €10, or click here to receive the next issue free of charge
Architects Peter Legge Associates' new build in Meath takes you as far from stereotypical passive as you're going to get. It's beautifully designed, sleek and structurally complex, with a myriad of junctions and a wide variety of building materials.
The house demonstrates just what's possible when you have a client who assembles a team of highly experienced, highly motivated construction professionals determined to get something special over the line.
Architect Patrick Lloyd explains that this was a house where design and thermal performance got equal billing. "Our approach was that passive house was hugely important, but that there was no reason why good architecture couldn't go hand in hand with that."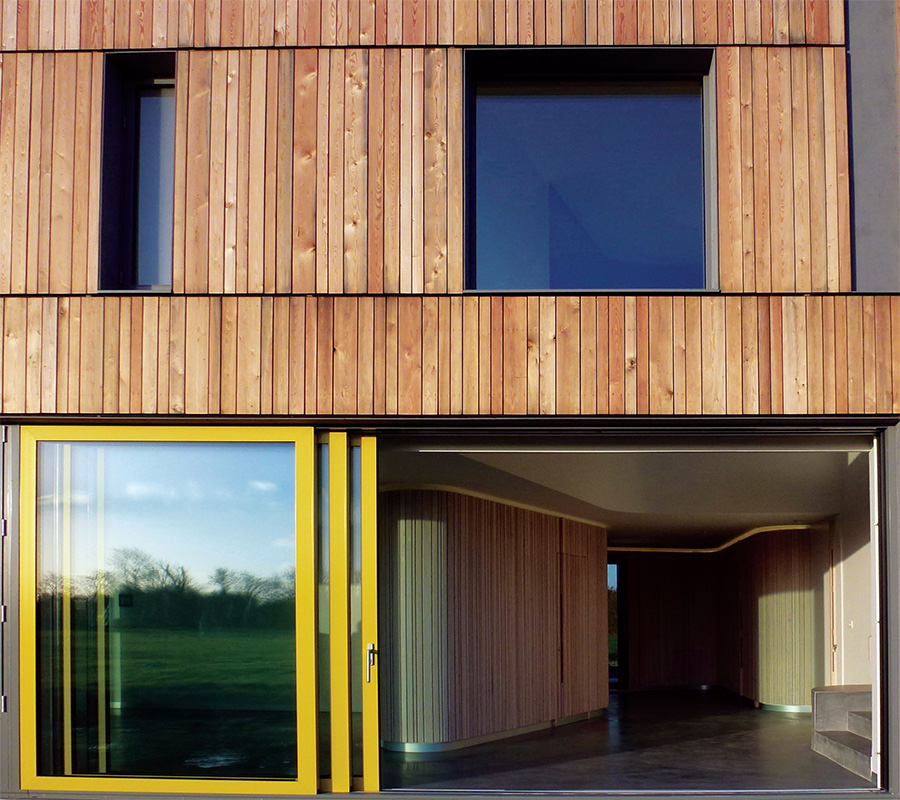 Though there aren't any dramatic vistas, the architects still wanted to ensure all internal spaces had good views out to the green countryside
The client did not seek a passive spec at the outset; while performance was an obvious consideration, so too were aesthetics and function. It was only as the design began to evolve that the possibility of going for the passive house standard began to emerge. Though the architects had not built a passive house before, principles of good orientation and passive solar design were already firmly ingrained in the practice.
"The passive aspect did not overly influence the design of the building," says Lloyd, "because we were going to place a large expanse of glass to the south in any case. We were going to place the small windows to the north. The actual form of the house wasn't necessarily driven by passive considerations because they were part of our approach anyway."
Passive house specialists Integrated Energy were brought in as consultants, to assist in technical detailing and the certification process.
"The architect didn't like the notion of designing the house on a spreadsheet," says the company's Archie O'Donnell. "On the one hand you have the aesthetics, on the other you have the thermals and often there's a conflict between the two, but the architect managed that conflict quite skilfully."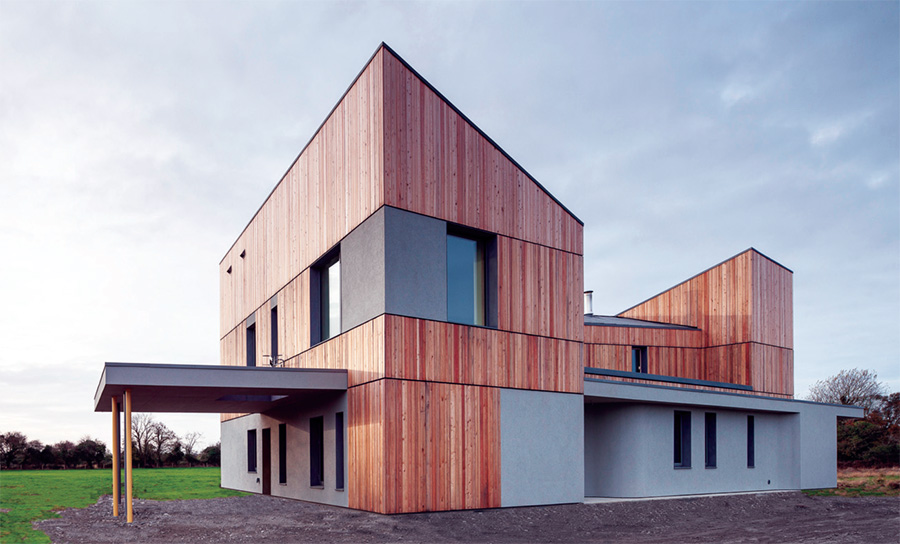 The designer's impulse to create great spaces, flushed with winter sunlight, segued perfectly with the passive need to collect free solar gains. The designer's desire to use space efficiently complimented the passive requirement for an appropriate floor to envelope ratio.
As O'Donnell points out however, the geometry of the building is not typical. "It would have a lot more surface area and a lot more junctions than an ideal passive house."
As in any passive house project, good design principles are just the beginning. In order to deliver a passive performance, getting the airtightness and thermal bridging strategy right is crucial. And in a house which features a range of complex junctions, the devil is in the details.
"The main reason this is passive is because of the time that was spent on it," says O'Donnell. The technical details for the glazed screen alone ran to twelve pages.
He explains that frequently on passive projects, the drafting of technical details is outsourced by the designer, but in this project, Integrated Energy worked on the airtightness and cold bridging details and these were then incorporated back into the architect's drawings.
It can be a painstaking process. "There is no short cut unfortunately," says O'Donnell. "There is no easy way to do it. You take each detail and pore over it and keep chipping away at it until you've eliminated the thermal bridges."
This is a challenge on many passive projects. In one of this complexity, it was doubly so. O'Donnell devised a budget for how much heat could be lost through thermal bridging without endangering certification. At one point that budget threatened to push the building's heating demand above the 15 kWh/m2/yr passive house target. As a result, the design team's preferred glazing strategy came back on the table and was in danger of being torpedoed to make way for a higher spec. "At all stages of the design," says O'Donnell, "the building was precariously balanced on that line between certified and not certified."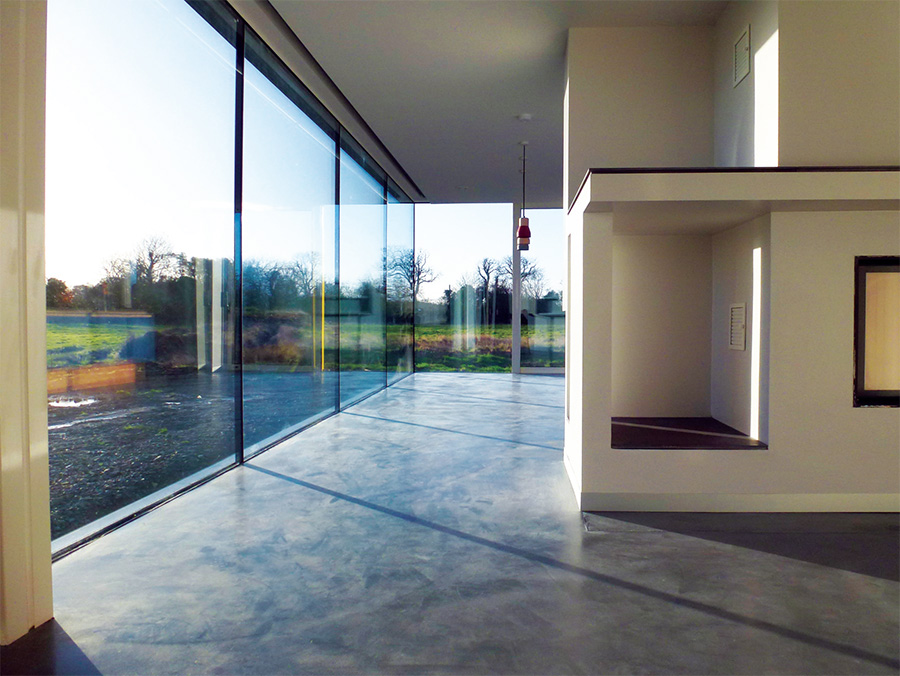 While passive house design tends toward generous south facing glazing and open plan layout, this project truly pushes the boat out.
It was such a marginal call that O'Donnell, rather than simply plugging in weather data from one of the default Irish sites, actually commissioned architect John Morehead to provide a weather file specific to the site. This file was then slotted into the passive house software and allowed the team to specify a glazing strategy specific to the site's topology and grid location.
Ultimately, the long man hours that went into designing away the thermal bridges paid off. The annual heating demand met passive standards without having to deviate from first preference components or certification.
Aiming not just for passive performance, but full certification, helped to keep everyone sharp on site. "There was a debate at one stage in construction," says Patrick Lloyd, "as to whether we would actually go for certification. We knew we were going to reach the performance levels anyway, but actually choosing certification and making the contractor aware that certification was a condition of contract focused the minds of everyone onsite. Everyone pulled together after that."
The primary construction method is concrete block-on-the-flat with external insulation. This was the client's preferred form of construction. Kevin Fay, who oversaw the project for the contractor, GEM Construction, agrees that this was a complex job.

"There isn't a straight corner in the building," says Fay. "That in itself provides its own challenges." He too singles out the various junctions between structural steel, blockwork, timber work and glazing as particularly challenging when it came to airtightness. GEM appointed an airtightness champion on site, whose job it was to ensure that all subcontractors understood that this was a passive house, with a passive house's stringent airtightness targets.
The house features a large 8m by 4m cantilever in one corner, held in place without visible structure. "That was related to the design brief," Patrick Lloyd explains, "the requirement to open up the rear facade to the countryside." The architect worked closely with structural engineers Casey O'Rourke Associates and Integrated Energy to ensure the integrity of that structure on the one hand, and to minimise its air leakage and cold bridging risks on the other.
Archie O'Donnell points out that the U-value goes far from passive spec at the frameless glass corner, which required a degree of ingenuity to resolve. A dedicated heating circuit was included in the underfloor heating – triggered by a temperature sensor where the screed meets the corner glass support – to compensate for the heat loss at this point.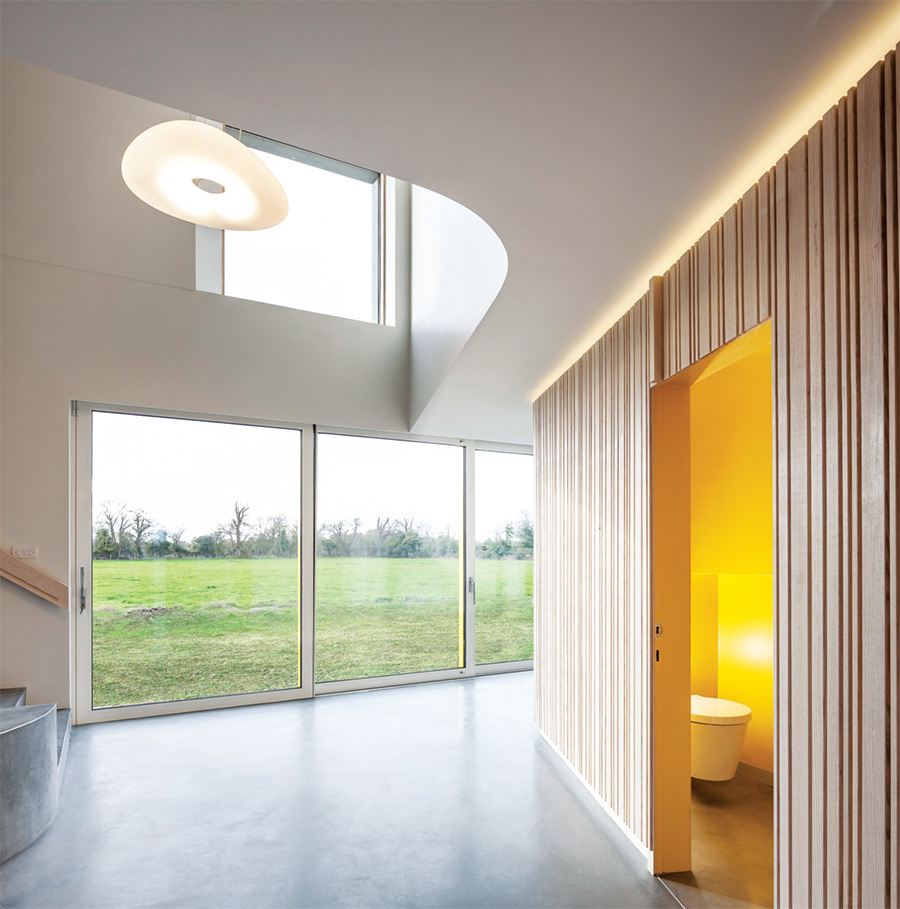 Architectural features such as this also required an especially vigilant approach to workmanship. "We had our own Wincon machine on site," says Kevin Fay of GEM, "and that was invaluable." The machine – a stripped down blower door unit from Pro Clima for checking airtightness as a build progresses – was deployed frequently during the build to establish where weaknesses in the airtight envelope lay, and these were then corrected as the construction team progressed.
Fay had given a presentation on Part L and building control at the Better Building Conference in Dublin in 2012, where he described a blueprint for the practical steps needed to deliver a low energy building. "This project was an opportunity for us to put those principals into practice," says Fay, adding that the attention to detail needed for airtight buildings such as passive houses requires meticulous and continual supervision on site. "If you get to first fix stage and you're hitting an airtightness of 3 ACH it's too late," he says, pointing out the need for a zero tolerance approach to workmanship that might inadvertently compromise the airtight layer. "Our site managers inspected workmanship before, during and after each trade to ensure continuity was achieved between trades and no damage was done to the building envelope with regard to insulation and airtightness." Both Patrick Lloyd and Archie O'Donnell are keen to pay tribute to GEM, and to Baker & Co Ltd – who supplied and fitted airtightness and roof insulation products – for their work on meeting the exacting passive house airtightness standard.
O'Donnell also notes the increasing professionalisation of the building trade in the postboom years. On passive house sites in particular, it's more and more common to see contractors with engineering or passive design qualifications.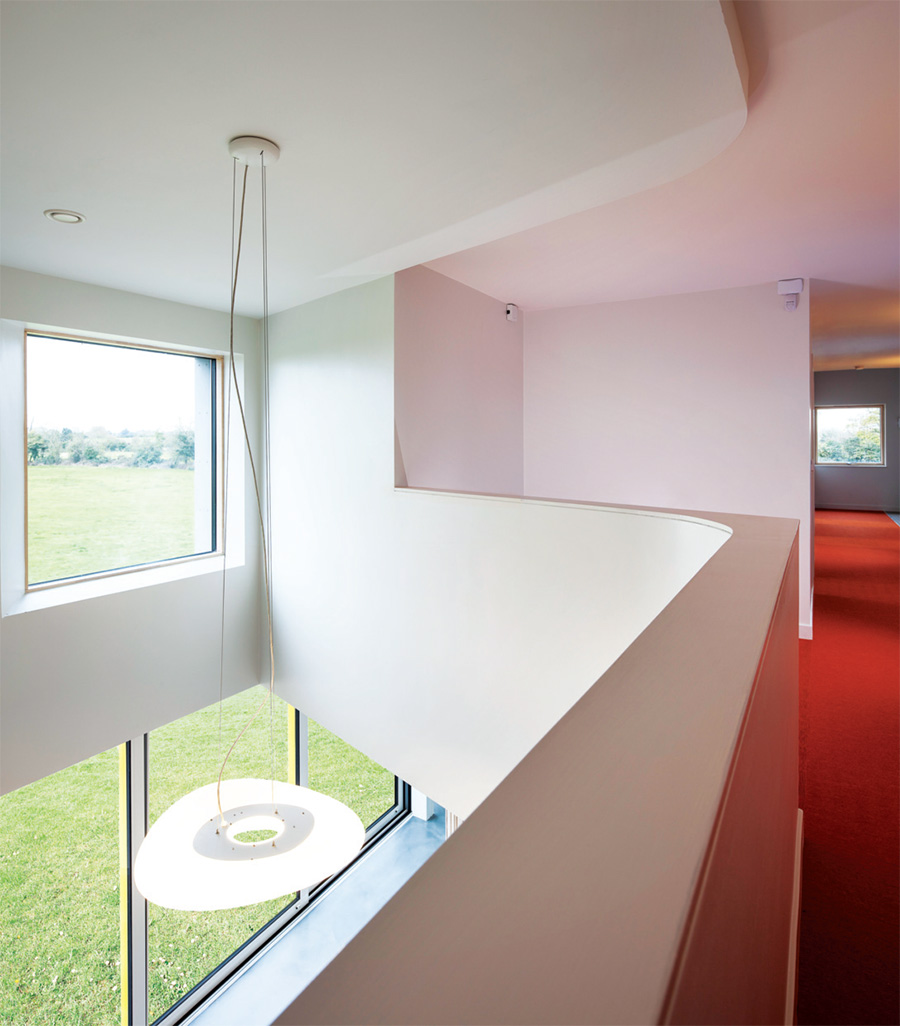 Patrick Lloyd adds: "The standard of workmanship that was required in relation to airtightness on this build was incredible. We spent a significant amount of time going through the building with a fine toothcomb making sure there were no leaks." The final blower door test registered an air change rate of 0.6 ACH, right on the passive target.
Harmon Vinduer supplied and installed windows and doors for the job, and designed interface details to ensure that the Psi values were compatible with the passive house requirements. Harmon installed Protec frames here, but have subsequently switched to Danish low energy window giant Velfac, by becoming the certified Velfac partner for Ireland.
One of the house's most impressive features is the triple-glazed sliding door system by Reynaers Aluminium, which effectively allows the entire hall area to open up to the outside. Though not a certified component, thanks in part to careful technical detailing, the system exceeded expectations during the blower door tests.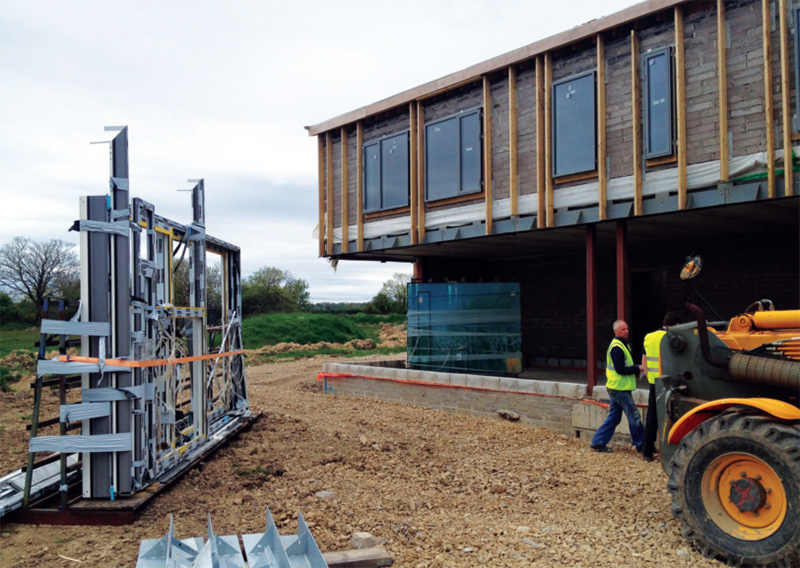 With the Reynaers triple-glazed sliders awaiting installation, the cantilevered structure seems to defy gravity
The building's primary heat source is a Brunner wood burning stove, supplied and commissioned by Eco Wood Burning Stoves. The stove is managed by a Brunner BHZ heat management system, which takes energy from the fireplace and sends it to a 1000 litre buffer tank. The Brunner system controls the burning of the stove based on temperature readings, to avoid wasting fuel, and also controls the house's array of Thermomax vacuum tube solar collectors.
"When the solar panels are producing higher output on a hot day the controller sends the heat to the top of the tank," says Kieran Brennan of Eco Wood Burning Stoves. "It prioritises hot water – which comes from the top of the tank, and sends lower temperature heat to the middle or bottom of the tank, for space heating and over capacity – so that the tank is picking up a preheat whenever available."
Outside, the house combines render and timber cladding, with 100% FSC certified Siberia larch supplied by Machined Timber Services. The company's Justin Dutton explains that larch is normally classed as a medium-movement wood because it moves more than cedar, but because of the open-joined profile used here — allowing for greater airflow around the boards — the cladding has greater stability and durability. Five different board sizes were used to form a barcode type pattern. Dutton says that Siberian larch is less expensive than Western red cedar and tropical hardwoods such as Iroko. "It's a very affordable cladding species – when used correctly," he says.
It's a feature that exemplifies the whole project: striking design underpinned by close – very close – attention to detail.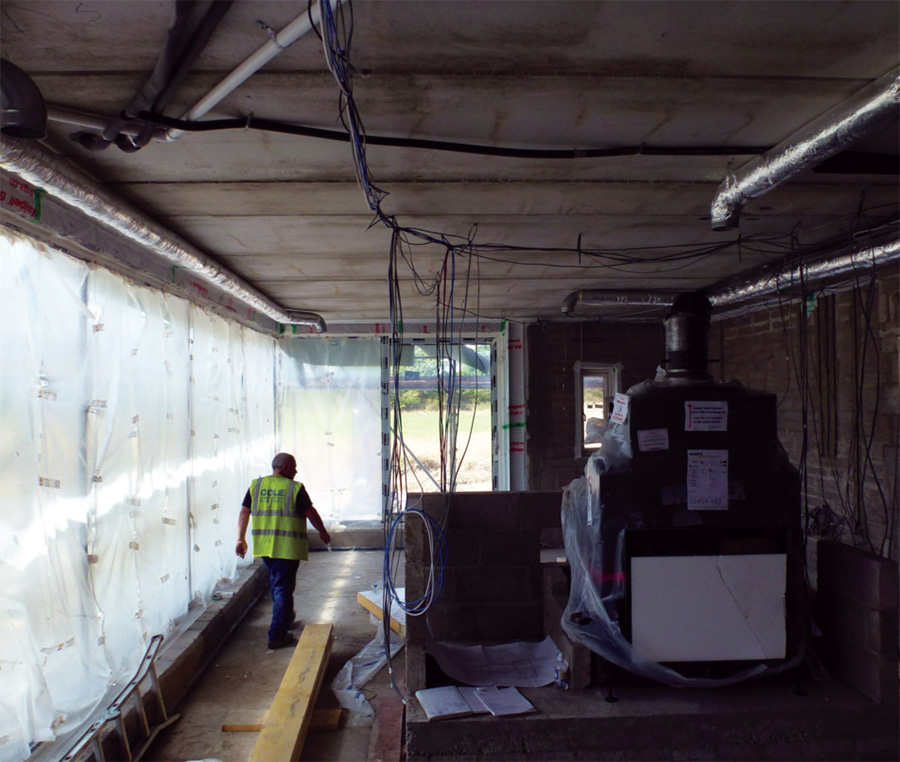 The Brunner Kamin Kessel 62/76 stove
Selected project details
Architect: Peter Legge Associates (Peter Legge. Patrick
Lloyd. Lisa Mc Sharry and Cornelia Hope)
Civil & Structural engineer:Casey & O'Rourke Associates
Energy consultant: Integrated Energy
Contractor: GEM Construction
Mechanical contractor: Eco Living
Airtightness & roof insulation contractor:
Baker & company
Electrical contractor: HT Electrical Services
Airtightness tester: 2eva.ie
Roofing contractor: A & A Quinn Roofing
Wall, roof and floor insulation: Xtratherm
Additional roof insulation: Isover Ireland
Window blinds: Silent Gliss
Windows: Harmon Vinduer
Rooflights: The Folding Door Company
Curtain walling fabricator: Phoenix Aluminium
Curtain walling supplier: Reynaers Aluminium
Cladding supplier: Machined Timber Services
Internal timber: Keen-M
External insulation contractor: SF Plastering
External insulation render: Kilsaran
Magnesium silicate boards:Resistant Building Products
AAC blocks: Quinn Lite
Window reveals: Tegral
Wood burning stove & heating system
commissioning: Eco Wood Burning Stoves
Solar thermal panels: Kingspan Solar
Underfloor heating: Unipipe
MVHR: Archers
MVHR ductwork: Lindab
Heating controls: Heat Miser
Rainwater harvesting: Shay Murtagh
Concrete floor surfaces: Ardex Pandomo
Timber floors: Keen-M
Kitchen & Joinery: Langrell
Additional info
Building type: 298 square metre detached five-bedroom house

Location: Co Meath

Completion date: 2013

Passive house certification: certified

Space heating demand (PHPP): 14 kWh/m2/yr

Heat load (PHPP): 14 W/m2

Primary energy demand (PHPP): 116 kWh/m2/yr

Airtightness: 0.6ACH

BER: Pending

Ground floor: Concrete slab with 250mm Xtratherm PIR insulation over this, finished with a concrete screed. U-value: 0.92 W/2K

Timber clad walls: wet plaster airtight layer, concrete block-on-the-flat (beginning with two courses of Quinn Lite blocks), 250mm Xtratherm Warm-R insulation (150mm between vertical stud & 100mm between horizontal stud), breather membrane, vertical treated timber battens, horizontal treated timber battens with chamfered edge to allow water run-off, Siberian larch vertical treated timber cladding panels with insect mesh. U-value: 0.145.

Rendered walls: as above except RenderPro magnesium silicate board instead of Siberian Larch cladding, with Ceresit render system (flexible cement free reinforcing coat, glass fibre alkaline resistant mesh, and acrylic render with rustic rexture). U-value: 0.145. 250mm closed cell XPS insulation below DPC with external render.

Timber roof section: Three different roof types, two with timber rafters and one with a concrete flat roof. The timber roofs are insulated with Metac between the rafters (sized at 175mm and 225mm respectively) and 120mm Xtratherm above. U-values: 0.14. Both of these roofs have a zinc finish (on membrane, on wbp ply,
on insulation). The concrete flat roof has membrane finish on 175mm minimum (200mm average) tapered Xtratherm insulation on the precast concrete flat roof. U-value: 0.13

Windows: Protec Classic triple-glazed aluclad timber windows. Ug-value: 0.53. Uf value: 1.03

Glazed screen: Reynaers triple-glazed CP155LS HI D Mono Rail (single slider and fixed glazing). CS68 HI (openable vent)/CP155LS HI D system lift & slide (triple slider). Uf-value: 3.0. Ug-value:0.6

Rooflights: Glazing Vision Profiles with Pilkington triple-glazed units. Ug-value: 0.6. Uf-value: 1.8. Phoenix Aluminium fabricated the windows and doors. Reynaers Aluminium supplied the profiles.

Heating system: Kamin Kessel 62/76 wood burning boiler stove. 1000L stratified buffer tank, Brunner Sterring electronic control. 6 sqm, 30 tube Thermomax HP400 heat pipe vacuum tube solar collector. Individual pipes for hot water.

Ventilation: Brink, Renovent Excellent 400 heat recovery unit, 84% efficient heat exchanger, 0.31 Wh/m3 rated fans. Specific heat recoveryefficiency: 78%.
Image gallery
Passive House Plus digital subscribers can view an exclusive image gallery for this article. Click here to view
Save
Related items
Latest from John Hearne