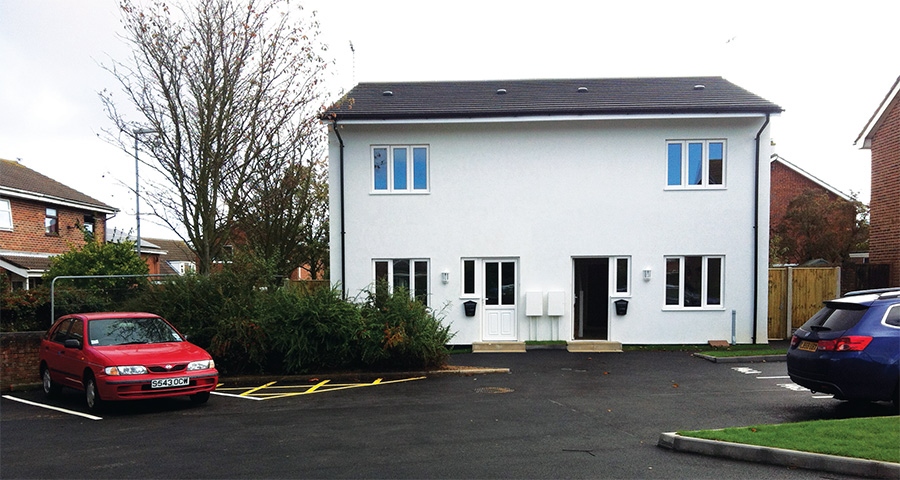 Norfolk social housing hits passive for standard costs
Twelve units in Great Yarmouth deliver low energy bills and comfort for new tenants using patented timber frame system.
A new social housing development in Norfolk has achieved passive house certification — and without costing a premium. The Bradwell development in Great Yarmouth is one of the most recent passive house projects from Norwichbased Beattie Passive, a design-and-build company with its own patented timber frame system.
Before starting the company, managing director Ron Beattie had worked as a carpenter, electrician and plumber, before going into property development. He says that he always built green, energy efficient housing, but he had a watershed moment on a building site six years ago.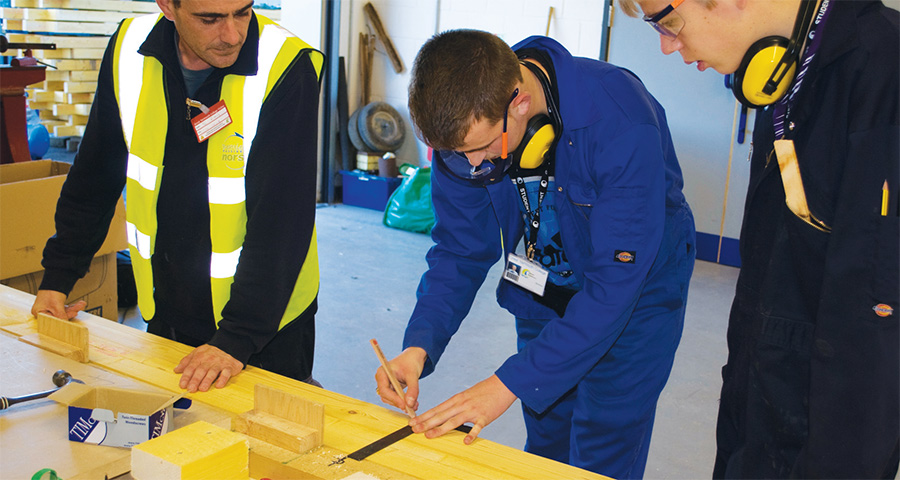 Using local labour was one of Beattie Passive's goals on the project, and ten of the units at Bradwell were manufactured by carpentry students at Great Yarmouth College
"I was standing on scaffolding looking down," he says. "I looked down the cavity and there was no insulation. One bricklayer had not put the insulation in."
Ron says that, because of an emphasis on extras like solar panels, it was costing more than it should to build energy efficient housing. Though his developments were well insulated, seeing the uninsulated cavity made him realise the importance of focusing on a properly insulated, airtight and fully tested building fabric over 'green bling'.
Ron read about passive house, and his interest was piqued. He went on a study trip to Belgium with leading passive house certifier Peter Warm, and also met Passive House Institute founder Wolfgang Feist. He set out to develop a build system that not just delivered passive house energy efficiency, but also improved fire safety, acoustics, buildability, cost, flood protection — and could be built anywhere.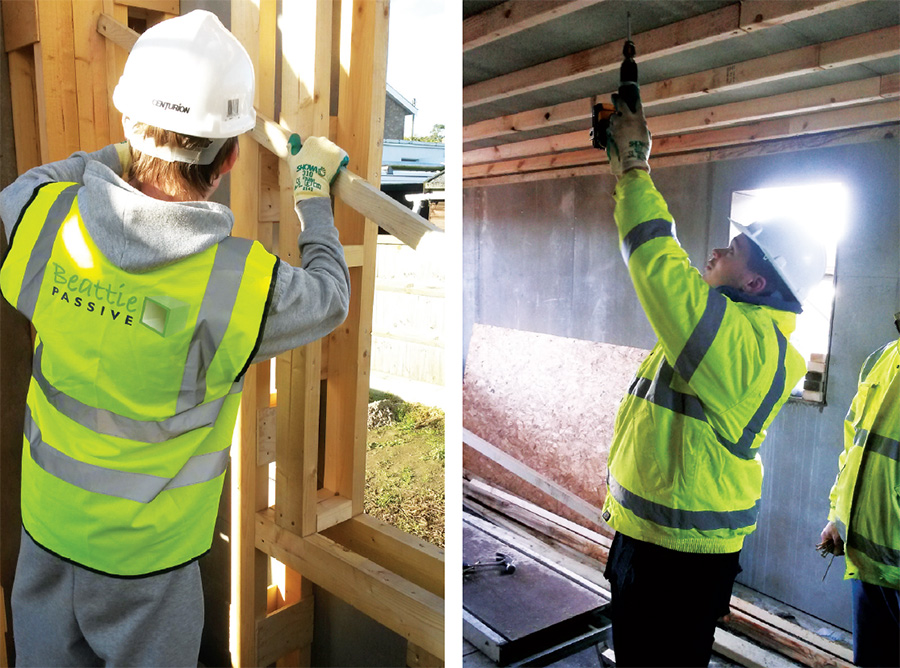 He launched Beattie Passive and its timber-frame system, which is now certified by the Passive House Institute and patented in 52 countries. The system features a continuously insulated void running through the floor, roof and walls. This void is pumped with Ecobead, and Kingspan Kooltherm phenolic board is fitted externally to improve the U-value further. The Eco-Slab ground floor system, which forms the ventilated floor void, is also insulated with Ecobead. The spec also includes a party-wall build up that delivers a U-value of 0.13, plus passive certified Munster Joinery windows.
"It is really simple to do. You follow a methodology and it works every time," Ron says of the system. The company has now built eight certified passive houses, and has another 14 or so pending certification. This is in addition to more than 100 uncertified projects, which use the same system but don't go through the certification process. "Every Beattie passive house is tested on structural completion for structural compliance, thermal conductivity, sound and air testing, and then certified that it is built as designed," Ron says.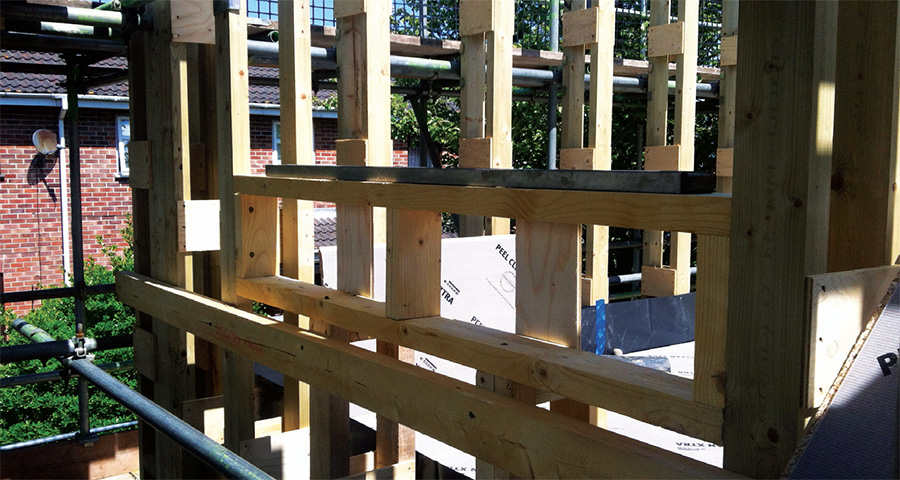 (above and below) The patented Beattie Passive timber frame system being erected on site. The system's 220m deep timber studs are insulated with Ecobead, with Kingspan Kooltherm phenolic board also installed externally
At Bradwell in Great Yarmouth, Beattie Passive was brought in to develop 12 social housing units. These were the first council houses built by Great Yarmouth Council for over 25 years, and the latest in a recent string of passive projects by UK-based councils and social housing landlords, who increasingly see the ultra low energy standard as a way to cut energy bills and ensure warmth and comfort for their tenants.
Four of the units here (in two semi-detached blocks) are certified passive. The other eight are built to the same spec, but being bungalows with a larger surface area and with less solar gain (due to overshadowing on the tight site), they are just outside passive house parameters.
Using local labour was one of Beattie Passive's main goals on the project. "Ten of the units were manufactured by the kids in Great Yarmouth College," Ron says. Carpentry students manufactured the timber frames for the bungalows in the college. This model, of encouraging young people to train and develop their skills while building a passive house – for a wage – is one Beattie Passive has used on other projects too.
"Part of the ethos of Beattie Passive is about training young people to be the passive engineers of the future," says Ron. Because the labour is semiskilled, it helps to keep build costs down too. There was also a wider emphasis on using local suppliers and labour on the job and, according to Beattie Passive estimates, for every £1 spent on the Bradwell project, £2.84 was circulated back into the local economy.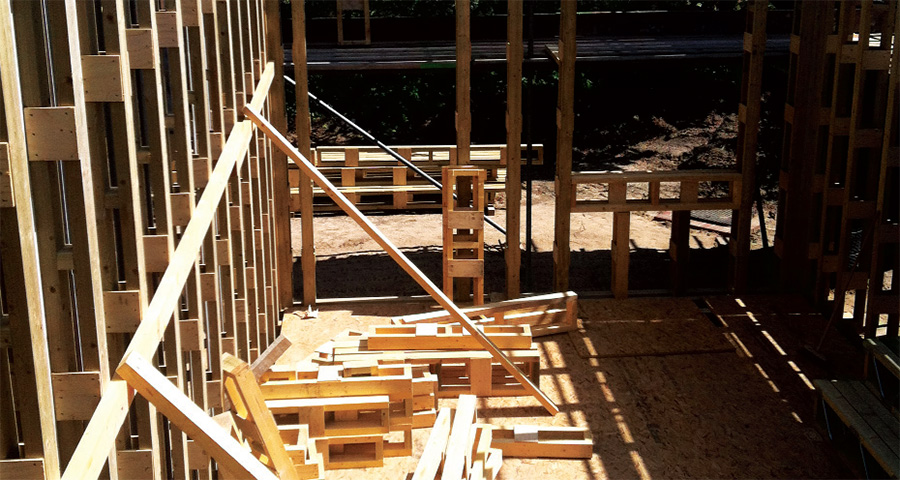 Beattie Passive has published a breakdown of the costs for two of the certified passive houses at Bradwell on its website: www.beattiepassiveprojects.com. The total build cost was £65,785 per unit, which comes to £842 per square metre or £78 per square foot, including all labour, internal finishes and external render, but not external site works, preliminaries, fees, overheads, profit and services. "To make passive work it's got to be at the same price as standard building costs," says Ron, "Beattie Passive is."
The Bradwell houses are primarily heated with condensing gas boilers; there are also Genvex heat recovery ventilation systems. Resident Paula Bastin moved into one of the semi-detached homes last October, having previously lived in a ground floor flat.
Paula is partially sighted, and says the house has massively improved her quality of life. "My personal experience is that it's just given me and my daughter a whole new lease of life, because of my eyesight," she says. This is less related to the house's energy performance than the fact she now has her own garden, where it's easier to watch her daughter, and because the area is safe and quiet.
But she adds that in her first three months in the house, over the winter, her total bill for gas and electricity was about £80, whereas she had previously been paying about £100 a month for the two. She says that cooking alone is often enough to heat the house up, so she won't need to turn the heat on.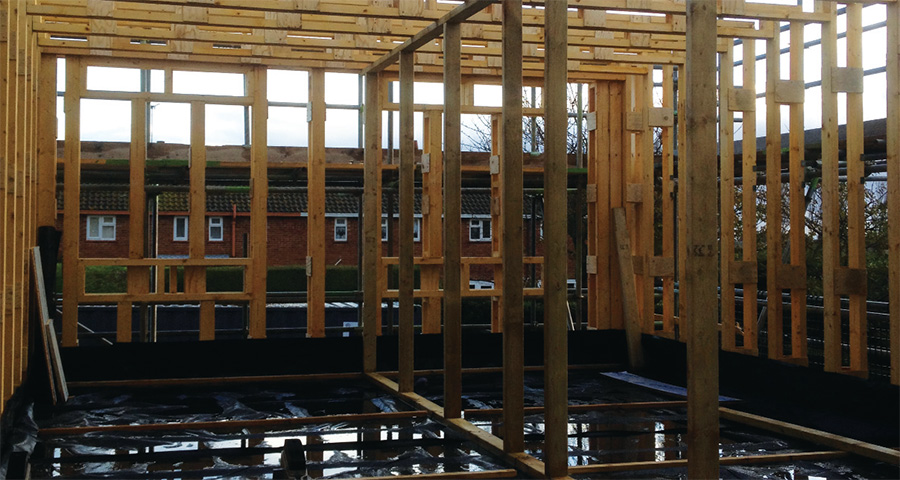 She's also impressed with the air quality inside. As expected, the house is very comfortable, "All the crap air is going out automatically without having to open too many windows," she says.
"We're just very comfortable here," she says, "it feels like we've been here forever."
Selected project details
Client: Great Yarmouth Borough Council
Architecture: NPS Property Consultants Ltd
Timber frame:Beattie Passive / Great Yarmouth College
Contractor & project management:Beattie Passive
Building physics: Encraft Ltd
Structural engineer: Canham Consulting
M&E engineer: Total Home Environment
Windows & doors: Munster Joinery
Electrical contractor: Norman Electrical
Airtightness testing: UK Air Testing
MVHR: Genvex, via Total Home Environment
EPS insulation: EcoBead, via Help-Link
Phenolic insulation: Kingspan Insulation UK, via SIG Insulation
Airtightness products: Pro Clima, via PYC Systems
Damp proof membrane: Travis Perkins
Cladding: Euroform
Gas boiler: Ideal Heating
Additional info
Building type: two x two-bed timber frame certified passive dwellings, each 78 square metres

Location: Bradwell, Great Yarmouth, Norfolk

Completion date: October 2014

Budget: £65,785 per unit

Passive House Institute certification: Certified
Space heating demand (PHPP): 14 & 15 kWh/m2/yr

Heat load (PHPP): 9 W/m2 & 9 W/m2

Primary energy demand (PHPP): 110 kWh/m2/yr & 109 kWh/m2/yr

Environmental assessment method: Code for Sustainable Homes level four

Airtightness (at 50 Pascals): 0.5m ACH & 0.4 ACH

Energy performance certificate (EPC): B 85

Thermal bridging: Beattie Passive patented complete thermal insulation system. Y-value (based on ACDs and numerical simulations): 0.01 W/mK

Ground floor: Precast concrete foundation beams followed above by Eco-Slab laid to form vented void and insulated with Ecobead, 150mm concrete floor beam, exterior OSB boarding laid over floor. U-value: 0.8 W/m2K

External Walls: Thermal envelope features 60mm Kingspan Kooltherm K5 externally, followed inside by 15mm Versapanel board, 220mm timber studs insulated with Ecobead, 15mm Versapanel, 25mm service cavity and 13mm plasterboard internally. U-value: 0.11 W/m2K

Party walls: Feature 50mm Rockwool flex sound insulation and cavity 100 mm void pumped with Ecobead. Sound tested to 57DB. U-value: 0.13 W/m2K

Roof: Thermal envelope features breather membrane externally followed beneath by 80mm Kingspan Kooltherm K5, 220mm timber studs insulated with Ecobead, 12mm Versapanel, 100mm service cavity, 13mm plasterboard. U-value: 0.8 W/m2K

Windows & doors: Munster Joinery Future Proof Passiv uPVC triple-glazed. Argon fill, low-e coatings, chambers insulated with PU foam. Passive House Institute Certified. U-value: 0.8W/m2K

Heating: Logic+ Combi condensing gas boiler, 90% efficiency, supplying hot water, radiators to sitting room and towel rail to bathroom

MVHR: Genvex GES EnergyOpt100 MVHR unit. Passive House Institute certified heat recovery efficiency of 81%.
Image gallery
Passive House Plus digital subscribers can view an exclusive image gallery for this article. Click here to view
Related items