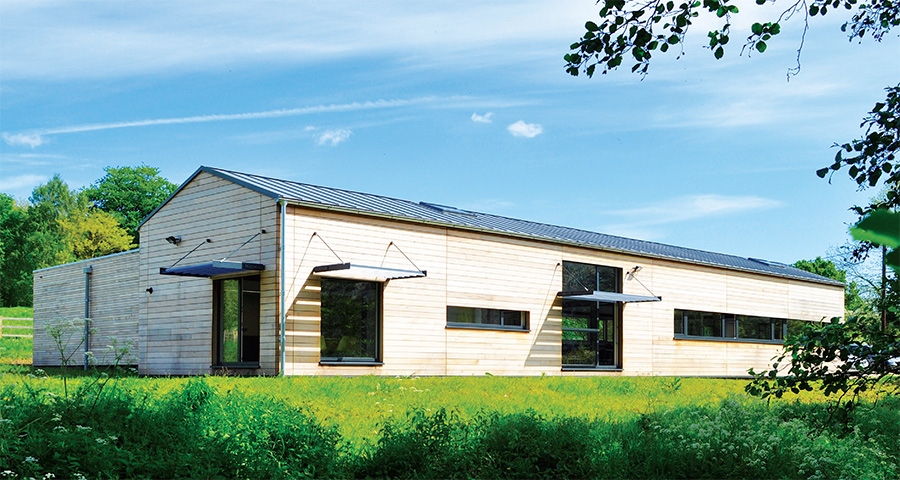 From drab farm shed to passive, light filled studio
When Sjölander da Cruz Architects sought to turn an old abestos-clad shed into the firm's new studio, it offered the perfect opportunity to put an enthusiasm for passive house design into practice.
What better way for an architecture firm to break into passive house design than by creating its own passive-certified architectural studio? Birmingham based Sjölander da Cruz Architects had bought an old asbetos-clad agricultural shed near Leamington Spa, and planned to retrofit it into the practice's new offices.
"We just wanted to create something that was a comfortable working environment," says project architect Shely Begum. The Sjölander da Cruz team embraced passive house principles from the outset, and aimed for Enerphit certification, the Passive House Institute's retrofit standard.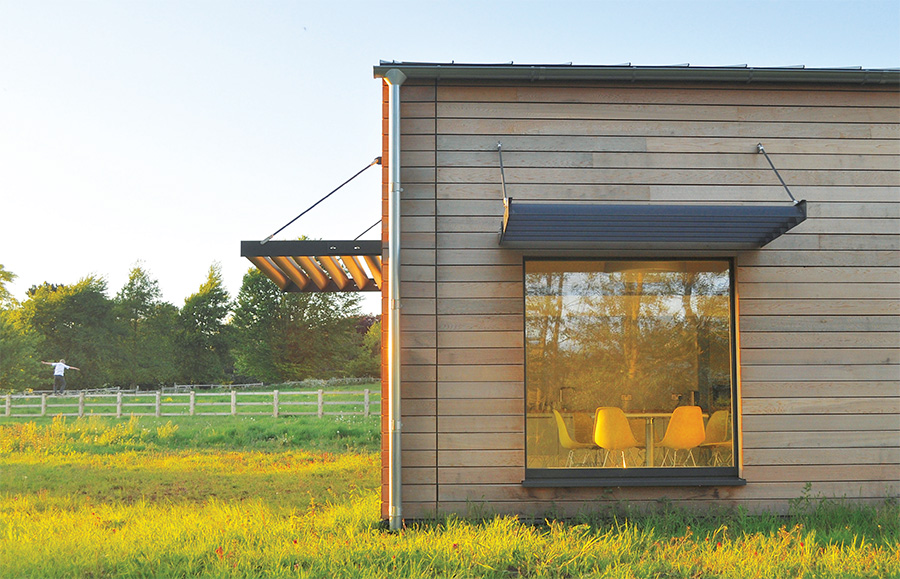 "This was the first passive house building we worked on," Shely says. "We've always been interested in sustainability. Prior to doing this we had been to quite a few passive house lectures. We felt [passive house] was the future of sustainability, and it was something we wanted to be involved in."
Arden Construction was appointed as contractor — it was their first passive project too — while energy consultant Nick Grant of Elemental Solutions came on board to advise the team.
The existing shed had a north-south orientation, ideal for making the most of passive heat gains. The building is in the green belt, so the existing shape and volume had to remain, but the simple form lent itself to passive design, minimising the external surface area from which heat could escape.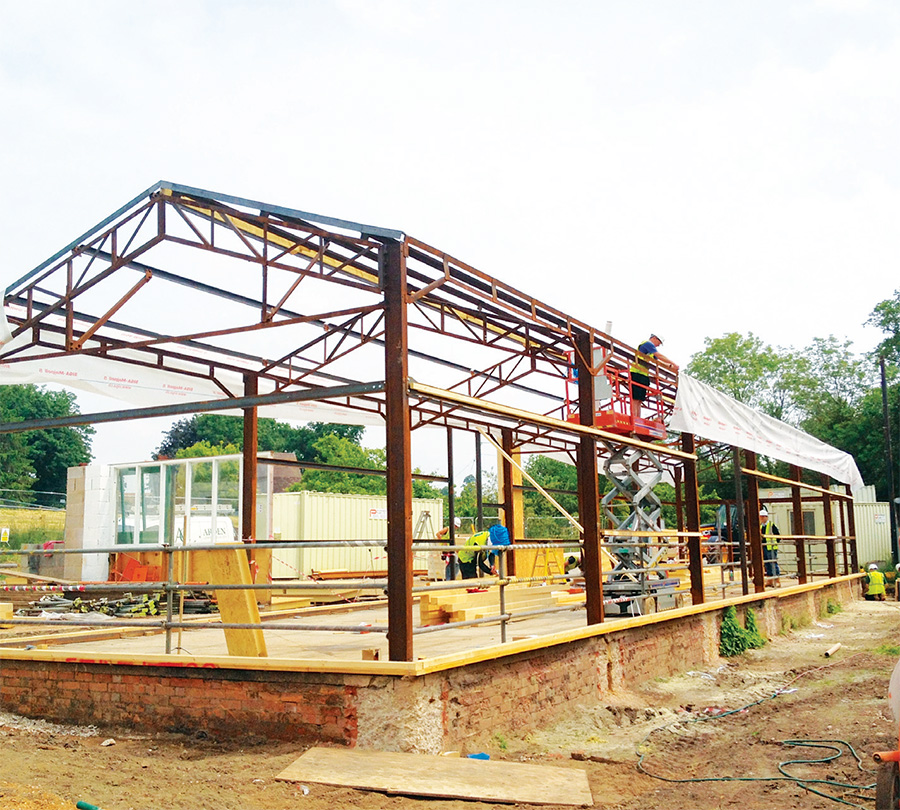 All cladding was removed from the old shed, leaving only the original steel frame, which was left exposed inside the finished studio
First, a specialist subcontractor removed the asbestos cladding from the old steel frame structure. Some of the steel beams were in a bad state too, and needed refurbishment.
Sjölander da Cruz chose to keep the existing concrete slab, but wanted to construct two internal mezzanines. This meant there was little room to beef up the floor insulation without limiting headroom under the mezzanines, so only 120mm of phenolic insulation was installed on the slab. To reach the Enerphit standard for heating demand, the team now had to push the thermal performance of the walls, roofs and windows even further.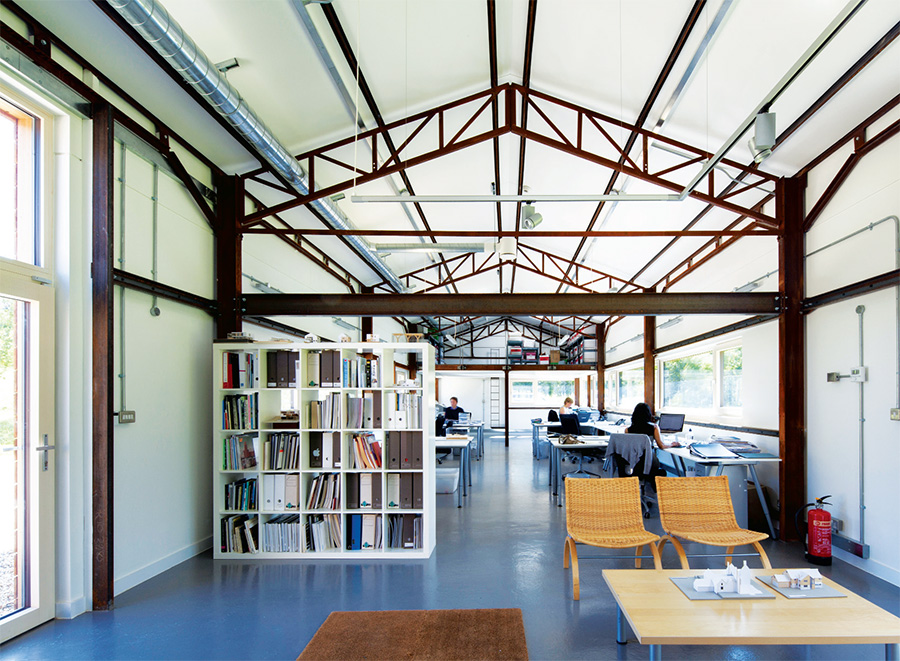 For the walls, the new thermal envelope consists of Kingspan Tek structural insulated panels (SIPs) outside the existing steel frame. The panels consist of urethane insulation sandwiched between two layers of OSB. Sjölander da Cruz has extensive experience with SIPs, so it was the natural choice of building material. To boost the U-value further, 100mm of Kingspan Insulation UK Thermawall urethane insulation was installed outside the panels too.
The old steel beams run right from the concrete base up to the roof, so wrapping the perimeter in EPS below ground cut thermal bridging here. Meanwhile Kingspan Unidek Aero SIPs — which contain graphite EPS insulation sandwiched between two layers of particle-board — form the insulating layer for the roof.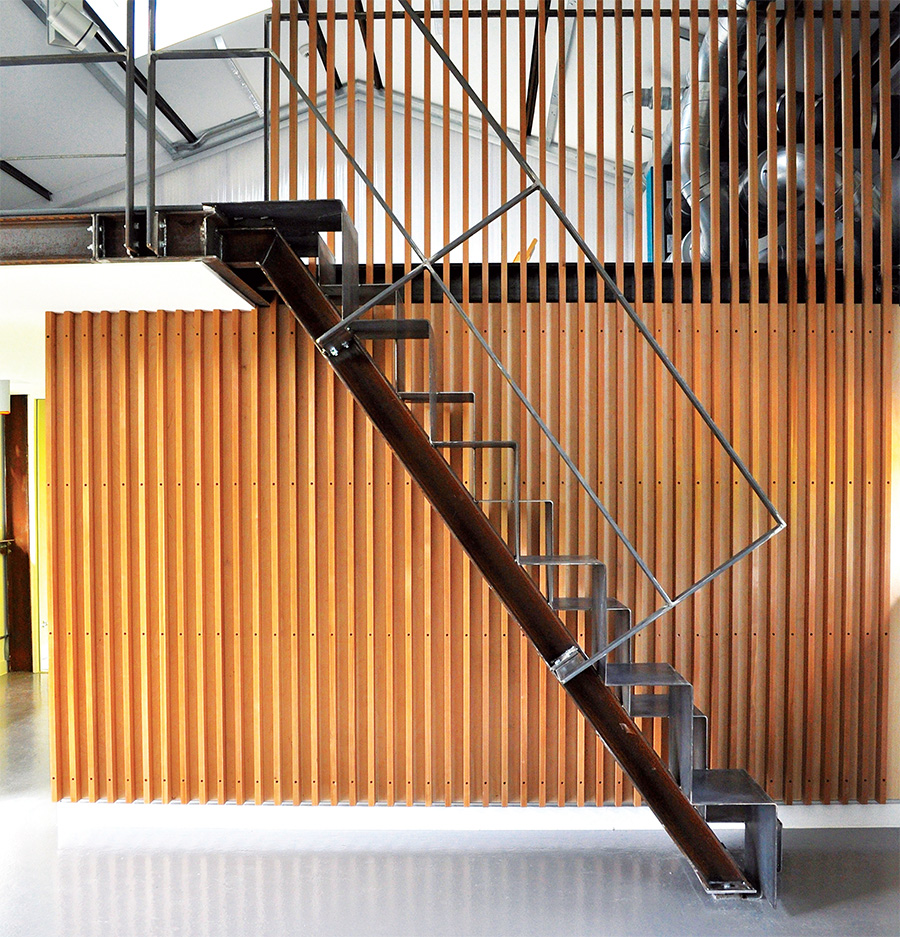 The heat recovery unit is installed on one of the mezzanines, with all ductwork and machinery exposed
The airtight wrap of the building is formed by the damp proof membrane (DPM) under the floor insulation, the internal OSB for the walls, and a Siga Majpell membrane under the roof panels. Siga tapes were used on all the critical junctions, and lots of taping was required around the tricky junctions between the DPM and the steel columns.
An early airtightness test showed some air leaking through the OSB, so wet plastering the walls inside provided an extra seal. The final blower door test result was 0.4 air changes per hour.
"Everybody was chuffed to bits, really chuffed," Rob Harwood, construction manager at Arden Construction, says of the result. "It was their first [passive house], it was our first one, it was quite a steep learning curve for both. But it all worked."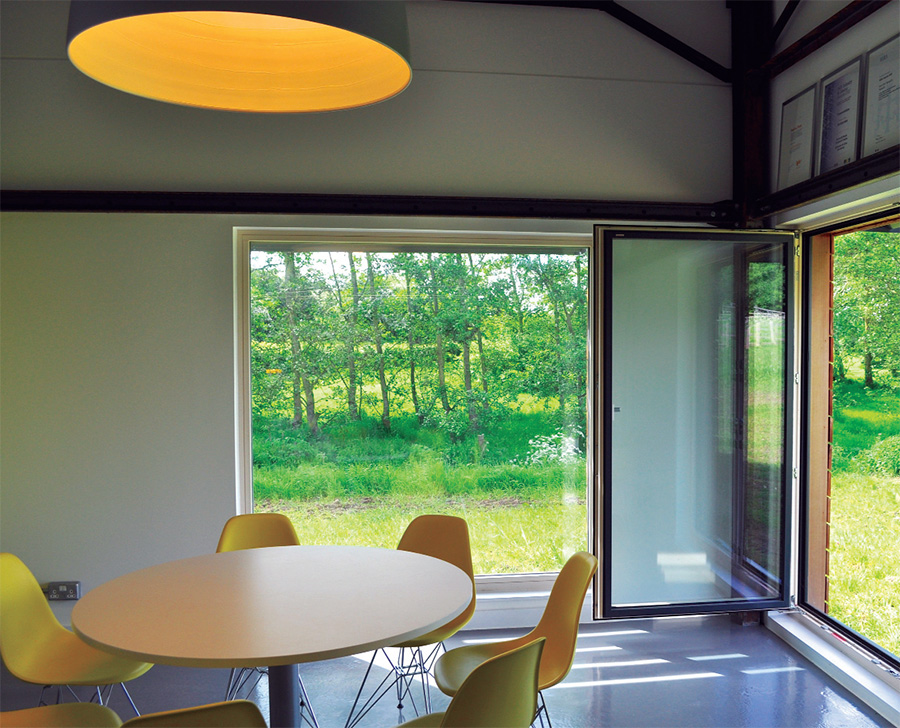 Harwood says the support available from Nick Grant and Siga was vital to the success of the build. "I think it went relatively smoothly. There were more issues with drainage than there were with anything else," he says, adding that everyone on the team was eager to embrace passive house.
"It was something new, it was something different, it's a fantastic setting." He says he would happily take on another passive house project.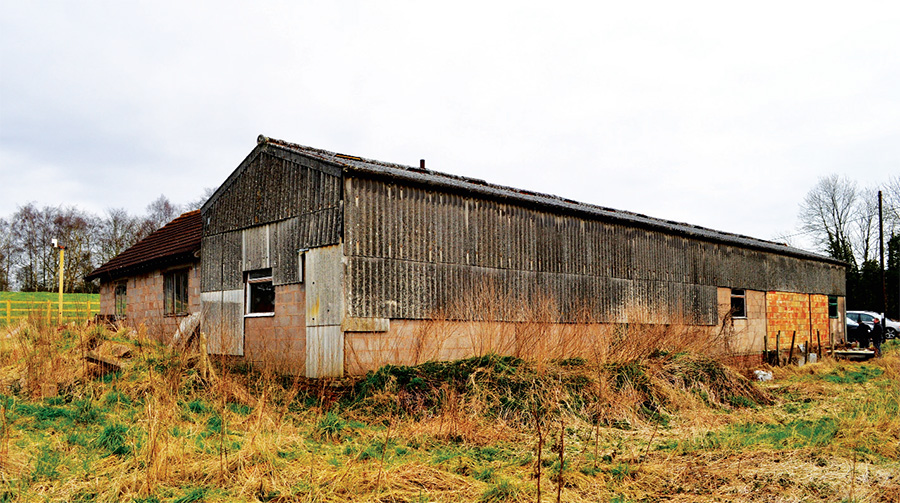 The old asbestos-clad shed which was retrofitted to the Enerphit standard
The studio is heated with a gas combi boiler that supplies underfloor heating. Meanwhile a Paul Novus system provides mechanical heat recovery ventilation (MVHR), and was installed on one of the mezzanines.
"What we've decided is expose it so you can see the machinery," Shely says of the MVHR unit. "We think it looks quite cool, we've got all the ductwork exposed so that you can see how this building works."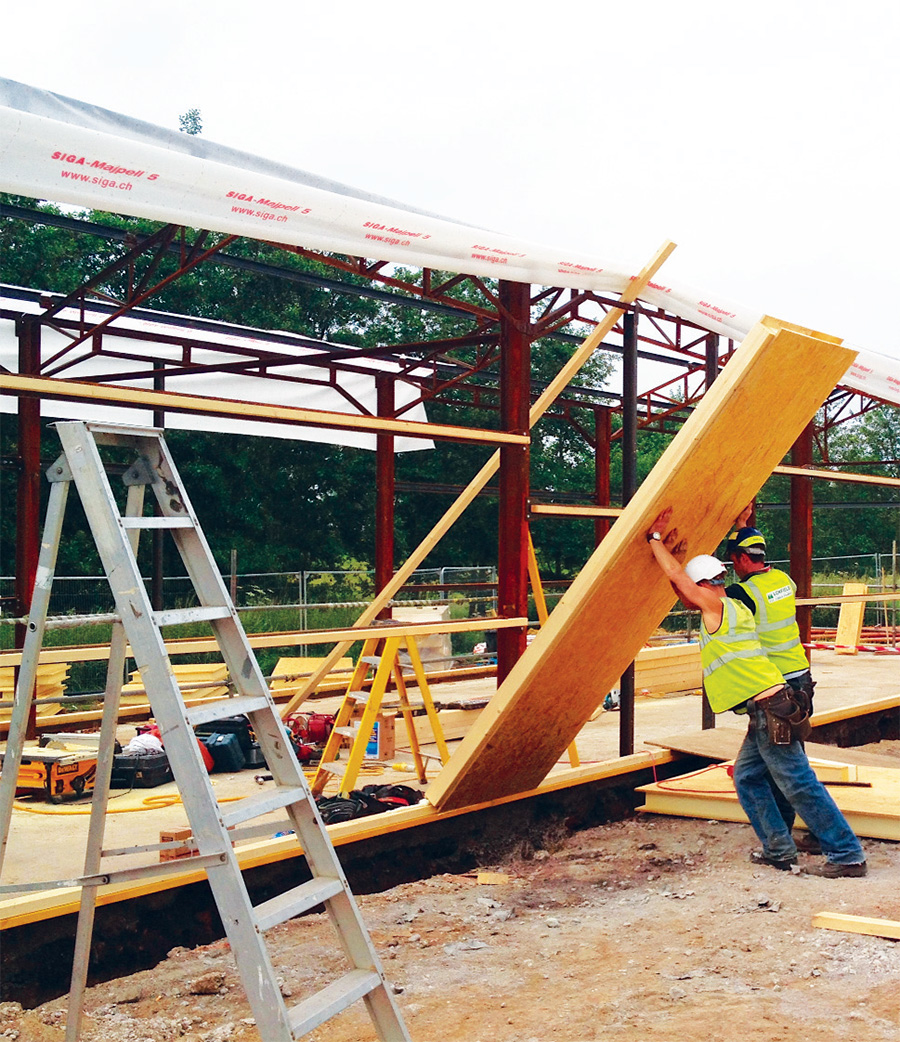 Erection of the Kingspan Tek structural insulated panels
Extensive glazing on the south and north facades provide natural cross ventilation too. As well as bringing in daylight and fresh air, these windows frame the surrounding countryside, and a wildflower meadow on the site.
Having lots of glass could risk leading to overheating and glare, but the external insulation creates deep reveals to mitigate this, and there are brise soleils externally on the south and west facades. Pushing the U-values of the other building elements even further compensated for any excess heat loss through the north-facing glass.
Shely says: "We paid a huge amount of attention to the detailing of the building. What we wanted to do was create a balance between the physics and the architecture. You can see that we've got huge amount of glazing. We wanted to bring as much daylight into the building as possible because it's a workspace. We wanted it to feel quite light and airy."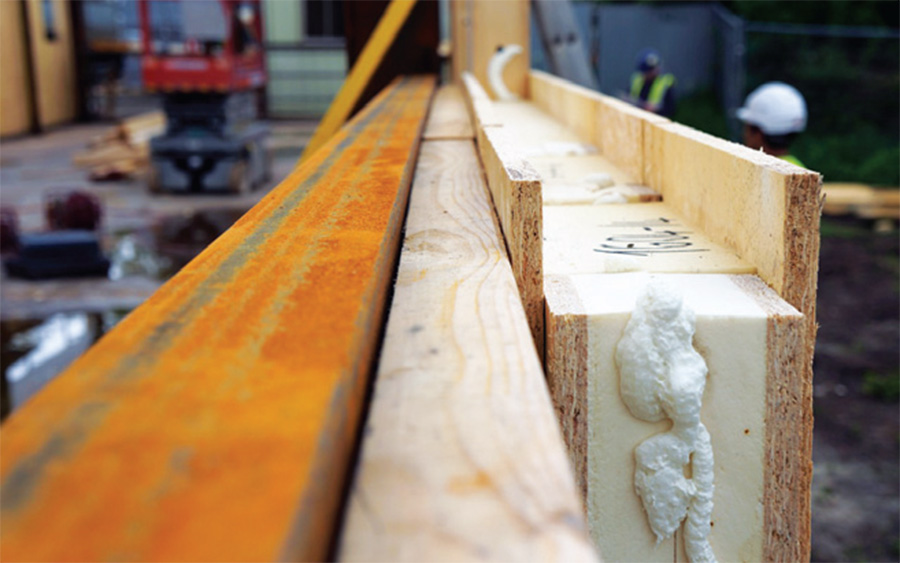 A close-up of one of the panels, which consist of urethane insulation sandwiched between two layers of OSB, outside the steel frame
Along with the ventilation ducting and electrical wiring, the old rusted steel frame is exposed inside. This creates a striking contrast between the white walls and wood finishes. Externally the building is clad with western red cedar, accentuating its warm, natural feel.
Sjölander da Cruz moved into the building in January, and named it River Studio, for a tributary of the Avon that runs along the edge of the site. In September the firm began a year long programme of post-occupancy monitoring.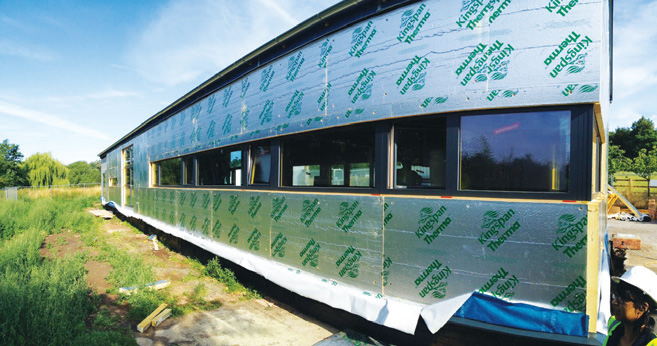 100mm of additional Kingspan Thermawall insulation was installed outside the SIPs
"In the summer we've noticed that even when it's quite warm outside, it still feels comfortable," Shely says. In winter, she adds, the expanses of south-facing glass bring both heat and light into River Studio.
"The air quality is one of the things that everybody has noticed," she says. "There's a great quality of light within the space, and the views towards the surrounding landscape just make it a great place to work."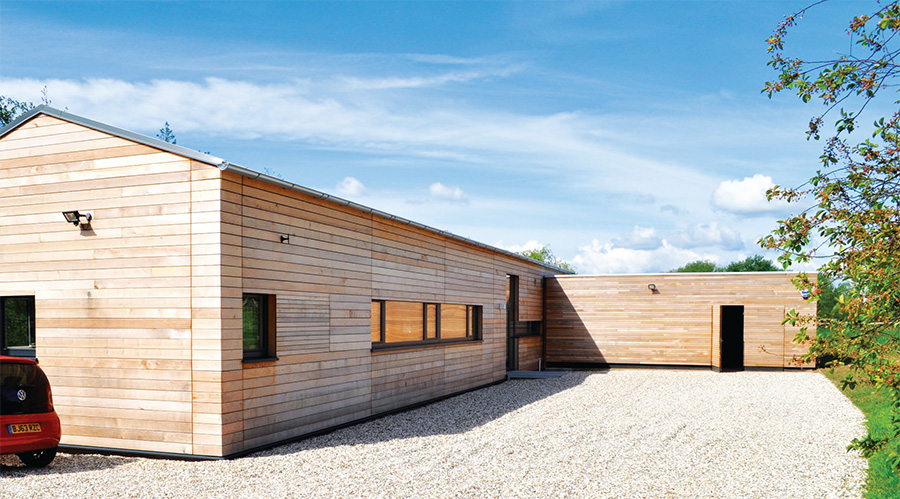 Selected project details
Client & architects: Sjölander da Cruz Architects
Contractor: Arden Construction
Energy consultant: Elemental Solutions
M&E Engineer: Alan Clarke
Civil & structural engineer:
Bob Johnson Consulting Structural Engineers
Airtightness membranes & tapes: Siga
SIPs supplier & installer: Lowfield Timber Frames
SIPs manufacturer: Kingspan
Mechanical contractor: Blue Diamond
Electrical contractor: C&L Electrical
Airtightness tester: Coventry University
Passive house certification: Warm
Additional wall insulation & floor insulation:
Kingspan
Slab perimeter insulation: Sto
Window supplier: Spectrum Installations
Roof windows: Velux
Brise soleil: Dales Fabrications
Timber cladding: Vincent Timber
MVHR: Blue Diamond
Screed: Flowcrete UK
Ventilation supplier: Lindab
Lighting: Artimede
Steel roofing: Tata Steel
Additional info
Building type: retrofit of mid 20th century asbestos-clad shed into modern architectural studio.

Location: Leamington Spa, Warwickshire

Completion date: December 2013

Budget: £267,765.80

Space heating demand (PHPP): 18 kWh/m2/yr

Heat load (PHPP): 14 W/m2

Primary energy demand (PHPP): 95 kWh/m2/yr

Passive house certification: Enerphit certified

Measured energy consumption: Post occupancy monitoring began in September 2014 and will take one year to complete

Airtightness (at 50 Pascals): 0.4 air changes per hour

Walls: 22mm Western Red Cedar cladding externally, followed inside by continuous layer of black insect mesh, 38x50mm vertical timber battens at 500mm centres, Siga Majvest wind-tight membrane (joints taped with Siga
Wigluv 60), 100mm Kingspan Thermawall TW55 urethane insulation, 142mm Kingspan TEK SIPs with internal OSB serving as airtight layer (Siga Sicrall used to seal OSB joints), 15mm British Gypsum Fireline plasterboard with skim coat finish. Below DPC: Sto EPS insulation around perimeter of concrete slab. Wall U-value: 0.106

Roof: Standing seam steel roof externally, followed underneath by Tyvkek metal open drainage membrane, Kingspan Nilvent breathable membrane, 18mm WBP deck, Kingspan Unidek Aerodek SIP comprising 234mm EPS
insulation core between two layers of particleboard, Siga Majpell vapour control layer to underside of Unideck system to provide airtightness (lapped over OSB in walls by 150mm), 15mm British Gypsum Fireline plasterboard
and skim finish internally. U-value: 0.127

Ground floor: Continuous DPM (also the airtight layer) on existing concrete slab and brought up to connect with airtight OSB layer of walls (Siga Rissan 60 used to seal DPM joints), 120mm Kingspan K3 Floorboard insulation over the DPM, followed above by 20mm underfloor heating pipes embedded in 65mm Flowcrete K screed with polyurethane resin floor finish & polyurethane matt seal. U-value: 0.13

Windows & door: Internorm HF200 aluminiumclad timber units. Overall U-value: 0.8 (for standard sized window).

Roof windows: Velux GGL 3065 tripleglazed pine-finished roof windows. Overall U-value: 1.0

Heating system:Worcester Bosch Greenstar 28CDi compact condensing gas boiler (space heating and hot water).

Ventilation: Paul Novus 450 mechanical heat recovery ventilation system. Passive House Institute certified heat recovery efficiency: 89%

Green materials: Western red cedar cladding.
Image gallery
Passive House Plus digital subscribers can view an exclusive image gallery for this article. Click here to view
Related items