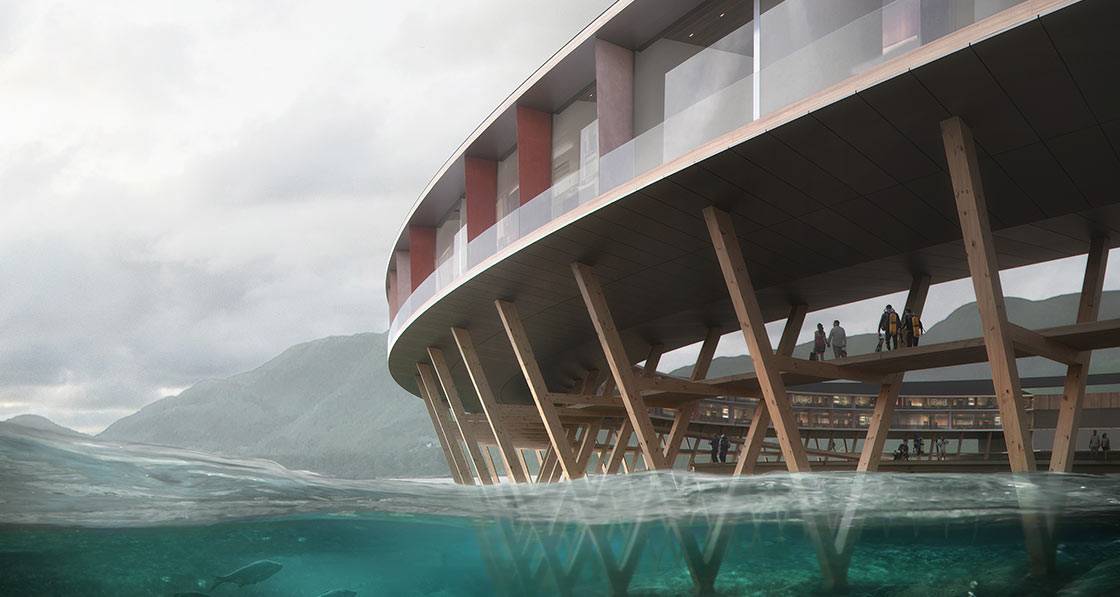 International: Powerhouse - the world's toughest eco building standard
Forget passive house, is Powerhouse the most crazily ambitious energy-related building standard around?
Photos: Robin Hayes / Snøhetta / Plompmozes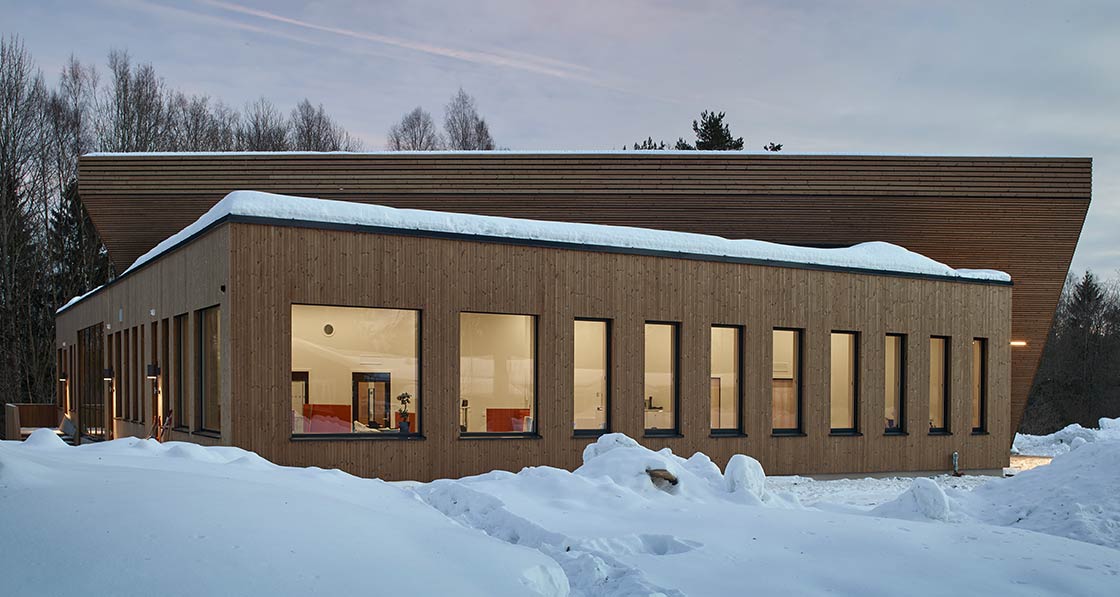 Powerhouse Drøbak, a new Montessori school built to the ambitious standard that opened earlier this year
The Norwegian benchmark demands that to meet it, a building must produce more renewable energy over its lifetime than is used for the manufacturing of all materials in the building — plus its construction, operation, future renovation and demolition.
In other words, a powerhouse must generate more from renewables over a 60-year period, a typical building's lifespan, than the building's entire life cycle energy consumption.
But before you even start calculating how much renewable energy a powerhouse produces, it must first meet the passive house standard, to ensure it is as energy efficient as possible.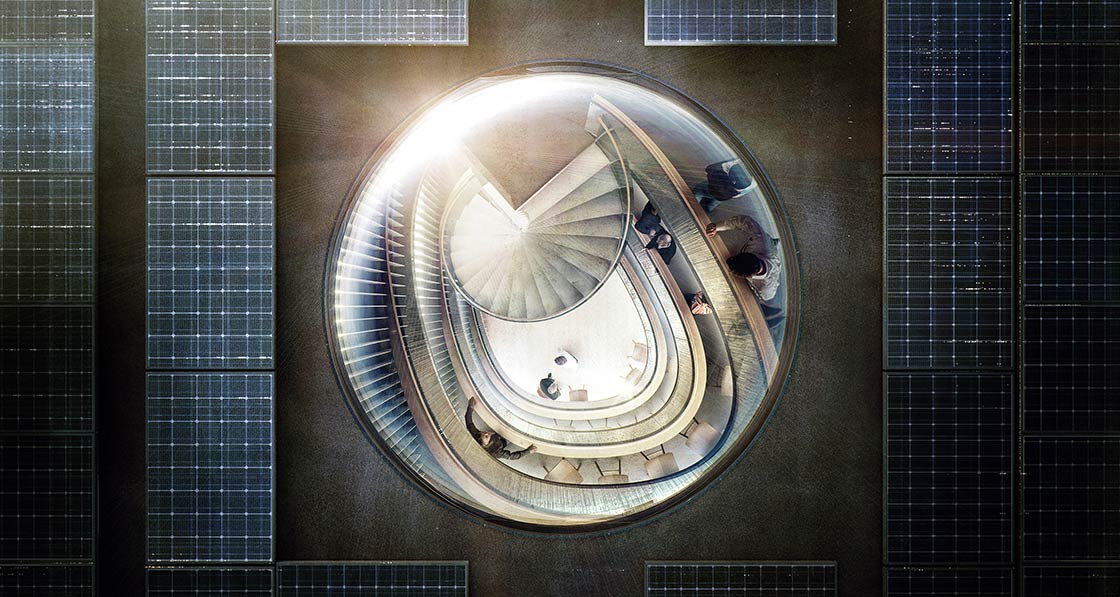 An artist's impression of the solar PV system on the roof of Powerhouse Kjørbo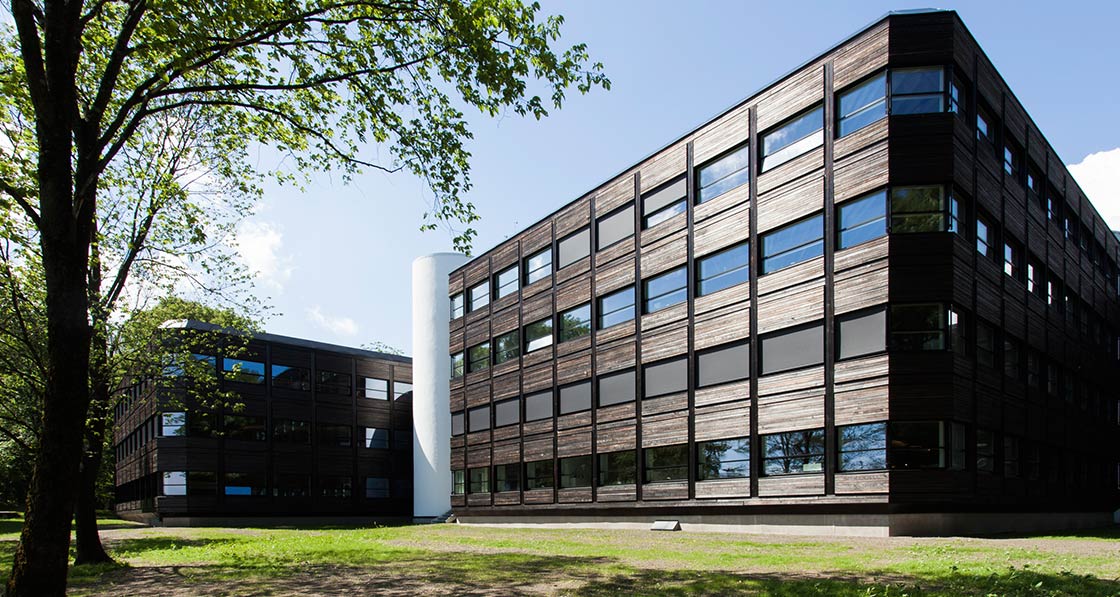 The upgraded Powerhouse Kjørbo, clad with insulated panels that are finished with burnt timber
Powerhouse buildings must meet other criteria too: they must be sold or rented at normal market rates, provide a healthy indoor climate, and produce all their renewable energy on-site (or close by, if wave or tidal energy is being used).
The Powerhouse project is a collaboration between leading international architecture practice Snøhetta, Swedish contractor Skanska, the environmental NGO Zero, and various others.
The first building finished to the standard was Powerhouse Kjørbo, the deep retrofit of two 1980s office buildings outside Oslo, completed in 2014.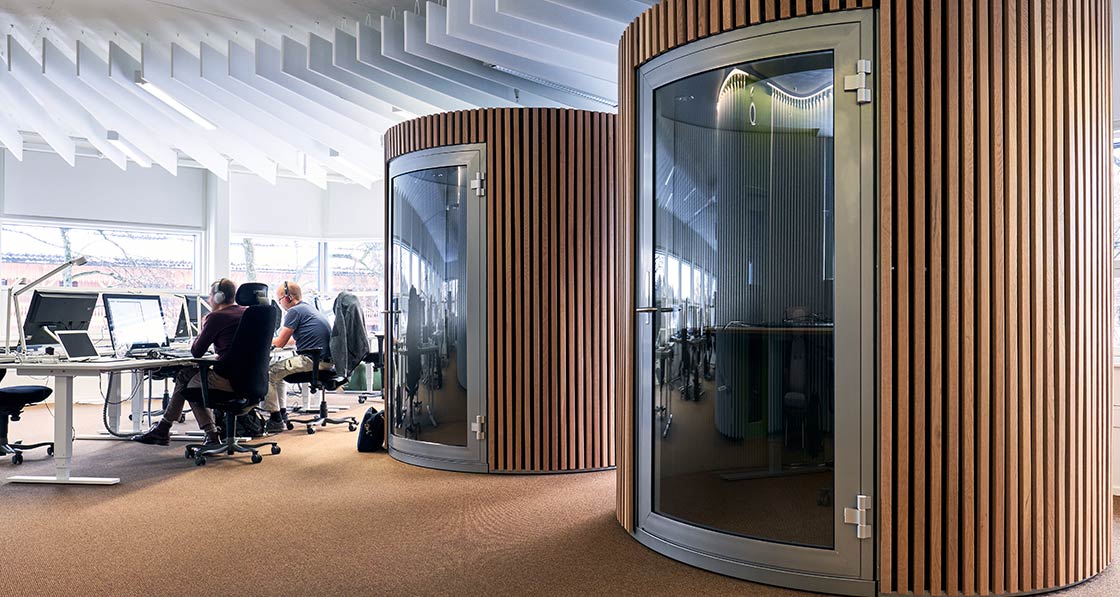 Telephone pods in the open plan offices at Powerhouse Kjørbo
This article was originally published in issue 25 of Passive House Plus magazine. Want immediate access to all back issues and exclusive extra content? Click here to subscribe for as little as €10, or click here to receive the next issue free of charge
The buildings' glazed facade was replaced with new triple glazing and insulated panels clad with burnt timber, while the original windows were re-used for interior partitions.
More than 90% of construction waste on the project was recycled or reused, and the finished buildings now boast a massive 1,500 square metre rooftop solar photovoltaic array that produces twice the buildings' demand.
The second powerhouse building, a Montessori secondary school in Drøbak, was finished earlier this year.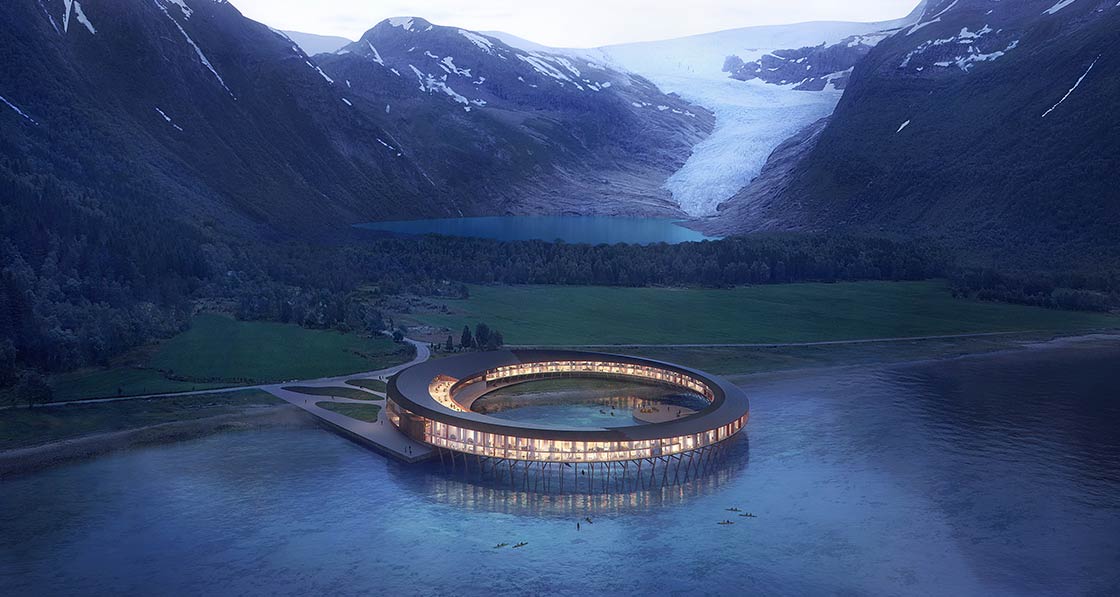 A rendering of the spectacular Powerhouse Svart, a hotel currently under construction in the north of Norway
Surrounded by forests and sitting high above the Oslofjord, the timber frame school is expected to produce an estimated 30,500 kWh of solar power annually. It features an angular 'solar plate' that is clad with south-facing PV panels at a slope of 33 degrees.
The disc also forms a ventilation 'stack' that expels rising stale air and gathers incoming fresh air, to supplement the building's heat recovery ventilation system.
"We think the building will facilitate increased understanding, wonder and respect for nature. We are looking forward to moving into the greenest school in Norway," says Mervi Flugsrud of Drøbak Montessori.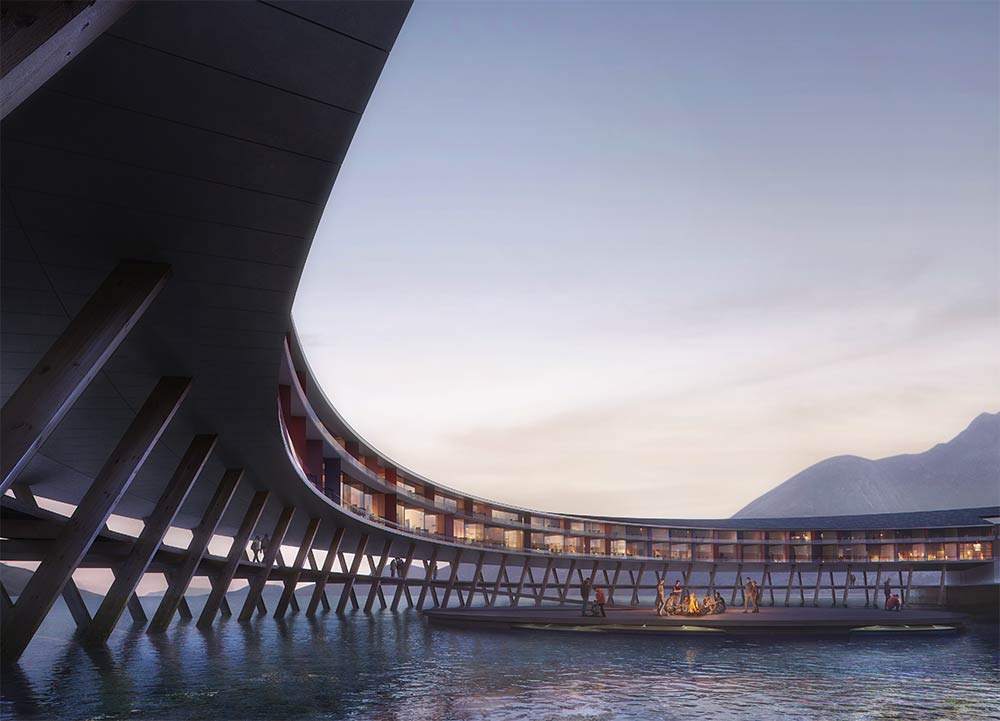 The next project built to the standard will be Powerhouse Telemark, an office building in the Norwegian town of Porsgrunn, set to be finished early next year.
But the perhaps the real jewel in the Powerhouse crown will be Svart, a stunning hotel planned for the foot of the Svartisen glacier in Norway's arctic.
The circular building will be constructed primarily of timber and rest on "weather-resistant wooden poles" that stretch in the clear waters of Holandsfjorden.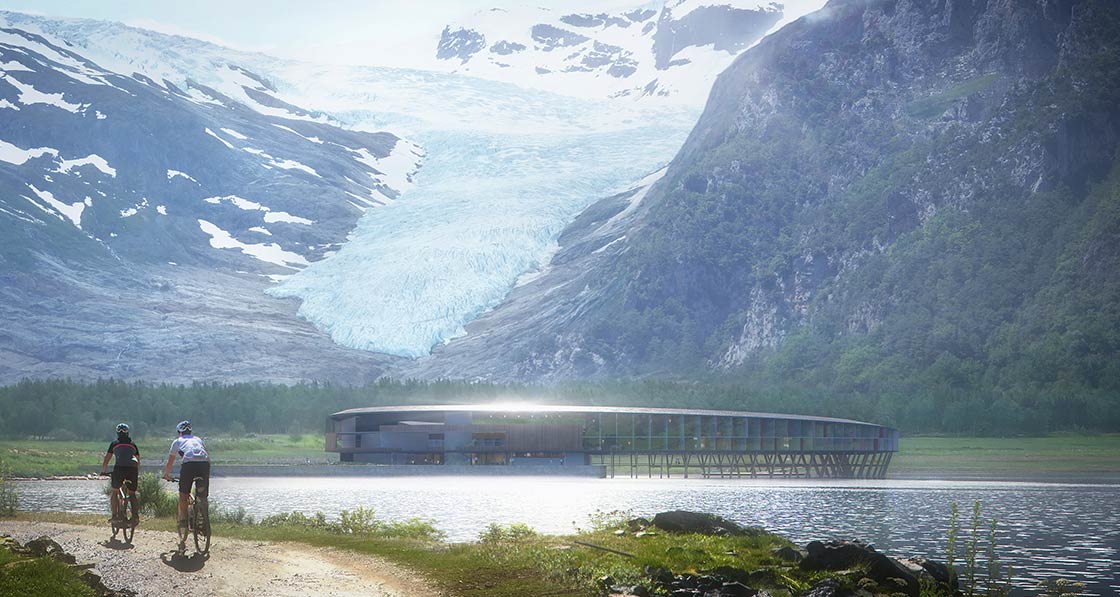 To prepare for the project and maximise the efficiency of its solar PV systems, Snøhetta conducted an extensive project to map how solar radiation behaves in the fjord, which is surrounded by high mountains but also experiences very long summer nights and correspondingly short winter days. The hotel is set to be complete in 2021.
Image gallery
Related items