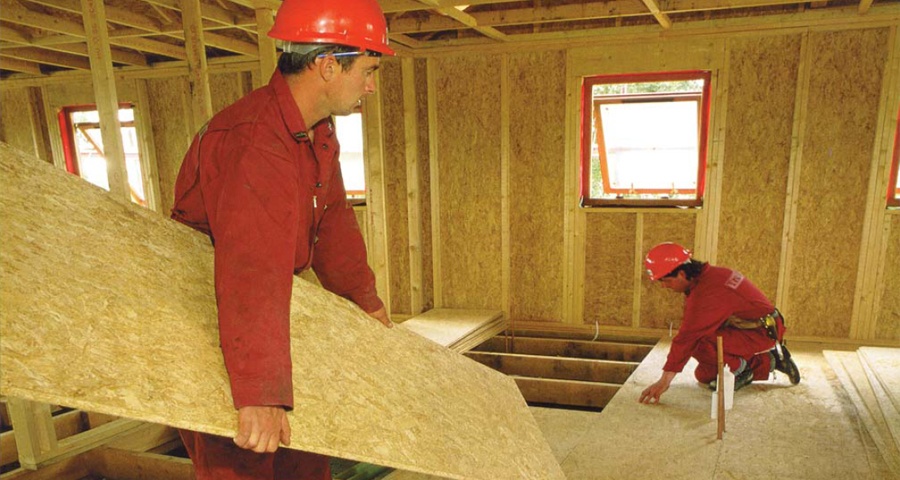 What makes wood products so sustainable?
Truly efficient building design starts with sustainable materials, writes SmartPly's George Watson. Truly sustainable materials not only stand the test of time and make a positive contribution to the performance of buildings, he says, but have a low level of embodied energy and can be specified with confidence in their legal, sustainable and health and safety credentials.
Wood based panel products are widely used in all types of construction but when it comes to reducing carbon, improving performance and enhancing health and safety to create a lasting legacy, timber construction materials really come into their own. OSB3 is a structural board that can be used in walls, floors, roofs and any application where the building regulations demand fully tested loading capabilities.
It's vital to make the right selection in order to uphold an environmental agenda. Not only must panels carry CE marking and the EN300 mark to prove they have been tested in accordance with structural requirements, they must also have proven certification to support their environmental claim.
Medite Smartply OSB3 panels are fully FSC certified, because the wood used to manufacture them is legally sourced from Coillte Panel Products' own forests in Ireland. The process is underpinned by rigorous due diligence that provides a paper trail, documenting the wood's journey from forest to factory floor and on to the timber or builders' merchant branch.
This chain of custody provides the reassurance and legal cover for specifiers, tradesmen and end clients. If in doubt the best advice is to check with the person you are ordering your panels from. They need to be able to produce the paperwork to support both the structural soundness of the panels, as well as the certification and chain of custody documentation.
This may all seem like added complication, with perhaps a cheaper plywood panel providing an attractive option at this stage. Yet the EU Timber Regulation – which kicks in on 3 March – will carry serious penalties for anyone selling or purchasing timber products that have been imported from outside the EU without the correct documentation in place. Opting for SmartPly OSB3 for structural panel applications – with all its performance capabilities and supporting documentation in place, over for example an undocumented tropical plywood – makes good legal sense too.
Misconceptions abound and in some areas OSB still carries a stigma attached to formaldehyde emissions, turning some away from OSB's other attractive environmental credentials.
All organic material contains some level of formaldehyde, because this is a naturally occurring chemical. It's also used in various manufacturing processes for many regular household products such as furniture, paints, gas stoves and even clothes. However Europe, among others, has established strong standards to reduce the use of formaldehyde and its emissions into buildings. Equally the California Air Resources Board regulates formaldehyde emissions from composite wood products including MDF, interior plywood and OSB with even stronger stipulations.
With concern over the levels of formaldehyde in some wood panel products that use it in their resins, SmartPly provides an alternative – with zero added formaldehyde. Again, it's critical to seek out products that have the correct documentation to support their claims.
SmartPly OSB3 is manufactured using advanced resin technology that results in a high performance, zero added formaldehyde panel. It's a different yet superior type of bond to the mechanical weld that formaldehyde-based products provide, with added benefits such as resistance to shrink and swell.
Sustainability is not only a question of lowering carbon emissions; product selection needs to cover far-reaching issues, including the longevity and health and safety properties of the products too.
For more information visit www.smartply.com
Last modified on Wednesday, 13 March 2019 15:45