International green buildings
In the first installment of a new feature on international green buildings, Lenny Antonelli takes a look at five innovative, sustainable and striking buildings from around the world.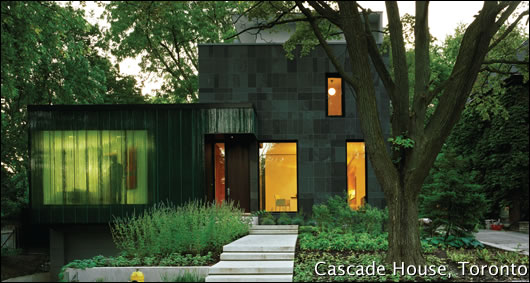 Cascade House, Toronto
Not only is architect Paul Raff''s 'Cascade House' in Toronto a striking piece of residential architecture, it boasts some commendable green features too. Natural light is the name of the game here - a 13 foot high east-facing emerald glass facade both maximises sunlight in the living room and offers privacy from the street outside, while a slate-wrapped stone wall sits behind the glazed south wall, providing thermal mass to prevent overheating.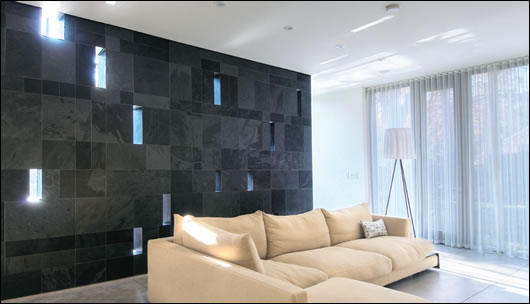 the slate wall acts as a thermal store yet allows shafts of daylight through

The house is passively ventilated, and existing vegetation and mature trees retained on site also help keep it cool in summer. Windows are triple-glazed and argon filled, and the building boasts underfloor heating, high efficiency gas boiler, low VOC paints and green materials like bamboo and wheatboard. Built with structural insulated panels - essentially an OSB board sandwich with foam insulation infill - the Cascade House is hooked up for solar thermal and PV panels. Soak pits help to manage rainwater runoff on the site, and the house - built for a family moving to Canada from Arizona who were keen on natural light - was named GreenSource Magazine's best green house in April 2009.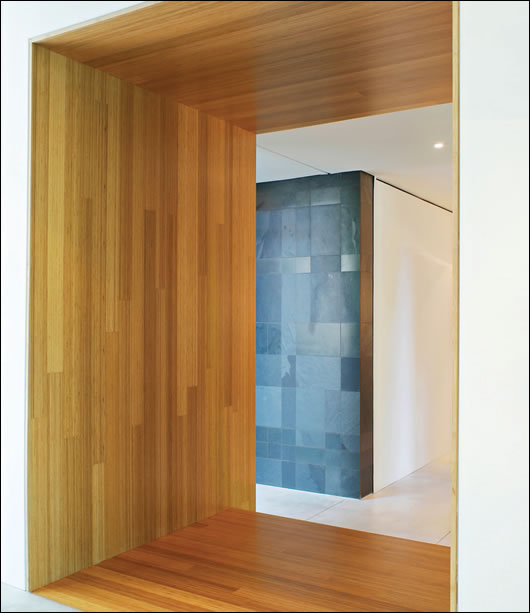 A bamboo portal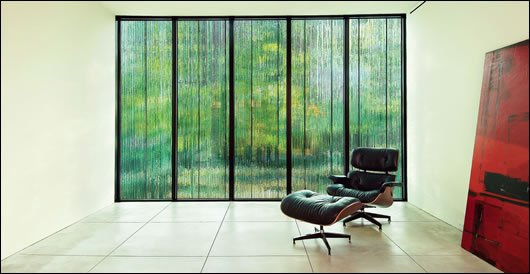 Emerald glass allows both daylight and privacy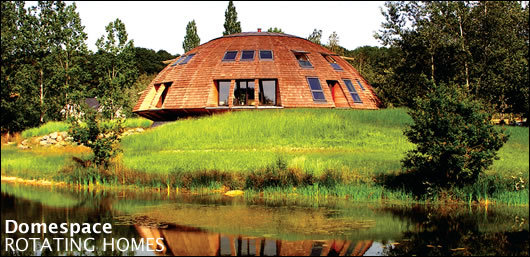 Domespace rotating homes
Imagine coming back to your house to find the front door in a different spot then when you left. It's something owners of Patrick Marsilli's Domespace homes are familiar with - the buildings can rotate automatically or by remote control, following the sun to maximise solar gain or avoiding it to prevent overheating. Domespace say just 370W is needed to power the rotation, about half the energy demand of an average toaster. US distributors Solaleya say the movement is imperceptible, and stationary versions are also available. The houses have been built throughout Europe and in the US and New Zealand, though there are none yet in Ireland.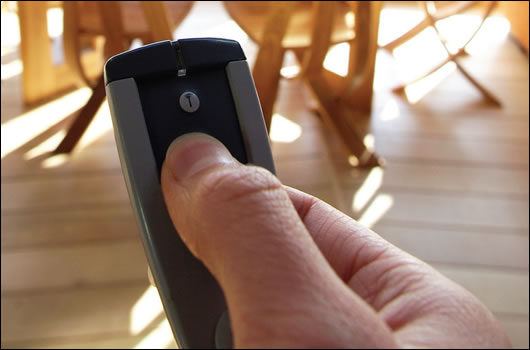 The Domespace home can rotate automatically or by remote control

The spherical shape of the house lends itself to energy efficiency, minimising the surface area from which heat can escape and allowing for passive cross ventilation. The wall build up includes red cedar shingles externally, 200mm of cork insulation and spruce panelling inside. All timber is FSC certified. Sizes ranging from 474 to 2,150 square feet are available, and energy demand is impressively low: the rotating Harmonique model boasts a primary energy demand of 38kWh/m2/year for space heating, hot water and lighting, giving it an A under the French building energy rating system.

The first Domespace showhouse in France featured solar thermal collectors from Solaris Energy Systems, one of Ireland's longest established and most respected solar companies.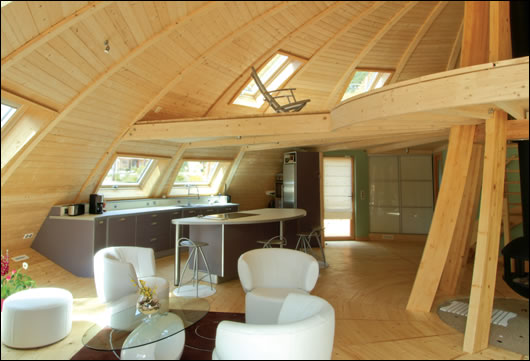 All timber is FSC certified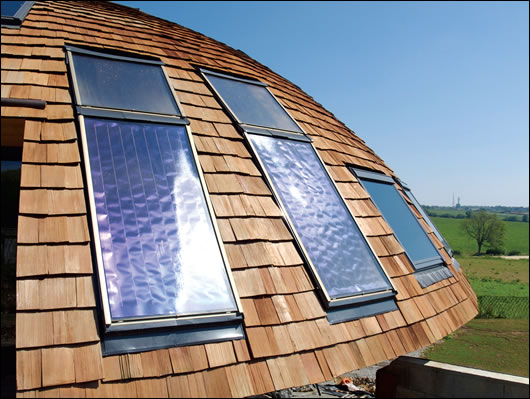 The rotating house can gain full benefit from its solar collectors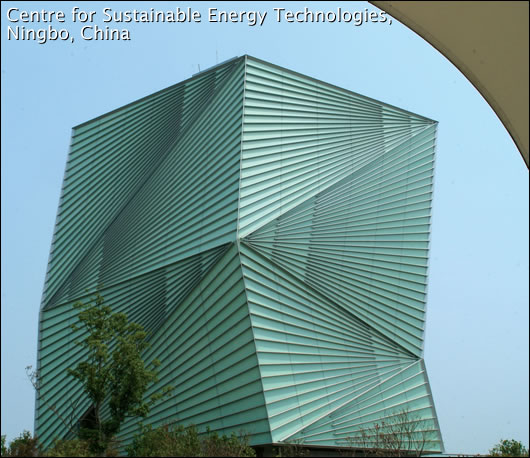 The Centre for Sustainable Energy Technologies, Ningbo, China
The Centre for Sustainable Energy Technologies - on Nottingham University's campus in Ningbo, China - was designed as a "living textbook". Not only is the centre engaged in cutting edge research in green construction and renewable energy, the building that houses it is designed to demonstrate the latest sustainable technologies. A large photovoltatic array meets most of the building's electricity requirements, and a small wind turbine on top of the building will be used for experimental and demonstration purposes. Architects Mario Cucinella estimate the building's electricity demand to be around 7-8 kWhr/m2/year.



A large solar PV array supplements space and water heating, and meets most of the building's electricity requirements

A 114m2 array of evacuated solar tubes supplements space heating, hot water and cooling (in combination with an absorption chiller), while a reversible ground source heat pump can support heating and cooling needs too. The opaque walls of the building are concrete, with external (150mm) insulation panels and a U-value of 0.25W/m2K. The double glazing of the facade and rooftop light wells has a U-value of 1.2W/m2K. During the summer, the thermal mass of the exposed concrete surfaces helps keep temperatures cool inside, while in winter the glazed south-facing exterior enables passive heating of air that is naturally convected around the tower. Rainwater harvesting and greywater recycling also feature, and the architects say that local, low embodied energy materials were specified wherever possible.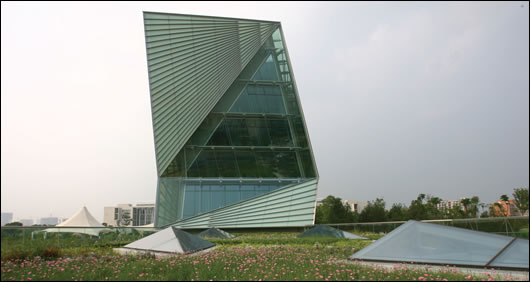 The Chinese lantern-inspired building is entirely clad with a double skin of glass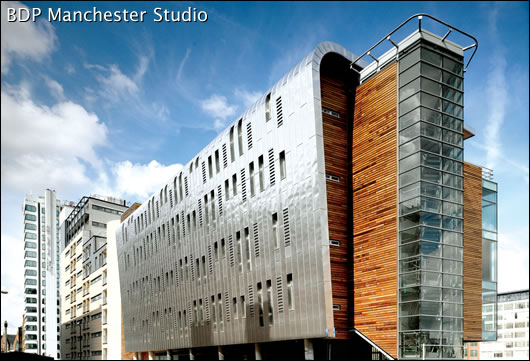 BDP Manchester Studio
When international architecture and engineering practice BDP decided to build a new Manchester studio, it was natural for the firm to practice what it preaches and put sustainability at the core of its design. Intentionally built close to Picadillly train station, the new building combines natural lighting and ventilation with a host of other green features. "Sustainability isn't about sitting in offices with the light switched off," says BDP Manchester chairman Gavin Elliot. "It's about fantastic spaces, light, air, natural ventilation, fantastic views and a really pleasant place to work, and I think we've achieved all of those things here."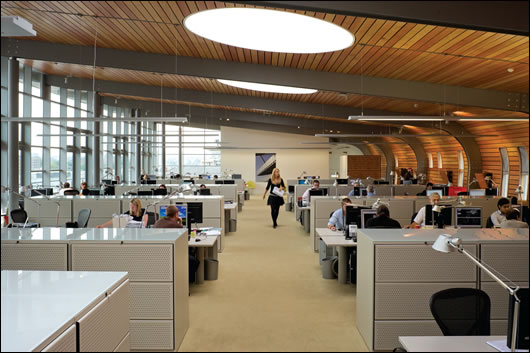 The bright, naturally ventilated interior

The north side of the building - which overlooks the Picadilly canal basin - is extensively glazed to maximise natural light, while the south side is clad heavily with stainless steel to prevent overheating. Ground granulated blastfurnace slag (GGBS) - a form of cement derived from steel industry waste - was used extensively in the concrete-framed building, and greywater recycling also features. A brown roof with a recycled rubble and gravel substrate is designed to provide habitat for the black redstart, a small bird rare to the UK. According to BDP, it's the first naturally ventilated office building in Manchester to achieve an 'excellent' rating under the Building Research Establishment's environmental assessment method (BREEAM), which rates the environmental performance of large buildings based on factors such as energy consumption, land use, materials, water efficiency and transport.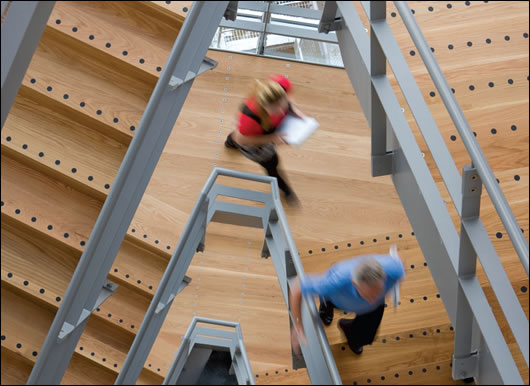 The ventilation of BDP's new offices is assisted by the stair well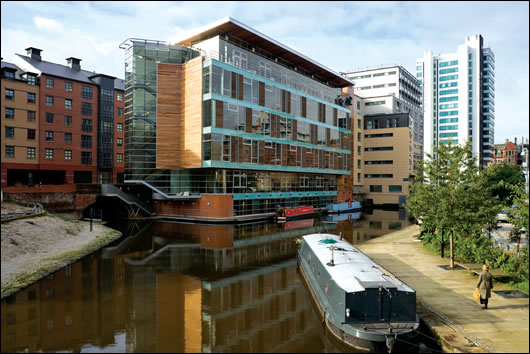 The north side of the building overlooking the canal

Copenhagen sky village
Flexibility is at the heart of the planned Rødovre sky village in Copenhagen - the building is based on a grid structure and divided into 60m2 steel-framed units or 'pixels' that can be pushed together or pulled apart to alter the function of its spaces. "The pixels can be joined together to form larger spaces to accommodate larger apartments, hotel rooms or offices," say ADEPT architecture, who won the competition to design the tower along with Dutch architects MVRDV. The unique design means the building's function can be easily altered with minimum use of materials or resources, while making it simpler to accommodate residential, commercial, retail and public spaces in one development - essentially creating a vertical village.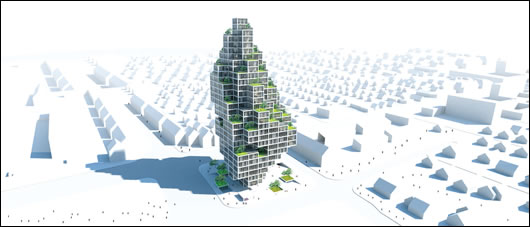 The 116-metre tall tower accommodates apartments, a hotel, retail and offices

ADEPT say varying the depth of the tower at different levels will allow more light to enter and create a series of terraces and balconies, enabling the marriage of green space with dense urban development. The lower floors will be slim to leave space for a public plaza, while the residential mid-section will lean to the north to create a series south-facing terraced gardens. A hotel will occupy the upper floors. The plans also include a variety of green features such as greywater recycling and concrete foundations with 40 per cent GGBS content.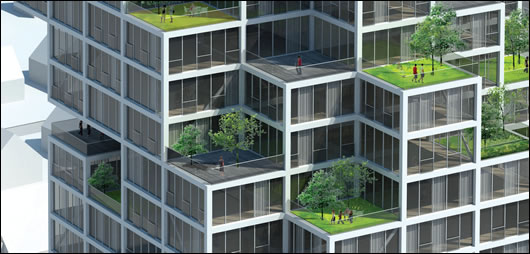 The residential mid-section will lean to the north to create a series of south-facing gardens