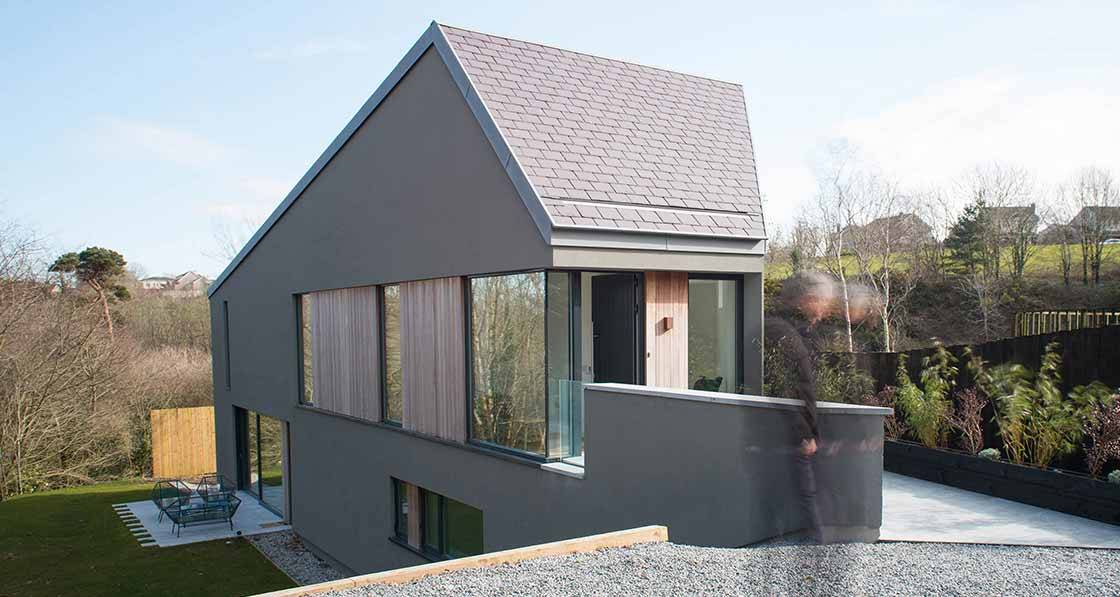 Photography: Jed Niezgoda & Gareth Sullivan
Steeply sustainable - Low carbon passive design wonder on impossible Cork site
The unique split-level, wedge-shaped plan of this striking and award-winning new passive house in Cork isn't just for show — it is a carefully thought-out response to an extremely challenging site, and an example of how great architecture can create beautiful, sustainable buildings in even the most unlikely of spaces, and with a fraction of the upfront carbon costs of traditional build methods.
Click here for project specs and suppliers
€95 per year (calculated space heating use)
Building: 180 sqm split-level timber frame house
Completed: September 2017
Location: Douglas, Co Cork
Budget: €360,000
Standard: Passive house certified
Embodied carbon: Circa 35% of the CO2 emissions of a comparable traditional build*

*See box out on upfront carbon costs for a detailed explanation and breakdown of the embodied carbon calculations.
This house looks at first like one of those highly ambitious contemporary 'grand designs' built as a no-expensespared showcase for the talents and imagination of the team of architects, engineers and builders behind it. Although it has clearly been designed to fit on a steeply sloping site, this wedge-shaped home would surely win awards for its aesthetics alone.
The true story of its gestation is as far from this first impression as you could imagine. This 180 square metre passive-certified home, built on a very tight budget, has certainly won awards, but they are as much for its highly sustainable and resourceful response to a very technical and problematic brief as for its striking appearance.
Indeed, in choosing this compact house design as its overall winner, the judging panel of the 2019 Isover Awards described it as "the perfect way of doing things in terms of sustainability and design".
"The design responds ingeniously to an extremely challenging suburban site to prove that world-class energy performance can be achieved with show-stopping aesthetics, utilising low embodied energy materials," the judging panel said.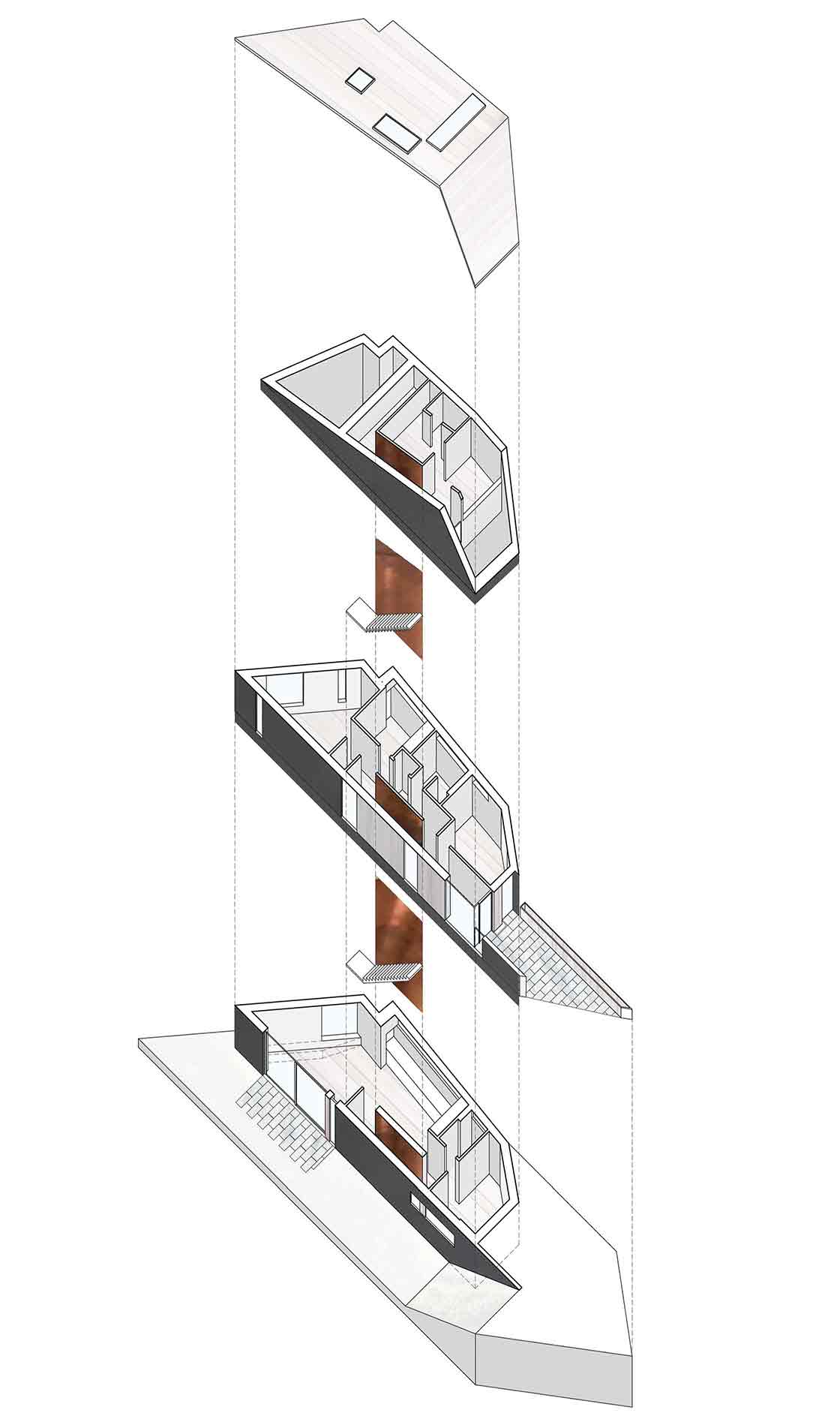 Located in the Cork city suburb of Douglas, the house was designed and built by architect Gareth Sullivan as his family home.
"As a young family looking for our first home, we became disillusioned with rising house prices and poor availability of quality choice in the market," he says. They wanted to be close to the city so even the possibility of a self-build looked to be unattainable given the high price of good sites in the area. So, they decided to look for a more challenging one.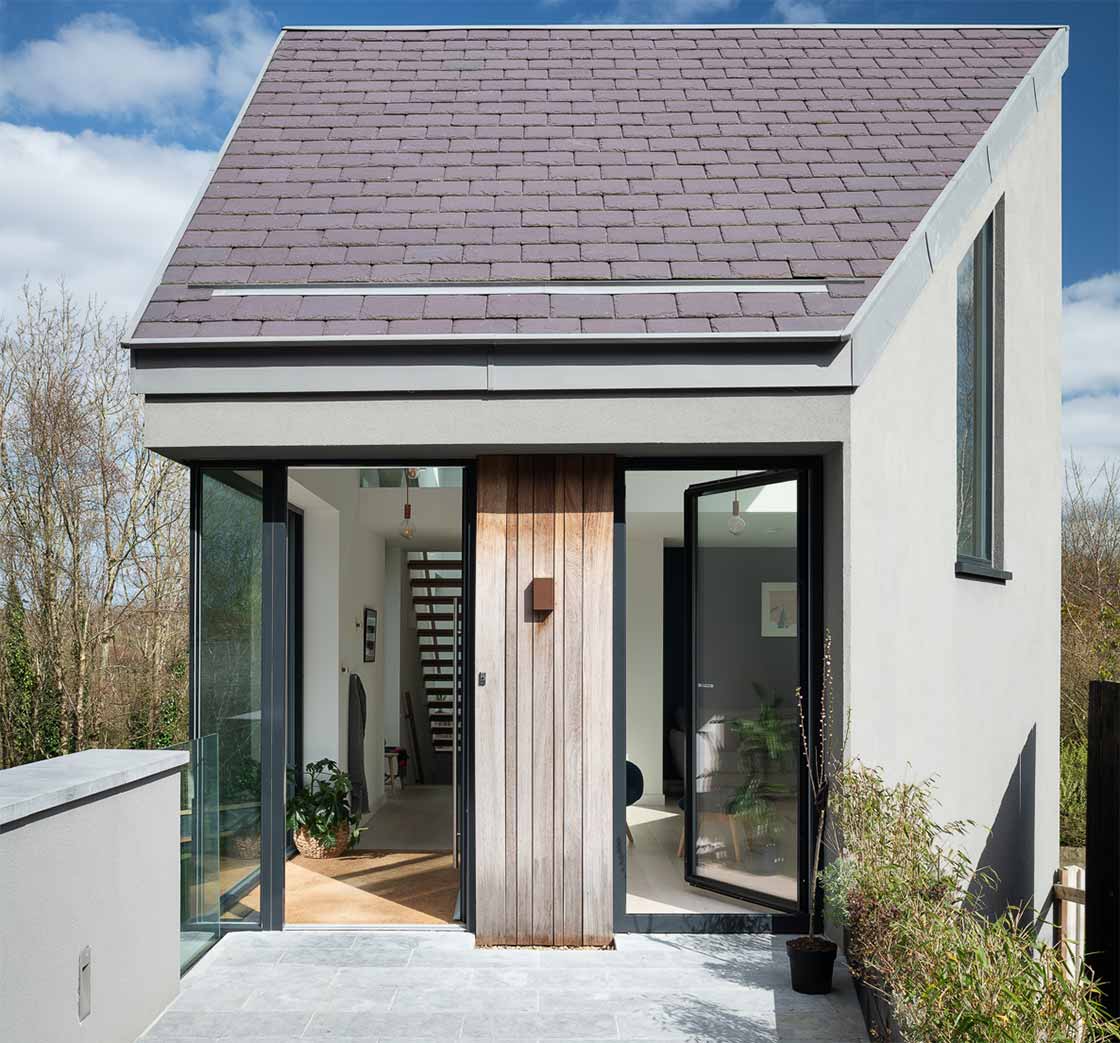 "We set eyes upon a steeply sloping site which had an abundance of issues and apparent problems. It looked implausible, but it was affordable," says Sullivan. The fact that the site was being sold without planning permission was a further risk, but "having researched the various restrictions presented by the site, we had just enough confidence they could be overcome, so we took the plunge and bought it".
While Sullivan makes it sound like a reasonable risk, it's easy to see why the site was viewed by its previous owners as nothing more useful than a builder's yard. Besides its steeply sloping nature, the site has no less than three wayleaves — protected access routes to various county council services pipes — across it. A minimum separation distance needed to be observed for each.
"The services don't run through our site but essentially we couldn't build too close to them," Sullivan says.
What this meant was that only a small wedge-shaped plot in the corner of the site could be developed, and even access to this was awkward. Furthermore, the county council placed restrictions on the ridge height and south-facing windows to prevent the property overlooking a neighbouring site, severely limiting the house's solar gain.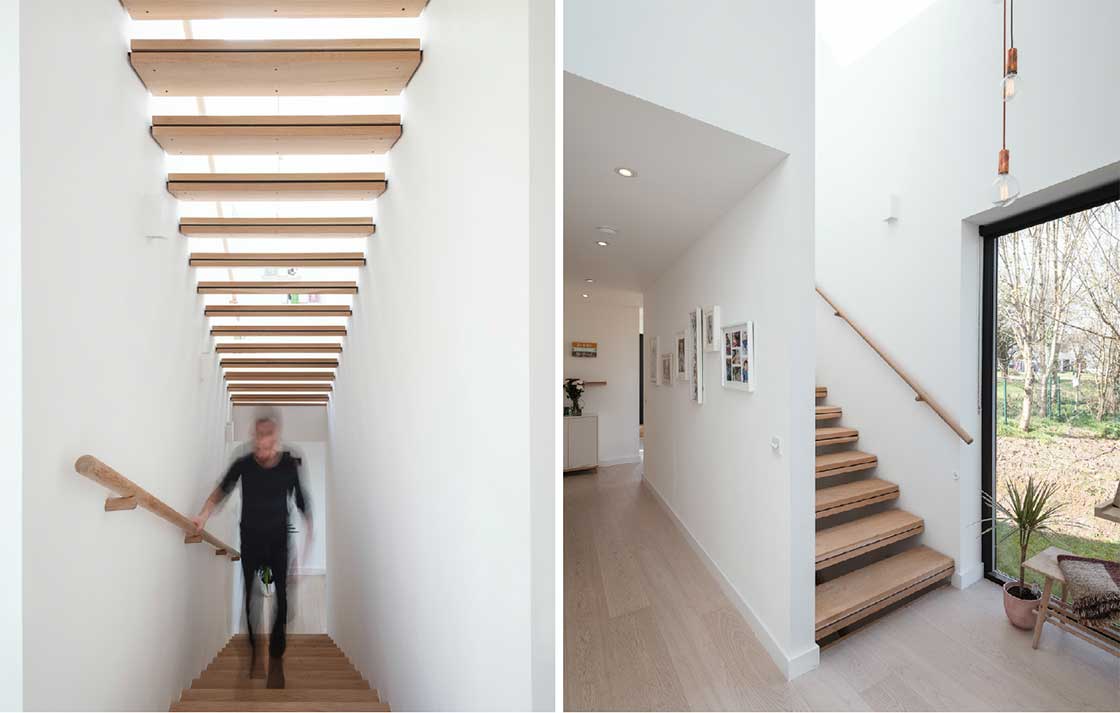 So, the house design, as it evolved, was shaped primarily by the need to overcome each of these obstacles. This certainly explains the compact wedge-shaped form, but the solar gain challenge was addressed partly by a PHPP (Passive House Planning Package) analysis to ensure the building fabric would be of a higher standard to compensate, while windows on the south-facing side were set high enough to avoiding any overlooking issues. Additional roof lights also helped, and the living spaces are separated over three levels to track the sun's path.
Sullivan and his wife, Barbara, bought the site in 2013 and began a lengthy process of liaising with Cork County Council service engineers and the local planner, John Lalor, who was thankfully open-minded. "It took a few design iterations to finally reach a point where planning was secured, and all issues were carefully managed to ensure our house would not negatively impact access to the services or be overbearing for any of our neighbours."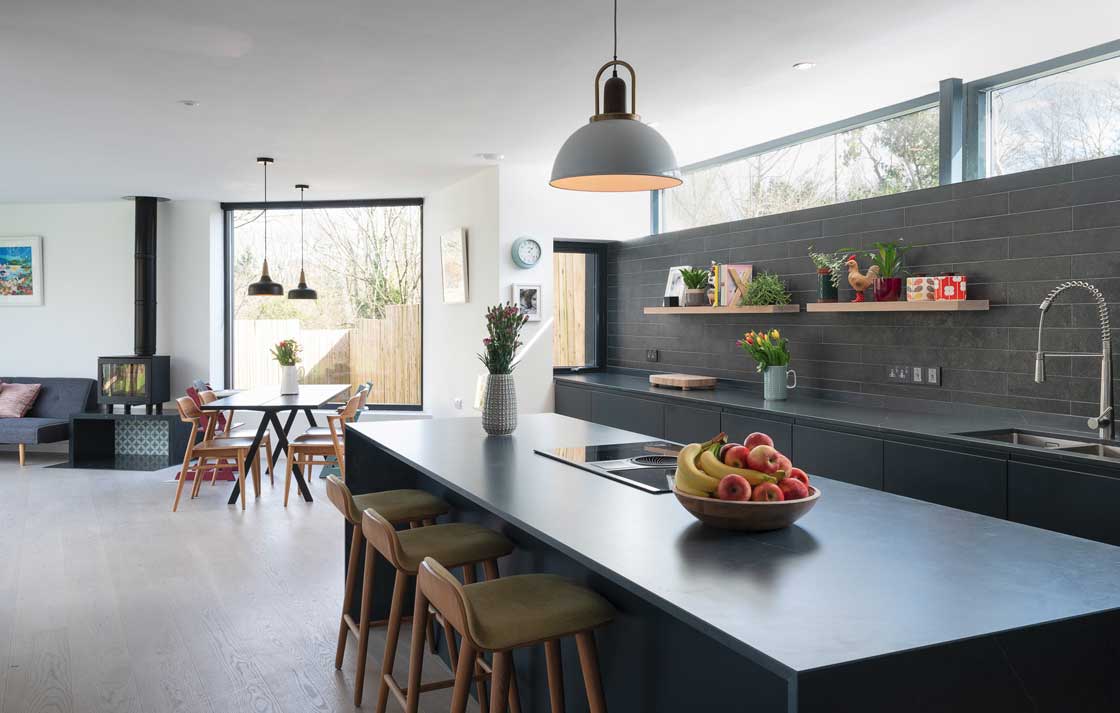 This article was originally published in issue 31 of Passive House Plus magazine. Want immediate access to all back issues and exclusive extra content? Click here to subscribe for as little as €10, or click here to receive the next issue free of charge
They continued to take their time with the second phase, that of detailing the design and mobilising the construction, which included deciding to self-build. "The self-build approach wasn't always a given but in the end it was a budget-driven decision to try and reach the level of quality we wanted to."
"We did consider using a main contractor but once we decided to use a timber frame system it gave me the confidence to take on the self-build challenge, as the ECO Timber Frame package also included insulation and airtightness."
Starting the build in August 2016, it took a big co-ordination effort by Sullivan to keep things on track to finish just over a year later. He did a useful bit of the labouring work in his spare time and various family members chipped in, too. "It was actually really nice to share the experience of building the house."
Needless to say, there was much design and engineering head-scratching with the build, according to Sullivan, ranging from maximising light to ensuring the flow of the house wasn't compromised by separating the different levels, and the difficult orientation.
One fairly significant detail was the frameless glass wrapping around the corner from the entrance door, which required structural steel so that the engineer could cantilever that corner to eliminate the post. But the reward was an extra 300 mm in width to the very narrow entrance, which was badly needed to give it a greater sense of space on arrival.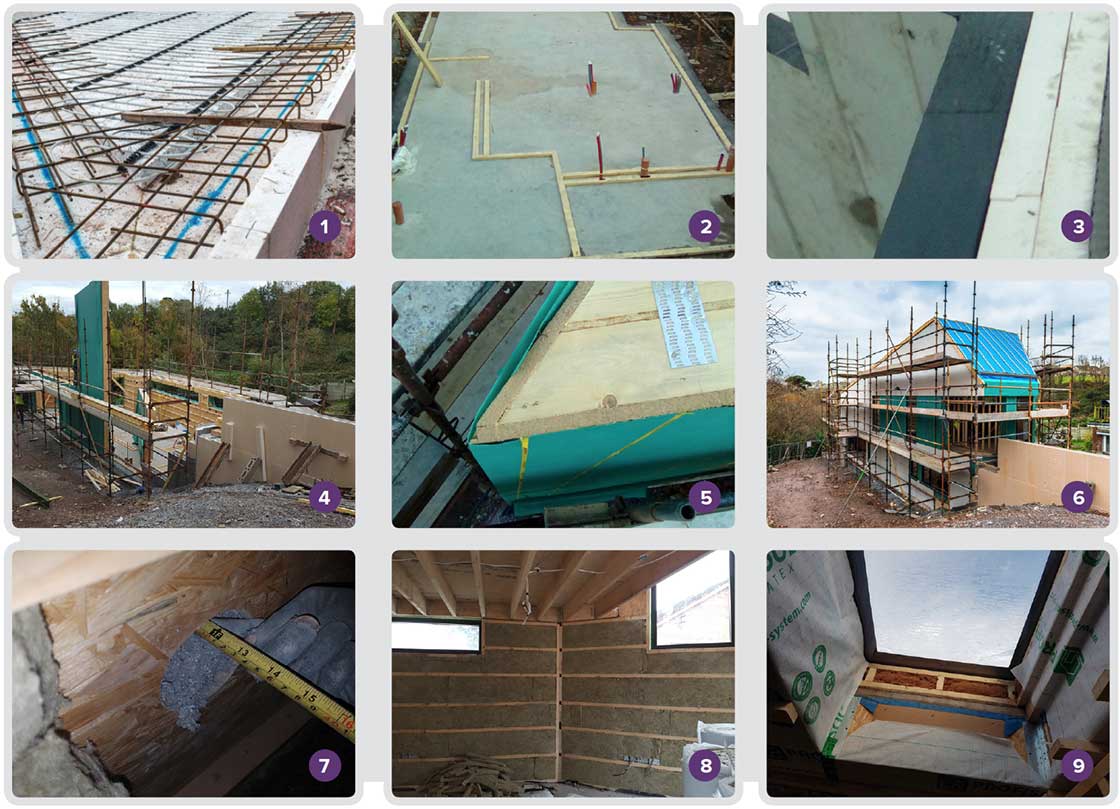 1 The ground floor features a raft foundation consisting of a 300 mm insulation system by Kore, with underfloor heating also installed at this stage; 2 followed by the concrete slab with service penetrations; 3 a close-up of wall insulation details at the retaining wall; 4 erection of the factory-built Eco Timber Frame system; 5 Steico 22 mm woodfibre board wrapping the timber stud; 6 the timber frame nearing completion, with Aquapanel cement board externally; 7 measuring the depth of the Ecocel cellulose-filled timber stud; 8 Rockwool insulation installed in 50 mm service cavity; 9 insulation, airtightness taping and membrane at triple glazed roof window.
"Little challenges like this were overcome by some subtle but well-considered moves that thankfully have worked to make the house feel more spacious despite the restrictions," says Sullivan.
As well as meeting the passive house standard, Sullivan was keen to opt for as many natural materials as possible for the building fabric, something that clearly got a nod of approval from the Isover Award judges. The ECO Timber Frame package and decision to opt for Aquapanel cement board instead of a blockwork outer leaf is probably the most significant element, along with Steico woodfibre board and cellulose recycled newspaper insulation. Even the slate adorning the entrance roof has strong green credentials: Penrhyn Bangor Blue slates boast a projected lifespan measured in centuries, require very little embodied energy to process, and come from the only slate manufacturer in the world that operates to ISO 14001. In this case Celtic grade slates were used – a heavier grade of Welsh slate designed to withstand the harsh climates in Wales, Scotland and Ireland.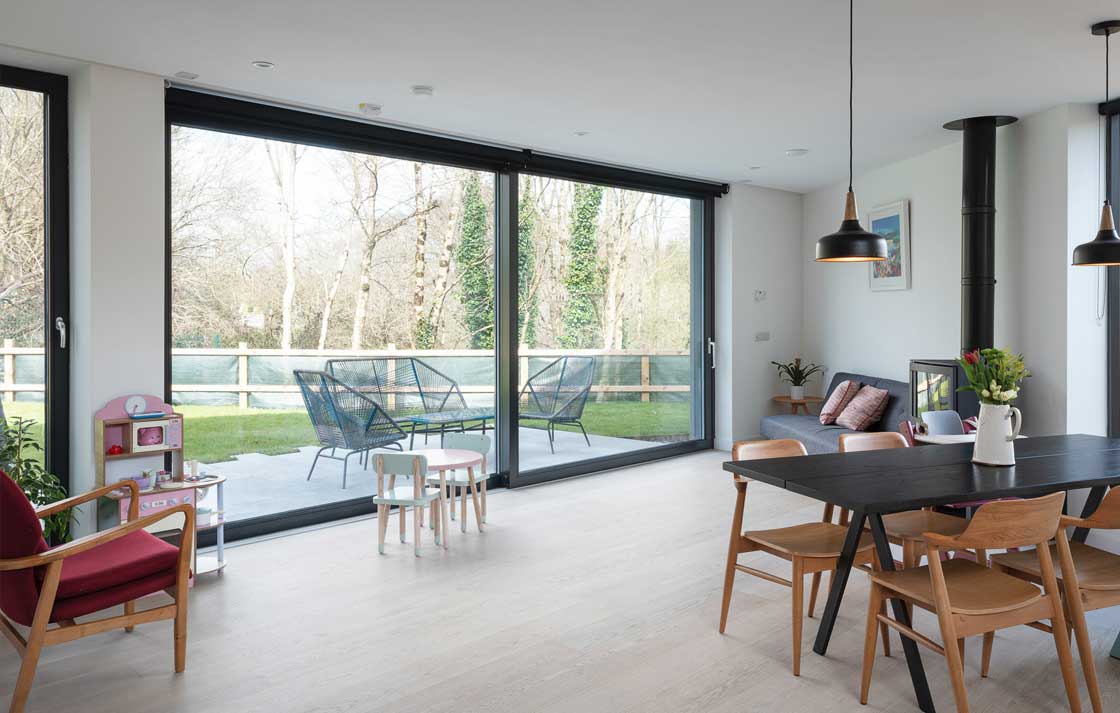 We set eyes upon a steeply sloping site… It looked implausible, but it was affordable.
But what does this thoroughly green-sounding building spec mean in terms of measurable environmental impact? Passive House Plus called in the services of Tim Martel, publisher of PHribbon, an add-on to PHPP, the software that's used to design passive houses, to attempt to work out the effect of these material choices. The results are explained in detail in the box out here, and they're significant: the house apparently has less than a quarter of the upfront carbon costs it would have had if built to the same standard using a typical cavity wall build method.
Architect Patrick Bradley, one of the Isover Awards judges and a well-known face from RTÉ's Home of the Year programme, said what makes Steep Wedge House so special is the way it manages to merge both sustainability and aesthetics on a very tricky site. "The architects created something out of a difficult site that's very beautiful," he says.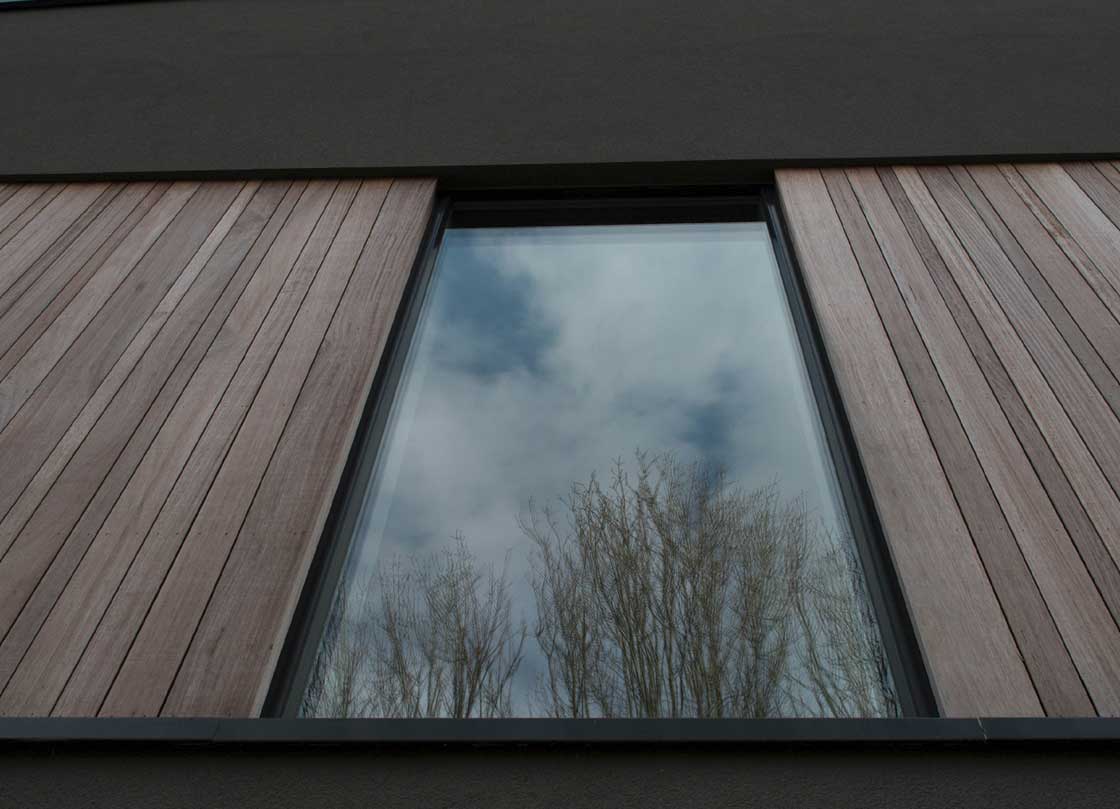 "I thought the detail, and the understanding, and the problem solving that went into the project was excellent. It may just be one individual house, but it provides an example of how to combine sustainability and aesthetics for others to follow — it's a beautifully designed project that meets the highest standards of sustainability, and that to me is what makes good architecture. The two go hand in hand."
Like with many self-builds, things are still evolving for the Sullivan's even after two years, but so far, the house has proved very flexible for the couple and their two toddlers, and Gareth Sullivan says it remains "consistently comfortable".
He adds: "We have a guest bedroom near the living spaces which has been used mainly as a playroom and then it converts back when guests come to stay. This was an important feature of the house for us as we wanted to make sure we wouldn't have spaces that would be wasted, and this is working really well."
The best thing about this project is that it has given us a home.
The couple are also enjoying one of the key features of the house, which is the connection to the garden at the lowest level directly off the kitchen. "As this part of the site is covered by mature trees, we have an unusual sense of escape and it is easy to forget we are in a built-up suburban area. This and the sense of light we get in different parts of the house throughout the day are the highlights for us."

There is also the benefit of being able to reside close to Douglas village, where Barbara grew up, and which is an easy cycle commute to the city.
"At the end of the day, in spite of all the design challenges, the problematic site and the technical rigour to achieve the passive house standard, the best thing about this project is that it has given us a home. In so many ways that is the most satisfying thing."
Image gallery
Related items