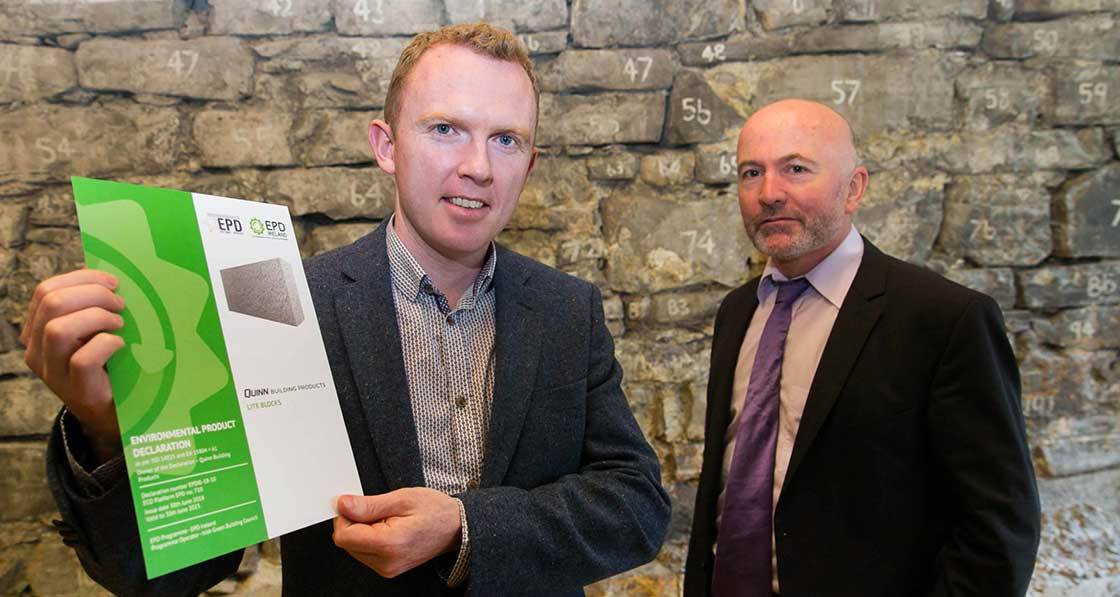 (l-r) Quinn's product development & specification manager Jason Martin, pictured with IGBC CEO Pat Barry, receiving an earlier EPD for the company's Quinn Lite range of thermal blocks.

News Desk
Quinn get first Irish EPD for precast concrete
Quinn Building Products has become the first company in Ireland to attain an environmental product declaration (EPD) for a structural precast concrete product under the Irish EPD system.
This article was originally published in issue 33 of Passive House Plus magazine. Want immediate access to all back issues and exclusive extra content? Click here to subscribe for as little as €10, or click here to receive the next issue free of charge
This latest EPD for Quinn, for its precast hollowcore flooring system, follows on from EPDs for its Quinn Lite Thermal Blocks, Quinn Therm PIR insulation, Quinn Lite Pac EPS insulation, Quinn Rooftiles, and Quinn Packaging products.
Back in 2018, Quinn were one of the first three companies to get an EPD under the Irish system, for its Quinn Lite thermal block, which was also the first block product on the Irish market with one.
"Our key objective is to benchmark where we are as a company in terms of our carbon footprint," said Jason Martin, Quinn's product development and specification manager. "These EPDs will allow us to identify materials and processes that have a significant impact on our carbon footprint and therefore set targets for mprovement."
EPDs are a standardised way of providing data about the environmental impact of materials. In Europe, products are assessed according to EN 15804, a standardised method for evaluating the environmental impact of construction products.
EPDs measure environmental impact across a range of different parameters, including global warming potential, acidification, eutrophication (over-enrichment of aquatic ecosystems) and ozone depletion.
Peter Seymour of life cycle assessment experts EcoReview, who produced the EPD for Quinn, said: "Quinn are the first Irish concrete manufacturer to obtain an EPD for structural precast concrete. Quinn are first-movers in the concrete industry and are to be commended for their commitment to providing fully transparent and objective data to the market on their environmental footprint."
A register of EPDs for construction products on the Irish market, EPD Ireland, is operated by the Irish Green Building Council.
Last modified on Friday, 18 December 2020 10:08