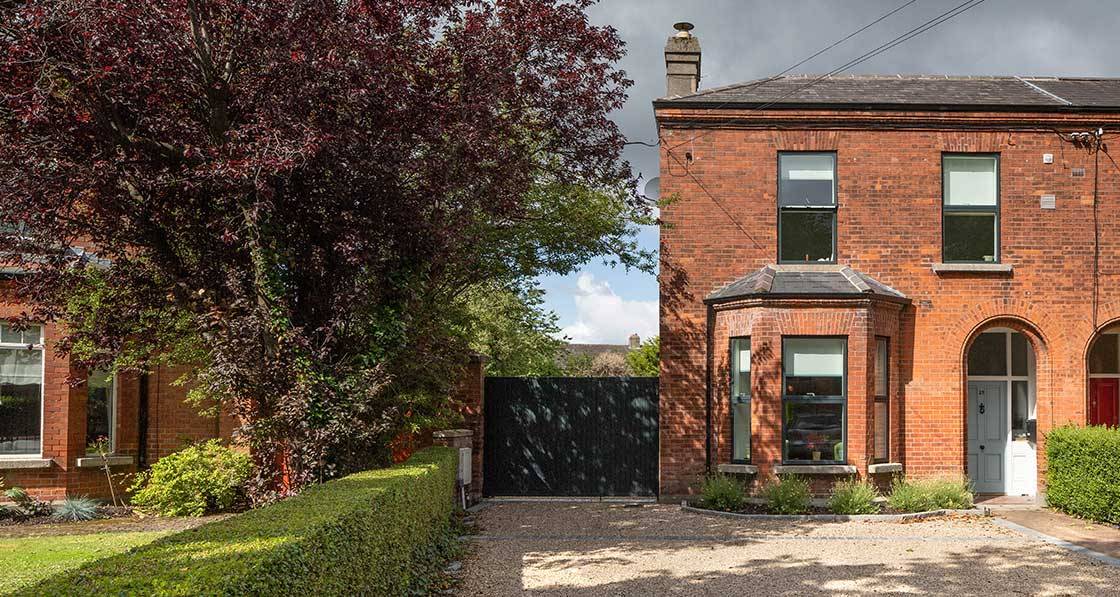 Thinking inside the box - Victorian semi retrofitted as a house within a house
Facing the challenge of how to bring a Victorian home with damp old brick walls up to a modern low energy standard, architect Brendan O'Connor deployed an innovative solution: build entirely new and superinsulated timber frame walls within the old structure.
Click here for project specs and suppliers
€369 PER YEAR CALCULATED SPACE HEATING COSTS
Measured total of €1,500/yr total energy bills (See In detail panel for more information).
Building: Deep retrofit to 179 m2 Victorian semi
Build method: Retrofit with timber frame & cavity wall extension
Site & location: Phibsborough, Dublin 7
Standard: Low energy retrofit

Niamh Collins describes her retrofitted Victorian house in Dublin as having "a really healthy body with clothes from Primark". Niamh bought the property in the suburb of Phibsborough, near the North Circular Road, for €520,000. But rising damp was rife and the house needed a lot of structural changes as it had been split into four bed-sits.
To save money, the architect Brendan O'Connor came up with the striking concept of building an entire timber-framed house within the brick structure. Despite his innovative approach, the bill for renovation came in at around €400,000, leaving Niamh no spare money to decorate, or even buy a new front door.
"My thinking was that a healthy body will last a long time and the clothes can always be upgraded. Things like decoration could wait until I had more money. I've always believed that if you have to do the right thing, even if it's hard, then you still do it and I knew I'd never have a second chance to get it right," said Niamh, a consultant in emergency medicine at Connolly Hospital, in Dublin.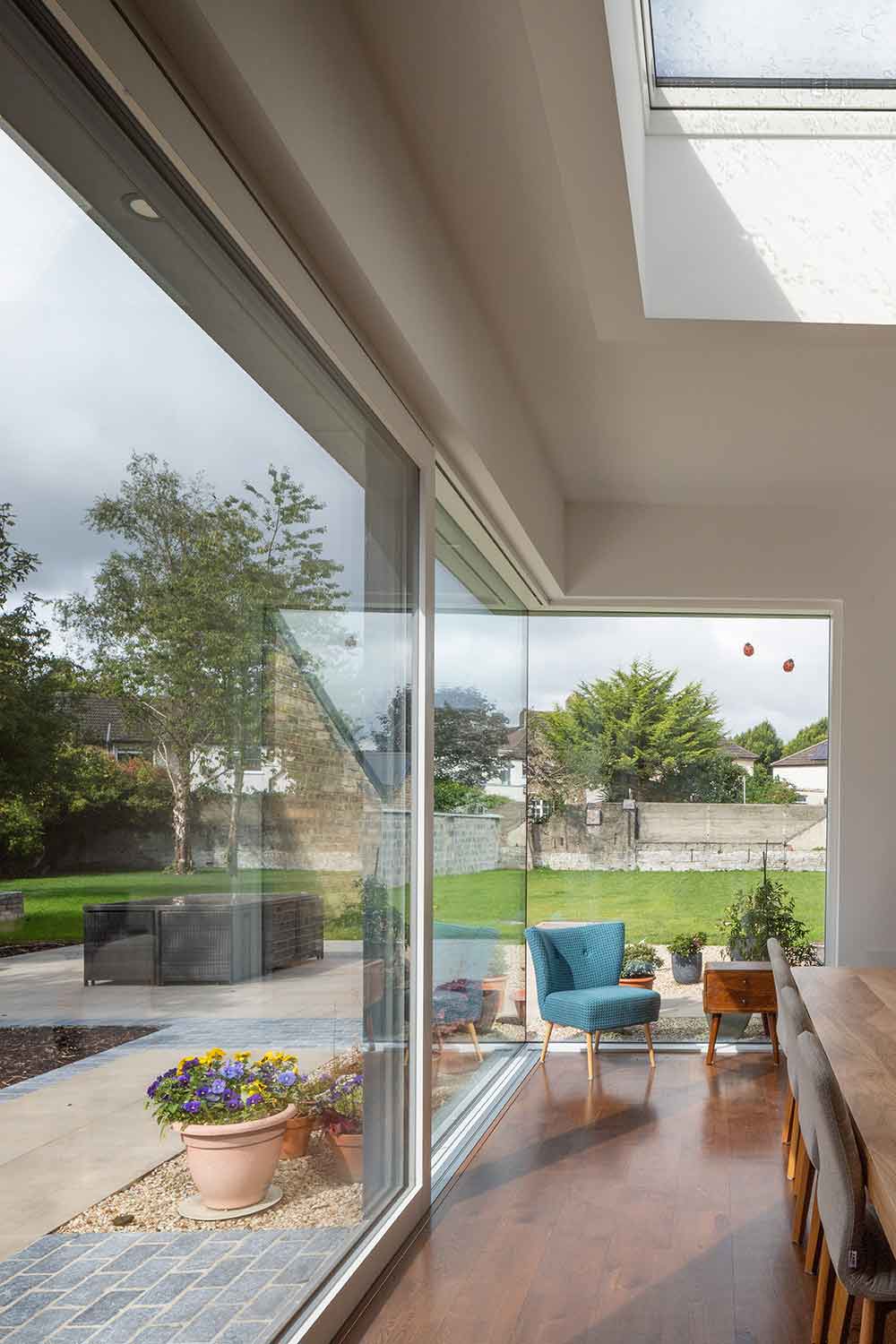 This article was originally published in issue 36 of Passive House Plus magazine. Want immediate access to all back issues and exclusive extra content? Click here to subscribe for as little as €10, or click here to receive the next issue free of charge
When looking for a new home, Niamh's overriding goal was to live in a warm, low energy house. As a child in Dublin, she had grown up in a freezing seventies-built house and had never lived in a warm home. The other imperative was to live close to central Dublin. "I grew up in suburbia but I'm a city girl at heart," she said.
When she saw pictures of the house in 2014, it was love at first sight. She told the estate agent she was going to buy it. There were other potential buyers at the open viewing, but Niamh ensured she had an edge. "My aunt once wanted to buy a house she couldn't afford, and granny told her to bury a miraculous medal. Sure enough, the owner liked her so much he sold it for less. I don't believe in miraculous medals, but I do believe in my granny. So, I went to the viewing with a miraculous medal, dug a hole with my heel in the garden, and planted it," she said.
Niamh won the bid and put down a deposit in September 2014, but the sale proved complex and stressful, and she didn't get hold of the keys until February 2017. "It took patience and wrangling. A friend said the house was 'like a bad boyfriend' that wouldn't date me but wouldn't dump me either. The day I got the keys I told her 'bad boyfriend turned good'."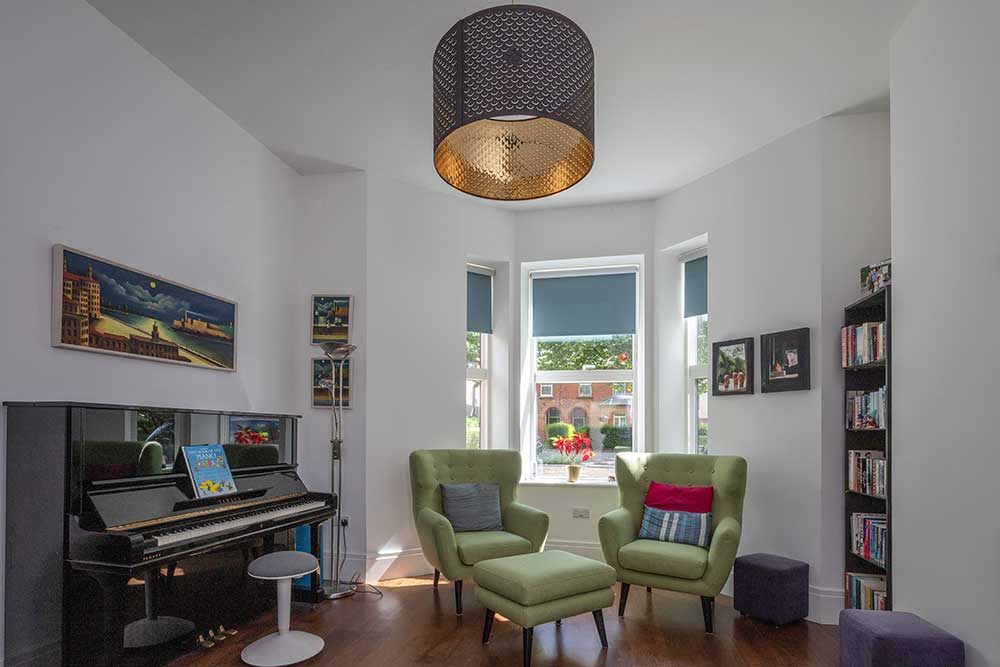 Her first intention had been to insulate thoroughly and install standard central heating and a gas fire. But a few weeks before the sale went through, she visited her cousin in a new home built to the passive house standard. "She was walking around barefoot in January with a new baby and telling me her energy bills were less than €1,000 a year," she said.
The visit was timely. Niamh decided to retrofit the house to higher environmental standards. She began searching the internet for information but could not find any suitable guidance. "There's an enormous need for a textbook, but there's nothing available. What I wanted was to work out 70% of where I had to go, then consult the professionals for the extra bit," she said. "A lot of the self-build magazines didn't address the issue of breathability of the brick, and there was a lot of commercial advertising."
Niamh's frantic googling eventually turned up the name of architect Joseph Little, now assistant head at the school of architecture at Technological University Dublin, and a leading expert on moisture in buildings.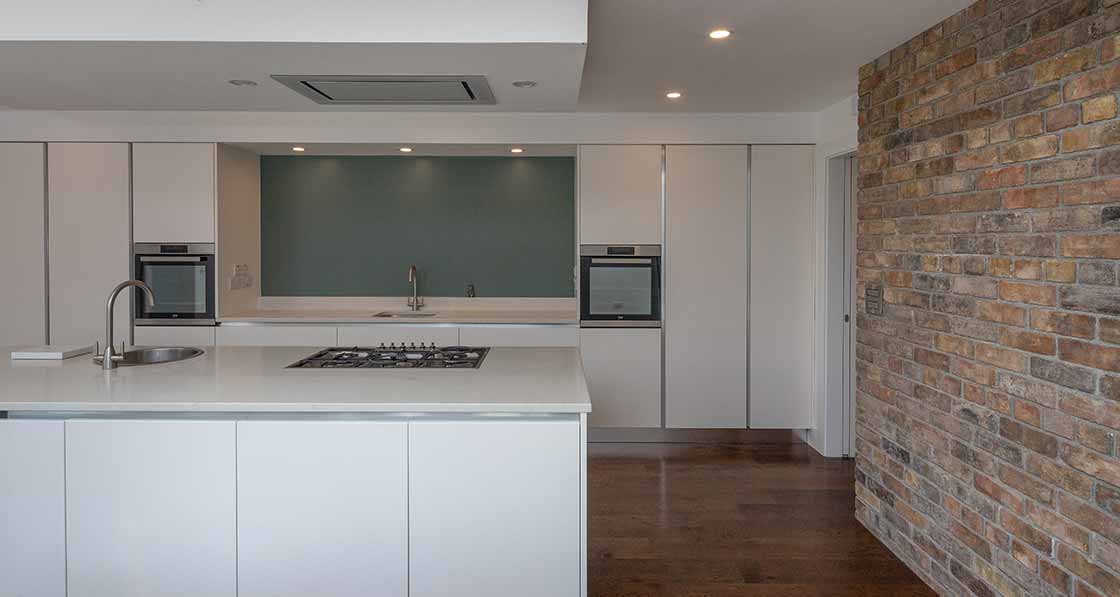 He came up with the striking concept of building an entire timber-framed house within the brick structure.
Little had previously been in practice with the architect Brendan O'Connor, who now runs Abode Design, and is himself a specialist in low energy retrofit of old buildings. By a roundabout route, Niamh had found the right man.
When Niamh contacted Brendan, she already had clear ideas about what she wanted. She had taken design courses and had pages of notes in a copybook describing how she wanted to live her life. "It was a bit of a campaign for Niamh and she was very much part of the design team. I've worked for a few medical clients and they tend to be analytical, evidence-based. It's a pleasure to work for them," Brendan said.
Discussions began about the design in February 2017 and continued into April. Niamh had four non-negotiables. The first three were high-quality wooden floors, an air-to-water heat pump and high-quality internal, breathable insulation. The fourth element was more complicated. She insisted on installing a glass-to-glass corner unit in the kitchen to take advantage of the views across the south-west facing garden. "Brendan tried to talk me out of it as it involved cantilevered engineering. It would have saved thousands of euros. But I just said no!"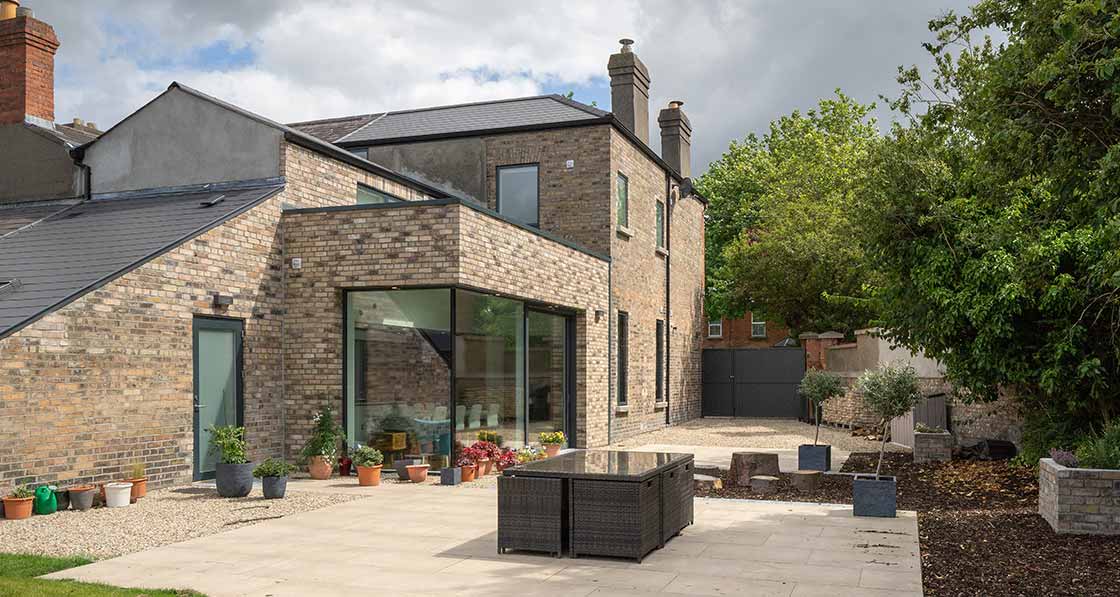 In May, Niamh started searching for a builder and Brendan came up with a few recommendations. As soon as she spoke to Kevin Doyle, of Doyson Construction, she liked his direct, open style and agreed a negotiated tender. In June and July, they finalised all the details. Niamh was meticulous in planning the build as she could not afford for costs to rise.
The biggest problem was rising damp. The walls had been injected before with damp-proofing and Niamh did not want to repeat it in case the old bricks crumbled. Brendan proposed lime-based, breathable solutions, but they were prohibitively expensive. He was forced to think laterally and came up with the innovative idea of building the timber-framed structure inside the brick.
"When you cut off the shell from the central heating, it's a lot easier to get to the condensation, or unfavourable dew points, as the surface of the masonry remains cold and never has a chance to dry out," he said.
"We had to accept the brick would be damp and work around it. But the timber frame has a breathable membrane and an airtightness membrane. It's important there's a ventilation gap behind the frame that allows the bricks to be vented.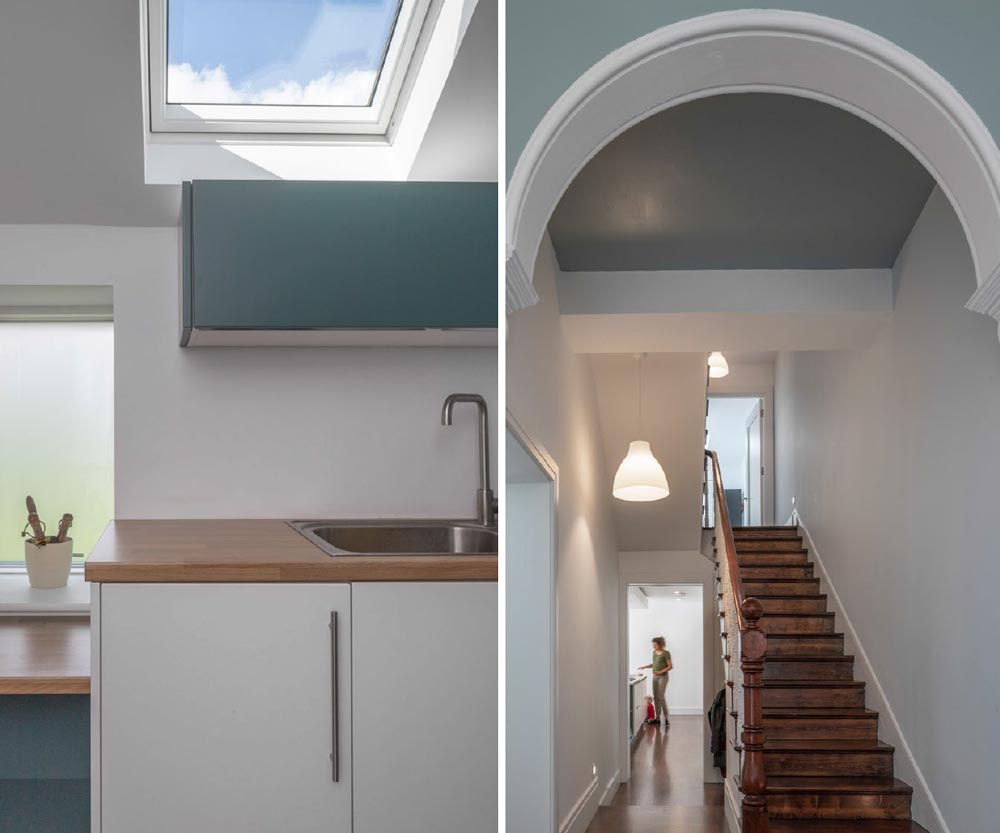 I've worked for a few medical clients and they tend to be analytical, evidence-based.
"We also put a siloxane application [on the brick walls] that prevents water seeping into the brick work, but still allows water vapour to escape. The theory is that over time the brick work will dry out and improve the health of the building. We also added perforated drainage around the perimeter of the existing brick house that takes the water pressure away from the wall."
Brendan had never tried the strategy on an entire house before, but he once deployed it on the damp and bulging party wall of a low energy refit in Blackrock, Dublin previously covered by Passive House Plus magazine. "The old stone party wall bulged so we put a new plumb well-insulated timber frame wall inside it, with a breather membrane on the outside and airtightness membrane on the inside. That time, it was more of a problemsolving exercise on one area, but it informed the work on Niamh's home."
A more superficial approach to the retrofit could have saved money but had terrible long-term consequences, Brendan says. "The minute you start a low energy retrofit you have to think about the responsible way to deal with ventilation and airtightness. If you don't do it in the right way, you'll get condensation issues when the relative humidity increases due to the airtightness."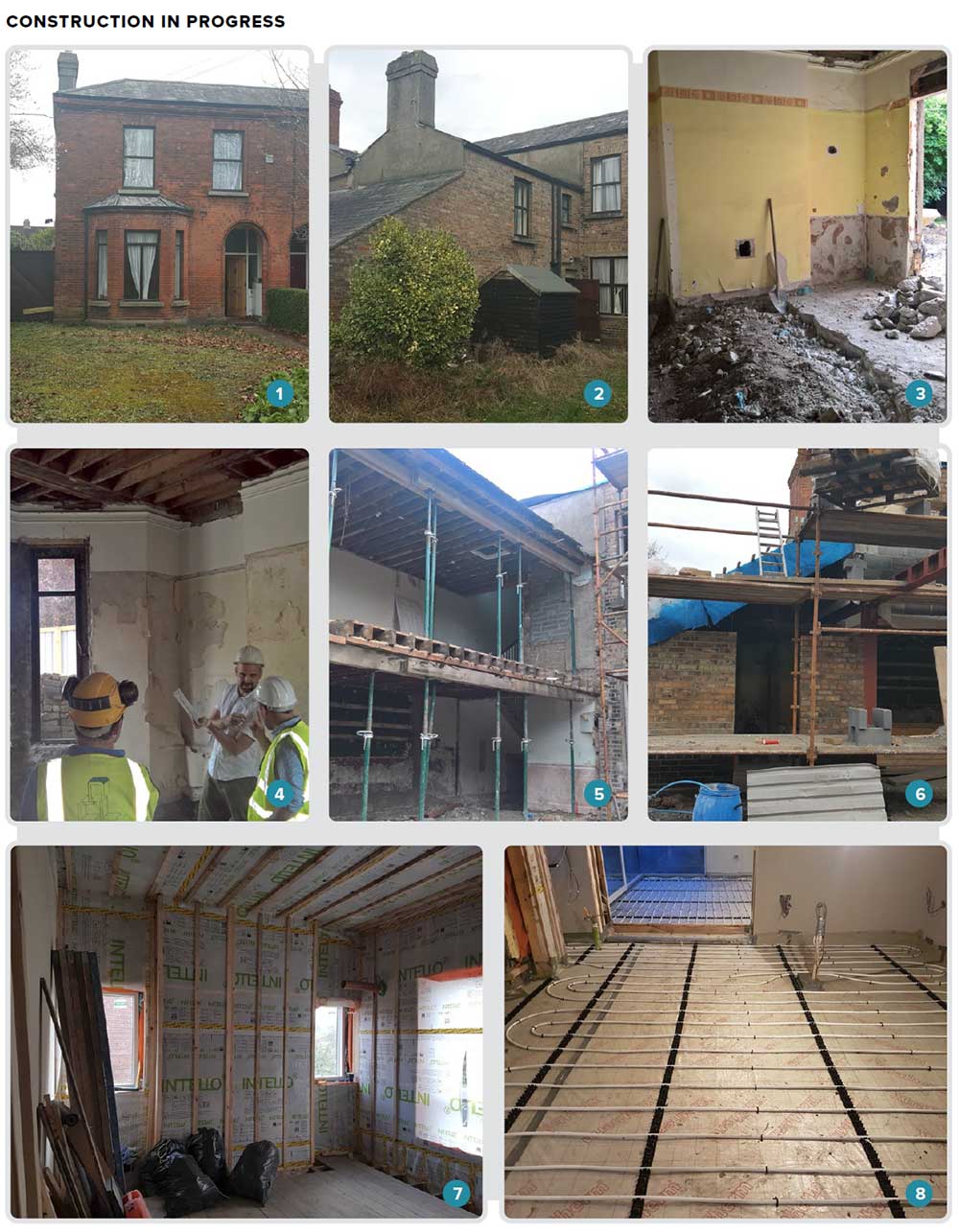 1 & 2 Front and rear of the existing Victorian house prior to renovation; 3 a lot of structural changes were needed, and the entire ground floor was excavated to accommodate new floor build-up; 4 architect Brendan O'Connor discussing the project on site prior to installation of the internal timber frame; 5 the walls of an earlier extension were knocked; 6 the side wall was then rebuilt to allow for the cantilever to support the glazed corner unit; 7 pro clima Intello membrane fitted internally to walls, with airtightness taping; 8 underfloor heating installed throughout the ground floor
Building the frame inside the old walls meant shrinking the rooms. Installing breathable insulation would have lost 120 mm of space. The addition of the timber frame extended it to 200 mm. But the generously sized rooms with their high ceilings were not noticeably affected.
Kevin Doyle's work on the house began in August targeting a March finishing date. There were a lot of structural changes and he removed everything except the stairs, three walls and the upstairs floorboards. His team put in the floor insulation, membranes and damp proof courses, retiled at the back of the house, and constructed the timber frame.
They rebuilt the side back wall to allow for the cantilever to support the corner unit and constructed a cavity wall extension with full-fill insulation. The house has triple glazed windows and two wood-burning stoves.
The build followed passive house principles, but Brendan says certification was never a realistic goal for the retrofit of a damp Victorian brick house with granite detailing. It performs "vastly better than normal Victorian houses", however. The building energy rating (BER) before the build was a G and it jumped to an A3. Meanwhile, the airtightness test showed 4.69 air changes as opposed to more than 20 before the retrofit. The uplift would have been higher, but problems with the party wall have dragged it down.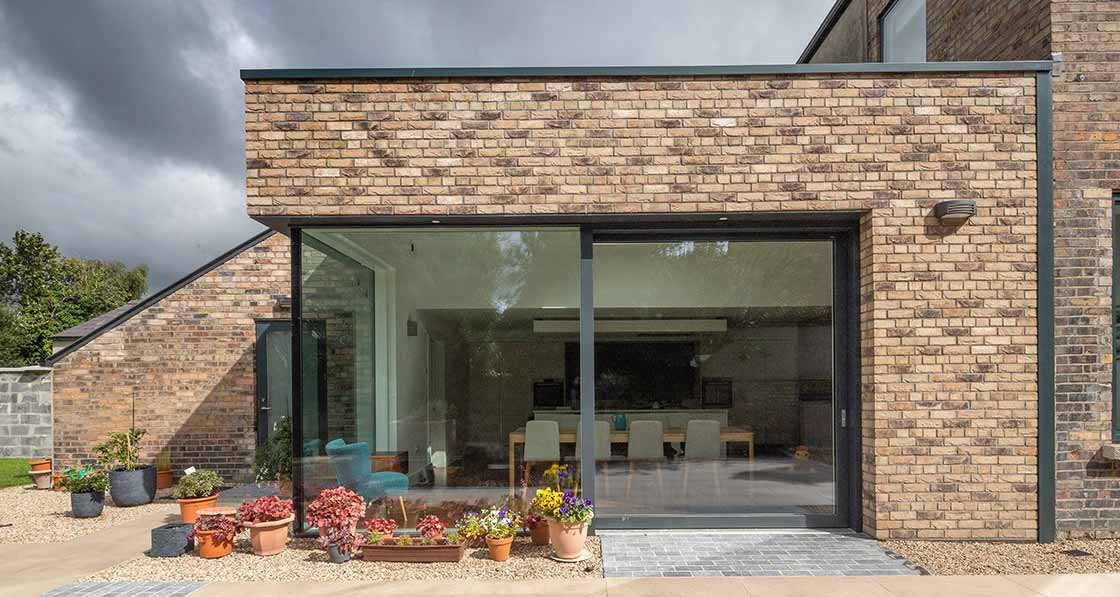 "It was hard to tackle the party wall with insulation as parts penetrated into the neighbouring property and we couldn't make the stairs any narrower," said Brendan. "The first test showed we were losing air through the party wall and nowhere else. We decided to live with it as any air being transferred was from one heated space to another. It's a big job to fix it but it could be done if necessary. But the heat pump has not struggled, and Niamh's heat bills are not high, so it's performing as a low energy house should."
Kevin would have finished the build in time on March 16, but Storm Emma struck at the start of the month. He drove up from Carlow to secure the house, but there were a few delays and it was completed at the end of March. Niamh moved in on April 25 with her newborn baby boy.
She loves living in the house, which is on a quiet street, minutes on foot from central Dublin. Most importantly, for the first time ever, she's not living in a fridge. The finished house features Aereco demand-controlled ventilation and a Daikin air-to-water heat pump. Downstairs the heat pump supplies underfloor heating while upstairs there are low-temperature radiators. Niamh's bills so far for electricity and gas average €120 a month in a 200 m2 house. The figure will be even lower once she saves the money to replace the leaky front door.
"The only disadvantage of living in a warm house is the Christmas tree doesn't last as long," she says.
Selected project details
Client: Niamh Collins
Architect: Abode Design
Main contractor: Doyson Construction
Civil & structural engineer: Loscher Moran Design Practice
Energy consultant: OTE Solutions
Mechanical contractor (heating & DHW): Keltic Renewables
Airtightness tester: Greenbuild
Cavity wall & floor insulation: Xtratherm
Additional wall insulation: Knauf
Roof insulation: Isover
Airtightness products: Ecological Building Systems
Windows: Novus Windows
Corner window & slider: Internorm, via J+N Passive Windows
Roof windows: Tradecraft
Heat pump: Daikin
Wood burning stoves: Agathos
Ventilation: Aereco
Kitchen: Kitchen Space
In detail
Building: Existing Victorian house that had been broken up into four flats was returned to a single-family dwelling with single-storey rear extension, total floor area 179 m2.
Location: Phibsborough, Dublin 7
Budget: €400,000 for the retrofit (approx), €520,000 for the original dwelling. Niamh also availed of some small grants, namely €3,050 from the SEAI Better Energy Homes scheme and €1,650 in carbon credits on her electricity bill.
Completion date: March 2018
BER
Before: G (522.49 kWh/m2/yr primary energy)
After: A3 (73.68 kWh/m2/yr primary energy)
Heating demand: According to DEAP, the projected space heating demand (delivered energy) for the primary and secondary heating systems combined is 3,634 kWh per year (2,192 kWh provided by the heat pump, and 1,442 kWh via the wood burning stoves), or 20 kWh/m2/yr. This comes to a calculated space heating cost of €369/yr (€289 for the heat pump, based on Bonkers.ie cheapest available tariff of 13.2c per kWh including VAT, and an estimated fuel cost of 5.57c per kWh of delivered energy for bulk delivered softwood, as per SEAI's domestic fuel comparison of energy costs from October 2020.)
Measured energy consumption: According to the electricity meter the house consumed 7,367 kWh for household electricity, space heating & hot water, or 41 kWh/m2/yr (note the house uses a gas cooker), between 15 September 2019 and 15 September 2020. This is very close to the delivered energy requirement estimated by DEAP of 39 kWh/m2/yr.
Energy bills: Niamh Collins says her electricity bills average €50-65 from April to September and from €150 to €250 per month from October to March. She estimates the total energy bill for a typical 12-month period is €1,350 for electricity (which covers space heating) and €150 for gas cooking. She says her spend on wood for the stove so far has been negligible.
Airtightness (at 50 Pascals, post-retrofit): 4.69 air changes per hour or 5.395 m3/hr/m2 at 50 Pa
GROUND FLOOR
Before: Uninsulated. Entire ground floor was excavated to accommodate new floor buildup.
After: 120 mm Xtratherm XT/UF with thermal conductivity of 0.022 W/mK under a 50 mm screed for underfloor heating. U-value: 0.130 W/m2K
WALLS
Before: Uninsulated 325 mm brick walls.
After: Solid brick 325 mm walls were retrofitted internally with a 50 mm air cavity & Solitex breather membrane followed inside by 140 mm timber stud @ 600 cc filled with 140 mm rigid Knauf Frametherm (0.035 W/ mK), Intello membrane, 20 mm service cavity with battens at 600cc, 12.5 mm plasterboard and skim finish. U-value: 0.225 W/m2K
ROOF
Before: Uninsulated attic.
After: Ceiling joists to main roof is fitted minimum 300 mm Knauf Earthwool (TC = 0.044W/mk). U-value: 0.130 W/m2K. Cold roof space above.
Extension floor: 150 mm concrete slab with 120 mm Xtratherm XT/UF with thermal conductivity of 0.022 W/mK under a 50 mm screed for underfloor heating. U-value: 0.130 W/m2K
Extension walls: 100 mm brick with 150 mm Xtratherm Cavitytherm (0.021 W/mK) insulation to cavity, 100 mm block inner leaf, 20 mm service cavity with battens at 600cc and a 12.5 mm plasterboard and skim finish. U-value: 0.131 W/m2K
Extension roof: Fibreglass Dryseal roof finish on 18 mm OSB on 120 mm Xtratherm roof insulation (0.022 W/mK) on 150 mm rafters @ 400 cc with 140 mm Knauf Frametherm (0.035 W/mk), airtight membrane, 20 mm service cavity and plasterboard and skim finish. U-value: 0.110 W/m2K
New triple glazed windows: Timber aluclad windows & doors from Novus Windows. Overall U-value of 0.82 W/m2K
New corner window and slider to extension: Internorm aluclad windows with glass-to-glass joint. Overall U-value of 0.80 W/m2K
Roof windows: Fakro DXF thermally broken triple glazed roof windows with proprietary insulated kerb. Overall U-value: 0.70 W/m2K
Heating: Daikin Altherma ERLQ011CAV3 air-to-water heat pump. Basia 15 kW & Albaro 14 kW wood burning stoves.
VENTILATION
Before: No ventilation system. Reliant on infiltration, chimney and opening of windows for air changes.
After: Aereco demand controlled mechanical extract ventilation.
Water: Rainwater harvesting + low flow fixtures.
Kitchen: Cucine Lube kitchen featuring certified 100 per cent recycled wood, F-Four Star certified low formaldehyde content, and are Greenguard Gold certified – a standard set to minimize levels of volatile organic compounds (VOCs) emitted by furniture, surfaces, and paint, as well as other harmful chemicals in indoor environments.
Image gallery
Related items
Latest from David W Smith