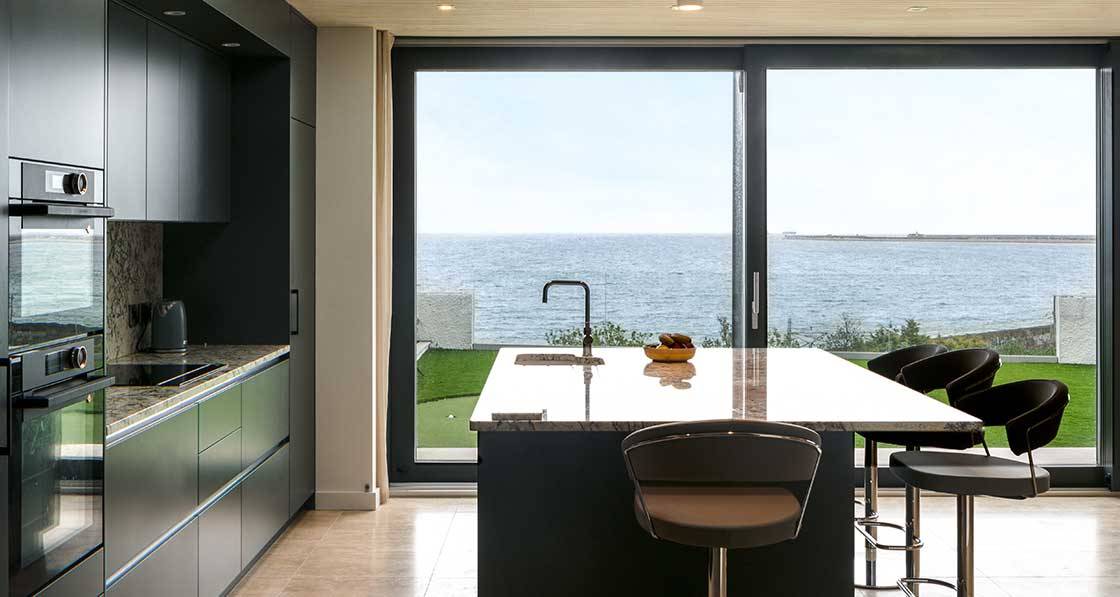 Photography: Artur Sikora
Northern exposure - Deep energy retrofit transforms north-facing Dublin seaside semi
Even though its stunning views lay directly northward, simple design, good detailing and lots of insulation have turned this 1960s semi on the edge of Dublin Bay into a warm and light-filled low energy home.
€125 per month for all energy
Building: Deep retrofit & extension of 1960s cavity wall house
Location: Blackrock, Co Dublin
Standard: A3

If you're an experienced architect who has taken the opportunity in recent years to learn about building performance and energy efficiency, the chances are it will have a seismic impact on the way you design any future projects.
One upshot is that projects like this attractive retrofit of a 1960s four-bed semi-detached house in Blackrock, Co Dublin, are all about achieving an equal balance between quality design and thermal performance.
The rear of the house is north facing but with probably one of the best views anywhere of Dublin Bay, taking in the iconic red and white twin chimneys of the Poolbeg power station all the way over to Dun Laoghaire harbour.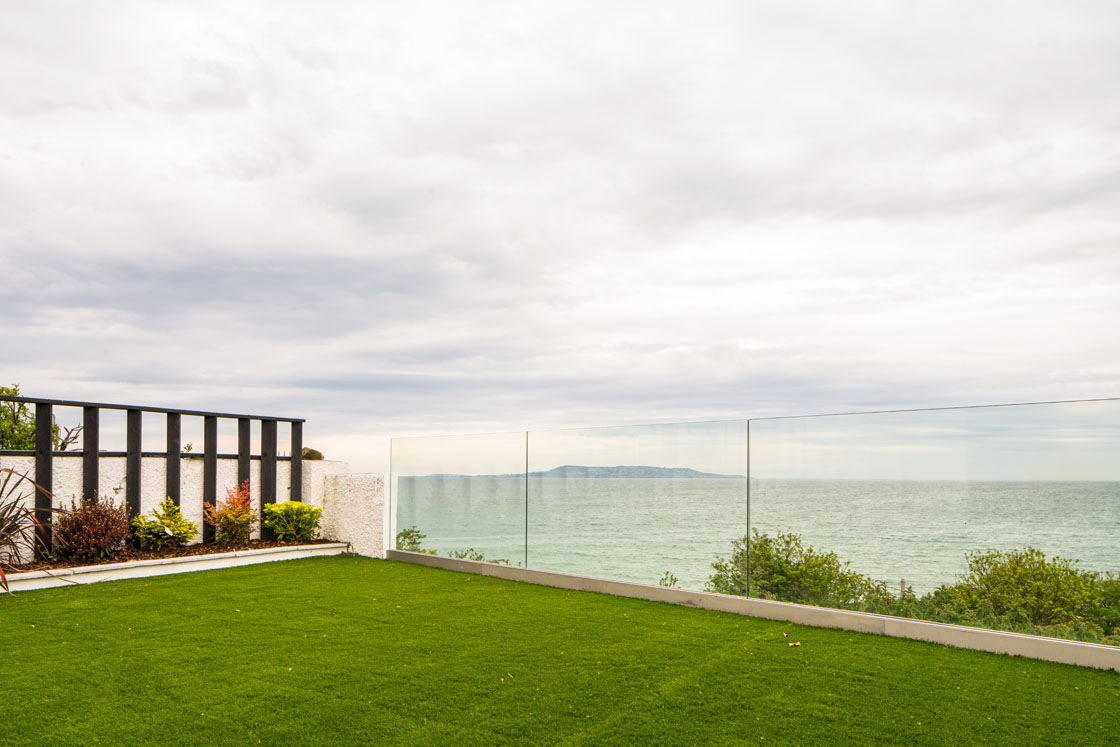 The rear of the house is north-facing but with one of the best views of Dublin Bay.
When Ruth and Tom Jenkinson fell in love with and bought the original property in 2017, it was an E-rated dwelling with a small 1980s style extension that hadn't been lived in for some time. But they quickly commissioned Trevor Dobbyn of Fabrica Architects with a brief for a modern, well-insulated house that maximised the view, and which needed minimal maintenance. It also needed to be adaptable to living on the ground floor.
The accommodation brief was achieved by a short, single-storey extension to the front and a generous two-storey extension to the rear, while also being retrofitted to an A3 building energy rating (BER).
Naturally the aim was to open up those amazing views, so the primary challenge was how to offset the large amount of glazing that would be needed at the north-facing rear with the potential for heat loss. "Therefore, the overall performance of the building was of equal importance to the quality of the interior looking out onto Dublin Bay," says Dobbyn.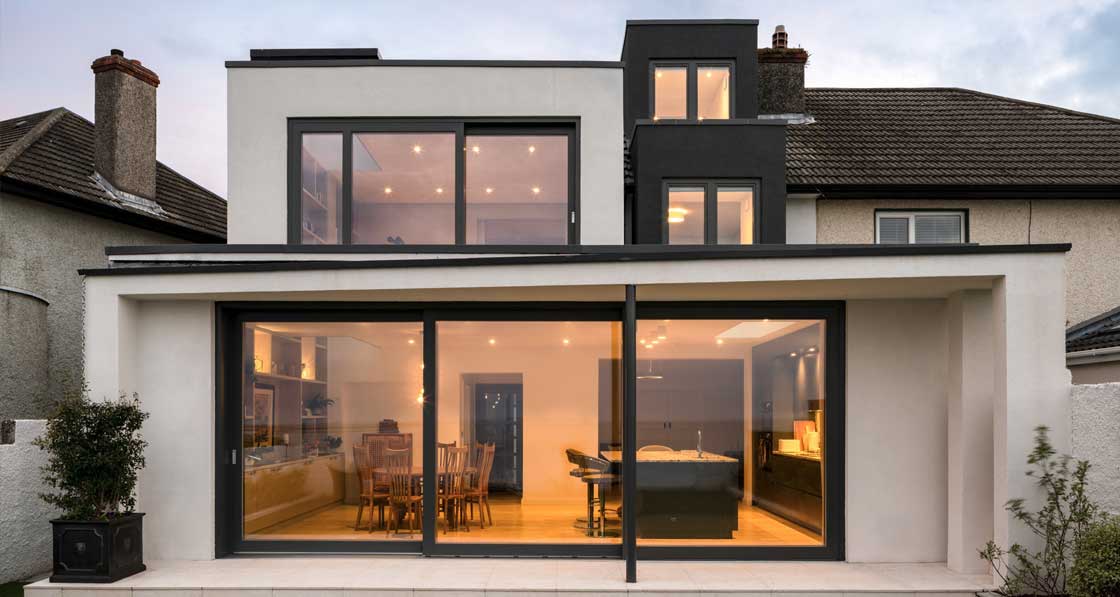 This article was originally published in issue 34 of Passive House Plus magazine. Want immediate access to all back issues and exclusive extra content? Click here to subscribe for as little as €10, or click here to receive the next issue free of charge
Having worked for the prestigious Dublin based practice de Blacam & Meagher Architects since qualifying in 1997, Dobbyn was one of the first to enroll in DIT's diploma in thermal bridge assessment in 2013, which he followed up in 2016 with the same institution's professional energy skills in NZEB course, and also the RIAI environmental accreditation.
"It's very difficult to un-see a thermal bridge once you've learned about them," he says. Before that, "the kind of physical performance of the building would have been further down the list originally when you're doing designs, so when you learn that kind of skill, it lends itself to trying to balance a building that's as efficient as possible but is also aesthetically pleasing.
"So, there's a bit of a trade-off depending on what you're trying to achieve... some bits you might feel the design is worth pushing more than the thermal performance and vice versa. You're trying to detail it so you're not causing thermal bridges... and you can be kind of restricted in how it looks if you're just purely going for thermal performance." This approach explains details like the slender pillars at the front, supporting the large canopy and covered entrance that gives vital shading at the south-facing facade, but which lightens the look and closely matches the shape and feel at the rear.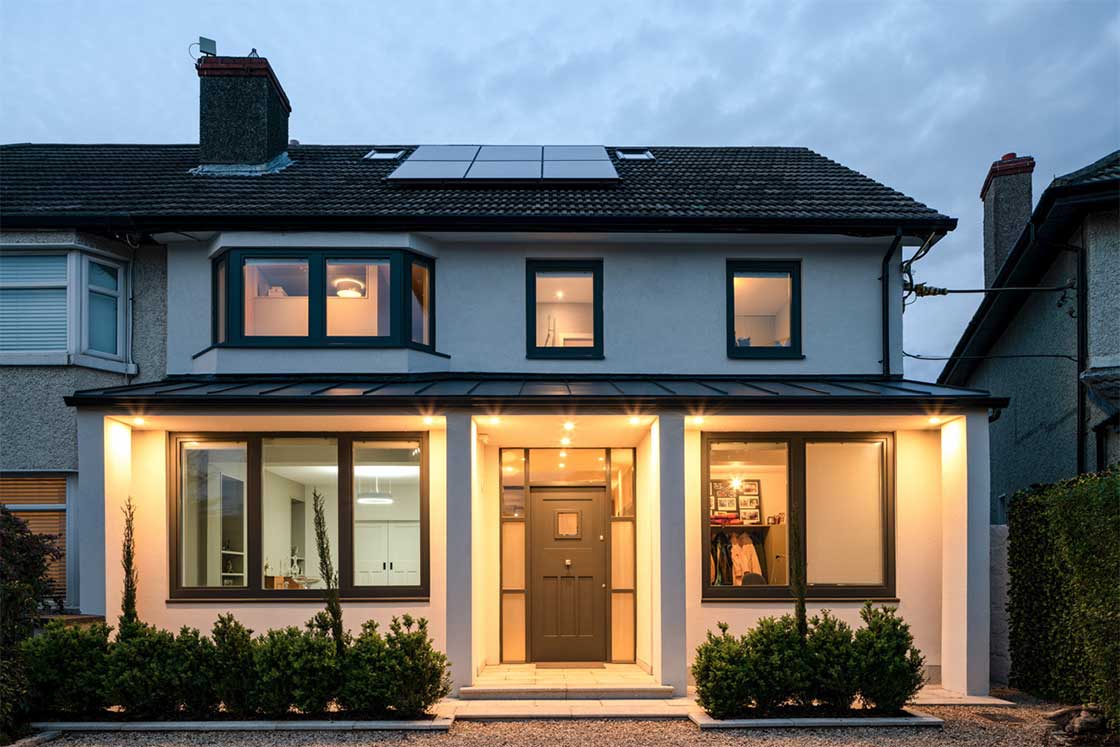 "The use of shading canopies and projections allows the front and rear elevations to be broken into more slender forms," Dobbyn says. "They are outside the insulation envelope so they can be much lighter. While the rear canopy is technically not for solar shading, it is angled to face Dun Laoghaire harbour, and allow the owner to have his morning coffee in shelter, while also allowing me to hide the parapet above the sliding doors."
The 1960s semi-D is of a solid-block construction, so in order to maintain the consistency in terms of the construction materials and method, it made sense to opt for a masonry build for the extension, with the whole shell wrapped in EPS external insulation, finished with an acrylic external render.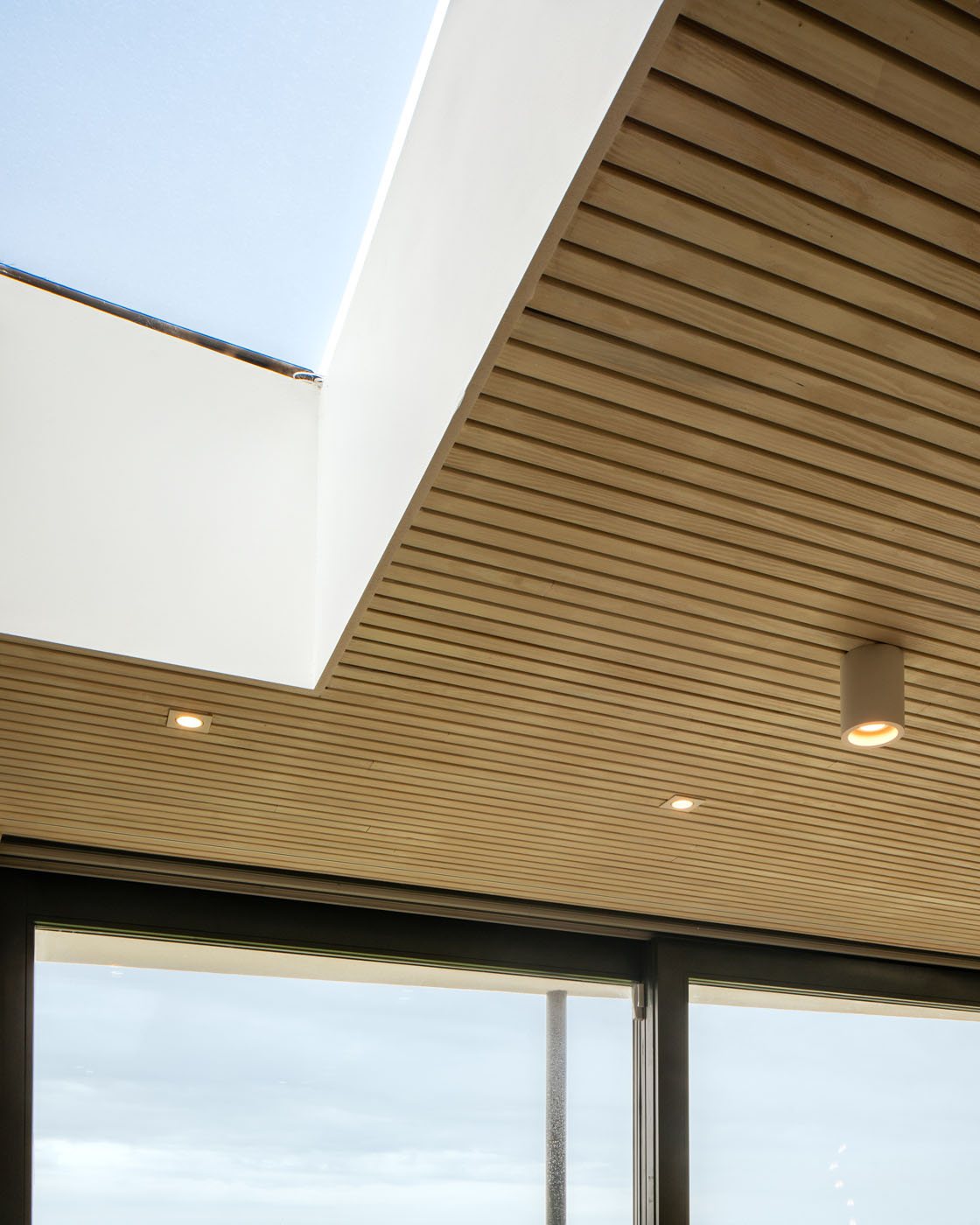 Other fabric measures included passive certified, triple glazed timber alu-clad windows all round (with exception of the rooflights), and insulated stone floors with underfloor heating, while the pitched roof was rebuilt with new counter battens, airtight membrane and Xtratherm insulation boards.
The garden is fairly small, but another touch was to install a pillarless safety glass wall at the end to preserve the view, particularly from a sitting position.
A 12 kW Panasonic Aquarea air source heat pump handles the heating duties, while a Lunos E2 demand-controlled heat recovery system looks after ventilation. Supplied by Galway firm Partel, it's a decentralised ventilated system with automated humidity control.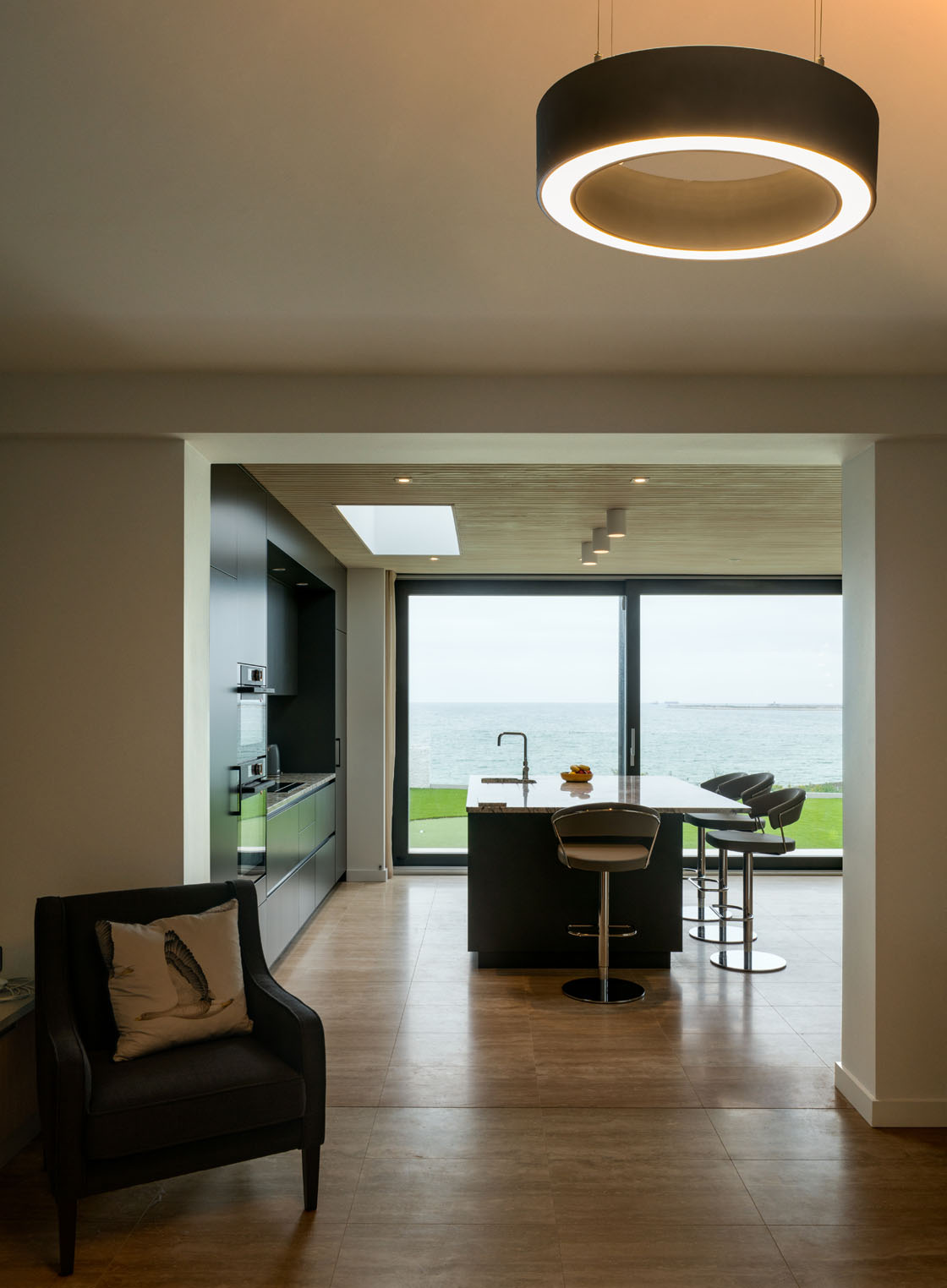 It was chosen because it is a ductless, self-contained system, mitigating the need to do extensive modifications to install ductwork, particularly given the steelwork required for the extension.
Coming from a traditional gas boiler and central heating system, the adjustment to this new heating-and-ventilation arrangement took a while for the Jenkinson's. "It is simple to operate. You choose the temperature you want at each room thermostat and the machine does the rest," says Ruth. "It takes longer to build up or reduce the heat than a gas boiler system."
She adds that the ventilation certainly enhances the air quality but is audible. The final airtightness test was delayed pending the arrival of a new front door, so results were not available at the time of writing, but Dobbyn reports that while access to the relevant points in the building for airtightness measures was OK, some areas were a little tricky to get at, such as where there the roof rafters met the adjoining property, and the existing first floor joists.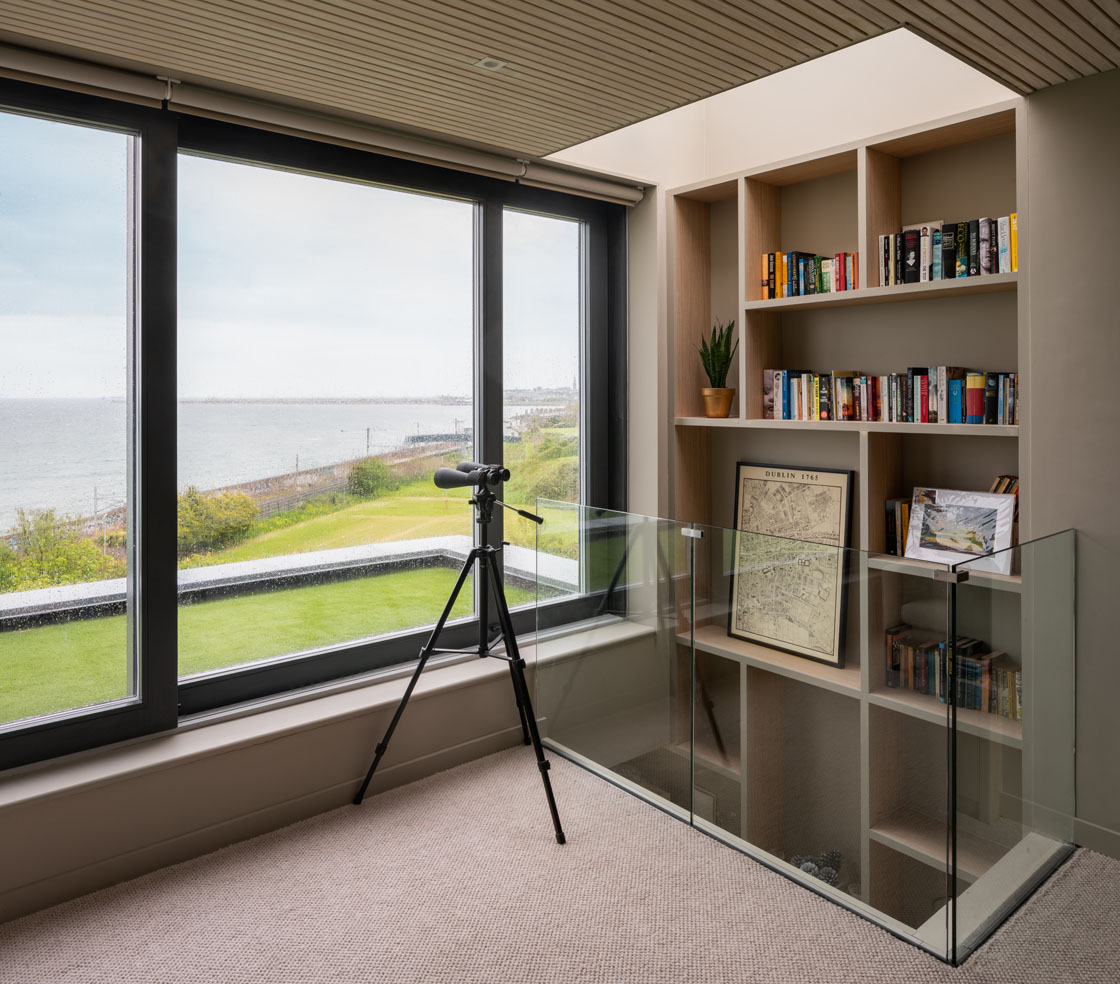 In all, the build progressed fairly smoothly starting in May 2018 and finishing in April 2019, although the completion was delayed because the windows were some six weeks late.
"We were thrilled with the layout, ambience and the modern comforts," says Ruth. "We were particularly pleased with the upstairs sitting room and the added brightness it gives to that level of the house. "Living in it has been a joy. We installed solar panels but we're not sure how cost effective they are and perhaps we need more panels. We certainly have a warm and comfortable home and the bills reflect a modern build."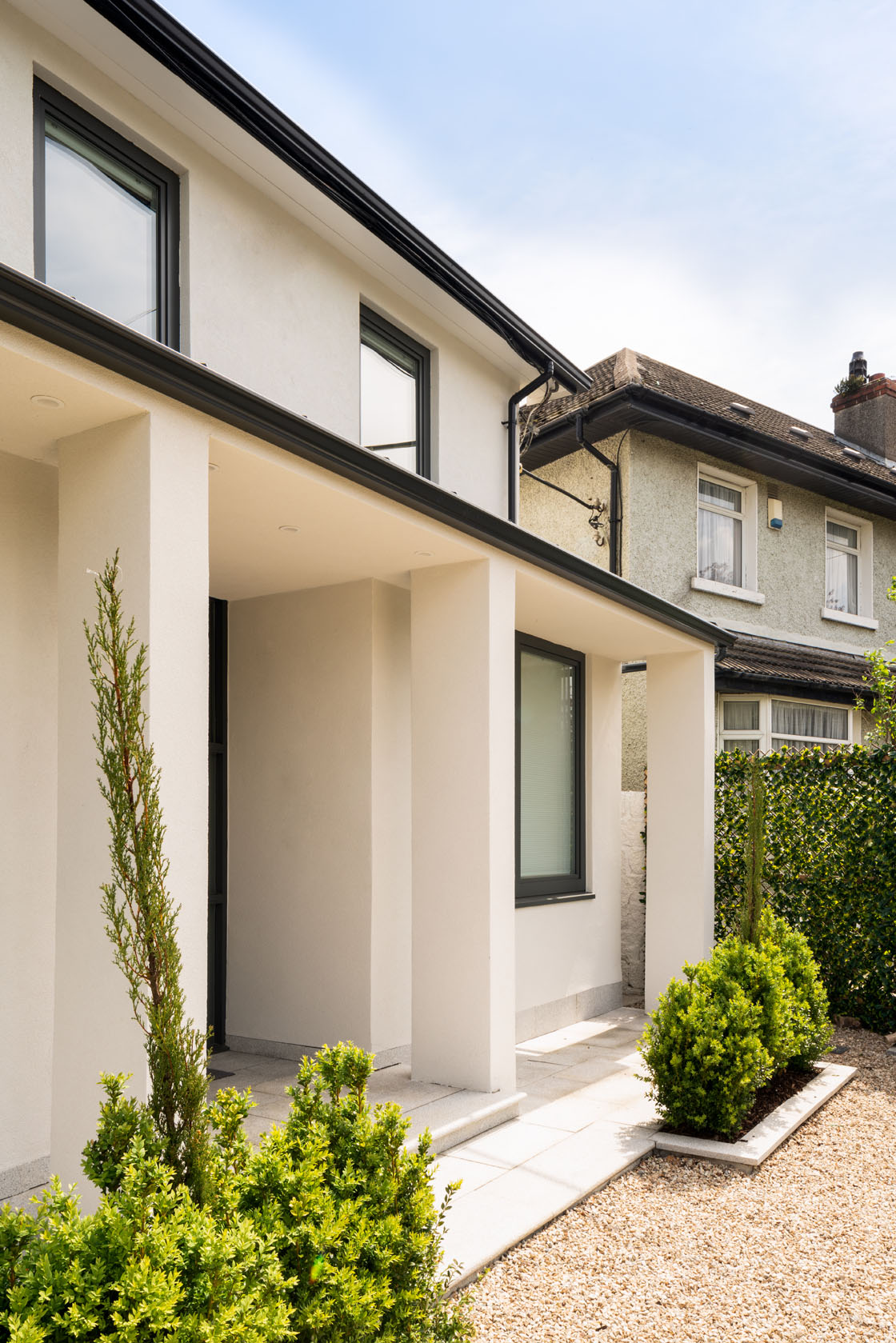 We were thrilled with the layout, ambience and the modern comforts.
Dobbyn is happy that the final result has achieved that vital balance between energy performance and design that completely fulfils the brief. "The clients have confirmed no issues with the storms during the year with the extent of glazing to the rear, and the view is just incredible," says Dobbyn.
If the Jenkinson's have been confined to this home during the Covid-19 lockdown, you can certainly think of worse places to be.
Selected project details
Architect: Fabrica Architects
Heat pump & underfloor heating: Base Engineering Ltd
Civil & structural engineer: OBA Consulting
Main contractor: Mark Whelan Building Services
Mechanical contractor: John Thompson Plumbing
Electrical contractor: Action Electrical Contractors
Airtightness products: Ecological Building Systems
External insulation: Green Zone Products
Windows & doors: Passive Window Systems Ltd
Roof lights: Cubo
Screed: Ultraflo
Flat roofs: Laydex Building Solutions
Wood stove: Heatco
Decentralised MVHR systems: Partel
Solar PV: Base Engineering
In detail
Building type: Deep retrofit & extension to 147 m2 existing semi-detached house from 1960. New converted roof space, and single-storey extension to front. Finished floor area 183 m2.
Location: Blackrock, Co Dublin
Budget: Undisclosed
Completion date: April 2019
BER
Before: D1 (251 kWh/m2/yr)
After: A3 BER (55.5 kWh/m2/yr)
Energy performance co-efficient (EPC): 0.393
Carbon performance co-efficient (CPC): 0.285
Energy bills (after): The Jenkinson's told Passive House Plus that their total electricity bill for 2019 (the house is all-electric) was approximately €1,500, which averages out at €125 per month for all heating, lighting, ventilation and appliances.
Airtightness (at 50 Pascals): Incomplete, awaiting new front door to complete test.
Ground floor
Before: Uninsulated concrete floor & uninsulated suspended timber floor throughout.
After: New insulated stone floor with underfloor heating throughout; 15 mm vein cut roman travertine on de-coupling matt, followed beneath by 55 mm Ultraflo liquid hemihydrate screed with underfloor heating & 30 mm edge insulation, 200 mm Ballytherm BTF floor insulation, 150 mm concrete slab & 40 mm edge insulation. U-value: 0.9 W/m2K
Walls
Before: Solid concrete block walls with no insulation.
After: 100 mm enhanced Atlas EPS insulation and acrylic render finish externally, on 215 mm hollow block or solid blockwork (proposed and existing), on 8 mm cement coat to inner blockwork to form airtight layer, on 38 mm Xtratherm Thin-R Insulation boards bonded with 12.5 mm plasterboard + skim finish. U-value: 0.19 W/m2K
Party wall: Scratch coated & insulated with 50 mm Gutex woodfibre insulation in recesses to either side of the large chimney breast. U-value: 0.38 W/m2K
Roof
Before: Pitched roof with concrete roof slates on battens, on sarking felt, on existing joists, 100 mm insulation laid on flat between ceiling joists.
After: Reused or replacement concrete roof tiles on new counter battens, on new sarking felt. Rafters replaced with new 150x44 mm C16 rafters with 100 mm Xtratherm Thin-R Pitched Roof rigid boards between. Intello Plus airtight & vapour control membrane to underside of rafters. Followed inside by 38 mm Xtratherm Thin-R boards + 12.5 mm plasterboard with skim finish. U-Value: 0.19W/m2K
New flat roof: Resitrix CL roof membrane on 12 mm WBP, on 60 mm rigid Ballytherm PIR insulation, on 19 mm OSB/3 ply laid to falls on firring pieces, on 175x44 mm C16 joists with full-fill Gutex Thermoflex insulation, on Intello Plus airtight & vapour control membrane to underside of rafters, on 35 mm services zone with 12 mm ply painted black, on 25 mm yellow pine battens white washed. New U-Value: 0.13W/m2K
Windows & doors
Before: Double glazed UPVC windows throughout.
New triple glazed windows & sliding doors: Passive Window Systems triple glazed alu-clad windows & doors throughout, (4-16-4-16-4) U-value of glass: 0.6W/m2K
Roof windows: Cubo double glazed roof windows on insulated timber upstands. Overall U-value: 1.2 W/m2K
Heating system
Before: Gas boiler & radiators throughout entire building.
After: Panasonic Aquarea 12Kw air to water heat pump, with 200L buffer tank. Underfloor heating to ground floor and low temp aluminium radiators to first floor & converted attic space.
Ventilation
Before: No ventilation system. Reliant on infiltration, chimney and opening of windows for air changes.
After: Lunos E2 decentralised demand-controlled heat recovery system with automated humidity control.
Electricity
9.4 m2 solar photovoltaic array with average annual output of 2.2kW.
Image gallery
Related items
Latest from John Cradden