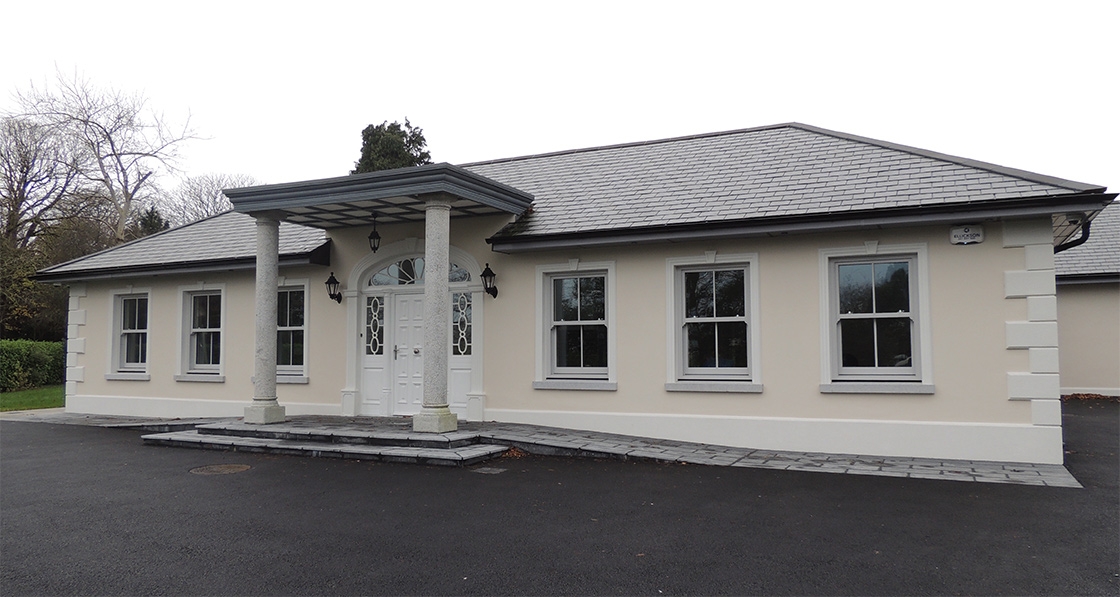 John Hearne
Low energy Waterford retrofit with a classic look & feel
Builder Conor Walsh undertook an ambitious partial rebuild, partial retrofit to this 1960s bungalow, delivering deep energy savings and turning it into a modern family home
Click here for project specs and suppliers
This article was originally published in issue 14 of Passive House Plus magazine. Want immediate access to all back issues and exclusive extra content? Click here to subscribe for as little as €10, or click here to receive the next issue free of charge
A major retrofit and extension of a bungalow in Co. Waterford approaches the Enerphit standard by taking a fabric-first approach and combining a range of building methods, including cavity wall, insulated concrete formwork (ICF) and external wall insulation (EWI).
The house is the brainchild of Conor Walsh, who runs Encon, a Waterford-based construction company specialising in green building with the aid of his construction project manager Robert Keohan. Walsh had been looking for a site to build a home for himself and his family, but rather than opt for a new build, he decided instead to renovate and substantially extend a sixties-era cavity wall bungalow on a site at Leoville in Waterford City.
"While it was habitable," he says, "the space wouldn't have worked for us...We never planned to live there; we bought purely for the site and the location."
Conor's young son is a wheelchair user, and for that reason, it was important that the house remain a bungalow. But because the existing house had such a poor energy profile and was not designed with wheelchair use in mind, much of it was unusable.
"The orientation of the existing house was right, so we kept the bedrooms on the north and east elevations, while most of the living spaces in the house were south and southwest facing. For that reason, we used 90% of the original foundations and retained about 20% of the original walls."
Passive principals always favour a compact footprint in order to minimise heat loss form factor. This is the ratio of heat loss surface area to the useable floor area. Typically, form factors lie between two and four, with 2.5 considered optimum. At Leoville, Conor Walsh achieved a ratio of 2.72.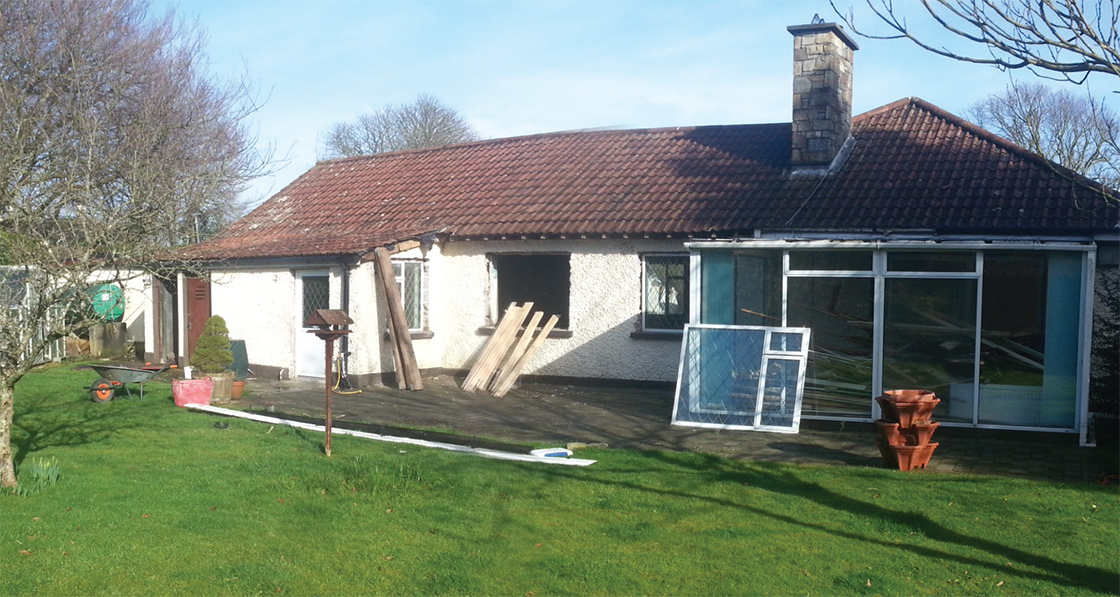 This was no small achievement given the size of the house (340 square metres) and the fact that everything was on one floor. Walsh explains that while his architect advised an L-shaped footprint, he felt that this would drive the form factor too high. Moreover, he liked the solid, square aesthetic of period homes, and wanted to achieve something similar. The problem was that building a large square house would have left the central section without natural light. The solution was an atrium at the centre, with a large glazed section built into the roof.
"We were very conscious of the fact that because it was a bungalow, there would be quite a large floor area. That's why we concentrated on getting it square and compact, keeping it nice and tight...And that lead to the design of the atrium."
Walsh chose insulated concrete formwork (ICF) as his build method for the new part of the house. A long-time fan of ICF, he says that one of the primary reasons for choosing it was because thermal bridge free construction is inherent to the system.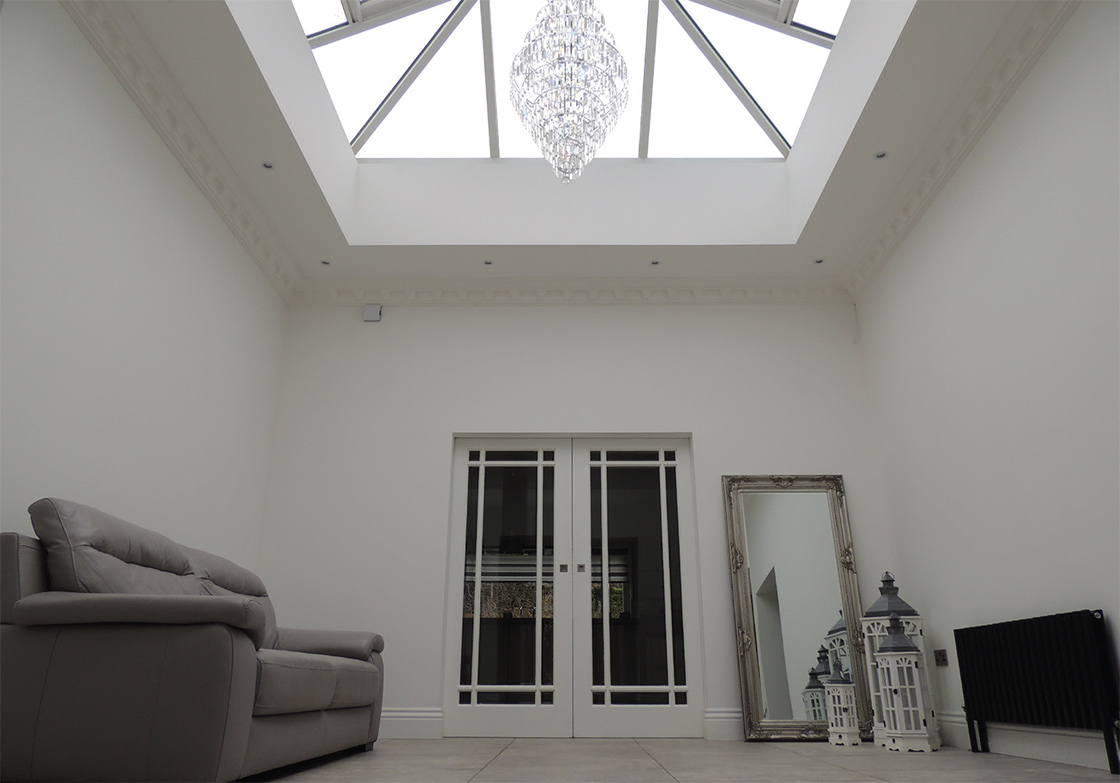 "When it comes to thermal bridging, your main problem is always going to be how each layer — floor, wall and roof — connect together. ICF is an amazing product, the way the floor slab, the floor insulation and the wall insulation connect together seamlessly. We were able to achieve an excellent thermal bridge free detail there."
The other advantage of ICF is airtightness. Because of the density of the concrete mix, ICF walls are naturally airtight. Pat Martin of Amvic, who supplied the system, says that the ICF also facilitated the installation of a very large corner window without the need for buttressing. "The system allows you greater spans because you can incorporate the necessary reinforcement in the wall without interfering with the insulation," he explains.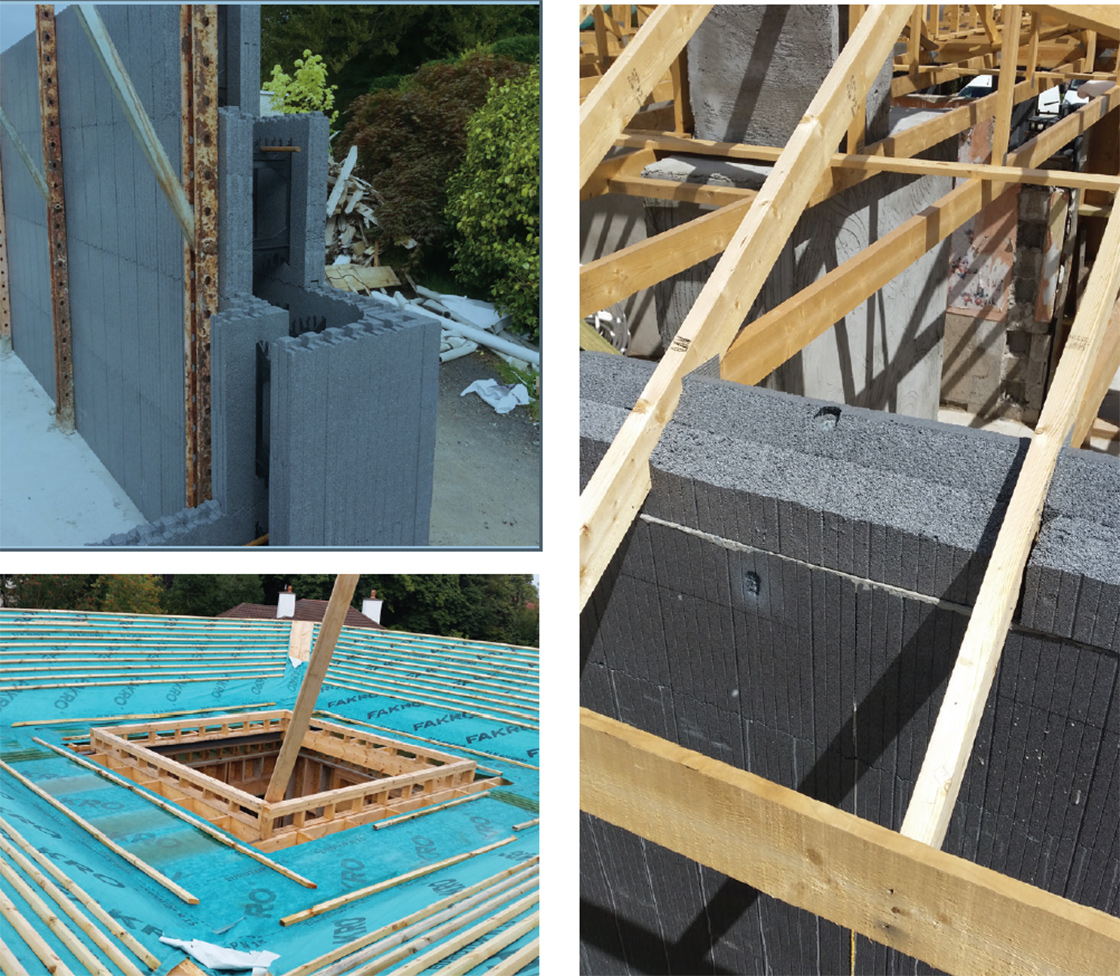 (Top left) the extension was built from insulated concrete formwork, which Walsh chose because this method is inherently free of thermal bridges; (bottom left) construction of the new atrium roof; (right) the house's new sloped timber roof, with continuity of EPS insulation above the ICF walls
In order to further beef up the thermal profile of the wall, Walsh also decided to add external wall insulation to both the ICF and the cavity walls of the existing house. Given the varying thicknesses of these separate build-ups, the design and build team had to take care to ensure that the finished surface remained flush between the two, and that the insulation ran in one continuous layer.
While the ICF took care of airtightness on those sections of the renovation, special measures had to be taken to ensure the junctions between new and old sections performed to standard. Walsh also explains that instead of using an airtightness membrane on the ceiling, he used a combination of OSB board and airtightness tapes.
"If someone is up in an attic space and they push down on the membrane, they might break through it and nobody would know. Our method future-proofs the airtightness. I know that years down the road, this building will perform airtightness- wise just as well as now."
Ultimately, the house achieved an ACH of 1.1, just outside the Enerphit standard, but still a very good result, and a vast improvement on the 7.4 ACH measured in the house before the retrofit.
To get sufficient light and to achieve the right aesthetic, Walsh upped the glazing spec in the house. All told, it features 80 square metres of glass, against a floor area of 340 square metres. When the house was modelled in the passive house software, PHPP, an overheating risk of 10% was identified. One of the big culprits here was the central atrium.
"It was going to get a little bit too much solar gain in the summer," Walsh explains. "That's why we put opening vents in the atrium so that it acts as a natural chimney and gives us a cooling effect. We also put an extract ventilation unit in the hall to try to remove some of the warmed air."
Internal blinds have also been installed to combat any overheating issues, and Walsh reports that during the summer just gone — although it wasn't particularly hot — the house never overheated. If problems do arise, the plan is to install a cooling unit in the MVHR system, then mitigate the increased power load with a solar PV array on the south-facing roof.
Walsh, together with energy consultants Integrated Energy, explored a range of heating options before eventually deciding on a traditional approach.
"We didn't really feel the need to overspend on a heating system," says Walsh. "We were aiming for close to passive standard and put a lot of money into the building fabric, which in turn requires a minimal heat system, so we just went with a standard oil boiler and rads throughout."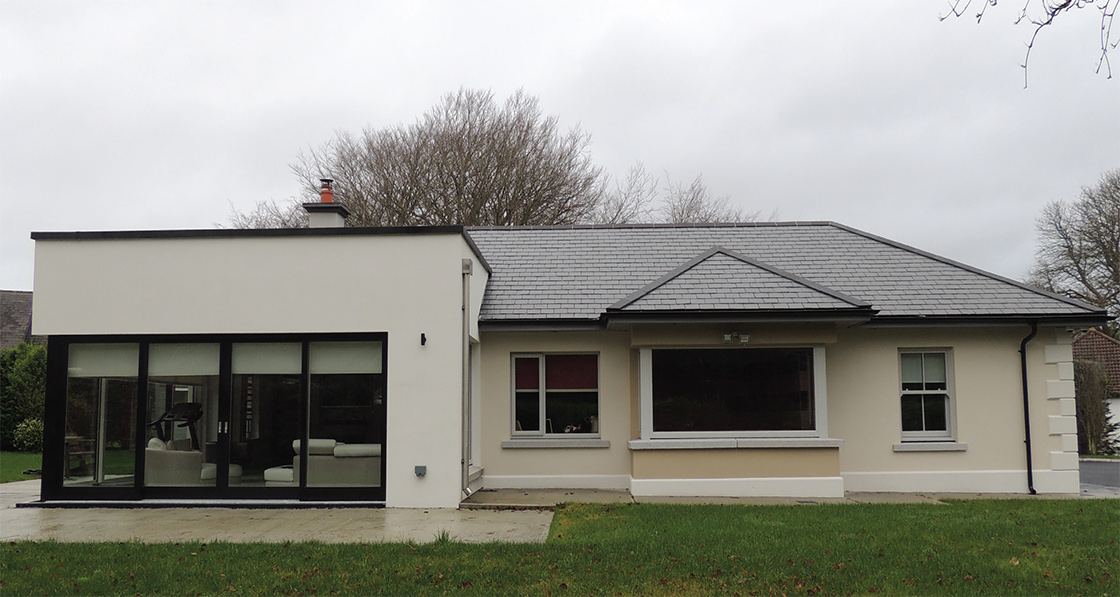 That solution cost €9500 to install. The runner-up system, an air-to-water heat pump with underfloor heating, would have cost €16,500. While the latter would have delivered cheaper heat, the overall heat load is so low that the difference couldn't justify the capital spend. In addition, Walsh liked the fact that the former solution gives you heat on demand, whereas the heat pump plus underfloor combination requires a little more planning in how it's used.
"As of right now [in early December] it is 5C outside and the temperature is ranging from 18 to 20C inside the house with no heating on except in the living room, which had heating on yesterday for two hours," he says.
In addition to the extensive glazing, Walsh's design included a raised plinth, and he also installed solid granite cills on the windows, to help give the house that period look and feel.
These, he admits were a tricky install, since care had to be taken to ensure that there were no thermal bridging issues.
"Generally, passive houses can be quite minimal design, quite simplistic," he says, "but I feel we pushed the boundaries here a little, and achieved an energy efficient house with some beautiful design details."
Selected project details
Client: Conor & Jade Walsh
Architect (planning & certification): James Reynolds
Contractor: Encon
Energy consultants: Integrated Energy & EMS Ltd
Quantity surveyors: Patrick Breen
Mechanical contractor: Walsh & Sheehan
Airtightness tester: Passive House Solutions
Insulated concrete formwork: Amvic
External wall insulation: JP Corry
Roof insulation: Isover Ireland, Knauf
Additional roof insulation: Xtratherm
Airtightness products: Gerband
Roof lights: Bunmahon Joinery
Oil boiler: PJ Mullane Plumbing & Heating Supplies
MVHR: Cyclovac
Additional info
Building type: Detached house from 1960 refurbished with demolition of 70% of existing property and rebuild to an area of 340 square metres.

Location: Dunmore Road, Waterford City

Completion date: March 2015

Budget: €375,000

Enerphit certification: N/A

BER:
Before: D2 (299 kWh/m2/yr)
After: A3 BER (72.86 kWh/m2/yr)

Space heating demand (PHPP): 23 kWh/m2/yr

Airtightness (at 50 Pascals):
Before: 7.4 air changes per hour
After: 1.1 air changes per hour

New walls: Weber.Therm external insulation system comprising 6mm LAC float finish on 10mm EPS external insulation, followed inside by 285mm Amvic ICF system (65mm EPS, 150mm concrete, 65mm EPS). U-Value: 0.15W/m2K.

Original walls:
Before: 215mm concrete block walls with sand & cement plaster. U-value: 2.4 W/m2K
After: 150mm Platinum EPS insulation with Weber LAC and painted finish externally, 18mm sand and cement on 215mm cavity block, 62.5mm Polyiso Xtratherm thermal liner internally. U-value: 0.15 W/m2K

Roof:
Before: Sloped with fiberglass wool insulation. Roof tiles to sloped areas and torch on felt to flat roof areas externally. 100mm mineral wool insulation on the flat between roof joists and a plasterboard ceiling internally. U-value: 0.55 W/m2K
After: Roof slates to sloped areas and Protan roof membrane to flat roof areas externally. 400mm Knauf Earthwool insulation on the flat between roof joists and a 150mm Xtratherm with 100mm Metac combination on flat roofs and suspended ceiling below made airtight using OSB type and airtight tapes on plasterboard ceiling internally. U-value: 0.11 W/m2K

Ground floor: 200 mm platinum EPS with a 100 mm top screed above. U-value: 0.14 W/m2K

Windows & doors:
Before: Single-glazed, aluminium windows and doors. Overall approximate U-value: 2.1 W/m2K
New triple-glazed windows: Triple-glazed Passive House Institute certified aluclad windows and doors: Overall U-value of 1 W/m2K due to mixed design. From triple-glazed sliding sash to triple-glazed passive certified casement windows.

Glazed atrium: Triple-glazed atrium roof light with dry bead system by Bonmahon Joinery. Approximate U-value: 1.2 W/m2K

Heating system:
Before: 20-year old oil boiler & radiators throughout entire building
After: Grant Vortex high efficiency oil boiler delivering to low output radiators.

Ventilation:
Before: No ventilation system. Reliant on infiltration, chimney and opening of windows for air changes.
After: Systemair Save VSR 500 mechanical ventilation with heat recovery system, heat recovery efficiency of 84% to 88% according to Sap Appendix Q.
Related items
Latest from John Hearne