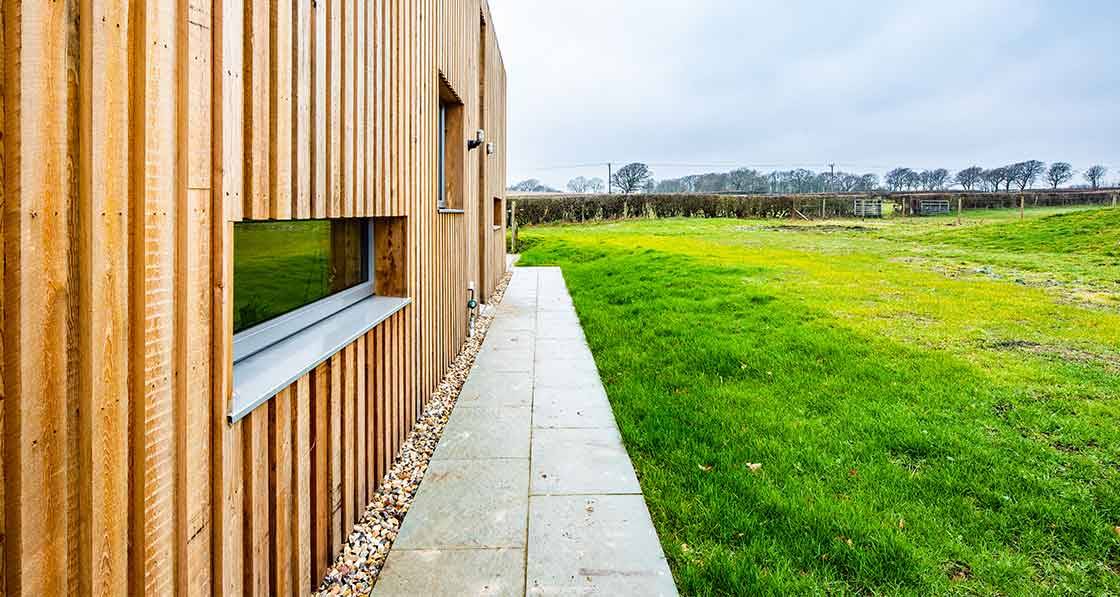 Photography: Andy Stagg / Dug Wilders
Strong and stable - East Sussex home with a striking farmyard inspired design
While this striking new larch-clad home in rural East Sussex ultimately received the backing of the local planners, there was just one catch: it had to meet the passive house standard before its owners could move in.
Click here for project specs and suppliers
£11.50 per month for space heating (estimate, see 'In detail' for more) Building: 153 sqm structural insulated panel (SIPs) house
Completed: September 2018
Location: Ringmer, East Sussex
Budget: £400,000
Standard: Certified passive house
Opposition to their planning application led to delays and redesigns, but homeowners Adrian and Paula say their struggles were worth it once they moved into their new passive house in the village of Ringmer, in Sussex.
"The experience of living in the house is, frankly, amazing. I never thought it would perform as it does, as nothing ever seems to live up to expectations. The passive house consultant — Marine Sanchez, from Enhabit — said we wouldn't realise how comfortable it was until we moved in and it's absolutely true," says homeowner Adrian.
A major benefit of living in a passive house for Paula is the constant temperature. She has Raynaud syndrome, which causes poor circulation, and can find sudden drops in temperature painful. The poor insulation and drafts in the couple's old house, a converted long barn on the same plot of land, was hardly ideal.
"Our passive house maintains a temperature of 21 degrees during the winter," says Adrian. "Even if the temperature outside is freezing and it drops overnight to 18 or 19C [inside], as soon as you get up and switch the kettle on, and other such day to day tasks that generate heat, it soon moves up to 21C. We put in a wood burner in the kitchen, but we barely need it. We only used the central heating for about 10 hours all last winter."
He also says there has been no issue with overheating to date. "The house generally stays at quite a pleasant ambient temperature when it is hot outside."
The couple first approached architect James Galpin, of Hazle McCormack Young in January 2017. Their original intention was to convert an old equestrian barn on their disused dairy farm into a more ecological house than the one they were living in. That building had Class Q planning permission attached (which allows conversion of agricultural buildings to dwellings), and Adrian's research had discovered identical barns that been converted to homes before.
This article was originally published in issue 31 of Passive House Plus magazine. Want immediate access to all back issues and exclusive extra content? Click here to subscribe for as little as €10, or click here to receive the next issue free of charge
But when the couple realised how much of the 153 square metre space would have to be lost to insulate it internally, they opted instead to replace the barn with a new house, using structural insulated panels (SIPs) within the same footprint.
There were strong objections to the new design from Ringmer Parish Council, but the planning committee at Lewes District Council took a different view. It ultimately gave its approval, but this was conditional on achieving passive house certification, as the council wanted the development to be a beacon of ecological design in the local area.
"It had to be certified by the Passive House Institute to be legally inhabitable, so that was a bit worrying, and we were all relieved when the final air tests were complete, exceeding the required levels significantly," he says.
Work began on constructing the three-bed £400,000 development in February 2018, and was complete in September that year. The contractor, Nigel Jeffery of Rexstone Builders, had never worked on passive houses before, but by all accounts, mastered the art quickly. According to Jeffery, while passive house is a significant advance on current practices in the industry, it also harks back to earlier times: "I think it's reverting back to old building techniques. A lot more care is needed," he says.
At the start of the process, Jeffery and his colleagues listened to the arguments being made about passive house with a pinch of salt. "To be honest, when we were at meetings about this project the passive house designer gave us all this information about passive house that we were a little bit skeptical about, but went along with," he says. "But everything they said has come true."
The toughest technical challenge on the build was to create a firm sub-structure, as the clay was highly shrinkable. "It was a bit of a head scratcher for a while, but we ended up pouring a slab of sacrificial concrete over the shrinkable clay that acted as a non-shrinkable ground layer, then we built the rest of the structure up from that," says architect James Galpin.
I think it's reverting back to old building techniques. A lot more care is needed.
The detailing of the larch cladding on the roof posed further technical challenges.
Galpin says it was important to get the detailing of the verge cladding and rainwater drainage integrated into one detail so there were no visible downpipes or drainage elements within the building. "It's all detailed as part of the skin to keep one homogeneous volume without any attachments," he says.

1 300 mm Isoquick insulated raft foundation; 2 the house was constructed using structural insulated panels comprising 175 mm polyurethane insulation sandwiched between two layers of OSB; 3 the pro clima Solitex Fronta WA membrane provides optimum protection for the roof structure; 4 aside from the insulation in the structural insulated panels, the wall build-up also features 100 mm Kingspan TW55 insulation boards; 5 insulated MVHR ductwork for both the supply air side and the extract air side; 6 pro clima DB+ vapour control membrane fi tted to walls and roof, with airtightness taping at membrane overlaps and around window junctions.
In designing the house, Galpin aimed for a visual connection between the interiors and the picturesque surrounding landscapes.
There are splendid views across the Sussex downs, near the town of Lewes and the village of Firle. "The key was to balance the views from the glazing layout with solar gain and the shading required for the avoidance of over-heating," he says.
It had to be certified by the Passive House Institute to be legally inhabitable.
The big Norrsken windows at the front and back of the house are all floor-to-ceiling, flooding the rooms with light. "Almost every window in the house presents amazing views. We love it because it's like having pictures hanging on the walls everywhere," says Adrian. "In rooms with double and triple aspects, we are surrounded by countryside."
Selected project details
Architect: Hazle McCormack Young (HMY)
Contractor: Rexstone Builders
Passive house consultant: Enhabit
M&E design: HMY / Enhabit
SIP building system: SIPCO
External insulation: Kingspan

Insulated raft system: Isoquick
Windows & doors: Norrsken High Performance Windows & Doors
Airtightness products: Pro clima
Heat recovery ventilation: Zehnder
Cladding: Alsford
Screeds: WoollyCrete
Wood burning stove: Morso
Lighting: Phillips Hue
Heating controls: Nest
In detail
Building type: 153 sqm detached two-storey SIPs-built house
Location: Ringmer, East Sussex
Completion date: September 2018
Budget: £400k
Passive house certification: Certified
Space heating demand (PHPP): 14 kWh/m2/yr
Heat load (PHPP): 10 W/m2
Primary energy demand (PHPP): 104 kWh/m2/yr
Heat loss form factor (PHPP): 2.98
Overheating (PHPP): 9%
No. of occupants: 3 (plus two dogs & a cat)
Airtightness (at 50 Pascals): 0.42 air changes per hour or 00.28 m³/m2/hr
Energy performance certificate (EPC): N/A
Thermal bridging: SIPs supported at low level on Compacfoam CF 400 to bring base level of SIPs to 150 mm above external ground without forming a cold bridge at the base of the structure. Support to external entrance canopy designed to cantilever with only minimal restraint ties to the main structure, preventing cold bridges.
Energy bills: Estimate of £138 per year (£11.50 per month) for space heating only, based on bulk LPG price of 5.8C per kWh (confusedaboutenergy.co.uk, July 2019), PHPP space heating demand projections & boiler effi ciency of 90.1%.
Ground floor: 250 mm polished concrete reinforced slab, on 300 mm Isoquick insulated raft, on 200 mm in situ concrete, on Cellcore former to alleviate shrinkable clay ground conditions. U-value: 0.107 W/m2K
Walls: Hit-and-miss larch cladding on battens, on Pro clima Solitex Fronta breather membrane with Tescon Invis tape at joints, on 100 mm Kingspan TW55 insulation, on 200 mm Sipco SIPs comprising 175 mm polyurethane insulation sandwiched between two layers of OSB, with Pro clima DB+ vapour control membrane and battened plasterboard internally. U-value: 0.096 W/m2K
Roof: Hit-and-miss larch cladding with spacer fi xings on battens fixed through trapezoidal drainage layer, on battens and counterbattens, on Pro clima Solitex Plus breather membrane, on 120 mm Kingspan TP10 insulation, on 200 mm Sipco SIPs (as per wall spec) with Pro clima DB+ vapour control membrane and battened plasterboard internally. U-value: 0.090 W/m2K
Windows & external doors: Norrsken P33A inward-opening alu-clad triple glazed timber windows. Low E glass, argon fill. Sealed with Pro clima tapes. Typical whole window U-value: 0.74 W/m2K
Heating system: Viessmann Vitodens 200-W 19kW LPG-fed boiler system with client sourced radiators.
Ventilation: Zehnder Q350 MVHR system with passive house certified heat recovery efficiency of 90%.
Water: Restricted waterflow showerheads and tap outlets.
Shading: Delivered by inset of windows and the modelling of the verge detailing to minimise solar gain in summer.
Image gallery
Related items
Latest from David W Smith