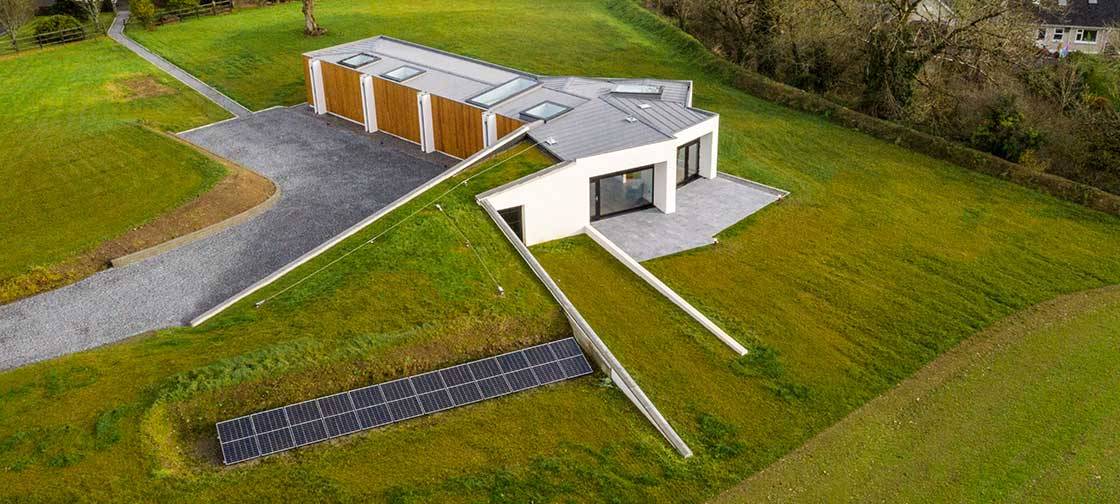 Photos: Janice O'Connell / F22 Photography | Site photos: Paul McNally | Guilford Artists' Residence: Ryall Sheridan Architects
New England rebel - Cork passive house with Vermont roots
A stunning new passive house in Cork breaks the conventions of passive house form with a design that manages to be both dramatic yet discreet at the same time, inspired by a US project to contort itself beautifully into its steeply sloping site.
Energy bills: €15 per month for space heating & cooling
(see 'In detail' for more)
Building: 164 m2 detached passive house
Build method: Cavity wall
Site & Location: Suburban site, Bandon, Co Cork
Standard: Passive House Classic certified
This modestly sized single-storey home in the West Cork town of Bandon is an uncompromising design intended to blend seamlessly into its surrounding landscape and be discreet from the road. But it also surprises you with spectacular architectural drama as soon as you walk through the entrance.
Inspired by an artist's retreat in Vermont, USA that was designed by New York passive house architect William Ryall, this passive- certified four-bed dwelling looks like it should be located somewhere deeply rural but is actually well within the confines of the Bandon suburb of Old Chapel.
The large field on which it sits is part of a family landholding well within the development boundary of the town, which made planning permission a quick and straightforward affair. But what set off architect Paul McNally's imagination was the geometry of the site, namely the presence of a steep slope running from north to south across the site down to a small stream that eventually guides your eye to a ruined mill on the horizon.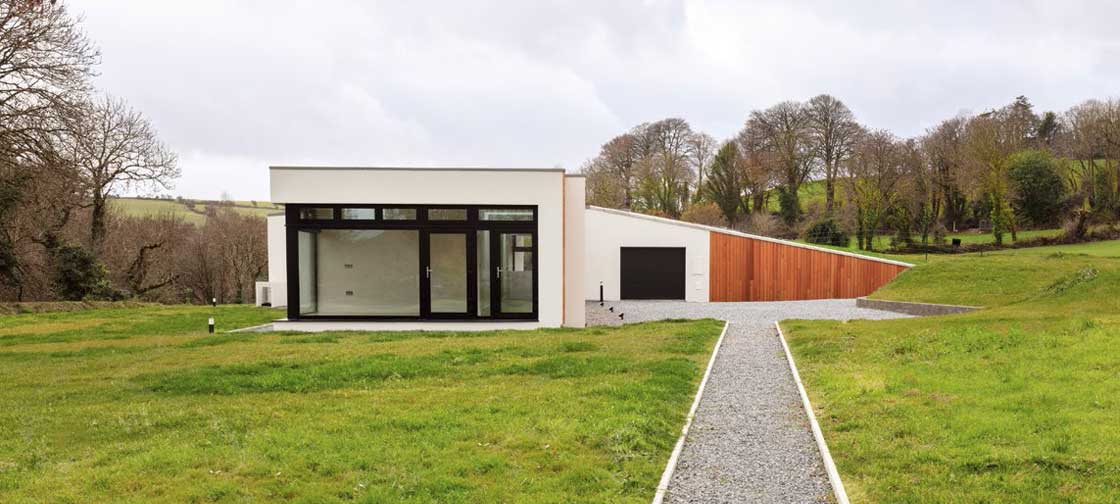 In order to take advantage of the dramatic landscape, he picked a spot on the site that allowed the mill to be aligned within a crest in the valley. A couple of years before he met the clients, McNally had spent some time with Ryall during a conference organised by the North American Passive House Network in New York. McNally had seen Ryall presenting his Vermont artists residence project the previous year. "That project really kind of stuck in my mind when this one came up for design," he said.
Although it's a much larger building, it's easy to see the influences on this site-specific Bandon project, such as the way the entrance cuts down into its steeply sloping landscape, but also the idea of mounting the earth onto a retaining wall at the entrance to this building, which is topped by a green roof. "So, it creates a very dramatic approach to our building where you're walking down the slope," said McNally.
That detail aside, approaching the building from the road doesn't give you any hint of what's behind the entrance, but this is exactly what the clients wanted. To the left of the front door is a somewhat austere blank, larchclad wall which helps fulfil the brief to keep it discreet and private from the road.
Indeed, the only bit of engagement is the entrance area, and this aligns with McNally's preference for making the entrances to buildings as clear as possible. "I think that's it's a nice thing to do architecturally, to kind of lead people very directly in the building. And then the opposite happens once you enter the building; the building is very open. It creates a very dramatic approach to our building."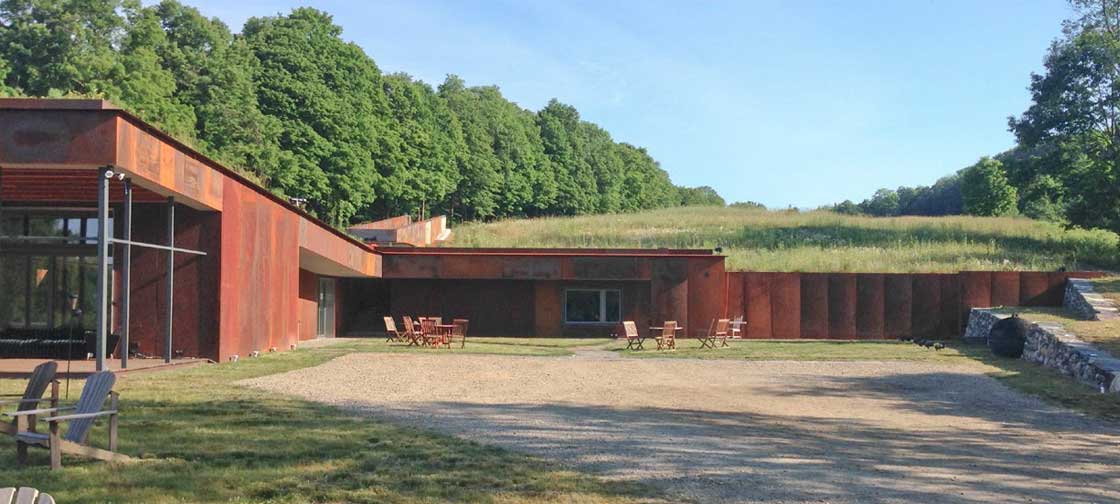 Ryall Sheridan's Vermont artist residence
It takes a drone video of the house (which you can see on pmnarchitecture.ie) to get any hint from the outside at what's across the threshold. From above, you get a much better sense of the shape and drama of this very geometrical, zinc-roofed building, with its mixture of acute and obtuse angles, and an orientation that cleverly tracks the sun.
As you walk in, there's the 'singly loaded' corridor to the left, which is on the other side of the blank entrance wall. The corridor runs north to south with roof lights over it and is bookended by a large window, with bed rooms all facing east to capture the morning sunshine. Once inside you're also quickly enveloped by the open plan area, with floorto- ceiling glazing on three different facades each facing in various angles to the south and southeast, as well as massive roof lights above.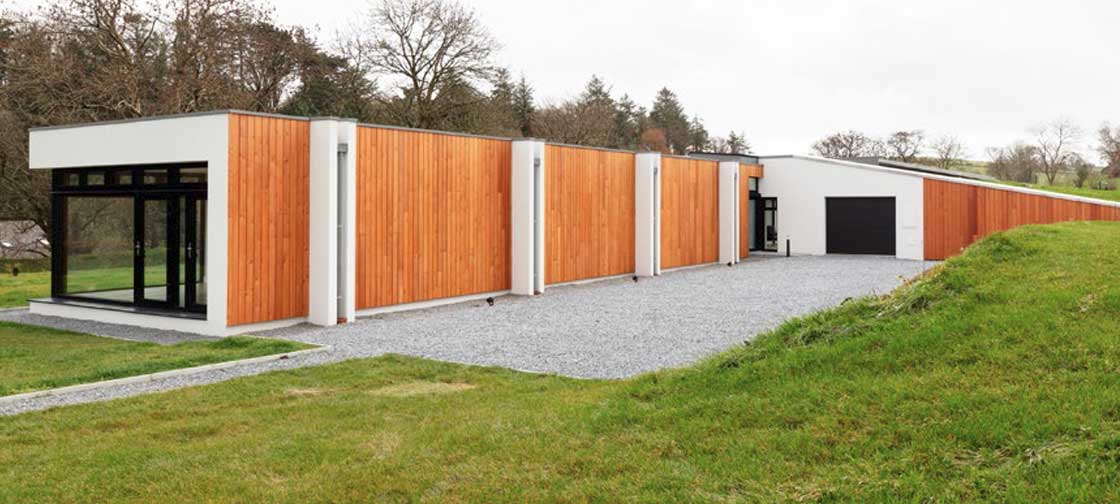 In what may well become a defining feature of low-energy homes over the next few years, and is already a regular feature of McNally's more recent designs, the three south-facing facades have extensive set-back glazing to provide vital shading, a way of integrating shading into the form of the building as opposed to tacking on awnings, overhangs or trellises.
"This way is not the cheapest way of doing it, but it's doing more things than just throwing some shade on it, it's creating a visual rhythm across the facade of the building as well," said McNally. "As well as creating a horizontal shade, it's creating lateral shading because the sidewalls come out."
It's certainly an example of great design that also delivers for energy efficiency and occupant comfort, while also breaking the convention that passive house form should be relatively simple and cubic.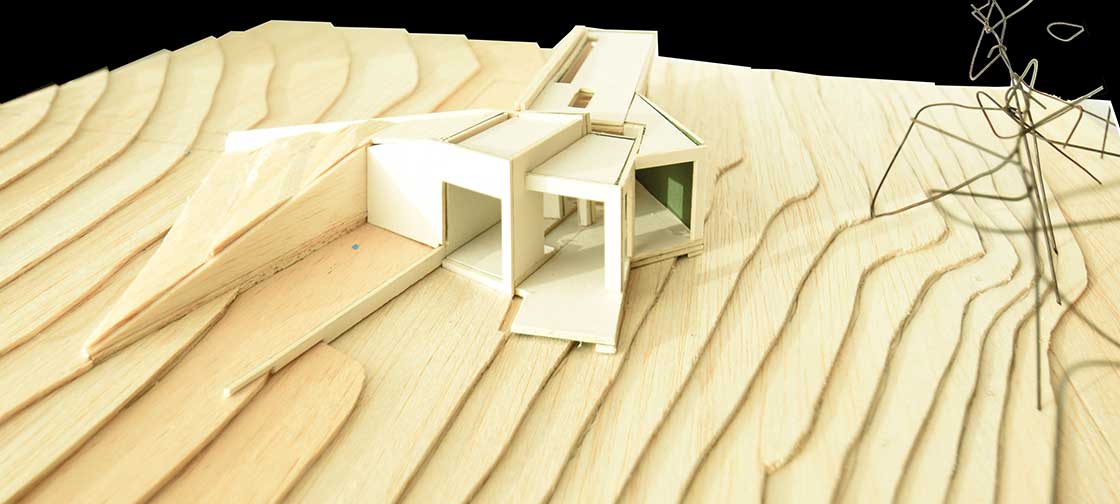 The whole thing is set out to catch the sunlight all day
"What I'm trying to do is create a building that is beautiful architecture and to show architects that if you start off with the skills of knowing how to detail things, how to deal with thermal bridges, how to deal with shading, how to design buildings appropriately — that if you absorb them into your toolbox of skills you should then be able to move on and invent an architecture that is both beautiful and effective," McNally said.
What also surprises is that the relatively small size of the dwelling – 164 square metres – doesn't limit its architectural impact, but it certainly enhances its green credentials. "We have to think about sufficiency as well. Just because a client could build a larger building doesn't mean they should. It affects costs. If you build more of it, there are more carbon emissions as well. So, there are many reasons to not do a huge building."
There were a few challenges to get this masonry building airtight, arising mainly from two culprits: the floor and the higher-level opening windows.
The problem with the windows was down to the automatic actuators that were installed to enable them to be opened at the touch of a button, because they're hard to reach. The windows had passed a preliminary airtightness test before the actuators were put in.
Actuators hold the window closed at a single point, as opposed to the three points typical of a single handle, which can mean the seal isn't as effective. The problem was eventually resolved, but this episode suggests there might be a gap in the market for airtight actuators.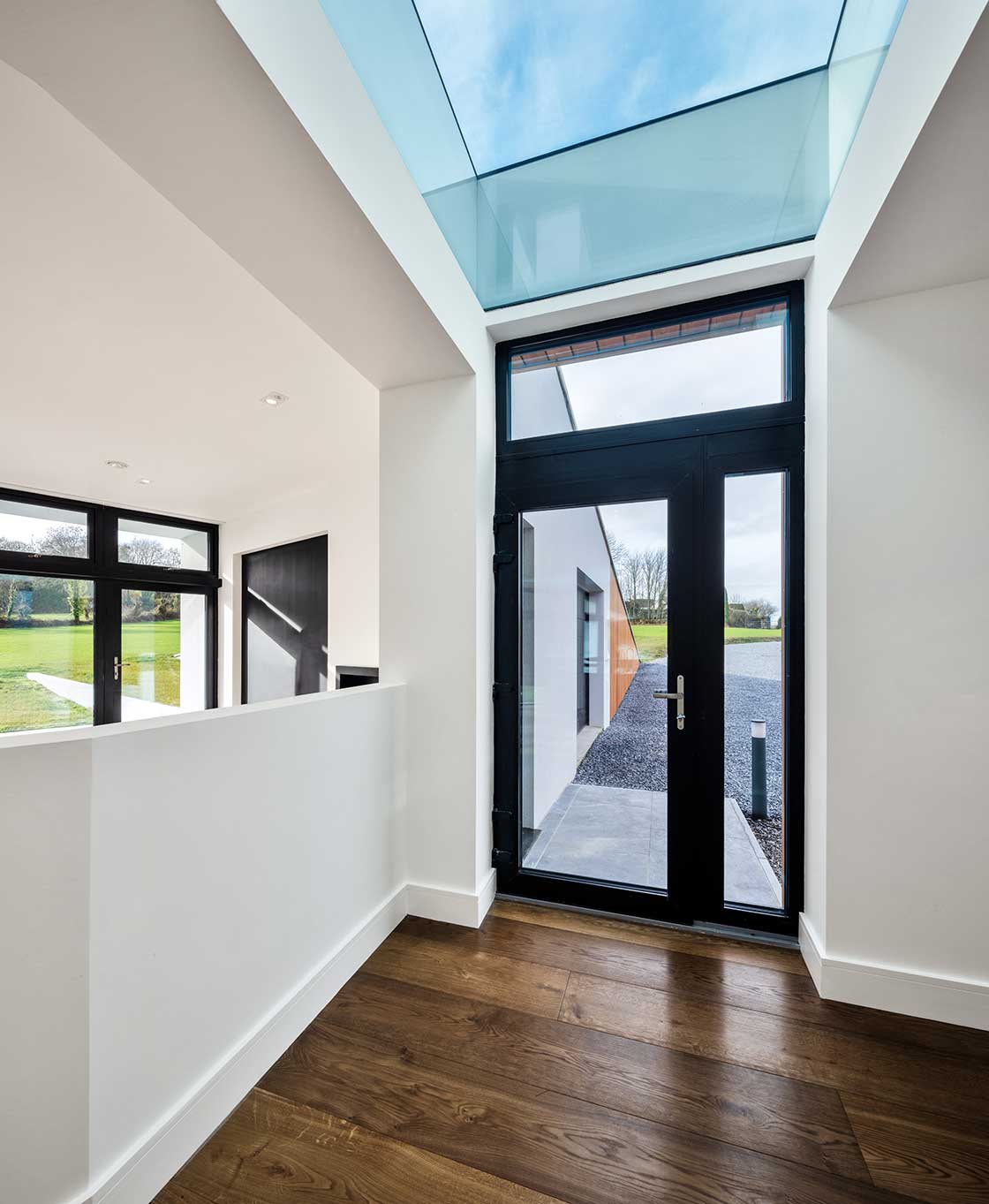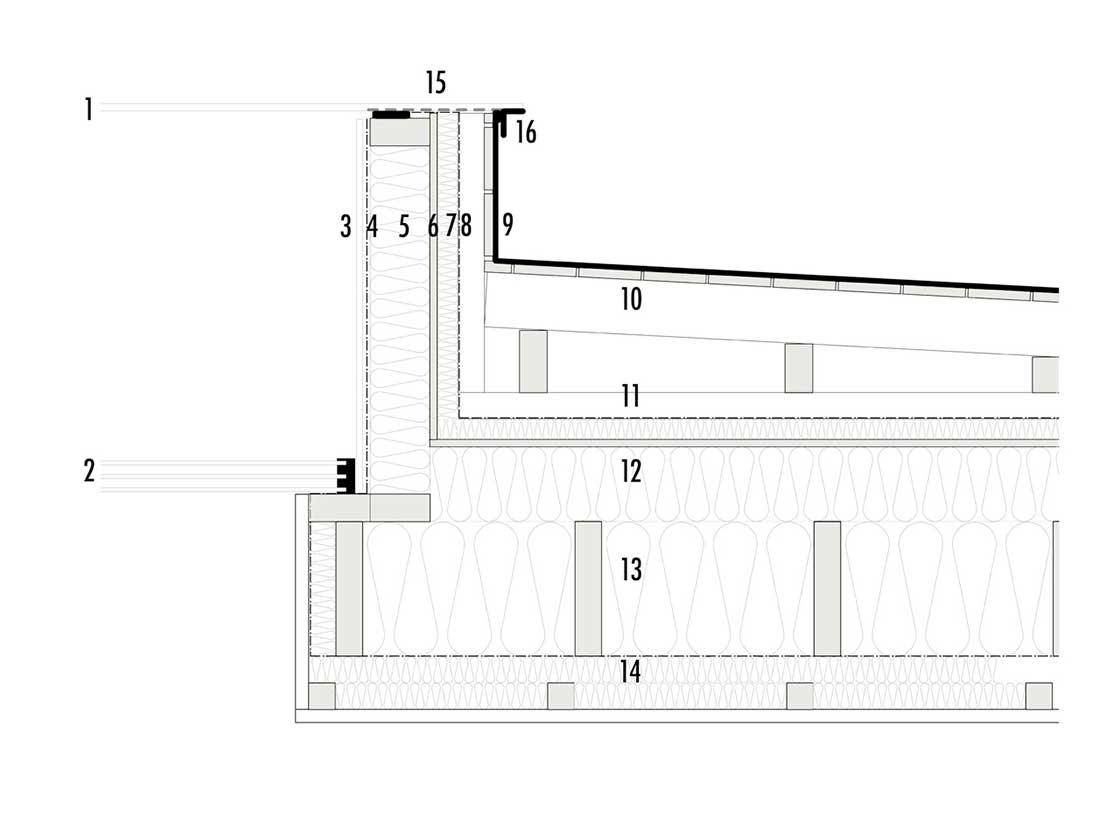 1 Toughened glass rain screen; 2 Triple glazed unit; 3 Coloured (white) glass liner; 4 Intello vapour control layer; 5 Mineral wool insulation between timber studs; 6 Elke Strongboard; 7 35 mm Gutex Multiplex Top with Heco fixings; 8 Solitex breather membrane; 9 44 mm treated timber batten with ventilation & softwood boarding with vent gaps, zinc roofing; 10 Rafters to fall; 11 Solitex breather membrane; 12 Mineral wool insulation between 125 mm cross timbers; 13 Mineral wool insulation between 250 mm cross timbers; 14 Intello vapour control layer above mineral wool insulation between 2 layers 44 mm timber batten with plasterboard; 15 Fritting
There was also an issue with some structural sections that join the lower windows with the upper windows, and where it was impractical to apply airtightness tape. This was resolved with a pro clima liquid airtight membrane.
By far the more serious airtightness issue was the floor. It suffered a surprising amount of leakage, which McNally believes was because of the particular build-up they chose. As an alternative to laying a thick, 150 mm concrete slab on top of insulation, they chose to go with a sub-base concrete slab with rigid insulation and a screed above, because of the length of time a thick slab would take to dry out. However, there were air leaks where the internal partition walls met this floor build up, so again they painted a layer of pro clima liquid membrane at the junction here.
Issues like the airtightness, along with the attention to detail required, as well as the fact of it "not being a run-of-the-mill build" made this project a massive learning curve for the contractor, Chris O'Donovan and his team.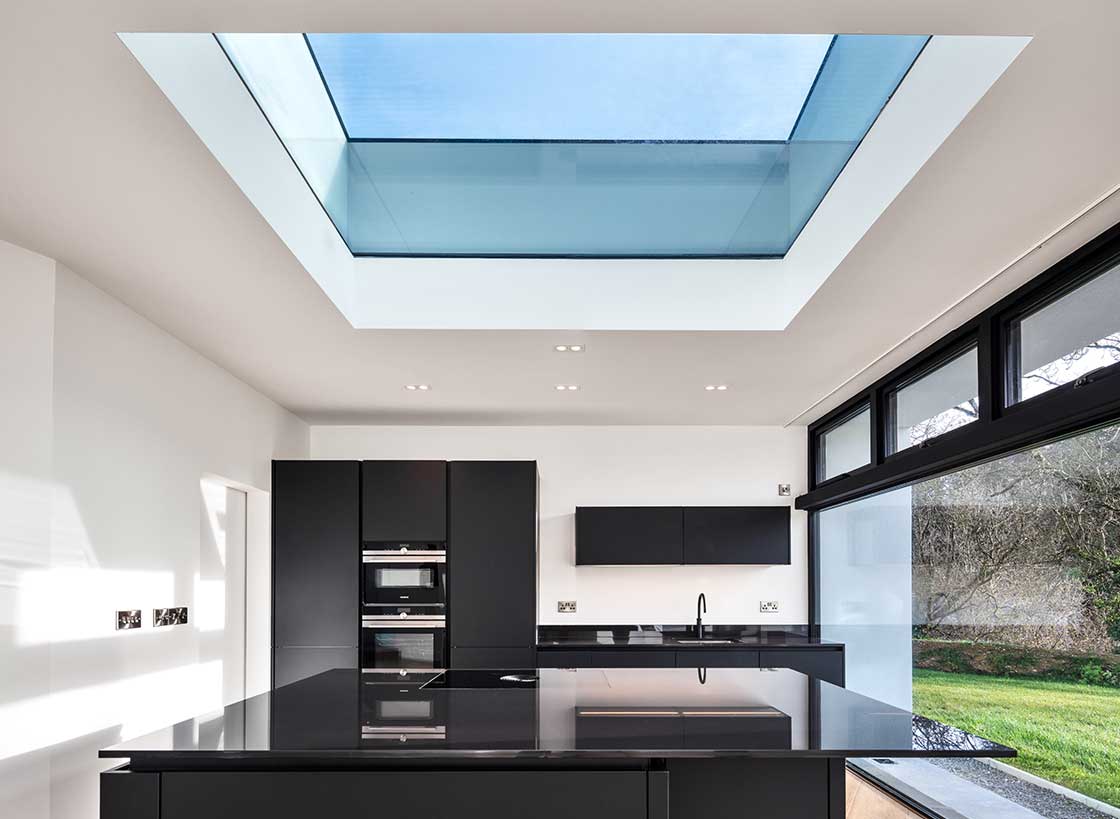 "The fact that it is a masonry build made it harder compared with timber frame, where you can wrap the whole house and make it line up as a total envelope. But with this, you have to go stage by stage, you have to get the plan right, you have to get all the blockwork sealed up and so it is an extra challenge to make it, to get it there."
This article was originally published in issue 36 of Passive House Plus magazine. Want immediate access to all back issues and exclusive extra content? Click here to subscribe for as little as €10, or click here to receive the next issue free of charge
McNally said that building in timber frame was an option, but this would have added about 5 per cent to the overall build cost, and there was a need to keep costs down where possible in order to deliver the overall goal of a passive house.
O'Donovan is certainly taken by the final result. "The design is magnificent; the whole thing is set out to catch the sunlight all day. It's also got a good contrast between glass all the way to a section where there's a grass roof. And then you have a section that's clad with larch, you've got these concrete walls through the middle as well, so it's a good mixture and blends in very well together. I love the zinc roof, it really is massive, with a really good finish and designed very well."
The way the building is laid out to react to the sun is also what makes McNally smile. "So, the bedrooms all face east so every morning you're going to be greeted by the morning sun. So that's going to get your circadian rhythm kicking in. And then you come out, you move to have breakfast and the sun, by late morning, is now presenting around into your kitchen space and your island where you're going to be sitting, having your breakfast. Then by midday and afternoon, it's faded, and it's coming into the dining area. By evening, it's shining into the living room. I think that the daylight quality of this building is going to be incredible."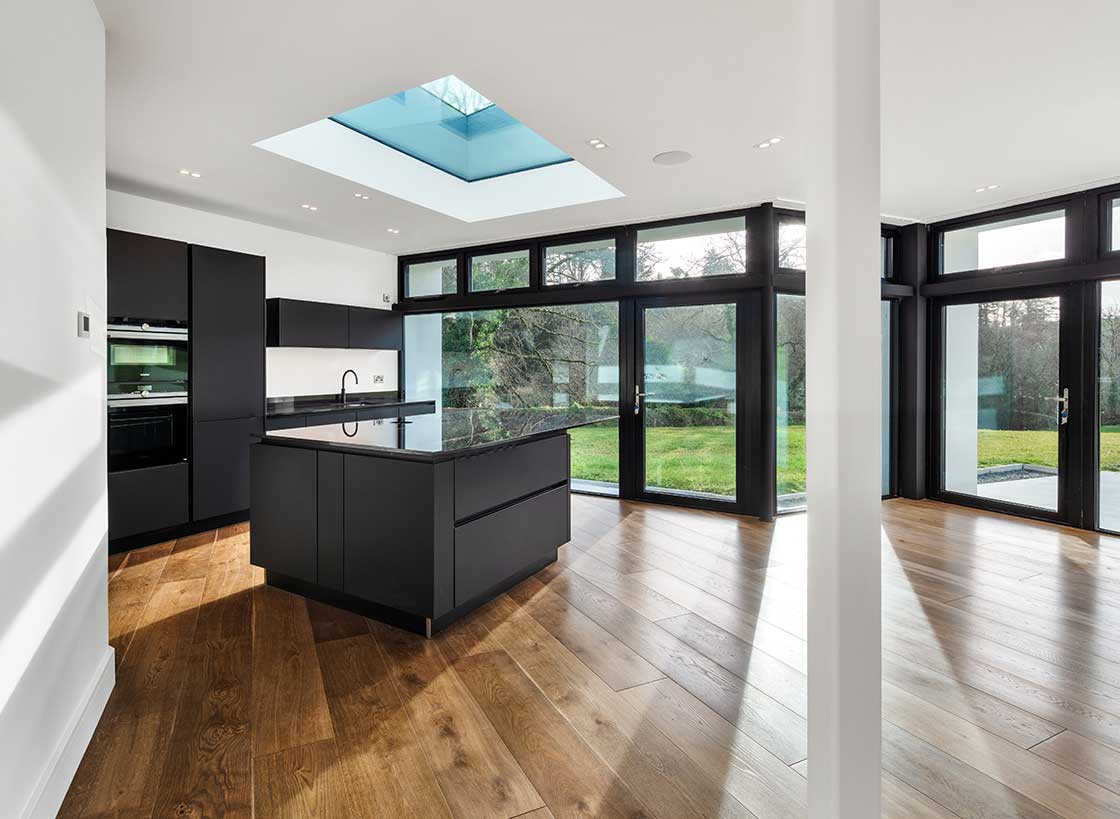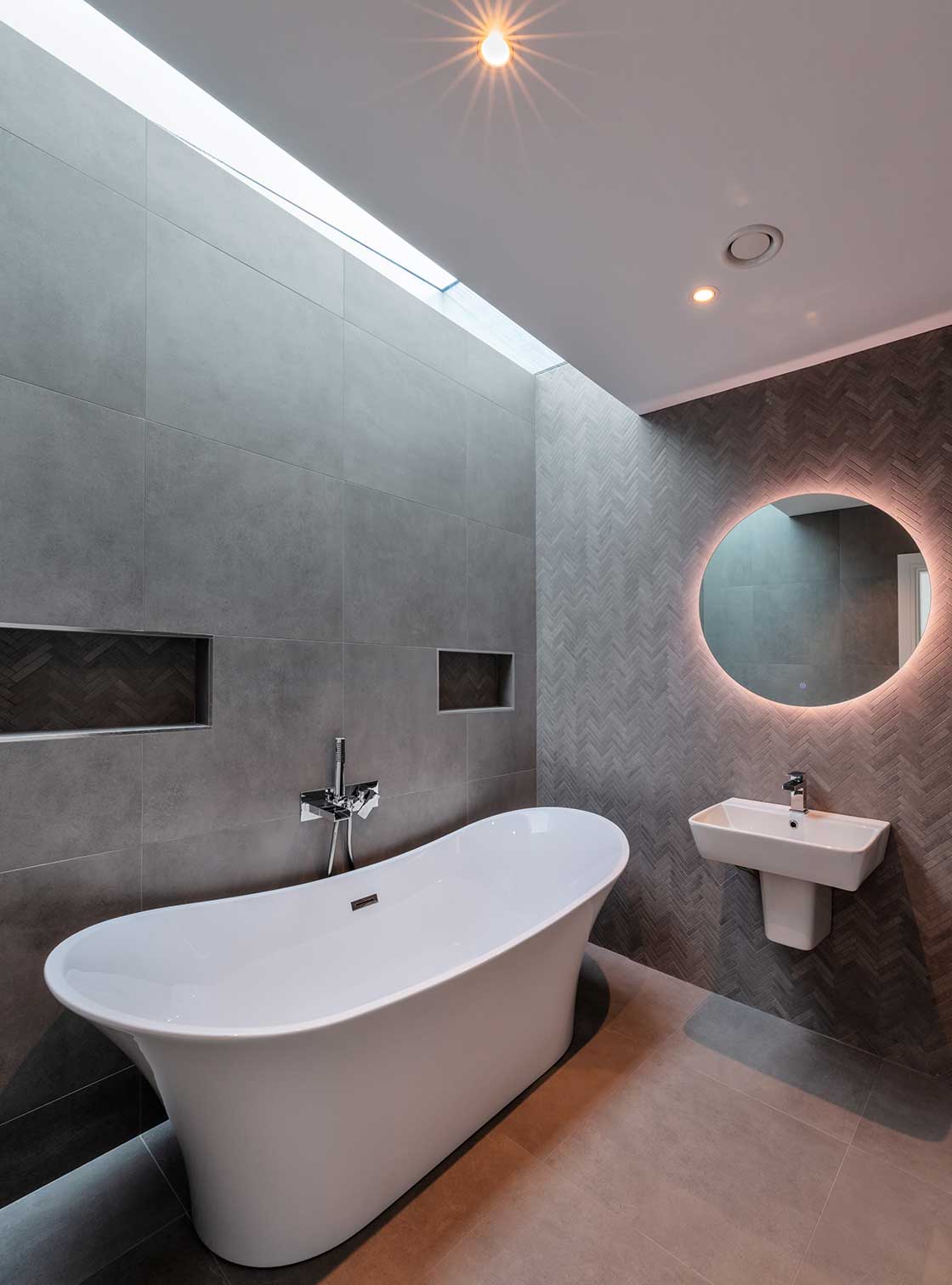 The clients have yet to move in at the time of writing, partly because of Covid-19, but it's understood they're itching to get in. "The client said at one point, just experiencing the building as it moved towards completion, that her favourite room so far was the corridor," said McNally. "That's a remarkable comment to make, to think that you've nailed the design of a corridor."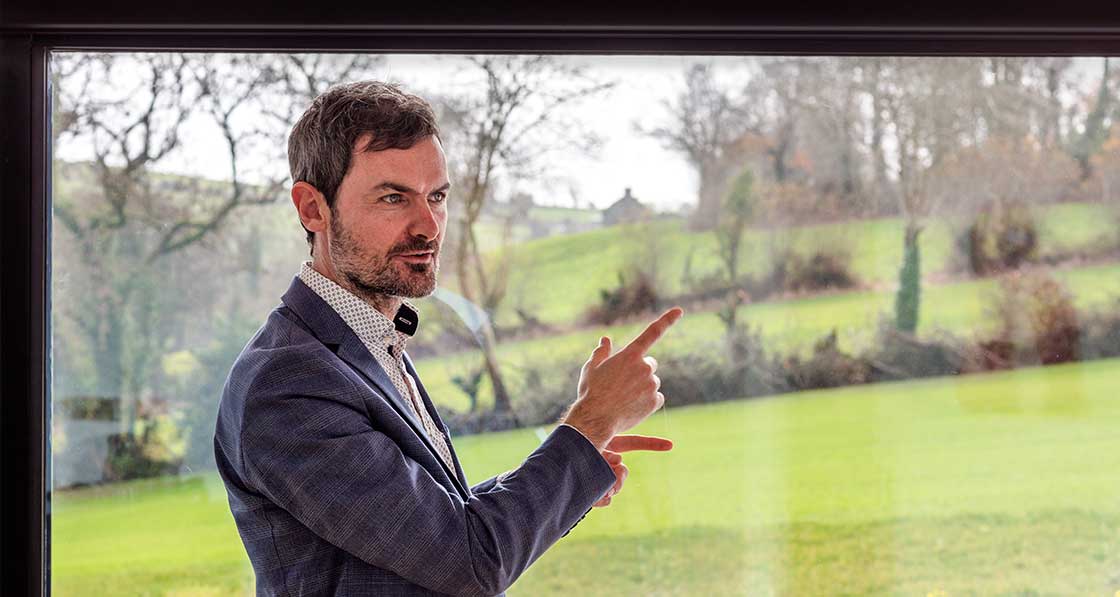 Architect Paul McNally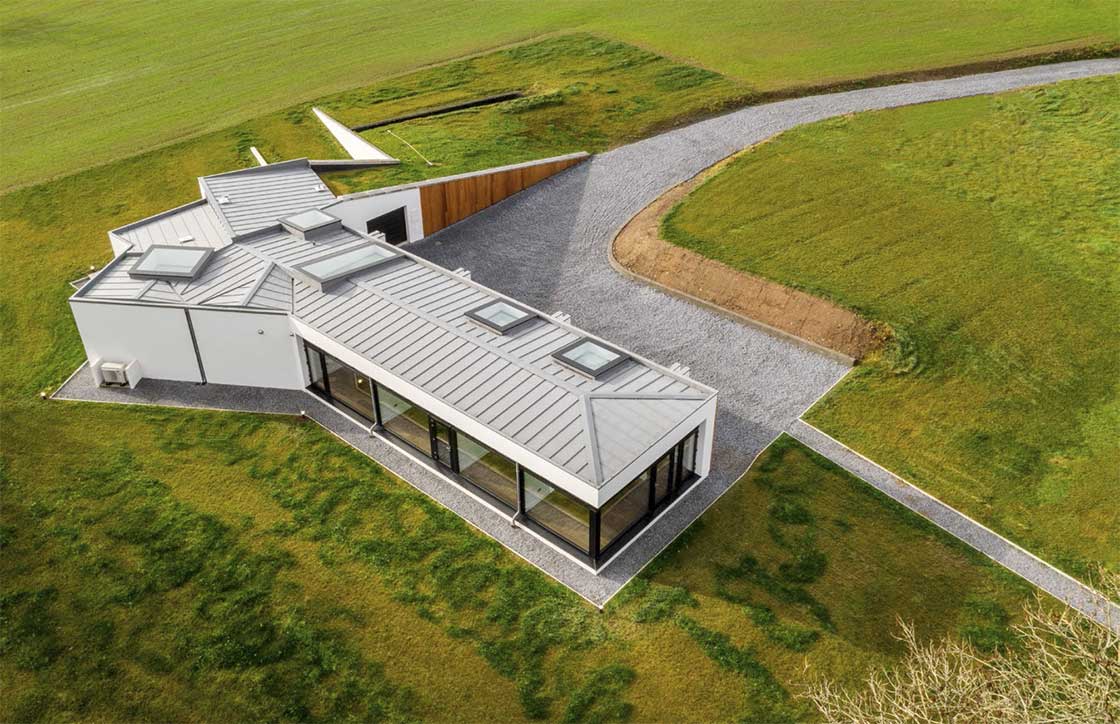 Image gallery
Related items
Latest from John Cradden