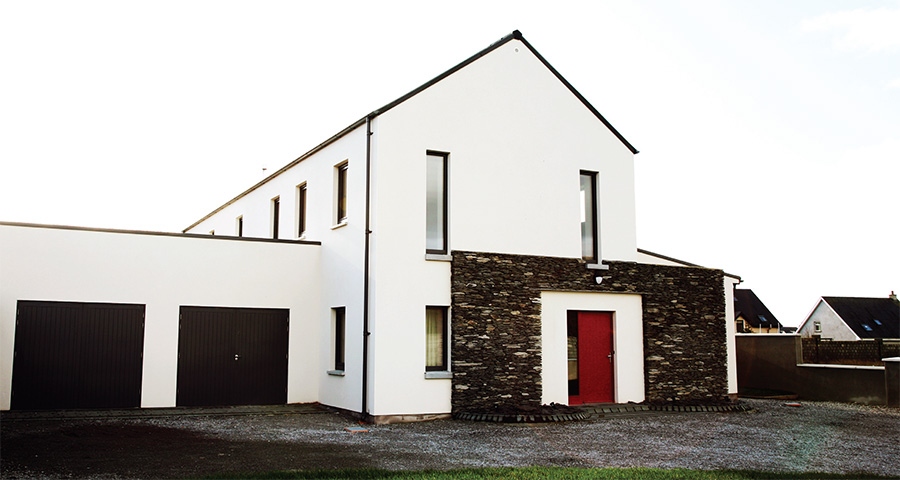 John Hearne
Mallow build hits passive on a budget
Exploding the myth that passive house means unfamiliar construction methods and considerable expense, one Cork-based builder has gone passive using wide cavity wall construction – for a competitive cost of €100 per sq ft.
Larry O'Donoghue's new as yet uncertified passive house in Castlemagner, near Mallow in Co Cork, is a neat example of how traditional building methods can be adapted to produce a house which meets all of the passive criteria. O'Donoghue runs building firm, Magner Homes with his brother Ed. "Our tagline as a company is passive and energy efficient home builders. You have to believe in the concept yourself, so when it came to building my own house, I had to go passive."
After a career building houses for other people, O'Donoghue also had a clear idea about what he wanted to build and how he wanted to build it. "I went concrete for a bunch of reasons that had nothing to do with passive. I wanted a concrete first floor in my house, to prevent inter-floor sound transfer. One thing that really bugs me in two-storey houses is hearing the pitter-patter of feet upstairs."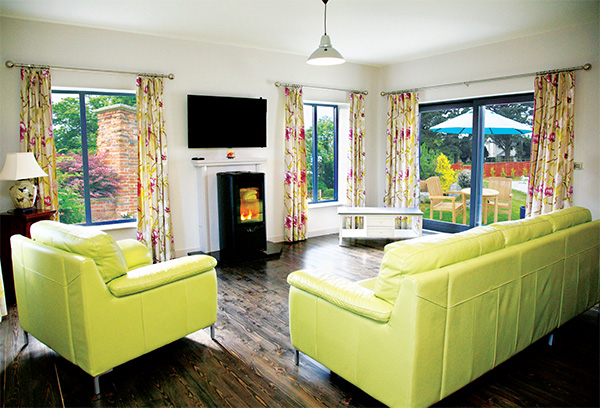 He notes too that despite the rise of timber framed housing in the last decade, more than 80% of the houses that Magner builds, all of which are low energy, are of masonry construction. Old habits, it seems, are not dying at all.
Masonry passive houses tend to take one of two approaches. Either a combination of block on the flat with external wall insulation, or else a super-wide cavity and full fill insulation. O'Donoghue opted for the latter.
Fully aware of the orientation, layout and design principles that inform passive house – no matter which build method is used – O'Donoghue opted for a relatively simple footprint. The site itself was quite challenging, in that it's long and narrow, and oriented north-south, making it a little more difficult to optimise glazing. Before going for planning, O'Donoghue ran his design through PHPP, the passive house software. "You use PHPP as a proofing tool really. You might be aware of the dos and don'ts of passive design, but you don't know the results until you put it through PHPP...In this case, I managed to hit the sweet spot between solar gain and heat loss."
Cavity wall construction has of course been a staple of Irish building practise for many years. The twist here is that the cavity is 300mm wide, allowing sufficient room for the insulation required to deliver a passive performance. That twist however throws up a number of engineering issues that also have to be addressed.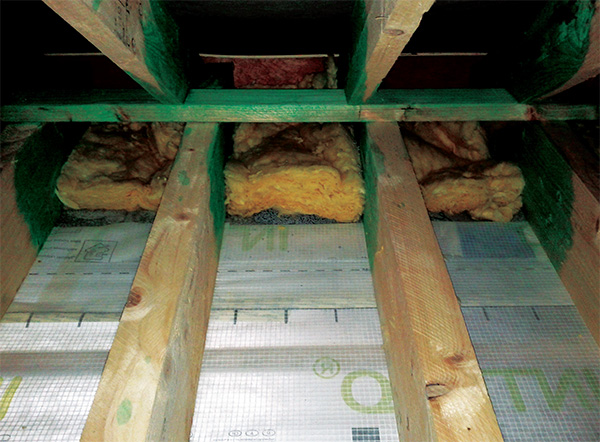 Tim Lenihan was the structural engineer on the project. He points out that with a cavity that wide, you can't use conventional wall ties. Not alone will they fail to bridge the gap, they will also conduct heat out of the structure. Ancon TeploTie 2 basalt wall ties were specified instead, while in place of the standard cavity closer, a double wall plate was installed.
Larry's brother Ed is in charge of technical specifications in Magner. He welcomes the fact that the form of construction chosen for the build relies on a local, well-established skill base. He points out however that those skills require a number of subtle tweaks in order to deliver a successful passive project. "Take the TeploTies," he says. "They're great, you get full documentation on the centres needed and the installation instructions and all the rest. So you have great confidence from the information on the cert to go ahead and do the work, but ironically, everyone that saw them was worried about whether they were going to work because they're such an unusual material."
The absence of a cavity closer also made some of the tradesmen on site slightly uneasy. Its removal however allows the creation of an unbroken insulated envelope. "The beauty of this type of house," says Ed O'Donoghue, "is that it's just an enhancement of a very common detail. It just takes people a while to become comfortable with those enhancements."
Because the main structure is a simple rectangle, structural issues within the house were kept to a minimum. Moreover, the spans were short enough to reduce the need for structural walls internally. Wherever possible, timber studwork was used instead.
Quinn Lite blocks, underlaid with damp proof membrane, were used in the rising walls. "Any walls that were non-structural," Ed O'Donoghue explains, "were not based on top of a foundation strip. Instead, we put a structural high density insulation beneath the footings of those walls and the insulation was strong enough to take the weight of the wall." The floor slab was thickened slightly in these locations, but they remained thermally isolated. "You have to be careful about these things. You have to make sure that the structural engineering calculations can sustain the details that you're trying to achieve."
As is frequently the case, the central challenge of the build was achieving airtightness. While a wet plaster finish was a fundamental element of the airtightness strategy, several other details were also critical. Larry O'Donoghue says that careful planning from an early stage is vital. All services and ducts are detailed on the construction drawings in order to ensure that there is no need to break out walls at a later stage. Designed service cavities are used in order to remove the need for chasing blockwork and installing electrical conduits down the walls. "I would say without that it's pretty much impossible to hit the airtightness standard," he says.
Tim Horgan of Passive House Design in Killarney provided energy consultancy on the build. His work centred on establishing the heating load for the system that O'Donoghue planned to install. Local climate data is a key input into these calculations, and in Ireland, the default data typically used is taken from either Birr, Co Offaly or Dublin. But because this house is located in Cork, Horgan also ran the calculations using a set of climate data taken in Killarney. This data isn't normally available in the PHPP software — he acquired it from John Morehead of Wain Morehead Architects. The rationale behind running this set of calculations lies simply in the fact that because the southern climate is more benign, the space heating load will be reduced.
The differences were not sufficient to impact the choice of heating system in this instance, says Horgan. But he points out that if a build project was on the cusp of the passive house criteria, local climactic conditions, even within Ireland, could make a significant difference. "The space heating demand is 3 kWh/m2/yr better with Killarney data...So if you were struggling to meet the passive house target [15 kWh/m2/yr] it's definitely worth getting a climate data set for your particular site, if of course you live on the coast or down south."
The primary heating system is a Nilan Compact P unit, which integrates an air-to-air heat pump with a heat recovery ventilation system complete with a 2kW in-duct booster heater, and uses exhaust air to heat up domestic hot water. Maurice Falvey of Nilan Ireland suggested to O'Donoghue that he also incorporate a cooling component into the system. This proved very helpful during the summer, effectively allowing O'Donoghue to run the system in reverse — heat extracted from the incoming summer air is used to produce domestic hot water, in the process cooling down fresh air that is introduced into the house.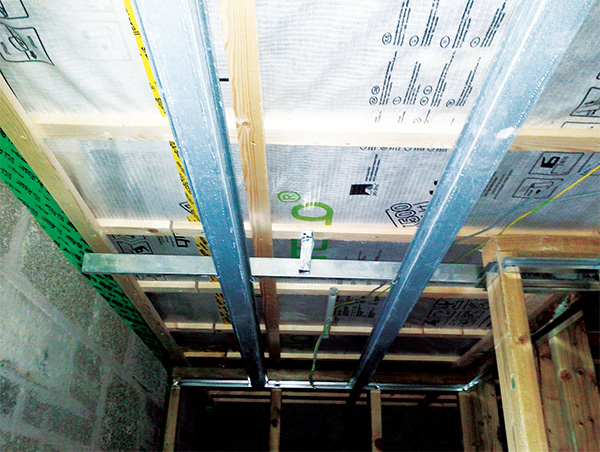 "I set the target temperature at 22C," says O'Donoghue, "but it probably did slip up to 24C in the middle of the day, whereas I know houses that didn't have that active cooling system, and went up to 29 or 30C."
He has been keeping a close eye on his energy spend since moving in nine months ago. So far electricity bills for ventilation and heating have been averaging between €17 and €20. The backup heating system, an Extraflame Duchesa wood chip pellet stove with back boiler – which feeds five radiators throughout the house – has, in O'Donoghue's words, been no more than an 'ornament' in the house.
On the subject of build cost, he has this to say. "For a standard A-rated build, you're looking at €80 or €90 a square foot. If you were to take that same building and make it passive, you're looking at between €90 and €100 a square foot. There could be little or no difference, or there could be quite a difference depending on the design of the house."
Selected project details
Client: Larry O'Donoghue Architect (design & planning): Feargal Sheahan Civil & structural engineering: TGL Consulting Engineers Energy consultant: Passive House Design Contractor: Magner Homes Mechanical contractor: Kevin O'Donoghue Plumbing & Heating Services Electrical contractor: A&J Electrical Airtightness installer: Magner Seal Airtightness tester: Collins Energy Consultants Cavity wall insulation: Envirobead Cellulose insulation: Warmcel Floor insulation: Kingspan Airtightness products: Siga, via McMahon Building Suppliers Windows and doors: Munster Joinery Air source heat pump & ventilation: Nilan Wood pellet stove: Kerry Biofuels
Additional info
Building type: 270 sqm detached two storey masonry house

Location: 1 Magner Avenue, Churchfield, Castlemagner, Mallow, Co Cork

Completion date: May 2013

Budget: €270,000 (including finishes)

Passive house certification: pending

Space heating demand (PHPP): 14 kWh/m2/yr

Heat load (PHPP): 9 W/m2

Primary energy demand (PHPP): 74 kWh/m2/yr

Airtightness: 0.54 ACH at 50 Pa

BER: 52.83 kWh/m2/yr

Thermal bridging: Last two courses of deadwork are Quinn Lite blocks, 50mm edge insulationstrips, no internal partition foundations (stud work only), low thermal conductivity cavity wall ties – Ancon TeploTie 2, thermally broken window frames – Ecotherm Plus Passiv certified windows and doors, insulated reveals (no cavity closing blocks, no wallplate closing blocks, door threshold bridging detailing. Y-value (based on ACDs and numerical simulations): 0.08 W/mK

Ground floor: Standard strip foundation using Quinn Lite thermal blocks in the last 2 rows of deadwork, 50mm edge insulation strips, 200mm Kingspan Thermafloor insulation: Uvalue: 0.112

Walls: 100mm external block, 300mm cavity using Ancon TeploTie 2 basalt wall ties, 100mm inner block, hard coat and skim finish. U-value: 0.106

Roof: Cupa H5 Natural slates externally on 50x35 battens/counter battens, followed underneath by breathable roofing underlay, 450mm cellulose on flat of attic: U-value: 0.096

Windows: Passive House Institute certified Munster Joinery Ecotherm Plus Passiv windows, with PVC frame and aluminium cladding internally and externally. Subject to window size, U-values range from 0.47 to 0.78

Heating system: Nilan Compact P air to air heat pump combining heat recovery ventilation, 2 KW in duct booster heat element, active cooling module, 180 litre domestic hot water tank. Secondary heating system is an Extraflame Duchesa wood chip pellet stove with back boiler feeding 5 radiatiors throughout the house.

Ventilation: Nilan Compact P air to air heat pump combining heat recovery ventilation, 2 KW in duct booster heat element, active cooling module, 180 litre domestic hot water tank
Latest from John Hearne