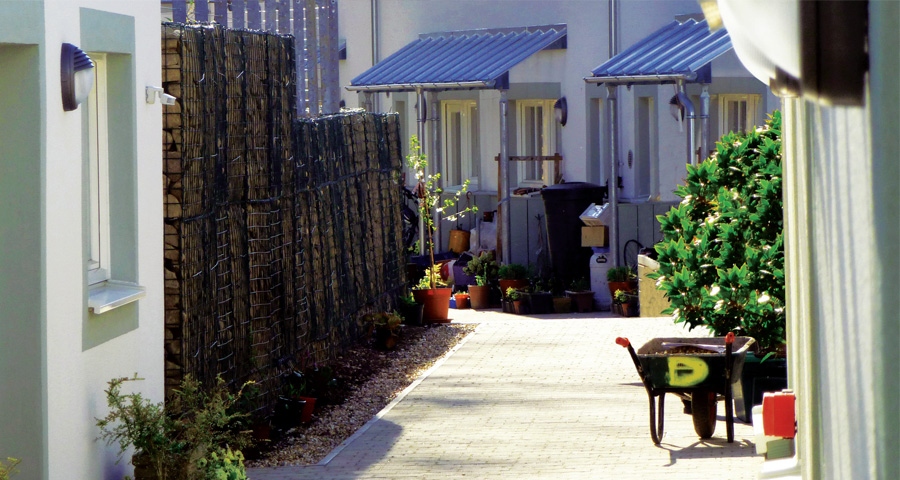 Lancashire housing scheme banks on passive
The winner of the Social/Group Housing award at the 2013 UK Passivhaus Awards, Lancaster Cohousing's Forgebank development in Lancashire is riddled with green features. Not only are all of its 41 homes passive house certified – it scores top marks in the UK's Code for Sustainable Homes too.
Back in 2004, a group of green-minded friends tried to buy a disused school and turn it into a communal home. The project never came to fruition, but it was the starting point for Forgebank, a cohousing development of 41 passive dwellings in Lancaster. Not only is Forgebank one of the UK's flagship passive house projects, it's a bona fide eco-community.
"One of the things we wanted to do was build more sustainable housing," says Jon Sear, one of the original group of friends. When the time came to build, he acted as the community's full time project manager.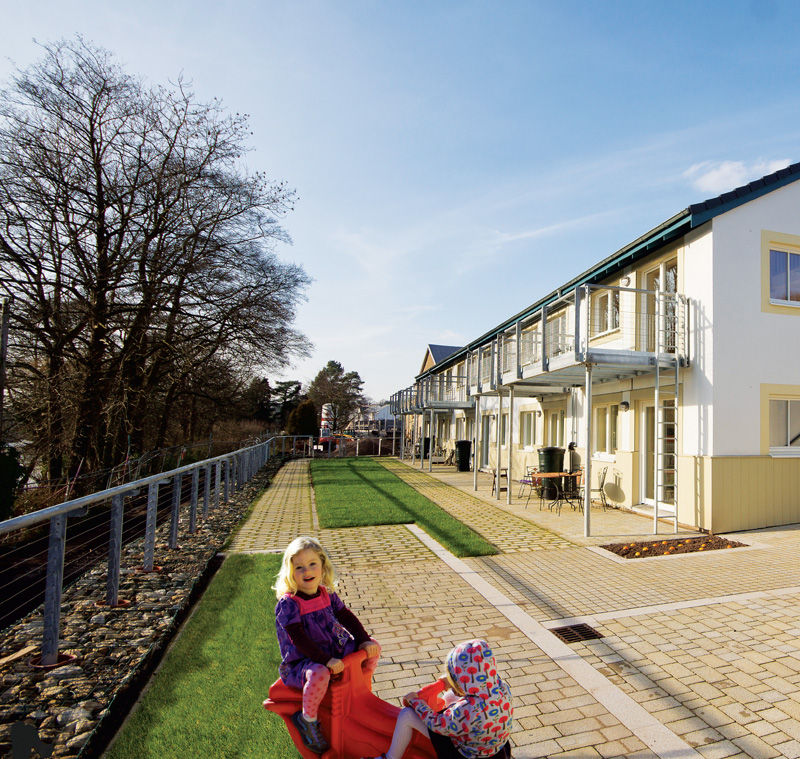 Cohousing is a type of intentional community, where private housing is supplemented by community facilities. Residents live in normal homes, but have a communal kitchen, dining room, laundry, offices and outdoor spaces.
If they were to make this community a reality, the group would first have to overcome an obstacle familiar to many sustainable projects: finance. "There were a few difficulties, for instance finding a bank willing to give us a loan when we weren't an established developer," group member Alison Cahn wrote in a 2011 article in the Guardian. "Eventually Triodos Bank came to our rescue."
But this development finance hinged on the group finding a lender willing to offer mortgages for individuals within the cohousing structure. Pioneering green mortgage lender the Ecology Building Society bought into the group's vision.
Because each property – and occupant – is an integral part of the cohousing community, securing such finance can be problematic, with lenders put off by the complexities of such a project.
For Ecology – with its years of experience lending to members of cohousing projects and other ownership structures that encourage shared resources and low impact living – this wasn't a problem. The lender even came with an added bonus: their C-Change mortage includes a 1% discount off their standard variable rate on all homes built to the passive house standard.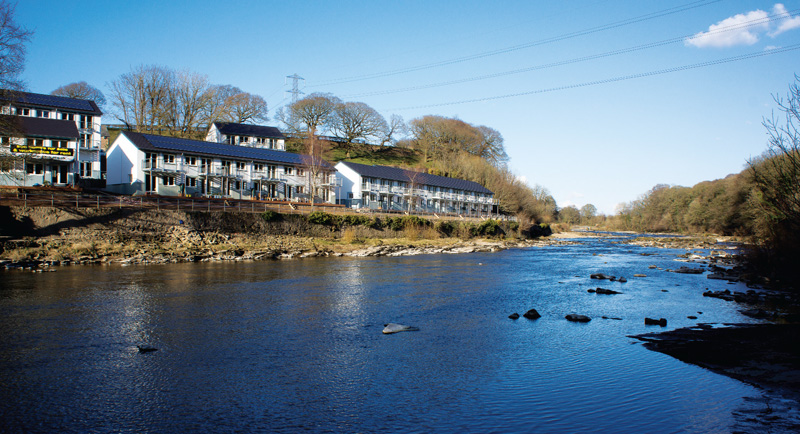 The original group had more than doubled when it came time to buy land. Leading green design firm Eco Arc were appointed as project architects.
"There was a great synchronicity between what they wanted to do and what we wanted to do," says Andrew Yeats, principal architect at Eco Arc.
Andrew had previously spent more than twenty years as resident architect at the pioneering Findhorn eco village in Scotland, and had undertaken a 3,000 mile bike trip to Scandinavia to study cohousing. His partner Lucy Nelson, the other principal at Eco Arc, had also spent time studying cohousing in Scandinavia and America.
Eco Arc even moved their offices across England, from York to Cumbria, to be closer to the project.

A ground floor wall detail reveals the attention to insulation continuity and reduced thermal bridging


The firm had produced feasibility studies for various sites before the group eventually bought a six acre brownfield site on the steep banks of the River Lune near Halton village, three miles from Lancaster city.
The group took a risk and bought the site at a knock-down price, without having secured planning permission.
The plot was part of a larger site once home to Halton Mill, which manufactured oil cloth and was built in the 19th century. Major demolition, remediation and site stabilisation work was needed before construction could begin. "It was a really difficult site to develop," Andrew Yeats says.
Unlike most construction projects, he says that planning a cohousing development requires a participatory, consensus-led design process among the whole community.
"We did one weekend a month with the first 30 householders. We went through everything from choosing a site, to site organisation, to picking the front doorknobs. We did everything together. I think it went exceptionally well, and that's partly because we're reasonably well experienced in that genre."
300mm graphite EPS in base of walls, Teplotie wall ties & Celcon inner leaf beneath DPC


By the time preferred contractor Whittle Construction was appointed, the initial design had been done. The contractor then met regularly with the whole design team for 12 months prior to starting on site to thrash out a workable detail design.
"These project meetings enabled us to understand the philosophy of the client and their design team to achieve Code for Sustainable Homes Level 6 and passive house accreditation," Whittle MD Graham Bath told Green Building magazine in Summer 2012. "Whilst we had carried out various schemes for housing associations throughout the Northwest to CSH Level 4, the project brought new and exciting challenges, particularly due to the utilisation of masonry construction, rather than the more usual timber frame or prefabrication solutions."
The site features 41 homes across seven terraces, ranging from one-bed flats to three-bed houses, including 7 "upside down" three-bed units – where the living room is on the first floor and bedrooms on the ground floor. Thirty-five of the units are part of the cohousing community (one terrace is private housing outside the community setup).
As part of the design brief, all 41 units had to achieve passive house certification — this was because, Andrew Yeats says, it's a "robust and unquestionable" standard that would verify the energy efficiency of the homes. "It would be unchallengeable," he says.
Eco Arc came up with eight different possible wall build-ups, but cavity wall was ultimately chosen. Not only was it the cheapest option, it was also the one contractor Whittle Construction was most comfortable with.
The inner and outer leaf were both built with Enviroblock, which is produced in the UK by Aggregate Industries from recycled and secondary concrete aggregates. The 300mm cavity is fully-filled with Knauf Earthwool DriTherm glass wool insulation – and 300mm Springvale Platinum u Floorshield insulation beneath DPC level, and features thermal bridge free TeploTie basalt wall-ties too. Aerated Celcon thermal blocks were used to reduce thermal bridging at several key junctions – including sub-floor walls and from eaves to roof apex, and to form innerleaf at end of terrace walls.
Super-wide cavities might seem like a relatively new phenomenon in the era of energy efficient building, but Eco Arc first used this detail in 1992.
Passive house consultants Alan Clarke and Nick Grant were brought in to model and optimise all thermal details in Therm, going through many iterations to optimise cost using PHPP as a design tool, with Clarke providing site support, including ongoing thermal imaging to catch potential issues during construction.
The south elevations of each terrace are heavily glazed to maximise solar gain, but because the opaque sections here are so small, timber frame was chosen over block. The Kerto structural timber frame system is insulated between the studs and externally with Pavatherm Plus woodfibre insulation and clad outside with Marley Eternit Operal and Cedral cement fibre-boards.
The sedum roofed common house


Under the ground floor there's traditional strip foundations with 250mm of EPS insulation below the concrete slab, which contains GGBS, a recycled alternative to traditional portland cement.
Upstairs, the roofs of seven of the units are insulated with 350mm of Knauf Perimeter Plus loose glass wool insulation between the rafters in seven units. To reduce cold-bridging there's Gutex woodfibre board over the rafters, and the roof insulation zone is continuous with the cavity wall insulation zone to ensure a continuous thermal wrap. This vaulted ceiling approach was dropped for the remaining 34 houses on cost grounds and replaced with a bob-tail truss used instead of a vaulted ceiling, and 500mm of Knauf Loft Roll insulation laid horizontally at ceiling level. Beneath this, no cavity closers were used, in order to ensure a continuous insulation layer.
According to Nick Grant, the roof detail, as well as ground floor and wall details were heavily influenced by the details for Denby Dale1 – the UK's first cavity wall building to achieve passive house certification – as well as details in the AECB's Gold standards. "The Green Building Store put out a lot of free information for people to use," says Grant.

The wet plaster internally serves as the airtight layer on block walls, with Pro Clima Intello membranes in the timber frame elements, and Pro Clima tapes used to seal junctions.
To achieve passive house certification, each house had to individually meet the airtightness requirement of 0.6 air changes per hour, and test results ended up between 0.35 and 0.6 air changes per hour.
A wood chip district heating system, fuelled by chips from a local woodland, services the whole community. The 150kW Herz boiler was installed in an old Halton Mill building, which provides a workspace for residents.
The roof of the mill is undergoing insulation and airtightness work. The budget to renovate the mill was limited, so it was decided to undertake a deep retrofit on the roof, where 30% of heat is lost, rather than a modest upgrade of the whole building.
But the mill has a high heat load compared to all the dwellings combined, so the real decision came down to how the mill was heated.
"We didn't really want to use fossil fuels," Andrew Yeats says. "It was kind of an obvious choice really."
The mill has a 40kW solar thermal array too, and the district heating system is setup to take heat from this as a priority before the boiler kicks in.
A network of pre-insulated pipework distributes hot water to each of the dwellings, which have just one or two Quinn radiators each. A lot of heat can be lost over a district heating network, but by performing a detailed analysis to work out the hot water demand first the team was able to specify smaller pipes, which will help to avoid unnecessary losses.
Most of the dwellings are ventilated by Paul Focus 200 mechanical ventilation systems with heat recovery (MVHR), with the exception of the six one-bed flats, which use Zehnder ComfoAir 200 MVHR systems instead. "This was due to the need to achieve a base airflow rate suitable for single person occupancy which was lower than the minimum flow rate of the Focus," explains M&E consultant Alan Clarke. "It also helped with space constraints as the MVHR had to go in the kitchen and the Zehnder unit fitted inside a single 600mm kitchen unit."
For electricity generation, substantial solar photovoltaic arrays – selected for their green and ethical credentials as well as their efficiency – sit on south-facing roofs, and Forgebank is also planning to hook up to the nearby 160kW Halton Lune hydropower scheme. This was essential for reaching Level 6 of the Code for Sustainable Homes — the highest rating possible — which the development achieved. Electricity use at the development is unusually low though, most likely because there are so many shared facilities.
A decision was taken not to install rainwater harvesting systems, with water conservation measures adopted instead, including rainwater butts, plus low-water taps, showers, baths and WCs and water efficient white goods.
But apart from energy efficiency and environmental stewardship, community is at the core of Forgebank.
A sedum-roofed common house — built to the same spec as the homes, but not passive house certified — provides communal facilities for cooking, eating, and socialising.
There's also a pedestrian-only street running through the community, plus a bike store, a new pathway along the river, and a small woodland too. The residents have also come together to form a food co-op to buy food in bulk. All community decisions are made by consensus.
Tom Lelyveld, who works in energy consulting, only heard about the project in 2011, but found the idea exciting and ended up buying a home here. He and his partner were looking for a good place to raise their young son, and the idea of a pedestrian-only street for kids to play on particularly appealed.
"It was the community aspect, but also I had been on a study trip to study passive house in Germany, and I like it as a concept," he says. "It has pretty much exceeded my expectations in terms of comfort."
He says that he just has to set his thermostat to maintain a constant temperature and leave it at that.
"They never get super hot, it's more just about topping up." On sunny days in winter, the temperature inside can reach 22C purely on solar gains.
"It's a lovely place," Tom says of the community. "When we had this massive great heat wave, you walk up the river about ten minutes and you've got a great swimming spot."
The first residents moved in last August, and the last of the homes were in the process of being handed over at the time of writing. All units have been sold.
Nonetheless certain lessons have been learned: for one, Andrew Yeats thinks there should be a minimum of two airtightness champions on big projects, and that more attention must be paid to communicating the importance of airtightness down to every tradesmen on site, to ensure sealing work isn't rushed, or done during damp periods, just to expedite the build schedule.
A Building Use Studies survey revealed a few concerns among residents that need to be addressed, but overall the responses were excellent, and interviewees cited the warmth and comfort of the homes, the views over the river, and being closer to neighbours as the best aspects of living at Forgebank.
Fairly extensive monitoring has been carried out since construction too.
A coheating test on one dwelling revealed a measured heat loss of 47.1 W/K, compared to the 39.6 W/K predicted in Sap. Relative humidity was initially high after construction, but levelled off at a normal value of around 40%. Winter temperatures inside are a steady 19-20C.
"They're not overheating in summer, and they're nice and warm in winter," Jon Sear says.
And for the residents comfort, ultimately, is the most important thing.
Selected project details
Client: Lancaster Cohousing
Architect: Eco Arc
Contractor: D Whittle Construction
Passive house consultancy & building services engineers: Alan Clarke & Nick Grant
Quantity Surveyor & Project Manager: Turner & Holman
Project finance/mortgages: Triodos/Ecology Building Society
Passive house certification: Warm
Civil & structural engineering: Gifford (since acquired by Ramboll)
Landscape design: Camlin Lonsdale Landscape Architects
Code for Sustainable Homes assessor: Eric Parks
Airtightness: Paul Jennings
Mechanical contractor: Rogerson Homeserve +
Electrical contractor: R Thomson Electrical Contractors
Groundworks contractor: William Pye
Roofing contractor: Pears Roofing
Insulation contractor: A&M Energy Solutions
Sedum roof contractor: Green Roofs Naturally
District heating design: Pettit Singleton
District heating contractor: James Mercer
Solar thermal installers: Campbell Stewart
Masonry (Enviroblock): Aggregate Industries
Kerto timber frame panels: Metsawood
Wood fibre insulations: NBT & Ecological Building Systems
Wall ties: Ancon
Thermal blocks: H&H Celcon
Airtightness products: Ecological Building Systems
Damp proof membrane & radon barriers: Visqueen
Glass wool insulation: Knauf
Below DPC cavity insulation: Springvale EPS Ltd
Ground floor insulation: Jablite
Windows: Green Steps
Roof lights: Fakro
Roof tiles: Sandtoft
Cement fibreboard: Marley Eternit
GGBS: Tarmac Topmix
Paving: Hanson Formpave
Painting & decoration: SML
MVHR systems & low water fittings:
The Green Building Store
MVHR systems for 1 bed flats: Zehnder
MVHR ductwork, grilles & terminals: Lindab
PV supplier: The Better Roofing Company
Wood chip boiler & fuel feed system: Barden Energy
District heating pipework: Rehau
Hot water cylinders: Mcdonald Engineers
Solar thermal array: AO Smith
Solar cylinder: Akvaterm
Heat metres: Kamstrup
Regulating valves: Danfoss
Radiators: Quinn Radiators UK
Kitchens: Howdens Joinery
Low water fittings: Hansgrohe
Utility services: Quartzelec
1A free technical briefing on Denby Dale is available at http://bit.ly/SwNimJ
Additional info
Project overview:

Development type: 41 certified passive dwellings across seven terraces, ranging from two to ten units per terrace, and associated common house.


Location: Halton, Lancaster

Completion date: 2012

Budget: £5.7m inclusive of 41 dwellings, community buildings and site works. £1,825 per square metre inclusive of extensive demolition, remediation and site stabilisation works. £1,505 per square metre exclusive of these costs.

Passive house certification: All 41 residential units certified. Common house not certified.

Space heating demand (PHPP): 12kWh/m2/yr (average over all dwellings)
Space heating demand (measured): 13kWh/m2/yr (average over all dwellings)

Heating load (PHPP): 9W/m2 (average over all dwellings, no cooling)

Primary energy demand (PHPP): 81kWh/m2/yr (average over all dwellings)
Primary energy demand (measured): 77 kWh/m2/yr (average over all dwellings)

Code for Sustainable Homes: Level 6

Airtightness (at 50 Pascals): ranging from 0.35 to 0.6 ACH

Energy performance certificates (EPC): pending

Thermal bridging: Ancon TeploTie low thermal conductivity wall ties, H+H Celcon aerated thermal blocks in all perimeter and party walls at sub floor and above ceiling levels (from eaves to roof apex) & to form inner leaf (with 1200mm width x 200mm thick Kingspan Insulation UK Kooltherm insulation at steel windpost) in end of terrace walls.

Ground floor: traditional strip foundations. Timber flooring finish, on 150mm RC30 GGBS Concrete slab, 500 gauge Visqueen EcoMembrane recycled slip sheet, 250mm Jablite 70 floor grade under-slab EPS insulation, 1200 gauge Visqueen EcoMembrane DPM (in terraces D & E) or Visqueen radon membrane (terraces A, B, C and F) or a separate radon membrane in terrace G, on sand binding & hardcore. U-value: 0.14

Intermediate floors: 22mm thick T&G floorboards, 253mm deep steel web floor joists containing 100mm MVHR ductwork & drainage ductwork; 200mm sound insulation; plasterboard ceiling finish.

Cavity walls: 8-10mm Wetherby external render system, 100mm Masterblock Enviroblock EV11 100% recycled aggregate concrete block forming both the inner and outer leaf, with three to six courses of blue engineering brick used below DPC at outer leaf. 300mm cavity in-between with Type 2 TeploTie reinforced basalt fibre wall ties and 300mm full-fill Knauf Dritherm recycled glass wool insulation. U-value: 0.12. 300mm Springvale Platinum Floorshield insulation below DPC at perimeter to act as formwork when casting slab.

Timber frame infill sections: 9mm Marley Eternit Operal board, on battens, on ProClima Solitex breather membrane, on 100mm NBT Pavatherm wood fibre insulation board with joints sealed with NBT Pavatape, on 9mm OSB fixed to 300mm Kerto structural sub frames filled with Knauf Dritherm 37 insulation, on 9mm OSB and Pro Clima Intello vapour control layer, on battens for service cavity, finished inside with 12.5mm plasterboard. U-value: 0.12

Trussed roofs: Sandtoft Cassius clay tiles on battens and counter-battens, Pro Clima Solitex Plus Breather membrane, bob tail truss, 500mm of Knauf Loft Roll recycled glass wool insulation, 18mm OSB taped with Tescon No 1, 25 x 50 battens, 12.5mm plasterboard. U-value 0.1

Cathedral roofs: Sandtoft Cassius clay tiles on battens and counter-battens, Pro Clima Solitex Plus Breather membrane, 22mm Gutex Multiplex Top woodfibre board, 350mm rafters with Knauf Perimeter Plus loose blown glass wool insulation, on 9mm OSB, on Pro Clima Intello vapour control layer, on 25 x 50 battens, on 12.5mm plasterboard. U-value: 0.1

Common house sedum roof: Green Roofs Naturally's sedum roof system – comprising sedum sprout mix, extensive soil substrate, Nutrifoam mat and water/roof proof membrane – on 18mm thick WBP ply deck, 50mm treated SW battens, Pro Clima Solitex Plus breather membrane, 18mm thick OSB sarking board, 400mm deep JJI roof rafters insulated with Knauf Perimeter Plus, 12mm OSB, Pro Clima Intello VCL, 50x25mm battens to form services void, 12.5mm thick plasterboard & skim. U-value: 0.1

Windows: Green Steps alu-clad triple-glazed windows with low e coatings, argon fill and insulated Thermix spacers. Overall U-value: 0.9

Roof lights: triple-glazed Fakro FTT-U5 Thermo roof lights installed in three one-bed flats. Centre pane U-value: 0.5

Heating: up to 93% efficient 150kW Herz wood chip boiler – with modulation from 37 to 151 kW – and 40kW of solar thermal energy – comprising two x 14 panel AO Smith flat plate arrays with drainback function, with a Resol Deltasol BS/4 controller and Akvaterm solar accumulator tank - distributing heat via a district heating network of pre-insulated Rehau pipework.

Microgeneration: 4 solar photovoltaic arrays giving a total of 48 kWp. REC 245w panels on Schletter mounting system with SMA Tripower inverters.

Ventilation: separate Paul Focus 200 MVHR systems in all 35 houses. Passive House Institute certified heat recovery rate of 91%. Separate Zehnder ComfoAir 200 MVHR systems in all 6 flats, with Passive House Institute certified heat recovery rate of 92%.

Paving: Hanson Formpave Ecogranite paving range used throughout, featuring 77% recycle materials – including Combined Royal Deeside Victoria at terraces A-F and Aquasett Pennant permeable paving at Terrace G.

Water conservation: ES4 four litre siphon WCs with leak free flushing technology.

Green materials: Masonry block made from recycled concrete aggregates, GGBS cement, wood fibre insulations products, recycled glass wool insulation.

Save