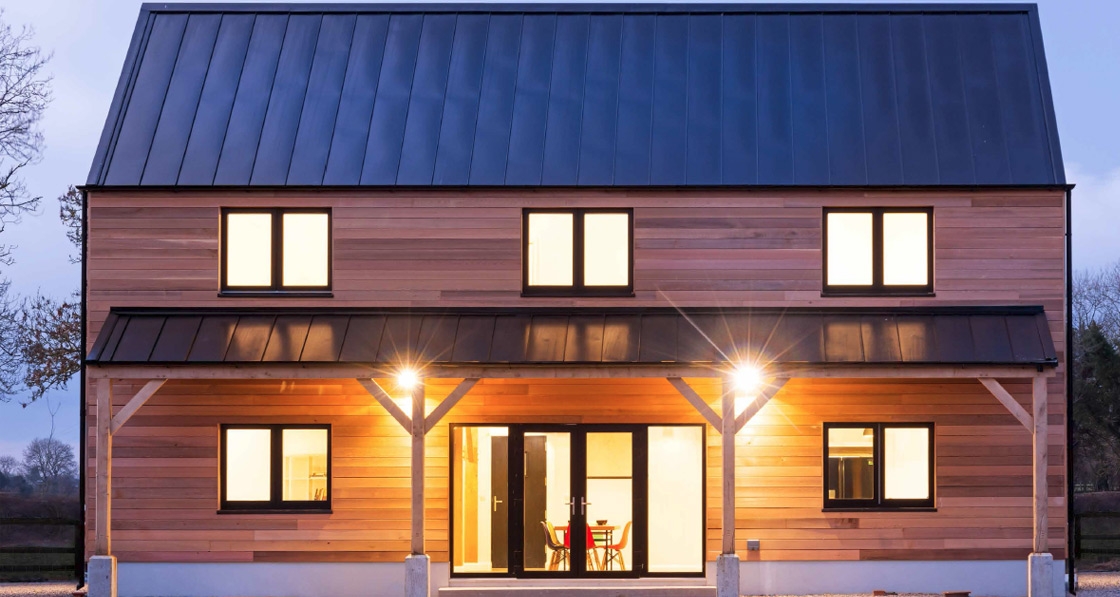 Kildare passive house uses unique oak frame construction
This brand new light-filled passive house set in the countryside of north Kildare was inspired by local farm buildings, and features a striking and exposed oak-framed structure.
Click here for project specs and suppliers
This article was originally published in issue 15 of Passive House Plus magazine. Want immediate access to all back issues and exclusive extra content? Click here to subscribe for as little as €10, or click here to receive the next issue free of charge
This new passive house in rural Kildare hasn't just met the passive house standard, it's done so while embracing a beautiful oak-framed structure that sets it apart from your average low energy timber-framed house. The Irish oak frame was the vision of client Matt Sheehan and his wife Olwyn, and was integral to the project from the outset.
Matt says that the oak frame, "was probably one of the most important aspects of the house that we had envisaged right from the start. The idea really planted in our minds after we visited Claregalway Castle," he says. "I went to a conference that was hosted there and the castle had just been restored."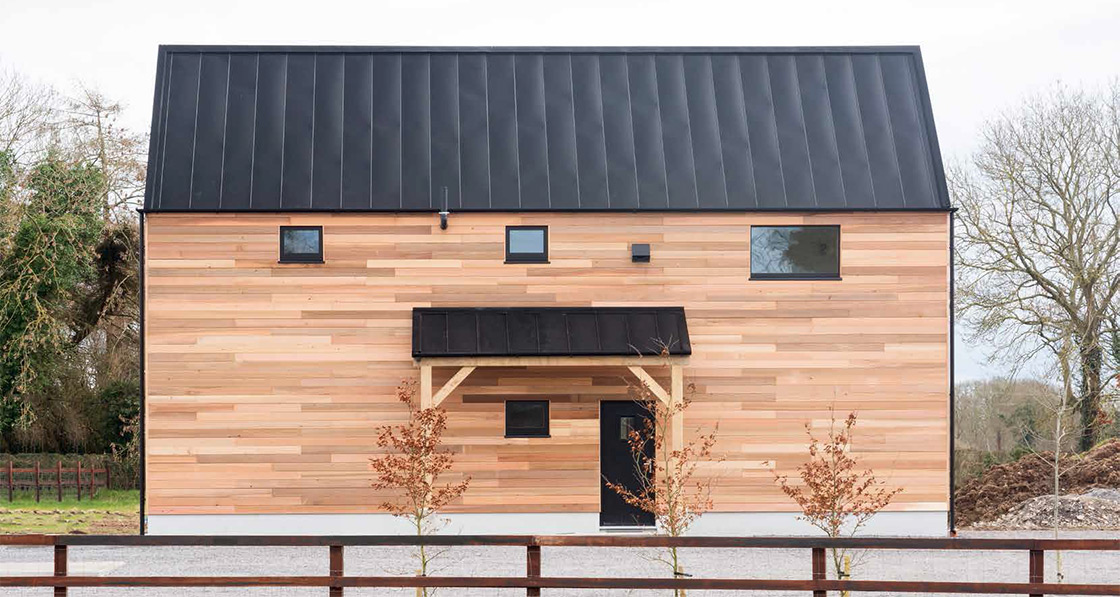 The castle, in Co Galway, had just been restored with an oak frame by carpenter Paul Price of Woodwrights. Matt then asked Paul to come on board and build an oak frame for his own house. "I quite like the design of all the joints, the physics of how the joints work," Matt says of his preference for oak. "I quite like the geometry side of it, and it looks pretty amazing, it looks beautiful. It would convey a sense of extreme robustness and durability in the feeling of the house.
But Matt and Olwyn also knew that their house needed to be a home. "You still want to be able to make it a house, it can't just be a frame to look at," Matt says. "I wanted it to be a home that felt welcoming — and I know that's an ethereal or hard to define term."
The couple didn't set out with the aim of building a passive house. But they knew they wanted an oak-framed house built with structural insulated panels (or SIPs, a fairly common and logical way of filling in oak-framed walls and roofs), good U-values, airtightness, and heat recovery ventilation. Matt says: "We wanted to build a well-designed house that was designed for the way we wanted to live, but also efficient in terms of the use of space and the orientation, and the use of energy."
Matt had read about local low energy builder Pat Doran Construction Ltd in Passive House Plus, and brought the father-and-son team of Pat and Paul Doran on board. "He read about us in the magazine, and he lives close by," says Paul Doran. "So he contacted us and he met with us a good few times, and he just talked about what he wanted to achieve and what he wanted to do."
Pat Doran Construction advised Matt that it wouldn't take much extra to get their design to meet the passive house standard. "We realised how close we were with our original plan, and we only needed a small tweak to get it across the line. And it seemed like it was worth going that extra mile," Matt says. For him, passive house just means, "good sensible design that you would do anyway if you were trying to construct a house as best you could."
But sticking with Matt and Olwyn's vision for an oak frame required perseverance and forethought. The couples' first architect had talked them out of the idea of building with oak, and in fact that first design wasn't really suited to an oak frame anyway, so the original planning application was for a house without one. But Matt and Olwyn ultimately decided that an oak frame was integral to what they wanted, so they hired a new architect, and went back for planning permission a second time — this time for an oak-framed house.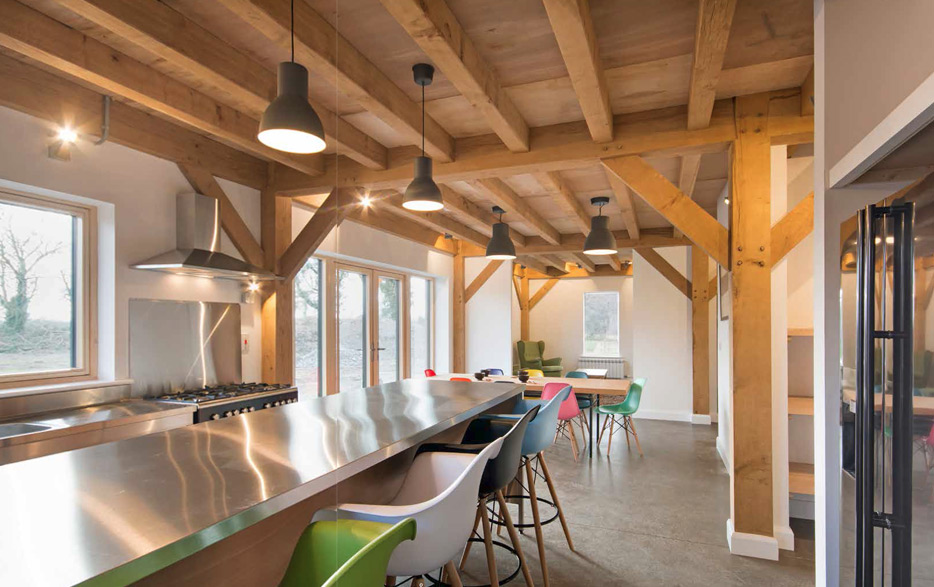 The design demanded detailed co-ordination between the contractor, the carpenter, the SIP supplier, the engineers, and so on. "So there was an enormous amount of coordination," Paul Doran says. The structural engineer wanted both the oak frame and SIP structure to be individually self-supporting. The use of an oak frame constrained the size and shape of the house, but the need for a compact dwelling also lent itself to meeting the passive house standard. "The oak frame frames the floor plan — the two have to go together and respect each other," says oak frame carpenter Paul Price.
He adds that there is simply no way to make an oak frame work for some house designs, and even if it was possible, it wouldn't look good. Price sources all of his oak from Ireland, though he says the supply can be unreliable. "It was great to have a client who was so into it, and who wanted to get things right," he adds.
Matt produced floor plan drawings himself, but ultimately had to keep going back and rejigging things to make the design fit with the frame. The original designs also made no provisions for a plant room in the tight space, which meant another rethink was needed.
"The client was extremely passionate about the project, and put in an enormous amount of effort into it," Paul Doran says. "I think there were ten first floor plans before we finally found one that worked." Achieving airtightness required a lot of forethought and effort too. "Every time we found a solution it caused a problem somewhere else."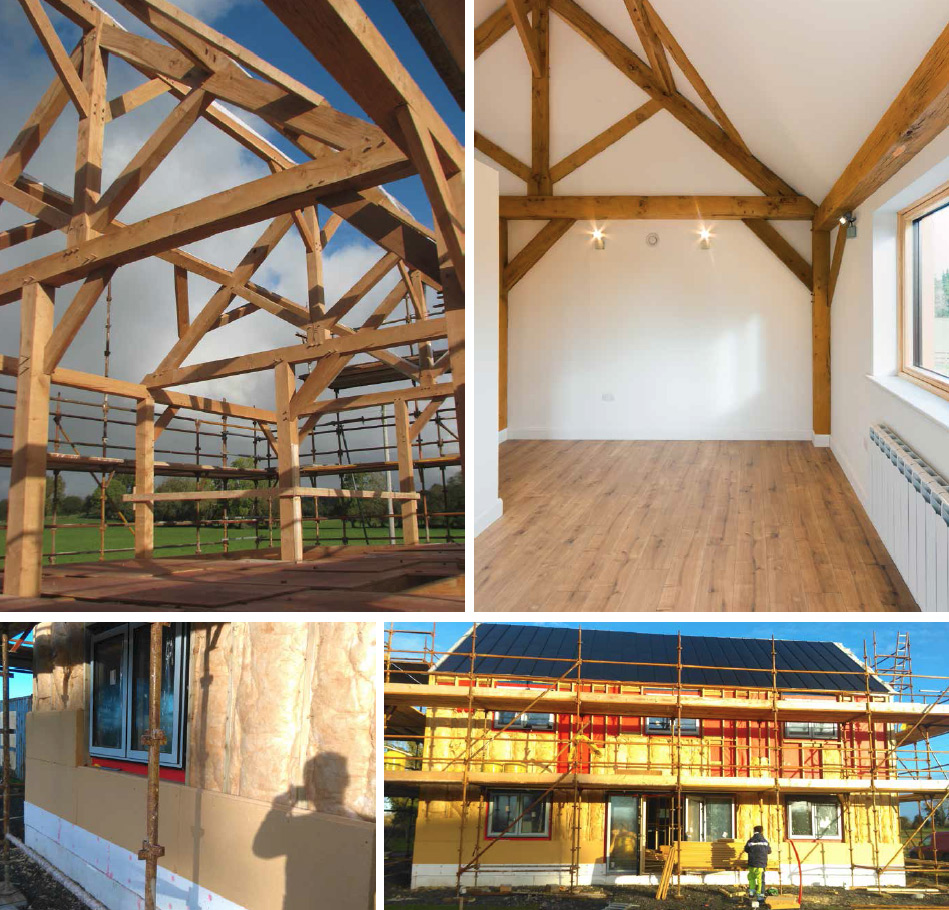 (clockwise from left) The building's oak frame under construction and exposed in the finished home; the make-up of the external walls thermal layers coming together with structural insulated panels, studded out externally to include 100mm of Metac; beneath 80mm Gutex wood-fibre boards
The intermediate floor was wrapped in an airtight membrane to ensure it was sealed where it met the external walls, and the walls themselves were lined inside with an airtightness membrane. Even though SIPs are inherently airtight, Paul Doran wanted to ensure it met the passive house target of 0.6 air changes per hour. "If you're going for 0.6, you couldn't take the risks," he says.
Ultimately all of the forethought and planning proved its worth, and the house got 0.3 air changes per hour on its first airtightness test, and 0.4 on its final test. "It is a lot easier [to achieve airtightness] with timber frame — the fact you have a membrane going from the floor on all the walls and all the ceilings," Paul Doran says.
The SIP panels, manufactured by Galway-based specialists SIP Energy Homes are composed of two layers of OSB that sandwich 150mm of XPS. This layer of insulation continues down to the perimeter of the slab to eliminate thermal bridging here. Both the walls and roof also have Gutex wood fibre board to the exterior of the structure for further insulation.
Paul Doran says: "There is continuous insulation between the SIP panels and the roof, and the Gutex on the walls meets the insulation in the foundation system, and then runs up and meets the Gutex in the roof." This means the house is, in fact, wrapped in two continuous layers of insulation.
Doran is clearly proud to have achieved this, and an excellent airtightness result, on such a singular and challenging project. "It was very unique, because there were a lot of constraints on it, with the oak frame, with the SIPs, the size of the house and then trying to achieve the airtightness," he says.
The house is heated by a Daikin air source heat pump, delivering to radiators downstairs and upstairs in the bedrooms. The team was originally just going to put rads downstairs, but decided to put some in the bedrooms for extra security and comfort, as the vaulted ceilings here are quite high. Meanwhile a Zehnder 350 ComfoAir unit processes heat recovery ventilation, and a small solar photovoltaic array too is due to fitted imminently as Passive House Plus goes to press.
"Since we've built it and been in it, we haven't needed the heating on," Paul Doran says. Matt and Olwyn had yet to move in at the time of going to print, but Matt is — so far — thrilled with how the house turned out. "I think we did a pretty good job of showing off the frame," he says. "At the staircase you can see all the way up to the ridge beam." Meanwhile the bedrooms all open up to vaulted ceilings.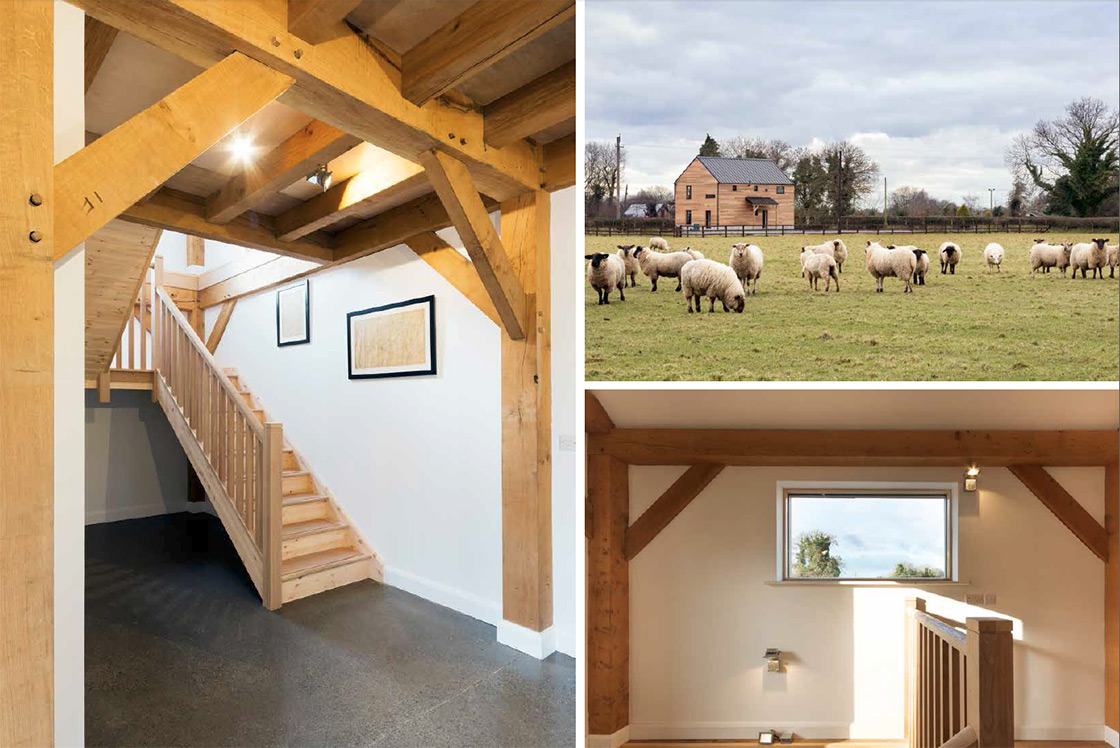 "I quite like the geometry side of oak, and it looks pretty amazing, it looks beautiful."
Having rented all their lives, designing the house provided a chance to create the house they wanted. The compact form of the house also suits its rural context. "It suits the countryside. It's a barn shape, it's in an agricultural setting," Matt says. The walls are clad externally with cedar, continuing the wood feel to the exterior.
Ultimately the house can only prove its worth once Matt and Olwyn have lived in it for a while. But presuming the house is as comfortable, healthy and energy efficient as any certified passive house, it looks like they — along with the whole team behind the project — have produced a rather unique and beautiful new low energy home.
Selected project details
Architect: Martin Murphy Design & Build
Civil & structural engineer: Duffy Chartered Engineers
Oak frame: Woodwrights
SIP system supplier: SIP Energy Homes
Contractor & project management: Pat Doran Construction
BER: Greenpro Energy Consultants
Mechanical contractor: David Gaffney

Heating & Plumbing
Electrical contractor: Frank Knight Electrical Airtightness testing: Greenpro Energy Consultants
Roof insulation & airtightness contractor: Baker & Co
Passive slab: Kore
Windows & doors: Munster Joinery
MVHR: Zehnder, via Flynn Heat Recovery
Solar PV contractor: Base Engineering
Cedar cladding: Machined Timber Services
Additional info
Building type: 160 square metre detached two-storey oak frame house Location: Naas, Co Kildare
Completion date: March 2016
Budget: Not disclosed
Passive house certification: Pending
Space heating demand (PHPP): 17 kWh/m2/yr
Heat load (PHPP): 10 W/m2
Primary energy demand (PHPP): 118 kWh/m2/yr
Airtightness: 0.4ACH at 50 Pa
Energy performance coefficient (EPC): 0.272
Carbon performance coefficient (CPC): 0.283
BER: A2 (45.29 kWh/m2/yr)
Thermal bridging: SIP wall panels on concrete floor slab — 150mm XPS continuous insulation with SIP roof panels.
Concrete floor slab on insulated foundation system (300mm of EPS) (Kore Passive Slab). 80mm of upstand of Kore Passive Slab in floor in full contact with 80mm of Gutex on outer stud wall of SIPs in full contact with 35mm of Gutex on roof; full wrap of insulation all around the house. Windows thermally broken.
Ground floor: Raft foundation insulated with 300mm EPS. U-value: 0.10W/m2K.
Walls: Oak-framed walls, 22m Cedarwood cladding externally, followed inside by 50 x 25mm treated battens on 80mm Gutex woodfibre board, 100 x 44mm stud filled with 100mm of Isover Ireland Metac mineral wool, 15mm taped and sealed OSB SIP insulated with 150mm XPS insulation, and pro clima airtight DM membrane internally with 50 x 25mmm battens for an uninsulated service cavity and 15mm Gyproc Rigidur board internally. U-value: 0.12 W/m2K.
Roof: Oak framed roof, Euroclad Vieo Edge metal sheeting on breathable roofing underlay externally, on 18mm OSB, on 50mm x 25mm treated battens, on 35mm Gutex on SIP Panels (15mm OSB, 150mm XPS, 15mm OSB) and pro clima DM airtight barrier internally with 50 x 50 battens to form a service cavity insulated with 50mm Metac. U-value: 0.14 W/m2K.
Windows: Munster Joinery Passiv triple-glazed timber aluclad windows, Passive House Institute certified. Overall U-value of 0.82 W/m2K.
Heating system: 4.5 Kw Daikin Altherma air-to-water heat pump (SPF: 389% for space heating, in accordance with IS EN 14825) supplying 2 rads downstairs, 3 rads upstairs, hot water and towel rads.
Ventilation: Zehnder 350 ComfoAir heat recovery ventilation system — Passive House Institute certified to have heat recovery rate of 83%.
Electricity: 2 panel SolarWorld PV system to be installed.
Image gallery
Passive House Plus digital subscribers can view an exclusive image gallery for this article. Click here to view
Related items