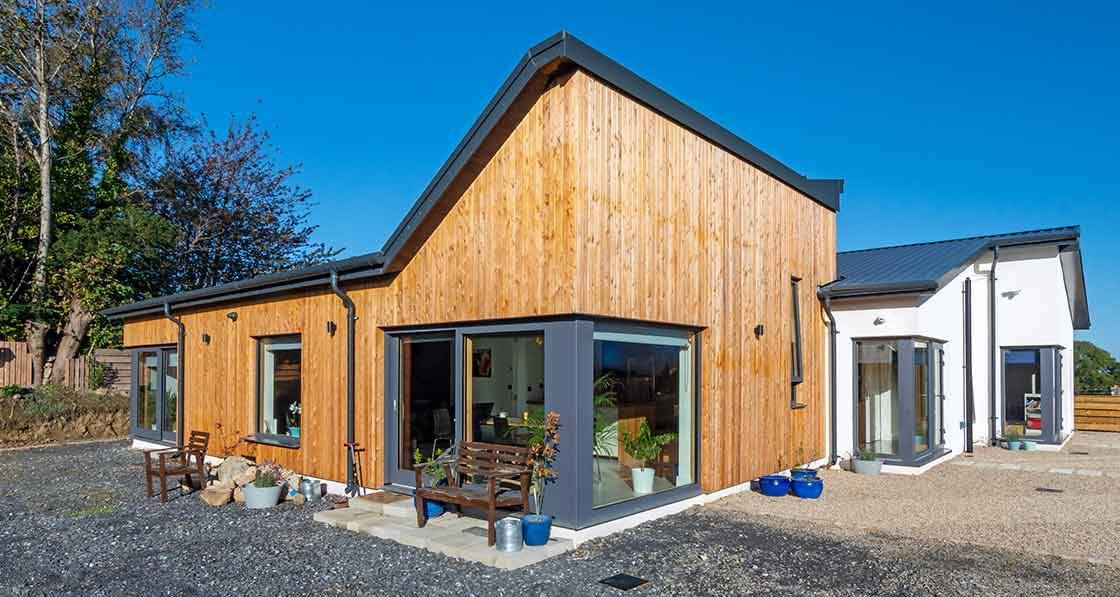 Photography: Tomas Juszczak / Imageworks
Flat pack hijack
Flat-pack furniture has become a fixture of modern living, but what happens when the same concept is applied to housing – and when the client is an architect seeking to build to passive house and nearly zero energy building levels?
Click here for project specs and suppliers
€110 per month (including all energy use)
Building: 186 m2 off site-built detached house
Location: Carrickmines, Dublin
Completion date: February 2019
Budget: €450,000
Standard: Near-passive/NZEB

If this newbuild in south Dublin proves anything, it is that a new timber-based build system which defies categorisation is suited to meet the passive house and nearly zero energy building standards, while bringing advantages in terms of speed of construction and quality.
Designed as a four-bed house but with one of the rooms converted into an multi-purpose entertainment centre, this sleek-looking, detached, single-storey dwelling in Carrickmines, Dublin, has achieved an A2 BER along with NZEB compliance, and comes within a hair's width of meeting the passive house standard. It also shows just how far prefabrication technology has come.
Indeed, if you've done any research recently on the new build market, you might have noticed that off-site, factory-built systems have been gaining some considerable traction in a construction marketplace still dominated by on-site, masonry methods.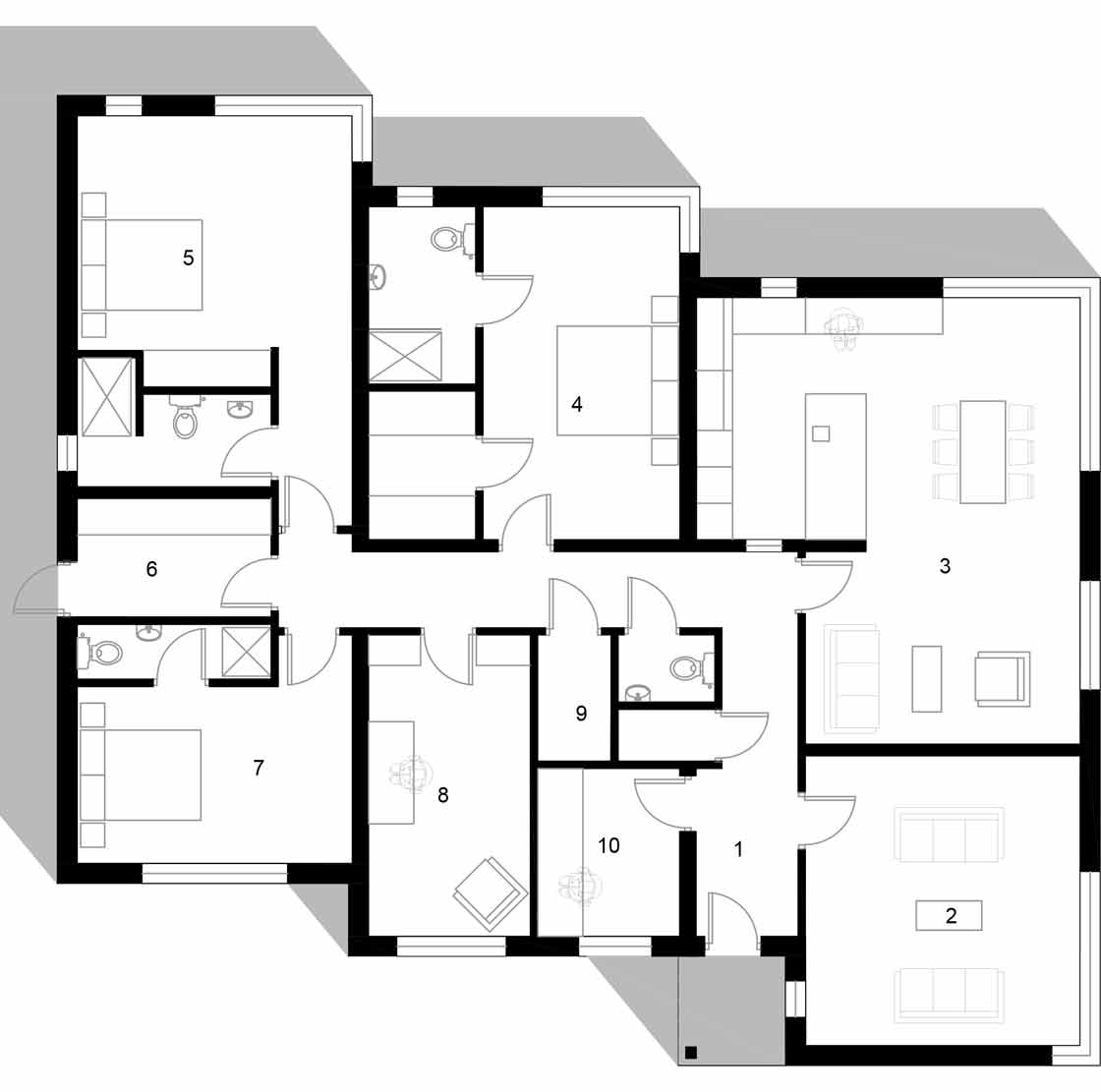 This article was originally published in issue 32 of Passive House Plus magazine. Want immediate access to all back issues and exclusive extra content? Click here to subscribe for as little as €10, or click here to receive the next issue free of charge
Even conventional timber frame construction itself is still relatively niche in a country overly disposed to blocks and mortar, but the fast-moving evolution of off-site, rapid-build technology enabled it to grow market share here to up to 35% during the Celtic Tiger years — though as with all construction at the time, the quality was mixed, to say the least.
There's also the relatively negative association many Irish people attach to the word 'prefab', thanks to memories of being taught in cold, draughty temporary buildings at school. Of course, the lifespans of those buildings were measured in years rather than decades, but even ostensibly temporary systems erected for new schools today seem a world away from those soulless grey boxes, both in terms of their outward appearance, how they feel inside and their longevity.
The two big advantages of off-site systems these days are speed and the potential to achieve high quality. With most of the work done in a factory, it reduces the amount of time needed on site to finish off. The factory environment that makes the greater economies of scale possible also enables greater quality control, particularly in relation to insulation, airtightness and fittings.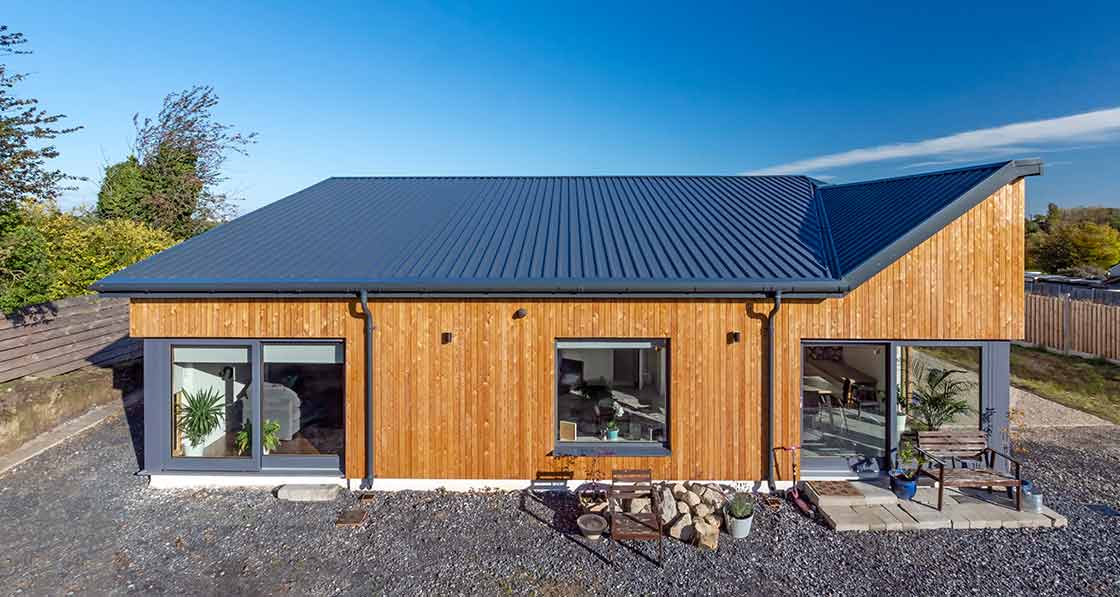 I knew it was very high spec in terms of insulation and airtightness.
This home's client, Lisa Wynne, is an architect herself, specialising in commercial buildings. She had wanted to build a top quality, energy efficient home from the outset.
"I wanted to do it as well as possible, and I don't see the point in cutting corners." She had already intended to specify elements like triple glazed windows, but when they looked at doing things to passive house standard, "it seemed like it wasn't that much of a stretch," she says.
Basing their newbuild on structural timber construction was very much a priority, and they had looked at various systems, but the tricky access to their site generated a few issues for potential suppliers.
The site was once the enormous back garden of a cottage owned by the parents of Lisa's partner Keith. His parents recently sold the cottage and were also looking to build a new house on the site.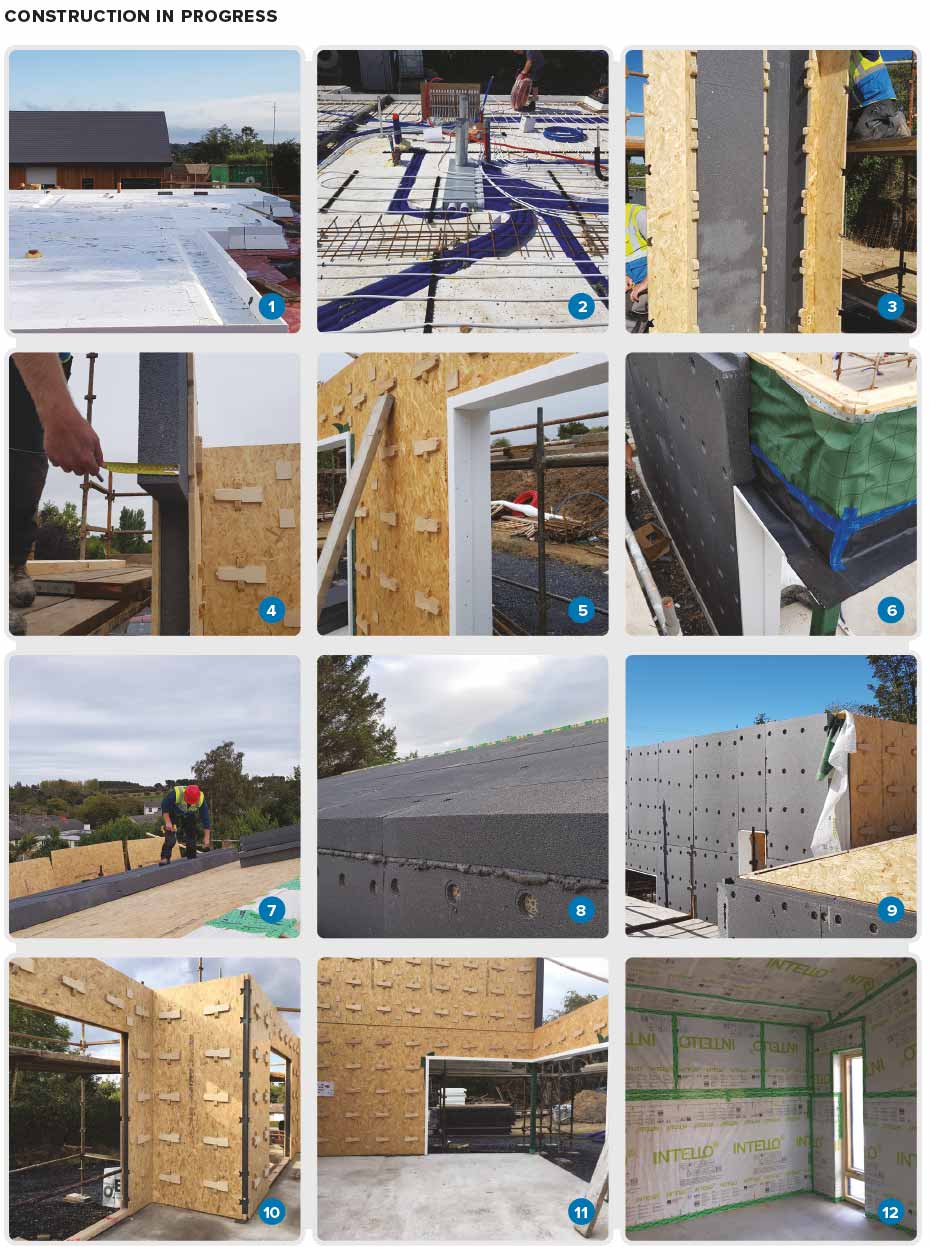 1 The ground floor features a Kore EPS insulated formwork foundation system; 2 laying pipes for the underfloor heating system (in white) and ducts for the ventilation system (in blue); 3 erection begins of the Glavloc G Loc Zero external wall system; 4 the rapid-build system features 90 mm EPS70 wall insulation between the two OSB3 racking boards; 5 closing and insulating the window reveals; 6 the build system also features 125 mm KORE platinum EPS70 external insulation; 7 & 8 a further 150 mm grey EPS70 is installed over OSB sheeting on the roof; 9 further external insulation being installed; 10 & 11 construction of the Glavloc system well under way, with large openings left for the glazing; 12 pro clima Intello membrane to wall and ceiling, with airtightness taping.
But the difficulty in getting timber frame system suppliers interested in either job was compounded by the risks for the family of the long lead-in times for hiring cranes.
"With the lead-in times, you might miss the slot and if it's a windy day, you're still paying for the crane," says Lisa. "You could be paying for a crane for a week and not get the job done."
Working with Paul Doran of leading passive house builders Pat Doran Construction, the idea of using a system by Cork-based firm Glavloc came up. "Because the site was tight [to] access, I thought this was a good choice as you don't need a crane," says Doran. "You can stick all the materials into a transit van, and you could walk them onto the site. Also, I knew it was very high spec in terms of insulation and airtightness."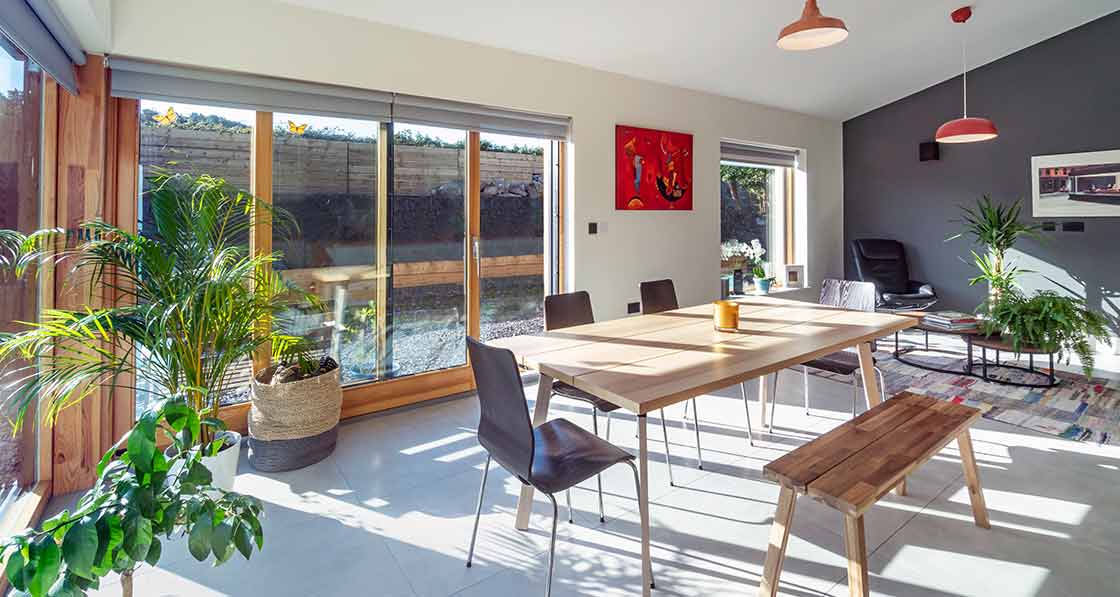 A timber system that goes up like Lego
The Glavloc system doesn't need big cranes to erect because the structural components are designed to be put together a bit like Lego. According to Glavloc founder and managing director Paul Glavin, the company has broken down its timber structure to roughly 12 standardised components that are all cut out of engineered timber and clipped together to form whatever structure is required.
"So in our factory we manufacture runs of 8,000-10,000 of these components at a go and then we stack them in a warehouse and as buildings come in, we then work out how many of each component is needed, they're flat-packed, taken to the site and put together onsite into wall panels."
Lisa was initially sceptical, but open-minded about using Glavloc. The couple travelled to the company's base in Cork to check out some Glavloc buildings; one that was under construction and another that was fully finished.
"When I saw it onsite I was quite impressed with it, because it's a lot more kind of solid than you'd expect," she says. The speed of construction was another plus point, with the promise of completion in a matter of weeks rather than months. "It was kind of hard to believe. I'm a commercial architect so I know how long things generally take to happen, and then I was also impressed with the fact that they're an Irish company."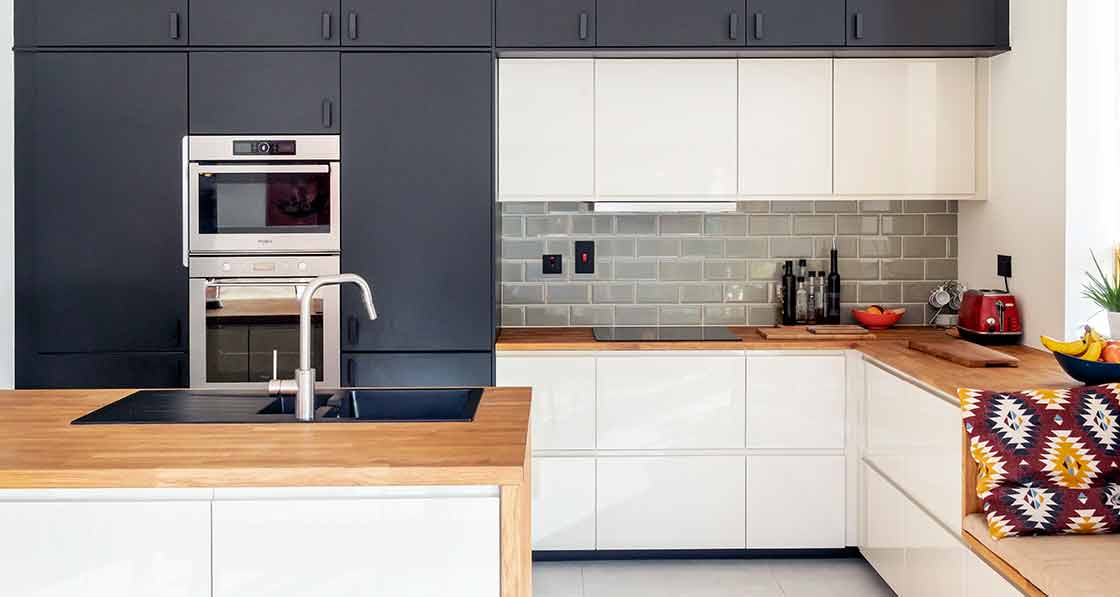 The structural components are designed to be put together a bit like Lego.
Keith's parents opted to go with the Glavloc system too, and they got their smaller 130 m2 three-bedroom house completed first (also designed by Lisa and built by Pat Doran Construction) before Lisa and Keith embarked on their project.
The two houses look quite similar on the outside but are very different on the inside, not least in terms of size. "They wanted an open plan living area which I wouldn't be keen on myself, but they use their house a lot differently than us," Lisa says.
Keith's parents also only spend six months of the year in Ireland, and while their building did not aim for the passive house standard, what the two houses do have in common is that their living rooms are both south-facing.
One disadvantage of prefabricated systems though is that they are difficult to modify once the frame is finished and onsite, something that Lisa was well aware of.
"Ideally you'd want to pick the system first and then design the house; that would be the best way to go. But when I looked at the constraints of the system on the module side, we were able to adapt it quite easily without really changing the design intent at all." She adds that Paul Doran was very accommodating about their desire to have sloped ceilings, a tricky job.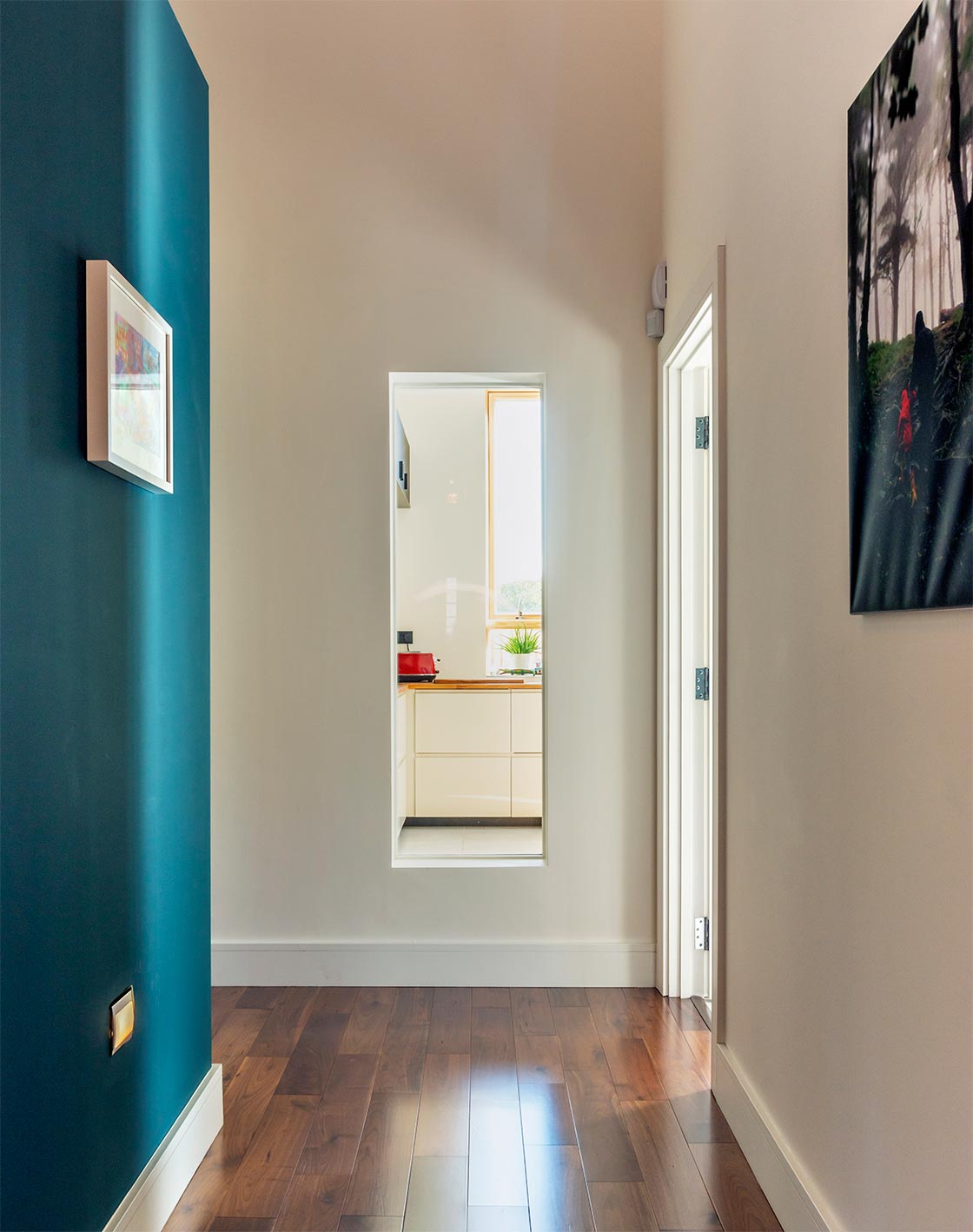 Doran says: "On that house we got the walls up in one week, then the roof in the second week but that was a very complicated house; in a more standard house you'd do it all in one week."
The fact that the house was designed before the decision came to aim for the passive house standard meant its building form was not optimised, making it trickier to meet the required benchmarks. However, with a heat load of 11 W/m2 in PHPP (the passive house design software), the house comes within a whisper of the 10 W/m2 required for certification.
In terms of its performance, Glavin says the Glavloc system was originally designed to exceed passive house requirements, with U-values starting at 0.14 down to 0.12 W/m2K, while it is also one of the few companies that are certified to add external insulation in the factory, with EPS in between the studs as well as on the outside.
"So not only are the U-values very good, but the cold-bridging factor is also extremely low on the actual building in all." (The house's final airtightness result was also a superb, passive-beating 0.34 air changes per hour).
Glavloc is also set to shortly gain NSAI Agrément certification to confirm that buildings made with the system can expect to have a lifespan of over 60 years.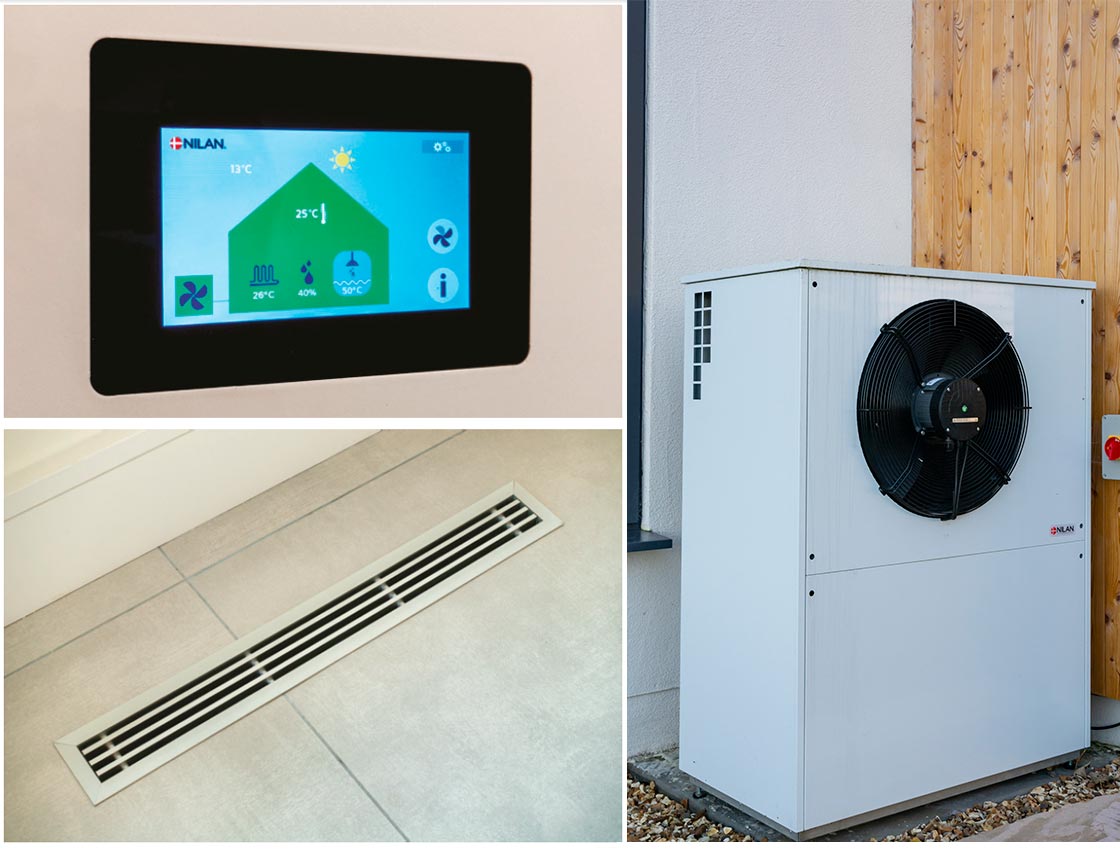 Leading passive house designer John Morehead of Wain Morehead Architects was brought in to advise on the passive house requirements. While Lisa's house uses a higher grade of EPS, there is not much difference in the basic kit, according to Glavin. The extra work required centred more around the requirements of airtightness and detailing.
"It's similar to any other detailing of a timber frame building; you just have to put the time into it and get the actual results raised," says Glavin. "From our point of view, it was more validation of what we were doing rather than maybe learning a huge amount from the actual process."
The promise of an exceptionally speedy construction time from July 2018 to last Christmas didn't quite materialise thanks to delays on the supplier side. But since moving in some six weeks into 2019 (and still well within the throes of winter), the family are delighted.
"It's always about 23, 24 degrees in here, so it's just very comfortable," says Lisa. "Like you get up in the morning you don't know what the temperature is outside because you don't really feel it; it's a shock to the system in the winter."
This, together with the high ceilings and lots of glazing, have proven a huge contrast to their old "cave" of an ex-council house in Sallynoggin, with its small windows that you couldn't see out of properly, and indoor temperatures that were often colder than the outside. Despite being close to Carrickmines now, "we're sort of in the countryside which is lovely...it feels a little bit further out of town."
And even though her mother-in-law's house is built using a Glavloc system albeit with some crucial differences, the contrast between the two new neighbouring homes is significant. "It's completely different. It's a totally different feel about it. The space here is a lot different."
The only negative from a running cost point of view has been with building insurance, which is a problem for some timber-framed homeowners (particularly those with no block or brick outer leaf). "It's more difficult to insure," says Lisa, "since you have to go through a broker because it's considered 'non-standard construction', because there are no concrete blocks used in the building. They can't get their heads around a building that has no concrete."
But if the quality of this house is any indication, it can't be long before we'll see more folks get their heads around the idea of living in homes built using highly engineered, factory built systems.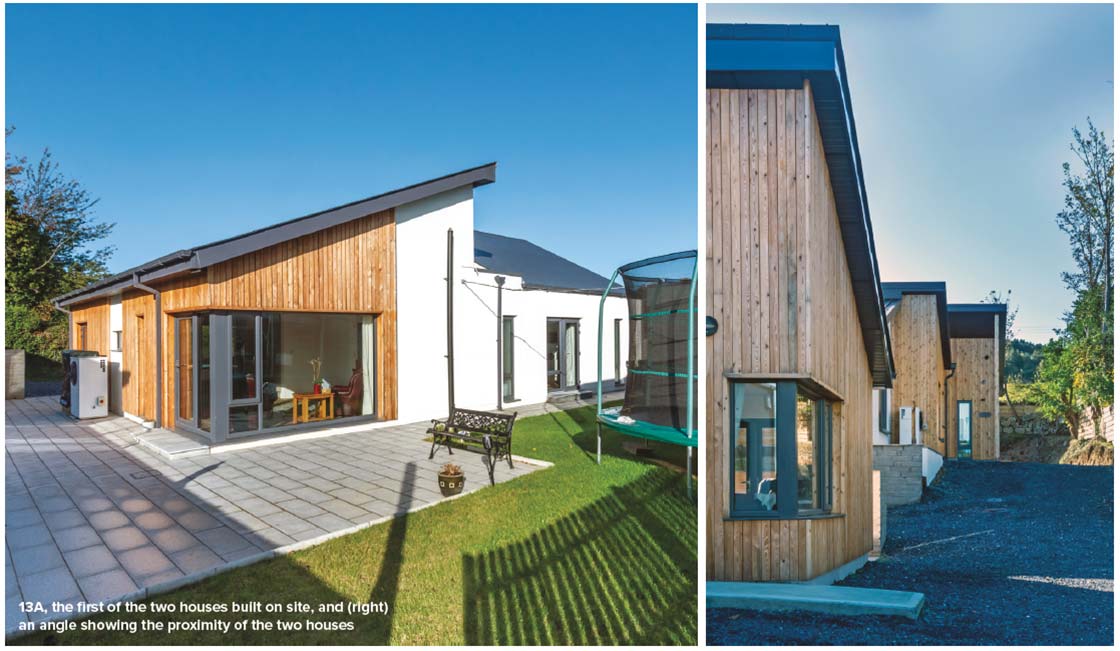 Selected project details
Client/architect: Lisa Wynne
Passive house consultant: Wain Morehead Architects
Assigned certifier: Ryan & Lamb Architects
Main contractor: Pat Doran Construction
Building system supplier: Glavloc Build Systems
Civil & structural engineer: Tanner Structural Designs
BER assessor: Accent Energy
Insulation: KORE
Windows & doors: Munster Joinery
Space heating & ventilation: Nilan
Powder coated aluminium roof: Alupress
Slates: Tegral
Breather membranes: Dupont Tyvek
OSB: Medite SmartPly
Airtightness tapes & membranes: Ecological Building Systems/ Isover
Larch cladding: Machined Timber Specialists
External insulation system: Tradecraft
Heating & ventilation: Nilan Ireland
In detail
Building type: Single-storey detached 186 m2 offsite-built near-passive house (13B). Second 130 m2 low energy/NZEB house built on same site using same build system (13A). All details below relate to 13B unless otherwise stated.
Location: Carrickmines, Dublin 18
Completion date: February 2019
Budget: €450,000 (13B)
Passive house certification: Pre-submission
Space heating demand (PHPP): 23.06 kWh/m2/yr
Heat load (PHPP): 11.21 W/m2
Primary energy demand (PHPP): 90.03 kWh/m2/yr
Heat loss form factor (PHPP): 3.11
Overheating (state calculation tool, e.g. PHPP): 1% (of hours above 25C)
Energy performance coefficient (EPC) 13B (passive house): 0.281
13A (non-passive house): 0.25
Carbon performance coefficient (CPC): 13B: 0.264 13A: 0.235
BER: 13B: A2 (47.25 kWh/m2/yr) 13A: A2 (47.27 kWh/m2/yr)
Environmental assessment method: N/A
Airtightness: 13B: 0.34 ACH @ 50 Pa 13A: 1.04 m3/hr/m2
Thermal bridging: 0.08 W/mK (default value in DEAP)
Energy bills (13B): Lisa Wynne told us her electricity bill averages about €110 per month, which covers space heating, hot water & all electricity.
Ground floor (13B): Power floated finish to concrete floor slab, followed underneath by reinforced concrete slab, combined DPM/ radon barrier, radon sump, EPS200 & EPS100 insulated formwork, 50 mm binding, 200 mm to 300 mm of well-compacted hardcore. U-value: 0.09 W/m2K
Ground floor (13A): Raft foundation 150 mm EPS 100. U-Value: 0.120 W/m2K
Walls (13B): Glavloc G Loc Zero external wall system, comprised of (variously) larch cladding on ventilated cavity or Parex Lanko render system; on 125 mm KORE platinum EPS70 external insulation; on Glavloc breather membrane, 18 mm OSB3 Glavloc racking board; 90 mm EPS70 wall insulation; 90 mm OSB3 Glavloc compression stud; 18 mm OSB3 Glavloc racking board; airtightness layer, 24 mm services cavity; 12.5 mm plasterboard. U-value: 0.14 W/m2K
Walls (13A): Same as above except featuring 150 mm white EPS. U-value: 0.14 W/m2K Roof (13B): Gusclad box profile sheeting on 100 mm x 22 mm batters, on Tyvek supro breather membrane, on 18 mm OSB sheeting, on 150 mm grey EPS 70, on 18 mm OSB sheeting, on 225 mm x 44 mm rafters at 400 mm, fully filled with 220 mm Isover Metac insulation, on Vario airtight membrane, on 50 x 44 mm timber batten service cavity, on 15 mm board and skim. U-value: 0.11 W/m2K
Sloped roof (13A): Tegral Thrutone slates on battens, on counter battens, on breather membrane, on 50 mm Xtratherm Thin R insulation, on 225 mm x 44 mm rafters with 220 mm Isover Metac between the rafter, on Vario airtight membrane, 50 x 44 mm batten for services, on plasterboard and skim. U-value: 0.12 W/m2K
Flat roof (13A): Fibreglass on OSB deck on tapered 150 mm EPS. on OSB Deck, on 225 mm x 44 mm joists with 220 mm Isover Metac insulation between, on airtight membrane, on battening for services, plasterboard and skim. U-value: 0.12 W/m2K
Windows (13B): Munster Joinery Passiv timber-aluclad triple glazed windows. U Value: 0.7 W/m2K. Ultra Tech tripled glazed doors. U Value: 1.4 W/m2K
Heating & ventilation system (13B): Nilan Compact P combined air heating & cooling and heat recovery ventilation system, also producing domestic hot water from exhaust air. Passive House Institute certified. Also featuring Nilan Air9 air-to-water heat pump providing weather-compensated hot water to zoned underfloor heating circuits & capable of pre-heating domestic hot water when there is high demand. Integrated system designed to maximise the return from exhaust & only use the Air9 as a backup.
Image gallery
Related items
Latest from John Cradden