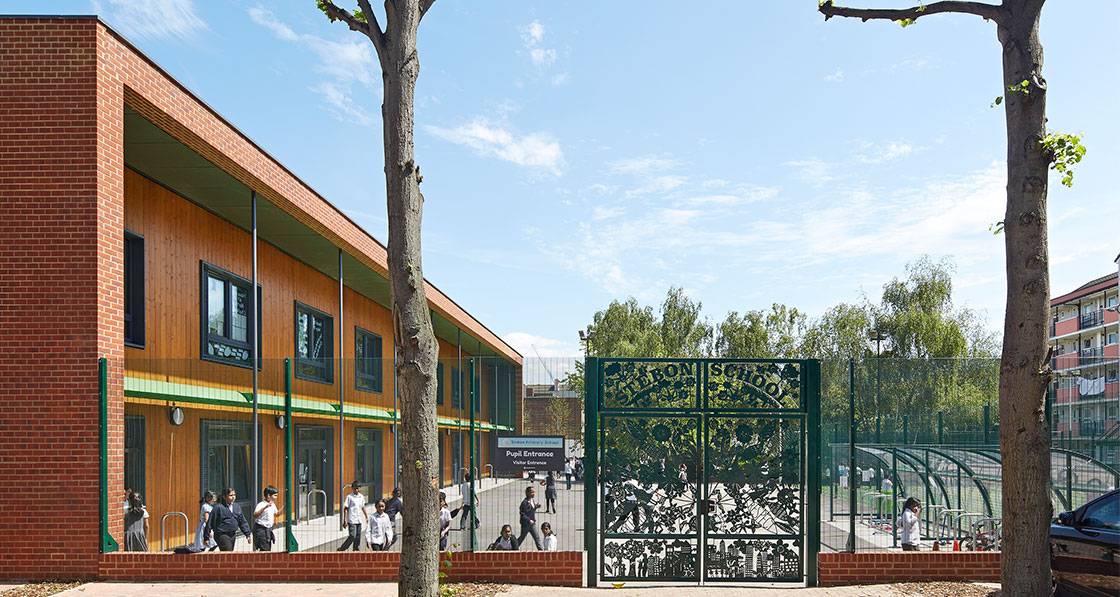 Ekaterina Tikhoniouk
East London passive school promotes active learning
The head teachers of an East London school put their interest in sustainable building into practice by adding a new passive house extension — and the results already seem to be paying off for pupils.
This article was originally published in issue 13 of Passive House Plus magazine. Want immediate access to all back issues and exclusive extra content? Click here to subscribe for as little as €10, or click here to receive the next issue free of charge
The Stebon Primary School extension, located in the London Borough of Tower Hamlets, is set to be one of London's first certified passive house school buildings. Situated on a rectangular site surrounded by apartment blocks, the new two-storey classroom block is linked by a glazed corridor to the original 1950s brick and concretepanelled school building.
The main motivation behind the school extension was to enable the school to take in more students. The school's two headteachers, husband and wife team Jeremy Iver and Jo Franklin, also manage nearby Bygrove Primary School and had previously pushed for Bygrove to be refurbished to Breeam standards. They continue to be vocal about their interest in sustainable buildings. "For us both, sustainability is really, really important and we wanted our build in Stebon to reflect what we feel," Iver says. "And that's what we told the architects when they came around to talk to us about the extension."
Iver and Franklin's passion for sustainability gave the appointed architects Rivington Street Studio and main contractor Bouygues UK the idea of proposing a passive building. Rivington Street Studio director David Tucker says: "We didn't want to go for Breeam, as there are certain aspects of Breeam that I see as being extra costs, just for getting credits." So he advised the school to go for the passive house standard instead.
The headteachers were eager to get on board. Iver says: "David Tucker came back to us and said, 'there's this thing called passive house', and we then went to see a few building sites together, including a finished school. And we were completely convinced."
Bouygues UK had no prior experience of building to the standard, but was eager to learn and to add a passive house string to its bow. The next step was getting the local authority on board. "To their credit, the local authority went with it as well," Iver says. "It ended up being more expensive than planned, and so we had to make do without certain things that we had wanted so that we could afford the passive house build. But it wasn't significantly more, and still within the budget that they had set, so the authority took a leap of faith."

Timber-frame modules from Irish manufacturer Cygnum waiting to be assembled on site
According to architect David Tucker, another key priority for the parents, school and local authority was getting a building without defects. He says that apart from sustainability, all three groups saw meeting the passive house standard as way to ensure the extension was built properly.
Rivington Street Studio had worked on a number of schools across London, but had never taken on a passive house project before, so leading architectural practice Architype — who have built several schools to the standard — came on board as advisors.

The structure before insulation with Warmcel 500 cellulose
But it still proved to be a sharp learning curve for Rivington Street Studio. Tucker says: "We had to completely rethink how we construct buildings. We took the decision to simplify the building's form as much as possible, to make it less complicated to build."
Iver adds that the contractor, Bouygues, put lots of effort into making sure the building was completed before the beginning of the January 2015 term, and handed over a well-built and fully-finished extension.
The new timber-frame building – with a structure by Irish passive house specialist Cygnum, a veteran of several Architype-designed passive projects, including other schools – is joined to the original school by a glazed corridor, but an external door was used to thermally separate the new and old sections. "The extension is basically an airtight sealed box," says Tucker. During winter, the extension uses a Swegon mechanical ventilation heat recovery (MVHR) unit to deliver preheated fresh air. In summer, the building uses a natural ventilation strategy, and cooling is achieved by opening the school's windows at night.
Each classroom has a small radiator, fuelled by a central condensing gas boiler, for any space heating needs in winter. The build emphasised green materials too — the timber frame is insulated with cellulose (recycled newspaper) and features a Fermacell board lining to most internal partitions.
Anecdotally, the teachers believe there has been an improvement in the behaviour of the six classes that moved into the extension in January 2015. Variously, teachers have reported calmer classes, better acoustics (which reduces the need to shout), and less sneezing and allergies.

Airtightness detailing, with tapes from Pro Clima and Siga, around the windows
"The old part of the school isn't necessarily a bad building," Iver says. "It has big classrooms, big by modern standards certainly, and lots of daylight. However, the old building is both colder in winter and warmer in summer because of the great south-facing windows. In summer it can get fiercely hot." He admits, though, that in the passive house extension, classrooms can also get too hot during the summer if the teachers forget to open the windows in the evenings to allow for night cooling.
Tucker would like to set up data loggers in the classrooms to monitor the building's performance. "That is the next step, it would be great to get that data. We hope to see that the building is performing well in terms of air quality, temperature and lighting levels." Iver says other data is already suggestive of the building's performance. Comparing the autumn of 2014 with the summer of 2015, attendance rose higher (1.8% versus less than 1%) over the course of the year in the six classes that moved into the passive house extension in January.
Iver also says 88% of year six pupils achieved a combined level four achievement in reading, writing, maths and grammar in the old building in 2014, but this shot up to 95% the following year when the year sixes moved to the new building. "That's certainly a significant increase over the space of one year," he says.
Of course you can question whether this data is scientific — the sample size is small and there are lots of other factors that could influence the figures apart from the change of building. But it does suggest that a robust scientific survey of the effects of passive house schools on attendance and academic achievement is warranted.

Membranes brought under the Gutmann aluminium sills for maximum airtightness
But the new extension has still had some teething issues, Iver says. "I've heard that passive house buildings can be tricky to use correctly at first, and we have found that." He says the main issue is with staff forgetting to open the windows at night to purge heat, which can lead to overheating inside the following day. "Also, each room has a very small radiator and it's been hard to break the habit of having it on," he says.

The new two-storey classroom block is linked by a glazed corridor to the original 1950s brick and concrete panelled school building
"We definitely haven't gotten a 100% handle on the ventilation yet. I'm not sure if it's working in exactly the way it should yet and whether that's because we haven't figured it out yet. Our problems are with being too hot rather than anything else."
But overall the headteachers are very happy with the passive house extension. "It has indeed exceeded all of our expectations," Iver says.
"The building is beautiful. And it uses somewhere between 10% and 30% of the energy of a conventional new build, which converts back into money in the school's resources. The children are incredibly proud of the new extension and love showing it to visitors. It means a lot to them."
SELECTED PROJECT DETAILS
Architect: Rivington Street Studio
Client: London Borough of Tower Hamlets
Main contractor: Bouygues UK
Passive house consultant: Architype
Passive house assessment: Warm
Timber frame & superstructure engineering:
Cygnum
M&E consultant: BDP
Structural engineers: Barrett Mahony Consulting
Engineers (substructure and remodelling works)
Blown cellulose insulation:Warmcel, via PYC Insulation
Under slab insulation: Knauf
Windows & doors: Pacegrade
Airtightness products: Pro Clima / Siga
Sheathing boards: Hunton
OSB: Medite Smartply
Building boards: Fermacell
Roofing: Bauder
Solar PV panels: Risen
MVHR: Swegon
Condensing boiler: Remeha
Bricks: Ibstock
Additional info
Building type: 1,250 sqm new two-storey classroom extension built to the passive house standard as part of the expansion and refurbishment of an existing primary school. Refurb included internal remodelling and upgrade of parts of the building fabric to Part L standard.

Location: Stebon Primary School, Poplar, London Borough of Tower Hamlets

Budget: undisclosed

Space heating demand (PHPP): 10 kWh/m2/yr

Heat load (PHPP): 8.1 W/m2

Primary energy demand (PHPP): 119 kWh/m2/yr

Passive house certification: Pending

Energy performance certificate (EPC): A 23

Measured energy consumption: Not yet available

Airtightness (at 50 Pascals): 0.52 air changes per hour

Walls: External larch cladding or brick on50mm ventilated cavity, followed inside by 12mm Hunton Bitroc sheathing boards, 339mm engineered timber frame by Cygnum fully filled with Warmcel 500 cellulose insulation, 18mm OSB board forming airtightness layer, 38mm services zone, various dry linings. Uvalue: 0.13 W/m2K

Roof: Bauder Total Roof System (bituminous membrane) externally, followed underneath by 18mm Spruce WBP ply sheathing on timber firrings to create a 200mm ventilation zone (reduced to 100mm at gutter locations), 12mm Timbervent with windtight vapour permeable breather membrane to full extent of roof, 406mm engineered I-Beam by Cygnum fully filled with Warmcel 500 cellulose insulation, 18mm OSB board forming airtightness layer, plasterboard fire lining. U-value: 0.129 W/m2K

Ground floor: Floor finished on levelling creed, followed beneath by 300mm thick ground slab, Visqueen High Performance DPM, 200mm Knauf Polyfoam Eco Floorboard Extra insulation. U-value: 0.127 W/m2K

Windows: Thermally broken triple-glazed units, assembled by Pacegrade using Gutmann aluminium profiles. Overall U-value of 0.60 W/m2K

Ventilation/heating system: Swegon RX Gold 35 MVHR unit. Passive House Institute certified heat recovery efficiency: 84%

Hot water: Remeha 65 kW high efficiency condensing gas boiler

Green materials: Engineered timber frame, blown cellulose insulation, treated larch cladding, Fermacell linings to internal partitions

Solar Electricity: 12 Risen SYP250P 250W solar photovoltaic panels with average annual output of 3kW
Image gallery