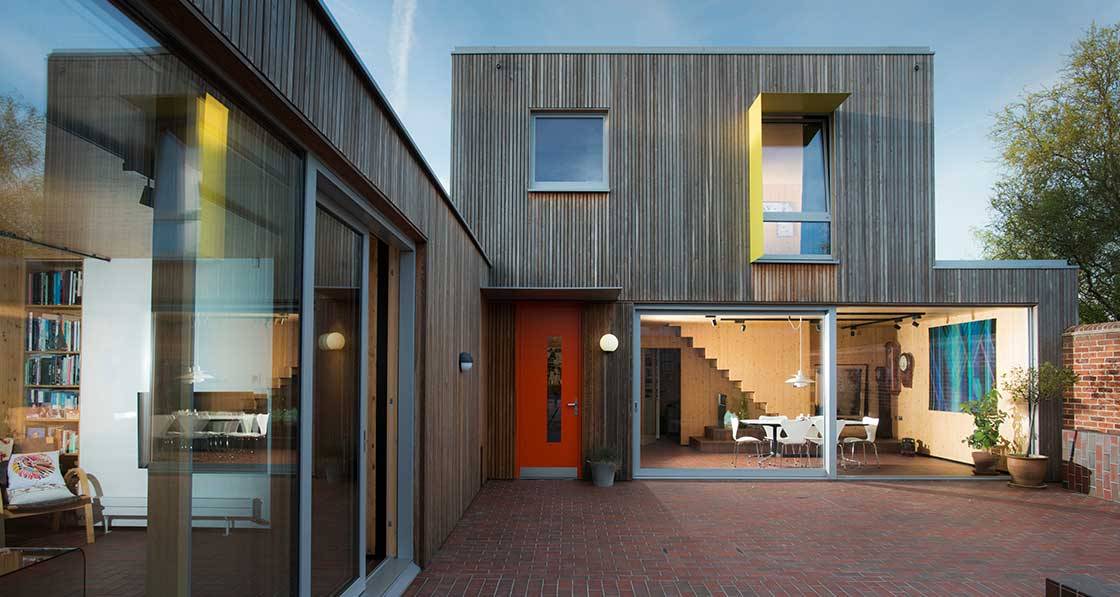 Photography: Peter Langdown Photography
Coasting home - Beautifully designed Hampshire home breezes past passive standard
'Architecture is the blissful moment when the site and brief come together,' says architect Ruth Butler of the challenge she and her engineer husband faced in designing their family home, on a difficult urban site by the Hampshire coast. But it was a challenge they met and exceeded, because even though they hadn't even planned to build a passive house, they soon realised the design was on course to meet the onerous energy standard anyway.
Click here for project specs and suppliers
Building: 135 m2 detached timber frame house
Location: Emsworth, Hampshire
Standard: Passive house certified
Energy bill: £19 per month gas bill (see 'In detail' for more)
A husband-and-wife design team comprising an engineer and an architect surpassed their original goal of creating a low energy new build near the Hampshire coastline when their home comfortably qualified for passive house certification.
The joint expertise of architect Ruth Butler and engineer Julian Sutherland in sustainable design meant that their house required only a few tweaks to the original plan to get it over the line. In the end, they sailed past the passive house standard. And while Ruth calculated that building to the benchmark added 7.4% over building regulations onto the cost, it has proved life changing.
Based out of her home office since 2015, Ruth has grown her architectural practice locally and designed three passive houses. Meanwhile, Julian qualifed as a passive house designer through his work on the property.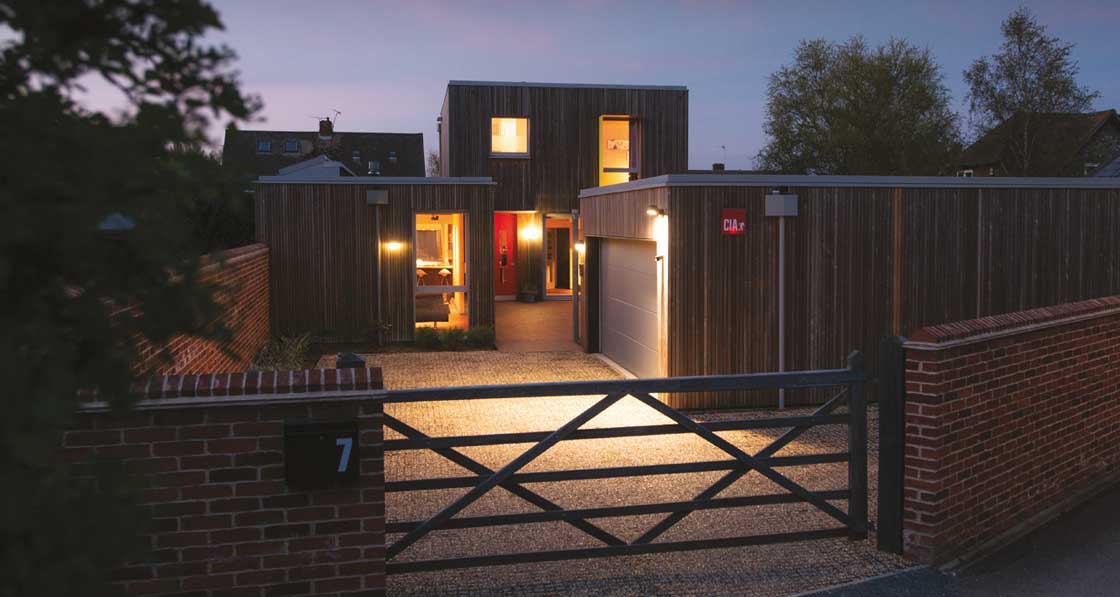 "We originally wrote ourselves a low energy brief focused on lots of insulation and airtightness, but we didn't intend to build a passive house. Then when we tested it against passive house — not expecting it to be close — we realised if we put in more high-performing triple glazed windows, we could achieve it," said Ruth. "As we no longer needed underfloor heating, we could spend that money on the windows."
The couple met while they were both working on the development of tennis court number one at Wimbledon in the mid-nineties. Over the years, in their respective careers, both Ruth and Julian have had a keen interest in low energy design. In London, they lived in a 1960s townhouse, but wanted to use their complimentary expertise to create a low energy house on the south coast. Ruth took charge of the design, while Julian did the passive house calculations. As an engineer in building services, he understood all about airtightness, insulation and ventilation.
"The calculations showed it was outperforming expectations. But we actually did a lot of things over and above the passive house standard, such as using low embodied carbon materials and reducing water usage.
We also avoided plastering all the walls," he says. "Laying natural quarry tiles on the floors helped make it a dry building site and we used zero VOC [volatile organic compound] paint. I supervised the insulation to make sure there were no gaps or bad junctions, and we achieved 0.55 air changes."
The original desire to move out of London with their daughter — who is now 14 — to settle on the south coast was partly motivated by the family's passion for sailing. Rather than travelling all the way out to the seaside and back to London at weekends, they wanted to live minutes from the sea.
The couple bought a different site initially, but planning limitations spoiled their plans so they sold it on. They used the profit to fund the purchase of the brownfield site, in Emsworth, Hampshire, which was previously owned by St John's Ambulance.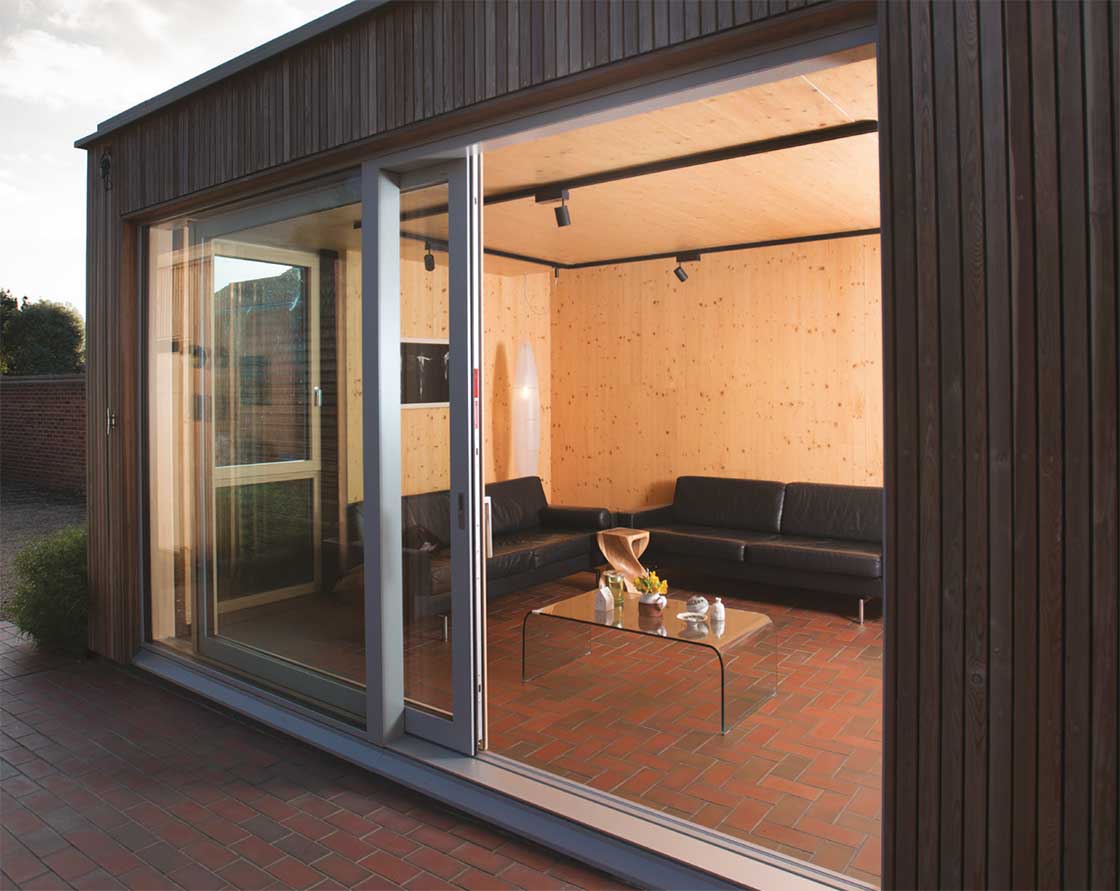 This article was originally published in issue 33 of Passive House Plus magazine. Want immediate access to all back issues and exclusive extra content? Click here to subscribe for as little as €10, or click here to receive the next issue free of charge
There were many pros and a few cons. The pros were that the land was minutes on foot from Chichester harbour, the sailing club and shops. Julian could also commute to London from Havant station, a short bike ride away.
The main challenge was designing a house that pacified the concerns of a dozen neighbours who had been infuriated by the plans of the previous owner.
"Although the previous development had planning permission, it was insensitive and I would have hated it as much as them," said Ruth. "It plonked a building in the middle and all the neighbours would have had a lot of overlooking and a big blank wall at the end of their garden."
Once Julian and Ruth had produced a more sympathetic design that didn't overlook any neighbouring properties, their next task was to convince the neighbours.
They put together a cardboard model that showed the view of the new property from each neighbouring house. "Once they all saw that, they were all on our side and consented. By the time we started building in 2014, they were all excited and feeding cake and cups of tea to the builders," says Julian.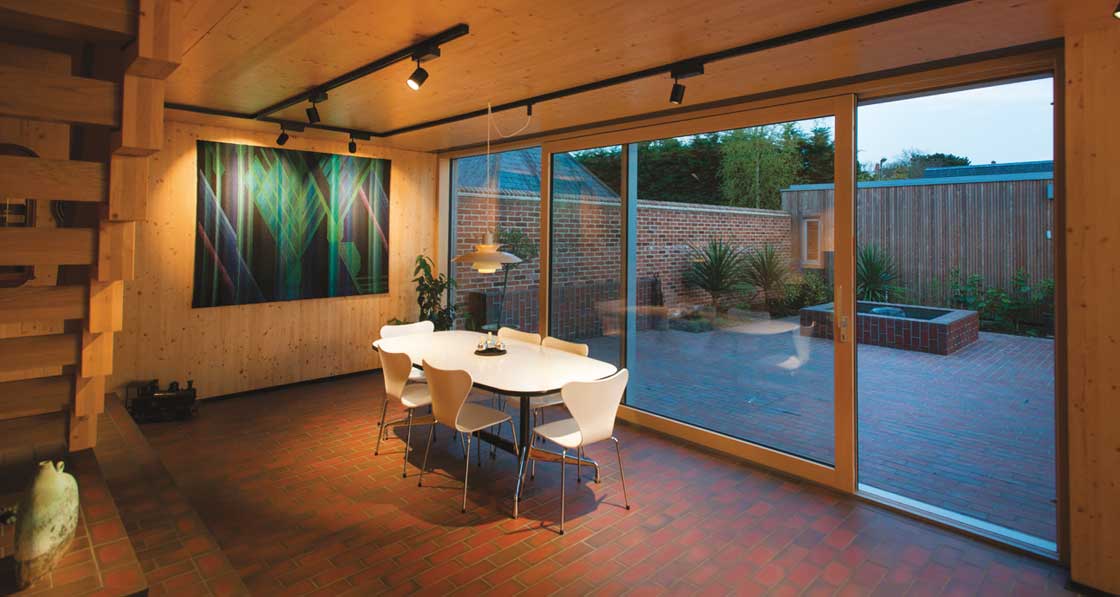 Ruth took charge of the design, while Julian did the passive house calculations.
With the neighbours onside, the local authority enthusiastically backed their proposals. But there remained challenges.
First the land had to be cleared of rubble, oil contamination and asbestos from old hall and garage buildings on the site.
The space itself, Ruth admitted, was "unprepossessing" and would not have appealed to everyone. It was narrow and surrounded on three sides by houses, but the awkwardness made it more affordable and there were lovely views south down a tree-lined lane. Rather than see the restrictions as a negative point, Ruth embraced the challenge of making the most of them.
"As an architect, the more there are constraints, the better the solution needs to be. A difficult urban site gets your creative juices going more than a big empty field. Architecture is the blissful moment when the site and brief come together," she says.
Ruth designed an L-shaped 135 m2 detached home that slotted neatly into the long, thin area. The mass of the building was pushed to the northern most side, so the outdoor spaces faced south.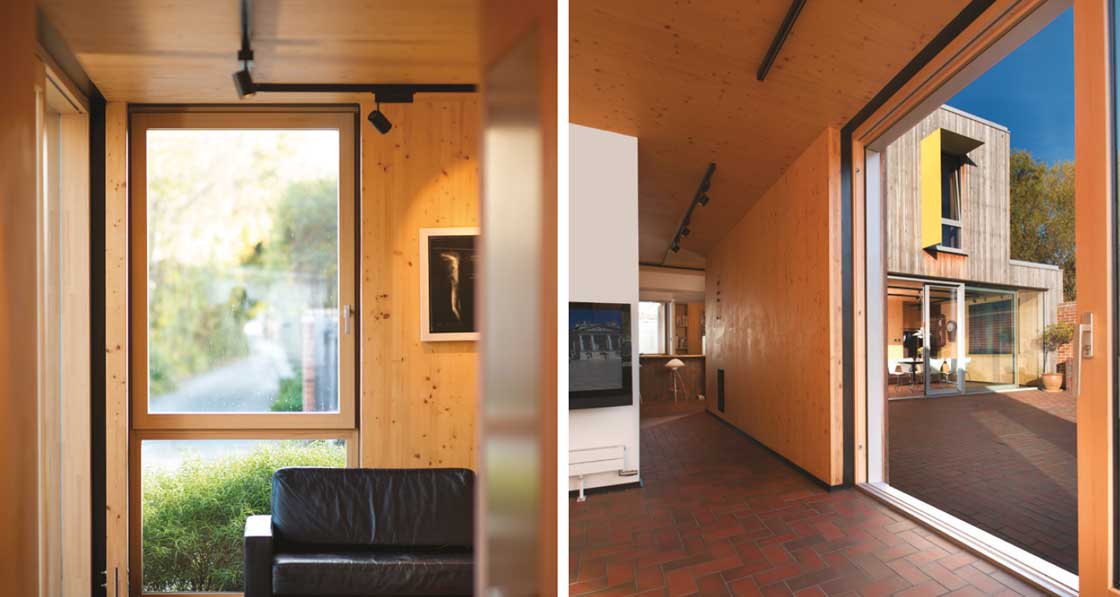 Using the L-shape allowed Ruth to design the house around four outdoor courtyards around the perimeter of the house. "The main south-facing enclosed courtyard garden is hidden from the many neighbouring properties. Then there are two smaller courtyards — one facing east and the other one west — that provide good light and ventilation to the back rooms. Finally, there's an entrance courtyard that gives access from the lane and into the garage," she says.
For the interiors, Ruth wanted to move away from designing minimalist, plasterboard boxes with white walls. Instead, she decided to fill the house with natural materials. She used spruce CLT (cross laminated timber) panels for the entire superstructure, walls, floors and roof. The prefabricated panels provide a harmonious feel and, left exposed internally, an attractive finish. The panels allowed the house structure to be erected in four days and helped to make it airtight.
To enhance their new home's sense of style, Ruth and Julian used European oak bespoke joinery for the open tread staircase, recessed handrails, worktops and integrated shelves. For the floors, she chose quarry tiles that stand up to the demands of the family's outdoor lifestyles. "When we're drenched from falling out of our boats in Chichester harbour, we don't want to worry about ruining the floors," she said.


Summer comfort is managed by a design which includes a fabric sail, and purge ventilation via roof windows which open and close automatically based on temperature and rain sensors.
The kitchen sits in the knuckle of the L at the heart of the ground floor. The living room and the dining room spin off down either side of the L shape. The ground floor has flexible spaces, including a family room that doubles as a fourth bedroom and a home office.
Upstairs there are three bedrooms and two bathrooms. Outside, Ruth used Siberian larch rainscreen cladding because of its straight grain, uniform texture and durability. She says the untreated larch ages quickly to become silver, providing a maintenance-free finish that suits coastal living. Meanwhile, two wild flower meadow roofs enhance biodiversity and provide rainwater and irrigation.
From Julian's point of view the trickiest element of the build — as so often with passive houses – came at the outset when they had to track down contractors with sufficient knowledge.The most technically challenging task was to create the main ground-floor slab because of the insulation requirements underneath, he says. "Fortunately, the builder had good connections and we were pragmatic and patient. We waited until we found the right people before we set off and made no snap decisions. We also took all the builders on a passive house-training course."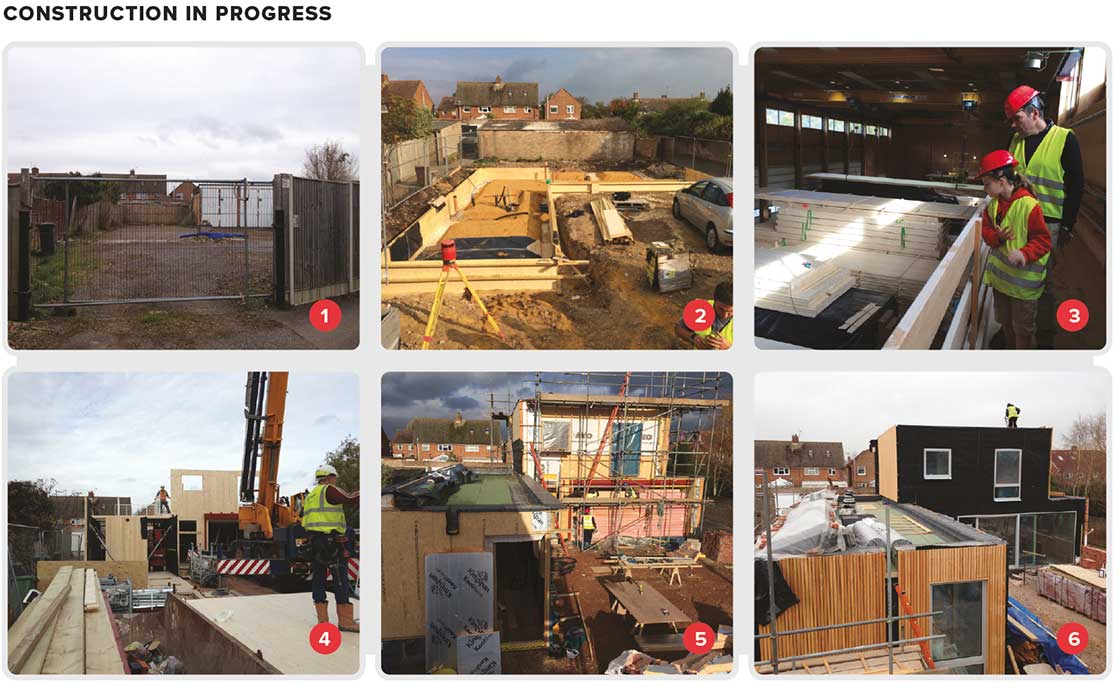 1 The brownfield site, which was previously owned by St John's Ambulance, before construction commenced; 2 the substructure which includes a hardcore followed above by sand blinding, and a damp-proof membrane; 3 visiting the Austrian factory where the cross laminated timber (CLT) structure was manufactured; 4 erection of the CLT frame was complete within four days; 5 construction of the wall build-up with airtight membrane and Kingspan Kooltherm insulation; 6 external walls are finished with Siberian Larch vertical rain screen cladding.
Julian says the build went smoothly and the couple had good oversight of the entire project. He visited about once a week, while Ruth transferred her office on site for the duration.
Work began in September 2014 and was completed in May 2015, when they moved in. Julian describes the house as "sparkling, sunny, delightful and super-comfortable". A hardy New Zealander, he now needs to take a pullover whenever he visits a friend not living in a passive house.
The house won the 2017 Wood Award in the 'private' category. The judges were impressed by the "design, craftsmanship and attention to detail". For Ruth, it became the perfect calling card for her new practice.
"There is nothing better than bringing clients into the passive house and sitting them around the board-room table, which is also my dining room table. It makes a huge difference in winter and summer, when we have a big sailcloth that goes over the courtyard to keep the sunshine out of the house," she said. "We use it to advocate for passive houses and we've had more than 100 visitors each of the past five years for the UK Passive House Open Days."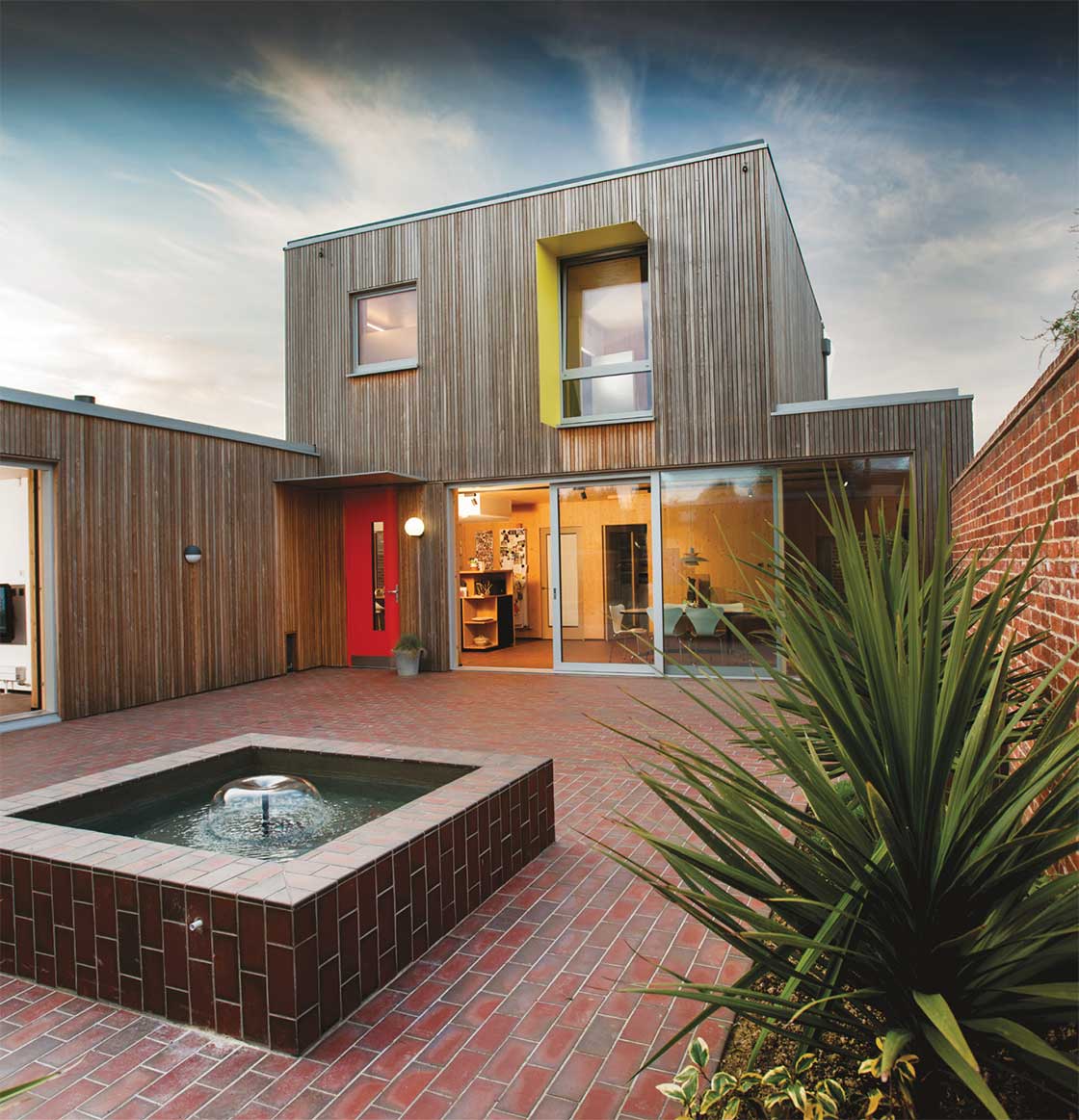 Selected project details
Client: Ruth Butler & Julian Sutherland
Architect: Ruth Butler Architects
M&E engineer: Cundall Ltd (Julian Sutherland)
Civil & structural engineer: Price & Myers
PH certifier: WARM
Main contractor: Nicholas Coppin Ltd
Heating & plumbing contractor: AD Boughton Ltd
Electrical contractor: Johnson Electrical
Airtightness tester: BRE
Building system supplier: KLH UK
Wall & floor insulation: Kingspan
Thermal breaks: Compacfoam, via Green Building Store
Green roof: Bauder
Windows & doors: Internorm
Roof lights: Vitral
Sail shades: Solent Sail Shades
Gas boiler: Viessmann
MVHR: Paul
Solar PV: BenQ
Siberian larch cladding: Timbmet Ltd
Low carbon cement (GGBS): Hansen
Oak joinery: Nicholas Coppin Ltd
Wool carpets: The Alternative Flooring Company
Landscaping: John Brookes Landscape Design
Embodied carbon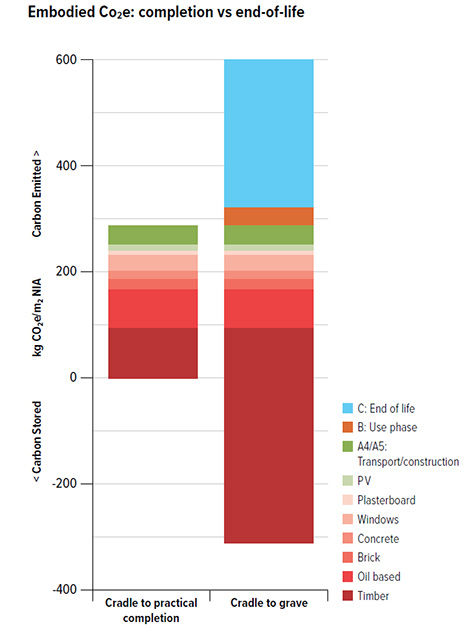 While this house is extraordinarily green in terms of its miniscule operational energy use, how does it fare in terms of the CO2 embodied in the building itself? Does it meet the targets set out in the RIBA 2030 Climate Challenge? PHribbon, a new PHPP-based tool, makes it relatively simply to estimate embodied carbon of buildings designed in the software. Ruth Butler commissioned Tim Martel, the creator of PHribbon, to run the numbers.
The figures are expressed in terms of CO2 equivalent (emissions of CO2 and other greenhouse gases converted into the equivalent amount of CO2) and take account of the vast bulk of the building materials, as well as estimates for emissions in transport and the construction process itself. The figures are presented here in terms of kg CO2e per m2 of net internal area, as this is the method selected by The Royal Institution of Chartered Surveyors (RICS) and referenced in the RIBA 2030 Climate Challenge.
The graph includes two bars – to emphasize the difference between emissions up to the point of practical completion, and total cradle-to-grave emissions. Materials are divided into di–fferent groups (eg oil-based products including oil-based insulation, EPDM roof membrane, flooring; inert products including plaster and concrete roof tiles, etc). The two separate bars include:
STAGE A (cradle to practical completion), which includes emissions embodied in the materials (stages A1-A3), in transporting to the site and in the construction process itself (A4-A5).
STAGE AšC (cradle to grave), which also counts any additional emissions that may be released in stage B – the usage stage, which includes repair, replacement, etc and emissions from the building's energy and water use (excluded in this case, as per the RIBA 2030 Climate Challenge) – and stage C, the end of the building's life.
Where bars are less than zero it represents storage of CO2 in timber and timber-based products. It is only in the worst default case that these are re-released into the atmosphere by incineration. There is great potential for improvement here (in stage D) if the building can be disassembled and reused or recycled into something more meaningful than woodchip.
Excess solar energy from the PV array that is exported into the grid isn't counted in these figures. RICS recommend it be included in stage D, which includes the potential environmental benefits or burdens of materials and components beyond the life of the project, as well as emissions reductions from microgeneration fed into the grid.
It's important to emphasize timing. The stage A emissions have already occurred in delivering a completed building. The stage B emissions are an estimate for the assumed 60-year life (as per RICS) of the building's use, such as eventual replacement of mechanical plant, windows, cladding, etc, but in reality the stage C emissions may not be an issue for well over 100 years. Even in the use stage, some of these estimated emissions may not occur for, say, 50 or more years, and some may be prevented – for instance if CO2 sequestering products are reused or recycled after being removed. Similarly the stage C emissions include assumptions (based on RICS reliance on current construction and demoltion waste statistics in the UK) that 75% of timber removed from buildings will be incinerated and 25% landfilled. But by the time buildings being designed today reach their end of life, it seems reasonable to assume the releasing of sequestered CO2 emissions may be heavily restricted.
Design and construction quality is also an important factor. There is evidence to suggest that passive houses o–ffer a durability benefit – such as the 25th anniversary analysis of the first passive house, in Darmstadt, which found the building's fabric and ventilation system in a remarkably good condition, and even concluded that the building's experimental triple glazed units had not lost performance, but may need the glazing replaced in another 25 years. When the apparent durability and robustness of passive houses is combined with the architectural quality of this house, it seems reasonable to expect such a home to endure for far longer than a typical build – even without considering how the exponentially growing and converging climate and resource use crises are bound to force the hands of future generations to maintain and upgrade existing stock rather than building afresh.
In this case, the house has a total embodied carbon score up until practical completion stage of 286 kg CO2e/ m2, disregarding sequestered CO2 in the timber and timber-based products. The cradle-to-grave figures work out at a net figure of 290 kg CO2e/m2, meaning that the building passes the embodied carbon target of 300 kg CO2e/m2 in the 2030 RIBA Climate Challenge. That figure would drop further if the structure was salvaged at end of life – a plausible assumption, given that studies estimate that up to 80% of a given CLT structure may be reusable once buildings are deconstructed. Reuse and recycling benefits would be accounted for in a stage D, which is zero in the current scenario.
In detail
Building type: Detached family home, 134 m2 (treated floor area) or 150 m2 (GIA), factory-built cross laminate timber frame
Location: Emsworth, Hampshire, UK
Completion date: May 2015
Budget: Not disclosed
Passive house certification: Passive house certified
Space heating demand (PHPP): 8 kWh/m2/yr
Heat load (PHPP): 10 W/m2
Primary energy demand (PHPP): 96 kWh/m2/yr
Heat loss form factor (PHPP): 1.5
Overheating (PHPP): 1.7% of year above 25C
Number of occupants: 4
Airtightness (at 50 Pascals): 0.55 ACH
Energy performance certifi cate (EPC): N/A
MEASURED ENERGY CONSUMPTION (Dec 2018 to Nov 2019)
Total household grid electricity consumption: 5,598 kWh / 42 kWh per m2
Total gas consumption (space heating + hot water): 3,461 kWh / 26 kWh per m2
Total solar thermal produced: 1,197 kWh
Total PV consumed (by household + electric vehicle): 980 kWh
Total PV exported to grid: 444 kWh
Total electric car electricity use (from grid + PV): 3,022 kWh
Thermal bridging: Average thermal bridge 0.01 W/mK
Energy bills (estimated): Estimated annual electricity bill of £1,132 per year for household use (not including electric car charging) based on a unit price of 17.33p per kWh, 29.59p per day standing charge & 5% rate of VAT (uswitch.com).
Estimated annual gas bill of £230 (or £19 per month), based on a unit price of 3.640p per kWh, standing charge of 25.44p/day, and a 5% VAT rate. The household also receives a renewable feed-in tari–f of approx. £120 per year, making for a net total household energy bill of £1,242 (not including car charging), or £104 per month. Note this use also includes the running of Ruth Butler's home office.
Ground floor: Hardcore followed above by sand blinding, RIW Shetseal 226 DPM, 250 mm Kingspan Kooltherm K3 insulation (laid break-bonded), 250 mm Foamglas T4+ between slab toe and footings, 150 mm concrete slab w GGBS float-finished, 10 mm floor finishes. U-value: 0.079 W/m2K
Walls: Factory-built 94 mm cross laminated timber structure exposed internally, followed outside by IKO Rubershield-Light breather membrane, two layers of 140 mm Kingspan Kooltherm insulation boards, laid horizontally and vertically between 140x50 mm pre-treated timber battens, followed outside by 15 mm OSB3 T&G board, Pro Clima Solitex Fronta WA membrane (joints taped with Tescon INVIS), 25x25 mm vertical and horizontal timber battens, 44x20 mm Siberian Larch vertical rain screen cladding. U-value: 0.081 W/m2K
Roof: Bauder wildflower blanket followed underneath by 100 mm extensive substrate, filter fleece, 40 mm drainage board, protection fl eece, root resistant capping sheet, underlay, 100 mm (average) PUR insulation to fall, vapour barrier, factory-built 140 mm cross laminate timber structure (exposed internally). U-value: 0.12 W/m2K
Windows & external doors: Internorm HF310 aluminium/timber composite triple glazed windows and Internorm HS330 Lift-and-Slide doors. U-value: 0.69 W/m2K. RK entrance door. U-value: 0.72 W/m2K
Roof windows: Vitral A98 thermally broken PPC aluminium framed and triple glazed panels (super low-E inner with Argon filled cavity), opening panels operated via Windowmaster actuator with temperature and rain sensors. U-value: 0.79 W/m2K
Heating system: Gas-fired condensing Viessmann Vitodens 242F boiler with integral domestic hot water cylinder and solar thermal pump, 3 m2 roof mounted solar thermal panel Viessman Vitosol 200T which produced 1,197 kWh (9 kWh/m2) from Dec 2018 to Nov 2019. Ventilation: Paul Novus 300 whole house heat recovery ventilation unit (PHI certified heat recovery efficiency 91%).
Electricity: 5 no. BenQ 330W solar panels with 1.65 kW installed capacity. Produced 1,424 kWh from Dec 2018 to Nov 2019, of which 444 kWh was exported to the grid, leaving 980 kWh for general household electricity consumption.
Other green features: Brownfield site, within walking distance of town centre with shops & amenities. Existing buildings on site were recycled and re-used (e.g. bricks into hardcore, two 6 m long steels reused), VOC-free interior finishes (e.g. quarry tiles & undyed carpets, VOC-free paint by Lakeland Paints), EV charging point.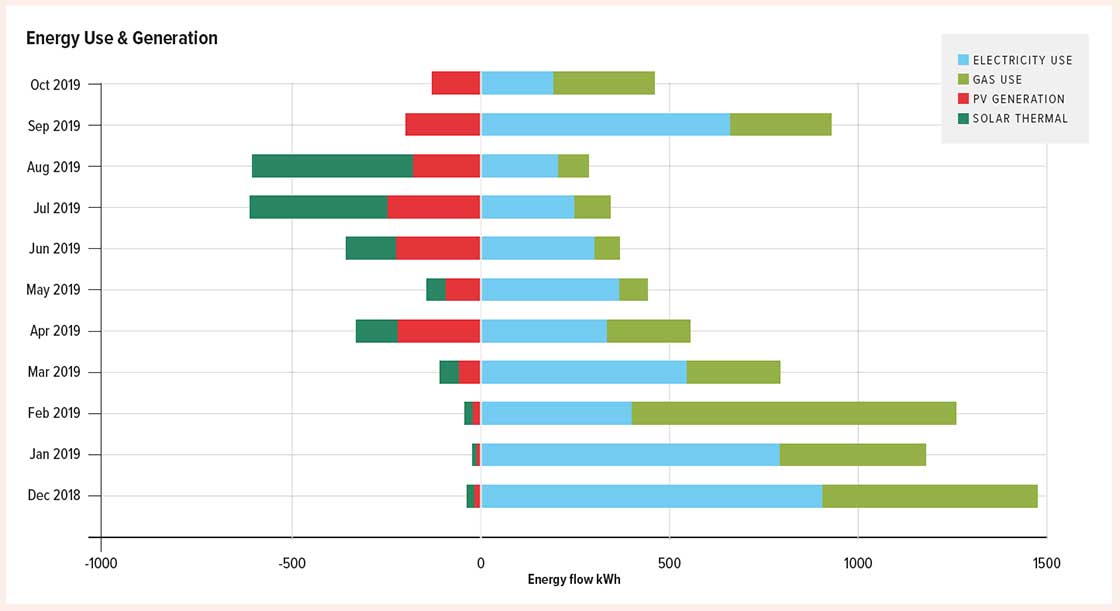 Image gallery
Related items
Latest from David W Smith