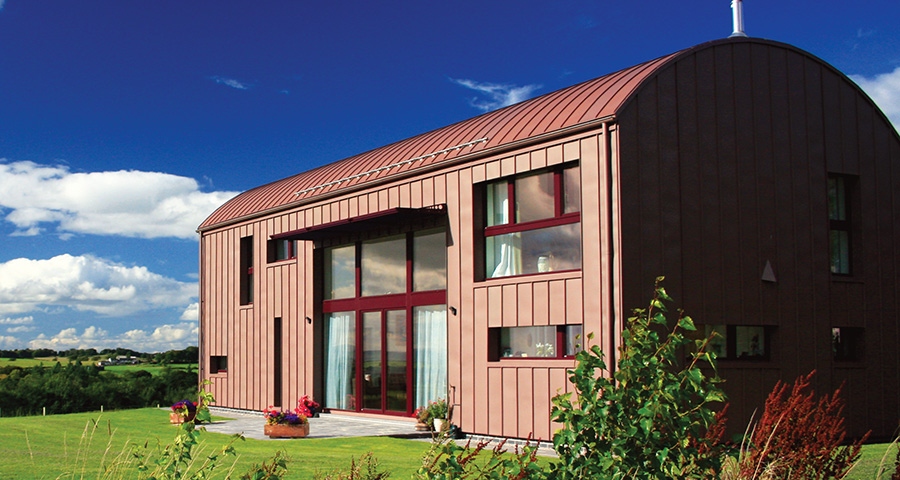 Barn-inspired passive house, Ayrshire
This certified passive house on the west coast of Scotland might look like a traditional hayshed, but it's certainly more energy efficient than one.
When architect Kirsty Maguire's client in Ayrshire, Scotland invited her to his site, he insisted she come on a sunny day. "And I thought well, I'm used to rain," she says.
But when she arrived, she could understand why — the site has fabulous views extending out to the Isle of Arran.
The client had a strong vision of the type of home he wanted — specifically, a house designed to mimic the traditional rural hayshed.
Kirsty worked on the project through to planning stage with a different architecture practice. The client was drawn to her work there because of a barn-inspired design the firm had developed for a previous project.
"We actually looked at a traditional hayshed on the client's farm and took the proportions from that as a starting point," Kirsty says. The client also travelled around the locality taking photos of other haysheds to inform the plans.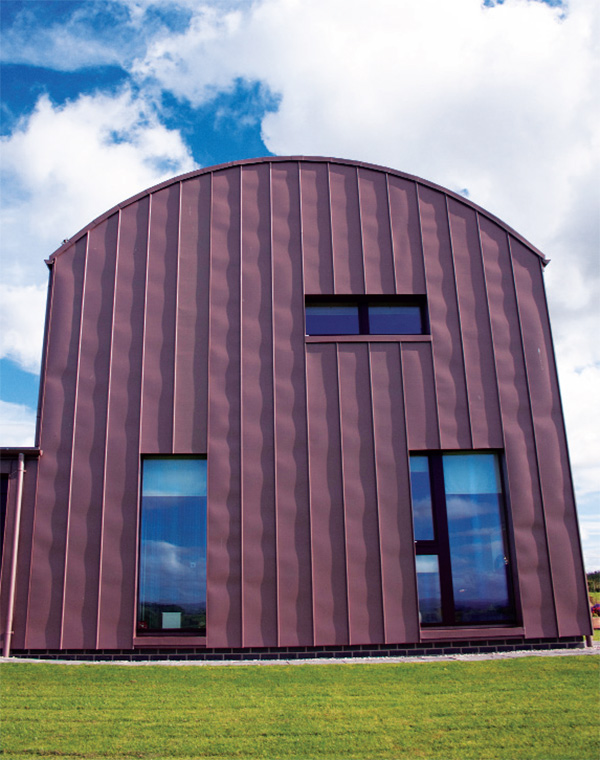 He was keen on an ultra low energy dwelling too, which made for a perfect fit: Kirsty is a certified passive house designer. His desire for a low maintenance home also pushed him towards passive.
Being a small building contractor himself, the client became intimately involved in the technical side of the project. "He's a very knowledgeable client and very enthusiastic," Kirsty says.
Even though planning policy in the area was restrictive, the planners were supportive — and even exhibited the project in a local library. Kirsty also ran a seminar on passive house for the local building control team.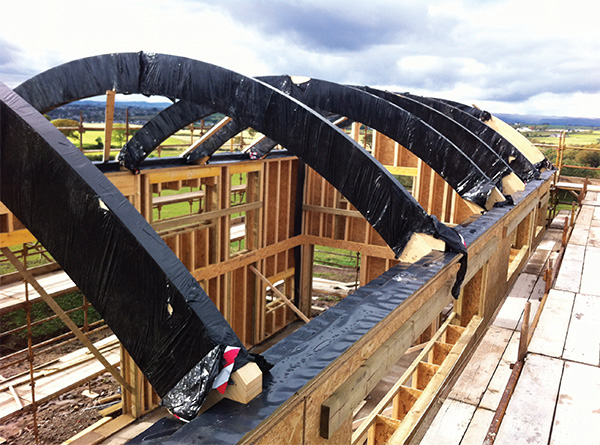 The roof's curved glulam beams
Planning permission was granted, but it took a few years before work began. Kirsty thought her involvement might be over, but when Hope Homes was appointed contractor, her new eponymous firm came on board as project architect. The whole team set out with the explicit goal of reaching the passive house standard.
"What was really nice about the whole project was that it was really a team process with the client as much a part of that team as the contractor, myself and the engineer," she says.
When construction started, her role switched to passive house consultant. Being a contractor, the client looked after a lot of the site inspection himself.
When it came to build method, timber was always the preference. "Timber frame is typical construction culture up here in Scotland. Blockwork is pretty unusual, except as an outer leaf," Kirsty says.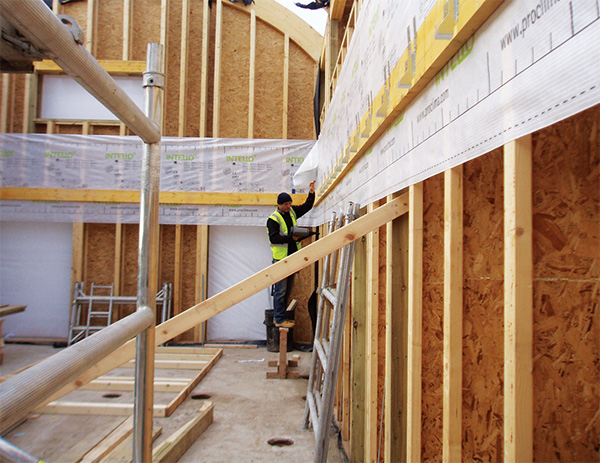 Strips of airtight membrane were fitted before the joist hangers were added to preserve the airtight layer.
"We spent a lot of time in design trying to make sure things were buildable rather than creating problems for the contractor to solve on site. It was a very exposed site so that was one of the challenges for the contractor."
The I-joist timber frame structure was built on site by Hope Homes. The walls are insulated with 400mm of Superglass 32 mineral wool insulation in two layers (350mm & 50mm), with 9mm OSB and a Pro Clima Intello membrane between. There's a 50mm ventilated cavity on the external side of the build-up, which is clad outside with zinc.
The roof features glulam beams and purlins, with 405mm of Superglass 32 insulation. An Alutrix vapour barrier serves as the airtightness layer here, and the roof is also clad externally with zinc.
Downstairs the ground floor features a strip foundation with lightweight Thermalite block on the internal leaf at slab level to prevent thermal bridging. There's 250mm of Knauf Polyfoam extruded polystyrene insulation under the slab.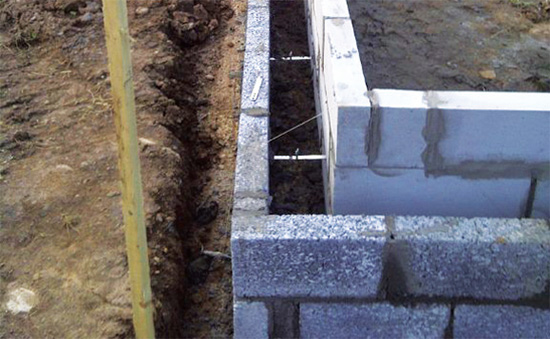 Thermalite blocks used to form the cavity's inner leaf
Although the site is in the south of Scotland, it's still exposed to tougher conditions than more southern parts of the UK and Ireland, and the building fabric specifications respond accordingly. U-values come in at 0.11 for walls and roof, and 0.125 for the ground floor – levels that the house may not have needed to hit to achieve the passive house standard if transported to more southerly latitudes.
In what some might regard as a brave move, no blower door test was carried out until work on the house finished. But contractor Hope Homes was confident of beating the passive house requirement of 0.6 air changes per hour — their site foreman had acted as airtightness champion throughout the build.
Ecological Building Systems, who supplied the Pro Clima airtightness tapes and membranes had also carried out a "toolbox talk" on site. The hard work ended up paying off — the house scored an impressive 0.22 air changes per hour.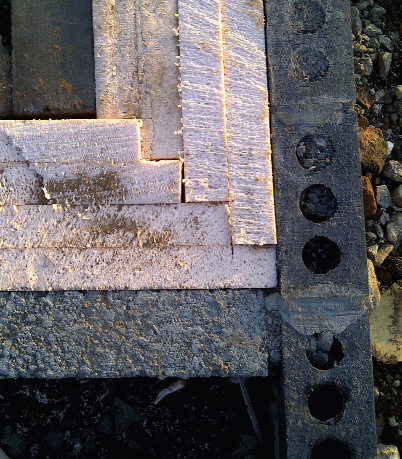 Polyfoam insulation in the sub-floor cavity
Archie Stobbs of Hope Homes says that, having delivered the firm's certified passive house, the company now has a better understanding of the standard. "The project as a whole was interesting from start to finish. Hope Homes certainly gained valuable experience in delivery to the passive house specification."
The house's main heat source are three electric panel radiators and two towel rails. There's also a 2-4kW wood burning stove, though it hasn't been used much so far.
"It's so deep rooted in our culture to have a stove in a rural property that it's difficult for people to move away from that," Kirsty says.
There's also an Ochsner Europa air source heat pump — connected to a 300 litre storage tank — for domestic hot water. The unit – which has a COP of 3.5 based on EN 255-3, assuming an average air-in temperature of 15C and a daily hot water consumption of 150 litres at an average hot water temperature of 52C – was supplied by Glendevon Energy, conjunction with Strathclyde University.
"Obviously lots of people come together to create a building like this, and everyone including suppliers was really enthusiastic to make it happen," she says. "Really there was a huge can-do attitude from everybody. There are always challenges on any project, but it's really about how those are overcome."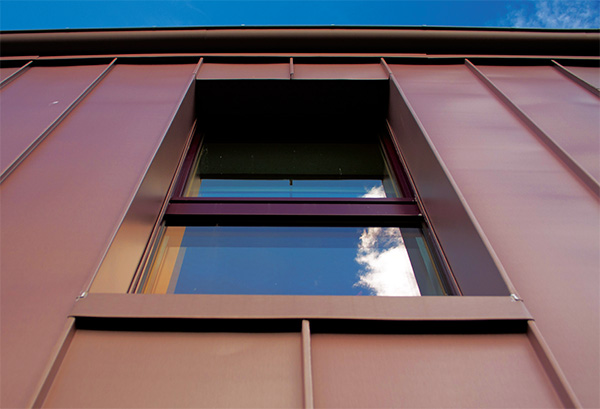 Kirsty went back to visit the house in the autumn to see how her client was getting on. It took a little while for the air source heat pump to work quite as expected, but overall the house was performing as designed — warm, comfortable, and with minimal energy consumption.
She adds: "I asked him would you do anything differently and there wasn't much at all, he had to scratch his head."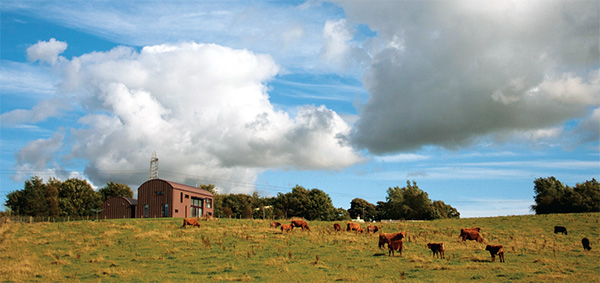 Selected project details
Architect: Kirsty Maguire
Contractor: Hope Homes
Structural engineer: Morgan Associates
Airtightness tester: Jamie Reid
Wall & roof Insulation: Superglass
Floor insulation: Knauf
Airtightness products: Ecological Building Systems
Thermal blocks: Hanson
Windows and doors: Green Building Store
Cladding & roofing: VM Zinc, via HL Metals
Air source heat pump: Glendevon Energy
Ventilation: Paul Heat Recovery Scotland
Wood burning stove: Rika
Additional info
Building type: 165 sqm detached two-storey I-joist timber frame house.

Location: Ayrshire, Scotland.

Completion date: February 2013

Budget: £2300/m2 including internal fit out and landscaping.

Passive house certification: certified

Space heating demand (PHPP): 13kWh/m2/yr

Heat load (PHPP): 9 W/m2

Primary energy demand (PHPP):101 kWh/m2/yr

Airtightness (at 50 Pascals): 0.22 ACH

Energy performance certificate (EPC): C (This figure assumes all heating requirements are provided for by direct electricity because the air source heat pump, which supplies hot water, could not be inputted to SAP. Default thermal bridge values were also used).

Thermal bridging
Zero thermal bridge details used throughout unless unavoidable. Key details were designed very carefully. Including: all corner details (negative details, not modelled and not included in PHPP); window details (modelled in THERM as 0.00); ground floor/slab/found detail (0.00. modelled); eaves detail (Not modelled but designed to be zero). No ridge in the building but all purlins offset to minimise bridging. Windows were the Green Building Store's thermally broken Optwin Alu2Wood windows and detail included over-insulating the frames.

Ground floor: Strip foundation with lightweight Thermalite block on internal leaf. Foundation insulated with 220mm Knauf Polyfoam in cavity. 250mm Knauf Polyfoam under slab with perimeter insulated. U-value: 0.125

Walls: Site built timber frame panels using I-joists. Plasterboard, 350mm insulated services cavity (Superglass 32) Intello Plus Airtightness layer taped, 9mm OSB, 50mm I-joists stuffed with Superglass 32, 9mm OSB, breather membrane, 50mm ventilated cavity, carrier board, VM Zinc standing seam zinc cladding.

U-value: 0.11

Roof: Site-built timber frame using glulam beams and purlins. Plasterboard, 50mm services cavity, Alutrix vapour barrier, 9mm OSB, 405mm I-joists stuffed with superglass 32, 2 layers 9mm marine ply, breather membrane, VM Zinc standing seam zinc cladding. U-value: 0.11

Windows: Freisinger-manufactured Optiwin Alu2Wood triple-glazed windows. U-value: 0.84

Heating system: Space heating supplied by 2 x .25kW towel rails and 3 x 0.5kW electric panel radiators plus RIKA Vitra Passivhaus 2-4kW wood burning stove. Water heating supplied by Ochsner Europa air source heat pump with 300L tank.

Ventilation: Paul Novus 300 MVHR with ISO defroster.

Green materials: Low energy lighting. Insulation with high recycled content. Cladding fully recyclable.
Related items