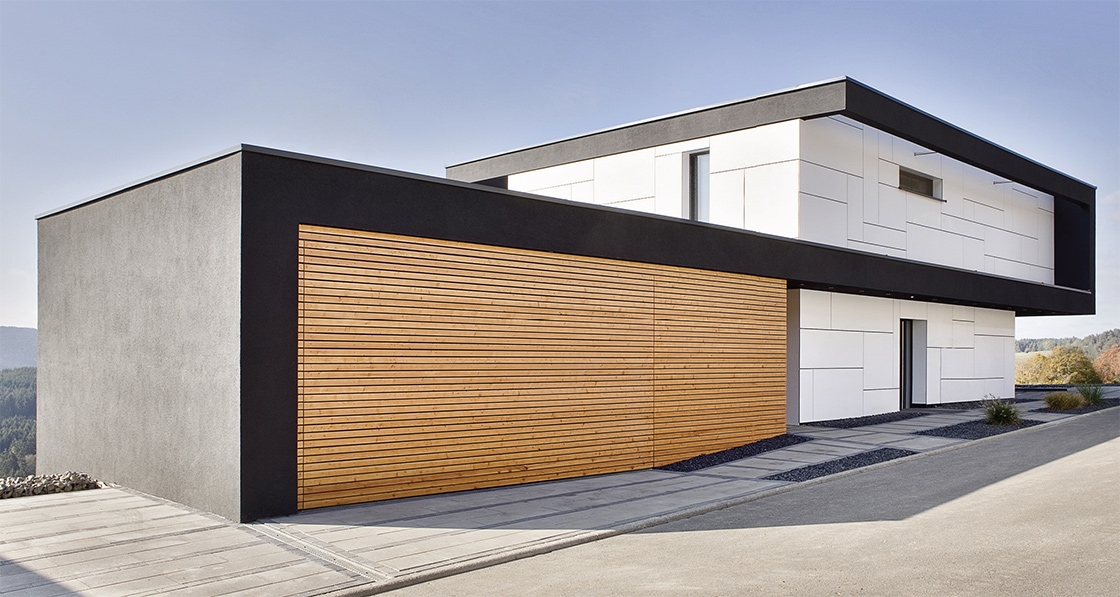 International selection - issue 14
This issue's collection of inspiring international passive houses includes a striking Black Forest family home, the world's first 'passive house premium' building, a deeply ecological Canadian house, and a New York tower that's set to be the world's tallest passive house.
This article was originally published in issue 14 of Passive House Plus magazine. Want immediate access to all back issues and exclusive extra content? Click here to subscribe for as little as €10, or click here to receive the next issue free of charge
Passive House M,
Black Forest, Germany
Photos: Daniel Stauch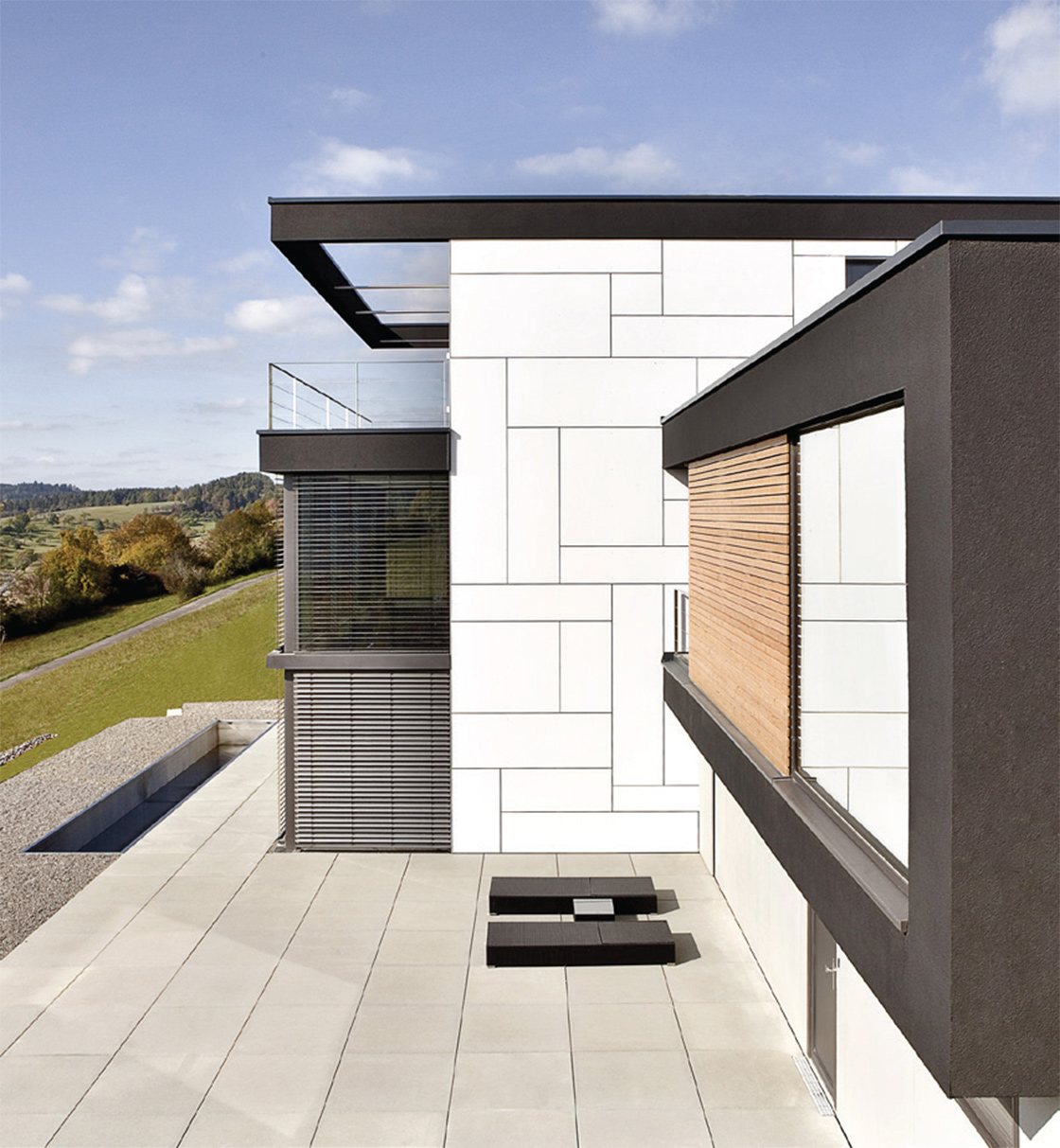 This stunning passive house is set in Haiterbach, in the middle of Germany's scenic Black Forest. Designed by M3 Architekten, the building's north side is relatively closed, while the south side is fully glazed and adapts to the sloping terrain. The house's clean and cantilevered design draws heavily on modernist architecture. The solid elements are clad in simple white panels or timber, with the whole building tied together via a black "ribbon". All interior rooms are oriented in the direction of the adjacent valley, providing sweeping views over the surrounding farmlands and forests, but also offering privacy from neighbouring properties.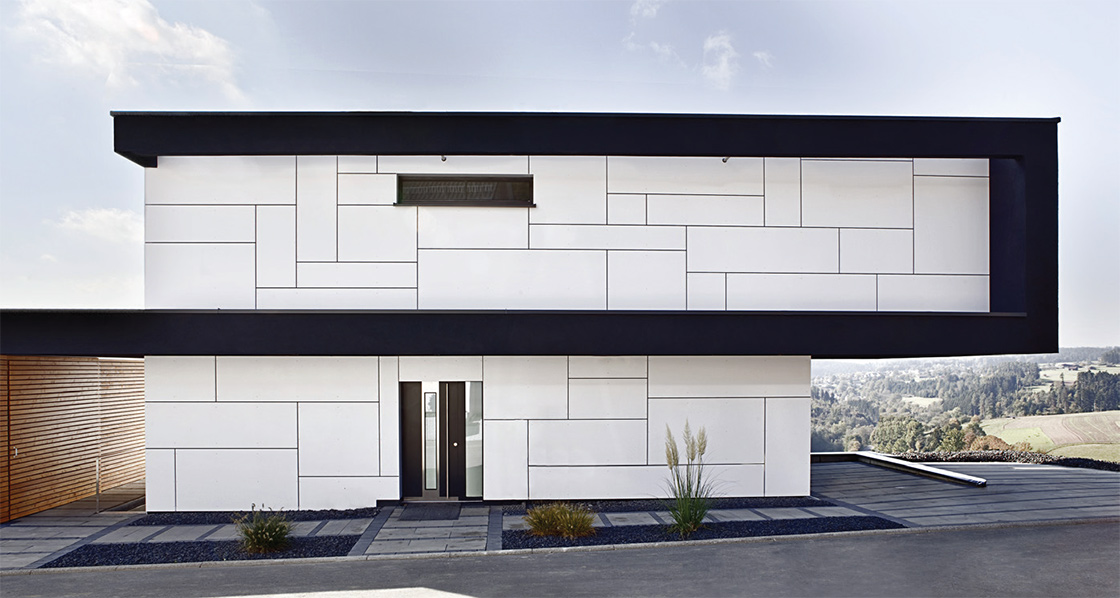 The 315 square metre house, finished in 2010, was constructed with aerated concrete blocks that were externally insulated with mineral wool. It boasts airtightness of 0.4 air changes per hour, plus a large solar thermal array which can deliver heat to the ventilation system, and a wood pellet stove. The house also has extensive green roofs, and a 1000 litre tank that stores rainwater for toilets and gardening. It's all one of the best-looking passive houses that we've ever seen here at Passive House Plus.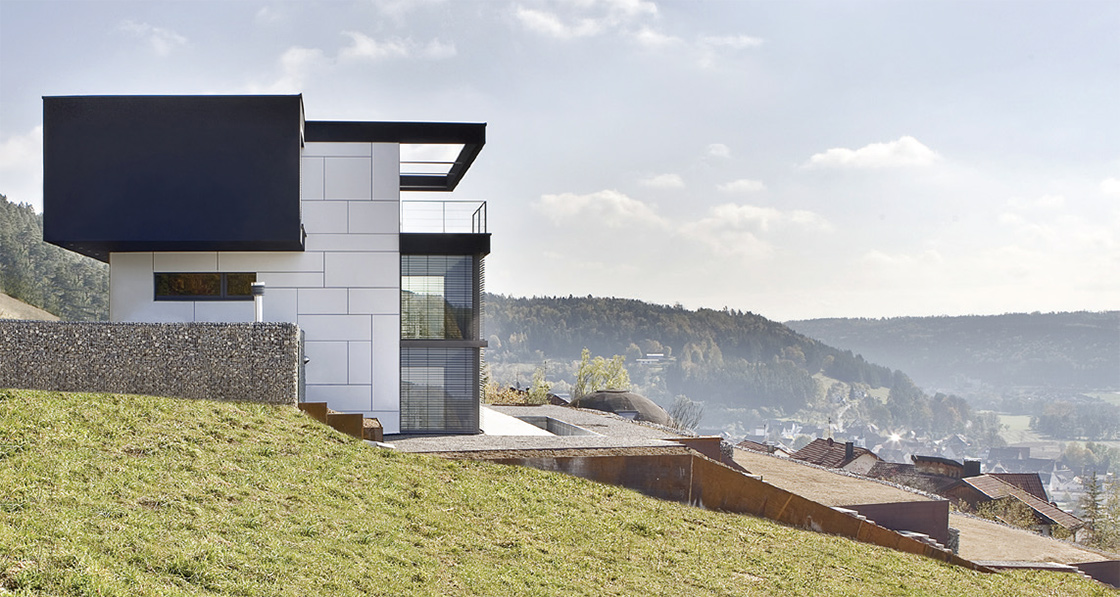 Cornell Tech
passive house tower,
New York City, USA
Images: Kilograph, Weiss/Manfredi and Handel Architects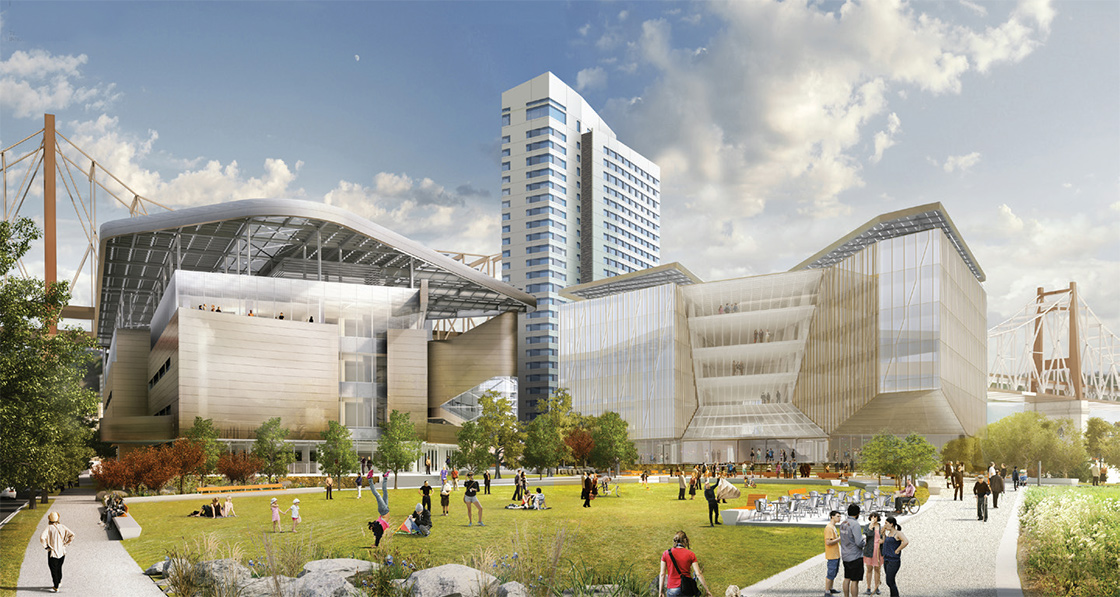 Handel Architects' planned residential tower for Cornell University's new Roosevelt Island Campus is set to be the world's tallest passive house building. The 26-storey building is part of Cornell's 2.1 million square foot technology campus in New York City, a partnership between Cornell and Technion-Israel Institute of Technology. The building is being developed by Hudson Companies, Cornell University and the memorably named Related Companies.
The facade, constructed of a prefabricated and airtight metal panel system, will act as a thermally insulated blanket wrapping the building structure, along with triple-glazed windows. At the southwest facade, facing Manhattan, the exterior opens to reveal a louver system that extends the entire height of the building. This reveal is designed to be the gills of the building, literally providing an enclosed, louvered exterior space where the heating and cooling equipment live, allowing the building system to "breathe".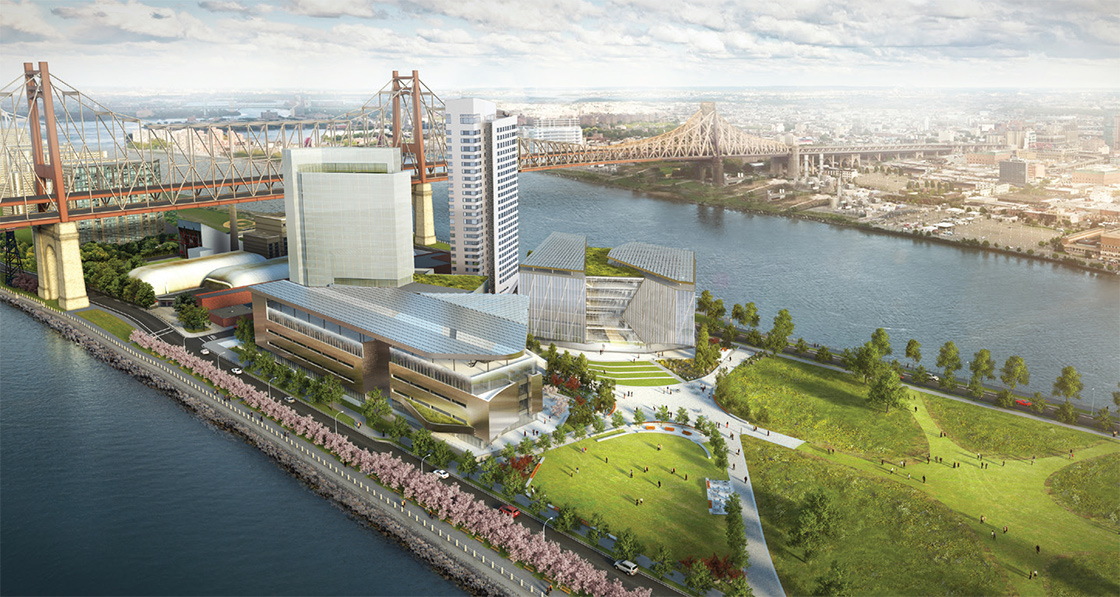 Purified fresh air will be ducted into each bedroom and living room through the MVHR system. Low VOC-paint will be used throughout to maintain high air quality. And compared to conventional construction, the building is projected to save 882 tons of CO2 per year.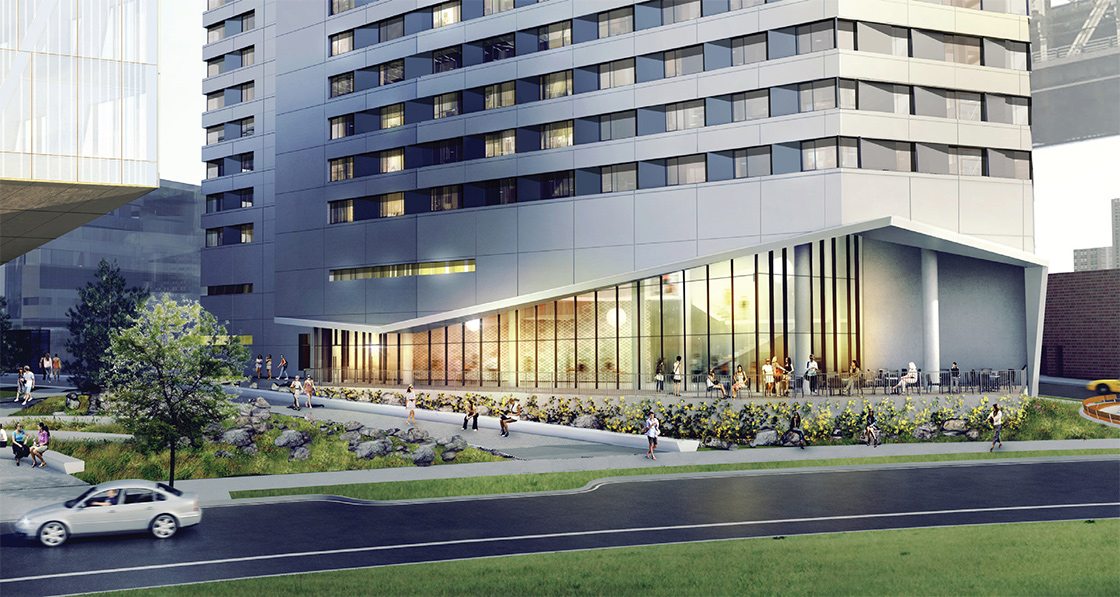 The new structure will be the tallest building on Cornell Tech's campus. The tower's exterior will shimmer, using a state-of-the-art, colour-changing paint that, when reflecting light, naturally shifts in colour. Meanwhile, the interior is designed to provide a comfortable living experience that reinforces the social and intellectual connectivity that is at the heart of the school's mission. The building also features a number of collaborative spaces, both inside and outside, to facilitate collective academic creativity
South Surrey passive house,
British Columbia, Canada
Photos: Shamit Sthankiya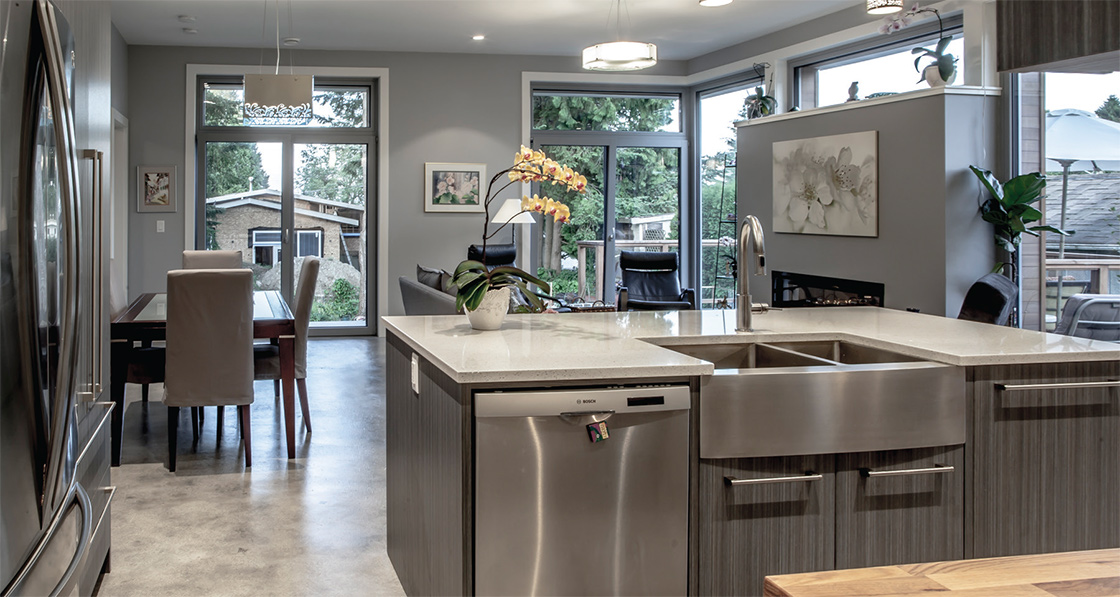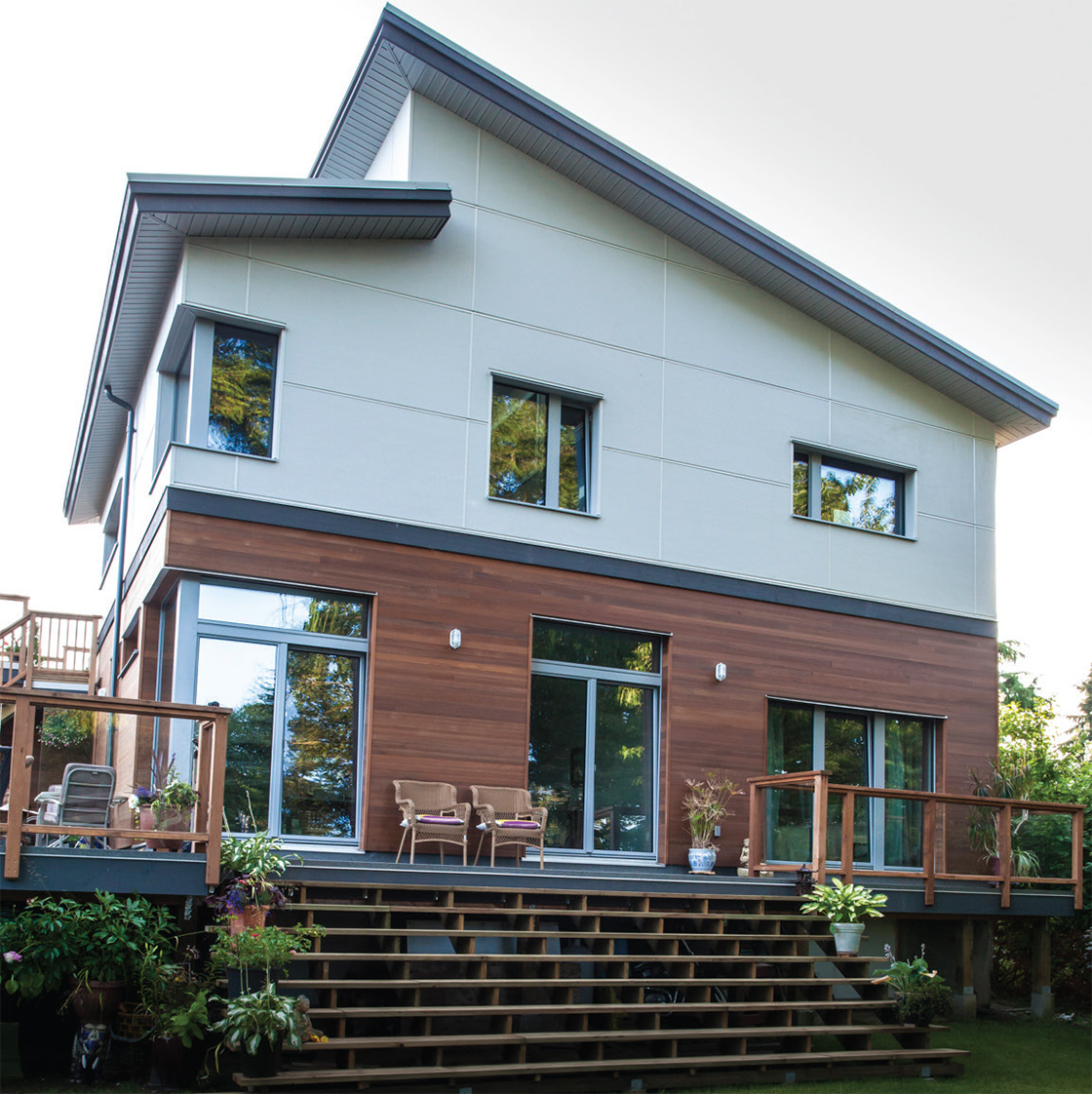 This innovative prefab passive house building in South Surrey, British Columbia, was completed in 2013. Both the roof and walls were constructed from a prefabricated double-stud wall with mineral wool insulation, with taped-andsealed OSB providing the airtightness. The house features triple-glazed Optiwin windows, mechanical ventilation with heat recovery and thermostat-controlled electric heaters in each room. There's also a solar hot water system and a high efficiency gas fireplace. The family's current electricity bill is just $60 a month, with most of this generated by regional hydroelectric power, and according to the architects Marken Projects the heating has not been turned on since the house was occupied.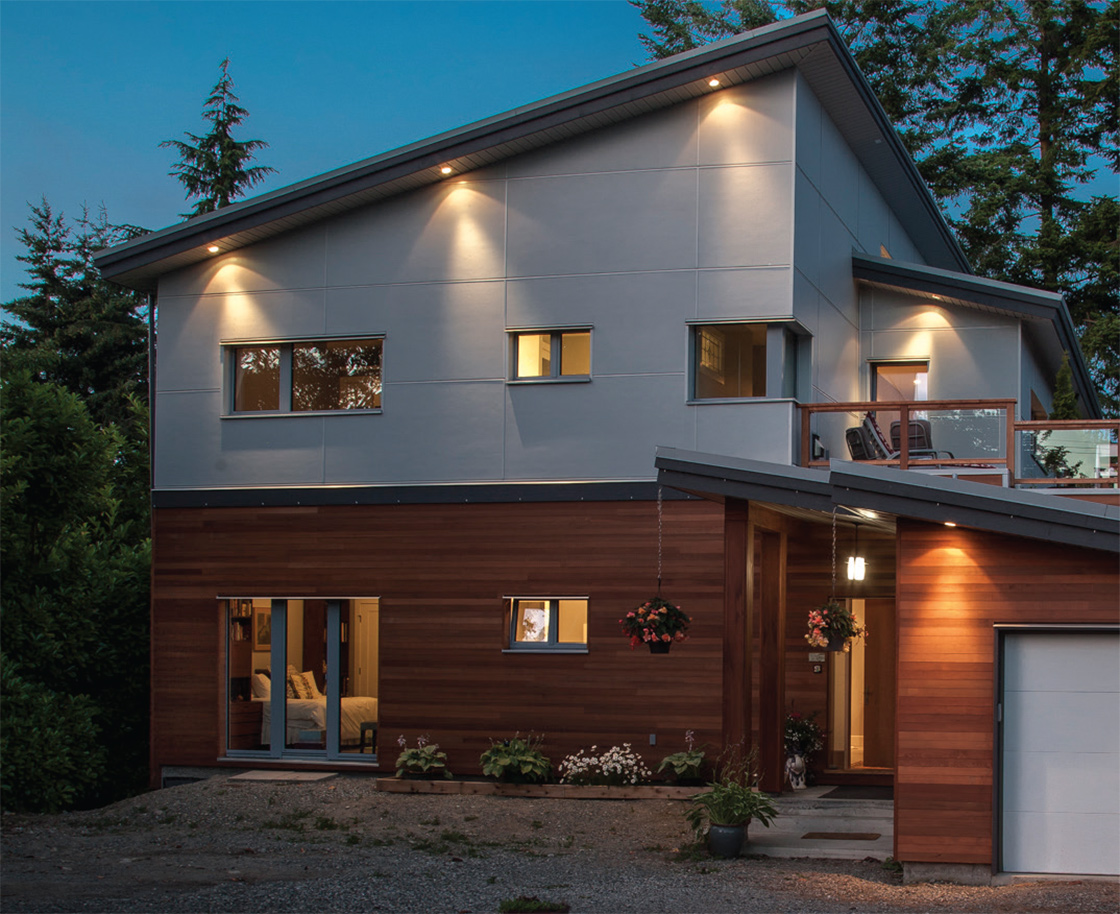 What's more, the client's desire to have three generations living under one roof drastically reduces their own carbon footprint as a family. The house boasts a swathe of other green features too: low water flow fixtures, drain water heat recovery, native landscaping, locally sourced and recycled construction materials, and VOC-free construction, making it one of the most ecological homes we've come across in a while. And with airtightness of 0.6 ACH, space heating demand of 13 kWh/m2/yr and a heat load of 9 W/m2, it ticks all the key passive house boxes too.
House of Energy,
Bavaria, Germany
Photos: Markus Meyer, Airoptima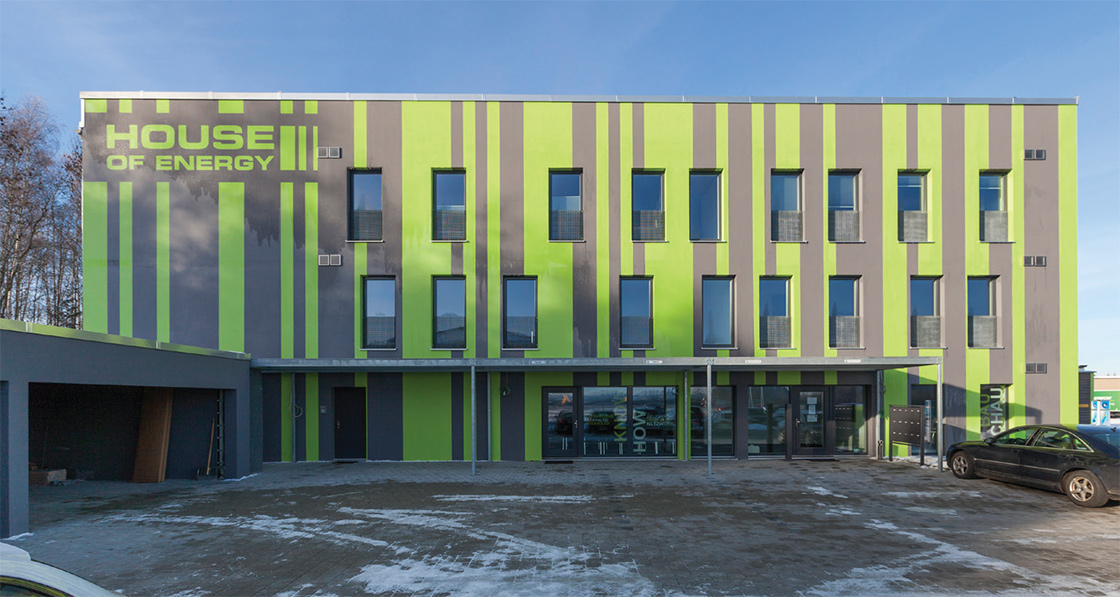 This mixed residential and commercial project in the town of Kaufbeuren is the fi rst building in the world certifi ed to the new 'passive house premium' standard. The certifi cate was presented to the building's owners at a special event during the International Passive House Days last November. This new certifi cation category, launched earlier in 2015, rewards passive buildings that produce more than 120 kWh/m2m/ yr in renewable energy. House of Energy achieves this via a huge 250 square metre solar photovoltaic array on its roof.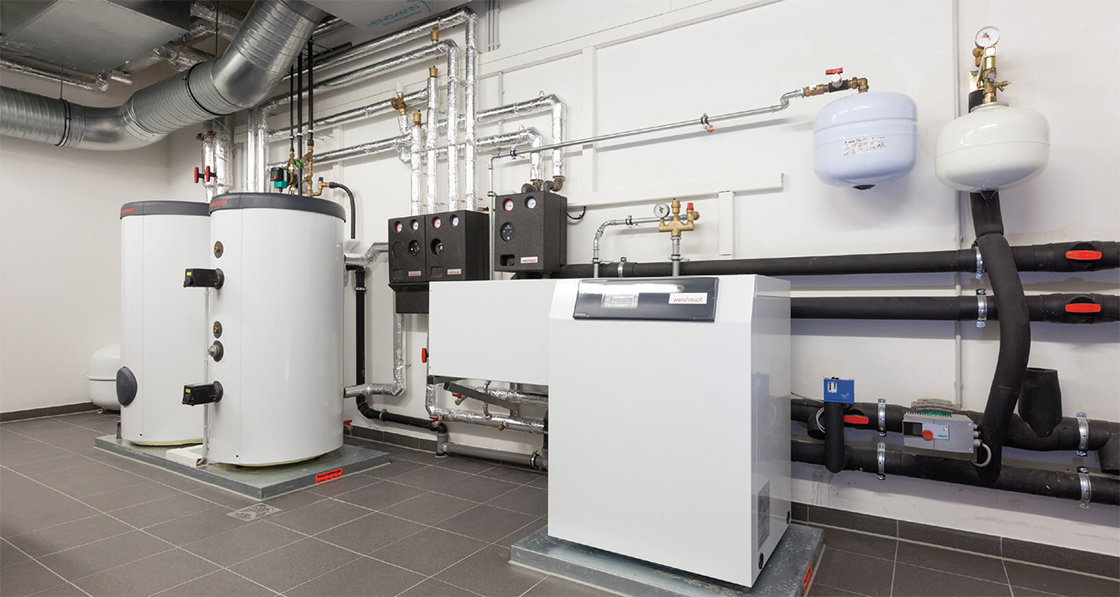 The project was developed by the building services company Airoptima, which now has its Photos: Markus Meyer, Airoptima headquarters in the building. The building also houses the operations manager's flat, a training centre, and a permanent exhibition on the topic of construction and refurbishment.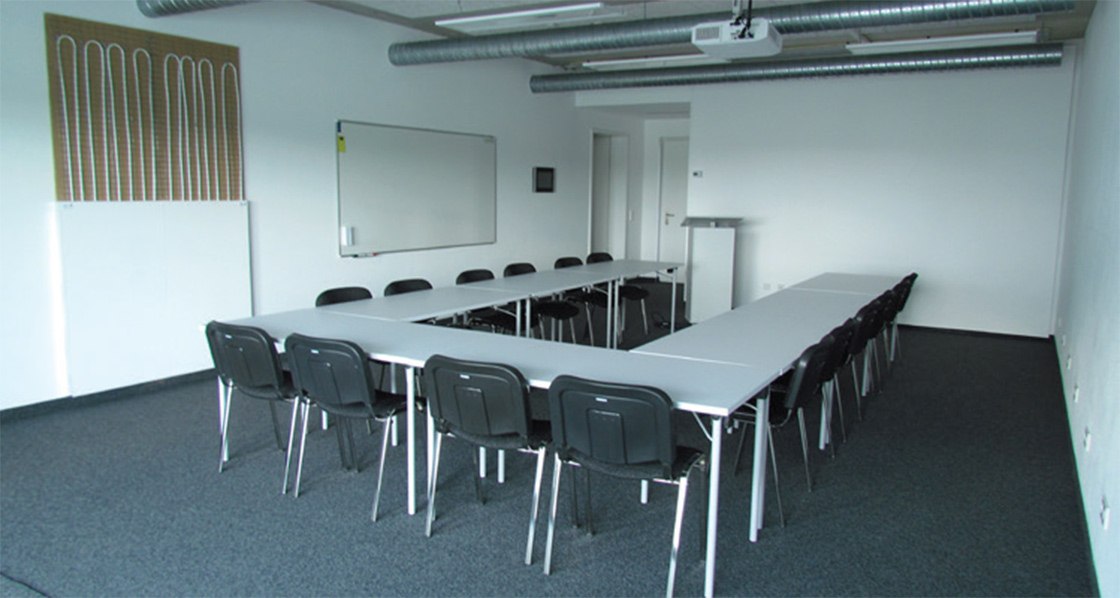 The House of Energy was designed by BG Architektur and certifi ed by leading passive house certifier and consultant Herz & Lang. The three-storey building was constructed from masonry block and insulated externally, and scored an impressive airtightness test result of just 0.2 air changes per hour. A ground-source heat pump is used for the remaining small heating demand and hot water provision. The necessary auxiliary energy and domestic electricity is provided by the photovoltaic system. Any surplus energy that is generated is fed into the grid.
Image gallery
Passive House Plus digital subscribers can view an exclusive image gallery for this article. Click here to view
Related items