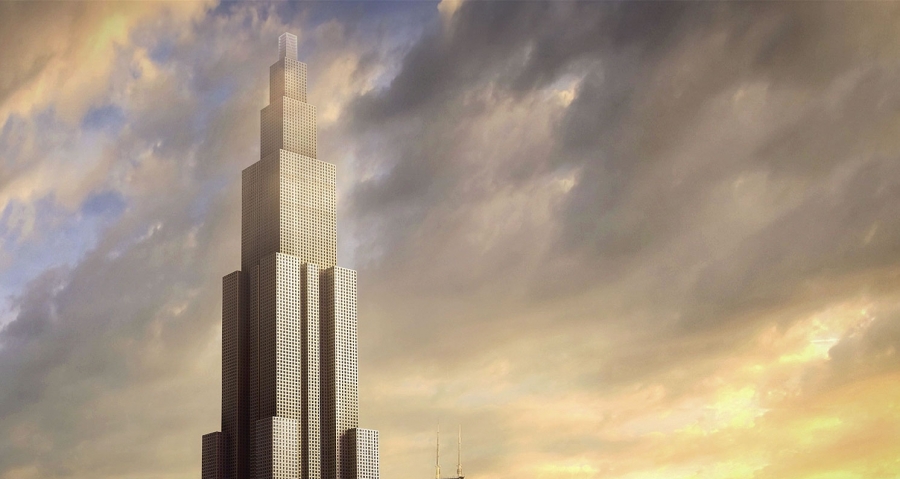 China plans world's tallest building, but do green claims stack up?
Perhaps not surprisingly, Dubai's 828 metre Burj Khalifa might soon be overtaken as the world's tallest building. What's more, construction firm Broad Sustainable Building plans to build the 838 metre Sky City tower in Changsha, China in just 90 days.
Broad says that by pre-fabricating the building elements and stacking them together, they can drastically cut construction waste and water use, and build five storeys a day. The company previously built a 30 storey tower in just 15 days, and you can read more about their methods of construction at Wired.
While many will no doubt question the claim based on the amount of energy and materials required for such a structure, Broad claims Sky City will be green. The firm lists a swarth of features to back up this claim, including a design it says is "five times more energy efficient than conventional buildings". They also mention quadruple-glazing, heat recovery ventilation, excellent indoor air quality, electricity-generating elevators and "the highest efficient of land use" as key features of the project.
However, doubts abound about the project.
Bart Leclerq, head of structures at global engineering firm WSP, told Construction Week Online that by "just using these simple units all put together, you are not going to get enough stiffness; this building will have an enormous storey drift, and it will sway."
And he issued a word of caution: "It looks like it could be a marketing ploy rather than a real scheme, otherwise there would be much more factual information in there, such as talk about the wind load. It does not look right at all. I do not think an actual architect or structural engineer has looked at it."
Last modified on Wednesday, 13 February 2013 18:23
Related items