Naturally Insulated Wicklow house sets airtightness standard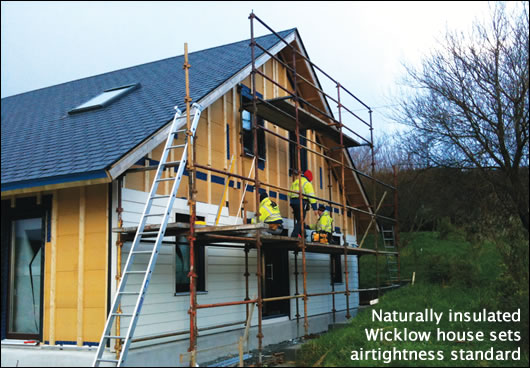 Three years ago Jer and Jackie Rynhart decided to build a new timber frame house on their spectacular site in the Wicklow hills. Over the next few years Jer accumulated vast knowledge of sustainable building, undertook a significant portion of the labour and ended up with perhaps the most airtight building in the country. Words: Lenny Antonelli
In 2003 Jer and Jackie Rynhart bought an old schoolhouse near the village of Rathdangan in the hills of west Wicklow. With the help of some friends they turned it into a functioning home, but the 800 square foot house was too small for their young family — they considered renovating and extending, but Jer reasoned that if they wanted the best build possible, they should start from scratch.

The old schoolhouse was knocked, and a kind neighbour let the Rynharts have his house next door while they oversaw the build. Jer Rynhart approached various timber frame companies before choosing Wexford-based Shoalwater Timber Frame — he praises the company for its "wealth of knowledge", inventiveness and attention to detail.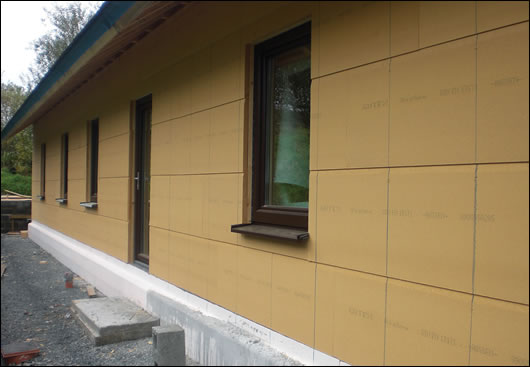 Ecological Building Systems supplied the Gutex Ultratherm woodfibre insulation that insulates the house externally

Founded in 2000, Shoalwater built the first of an eight-unit development of detached passive houses in Rosslare earlier this year. Shoalwater's Donal Mullins says the company aims to ensure quality by using the same skilled tradesmen in factory and on site, with no sub-contracting. "In my opinion it's all about quality, all about training, all about the attitude of the guy carrying out the work," says Mullins, who's noticed more of his customers looking for low-energy builds in the last few years.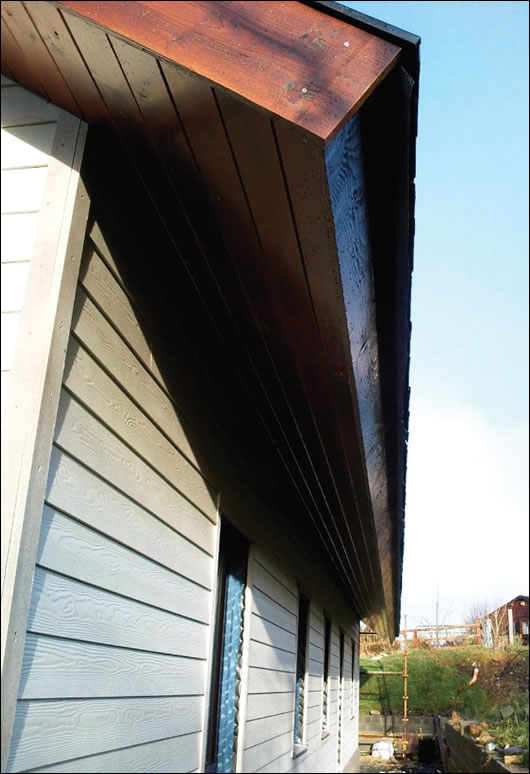 Outside the Gutex Ultratherm is a 40mm ventilated cavity and a Tegral Cedral weatherboard finish, seen here

Super-insulated envelope
In August last year Shoalwater erected the Rynharts' frame, which was then insulated on site. The finished walls have a U-value 0.11 W/m2K, and feature 80mm of Gutex Ultratherm woodfibre board externally, 220mm of cellulose insulation in the stud plus a 100mm service cavity insulated with Gutex Thermoflex. The roof has a U-value of 0.11 W/m2K, and includes 310mm of cellulose insulation and 100mm of Gutex Thermoflex. It's finished with slates from Athy Ecoslate, which produces its tiles in Kildare from recycled polypropylene imported from the UK, and also buys back any offcuts or unused slates for reuse.

The Rynharts' house features an Isoquick insulated foundation, and the ground floor has a U-value of 0.11 W/m2K. The Isoquick system is essentially an EPS insulation formwork around and below the concrete slab. The house's foundations consist of a 250mm concrete slab with 300mm of polystyrene underneath, and 150mm of polystyrene around the edges. "I'm really impressed with the Isoquick," Rynhart says. "It's basically a giant tub containing the concrete. It's completely insulated on all sides."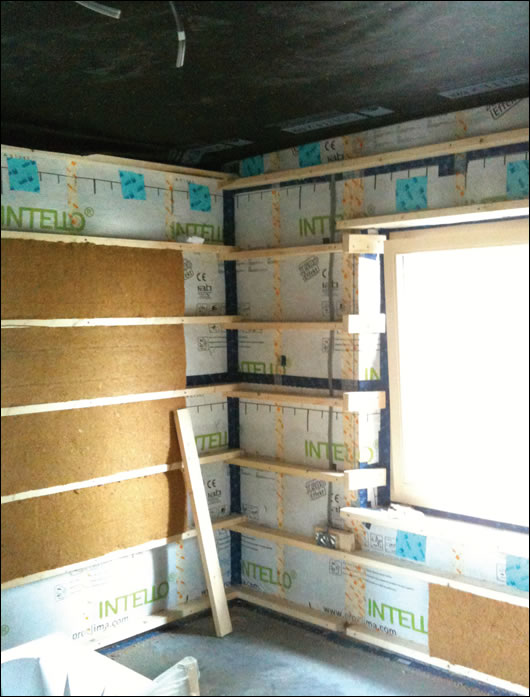 The Pro Clima Intello 'intelligent' membrane on the inside of the 90mm service cavity, which had yet to be insulated with Gutex Thermoflex at this stage

The Isoquick system uses Peripor EPS. "[Peripor is] specifically designed to repel moisture and to give high long term compressive strength," says Isoquick's Jonathon Barnett.

"The system comprises edge modules and deck modules, which come in different thickness depending on the clients' thermal requirements," Barnett says. "The different thickness of deck modules also allows us to vary the concrete thickness depending on the structural demands."

"All the pieces lock together when installed to u create a rigid formwork that needs no other support during the concrete placement. The profile of the edge block eliminates thermal bridging and pushes moisture away from the base of the building," he adds.

Ecoglaze supplied the house's triple-glazed Internorm Edition windows. The timber-aluclad units feature two 15mm argon-filled cavities, thermal foam and stainless steel spacers and have an overall U-value of 0.79 W/m2K. The Internorm front door is also timber-aluclad, and has the same overall U-value.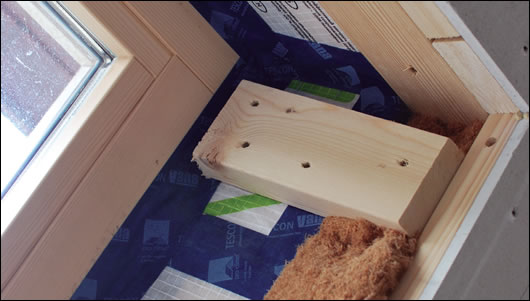 Airtightness detailing around windows, with Gutex Thermoflex woodfibre insulation in the service cavity

Natural materials
The whole construction is rich in ecological and natural materials such as cellulose and woodfibre. Rynhart was keen on natural materials for their hygroscopicity — their ability to absorb and release moisture — acting as a buffer — without affecting performance.

"I became intrigued by the whole ecological side of it, the whole breathability, hygroscopicity of the build make-up became very important," says Rynhart, who picked up an awareness of moisture in buildings from his father, who developed a device that detects moisture content in walls. He's put moisture probes in his walls for monitoring, and he also stresses that natural materials like woodfibre are much more pleasant to work with.

Ecological Building Systems supplied many of the green materials used in the build, such as the Gutex woodfibre board used and the Panelvent sheathing. Gutex is a German-manufactured woodfibre insulation. "It's a very dense tongue and groove woodfibre board," says Niall Crosson, engineer with Ecological Building Systems. "The primary advantage of using Gutex Ultratherm externally was to increase the thermal mass of the construction, while putting a significant proportion of the insulation to the outside of the frame to reduce non-repeating thermal bridges. It's extremely vapour open [µ value of 3] but still relatively dense as a material." Insulating externally also moves the dew point to the outside of the wall. Rynhart insulated the service cavity on the inside of the build-up with 90mm of Gutex Thermoflex — a dense, but more flexible variety of the material.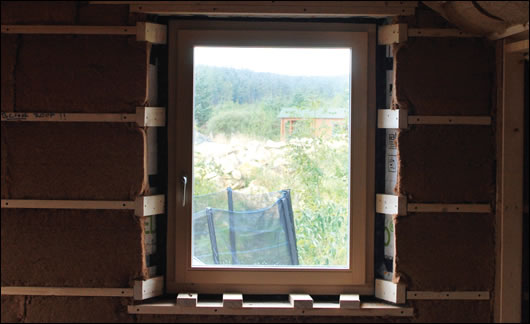 The service cavity once the Gutex Thermoflex had been installed

Inside the outer layer of Gutex Ultratherm is Panelvent, a diffusion open external sheathing board — its manufacturer states that it's 5.8 times more permeable than 'Sterling' OSB3 and 11 times more permeable than most other OSB3 boards, with a category one racking strength. The board provides structural racking strength and wind resistance but contains no synthetic glues, relying instead on lignum, the natural glue that occurs in wood.

Fermacell board lines the walls internally. Fermacell is manufactured in the Netherlands from gypsum, cellulose and water — all of it recycled. Any excess materials and water are reused according to the manufacturer, and both Fermacell and its production process have been certified by the Rosenheim Institute of Building Biology and Ecology. "Its high density means it has a very good impact resistance," says Raymond Spain of Irish supplier Longs. "It's very good from a sound transmission point of view, and it has very good fire resistance properties."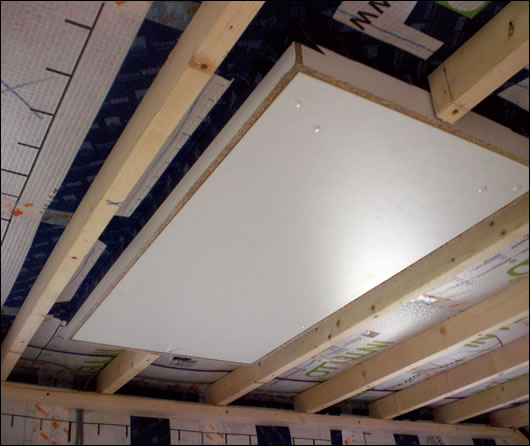 The house's airtight Wellhöfer attic hatch

Minimalist heating design
Jer Rynhart's so confident in the thermal performance of his build-up, he's not installing central heating — though he might put electric underfloor heating in the kitchen. The house is so well insulated and airtight that it should function as a passive house, with space heating provided through the ventilation u system and passive heat gains.

Rynhart's planning to install a Genvex Combi 185 L-S unit, which boasts an air-source heat pump and heat recovery function and can provide both hot water and space heating. The unit is certified by the Passive House Institute and will be supplied by Ecosystems Ireland.

"Domestic hot water is provided from the 185 litre tank which has heat pump priority and can be supplemented by solar or other heat sources through the internal coil which comes fitted as standard," says John McConnell of Ecosystems Ireland. "The heat pump can also be used to heat the incoming fresh air."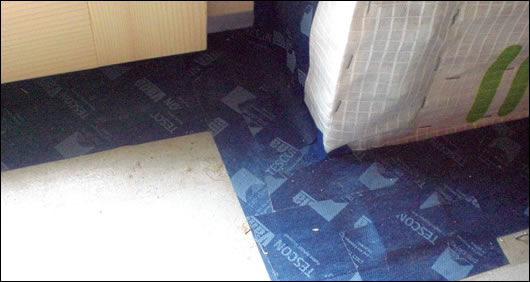 Sealing with Tescon tape around windows

"A Genvex Combi has been under live monitoring in a 220m2 certified passive house in Denmark for the past eighteen months and is meeting all the heating and domestic hot water," McConnell says.

Rynhart's also planning to install solar thermal, and thinks he'll go for Solar Focus CPC system, supplied by Wicklow-based Renewable Energy Technologies (RES). RES's Brendan Foley says that the unit works like a vacuum tube but is fully enclosed for protection. "It has the durability of a flat plate but the efficiency of a vacuum tube," he says. "It's patented technology." Foley says it has a lifespan of 30-35 years, and that because it's fully sealed corrosive air can't enter the system, making it particularly worthwhile in coastal areas.

(left to right) services were thoroughly taped where they pierced the airtight Intello layer; Jer Rynhart used Pro Clima Elasto tape to seal over staples that were used to fix the Intello membrane, as seen running down the centre here; as part of the design, effort was made to ensure services did not pierce the airtight layer

Rynhart is also considering wind power and solar PV, but that's for the future — when Construct Ireland visited, the Rynharts were just hoping to move in as soon as possible. Shoalwater erected the frame in the summer of 2009, and Rynhart has spent the past year – along with various friends and tradesmen — trying to finish the house when he's not at his job as a sound engineer. The family are hoping to move in by mid October, but even then the whole upstairs and kitchen won't be ready — they'll have to cook from their small caravan on site. But with such a stunning view over the Wicklow countryside through the extensively glazed south facade, they probably won't mind too much. Tucked into a hillside and with a modest design in the style of pioneering Irish passive house firm Scandanvian Homes, the house isn't visually obtrusive either.

Ground-breaking airtightness
Of course the most impressive aspect of the Rynharts' house is its airtightness. Ecological Building Systems supplied the Pro Clima 'intelligent' wind and airtightness system used throughout the build. Rynhart used the Intello Plus 'intelligent' membrane throughout the walls and roof, just inside the main cellulose-insulated cavity. "Unlike vapour barriers or vapour checks on the market which remain permanently vapour resistant under all conditions, Intello's vapour permeability varies depending on the season," Niall Crosson says. He explains that in winter Intello Plus is highly resistant to diffusion and thus protects the building's structure, but in summer it becomes up to 50 times more vapour permeable, allowing any moisture that might have entered the building structure to dry out.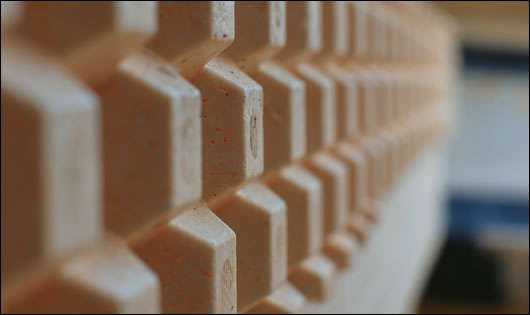 The Isoquick foundation system uses Peripor EPS for insulation

Rynhart used Pro Clima's Solitex Plus wind-tight membrane in the roof, taped and sealed with Pro Clima windtightness tapes. "Solitex Plus is completely non micro porous. It's completely air impervious, which is quite unique among external roofing membrane, yet it has an extremely low vapour resistance to maximise vapour diffusion to the outside. It gives an optimum windtight seal but is also reinforced for extra security against tearing on site," Crosson says. The Solitex Plus membrane in the roof and Gutex external wall insulation form a continuous windtight layer — Crosson says the house is so windtight that, even before the Intello airtight membrane and cellulose insulation were installed, it probably would have yielded an impressive blower door test result.

The most recent airtightness test performed, produced a phenomenal result of 0.15 air changes per hour (ACH) and a Q50 figure of 0.19 m3/hr/m2. The Q50 figure is the best Construct Ireland has ever published, and is rivaled only by Tim O'Donovan's stick-build timber frame house in west Cork, which has a slightly better ACH figure of 0.11 but a worse Q50 of 0.29m3/hr/m2. Construct Ireland profiled O'Donovan's house in our July/August issue earlier this year (issue 2, volume 5). Of course the Rynharts' result is still only provisional — some cellulose insulation is yet to be installed in the roof and walls, and the airtightness result will be finalised after that.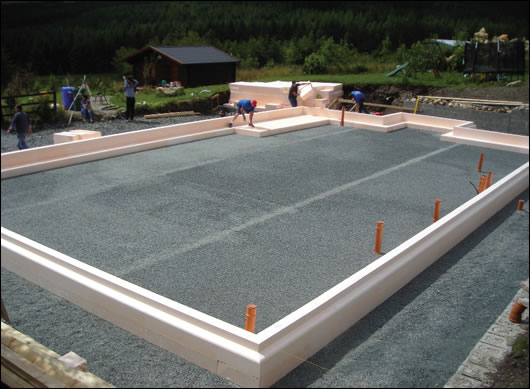 The Isoquick insulation formwork around the edges of the foundation

Rynhart admits he "went to a lot of trouble" with airtightness — but that's probably understating at. It's clear his attention to detail was exceptional — when Construct Ireland visited, it was instantly obvious how impeccably neat the construction detailing was. "It kind of became a 'let's see what we can get' sort of thing," he says. He even put Pro Clima Elasto tape over the staples used to attach Pro Clima membranes in the wall and roof. Niall Crosson says this isn't necessary to get to passive airtightness levels, but Rynhart was keen to see if it made a difference nonetheless. "I was interested in doing it, and Niall was encouraging," he says, joking: "I went a little excessive on u staples."

Before Rynhart taped the staples, the airtightness was 0.22 ACH, after it was 0.15 ACH — but other holes were found in the intervening time. "The sealing of the staples made negligible improvement," reckons Niall Crosson. "The major improvement was due to the sealing of the holes and tears."
Tthe roof was finished with Athy Ecoslate, which is produced in Kildare from recycled polypropylene imported from the UK

Rynhart credits his friend David Garland, who he describes as an "expert" builder, for helping to achieve such a high quality build. He also praises Ecological Building System and the Pro Clima range — "it's just amazing to work with" he says — and cellulose installer Roman Szypura (of Clioma House), citing both as key to the house's phenomenal airtightness. "Airtightness is interdisciplinary….everybody's involved," Syzpura says. "That's probably one of the main things with airtightness. It's important there's good communication on site and that all the different trades are aware what's going on."

Of course Rynhart's own onerous attention to detail was paramount — Donal Mullins of Shoalwater says Rynhart was a "fanatic" about making sure "every single little detail was being done to perfection". It's clear he has accumulated a wealth of knowledge not just on green building, but quality building. He oozes enthusiasm for the subject. "I suppose you can get into these things and get overly interested in them. I tend to look for the nitty gritty," Rynhart says.

"You want to do it correctly, you want to do it well, you want to take your time, but you're under pressure," he says. "It can be stressful when you're trying to hold down a job and you've got a family," he adds, but interjects: "Actually I love it, it's great."

Overview
Location: Rathdangan, Co Wicklow
Building: 350 square metre, two-storey detached home
Build method: Timber frame
BER: Not yet available
Carbon Dioxide Emissions Rating: Not yet available
Airtightness (provisional): 0.15 ACH / 0.19 m3/hr/m2
Walls: 10mm Tegral Cedral weatherboard, 40mm ventilated air cavity, 80mm Gutex Ultratherm woodfibre board, Pro Clima Solitex WA membrane, 9mm Panelvent, 220mm cellulose-insulated stud, Pro Clima Intello membrane, 90mm service cavity insulated with Gutex Thermoflex, Fermacell U value: 0.11 W/m2k
Roof from the top down: Slates, 30mm ventilated layer with battens & counter-battens, Pro Clima Solitex Plus wind-tight membrane, 9mm Panelvent, 310mm cellulose, Pro Clima Intello Plus membrane, 100mm cavity insulated with Gutex Thermoflex, Fermacell U value: 0.11 W/m2k
Windows: Triple-glazed timber-aluclad windows, argon-filled U value: 0.78 W/m2K
Heating: No central heating, Genvex Combi 185 air-source heat pump with heat recovery ventilation
Ventilation: As above
Green materials: Cellulose & woodfibre insulation, recycled slates


Selected project details
Clients: Jer & Jackie Rynhart
Timber frame: Shoalwater Timber Frame
Insulation & airtightness materials: Ecological Building Systems
Daemmstatts cellulose insulation & airtightness work: Clioma House
Foundations: Isoquick
Windows: Ecoglaze
Roof slates: Athy Ecoslate
Dry lining board: Fermacell
Heat recovery ventilation: Ecosystems Ireland
Electrics: Eco Plus Electrical & DC Electrical
Plumbing: Billy Hayes