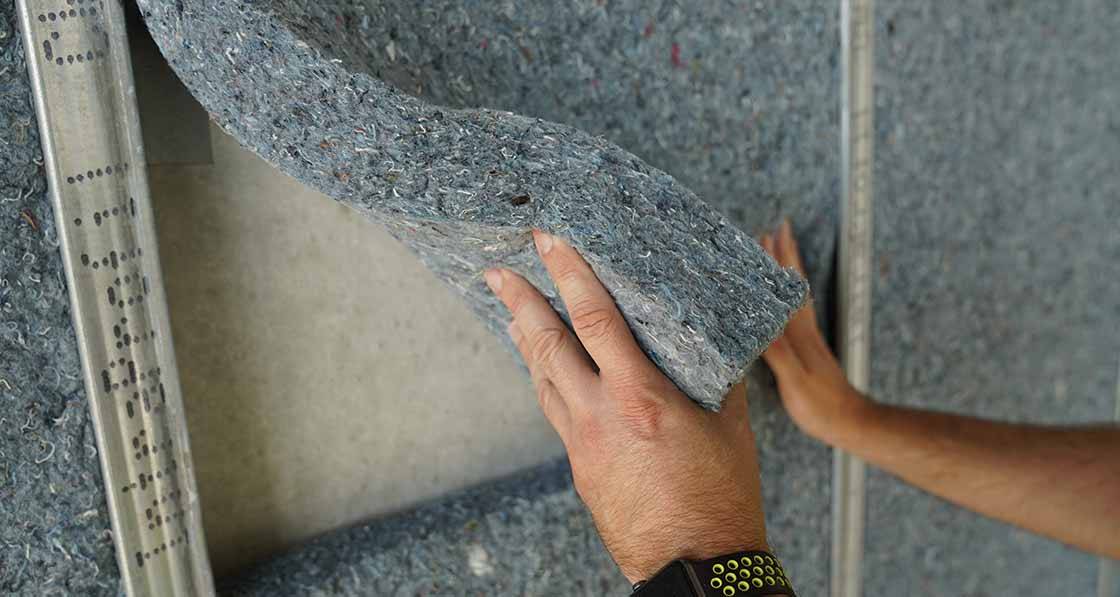 Soprema's new Pavatextil P insulation is made from recycled cotton and jeans.

News Desk
Soprema launches insulation made from recycled jeans
Soprema is turning workwear into sustainable
insulation
with its launch of Pavatextil P, a versatile material made from recycled cotton and denim, and with "superb thermal performance and buildability benefits".
This article was originally published in issue 38 of Passive House Plus magazine. Want immediate access to all back issues and exclusive extra content? Click here to subscribe for as little as €10, or click here to receive the next issue free of charge
The company said that the new product drives forward its "circular construction approach to developing products that utilise recycled materials to reduce waste, offer a sustainable supply chain and answer increasing demand for credible, environmental solutions". To produce Pavatextil P, selected cotton and jeans are unravelled and reused in an "ecologically optimised production process" that is powered by renewable energy, the company said. The recycled cotton fibres are then processed into soft insulation panels. Pavatextil P also provides excellent acoustic insulation and boasts an A+ rating for VOC emissions.
Roland Jackson, commercial director of Soprema UK, said: "Soprema is a pioneer in developing sustainable construction concepts and transforming those ideas into products that offer environmental, buildability and performance benefits.
"With Pavatextil P, we have delivered those principles in a way that's accessible for everyone – anyone who has ever owned a pair of jeans could potentially be part of this innovative approach to recycling a ubiquitous consumer product into a high-performing element of a more sustainable built environment."
In addition to its environmental and performance benefits, Pavatextil P also offers significant buildability advantages, according to Soprema. Light and flexible, the material is simple and easy to cut to size and shape on site and can be installed quickly and easily between roof beams, under floorboards or in stud walls and partitions. The material can also be installed in layers to tailor the installation to the required thermal performance and property design.
Roland Jackson added: "Denim has been chosen as an ideal recyclable material by Soprema thanks to its durability and flexibility. Indeed, American gold diggers chose jeans because they were the strongest trousers they could find. Now, even when jeans are worn out, the ultra-tough fabric can be repurposed as insulation material, giving them a second life.
"A good pair of jeans can last for years but Pavatextil P can last for generations while providing a more comfortable, energy efficient and sustainable built environment. We believe it is a game changer in the way the construction sector will think about sustainability and the use of recycled materials in the supply chain."