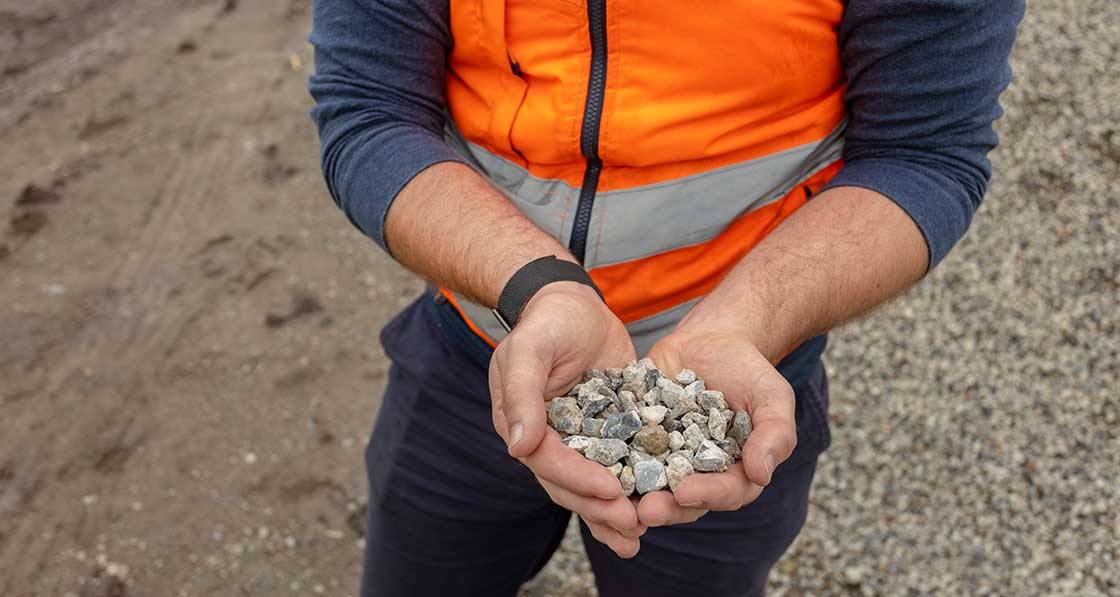 News Desk
Recycled aggregate cuts carbon emissions by 95 per cent, EPD shows
Integrated Materials Solutions (IMS) has published the first environmental product declaration (EPD) in Ireland for an aggregate product, for its Greenstone recycled aggregate, the first construction product of its type in Ireland. The EPD shows that Greenstone has a carbon footprint of just 5 per cent that of virgin aggregate.
This article was originally published in issue 37 of Passive House Plus magazine. Want immediate access to all back issues and exclusive extra content? Click here to subscribe for as little as €10, or click here to receive the next issue free of charge
In 2019, IMS became the first Irish company to be granted 'end of waste' status from the Environmental Protection Agency (EPA), allowing it to divert construction waste from landfill and recycle it into certified secondary aggregate.
"This is a significant development. This is one of the first EPDs for a recycled product available in Ireland, with real scientific measured data showing the real environmental benefits and carbon savings of the circular economy," said Pat Barry of the Irish Green Building Council, which issued the EPD.
"This will create further demand for this type of product as whole life cycle carbon assessment becomes the norm on public and private projects. Ambitious embodied carbon benchmarks are now being set for projects, requiring design teams to seriously analyse data on products they are using."
The specification of recycled aggregate means first that construction waste is diverted from landfill, and second that far less virgin material is extracted to produce new aggregate, setting a precedent that could dramatically reduce the environmental impact of aggregate production if it is expanded across the industry.
"IMS are first-movers in the aggregate industry in Ireland in carrying out a rigorous carbon footprint on their aggregate, by obtaining an Environmental Product Declaration," said Peter Seymour of EcoReview, the consultancy that carried out the life cycle assessment for the EPD. "And the result is impressive – their CO2 footprint is less than one-tenth of the CO2 footprint of regular aggregates from pits or quarries. EPDs are now an essential tool in the construction industry as the need to measure and reduce embodied carbon becomes an integral part of the industry, and IMS are now well placed to benefit from their EPD certification."
Construction and demolition (C&D) waste is, by volume, the largest waste stream in the EU and represents over 35 per cent of total waste generation. In 2019, Ireland produced about 7.5 million tonnes of C&D waste, of which ten per cent was waste concrete. It is estimated that about half of construction waste is recycled in the EU, but in Ireland that figure is much lower as to date there have been a lack of indigenous recycling facilities.
"Greenstone is a major step forward in the shift to a more circular economy for the construction industry in Ireland," said Cian O'Hora, managing director of IMS. "This achievement is an example of IMS's ever-expanding environmental services and commitment to finding sustainable and compliant solutions. "By sending waste concrete to us for recycling and using Greenstone back into their projects, construction companies can help us close the loop and greatly improve their carbon footprints, which in return would help them achieving sustainability status in LEED or BREAM certification."
Leading civil engineering and construction contractor Shannon Valley is one of the first companies to avail of IMS's aggregate recycling service. "We are very happy to be given the opportunity to divert our waste concrete from landfill and put it to good use," said Shannon Valley managing director Michael English. "The products offered by IMS are of a very high quality and we are looking at reusing the material for a number of upcoming roads and civil projects."
1 comment
Exhaund

Thursday, 30 June 2022 06:07

Amoxicillin Once Daily Bvlfzl https://newfasttadalafil.com/ - cialis without a doctor's prescription Hzttoj Cialis This medication may also be used to decrease a high level of calcium in the blood hypercalcemia. Vqzaal https://newfasttadalafil.com/ - buy cialis online with a prescription Scjlgw
Leave a comment