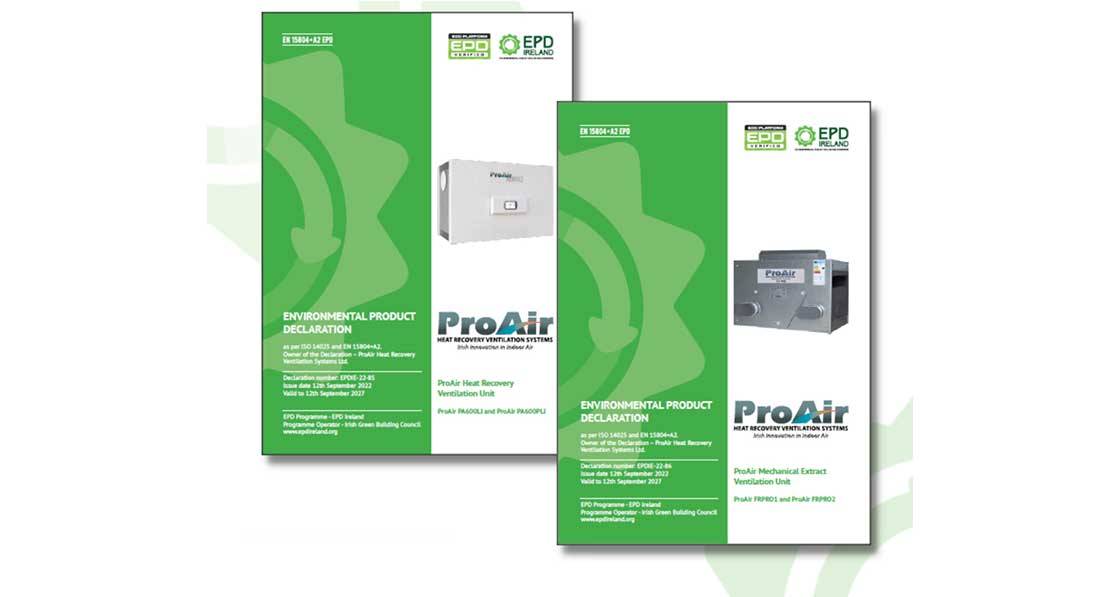 News Desk
ProAir pioneers with EPDs for ventilation systems
Irish mechanical ventilation manufacturer ProAir has become one of the first companies in the world to gain Environmental Product Declarations (EPDs) for mechanical ventilation systems.
This article was originally published in issue 43 of Passive House Plus magazine. Want immediate access to all back issues and exclusive extra content? Click here to subscribe for as little as €15, or click here to receive the next issue free of charge
The Galway-based company now has independently verified data on the embodied carbon of heat recovery ventilation and mechanical extract ventilation systems, verified and published under the EPD Ireland programme.
An EPD lays out the environmental performance of a construction product though its life cycle. Following a rigorous life cycle assessment, ProAir can demonstrate the environmental impact of the ProAir 600LI, ProAir 600PLI and the ProAir FRPRO ventilation units, including all life cycle stages in their "cradle to grave" EPD, providing transparency about the environmental impact of the products.
ProAir CEO David McHugh said: "We are constantly adapting to deliver a more sustainable future for our families and the communities in which we live and work and ProAir has made a commitment to responsible manufacturing by achieving the highest standards of environmental performance, minimising the impact of our business operations."
"Since 1995 we have been developing ventilation systems improving the indoor environment for people by improving indoor air quality, which in turn improves health, comfort and productivity," McHugh said. "As Ireland's only manufacturer of ventilation systems, we have led the way in research & development, and we are proud to continue this trend by being the first company in Ireland to publish an EPD for ventilation systems."
Sustainable construction trends have driven the demand for EPDs for building products. EPDs allow construction professionals to compare the environmental impact of different products and make informed decisions about which to choose for their building project.
The EPD Ireland programme, developed by the Irish Green Building Council, allows manufacturers of construction products to provide third-party verified transparent information on the environmental impacts of their products. It provides a platform for specifiers to source products with EPDs and other information such as responsible procurement or declaration of healthy ingredients.
The Life Cycle Assessment (LCA) and EPDs were carried out by Peter Seymour, LCA consultant with EcoReview Ireland, an international environmental consultancy, specialising in the construction, manufacturing and food sectors.
To view ProAir's EPDs visit www.igbc.ie/epd-search