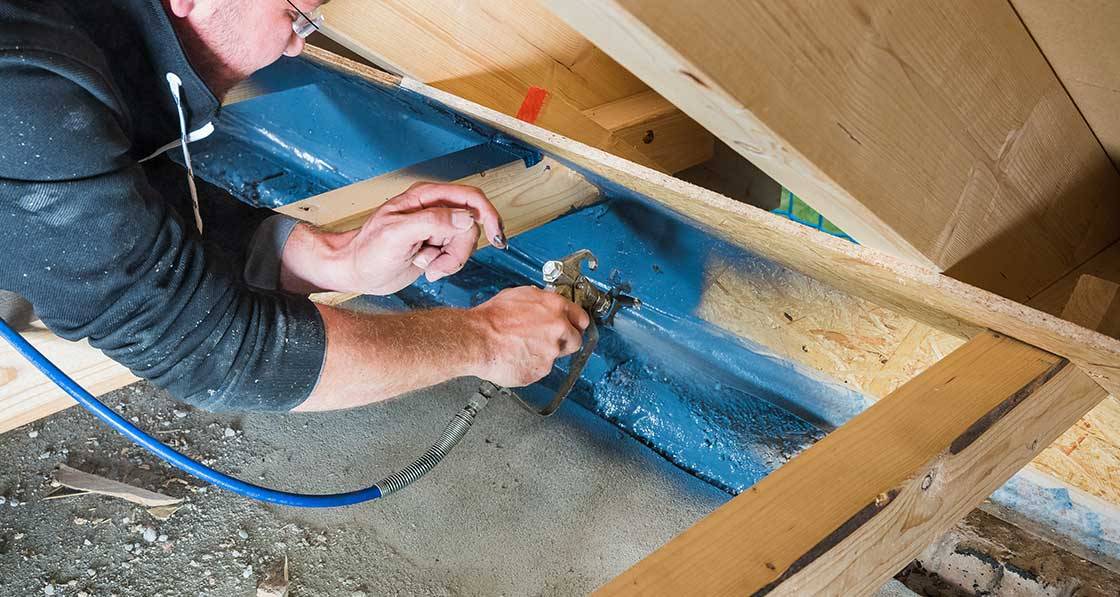 Spray applying AEROSANA VISCONN to construction timbers

News Desk
Passive house cert for pro clima liquid membrane
Ecological Building Systems has announced that another component from the pro clima range of intelligent airtightness products has attained passive house approval.
This article was originally published in issue 33 of Passive House Plus magazine. Want immediate access to all back issues and exclusive extra content? Click here to subscribe for as little as €10, or click here to receive the next issue free of charge
Niall Crosson, group technical manager with Ecological, stated: "Following the successful passive house approval for the INTELLO PLUS airtightness system, which attained the best ever airtightness component results to date by the Passive House Institute of 0.0 m3/(m2h) , pro clima's liquid applied intelligent airtightness paint, AEROSANA VISCONN, has also attained passive house approval to the highest category of phA. This confirms AEROSANA VISCONN's ability to perform and attain the required levels of airtightness to meet passive house levels of performance."
AEROSANA VISCONN is a high-quality, water-based acrylic dispersion which can be applied as a spray or using a brush/roller. The sprayed on liquid film forms a seamless, extremely elastic, airtight and vapour-resisting protective layer once it has dried, and may be applied internally or externally.
AEROSONA VISCONN is supplied in 10L buckets and can be plastered or painted over, and is suitable for use in conjunction with the pro clima range of sealing tapes and adhesives.
AEROSANA VISCONN can be used to maintain airtightness behind intermediate floor timber joists when fixed directly to the face of blockwork, instead of using a strip of airtight membrane or a parge coat of plaster. It is also a suitable substrate for bonding plasterboard to. It is humidity-variable with an sd value range of between 0.13 m and 10 m. This means that it may be used in conjunction with a vapour open racking board such as ELKA Strong Board and timber joists, without the risk of trapping moisture within timber members, while at the same time attaining an airtight seal.
AEROSANA VISCONN presents no health risk to homeowners or installers, Ecological stated, and has been assessed in accordance with the onerous hazardous substance test according to the AgBB evaluation scheme / ISO 16000. It is suitable for use in healthy low energy buildings such as those conforming to Sentinel Haus principles.
For more information, please see www.ecologicalbuildingsystems.com.
Last modified on Friday, 17 April 2020 12:20