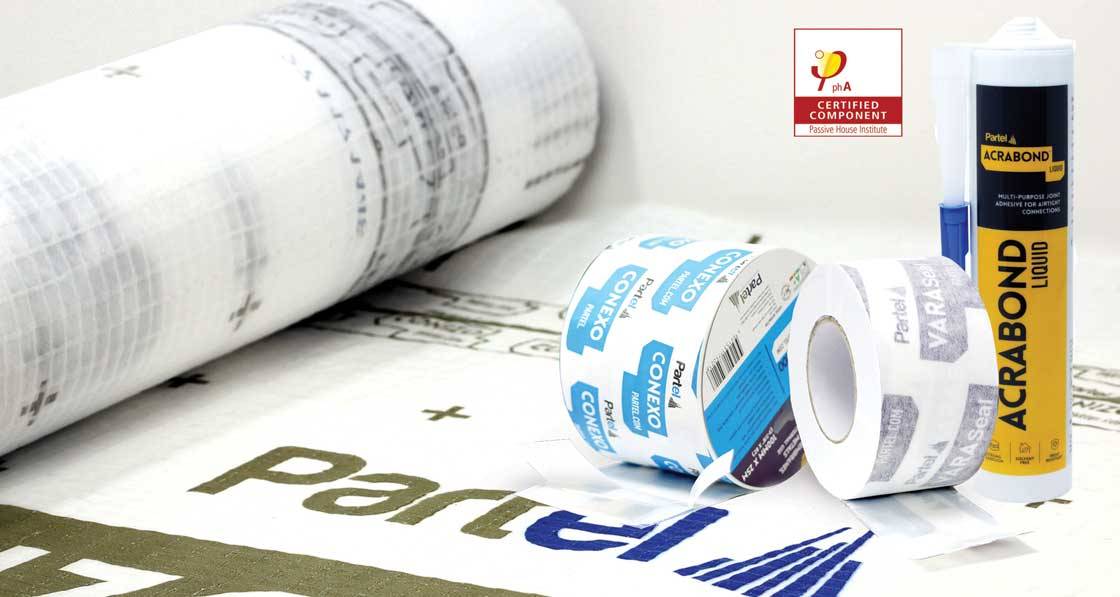 News Desk
Partel's Izoperm Plus achieves passive house 'A' cert
Partel's Izoperm Plus
airtightness
system has achieved phA certification from the Passive House Institute, the highest level of component certification, following recent testing.
This article was originally published in issue 37 of Passive House Plus magazine. Want immediate access to all back issues and exclusive extra content? Click here to subscribe for as little as €10, or click here to receive the next issue free of charge
The full system includes Partel's Izoperm Plus vapour control membrane plus the Conexo Multiseal and Vara Seal single-sided acrylic tapes, and Acrabond liquid solvent-free joint adhesive. The latter three products are used for membrane overlaps, OSB-to-OSB junctions and for airtight connections to concrete respectively.
Testing of the system resulted in an air permeability value of 0.01 (±0.002) m³/(hm²), standardised for a test pressure of 50 Pascals. This is well inside the baseline requirement for phA certification of 0.10 m3/ (hm2) at 50 Pascals.
"Our goal is to innovate in technical products that ensure the efficiency of project's performance, and certification plays a fundamental role in this process. This must meet Partel's rigorous quality standards to advance sustainable product development," said Hugh Whiriskey, founder and technical director at Partel. The Izoperm Plus airtightness system is developed by Partel and supplied in Ireland, the UK and North America.
Izoperm Plus membrane together with Conexo Multiseal and Vara Seal tapes were used on the Barna passive house project featured in this issue of Passive House Plus. For more information on this airtightness system see www.partel.ie.