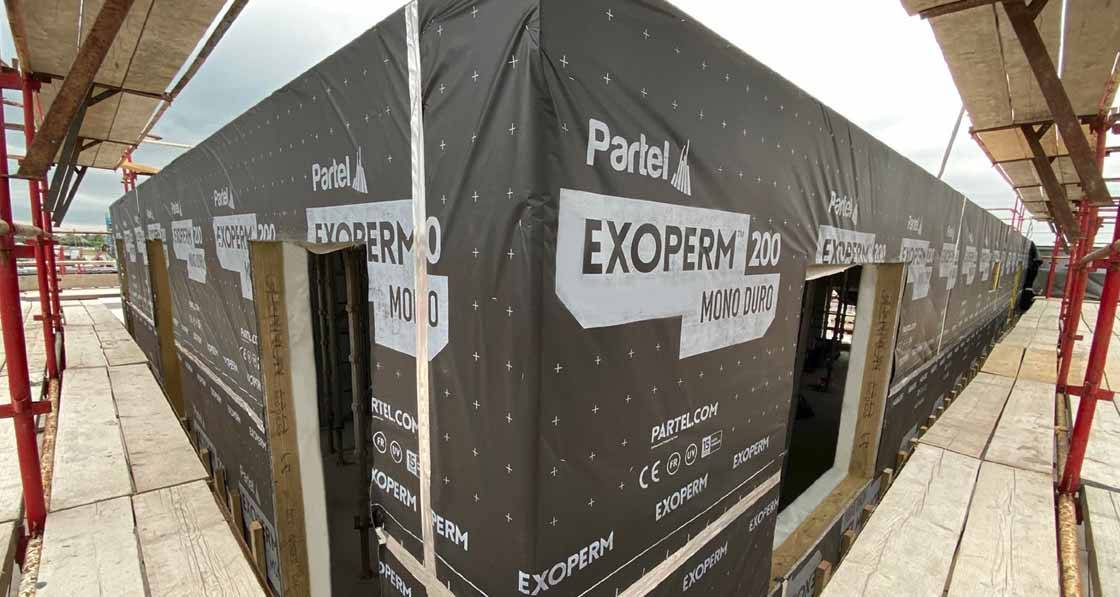 Partel EXOPERM MONO DURO 200 installed at the new University Hospital Limerick extension.

News Desk
Partel fire-rated membrane contributes to new hospital extensions
Leading low energy building product supplier Partel is currently involved in the construction of two rapid build hospital extensions in Limerick. On both projects, the company has supplied an external breather membrane that meets the building regulations in regard to the spread of fire.
This article was originally published in issue 34 of Passive House Plus magazine. Want immediate access to all back issues and exclusive extra content? Click here to subscribe for as little as €10, or click here to receive the next issue free of charge
"The construction of a new public building demands the highest standards of both safety and durability. As part of the steel frame system structure, Partel EXOPERM MONO DURO 200, an advanced fire-rated membrane, was chosen and installed to address these challenges and also to provide a high level of fire safety," said Partel's Hugh Whiriskey.
The external envelope is fitted with 8,000 square meters of EXOPERM MONO DURO 200, which has a fire rating of Class B-s1, d0 according to EN13501-1. Partel said that this UV stable, highly breathable membrane offers flame retardant performance combined with optimum airtightness for greater thermal efficiency, and long-term weather protection.
Partel also supplied 2,000 metres of ECHOSeal non-combustible airtight tape for each extension, used to create permanent seals for the external membrane.
The two 24-bed, single room, ensuite blocks are scheduled for completion in July 2020 at both the main University Hospital Limerick (UHL) and at Croom Orthopaedic Hospital, Co Limerick.
The two extensions are going ahead as part of the Irish government's national action plan in response to Covid-19, and involve a rapid build steel frame system that facilitates an earlier start to construction work and a more streamlined process than would be possible with traditional builds.
To find out more about EXOPERM MONO DURO see www.partel.ie.