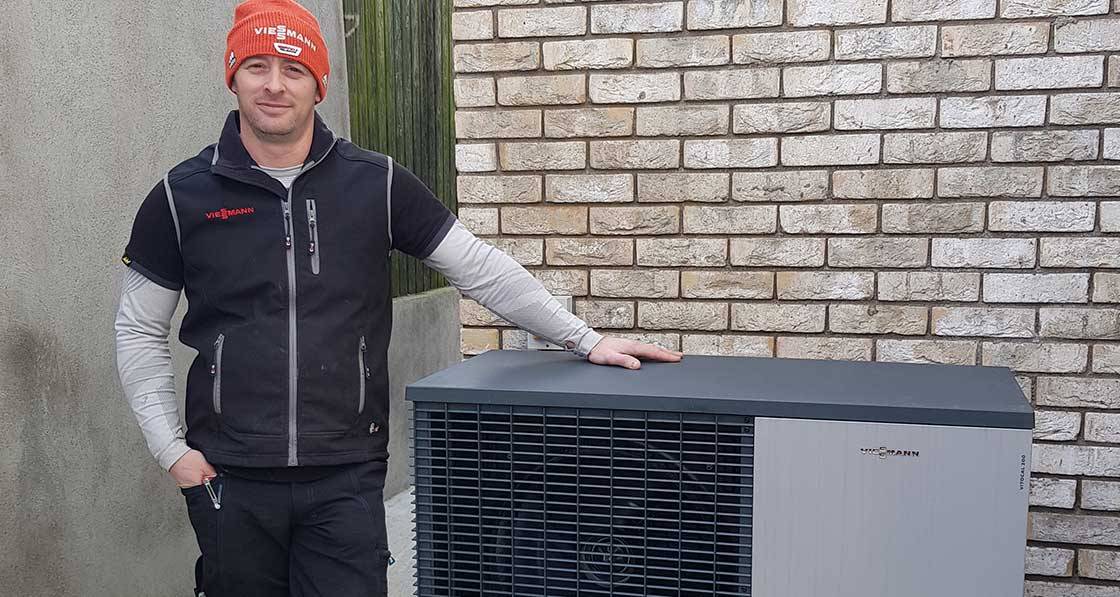 Installer Barry Kearns of BK Heat Pumps with the new Vitocal 222 outdoor unit at the A3 rated scheme in Swords, Dublin.
New ultra-quiet Vitocal heat pumps launched in Ireland
Precision Heating has announced the launch of two new
air source heat pumps
with innovative noise reduction technology, the Viessmann Vitocal 200-A and 222-A.
This article was originally published in issue 33 of Passive House Plus magazine. Want immediate access to all back issues and exclusive extra content? Click here to subscribe for as little as €10, or click here to receive the next issue free of charge
"Both operate so quietly that they are suitable for densely built-up areas such as terraced housing estates, and both have high energy efficiency with low operating costs," a statement from Viessmann read.
With outputs of 4 to 16 kW, and with a reversible circuit within a single unit to enable switching between heating and cooling, the Vitocal 200-A and 222-A are identical except that the 222-A has an integrated 220-litre domestic hot water cylinder.
The 200-A facilitates the integration of an external buffer, separate DHW cylinder and the control of an external heat source, such as an existing boiler.
Both heat pumps feature Viessmann's new advanced acoustic design. This combines a sound-optimised fan, designed to harmonise the acoustic frequency range, with intelligent speed control to reduce airborne noise at full and partial-load operation. Viessmann said this effectively stifles the lower frequency sound of conventional heat pumps which can be perceived as disturbing. Noise pressure in night mode at a distance of three metres is 35 dB(A).
The Vitocal 200-A and 222-A are of compact monobloc design, with separate indoor and outdoor units connected by water pipes. Maximum flow temperature is up to 60C when the temperature outdoors is as low as -10C. The energy rating of both new Vitocal heat pumps is A++. The COP (coefficient of performance), according to the EN 14511 standard, is up to 4.72 (A7/W35) and up to 4.1 (A2/W35).
No minimum distance is required between the indoor and outdoor units, no refrigeration leak test is required because the cooling circuit is hermetically sealed, and no F-gas certificate is needed because the connecting pipes to the outdoor unit are filled with water. These new heat pumps are also simple to operate, via the easy to read graphic display, web and smartphone app.
"Since Viessmann launched the Vitocal range in 2019, many new build and retrofit homes around Ireland have been fitted with the Vitocal air source heat pumps, in some cases upgrading the energy rating to A1," said Stephen Browne of Precision Heating, exclusive Irish agents for Viessmann. A recently completed scheme of three dwellings in Swords by G&S Fay Builders is one of the latest A-rated projects to feature the Vitocal heat pumps.