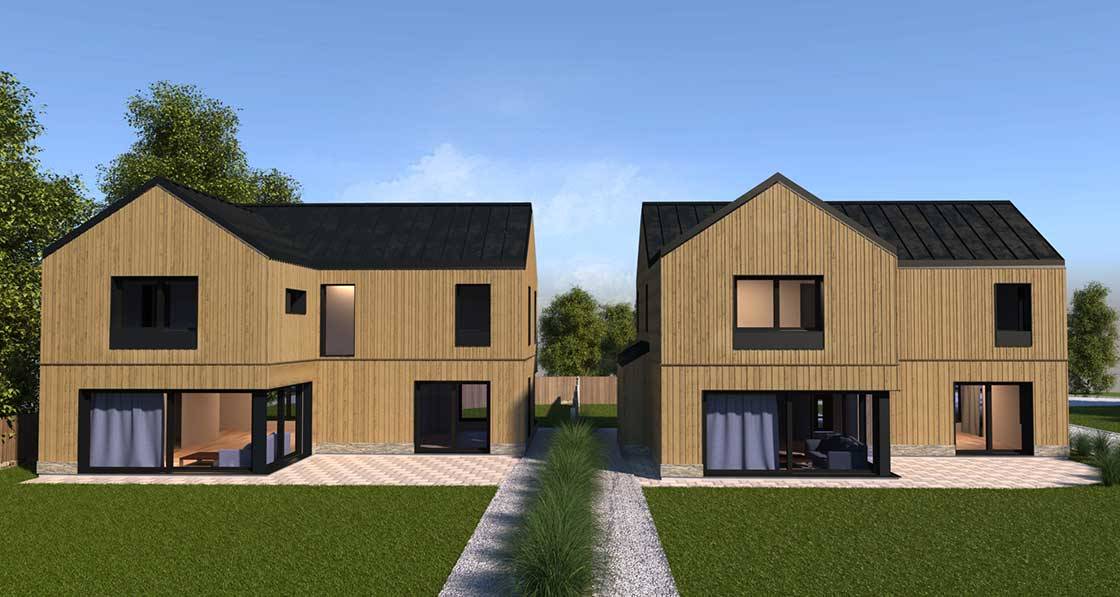 A computer generated image of the Pure Meadows scheme.

News Desk
New passive house developer breaks ground in Bradford
A new UK property developer specialising in passive house projects is currently on site with its first scheme, Pure Meadows in Oakenshaw, Bradford.
This article was originally published in issue 33 of Passive House Plus magazine. Want immediate access to all back issues and exclusive extra content? Click here to subscribe for as little as €10, or click here to receive the next issue free of charge
The development of two houses will be built to the passive house standard, with passive house design by Claire Jamieson of PHI Architecture.
At the time of writing site works were being completed in preparation for the construction of the timber frame dwellings. "Pure Meadows is a gem that's tucked away from the hustle and bustle of city life while being minutes away from major motorway links," Pure Haus director Kevin Pratt told Passive House Plus.
The scheme will feature a landscape-sensitive design, biodiversity-friendly landscaping and a high-quality palette of contextual materials including timber and stone cladding. The dwellings will also feature rainwater harvesting systems. A passive house development represents something of an unlikely destination for Kevin Pratt and his business partner David Bradley-Bowles, who have a background as landlords in the buy-to-let sector, with a history of renovating and improving old properties.
Kevin says that learning about the Climate Innovation District in Leeds — a new pioneering sustainable neighbourhood in the city — convinced the pair to change tack. David then attended the International Passive House Conference in Germany after hearing about the standard.
"The Passive House Institute had a huge influence on developing the company's vision," said Kevin. "We found that passive house principles were very consistent with the company's own ethos of sustainability, quality, health and comfort. On return from the trip a lot of research went into establishing if it was commercially viable to build comfortable, sustainable, well-designed homes."
He said that the trip completely revolutionised how he and his partners wanted to do business. "The affect was so substantial we found ourselves promoting passive house to anyone who would listen. There was a new buzz within the company." He said that Pure Haus has found the UK passive house community hugely supportive and helpful thus far, and welcomed the community's openness in sharing its resources, knowledge and skills.
"We are very keen to grow the company and are open to conversations with people who have land opportunities, or who are interested in investing in a sustainable company."
For more see www.purehaus.co.uk.
Last modified on Friday, 17 April 2020 12:27