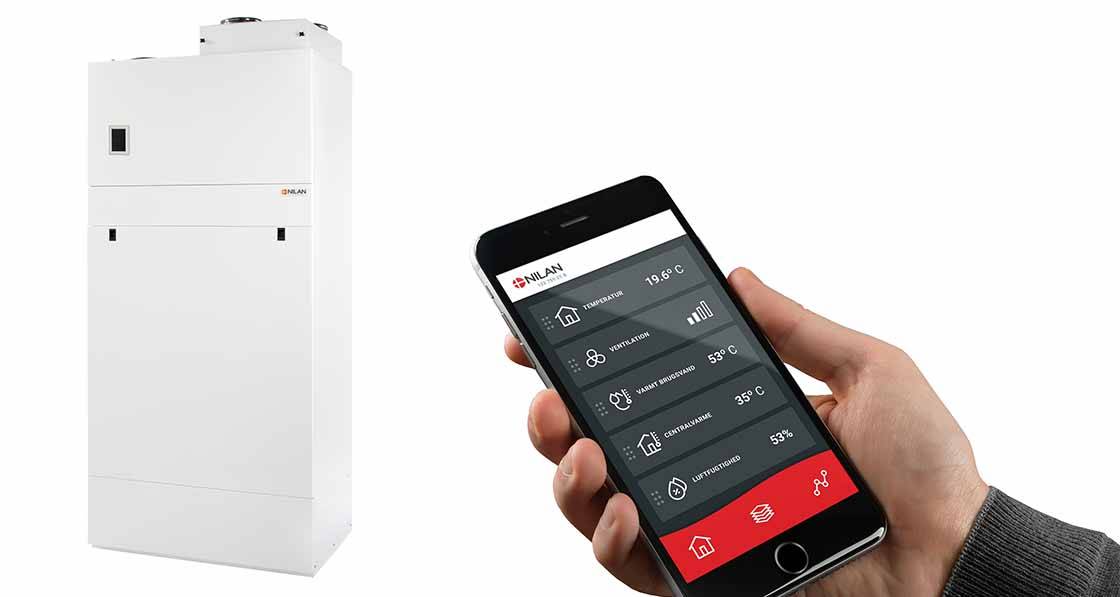 News Desk
New app for remote control of Nilan Compact P
Nilan has developed a new app that allows users to control their ventilation system and heat pump directly from their mobile phone. The feature now comes as standard on all of the company's popular Compact P combined heating and ventilation systems.
This article was originally published in issue 38 of Passive House Plus magazine. Want immediate access to all back issues and exclusive extra content? Click here to subscribe for as little as €10, or click here to receive the next issue free of charge
"The app is intuitive, easy and secure to use, and allows the user to easily set room and water temperatures," Maurice Falvey of Nilan Ireland told Passive House Plus.
Multiple ventilation units can be connected via the same app, while the app also allows for multiple users to have control over the same system. "This new app will give the user remote access to the Compact P unit as standard. It's just as good as if you were using the touch screen display on the machine itself," Falvey said.
He explained that once the ventilation system is connected to the internet via a Nilan gateway, the system can be remotely controlled using the Nilan user app, which can be downloaded for free for both Android and Apple phones from the relevant app stores.
Using a LAN connector, users can connect the gateway to the Modbus of the Compact P. This creates a secure cloud connection between the unit and the smartphone.
The app allows users to both monitor the operation of the system and to adjust user settings, such as desired temperature, desired fan step level and humidity control. Users can also see how many days are left until the next filter change is required, and the user is notified when it is time to change the filter.
Users can also view historical data and trends curves over time, such as room temperature and humidity.
"From a service point of view, with the homeowner's permission, the system can also give us access to diagnose faults remotely, or to view historical sensor data and see if there are any issues with the performance of the machine. It allows us to make sure it is running smoothly, and as efficiently as possible," Falvey said.
He continued: "This form of remote access makes the Compact P ideal for holiday homeowners, who want to control their heating and ventilation system remotely, or for social housing providers or apartment managers who need to look after a large number of heating and ventilation systems. It's a fully-fledged remote service tool for us."
The Nilan Compact P is one of the most popular heating and ventilation units in Irish passive houses. For more information see www.nilanireland.ie
Last modified on Monday, 30 August 2021 18:19