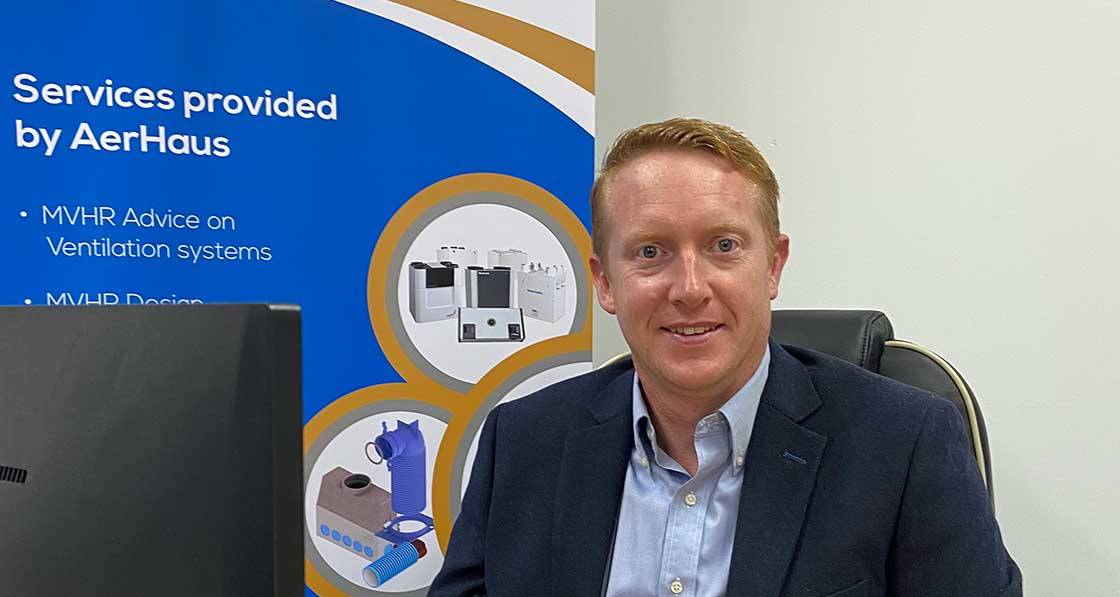 News Desk
Expert, impartial advice key to quality ventilation — AerHaus
A well-designed, well-installed ventilation system is one that your ear will not tell you is running, but your nose will tell you when it's not. This is the belief of Stephen Walsh, managing director of AerHaus Ventilation, and he says that having access to a broad range of ventilation solutions is key to achieving this.
This article was originally published in issue 35 of Passive House Plus magazine. Want immediate access to all back issues and exclusive extra content? Click here to subscribe for as little as €10, or click here to receive the next issue free of charge
Choosing the correct and most suitable ventilation system for your home is critical in ensuring occupant health and comfort, particularly as insulation and airtightness levels improve. But Walsh says that it can be difficult sometimes to find expert independent advice as many equipment suppliers, while well intentioned, are single brand companies.
AerHaus specialises in heat recovery (MVHR), demand controlled (DCV) and centralised mechanical extract (cMEV) ventilation. It represents leading ventilation brands from Belgium, the Netherlands, France, Germany, Italy, and the UK. Walsh says the company's experience of working with this broad range of manufacturers allows AerHaus to offer clear, independent advice to its customers. AerHaus supplies seven different ranges of MVHR systems, four different DCV brands and four types of duct systems.
Walsh firmly believes there is no one company that makes the best of everything as each has its strengths in a niche area of the market. He said that working with multiple manufacturers allows AerHaus to cherry pick the most suitable duct system along with the most suitable ventilation unit, in many cases from different manufacturers, and put them together to ensure a bespoke system for each and every project.
He continued: "We believe in a warts and all approach — we give our customers unbiased information, honestly going through the advantages and disadvantages of each option so they can make an educated and informed choice."
AerHaus operates from its 10,000 square foot facility in Dungarvan, which includes offices, showroom, training centre and warehouse. The company also has a large network of installers nationwide, including specialist ventilation contractors, as well as undertaking installation and commissioning services itself in the Munster area.
All the company's technical staff are accredited by the City & Guilds and WWETB to the new NZEB standard. AerHaus is also accredited by the NICEIC and BPEC training bodies in the UK. Stephen Walsh is also the chairperson of the newly formed Residential Ventilation Association of Ireland (RVAI), which aims to promote ventilation and indoor air quality standards across the building industry.
To satisfy a growing demand for its services, AerHaus is looking for additional ventilation partners nationwide. For more information email This email address is being protected from spambots. You need JavaScript enabled to view it..