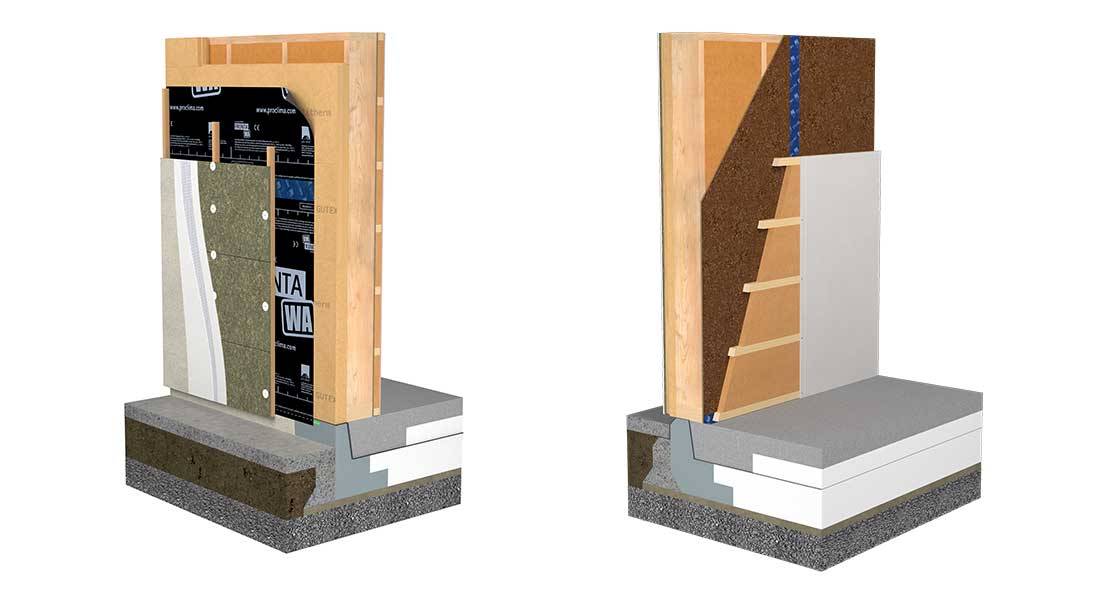 News Desk
Ecological launches Passive EcoWall to tackle embodied carbon 'blind spot'
Ecological Building Systems welcomes the fact that embodied carbon has at last come into focus in Ireland.
This article was originally published in issue 42 of Passive House Plus magazine. Want immediate access to all back issues and exclusive extra content? Click here to subscribe for as little as €10, or click here to receive the next issue free of charge
The recent report from the Irish Green Building Council, 'Whole Life Carbon in Construction and the Built Environment in Ireland', examines the current impact of construction on Ireland's emissions and makes projections to 2030 based on the National Development Plan.
A key initial finding in the report is that the carbon emissions associated with the construction and operation of buildings accounts for more than one-third of Ireland's emissions (37 per cent). More specifically, it found that heating, cooling and lighting our buildings accounted for 23 per cent of national emissions, while the remaining 14 per cent was comprised of embodied emissions.
This 14 per cent can be categorised as the emissions 'blind spot' of the Irish construction industry. This is the first time embodied emissions have been measured in the Irish context, and indicates that the built environment is one of Ireland's largest emitters.
In recognition of this challenge, Ecological Building Systems has developed Passive EcoWall, a building concept that uses carefully selected materials with significantly lower carbon emissions to offer extremely high levels of thermal efficiency, up to and beyond that required for compliance with building regulations, attaining passive house levels of performance.
Ecological's Passive EcoWall provides a complete low energy, diffusion open building concept based on tried-and-tested passive house principles. It utilises Gutex woodfibre natural insulation, Finsa SuperPan VapourStop airtight and vapour control racking boards, and the Pro Clima airtightness and wind-tightness system.
NZEB, certified passive houses and modular buildings have already been constructed in Ireland using this principle, delivering significant reductions in energy use and high levels of comfort. The specification can also include Thermo Hemp Combi Jute, a combination of hemp and upcycled jute fibres, or Thermafleece sheep's wool insulation.
"Our Passive EcoWall concept provides a truly breathable structure. It incorporates an innovative internal structural board, SuperPan VapourStop, which is pre-fitted with a vapour control and airtight layer.
This in turn increases efficiency on site, reduces installation costs and provides a continuous internal airtight seal for buildings that reduces the risk of interstitial condensation," said Niall Crosson, group technical manager with Ecological Building Systems.
"As modern structural elements are sealed more than ever to attain higher levels of airtightness, moisture management is essential, particularly in our damp climate. Unlike many conventional wall systems, our Passive EcoWall also incorporates an external insulation layer of Gutex woodfibre boards," said Crosson. "These provide high levels of thermal and acoustic insulation and are also extremely vapour diffusion open, allowing structural elements to dry out rapidly. In this way, condensation risk is dramatically reduced.
"Passive EcoWall is a perfect example of how it is possible to combine low energy construction with more sustainable building materials that have significantly lower carbon emissions. Utilising building methods such as this will be key to not only reducing operational emissions, but the embodied emissions blind spot of the building industry in Ireland."