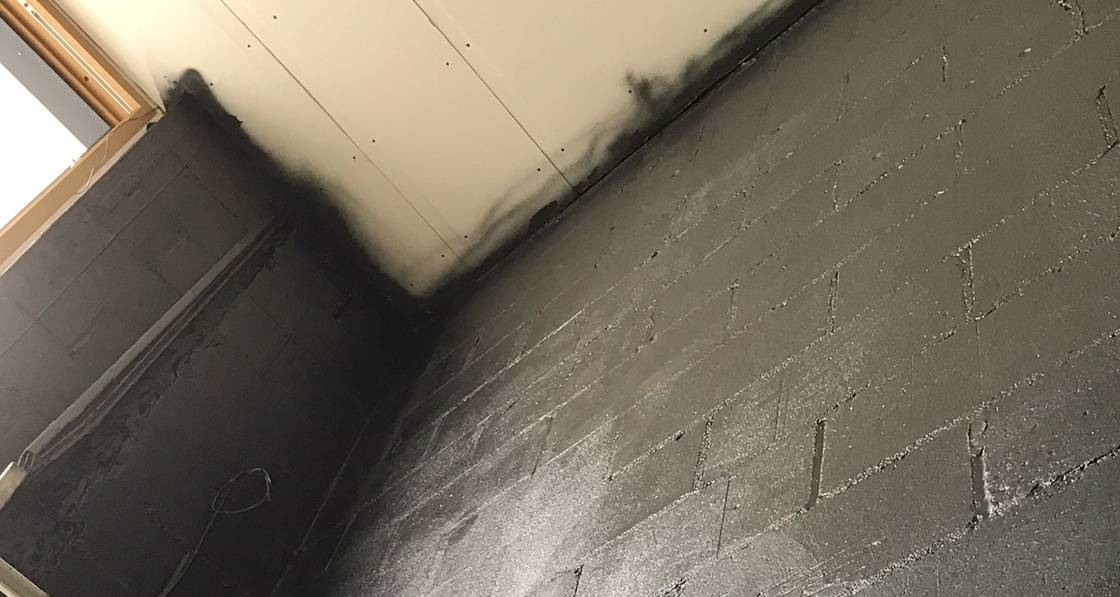 News Desk
Blowerproof used to seal Sandycove passive house
A new Dublin passive house is aiming to achieve the required standard of airtightness using using an innovative new application of Blowerproof liquid airtight membrane. Blowerproof liquid airtight membrane is a BBA certified product with Class C fire rating, which has been used widely on passive house projects across Europe for the last 10 years.
This article was originally published in issue 31 of Passive House Plus magazine. Want immediate access to all back issues and exclusive extra content? Click here to subscribe for as little as €10, or click here to receive the next issue free of charge
The externally insulated, aerated blockwork passive house is currently under construction in Dún Laoghaire, and is designed by architect and Passive House Plus columnist Mel Reynolds.
Reynolds explained to Passive House Plus that he had planned to use a standard 15mm thick wet plaster finish internally for airtightness, with tapes and membranes at key junctions.
However, he said that one issue with using aerated blocks is that the plaster can dry too quickly and potentially lead to cracking. He considered applying a sealant to the blocks internally, but after reading about Blowerproof in Passive House Plus, wondered if this would work instead.
"The more I looked into Blowerproof the more interested I became," he said. Reynolds did not want to batten out his walls internally and loose any internal floor space. When installed directly onto walls Blowerproof typically recommend mechanical fixings as well as adhesive to ensure the build-up achieves the required fire-rating. But piercing the airtightness layer seemed counterintuitive to Reynolds.
After some further digging, he realised that aerated blockwork can deliver up to six hour fire resistance, meaning he no longer needed to screw-fix the plasterboard for fire reasons — meaning it can now be installed using a dab-and-slab or adhesive. Standard plasterboard on dabs removes a significant source of moisture during the construction phase and also requires little or no drying-out time. Reynolds believes this method of building could make it significantly easier for contractors to undertake airtightness work. "If you have a situation where you can build a block wall, spray it with Blowerproof, and then stick or dab-and-slab your plasterboard onto the wall, you have a really easy and mainstream way of achieving high levels of airtightness."
In addition reduced thickness means less internal space is lost during construction. Reynolds says that he was so impressed by the simplicity of the process that he has now decided to use the product on the retrofit of a 1930s property he is currently undertaking, and aim for the Enerphit standard with it. "You can even spray over an existing wall that joists are going into," Reynolds said.
"There are conservation applications for this where it would allow for far less intrusive interventions. It makes a really difficult thing incredibly simple. It allows you access to all sorts of difficult junctions — if you can get a nozzle in there, you can make it airtight."
Last modified on Wednesday, 12 February 2020 00:24