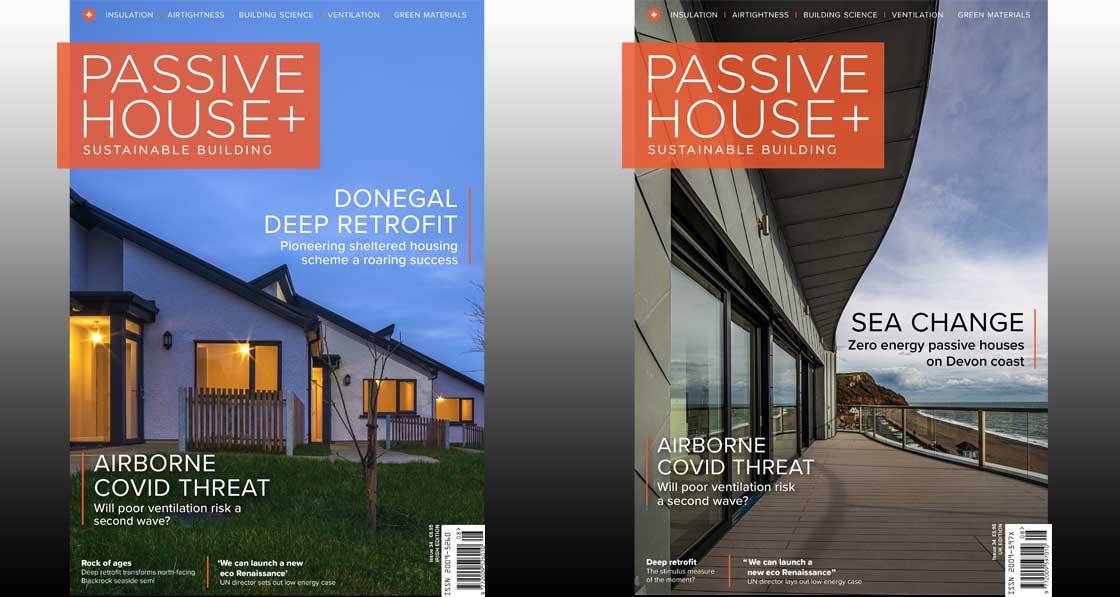 News Desk
New issue of Passive House Plus free to read
The new issue of Passive House Plus is out now, and to ensure anyone who wants to read the magazine can do so easily during this time of disruption, we are once again making this edition free to read digitally.
You can read the magazine right now at the links below.
Our Irish cover story (above left) is the transformation of a dark, cold and damp social housing estate in Donegal — the first project completed under Ireland's deep retrofit scheme — into bright, warm, NZEB-busting homes. This issue's UK cover story (above right) is the stunning Seaton Beach passive house apartment complex in Devon.
This issue includes three inspiring deep retrofit projects from across Ireland and the UK that have slashed carbon emissions and energy bills for their occupants. There are also special reports on whether Covid-19 is subject to airborne transmission in poorly ventilated buildings, and on how deep retrofit can play a central role in a green economic recovery.
There's also an interview with with the UN's Scott Foster on why a new 'eco-Renaissance' is needed globally, plus all the latest industry news, comment and opinion, and lots of detail on how to build truly sustainable, low energy, healthy buildings.
Like most publishers Passive House Plus faces significant financial challenges at the moment. If you value the work we do to promote sustainable, healthy, low-carbon buildings, please consider supporting us in one of various ways here.
Last modified on Wednesday, 08 July 2020 13:40